Slow Cooker Honey Garlic Chicken
This Slow Cooker Honey Garlic Chicken features succulent chicken thighs and vegetables in a sticky honey garlic sauce. It's an easy crockpot chicken recipe that only need 15 minutes of prep before the slow cooker goes to work.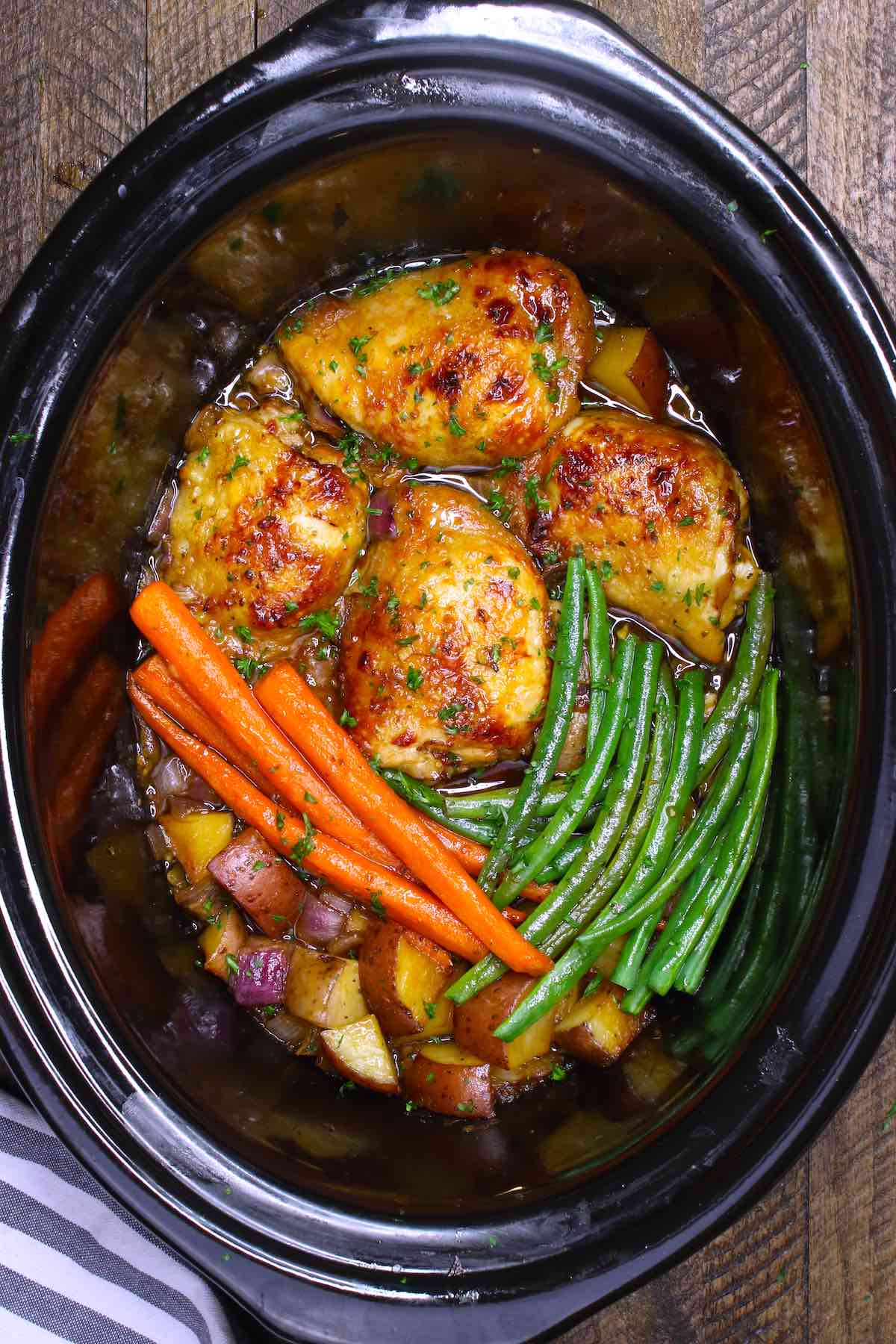 When you're looking for easy crockpot meals, it's hard to beat this crock pot honey garlic chicken. The chicken practically melts in your mouth with the veggies coming out tender and juicy.
This recipe makes an easy weeknight dinner that even picky eaters will enjoy! The honey garlic sauce is to die for! When you're in a hurry, you can always make Instant Pot Honey Garlic Chicken instead.
How to Make Slow Cooker Chicken
Here's how to make it:
In a small bowl mix the sauce ingredients: honey, garlic, soy sauce, ketchup and oregano.
Chop the potatoes, carrots, onions.
Add the chicken, vegetables and sauce to the slow cooker.
Cover and cook for 6-8 hours on LOW (preferable) or 3 hours on HIGH.
About 20-30 minutes before serving, add the green beans and optional cornstarch slurry.
Use bone-in chicken thighs whenever possible. They'll hold their shape during cooking, whereas boneless chicken thighs can disintegrate into stew!
A 6-quart crock pot isideal for this recipe, but a 4-quart will work too. Check out our tips on how to use a slow cooker for more tips and tricks.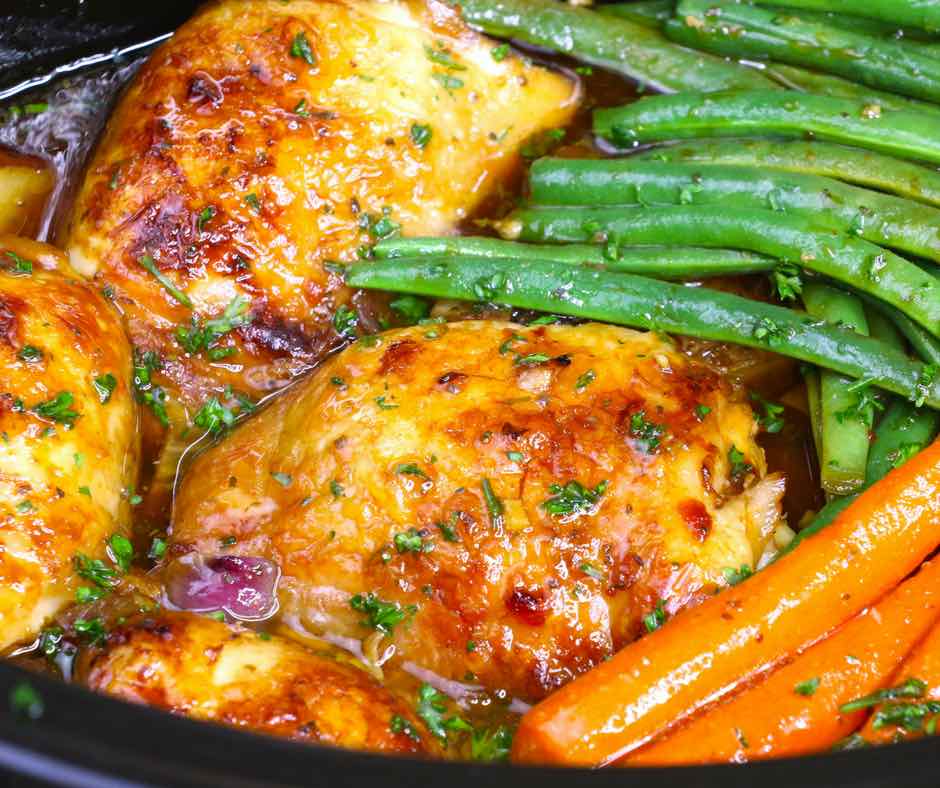 Honey Garlic Sauce
Once you remove the chicken and vegetables from the crock pot, there'll be a good quantity of honey garlic sauce remaining. I recommend putting it through a fat separator to remove excess fat before serving.
For a thicker sauce, mix 2 teaspoons cornstarch with 3 teapsoons water in a cup to and pour into the sauce when adding the green beans. The sauce will thicken while the green beans cook, so everything is ready at once.
Watch Recipe Video:
This quick video tutorial shows how to make it:
Frequently Asked Questions
How to Serve Slow Cooker Chicken Thighs
While this slow cooker chicken recipe is a one pot meal, some readers served it with rice to soak up the extra sauce.
The chicken can look a bit pale out of the crock pot, so consider broiling for 2-3 minutes to caramelize the skin for an attractive presentation.
Then transfer the chicken and vegetables to serving plates and drizzle the honey garlic sauce on top. Add minced fresh parsley as well if desired.
Can you use chicken breasts instead of chicken thighs?
Yes, but chicken breasts require less cooking time since they are leaner and prone to drying out. Cook for 3 to 4 hours on LOW or 1½ to 2 hours on HIGH. They are done as soon as they internal temperature reaches 165°F (74°C).
Can you overcook chicken in a slow cooker?
Chicken thighs will remain juicy within a 12-hour period in the slow cooker, but chicken breasts dry out much more sooner and require extra attention. Always fill your crock pot half to two-thirds full to keep everything juicy.
Can you put frozen chicken in slow cooker?
While some people claim to have done it successfully, the USDA clearly states that it is not safe to put frozen meat in the slow cooker. Due to the uneven thawing in the crockpot, some parts of the chicken may spoil in a warm state before getting cooked.
To thaw chicken easily, place it in a sealed ziplock bag in a water bath at room temperature. It only takes 40-60 minutes.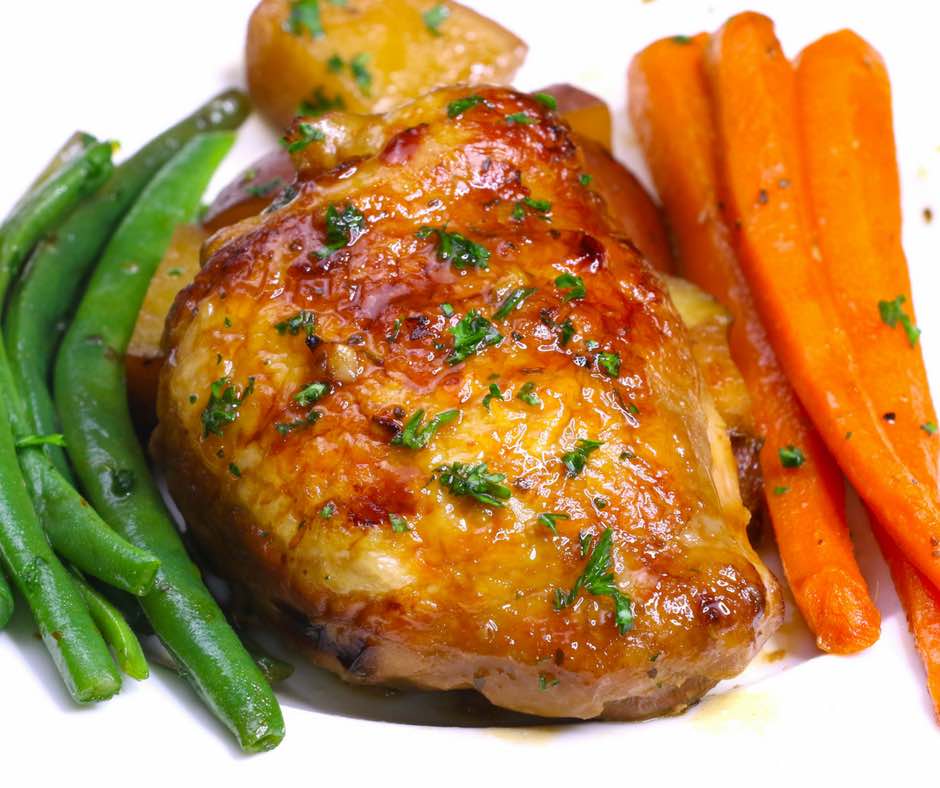 More slow cooker chicken recipes:
View all slow cooker recipes
Slow Cooker Honey Garlic Chicken
This Slow Cooker Honey Garlic Chicken recipe is one of the easiest and most delicious crock pot meals. Succulent chicken and vegetables simmer in a mouthwatering honey garlic sauce.
Ingredients
Honey Garlic Sauce
1/3 cup honey
1 tbsp garlic, minced
1/2 cup soy sauce, low sodium (see note)
1/4 cup ketchup
1 tsp dried oregano
Crockpot Chicken and Vegetables
2 pounds chicken thighs, bone-in, skin-on
1 pound baby red potatoes
1 pound carrots, peeled
1 cup onions, chopped
1 pound green beans, trimmed
fresh parsley, chopped, for serving optional
salt and pepper to taste
Cornstarch Slurry (Optional)
Instructions
In a small bowl, whisk together honey, garlic, soy sauce, oregano and ketchup.

Add the chicken thighs, potatoes, carrots and onions to a 4-6 quart slow cooker.

Pour the honey garlic sauce mixture evenly on top.

Cover the slow cooker and seal the lid. Cook on a LOW setting for 6-8 hours or on HIGH for 3-3 1/2 hours (see note).

About 20 minutes before serving, add the green beans to the slow cooker and optional cornstarch slurry to the sauce.

Re-seal the lid and cook for 15-20 minutes more until the green beans are tender and the sauce is starting to thicken.

Remove the chicken and vegetables to serving plates using a slotted spoon. Optional: Broil the chicken thighs for 2-3 minutes to brown the skin.

Drizzle sauce on top of chicken and vegetables. Garnish with optional minced parsley.
Notes
Use a quality soy sauce brand such as Kikkoman or San-J to get the best results. Low-grade soy sauce will affect the flavor of the dish.
Due to variations among crock pot brands, check doneness at the early end of the time range.
For a healthier option, pour the sauce into a fat separator before adding cornstarch. Separate out the fat and use only the remaining liquid for the thickening step.
Store leftovers in an airtight container in the fridge for up to 3 days. Reheat on the stovetop or in the microwave on medium power. Do not freeze.
Nutrition Facts
Slow Cooker Honey Garlic Chicken
Amount per Serving
% Daily Value*
* Percent Daily Values are based on a 2000 calorie diet.
Please read our nutrition disclaimer.

Editor Note: Originally published Nov. 1, 2016 and updated Jul. 19, 2021
© TIPBUZZ. Images and text on this website are copyright protected. Please do not post or republish without permission. If you want to republish this recipe, please link back to this post. This post may contain affiliate links. Read the disclosure policy here.