Perfect Grilled Pork Chops
Grilled Pork Chops are tender and moist marinated pork chops grilled to golden perfection. Learn how to grill pork chops for a fast and perfect meal ready in under 30 minutes.
These BBQ pork chops are great with a side of Corn on the Cob or Mango salad for any weeknight dinner or backyard party.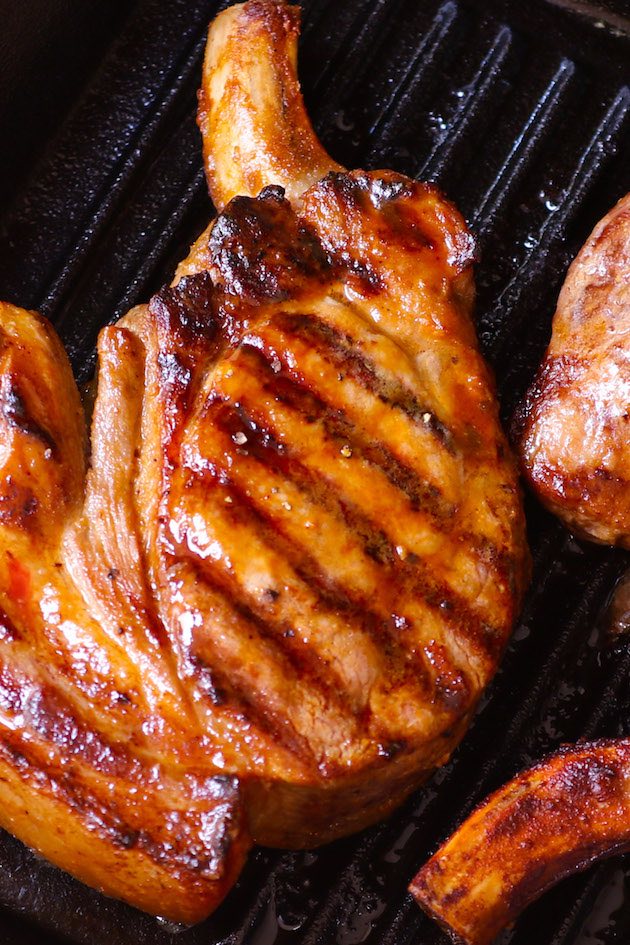 You can make these pork chops on a gas, charcoal or pellet grill. If the weather doesn't cooperate or you run out of propane, just throw them into the oven on a baking sheet or you can even use a grill pan on the stove.
HOW TO GRILL PORK CHOPS
Grilling pork chops over a medium-high indirect heat helps to seal the juices in, producing tender and juicy pork chops, while the high heat gives a nice sear adding the char from the barbecue. So the best technique is to combine the two with an initial high-temperature sear of 2-3 minutes per side, followed by indirect heat for the remaining time.
Pork chops can dry out easily if overcooked. I've found the best way to make juicy and flavorful grilled pork steak is to marinate them first. Even a 30-minute marinate will make a huge difference.

GRILLED PORK MARINADE
This easy pork chop marinade calls for only a few simple ingredients:
Soy Sauce (reduced sodium recommended): It keeps your pork chops juicy while adding extra flavors.
Brown Sugar: Helps with the caramelization process and brings out the natural flavor of pork chops.
Apple Cider Vinegar: It helps break down tougher proteins and tenderize the meat (You can substitute with lemon juice)
Mustard (Dijon or mustard powder recommended)
Ketchup
Olive oil
It's best to let the pork chops marinate in the refrigerator for 2 hours or overnight. If you are short of time, even 30-60 minutes of marinating time make a remarkable difference, so don't skip this process.
BONE-IN V.S. BONELESS PORK CHOPS
Thick bone-in pork chops work best for this recipe, as they're the most tender and delicious pork chops for grilling. Try to buy the ones that are at least 1-1.5 inches thick. Below is a photo with two common cuts of bone-in pork chops with and without the bone exposed.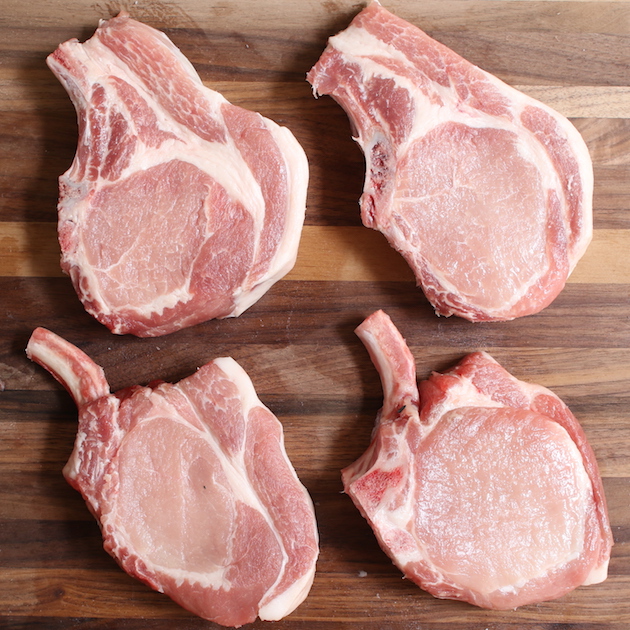 HOW LONG TO GRILL PORK CHOPS
Pork chop grill time depends on how hot your grill gets, the thickness of your pork chops and whether you use bone-in or boneless pork chops. You can find the pork chop grill time chart in the recipe instructions.
Once your pork chops are marinated, drain pork and place them on the grill. Cook them for 2-3 minutes with high heat on one side depending on the thickness and type of your pork.  Don't lift during the cooking process so that you won't lose the beautiful grill marks.
Flip your pork chops and cook for another 2-3 minutes on the other side. Finish on the indirect heat until an instant-read thermometer reads 145°F (63°C).
There are several ways to achieve indirect heat depending on your grilling setup:
Place the chops on the grill's warming rack, if you have one, or
Turn one zone on low or off on a propane grill to create a cooler zone, or
Stack fewer briquettes on one side of a charcoal grill to create a cooler area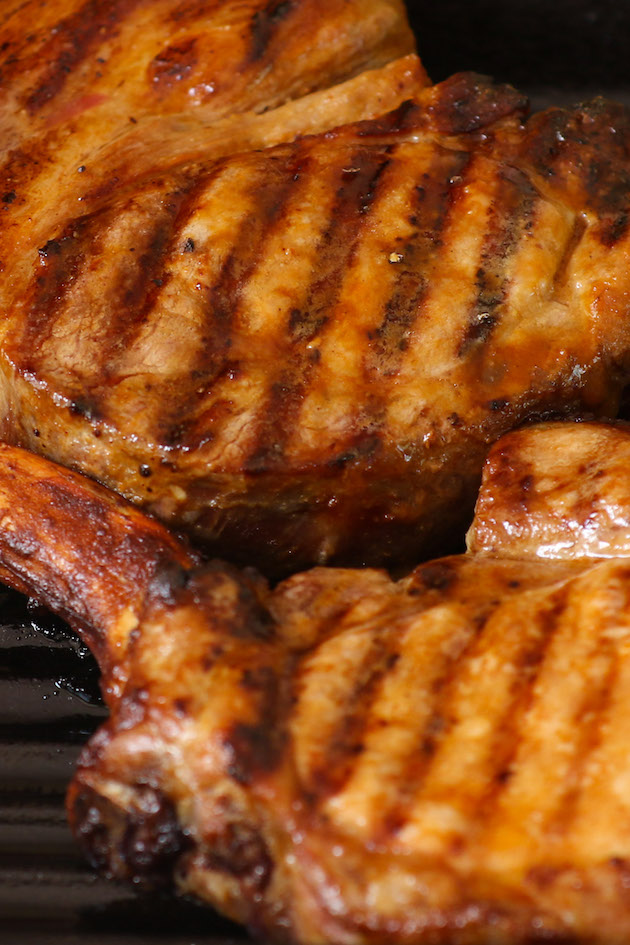 Simply move the pork chops to that area for the indirect cooking time. Bear in mind that the total cooking time will vary significantly depending on pork chop thickness.
I recommend using an instant-read meat thermometer to check the internal temperature of the chops before the total time has passed. According to the FDA, you can remove from heat once it reads 145°F / 63°C.
Make sure to let the grilled pork chops rest for about 5 minutes before cutting to allow the juices to retreat back into the meat for maximum flavor.   You can safely store cooked pork for 3-4 days in the fridge according to foodsafety.gov. Just reheat for 5-7 minutes over medium heat. While they may be slightly less tender, the flavor improves during rest.
LOOKING FOR MORE PORK CHOP RECIPES?
View all easy Pork Chop Recipes
Grilled BBQ Pork Chops
Grilled BBQ pork chops are the perfect meal and so easy to make. The pork marinade adds amazing flavor and makes the chops tender and juicy.

Ingredients
4 pork chops, bone-in, thick-cut
1/3 cup soy sauce, reduced sodium recommended
2 tablespoons brown sugar
2 tablespoons ketchup
1 teaspoon apple cider vinegar
1 teaspoon mustard powder, or dijon mustard
1 1/2 tablespoons olive oil
1 teaspoon ground black pepper, optional
Instructions
In a deep bowl, whisk together the soy sauce, brown sugar, ketchup, vinegar, mustard and olive oil.

Add the pork chops to the bowl and turn to coat completely. Optional: cover and refrigerate for up to 24 hours.

Preheat an outdoor grill to high heat or about 450°F.

Remove the chops from the marinade and place on the grill. Discard the remaining marinade.

Place the marinated pork chop on the grill. Cover the lid and cook for 2-3 minutes, flip and cook another 2-3 minutes.

Move the chops to indirect heat to cook for 8-15 minutes longer (see note).

Remove the chops to a plate and allow to rest for 5 minutes, covered lightly with foil. (This allows the juices to retreat back into the meat.) Serve and enjoy!
Notes
Season the chops: Marinating or brining the chops ahead of time will produce the juiciest chops. Marinate them in a ziplock bag or airtight container in the fridge. The chops will be more flavorful and tender from the marinating.
Cooking time depends on thickness, and I recommend using an instant-read meat thermometer to check doneness. Once the internal temperature reaches the 145°F / 63°C, remove from heat.
| | | |
| --- | --- | --- |
| Thickness | Bone-in pork chops | Boneless pork chops |
| ¾ inch | 8-10 min | 6-8 min |
| 1 inch | 12-14 min | 8-10 min |
| 1 ¼ inch | 16-18 min | 12-14 min |
| 1 ½ inch | 18-22 min | 14-18 min |
Nutrition Facts
Grilled BBQ Pork Chops
Amount Per Serving
Calories 298 Calories from Fat 126
% Daily Value*
Fat 14g22%
Saturated Fat 4g20%
Cholesterol 89mg30%
Sodium 837mg35%
Potassium 619mg18%
Carbohydrates 9g3%
Sugar 7g8%
Protein 30g60%
Vitamin A 120IU2%
Vitamin C 1.7mg2%
Calcium 21mg2%
Iron 1.4mg8%
* Percent Daily Values are based on a 2000 calorie diet.
Please read our nutrition disclaimer.
WHAT'S THE BEST CUT FOR GRILLED PORK CHOPS?
There are four main cuts of pork chops found in U.S. meat counters, and the rib chop is the best cut for grilled pork chops:
Rib Chop: The bone-in pork rib chop is the best cut due to its marbling, which produces a juicy grilled or baked pork chop.
Boneless Chop: The boneless chop is the most common pork chop in the USA, and the least expensive. As it's very lean with no bones, and best suited for baking or frying.
T-bone Chop: The t-bone chop, or loin chop, has loin meat on one side and tenderloin meat on the other. While delicious, a loin chop can be challenging to cook evenly.
Sirloin Chop: The sirloin chop is a lean chop from below the loin, and is available either a bone-in or boneless. Sirloin chops are best suited to slow cooking or braising.
MORE RECIPES YOU'LL LOVE
© TIPBUZZ. Images and text on this website are copyright protected. Please do not post or republish without permission. If you want to republish this recipe, please link back to this post. This post may contain affiliate links. Read the disclosure policy here.