Classic Stuffed Peppers
This post is sponsored by RiceSelect, all opinions are my own.
Classic Stuffed Peppers are bell peppers stuffed with ground beef, rice, seasonings and cheese before being baked to perfection! These beef stuffed peppers are a family favorite that's equally good for entertaining. Serve them up as a delicious side dish or simply a meal on their own!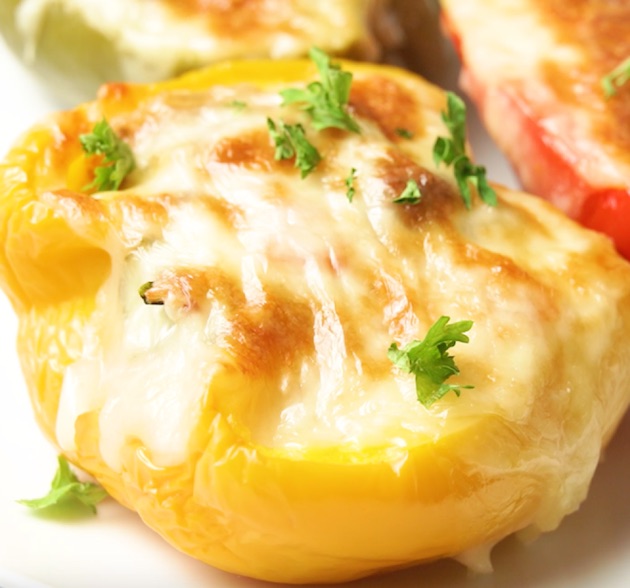 It's no secret that we love stuffed bell peppers! Not only are they super-flavorful, but they're nutritious too. You can serve this versatile dish year-round for a weeknight dinner as a party, and it's always a hit.
When you're going to the effort of making stuffed peppers, try to use quality ingredients in the filling. One of our secret ingredients is RiceSelect Royal Blend rice, which lends a nutty flavor and texture that's amazing inside the baked peppers.
This premium rice combines RiceSelect Texmati brown rice with other whole grains that contain all-natural ingredients, are clean of preservatives, chemicals, added substances and are non-GMO verified and grown in the USA. We get rave reviews every time we use it!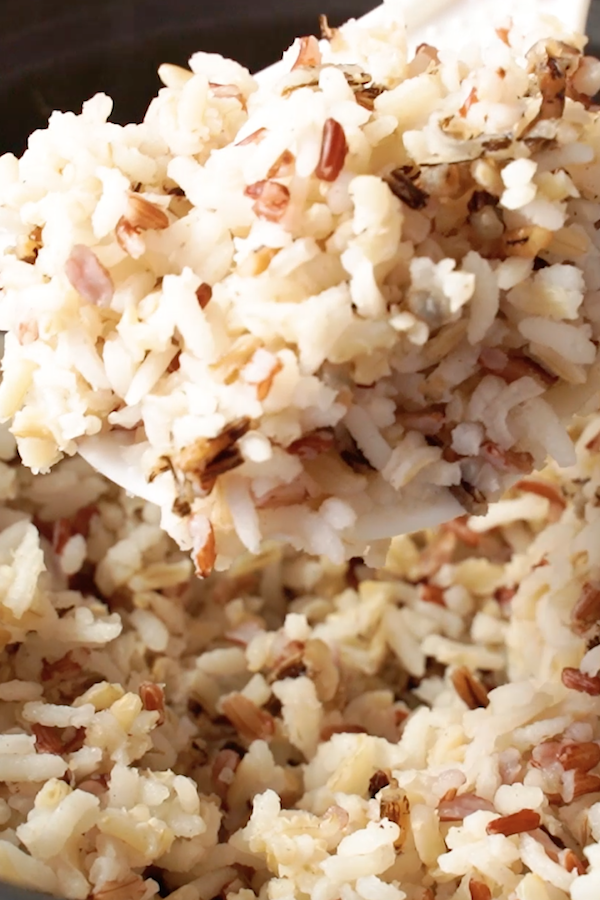 HOW TO MAKE STUFFED PEPPERS
The first step when making stuffed peppers is to start cooking the Royal Blend rice. Use 2 ½ cups of water per cup of rice and there are two ways to cook it:
Rice cooker: Simply add the rice and water and place on a regular cycle.
Stovetop: Add rice and water to a medium saucepan and bring to a boil. Stir once and reduce heat to a simmer for about 40 minutes.
You'll get a nice fluffy and chewy texture that's perfect for the stuffing. The rice will also soften a bit more during baking, absorbing all the delicious flavors of the stuffing!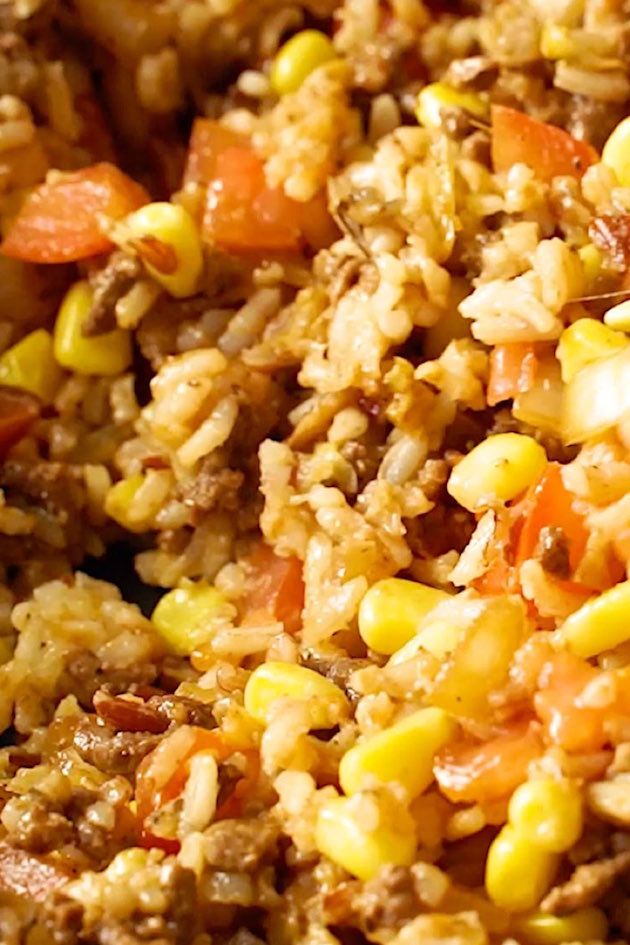 Once the rice is cooking, you can cut the bell peppers and prepare the stuffing. Here are the main ingredients you'll need:
Bell peppers: Any color or combination will do, and larger the better
RiceSelectRoyal Blend
Extra lean ground beef
Onion: yellow or white
Garlic
Tomatoes: canned or fresh
Corn: canned, frozen or fresh
Fajita seasoning: homemadeor store-bought
Soy sauce
Mozzarella cheese
Note that you can also skip the beef for a delicious vegetarian entrée. For a lighter option, you can use part-skim mozzarella cheese.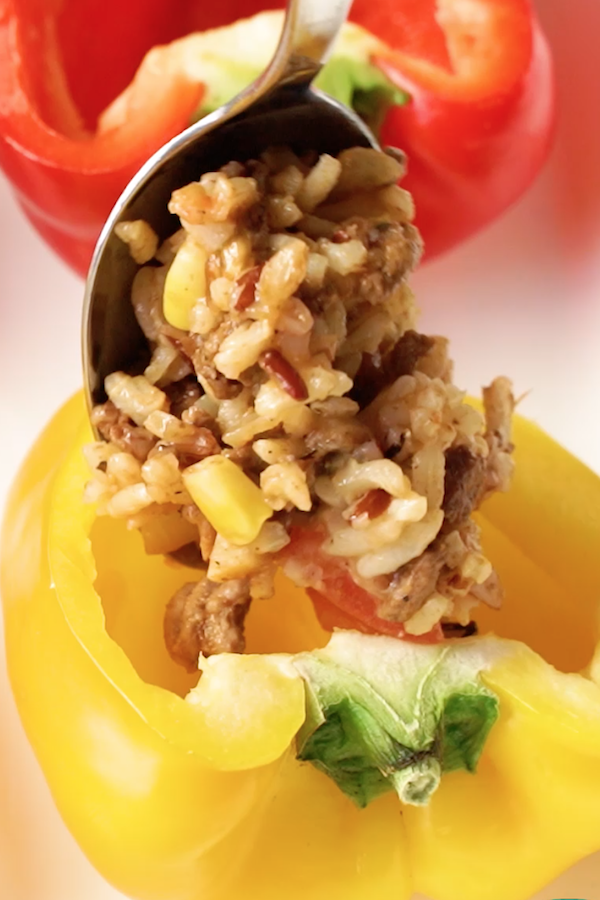 Cut the bell peppers in half and remove the insides. Then brown the beef in a large skillet before adding the remaining ingredients one-by-one, sautéing briefly in between. The filling will cook more in the oven, so sautéing should take no longer than 10 minutes in total.
Place the halved peppers in a rectangular baking dish. Then spoon the stuffing into them to mound slightly. The last step is an optional sprinkling of extra mozzarella cheese on top.
Bake them until the cheese is golden and bubbly. They're best served warm out of the oven.
Can stuffed bell peppers be made ahead of time?
You can bake the stuffed bell peppers ahead of time, and the flavor actually improves! Store them in an airtight container in the fridge for up to 3 days. When you're ready to serve, reheat for 15 minutes in the oven at 350°F (178°C) or in a covered skillet over medium heat.
WATCH HOW TO MAKE STUFFED PEPPERS:
[wp-recipe-video]
Classic Stuffed Peppers
Classic Stuffed Peppers are bell peppers stuffed with ground beef, rice, seasonings and cheese before being baked to perfection! These beef stuffed peppers are a family favorite and perfect for entertaining too. Serve as a delicious side dish or meal on their own!
Ingredients
6 large bell peppers
¾ pound ground beef, extra lean
1 medium yellow onion, chopped
4 cloves garlic, minced
2 medium tomatoes, cored and chopped
1 cup corn, canned or frozen
2 tbsp fajita seasoning
2 tbsp soy sauce
salt and pepper to taste
2 cups shredded mozzarella cheese, divided (optional)
fresh curly parsley, minced for serving
Instructions
Cook rice according to package directions.

Preheat oven to 350oF (178oC). Grease a 13x9 inch baking pan and set aside.

Slice the bell peppers down the middle lengthwise. Scoop out the seeds and pith using a spoon. Set aside.

Place a large skillet over medium-high heat.

Add oil and then ground beef. Cook for 5-7 minutes or until slightly browned, stirring regularly.

Add the onion, garlic and seasoning. Cook for 2-3 minutes more until onion is softened.

Mix in the tomatoes, corn, cooked rice, salt, pepper and 1 cup of optional mozzarella cheese. Remove from heat.

Spoon the mixture into the bell peppers to have a slight mound on top.

Sprinkle remaining optional mozzarella on top of each pepper.

Bake for 25-30 minutes until cheese is golden and bubbly.

Remove from oven and sprinkle parsley on top. Serve and enjoy!
Notes
• 1 cup of uncooked Royal Blend rice produces 2 1/2 cups of cooked rice (leftover will work as well).
Nutrition Facts
Classic Stuffed Peppers
Amount per Serving
% Daily Value*
* Percent Daily Values are based on a 2000 calorie diet.
Please read our nutrition disclaimer.
© TIPBUZZ. Images and text on this website are copyright protected. Please do not post or republish without permission. If you want to republish this recipe, please link back to this post. This post may contain affiliate links. Read the disclosure policy here.