Chimichurri Steak
Chimichurri Steak is a quick and easy recipe cooked in 15 minutes with no marinating needed! Perfectly seared steak is served with a garlicky, tangy and flavorful chimichurri sauce.
This chimichurri recipe is one of my favorite weeknight meals. The earthy sauce with fresh herbs greatly enhances the taste of the tender and juicy steak!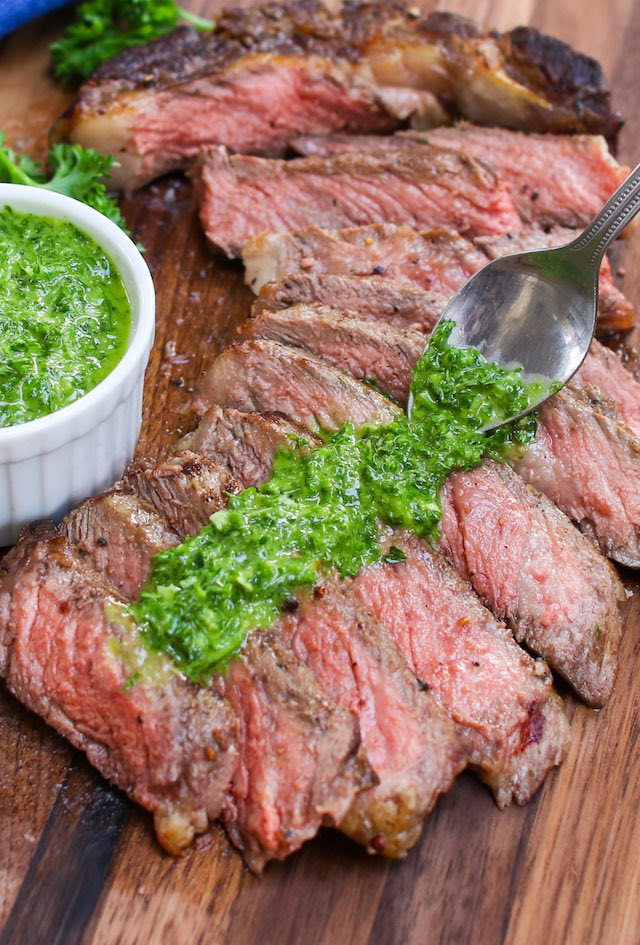 CHIMICHURRI STEAK
An easy and healthy dinner is just minutes away! This Argentinian-inspired meal is bursting with flavor. I pan-fried my steak, with baked or grilled steak working well too.  Pair this chimichurri recipe with Fruit Salsa, Boiled Broccoli and Balsamic Brussel Sprouts!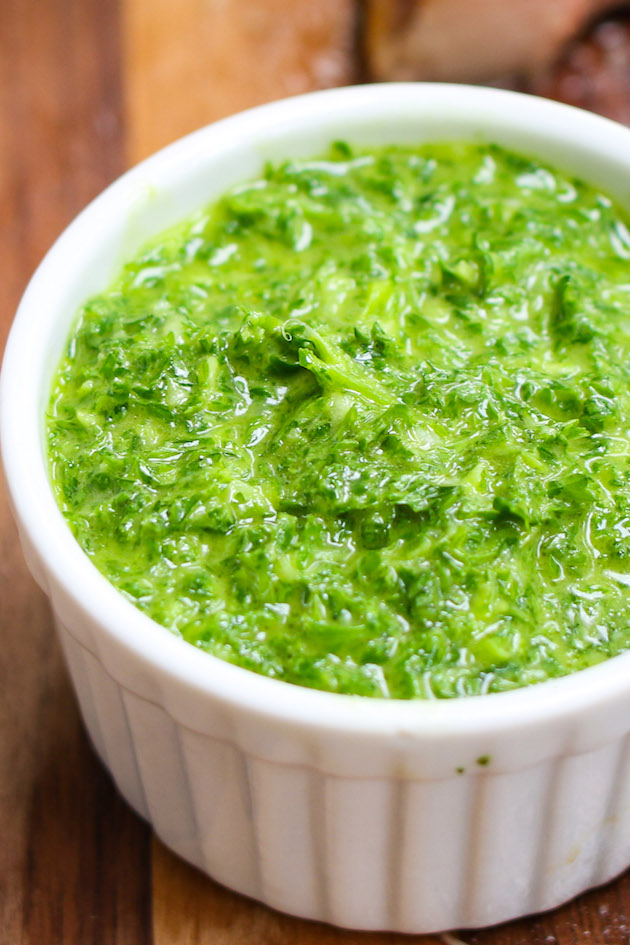 CHIMICHURRI SAUCE RECIPE
What is Chimichurri? Chimichurri sauce originated in Argentina and is traditionally made from finely chopped parsley, olive oil, oregano, minced garlic, red pepper flakes and vinegar. As it's gaining more popularity, there are many variations of this recipe, for example, tomato and bell pepper are sometimes added. I often leave red pepper flakes out for a non-spicy sauce.
Authentic chimichurri sauce is simply a mixture of chopped flat-leaf parsley and other ingredients. There's no pureeing required, as a chunky texture is one of the key features of Argentinian chimichurri. I still do a partial purée as a time-saver on occasion.
Chimichurri can be used as a marinade before cooking, but the best way to enjoy it is to drizzle over cooked meat to make delicious dishes such as flank steak with chimichurri, chimichurri chicken or fish.  You can use it immediately or store in a jar in the fridge for up to 3 days.
HOW TO MAKE CHIMICHURRI STEAK 
There is no marinating required for this recipe. To make the best chimichurri steak (churrascos), first rub your steak with olive oil or butter and season generously with salt and pepper. Then heat a cast iron skillet over high heat. Sear the steak for 3-4 minutes per side until golden brown. Let it rest for about 5 minutes before cutting. Pour the chimichurri sauce over the steak and serve.
I like medium-rare steak, and here is a detailed post on Pan-Seared Steak with complete instructions on how long to cook the steak for different levels of doneness.
WHAT STEAK DO YOU USE FOR CHIMICHURRI STEAK?
Look for high quality, tender cuts such as rib-eye steak, T-bone steak, sirloin steak, skirt steak and strip steak.
For steaks with chimichurri sauce recipe, pan sear the steak to medium-rare to a temperature of 130°F (54°C) for the best texture. An instant meat thermometer allows you to quickly check doneness without cutting into the steak.
Let the steak rest for about 5 minutes and cut crosswise against the grain for maximum juiciness.
Chimichurri Steak
Chimichurri Steak is an easy Argentinean-inspired dish. Spoon the flavorful chimichurri sauce onto the tender and juicy steak.
Ingredients
Steak:
12 ounces steak, rib eye, sirloin, T-bone or skirt steak
Salt and pepper for seasoning
1 tablespoon olive oil
Chimichurri Sauce:
3/4 cup flat leaf parsley, finely chopped
1/2 cup olive oil
2 tablespoons red wine vinegar
3 cloves garlic, minced
1 teaspoon dried oregano
salt and pepper, to taste
1 teaspoon red pepper flakes, optional
Instructions
Pan-Seared Steak
Remove steaks from refrigerator 30 minutes before cooking.

Rub steak with ½ tablespoon of olive oil, and season generously with salt and pepper.

Heat a cast iron skillet over high heat and add ½ tablespoon oil.

Add steak when it begins to smoke. This is necessary in order to get a good sear.

Sear steaks for 3-4 minutes each side to desired doneness (see note).

Let it rest for about 5 minutes before cutting.
Chimichurri Sauce
Finely chop the parsley leaves.

Pulse parsley, garlic, and red pepper flakes in food processor until coarsely pureed.

Add oregano and vinegar and pulse to combine.

Transfer the mixture to a small-medium bowl. Whisk in olive well and mix well.

Test taste and adjust seasoning.

Spoon the chimichurri sauce onto the steak.
Notes
Steak doneness:
Rare Steak – 125°F (52°C), cool red center
Medium Rare Steak – 135°F (57°C), warm red center
Medium – 145°F (63°C), warm pink center
Medium Well Steak – 150°F (66°C), slightly pink center
Well Done Steak – 160°F(71°C), little or no pink
Nutrition Facts
Chimichurri Steak
Amount per Serving
% Daily Value*
* Percent Daily Values are based on a 2000 calorie diet.
Please read our nutrition disclaimer.
MORE SAUCE RECIPES YOU'LL LOVE:
© TIPBUZZ. Images and text on this website are copyright protected. Please do not post or republish without permission. If you want to republish this recipe, please link back to this post. This post may contain affiliate links. Read the disclosure policy here.