Swineapple
Swineapple is mouthwatering barbecue at its best! This swineapple recipe uses a peeled and cored pineapple stuffed with pork ribs and wrapped in bacon. It's then smoked (or grilled) low-and-slow to juicy perfection!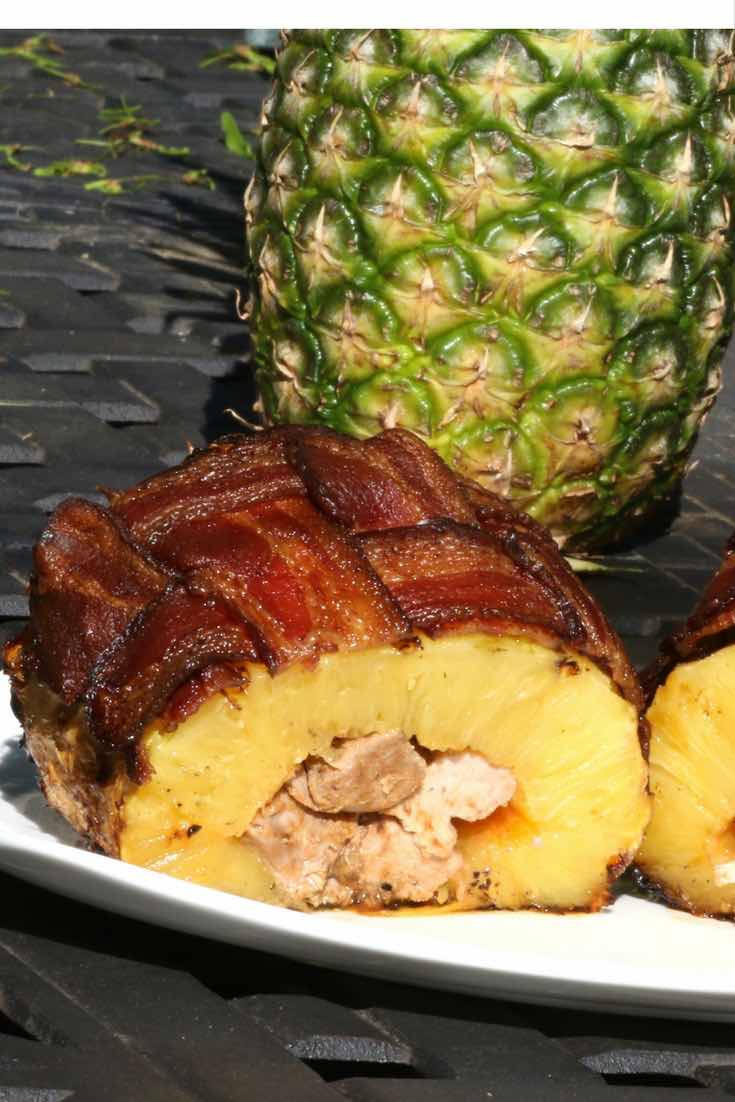 Looking for some new ideas for grilling season? Swineapple always steals the show with its crispy exterior and unbelievably juicy inside. Perfect for any backyard barbecue or a special occasion like Memorial Day, Father's Day or Fourth! While smoking is preferred, grilling low-and-slow works well too.
The swineapple sensation began slowly in 2015 when meat smoker Josh Bush of Laporte, Texas posted it on Facebook. Several years later it went viral. For those of us who got a taste of it, the memories (and cravings) remain!
What is a Swineapple?
Swineapple is exactly what it sounds like: a delicious combination of pork and pineapple. You stuff a pineapple with boneless pork ribs, wrap with thick-cut bacon and grill on low heat. The pineapple bastes the pork during cooking to make an unbelievably tender and delicious dish that vaguely resembles roast Kalua pig.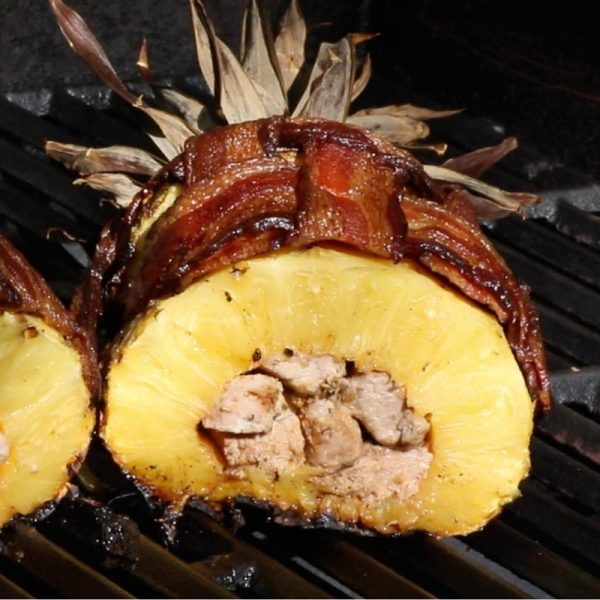 Ingredients
Here's what you'll need to make it:
Pineapple: Get the largest pineapple you can find. To make sure it's sweet, read how to ripen a pineapple.
Boneless Pork Ribs: You can find these at some meat counters or just ask your butcher. You can also use pork tenderloin instead. Using the freshest prok will give you the best flavor.
Bacon: Go for thick-cut bacon to ensure it'll hold together during cooking.
Barbecue Sauce: Use your favorite sauce (I used Stubb's)
Spice Rub: Use your favorite a pork spice rub or just some paprika.
You will need some bamboo skewers to hold the swineapple together during cooking.
How to Make BBQ Swineapple
There are three parts to any swineapple recipe:
The pineapple: You need to peel and core a large pineapple using a serrated knife. I used a melon baller to scoop out the tough flesh down to about an inch from the bottom. Reserve some of the juices for basting later on.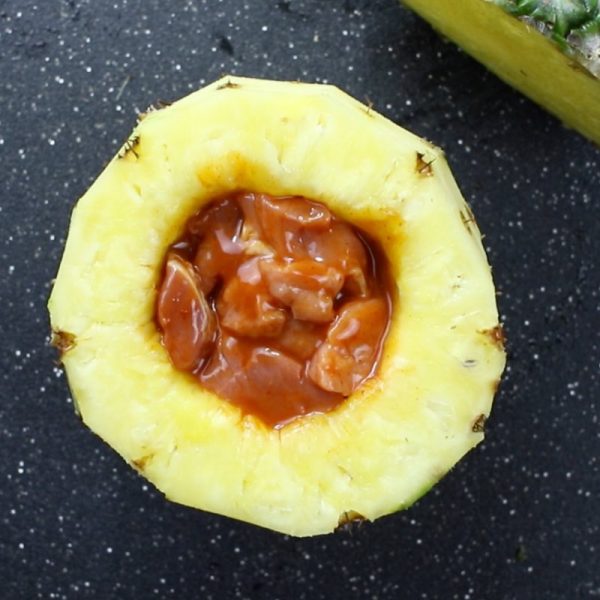 2. The ribs: You need to coat the ribs in bbq sauce and seasoning before stuffing into the pineapple:
3. The bacon: On a piece of parchment, arrange the bacon in a 5×5 pattern to make a weave. Then you're going to wrap it around the pineapple and fasten with bamboo skewers:
Now you're ready for smoking. I recommend using a Traeger or another smoker at 275°F using apple or cherry wood (although hickory works too); however, I've had great results with the grill as well.
Put the swineapple on a perforated metal tray or a double layer of foil with a few holes poked into it to prevent the juices from accumulating. You also want to baste the swineapple occasionally with reserved juices during cooking to keep it moist.
How Long Do You Smoke a Swineapple?
It takes approximately 3 hours to smoke a swineapple. The bacon on the outside should be crispy, and the internal temperature should measure 145-150°F.
If you have one, use a dual-probe wireless thermometer to track the internal temperature. Alternatively start checking after 3 hours using an instant-read thermometer. Swineapple is done when the middle reaches 145-150°F!
Serving Ideas
I like to cut the swineapple widthwise into 1-inch slices (use a sharp carving knife and fork to get a clean cut). You can eat it as is with side dishes or make it into a sandwich:
Swineapple Burger: Take that slice of swineapple and put it on a toasted burger bun.
Swineapple Pulled Pork: Use two forks to pull the ribs apart for sandwiches.
The possibilities are endless!
Swineapple Recipe Video
More BBQ recipes:
Swineapple Recipe
Swineapple is mouthwatering barbecue at its best! This swineapple recipe uses a peeled and cored pineapple stuffed with pork ribs and wrapped in bacon. It's then smoked (or grilled) low-and-slow to juicy perfection!
Ingredients
1 large pineapple, sweet and ripe
1/2 pound boneless pork ribs, or pork tenderloin
1 pound bacon, thick cut
Swineapple Sauce
2 tablespoons bbq sauce
1 teaspoon pork spice rub, or paprika
salt and pepper, to taste
Instructions
Prepare the Pineapple
Slice off the top of the pineapple about an inch below the leaves.

Using a sharp knife, cut out the core of the pineapple to an inch above the bottom. Use a melon baller to scrape out the remaining flesh, reserving the juices.

Remove the skin from the pineapple. Start by cutting off the outer 1/4-inch using a serrated bread knife. Then remove remaining brown eyes one-at-a-time or cut diagonally in a spiral pattern.
Assemble the Swineapple
Make the swineapple sauce. In a medium bowl, mix the bbq sauce and spice rub together.

Cut the pork into 3/4 inch strips and add to the sauce, tossing to coat. Spoon into the pineapple cavity. Then replace top of pineapple.

Place a piece of parchment or foil on a work surface. Lay down 5 strips of bacon side-by-side. Then layer 5 more strips on top perpendicular, weaving each one over and below to make a weave pattern. (See video if needed)

Lift up the edges of the parchment/foil to wrap the bacon weave around the pineapple. Next, use three skewers to attach the bacon weave, pineapple top and pineapple body together.
Smoking (or Grilling)
Preheat your smoker or grill to 275°F, adjusting the vents as needed.

Carefully transfer the swineapple onto a perforated tray with the bacon facing up. If you don't have one, use a double layer of foil instead with about 6 holes poked into it.

Put the swineapple into the smoker or grill and close the lid. Cook for 3-4 hours, brushing periodically with reserved pineapple juices for extra flavor. The swineapple is done when the bacon is crispy and an instant-read thermometer inserted into the center reads 145-150°F.

Using kitchen tongs, transfer the swineapple to a serving platter. Next, pull out the skewers. Using a sharp carving knife and fork, cut widthwise into 1-inch pieces to serve.
Notes
The following tips will help you make the best swineapple possible:
Buy the largest pineapple you can find.
Use quality, thick-cut bacon.
Apple or cherry wood is recommended, but hickory will do too.
Use the freshest pork possible for the best flavor.
Nutrition Facts
Swineapple Recipe
Amount per Serving
% Daily Value*
* Percent Daily Values are based on a 2000 calorie diet.
Please read our nutrition disclaimer.

Editor note: Originally posted June 3, 2017 and updated July 14, 2018
© TIPBUZZ. Images and text on this website are copyright protected. Please do not post or republish without permission. If you want to republish this recipe, please link back to this post. This post may contain affiliate links. Read the disclosure policy here.