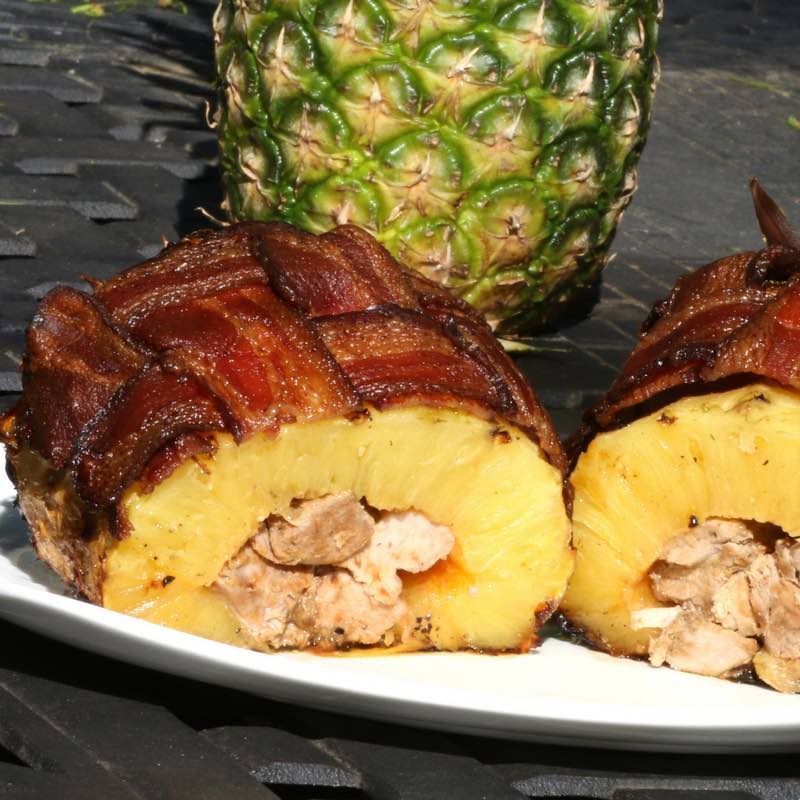 This amazing bbq swineapple is perfect for meat lovers as part of a relaxed summer weekends with friends and family. Always a conversation starter, this recipe has mouthwatering rib, bacon and pineapple flavors and is cooked on the grill or in the oven.
Swineapple is exactly what it sounds like: a delicious combination of pork and pineapple. It's rumored to have been invented in the past 10 years by meat smoker Josh Bush of Laporte, Texas. However, it vaguely resembles Kalua pig roasted over a hot fire and commonly found at a Hawaiian lu'au.
You stuffed a pineapple with pork tenderloin or boneless ribs, wrap with thick-cut bacon and grill on low heat. The pineapple bastes the pork during cooking to make an unbelievably tender and delicious dish!
This recipe is adapted for the grill or even the oven, since most of us don't have a smoker handy. (If you do, then by all means smoke it!) It's great for a leisurely backyard BBQ party when you have time for slow cooking, like on the Memorial Day or Fourth of July weekends and also for Father's Day. Definitely an epic recipe for meat lovers!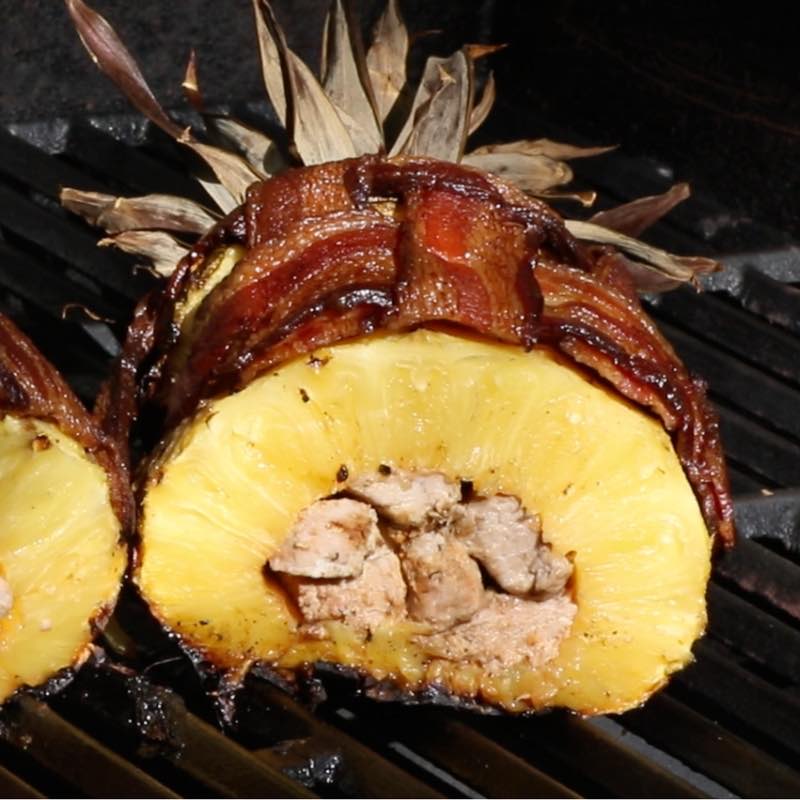 How to make swineapple
Swineapple only requires about 15 minutes of prep, but you'll need about 3 hours of cook time. So stock up on your favorite cold beverages and gather with friends to create some anticipation!
There are a few notes to keep in mind for swineapple ingredients:
buy the largest pineapple you can find
use quality, thick-cut bacon
use fresh pork meat for the stuffing
In terms of equipment, you'll also need some wooden or metal skewers to hold the pineapple together while it cooks, and a sharp serrated knife to shave off the outside of the pineapple. An aluminum steam table pan or some foil is helpful to prevent burning on the bottom.
The first step is to make the pork stuffing. Cut the pork into bite size pieces and mix in your favorite barbeque sauce and paprika. It doesn't need any added sugar because the pineapple juices will lend additional flavor.
Then prepare the pineapple by slicing off the top and shaving off the outside with a knife. Finally you need to use a paring knife to dig out the core of the pineapple, leaving about an inch of flesh all around including the bottom. Reserve all your pineapple pieces, as the juices rendered will come in handy later on.
Spoon the pork pieces into the pineapple…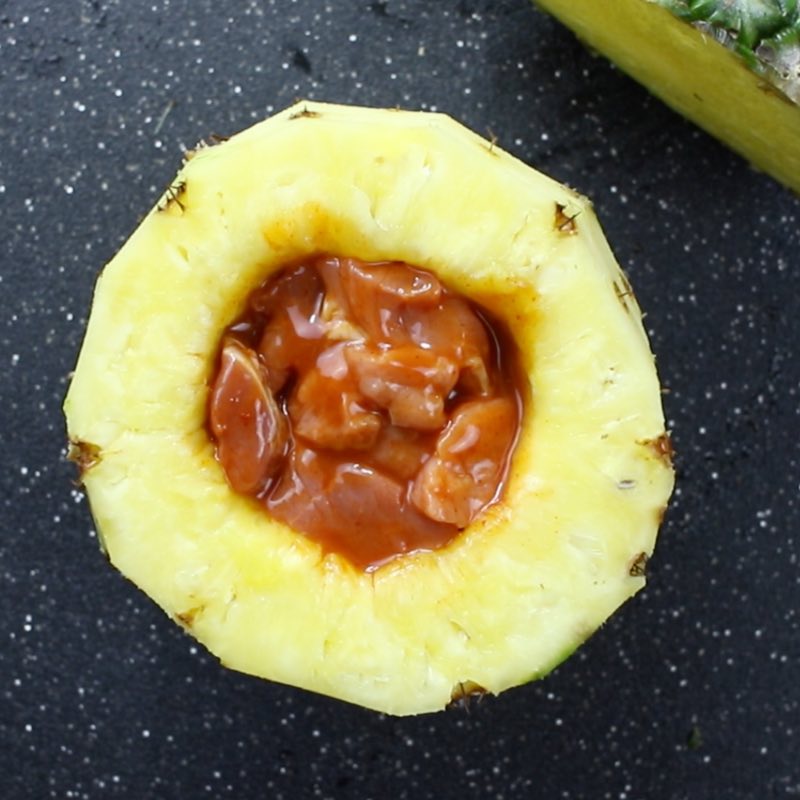 The next step is making the bacon weave according to the video tutorial below. You can stretch the bacon somewhat to help it to wrap around the pineapple, but it doesn't matter if it's not long enough.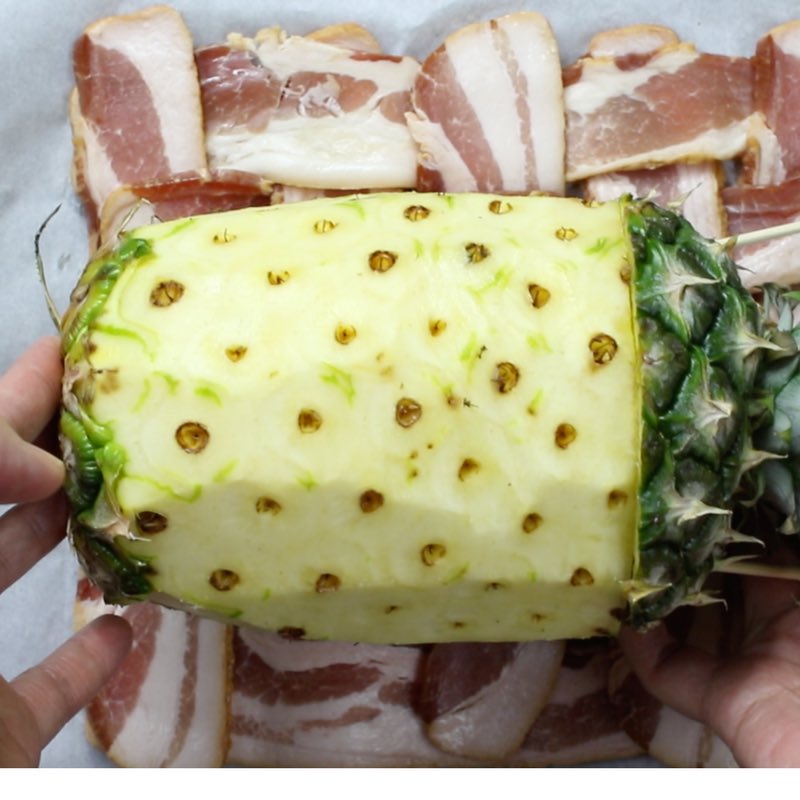 At this point, you're almost finished the preparation! Fasten the bacon weave to the pineapple using several wooden skewers. Place the Swineapple into an aluminum steam table pan or some foil, and place on the grill or in the oven.
The trick to this recipe is not letting the heat go too high, causing the bacon to overcook. A temperature of 275°F is perfect, and should be almost the lowest heat on your grill. Baste the swineapple occasionally with your reserved juices to keep it moist.
Watch our video tutorial to see how to make it, and enjoy your swineapple feast!
BBQ Swineapple: Pork Stuffed Pineapple Wrapped In Bacon (with Video)
A pineapple stuffed with pork, wrapped in bacon and grilled to perfection
Total Time
3
hours
15
minutes
Ingredients
1

large

pineapple

1

lb

bacon

thick cut

1/2

lb

pork tenderloin

2

tbsp

bbq sauce

2

tsp

paprika

salt and pepper to taste
Instructions
Slice off the top of the pineapple about an inch below the leaves.

Using a sharp knife, cut out the core of the pineapple to an inch above the bottom. Use a melon baller to scrape out the flesh and reserve.

In a medium bowl, add the bbq sauce, paprika and a tablespoon of juices from the reserved flesh.

Cut the pork into 3/4 inch x 3 inch strips and add to the bbq sauce mixture. Set aside.

Cut off the outer 1/4-inch of skin of the pineapple.

Add the pork mixture into the pineapple cavity. Replace top of pineapple.

Place a piece of wax paper or foil on a work surface. Make a 5x5 bacon weave according to the video.

Pick up the bacon weave and wrap around the pineapple. Use two skewers to attach the bacon, pineapple top and pineapple body together.

Turn on your grill to low heat or your oven to 275F degrees. Add a 12-inch square piece of foil in the middle, and place the swineapple on top with the bacon side up.

Cook for 3-4 hours until bacon is getting crispy, basting occasionally with leftover pineapple juices. Serve and enjoy!
Nutrition Facts
BBQ Swineapple: Pork Stuffed Pineapple Wrapped In Bacon (with Video)
Amount Per Serving
Calories 304
Calories from Fat 180
% Daily Value*
Total Fat 20g 31%
Cholesterol 63mg 21%
Sodium 621mg 26%
Potassium 152mg 4%
Total Carbohydrates 7g 2%
Protein 21g 42%
* Percent Daily Values are based on a 2000 calorie diet.
Recipe adapted from SmokedMeatWithJef
Check out our Sheet Pan Chicken Fajitas too: