Crock Pot London Broil
This Crock Pot London Broil is moist and tender with mouthwatering flavors. You only need 10 minutes of prep before the slow cooker goes to work. Simply add potatoes and vegetables for an easy one-pot meal!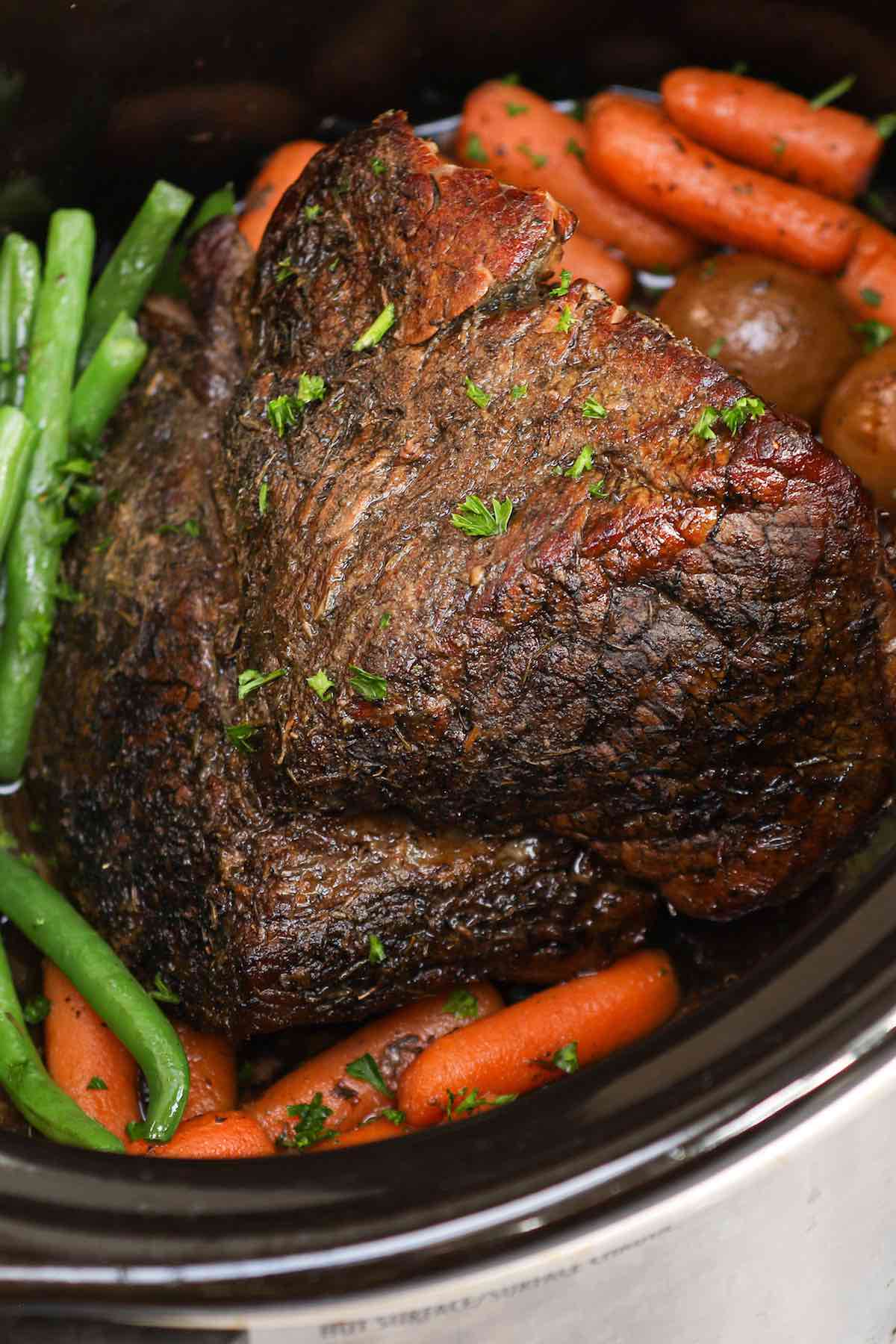 London broil is always a source of curiosity with its fancy name and affordable price. While the traditional London broil recipe calls for broiling the beef in the oven, slow cooking makes it even more tender without the need for marinating.
All you need to do is throw the ingredients into the crock pot and forget about it until dinner time. So let's get this started!
What is London Broil?
London Broil is not an actual cut but rather a preparation method whereby top round or flank steak is marinated, broiled and cut against the grain into strips. It's an American dish in spite of the British-sounding name!
Supermarkets jumped in on the action by labelling cuts of meat as London broil, with slow cooking and other adaptations following the rise in popularity. The lean cuts become flavorful and tender due to the braising action of the slow cooker.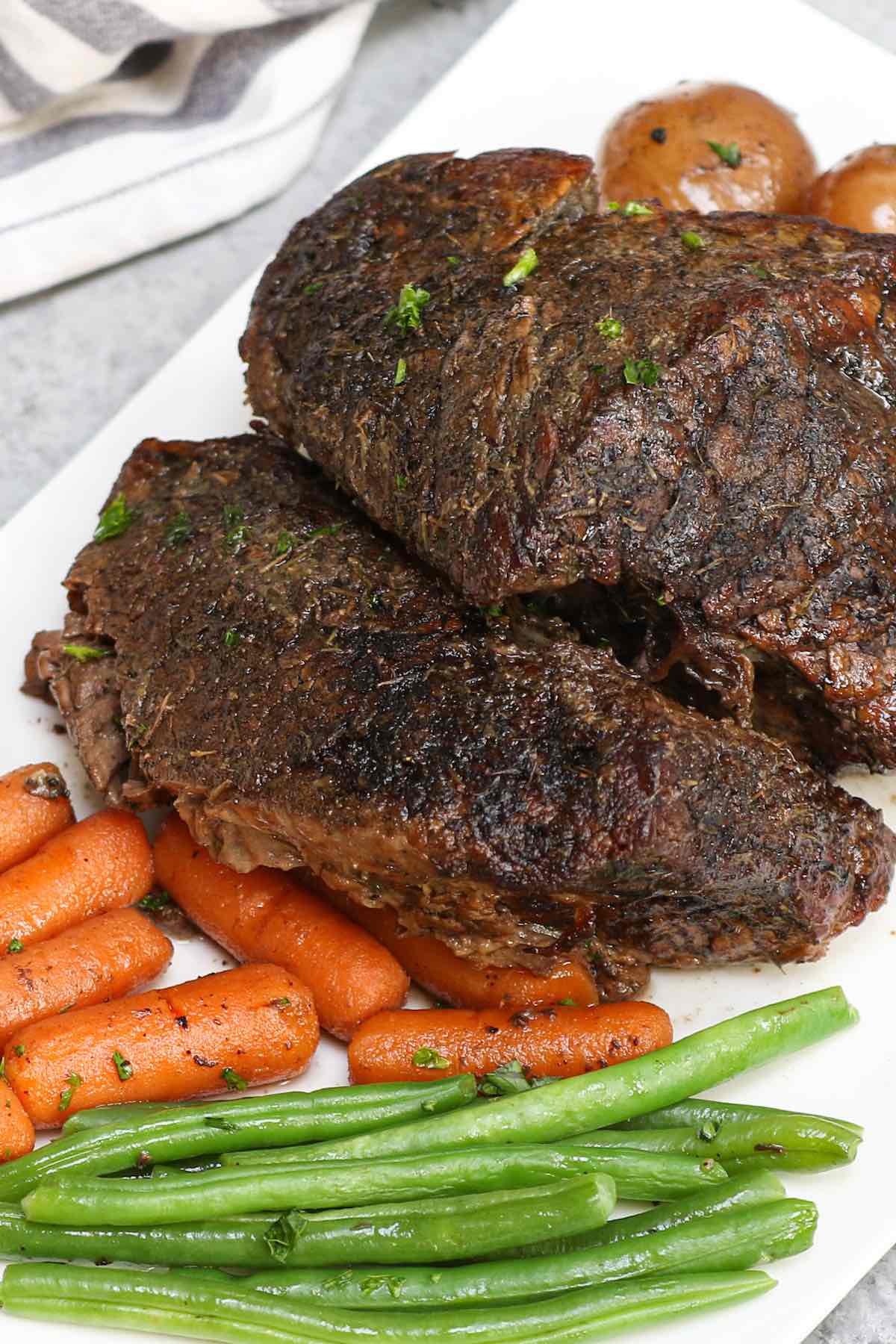 Ingredients
Here are the key ingredients you'll need to make it:
London Broil: Typically this is top round or flank steak. If you cant find any, try substituting chuck steak, sirloin tip  or bottom sirloin.
Canola oil: Any high-temperature oil will do including sunflower, peanut etc.
Garlic: Fresh minced is ideal or garlic powder
Beef Broth: I recommend low sodium broth, or you can use red wine or water when you don't have broth.
Seasonings: salt, pepper and thyme (fresh or dried)
How to Make Crock Pot London Broil
This is a dump-and-go recipe with the option of quickly pan-searing the meat beforehand for extra flavor. If you're unfamiliar with crock pots, read about how to use a slow cooker.
Put everything in the crock pot and cook on Low for 6-7 hours or on High for 3-4 hours. If you'd like potatoes or carrots, add them to the crock pot an hour before serving. Green beans should go in 30 minutes out and with a flour-water slurry to thicken the juices into gravy if you like.
Slice the meat against the grain and drizzle crock pot juices on top to serve!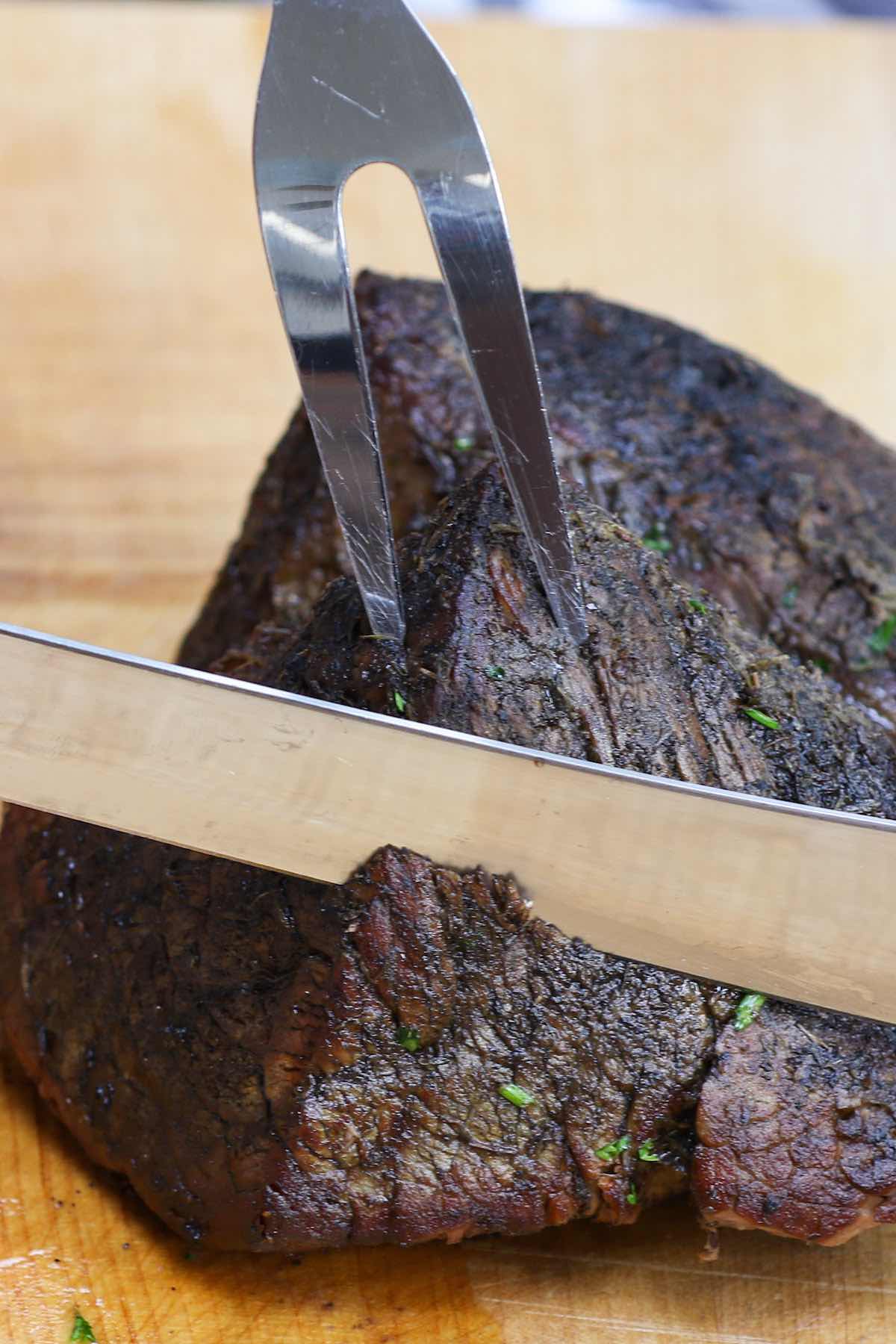 How Long to Cook London Broil in a Slow Cooker?
London Broil takes 6-8 hours on Low or 3-4 hours in High depending on the size of the roast. However, it will be more tender if cooked on Low. Also, check the tenderness an hour ahead, since there can be variation from one crock pot to the next.
How to Store Leftover London Broil?
Once the meat has cooled completely, you can store it an airtight container in the fridge for up to 4 days. Pour the gravy on top to cover as much meat as possible.
Leftovers also freeze well for up to 3 months. You can reheat gently on the stovetop, and they make fabulous sandwiches too. 
What to Serve with London Broil
This London Broil recipe has its own gravy and it's easy to pair with various side dishes: boiled potatoes, mashed potatoes, steamed rice, cauliflower rice, broccoli, mushrooms, corn on the cob, green beans and more!
You can simply add the vegetables to the slow cooker halfway through, or cook them separately on the stove.
More Slow Cooker Beef Recipes:
View all slow cooker recipes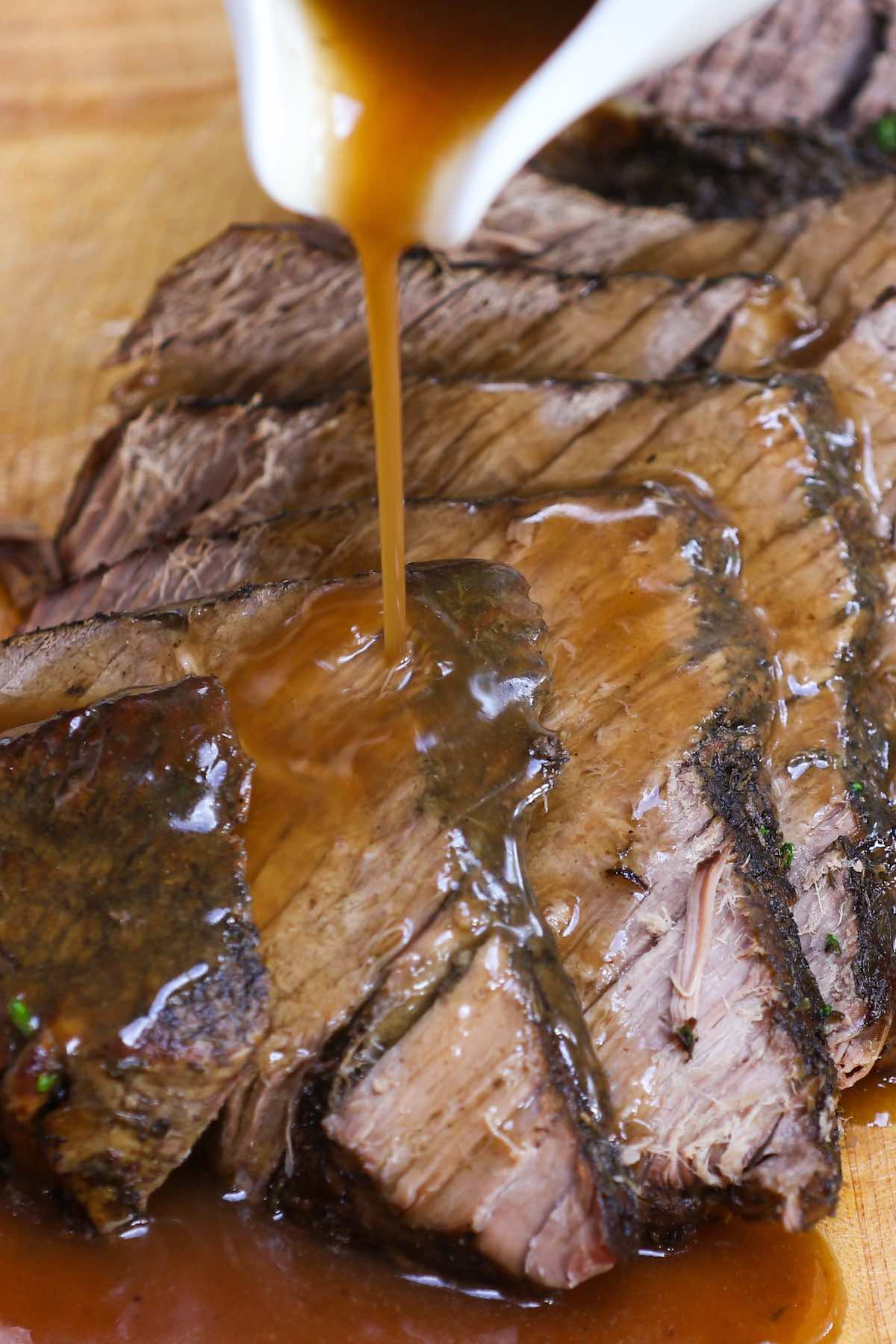 Slow Cooker London Broil
This London Broil is cooked in the crock pot for a delicious pot-roast style meal! It only takes 10 minutes of prep before the slow cooker works its magic. Add potatoes or vegetables to this recipe to make a delicious one-pot meal!
Ingredients
3 pounds London broil, see note
1 tablespoon canola oil
1 cup beef broth, low-sodium recommended, or red wine or water
1 teaspoon dried thyme, or 4 sprigs fresh thyme
1 teaspoon garlic powder, or 2 teaspoons freshly minced garlic
1 teaspoon salt, or less if using regular broth
½ teaspoon black pepper
2 tablespoons butter
Optional Additions
1 pound baby potatoes, red or white (10-12 potatoes)
3 medium carrots, sliced
½ pound green beans
Instructions
Optional Searing: Place a cast iron skillet over high heat and let it heat up for 5 minutes until very hot. Add the oil and the beef. Let is sear undisturbed for 2 minutes to brown. Then flip and repeat for the other sides.

Place the London broil in the crock pot along with the broth, thyme, garlic, salt, pepper and butter. Then cover and seal the lid.

Cook on Low for 6-7 hours or alternatively on High for 3-4 hours. Add optional potatoes and carrots for the final hour, and green beans for the last 30 minutes.

Remove the roast to a carving board and slice against the grain. Serve with juices from the crock pot.
Notes
Serving: You may need to pass the juices through a sieve or strainer before serving.
Please read our nutrition disclaimer.
Recipe tools: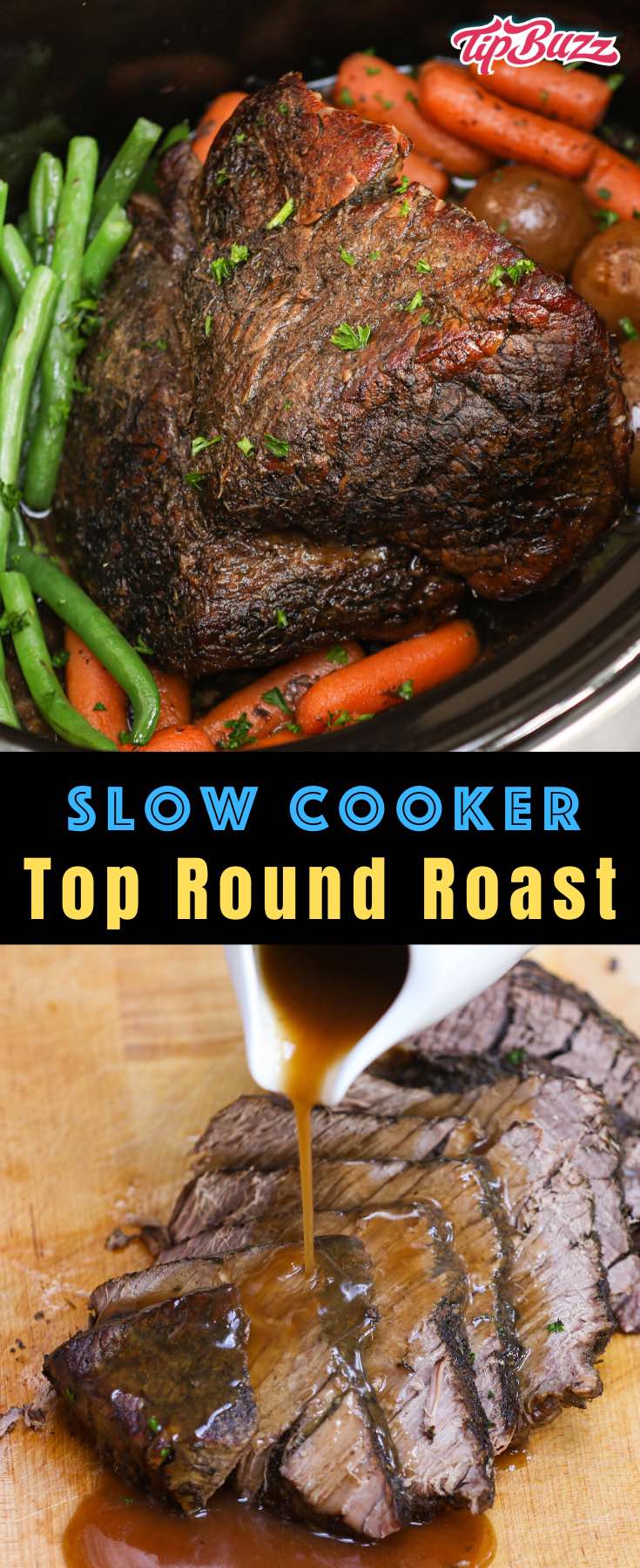 © TIPBUZZ. Images and text on this website are copyright protected. Please do not post or republish without permission. If you want to republish this recipe, please link back to this post. This post may contain affiliate links. Read the disclosure policy here.