Domino's Philly Cheese Steak Pizza
Domino's Philly Cheese Steak Pizza is loaded with slices of tender steak, caramelized onions, bell peppers, provolone and American cheese. With this easy copycat recipe, you can enjoy homemade Philly Cheese Steak Pizza in the comfort of your own home. It's meaty, cheesy and totally irresistible!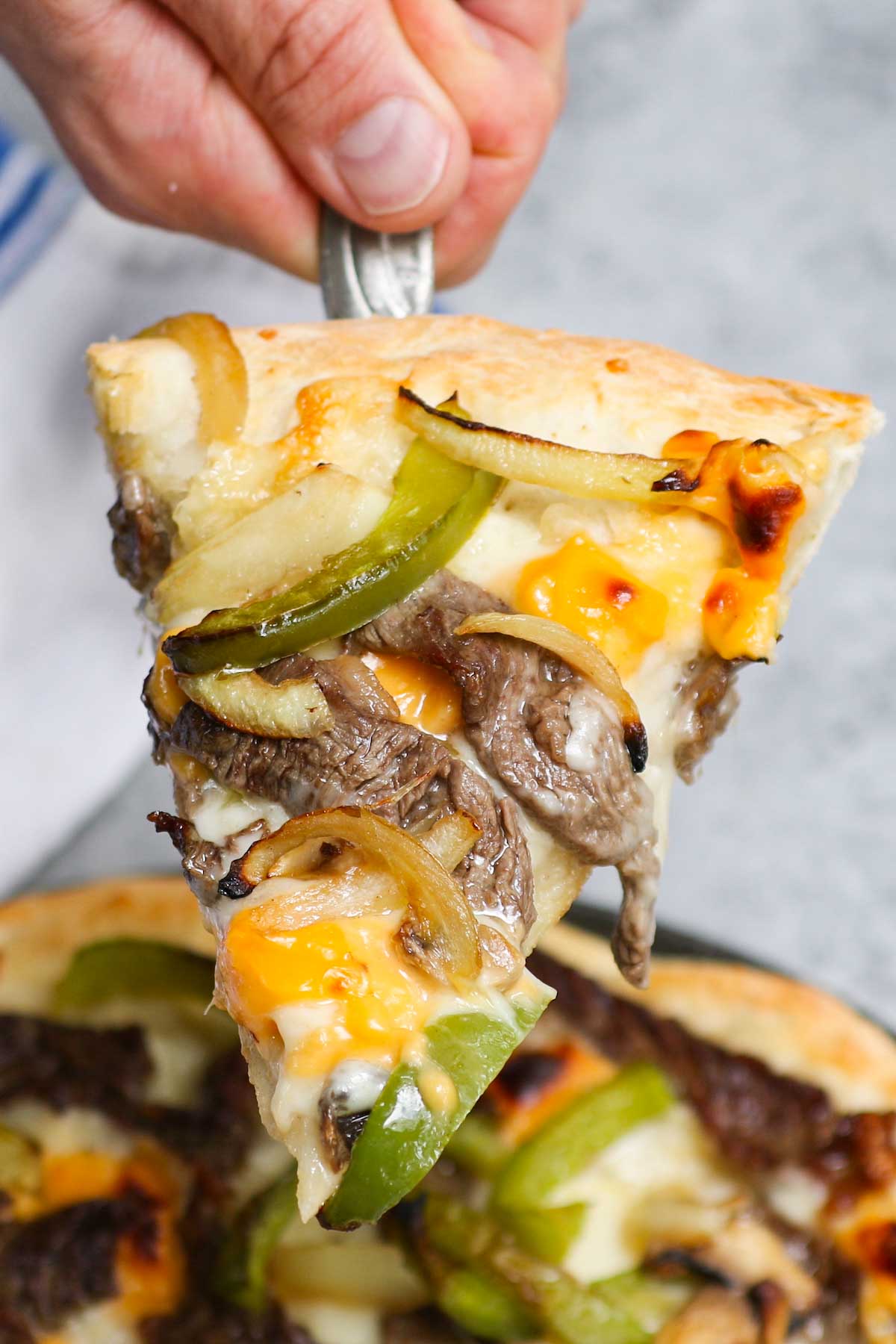 The Domino's Philly Cheese Steak Pizza is such a hit, many people swear it's the *only* pizza they'll eat! Because it's a Feast Pizza on the Domino's menu, it costs more than a regular pie. Since you'll want an extra slice or two anyways, why not go ahead and make it yourself?
This homemade steak and cheese pizza is just as good as the original, plus it's also more affordable! Plus, it's a great way to transform leftover steak into a memorable meal everyone will love. So what are you waiting for?
What's on a Philly Cheese Steak Pizza from Dominos
The Domino's Philly Cheese Steak Pizza is less like a pizza with cheesesteak toppings and more like a sandwich with pizza crust instead of a hoagie. Instead of a tomato sauce they use three types of cheese: mozzarella, provolone and American. Toppings include sautéed onions, mushrooms and bell peppers. Of course, you can't forget tender slices of steak sliced thin!
Ingredients & Substitutes
Here's what you'll need to make it: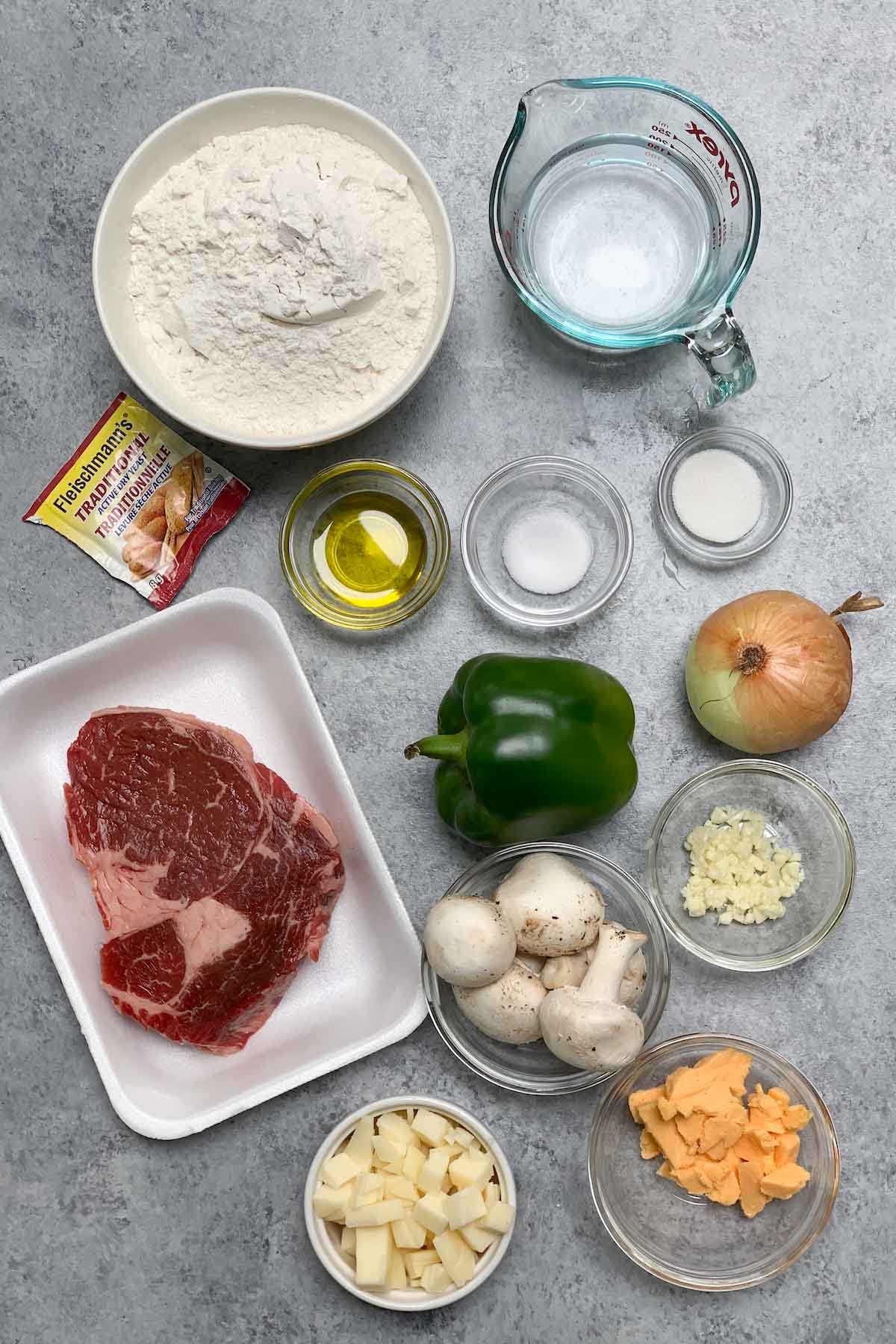 Pizza Dough: I recommend making your homemade pizza dough using pantry ingredients: dry active yeast, water, sugar, all-purpose flour, salt and olive oil. If you want to save time, you can always use storebought pizza dough in a can.
Steak: Rib eye is the traditional choice for cheesesteak, and you can substitute top sirloin for a more economical option. Steak leftovers also works really well!
Olive Oil: Regular refined olive oil or canola oil for sautéing the veggies.
Green Bell Pepper: Domino's uses sliced green bell pepper on their pizza and I recommend using it. If you dislike bell peppers, you can always skip it too.
Onion: A yellow or white onion is traditional for cheesesteak, but you can omit if you prefer.
Mushrooms: Fresh white button mushrooms are ideal, but you can use portobello mushrooms or even canned in a pinch.
Provolone: This cheese is traditional for cheesesteak and sets this pizza apart! I recommend buying a brick and shredding your own, as it can be hard to find pre-shredded.
American cheese: Grab a brick of Velveeta or other orange American cheese, or alternatively buy pre-shredded.
How to Make Dominos' Philly Cheese Steak Pizza
Start by making the pizza dough (full details below).
While the dough rising, prepare the topping/sauce. Slice the steak into strips about 1/8-inch wide. (I find it's helpful to put the meat in the freezer for 30-60 minutes beforehand for easier slicing.) Then sauté over medium-high heat until slightly browned and juicy with most of the pink color gone: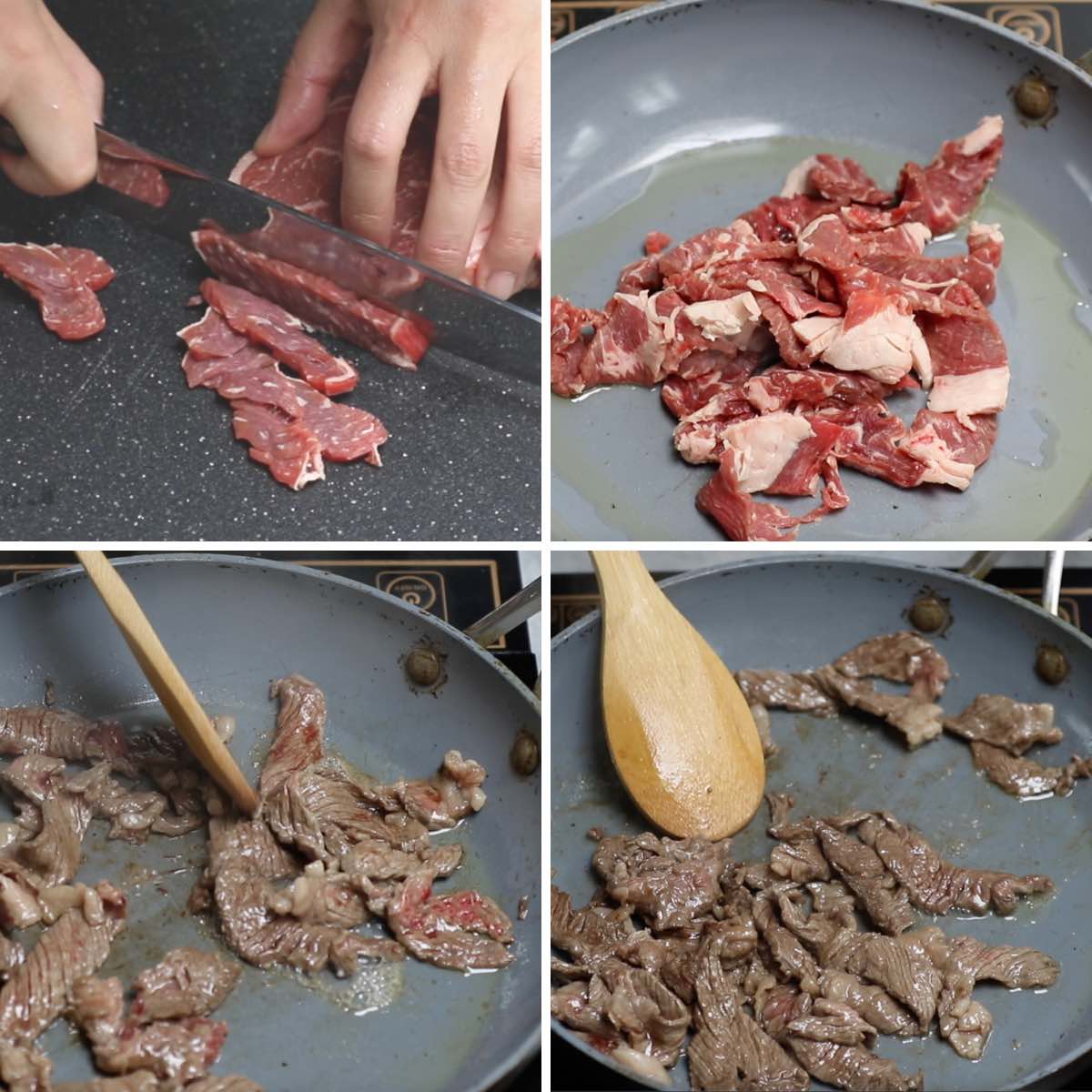 Remove the meat from the pan. Then add the onions, green peppers and mushrooms (you can skip any one of these vegetables depending on your preference). Sauté for a few minutes until slightly softened with the edges of the onions starting to brown or caramelize. Remember, they will cook a bit more in the oven, just like the steak.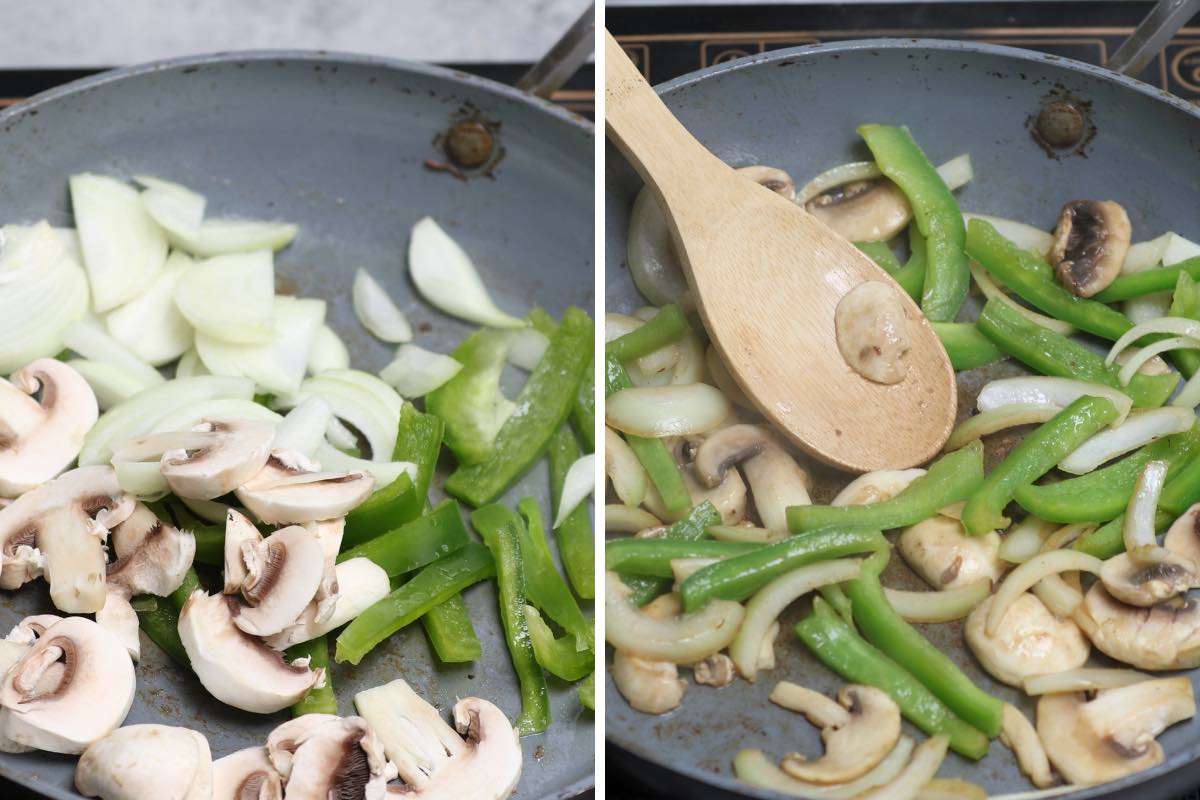 Now you're ready to assemble the pizza. Preheat your oven to 450°F and grab a pizza pan or large baking sheet. Once the dough has doubled in volume, punch it down. Next, stretch it out on the pan to about 12-14 inches in diameter. Brush with oil and poke all over with a fork: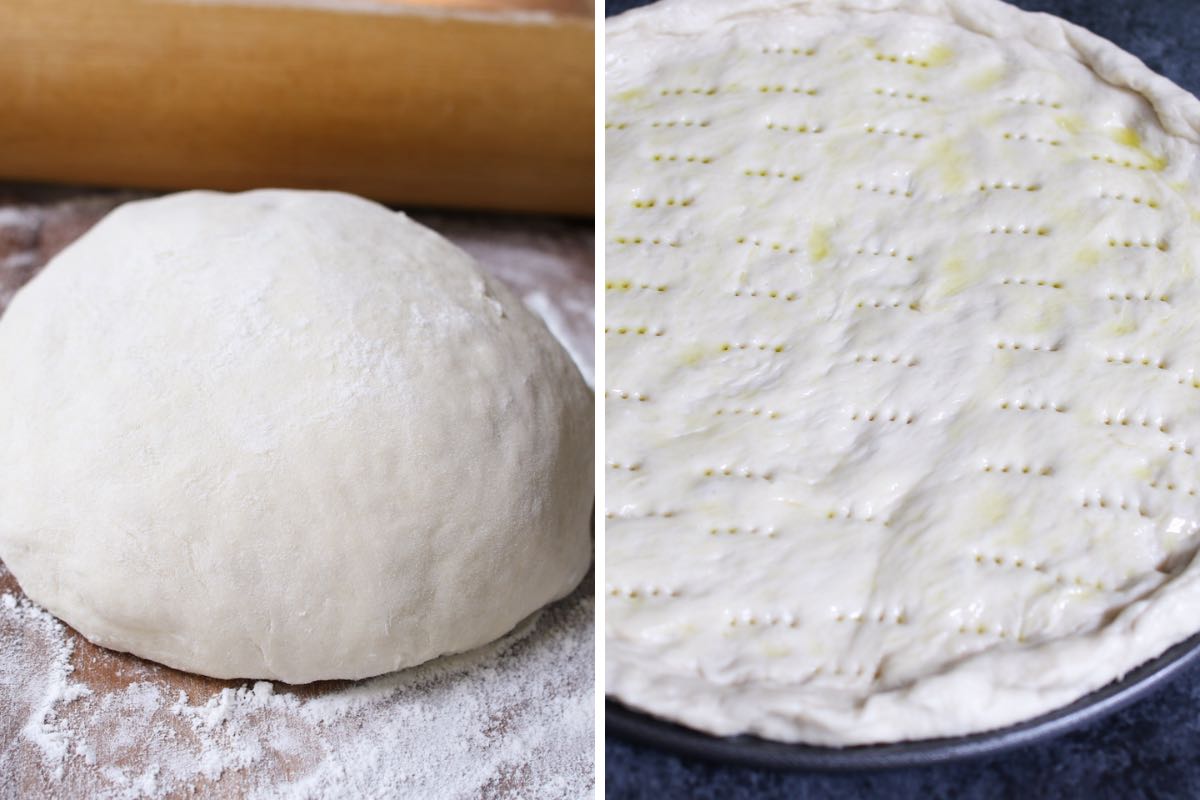 Last but not least, sprinkle the American and provolone cheeses evenly across the dough. Then sprinkle the steak and veggies on top. Bake for 12 to 15 minutes until the cheeses are melted and the crust is golden around the edges: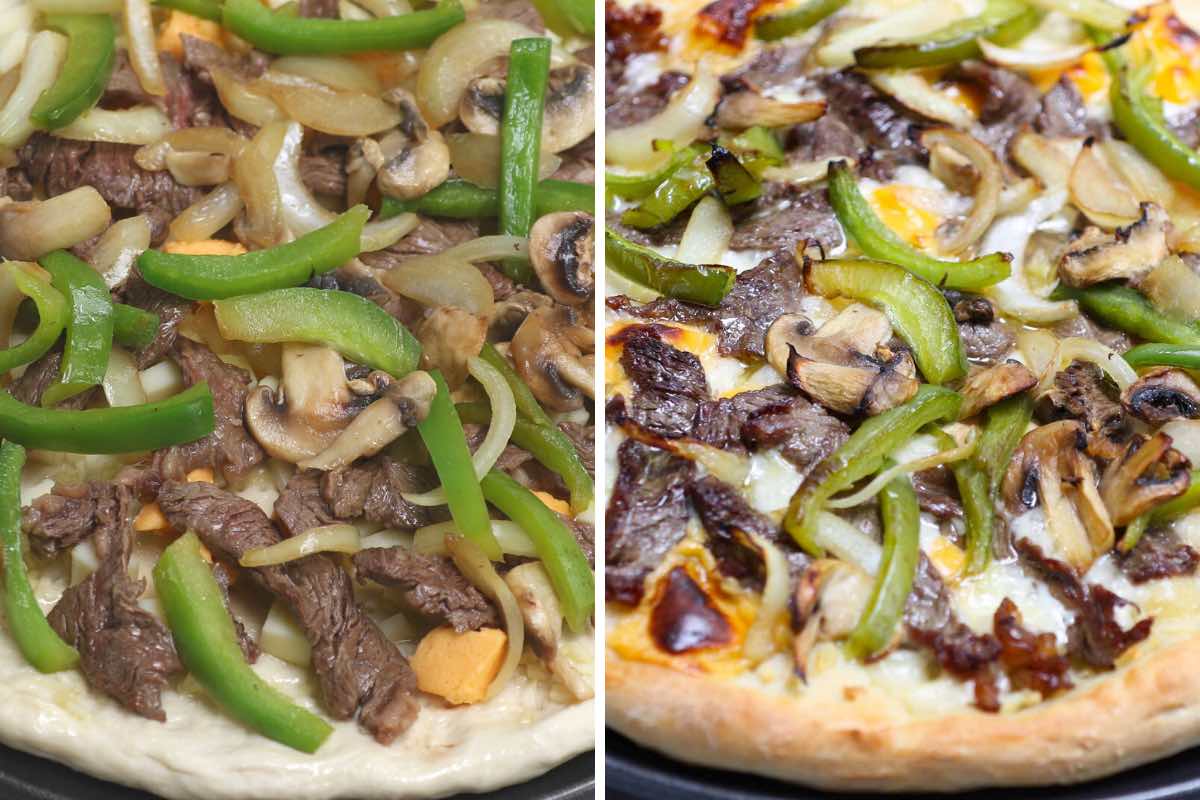 Tips for Perfect Domino's Philly Cheese Steak Pizza
The steak can be slightly pink, i.e. medium rare to medium doneness, as it will finish cooking on the pizza.
You can prepare your pizza dough in advance and freeze it. Just wrap the risen dough in plastic wrap and place in a resealable plastic bag before freezing. Then place it in the fridge overnight to defrost and let it rest on the counter for an hour to reach room temperature.
You can easily reheat at 400° for about 5 minutes, which will give it a crispy crust like freshly made.
What Sauce is on Philly Cheese Steak Pizza?
Unlike a more traditional pie, this Philly Cheese Steak Pizza doesn't have a tomato sauce base. Instead, we use oil and minced garlic as the base for the cheese and toppings.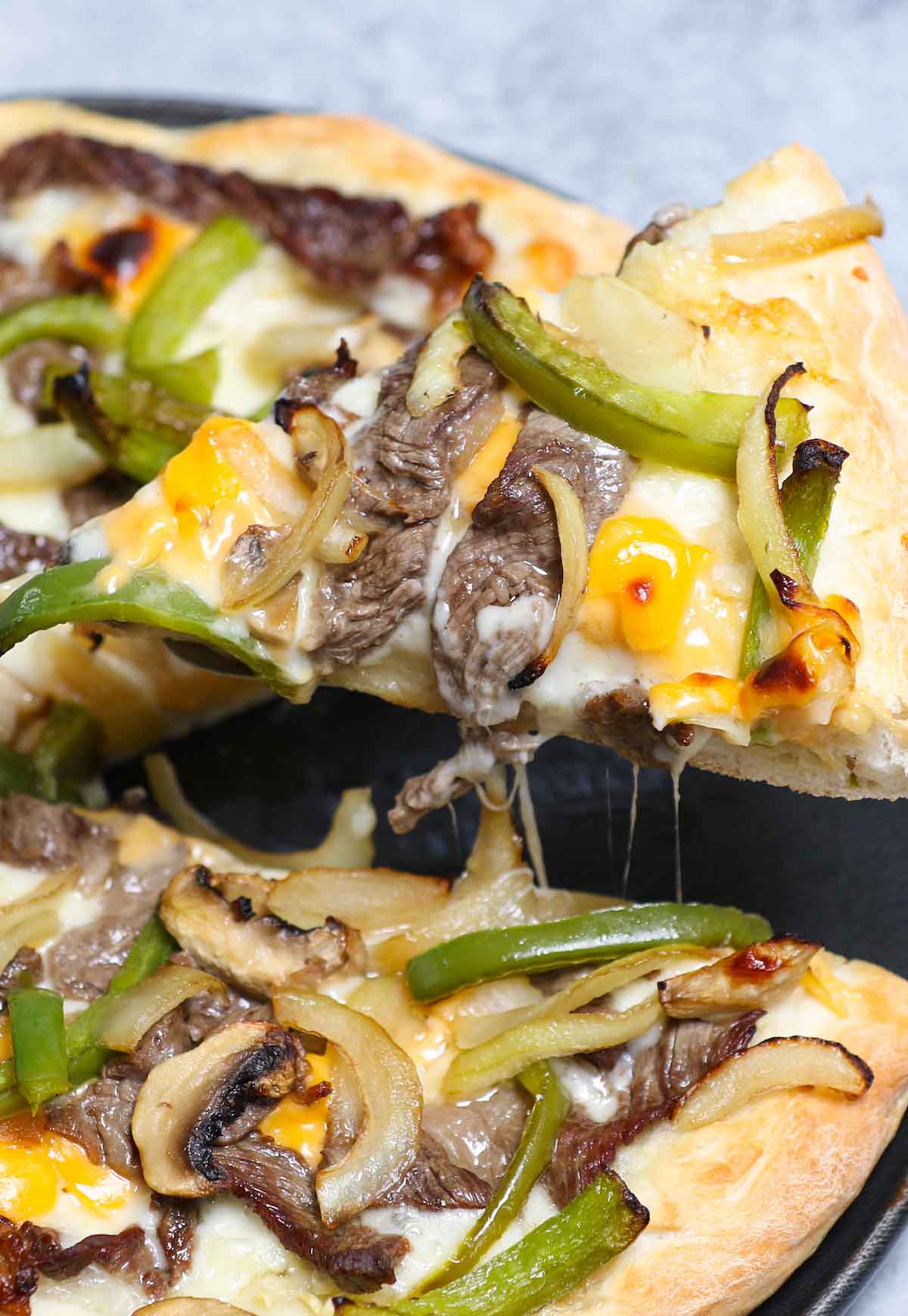 How to Make Homemade Pizza Dough
Homemade Pizza Dough may seem daunting to make, but it's pretty simple as long as you have the time to let it rest. First, activate your yeast by letting it sit in water and sugar for about 10 minutes until it's frothy. Mix together the flour and salt in a bowl. Then mix in the yeast mixture and olive oil.
Knead the dough on a work surface until you have a smooth dough that's tacky, but not sticky. Then place the dough in a greased bowl, cover and let it rest in a warm place for 30 minutes until doubled in size. Punch down the dough and roll it out to the size of the pizza you're making.
More Pizza Recipes
View all pizza recipes
Domino's Philly Cheese Steak Pizza Recipe
Domino's Philly Cheese Steak Pizza is loaded with slices of juicy steak, caramelized onions, bell peppers, provolone and American cheese. It's meaty, cheesy and totally addictive! Enjoy Philly Cheese Steak Pizza in the comfort of your own home with this easy copycat recipe.
Ingredients
Homemade Pizza Dough
1 packet active dry yeast, 2 ¼ teaspoons
1 cup warm water, 110-120°F
1 teaspoon sugar
2 ½ cups all-purpose flour
1/2 teaspoon salt
1 tablespoon olive oil
Sauce
1 tablespoon olive oil
2 teaspoons garlic, minced
Toppings
2 teaspoons olive oil
6 oz ribeye steak, sliced into thin strips
1/2 green bell pepper, sliced, optional
1/2 yellow onion, thinly sliced, optional
3 button mushrooms, thinly sliced, optional (see note)
3/4 cup provolone cheese, grated (see note)
1/2 cup American cheese, Velveeta or similar, grated
Instructions
(Optional) Freeze the steak for about 45-60 minutes ahead of time for easier slicing.
Make the Pizza Dough
(Skip this step if you are using a store-bought pizza dough.) Whisk together yeast, sugar and warm water in a small bowl. Let it sit for 5-10 minutes until foamy.

Mix together flour and salt. Add olive oil, yeast mixture to the dry ingredients. Mix with a wooden spoon until the dough just begins to come together.

Knead the dough by hand for about 5 minutes until it's soft and elastic. Place the dough in a greased mixing bowl. Cover with plastic wrap and let it rise for about 30 minutes or until doubled in size.
Prepare the Topping & Sauce
Slice the steak against the grain into 1/8-inch thick strips.

Add oil to a skillet over medium heat. Add steak slices and sauté for 2-3 minutes until no longer pink (Don't overcook the steak as it'll be baked more). Remove from the skillet and set aside.

Add onion and bell pepper to the same skillet. Sauté for about 3 minutes.

For the sauce, simply whisk together 1 tablespoon olive oil and garlic in a small bowl.
Bake the Pizza
Position a rack in the center of the oven and preheat oven to 450°F.

Place the dough on top of a 14-inch pizza pan. Stretch by gently flattening the dough ball. Use a fork to poke holes across the surface of the dough.

Brush the dough with oil and garlic mixture.

Add American cheese and provolone, distributing evenly over the surface.

Add cooked steak, bell pepper, and onions on top of the cheese.

Bake for 12-15 minutes or until the cheese is melted and the crust is golden brown.

Remove the pizza from the oven, and transfer to a cutting board. Slice and serve immediately.
Notes
You can make the dough ahead of time. Let it rise first, and then wrap with plastic wrap and place it in a freezer-safe bag. Thaw in the refrigerator and then bring it to room temperature before using.
Mushrooms: White button mushroom work well, or you can use cremini or portobello.
Cheese: If you can only find sliced provolone, you can chop it instead of trying to grate it.
To reheat leftover pizza, bake it in the oven for about 5 minutes or until the crust is crispy.
Nutrition Facts
Domino's Philly Cheese Steak Pizza Recipe
Amount per Serving
% Daily Value*
* Percent Daily Values are based on a 2000 calorie diet.
Please read our nutrition disclaimer.
© TIPBUZZ. Images and text on this website are copyright protected. Please do not post or republish without permission. If you want to republish this recipe, please link back to this post. This post may contain affiliate links. Read the disclosure policy here.