Clams Casino
Clams Casino is a favorite seafood appetizer served in upscale restaurants. This fancy dish features juicy clams on the half shell topped with a mouthwatering mixture of crispy bacon, breadcrumbs and seasonings. Learn how to make it easily for a special occasion at home and wow your guests!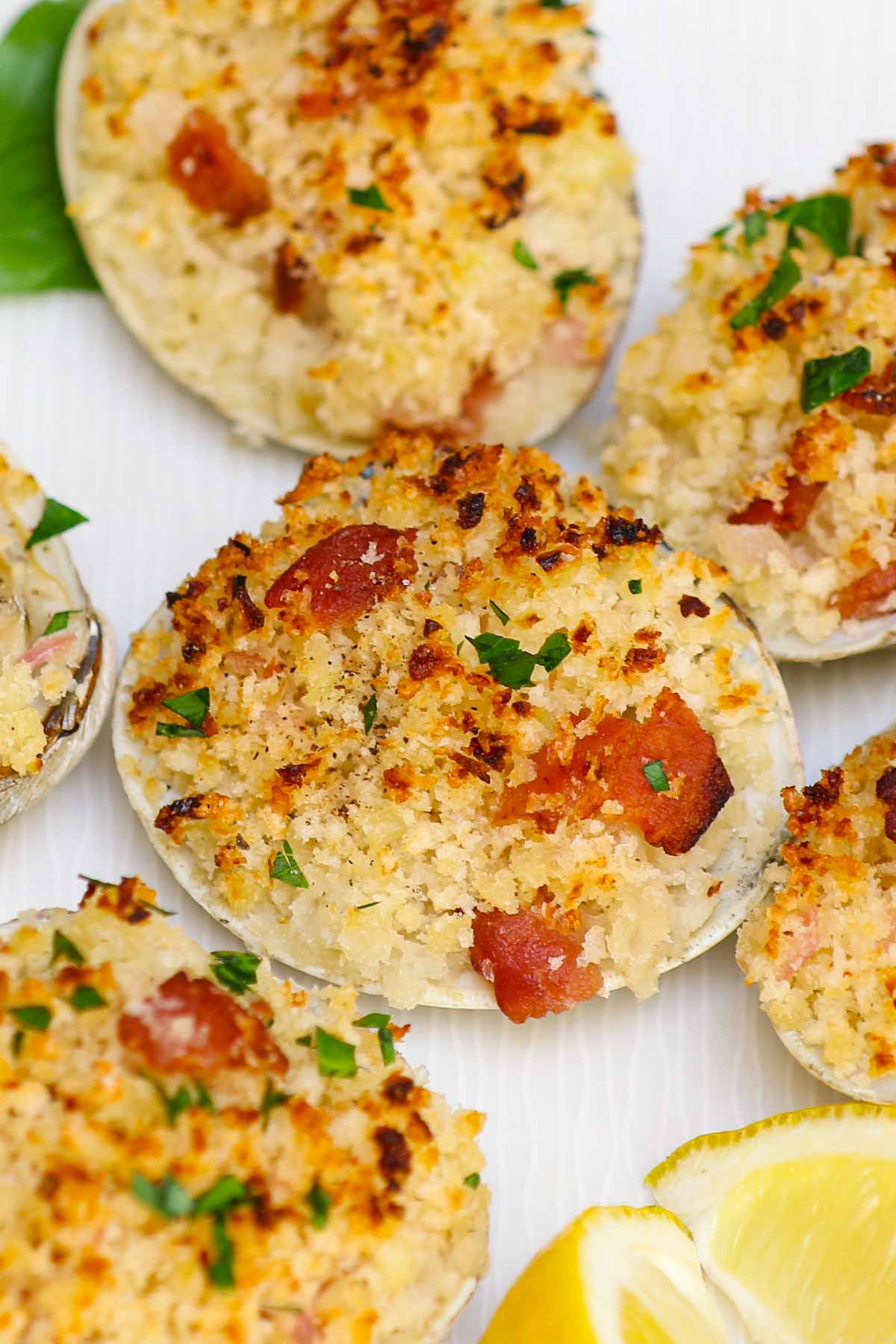 When you want a truly scrumptuous seafood dish, it's hard to beat Clams Casino. This unique dish is like stuffed clams but with the distinctive flavor of bacon! You start by sautéing minced shallots, garlic and bell peppers in butter. Then you reduce everything in white wine before mixing in some crumbed bacon, breadcrumbs and seasonings.
Take littleneck or cherrystone clams on the half shell, top with the breadcrumb mixture and bake in the oven for about 5 minutes. What comes out of the oven is enough to make anyone swoon!
While it is a bit of effort to prepare, this dish is always worth it. Read on to uncover the secrets behind perfect clams casino!
Why is it Called Clams Casino?
This dish originated in Rhode Island back in 1917. A wealthy guest at the Little Casino in the town of Narragansett requested something special for her guests. The maître d'hotel obliged and the kitchen produced what would become known as Clams Casino.
Needless to say it has been a popular dish ever since, appearing on menus across Rhode Island and beyond!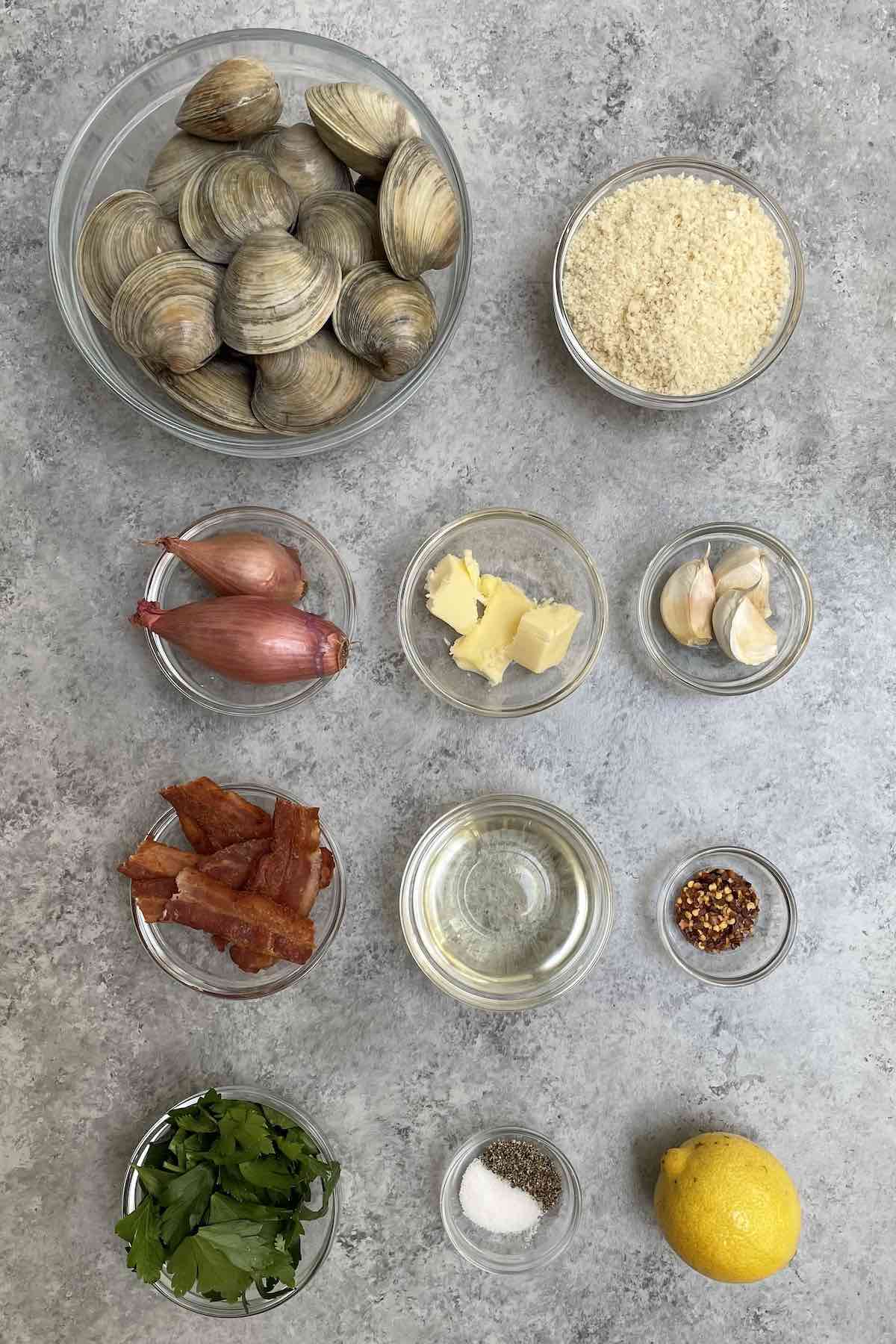 Ingredients
Here's what you'll need to make it:
Clams: You want the freshest clams possible for this recipe. I recommend selecting large littleneck clams or smaller cherrystone clams (the next size up from little necks).
Bacon: Regular bacon works well, but you can experiment with smokey varieties or reduced sodium as you like. Pre-cooked bacon is a time-saving option that will also work.
Butter: Unsalted butter is ideal since clams are already quite salty.
Garlic: Use fresh garlic cloves for the best flavor or storebought minced garlic as a fallback option. Only use garlic powder in a pinch.
Shallots: These small French onions have a more delicate flavor than regular onions. You might find them in the vegetable section with substitutes including small cipollini or pearl onions.
White wine: A dry white wine like Chardonnay or Pinot Grigio is what you want. Avoid bottles labelled "cooking wine" as these are filled with sugar. In a pinch, skip the wine and use broth or water.
Breadcrumbs: Panko breadcrumbs are ideal for an extra crispy touch, but regular breadcrumbs work too.
Lemon: Fresh lemon enhances the flavor of this dish and lemon wedges make an attractive serving presentation too.
There are two optional flavorings to add to the breadcrumb mixture: red pepper flakes if you want a kick, and a dash of Worcestershire sauce.
How to Make Clams Casino
There are three main steps to making this dish:
Make the breadcrumb topping: Fry or microwave the bacon strips until almost crispy. Sauté the shallots and garlic in butter and/or bacon grease until fragrant. Deglaze the pan with white wine and boil down until reduced by half. Add breadcrumbs and toss to combine.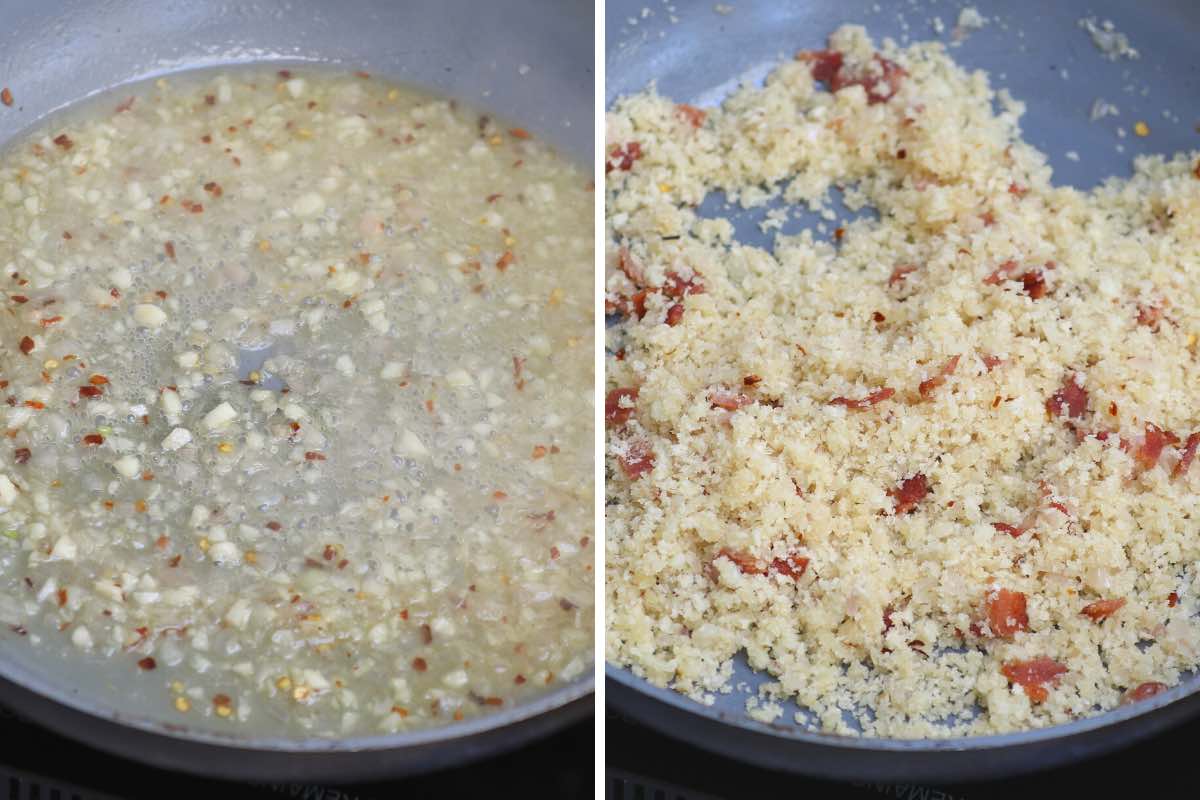 Cook the clams: Set your broiler to maximum. While it's preheating, scrub the clams clean to remove any surface debris. Then arrange them on a rimmed baking sheet and broil until they open up, about 5 minutes. Reserve any juices from the clams.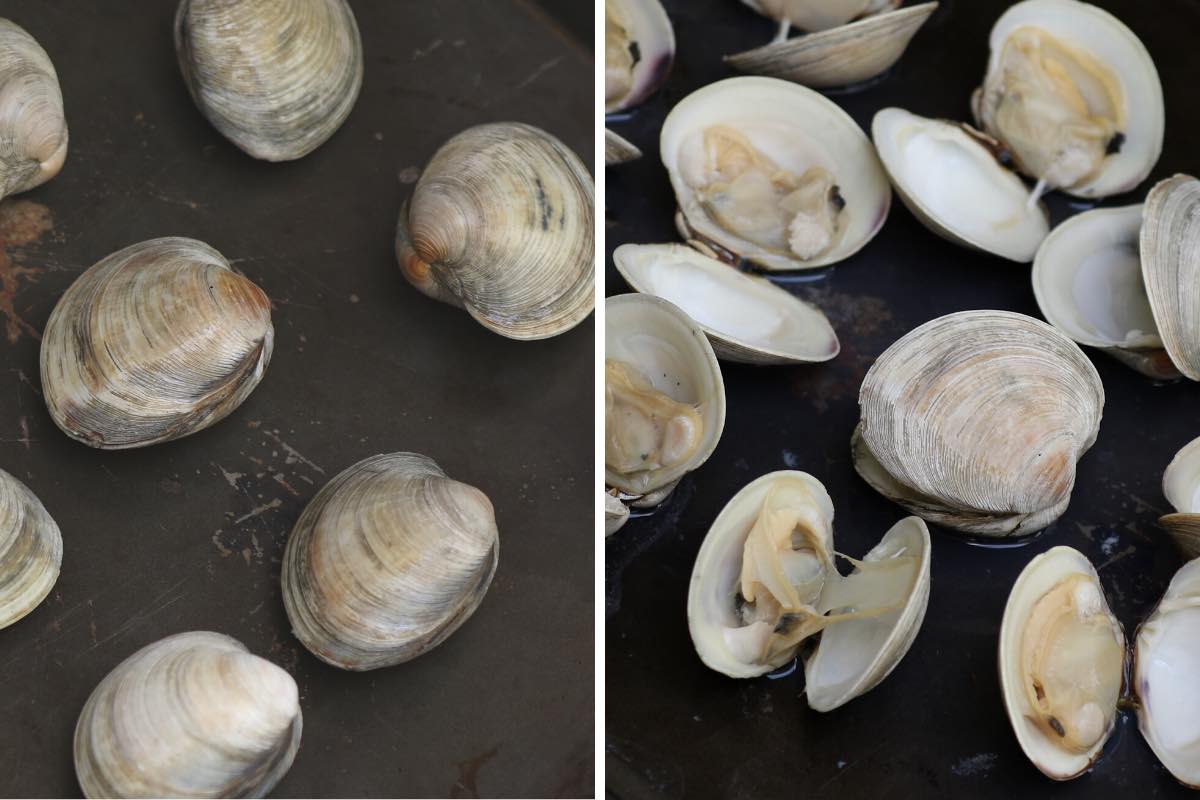 Assemble and bake: Let the clams cool for a minute and then twist off the top shells. Slide an oyster shucking knife or a paring knife tip underneath the muscles to separate them from the shell. Spoon a teaspoonful of reserved juices onto each muscle followed by a heaping tablespoonful of breadcrumb mixture. Bake until the tops are golden, about 5 minutes.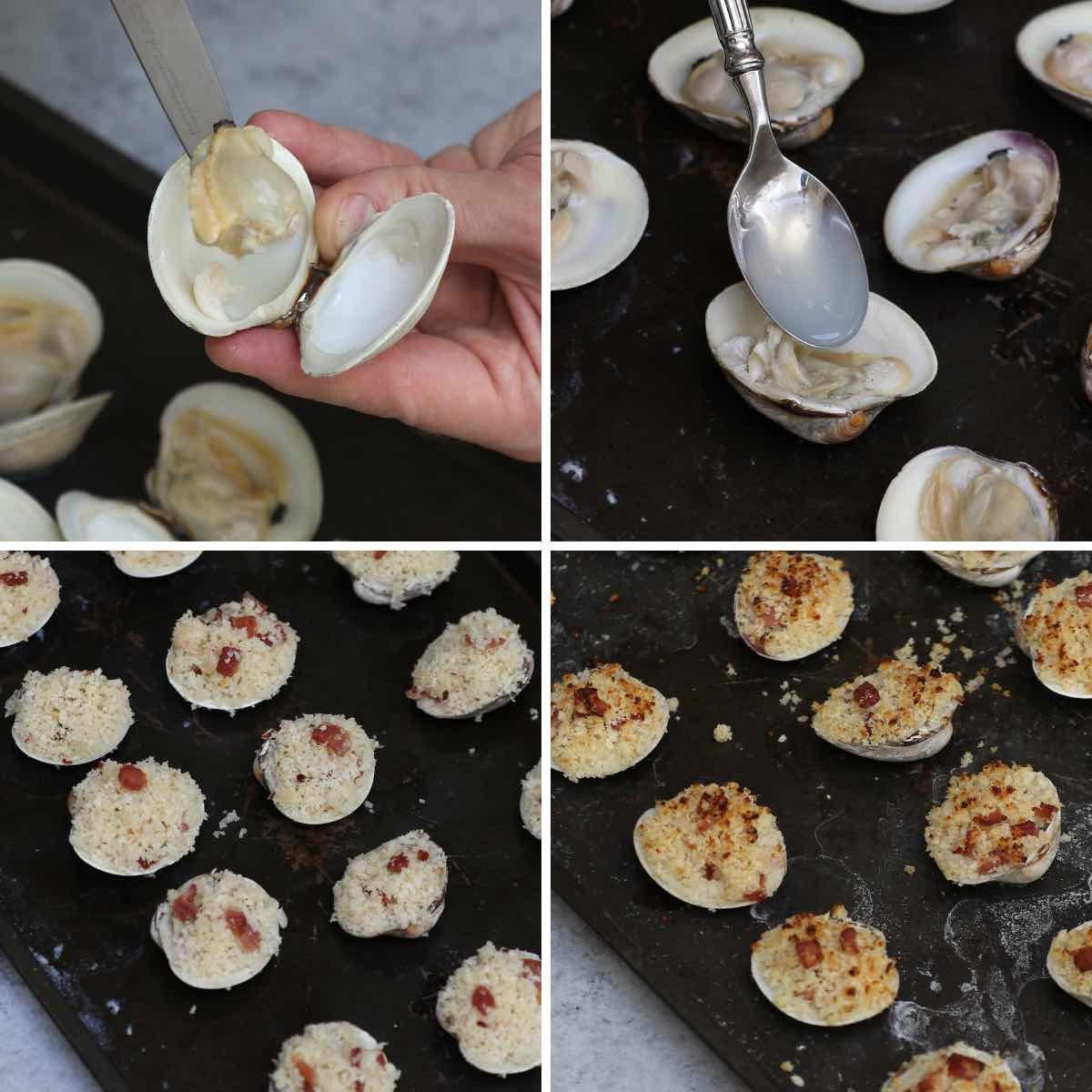 Tips for the Best Clams Casino
When shopping look for clams that are tightly closed to indicate freshness. When you get home, some of them may open slightly to breathe. Tapping them lightly on the countertop should make them close up again. Discard clams that don't close when tapped, as they may have perished.
Try to use largee littleneck clams that are 2 1/2 to 3 1/2 inches wide, as they'll be meatier. You can also substitute cherrystone clams, which are the next size up and also more affordable.
Watch carefully during baking to avoid the tops from becoming too dark or burning.
Try to serve clams casino warm out of the oven for the best flavor. Ideally, you want the breadcrumbs to be crispy on top and moist underneath.
Clams Casino vs Clams Oreganata
Though these dishes are quite similar there are a few notable differences. Clams Oreganata includes oregano as a seasoning to create a distinctive flavor, and it has no bacon unlike Clams Casino.
Clams Casino vs Stuffed Clams
Seafood fans will be quick to tell you these two dishes are entirely different. Bacon is the key part of Clams Casino that is missing from Stuffed Clams. In addition, Clams Casino is a fairly specific dish, while Stuffed Clams has literally hundreds of variations.
Where to Buy Clams Casino?
If you want the real deal, you may want to take a trip to Rhode Island. Otherwise, Clams Casino is a popular menu item at seafood restaurants, clam shacks and fine dining spots.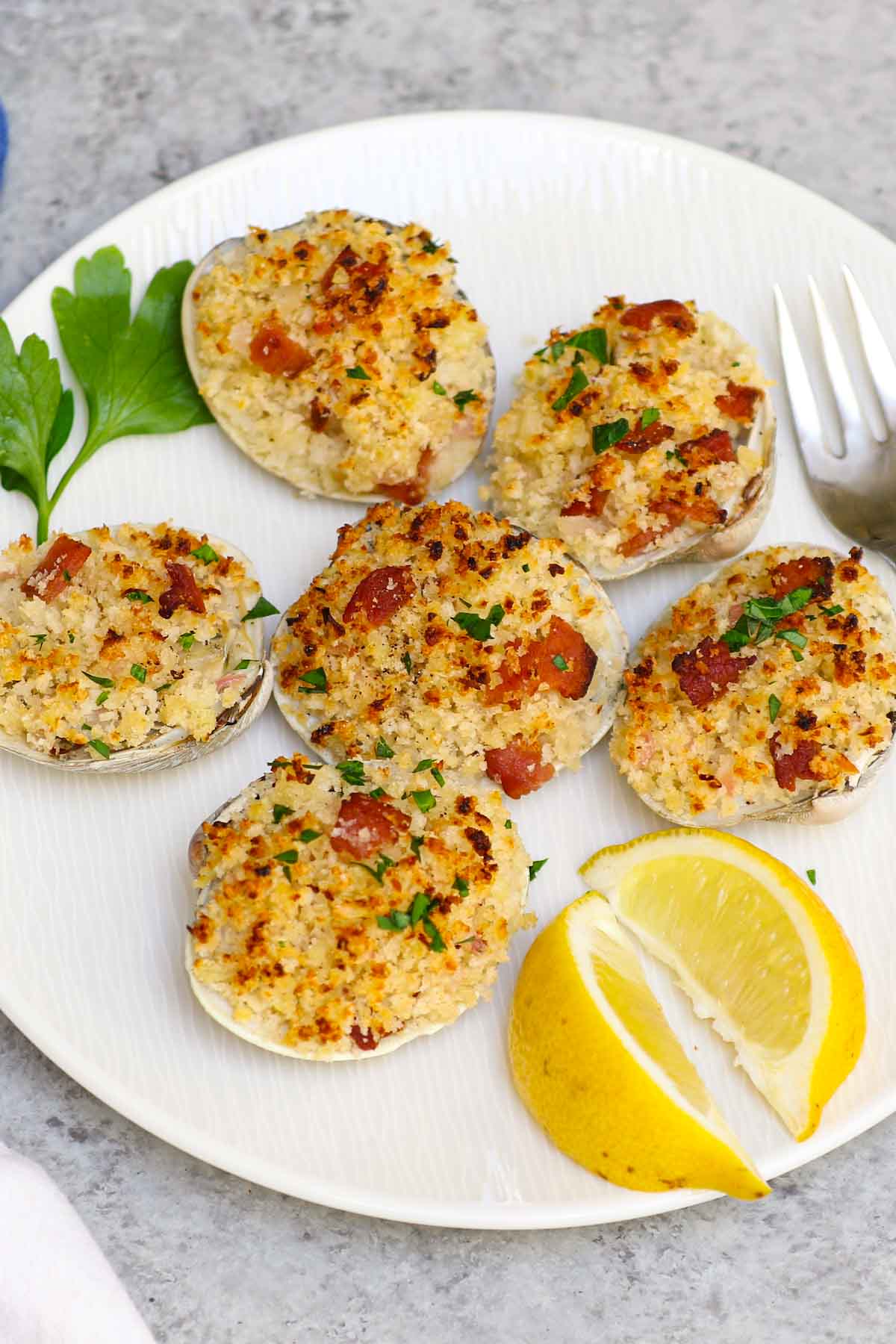 More Shellfish Recipes
Clams Casino Recipe
Clams Casino is a favorite seafood appetizer served in upscale restaurants. This fancy dish features juicy clams on the half shell topped with a mouthwatering mixture of crispy bacon, breadcrumbs and seasonings.
Ingredients
3 pounds littleneck clams, 20-25 clams (see note)
3 strips bacon, cooked and crumbled (see note)
4 tablespoons unsalted butter, softened (1 stick)
3 cloves garlic, minced
3 shallots, minced (about 1 cup)
1/2 red bell pepper, seeded and minced fine, optional
¼ teaspoon red pepper flakes, optional
½ cup white wine, or chicken broth or water
1 cup bread crumbs, panko recommended
2 tablespoons parsley, flat leaf or curly, minced
salt and pepper, to taste
lemon wedges, for serving
Instructions
Make the Topping
In a skillet, fry the bacon strips over medium heat until crispy. (You can also microwave the bacon if you prefer). Remove to a plate and crumble into bits using your fingers or by chopping with a knife. Set aside.

Optional: Use paper towel to soak up excess grease from the skillet. If you use all the grease, reduce the amount of butter by at least half.

Add the butter, minced shallot, garlic, optional bell pepper and optional red pepper flakes to the pan. Sauté over medium heat until fragrant and slightly softened, about one minute.

Add the wine and boil down by half, about 2-3 minutes. Then aa the breadcrumbs, reserved bacon and parsley, tossing to mix evenly. The texture should resemble damp sand somewhat. Remove from the heat and set aside.
Broil the Clams
Turn the broiler on to preheat, setting the oven rack to the upper middle position about 4 inches from the heating element.

Scrub the clams clean under running water using a bristle brush to remove any surface dirt and debris.

Place the clams on a large, rimmed baking sheet. Then put the baking sheet under the broiler.

Broil until the clams open up, typically 3 to 5 minutes although it may take more or less time depending on the clams you have. Always discard any clams that do not open, as they may have perished.

Remove the baking sheet from the oven. Use kitchen tongs to transfer the hot clams to a plate. Pour any juices that may have accumulated on the baking sheet into a cup and set aside.

When the clams are cool enough to handle, twist off the top shells while holding the bottom shells in place. Using silicone oven mitts can be helpful here.
Assembly and Baking
Place the opened clams on the baking sheet. Run an oyster knife or paring knife tip underneath each clam muscle to separate it from the shell. Then dribble the reserved juices to fill each shell halfway.

Spoon enough breadcrumb mixture onto each clam to cover completely. Season with salt and pepper to taste.

Broil the clams until the topping is golden and slightly browned, about 5 minutes. Watch carefully to avoid them turning dark or burning.

Remove from the oven and transfer the clams to a serving platter. Garnish with fresh parsley and lemon wedges before serving.
Notes
Clams: I recommend using large littleneck clams, which are meatier. You can even use the next size up called cherrystone clams, which are also a more affordable option.
Bacon: Use regular bacon strips or to save time crumbed pre-cooked bacon. I don't recommend bacon bits for this recipe.
For a lighter option, do not use the bacon grease and sauté using olive oil instead of butter. The dish will be less rich but still full of flavor!
Nutrition Facts
Clams Casino Recipe
Amount per Serving
% Daily Value*
* Percent Daily Values are based on a 2000 calorie diet.
Please read our nutrition disclaimer.
© TIPBUZZ. Images and text on this website are copyright protected. Please do not post or republish without permission. If you want to republish this recipe, please link back to this post. This post may contain affiliate links. Read the disclosure policy here.