20 Minute Easy Breakfast Pizza
This Breakfast Pizza is a hearty start to your day, loaded with crumbled bacon, fresh eggs and cheese. Enjoy it hot out of the oven for a meal your entire family will love – perfect for weekend and holidays. The best part? It's ready in just 20 minutes with a few simple ingredients. Plus video tutorial!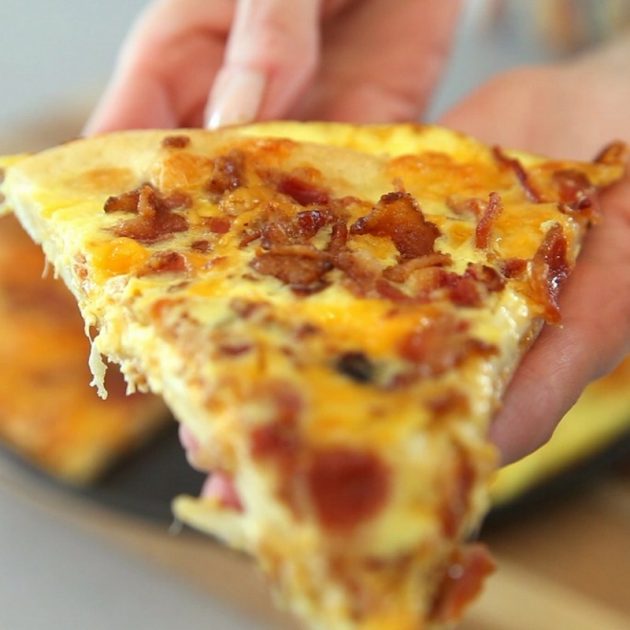 Bacon Egg & Cheese Breakfast Pizza is one of our most popular recipes along with our Omelet Breakfast Croissant Boats and Egg Muffins. There's simply nothing better than waking up to the smell of bacon and eggs, but this time it's in pizza form!
We've served it to rave reviews for family breakfasts on weekend, Thanksgiving, Christmas, Easter and Memorial Day. As long as it's not too hot to turn on the oven, we make it without thinking twice.
How to Make Breakfast Pizza
Start with a refrigerated pizza dough and stretch it to fit into a pizza pan like this one. Combine the eggs and milk in a small bowl, and pour them as evenly as possible over the crust. It's ok if you get some drips over the edge.
Then sprinkle the cooked bacon and cheddar evenly on top. Bake it in the oven and it's ready for a quick 15 minutes. You'll know it's ready when the cheese is bubbling and he crust is getting golden. Or you'll be drooling!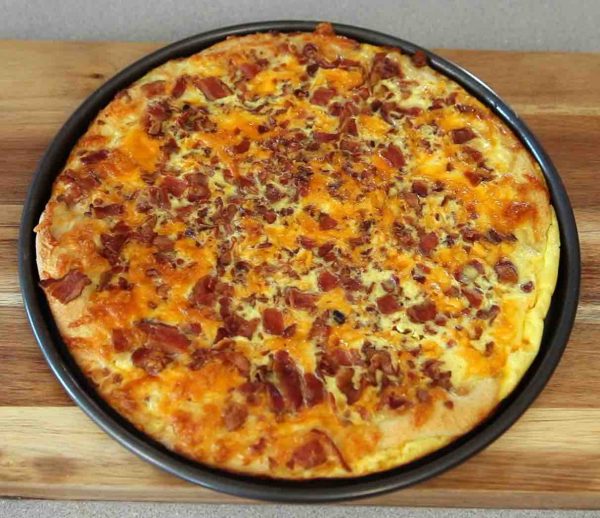 Serve it up with some salsa or sour cream. It's great on its own too.
Secrets and Tips for Making the Best Breakfast Pizza
Bring the refrigerated dough to room temperature before you add other ingredients. If you are in a rush, you can use a knife to poke a few holes in the dough after you place it on the pizza pan
Avoid overcooking, otherwise, the eggs could become rubbery. When they are done, there won't be any extra liquid from the eggs.
Place the rack in the middle of the oven.
You can precook the bacon the night before to save time in the morning.
As each oven works differently, I would recommend checking doneness after 10 to 12 minutes. Less time will yield softer crust and longer time will give you crispy crust.

Topping Variations for Breakfast Pizza
You can use ham, pepperoni or sausage instead of bacon
Use your favorite cheese such as Monterey Jack
Add vegetables such as onion, mushroom or bell peppers.
How to Make Pizza Dough
I used Pillsbury Pizza Dough, but if you choose to make your own pizza dough, here is how to make it:
In a large bowl, add 1 ½ cups warm water;
Sprinkle 2 packets of active dry yeast (1/2 ounce in total), let it sit until foamy, about 5 – 10 minutes depending on the room temperature;
Add 2 tablespoon sugar, ¼ cup olive oil, and 2 tsp salt into the yeast mixture.
Add 4 cups of all-purpose flour and mix well. Use your hand to make the dough into a ball shape.
Cover the bowl with plastic wrap and let the dough rest for 45 minutes until the dough has doubled in size.
Dust a clean work surface with more flour and knead in a rhythmic manner for a few minutes until the dough is smooth and elastic
Watch How to Make Breakfast Pizza:
Bacon Egg & Cheese Breakfast Pizza (with Video)
This easy Breakfast Pizza is loaded with bacon, eggs and cheese for the delicious start to your day. Perfect to share for breakfast or brunch on weekends and holidays, and it'll be on your table in just 20 minutes.
Ingredients
1 package refrigerated pizza dough
1 cups shredded mozzarella cheese
2 eggs
1/2 cup milk
1 cup shredded cheddar cheese
1 cup bacon, cooked and chopped
Dipping Sauces for Serving - Optional
Instructions
Preheat oven to 425°F. Set aside a large pizza pan or baking sheet.

Fry or microwave the bacon until half-cooked and drain the fat. Meanwhile, make the pizza.

Flour a large work surface and roll out pizza dough to fit the size of your pan.

Using your finger tips, slide the dough onto the pan.

Sprinkle mozzarella cheese on top.

In a medium bowl, whisk together eggs and milk. Pour over pizza dough.

Top the pizza with the cooked bacon and cheddar cheese.

Bake for 10-15 minutes in the top half of the oven until the cheese is bubbling.

Remove from the oven. Serve warm with optional sauces and enjoy!
Notes
-For a lighter option, use part-skim mozzarella cheese, low-fat cheddar cheese and reduced sodium bacon.
Nutrition
Calories: 289kcal, Carbohydrates: 33g, Protein: 17g, Fat: 9g, Saturated Fat: 4g, Cholesterol: 74mg, Sodium: 763mg, Potassium: 87mg, Sugar: 5g, Vitamin A: 245IU, Calcium: 258mg, Iron: 2.1mg
Looking for more breakfast recipes?
© TIPBUZZ. Images and text on this website are copyright protected. Please do not post or republish without permission. If you want to republish this recipe, please link back to this post. This post may contain affiliate links. Read the disclosure policy here.