Little Neck Clams
Little Neck Clams are tender and flavorful plus easy to prepare. You can make these steamed clams in just 15 minutes for a delicious seafood appetizer or main course!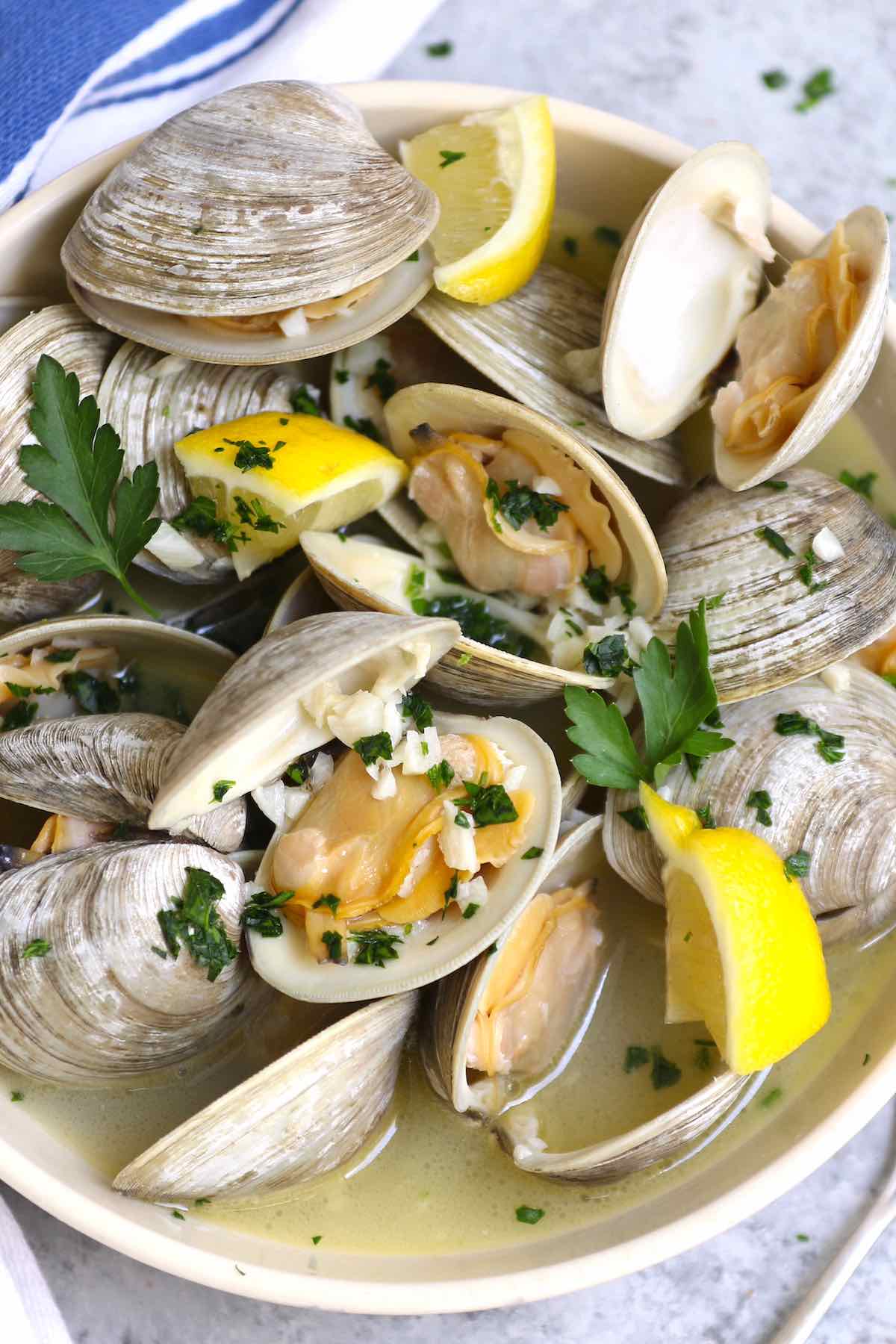 You can't go wrong with a generous serving of steamed littleneck clams! They pack major flavor and are simply delectable when simmered with white white wine, garlic and butter. In addition, they are a lean source of protein with health benefits including lots of vitamins and minerals.
These small clams are super versatile. You can serve them as an appetizer with some crusty bread to soak up the broth. Alternatively, you can incorporate them into seafood salad, pasta dishes like linguine and clams, seafood rice like paella or clam chowder. The possibilities are truly endless!
What is a Little Neck Clam?
The little neck clam is a small, hard-shelled clam with a round shape. They are sometimes called a "quahog" and known by their scientific name mercenaria mercenaria. Little necks are the one of the smallest in the quahog family, measuring 1 1/2 to 2 inches across with 10 to 12 clams per pound.
These mollusks grow across the eastern seaboard from Canada to Florida and are named after Little Neck Bay on Long Island. There is a large harvest in Rhode Island and they represent one of the most sustainable seafood choices available according to Seafood Watch.
What is the Difference Between Little Neck and Cherrystone clams?
These clams are actually from the same quahog family and get harvested together. Littlenecks are smaller and considered more tender, commanding a higher price. In contrast, cherrystones are larger with a sweeter taste that makes them ideal for stuffing or broiling.
Here's a quick comparison of the two:
| | | |
| --- | --- | --- |
| | Little Neck Clams | Cherrystone Clams |
| Size / width | 1 1/2 – 2 1/2 inches | 2 1/2 – 3 inches |
| Weight per clam | 1 to 2 ounces | 2 to 4 ounces |
| Per pound | 10 to 12 clams | 6 clams |
How to Clean Little Neck Clams
Clams burrow in sand and often contain residual grit that can be unpleasant. However, most supermarkets and fish counters pre-purge much of the sand from the clams they sell. There are two steps for a thorough cleaning:
Scrub the clams under cold running water with a stiff brush to dislodge surface grit.
Dissolve 1/4 cup of non-iodized sea salt in 1 gallon of cold water in a large bowl. Add the clams to the salt water, cover the bowl and place in the fridge for 20 to 30 minute at a time. As the clams soak up the salty water, they will push the sand out of their shells! Drain the sandy water and repeat if necessary.
I usually skip the second step unless I am dealing with wild clams that have not been pre-purged.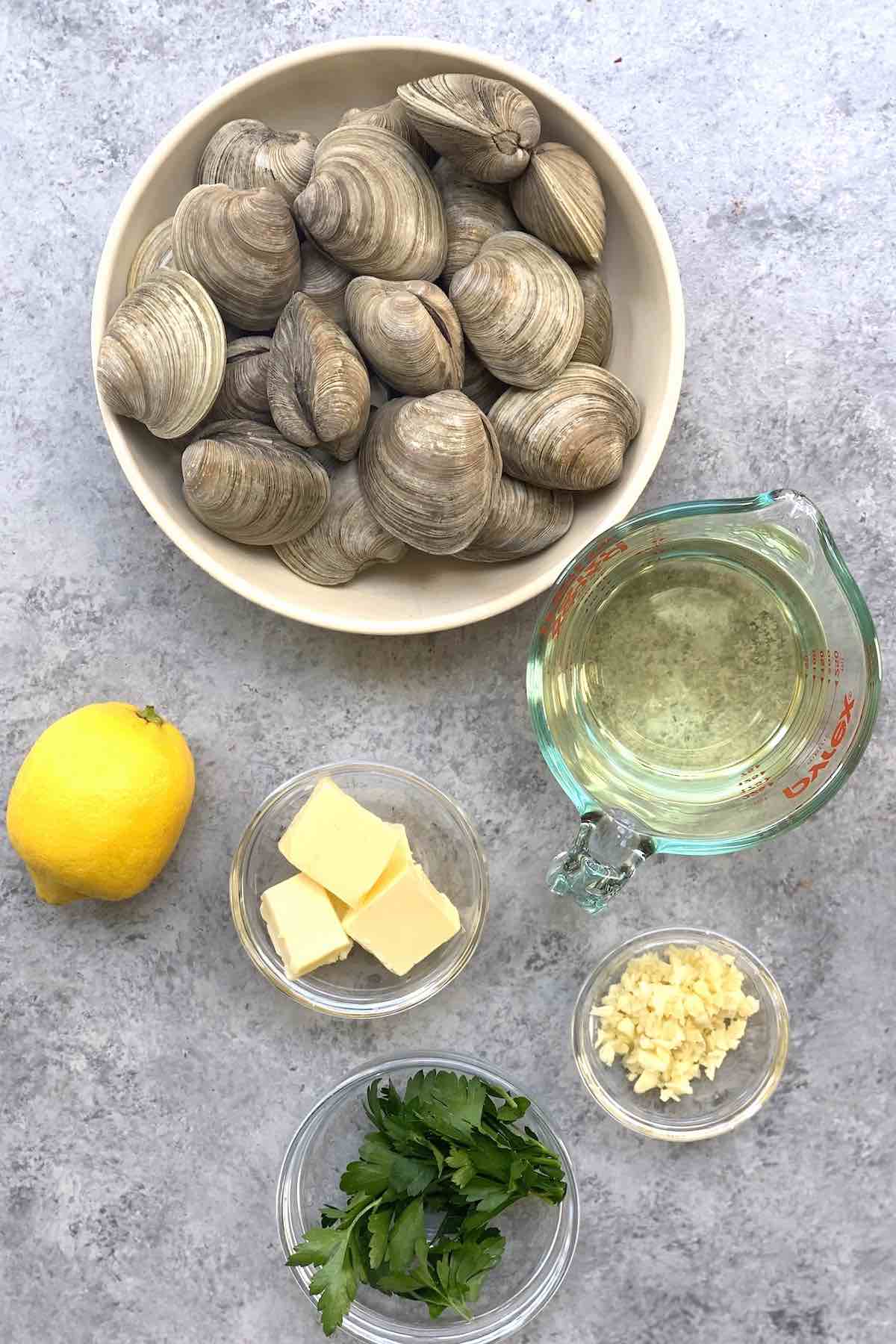 Ingredients & Substitutes
Here's what you'll need for this recipe:
Little neck clams: Try to get fresh clams from your fishmonger or supermarket and conduct the checks for freshness below. You can use frozen little neck clams in a pinch as longer as they are fully thawed first.
Butter: I recommend unsalted butter, as clams are often naturally salty. You can also use a plant-based butter if you prefer.
Garlic: Fresh garlic is preferred for this recipe, but you may also use packaged minced garlic if this is more convenient.
White wine: Chardonnay, sauvignon blanc or pinot grigio are good options. Avoid using cooking wines, which contain preservatives and sweeteners. If you don't have any wine, you can use beer or simply broth.
Parsley: Flat leaf or curly parsley work well in this dish. Tasty substitutes include chopped chives, oregano or cilantro.
Lemon: Freshly squeezed lemon juice is best, but you can substitute lime in a pinch.
How to Steam Little Neck Clams
It couldn't be simpler to steam little neck clams. Add liquid such as white wine and/or cold water to a large stockpot and bring to a boil. Add the clams and cover with a tight-fitting lid.
Let them steam until they're fully opened, about 5 minutes. Since some clams may take a bit longer than others, you can use kitchen tongs to remove clams to a serving platter as they open. Discard any unopened or barely open clams, which may have perished before cooking.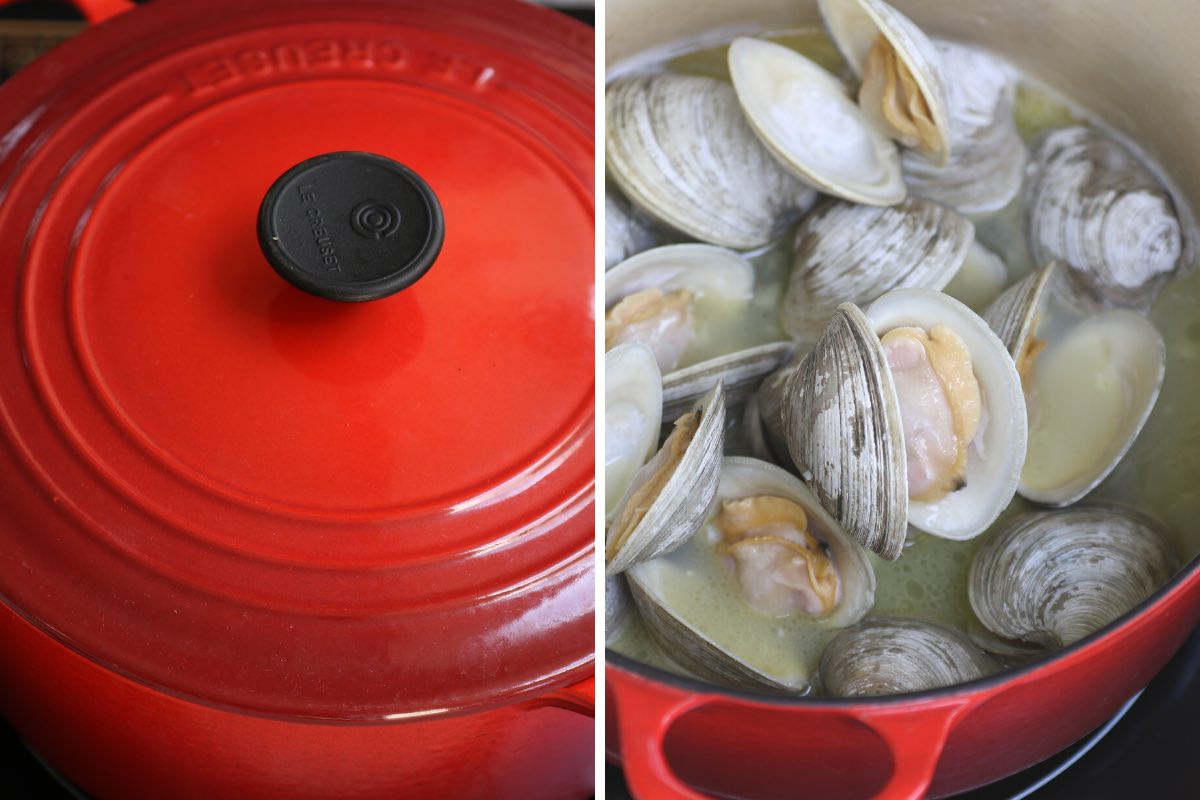 Don't forget about the cooking liquid, as it's very flavorful. You can pour it over the clams and serve with crusty bread to soak it up!
Can you Eat Little Neck Clams Raw?
Yes! You can eat these clams raw when they're very fresh, just like with oysters. Little neck clams are younger, so they are more tender too.
To shuck them, grip the clam in a damp tea towel in the palm of your hand. Using the other hand, slide an oyster shucking knife in between the shells and twist to pry open. Serve them on the half shell with fresh lemon, black pepper or hot sauce as you like!
How to Buy Little Neck Clams
You can buy fresh little neck clams from a fishmonger or supermarket. Usually they'll be for sale loose or in breathable mesh bags. You may also purchase them frozen, although they are not as tender or flavorful. There are about 10 to 12 in a pound, and you should budget a pound per person as a appetizer.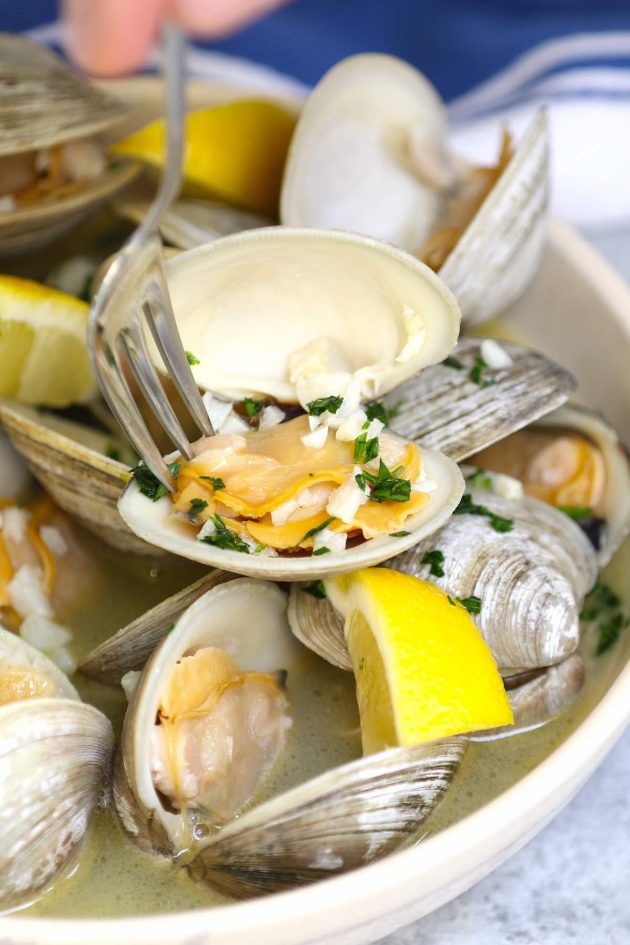 As freshness is all-important, here are 3 quick checks to do for the best clams:
Inspect visually to make sure they're tightly closed with smooth shells. If any clams are open, they should close immediately when you flick them with your fingernail.
They should have a neutral aroma of the ocean with no fishy smell.
Ask for the harvest date, which should ideally be within the past 3 to 4 days.
Avoid any clams with chipped or cracked shells, or that remain open after you tap them. They may have perished and be harboring harmful bacteria!
How to Store Little Neck Clams
Once you get home, transfer the clams to a large colander or sieve. Place it in a shallow bowl and cover loosely with a damp tea towel. Store in the fridge until use, up to 24 hours although they are best consumed on the day of purchase.
It's crucial for clams to breathe at all times, so do not store in a plastic bag or submerged in water. Always conduct the same freshness checks again before cooking!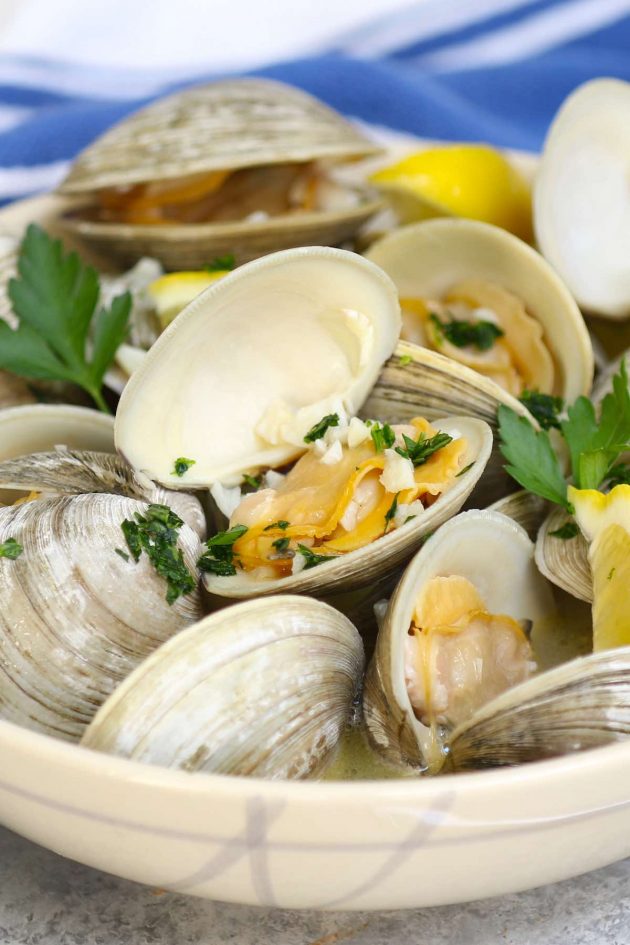 Recipe Variations
Here are some delicious ways to prepared steamed clams:
Linguine with Clams: Cook 1 pound of linguine separately. When the clams are done, toss with the linguine and 1 cup of the cooking liquid. You can add 1/2 cup heavy cream and freshly grated parmesan if you wish too.
Portuguese Steamed Clams: Sauté slices of chorizo sausage with the garlic and cook add a large pinch of crushed red pepper flakes for a kick. Garnish with sliced green onion.
Clams with Vegetables: Add in sliced yellow onion and bell pepper (any color) with the garlic.
More shellfish recipes:
Steamed Little Neck Clams in White Wine
Little Neck Clams are tender and flavorful, plus easy to prepare. You can make these steamed clams in just 15 minutes for a delicious seafood appetizer or main course!
Ingredients
4 pounds little neck clams, about 45-50 clams
2 tablespoons butter, unsalted recommended
4 cloves garlic, minced
1 cup white wine, or vermouth (see note)
Serving (optional)
2 tablespoons parsley, freshly minced
lemon wedges
salt and pepper, to taste
crusty bread
Instructions
Scrub the clams clean with a brush under cold running water and set aside on a plate. Discard any clams with cracked or chopped shells, or do not close tight when tapped on a counter. See the notes for more details on cleaning.

Place a medium-large saucepan over medium heat. Add the butter and garlic, sauteeing for one minute or so until fragrant.

Add the clean clams and white wine. Raise the heat to high and cover with a lid to steam until fully opened, about 4-6 minutes. Note: As clams are easily to overcook, use kitchen tongs to remove clams as they open if possible, as large clams will take more time than smaller ones. Discard any clams that do not open.

Sprinkle the fresh minced parsley and lemon juice on top.

Invert into a large bowl. Serve hot with crusty bread on the side to soak up the juices.
Notes
Recipe Yield: Serves 2 as a main course (2 pounds per person) or 4 as an appetizer (1 pound per person).
Tips for Buying Clams: Look for clams that are tightly closed with smooth shells and no cracks. They should have a neutral smell of the sea and ideally have been harvested within the past 3-4 days.
Food Safety: Clams like all shellfish can harbor bacteria when not prepared properly. Check for freshness when shopping and then again before cooking. 

Discard clams with cracked shells or that are open and don't close when tapped.
Use them within 24 hours of purchase and ideally the same day. Always store loosely covered in the fridge with drainage underneath.
After cooking, discard any clams that have not opened up fully.

Cleaning Clams: Some clams have more dirt and sand than others. If they have not been pre-cleaned by a fishmonger, you can dissolve 1/4 cup sea salt (non-iodized) in 6 gallons of water. Soak the clams in 20 to 30 minute increments, during which they will push most of sand out of their shells.
White Wine: Choose a dry white wine such as a sauvignon blanc, chardonnay or pinot grigio. Avoid sweet wines or cooking wines. If you don't have any, you can substitute vermouth, beer or chicken/vegetable broth.
Nutrition Facts
Steamed Little Neck Clams in White Wine
Amount Per Serving
Calories 162 Calories from Fat 54
% Daily Value*
Fat 6g9%
Saturated Fat 4g20%
Trans Fat 1g
Cholesterol 35mg12%
Sodium 413mg17%
Potassium 88mg3%
Carbohydrates 5g2%
Fiber 1g4%
Sugar 1g1%
Protein 10g20%
Vitamin A 379IU8%
Vitamin C 1mg1%
Calcium 39mg4%
Iron 1mg6%
* Percent Daily Values are based on a 2000 calorie diet.
Please read our nutrition disclaimer.
© TIPBUZZ. Images and text on this website are copyright protected. Please do not post or republish without permission. If you want to republish this recipe, please link back to this post. This post may contain affiliate links. Read the disclosure policy here.