Easy Pizza Rolls
These Pizza Rolls are a favorite Italian appetizer loaded with pepperoni and cheese rolled in pizza dough. Bake these mini rolls in the oven and serve with pizza sauce for an easy last-minute snack!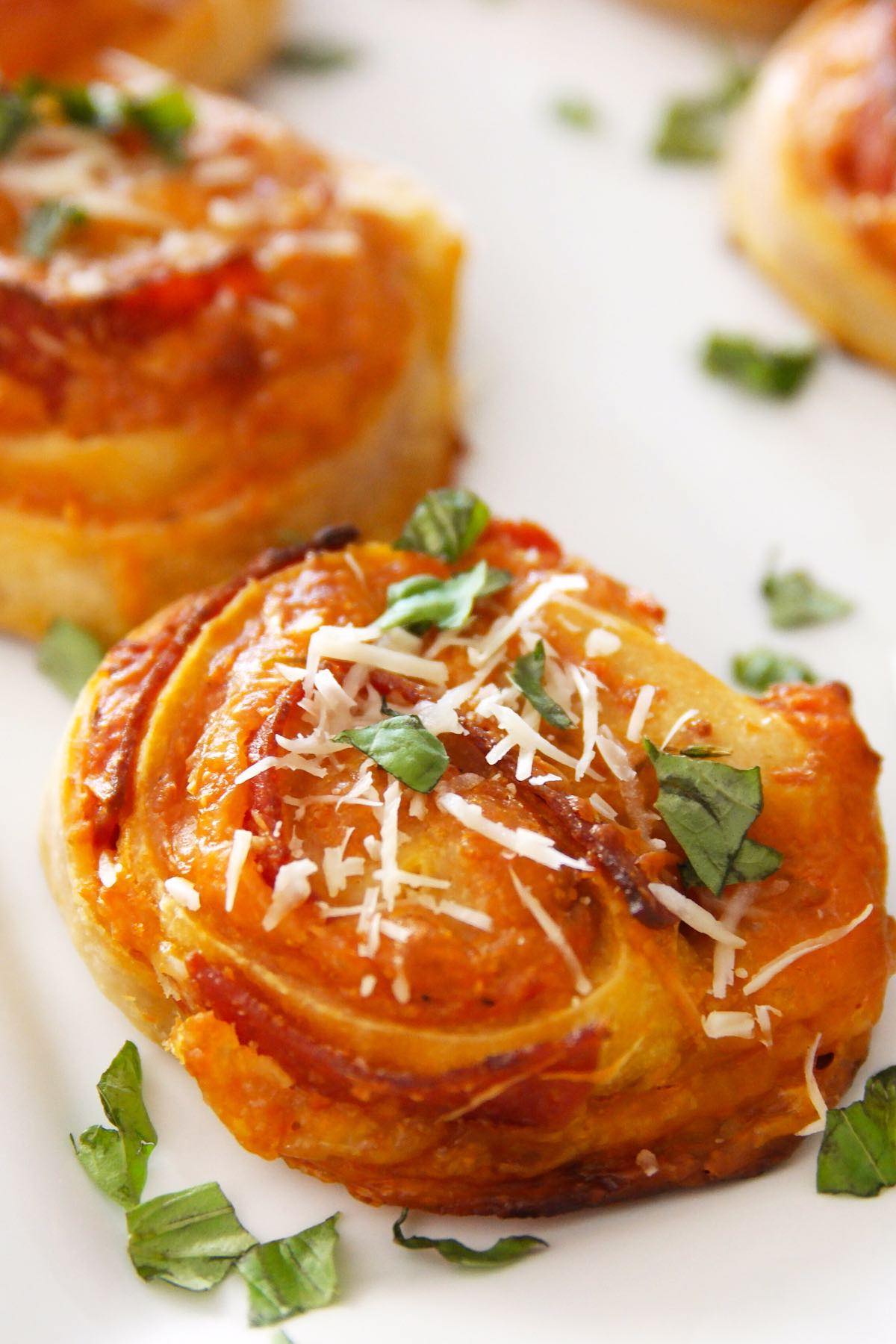 Pizza as an appetizer or snack is NOT too good to be true! Inspired by cinnamon rolls, these gourmet pepperoni pizza rolls are a crowd-pleaser you can make with just 6 ingredients.
They are soft and fluffy on the inside and crispy on the outside. Instead of having to share a pizza with someone else, you can have your own whenever you like! They can be rolled up quickly and freeze very well.
Italian Appetizer Pizza Rolls Recipe
Homemade mini pizza rolls are pizza dough rolled up into a giant log and sliced into individual pieces. These bite-sized mini pizzas are related somewhat to Totino's® Pizza Rolls sold in stores.
These pizza roll-ups are great as a game day appetizer or party snack. You can also serve them as a main course, especially when you crave pizza flavors but don't feel like making an entire pizza!
What's in A Pizza Roll?
Pizza rolls are essentially pizza in rolled-up form like pinwheels. So everything that goes into a pizza can be included: pizza dough and pizza toppings such as tomato sauce, pepperoni and cheese. Choose your favorite flavors and seasonings!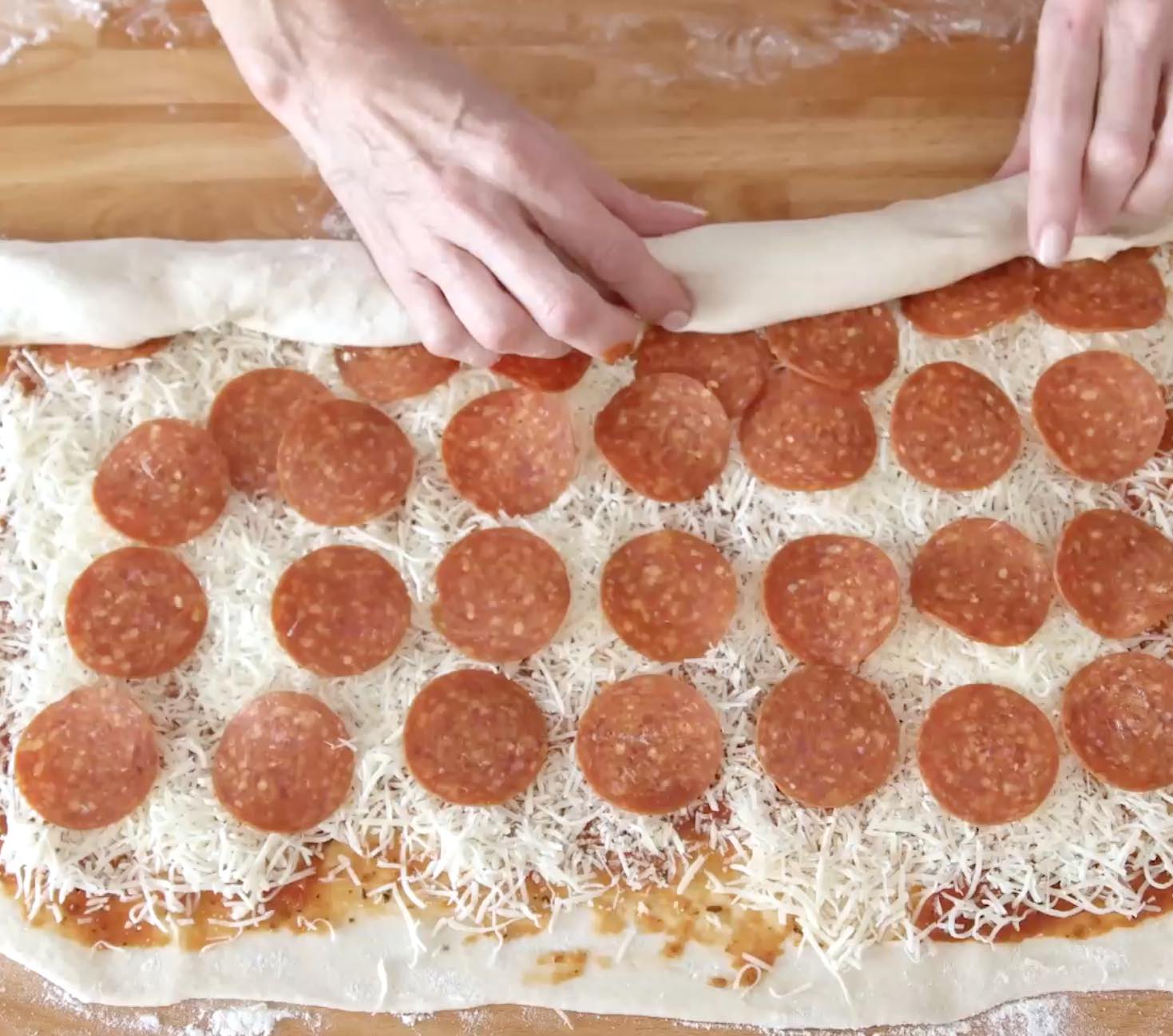 How Do You Make Pizza Rolls
Preheat oven to 400°F (204°C).
Roll out the pizza dough into a large rectangle.
Brush with olive oil.
Spread marinara sauce evenly on the crust.
Sprinkle cheese and pepperoni on top.
Roll the dough up tightly to form a log.
Slice into 1-inch (2.5 cm) pieces, and place on a baking sheet.
Brush with egg wash.
Bake for 10-15 minutes or until golden brown.
What Kind of Dough is the Best for Making this Recipe?
I usually make my own dough when I'm making a pizza, but the store-bought dough also works well for this recipe, especially when you are in a rush. My personal favorite is Pillsbury pizza dough, which is typically found in the refrigerated section at your local grocery store. Crescent roll dough also works in a pinch.
To make homemade pizza dough from scratch, you'll need 6 ingredients and it takes about 10 minutes to prepare (plus 30 minutes to rise). Follow this Homemade Pizza Dough Recipe for a complete guide on how to make the perfect dough at home!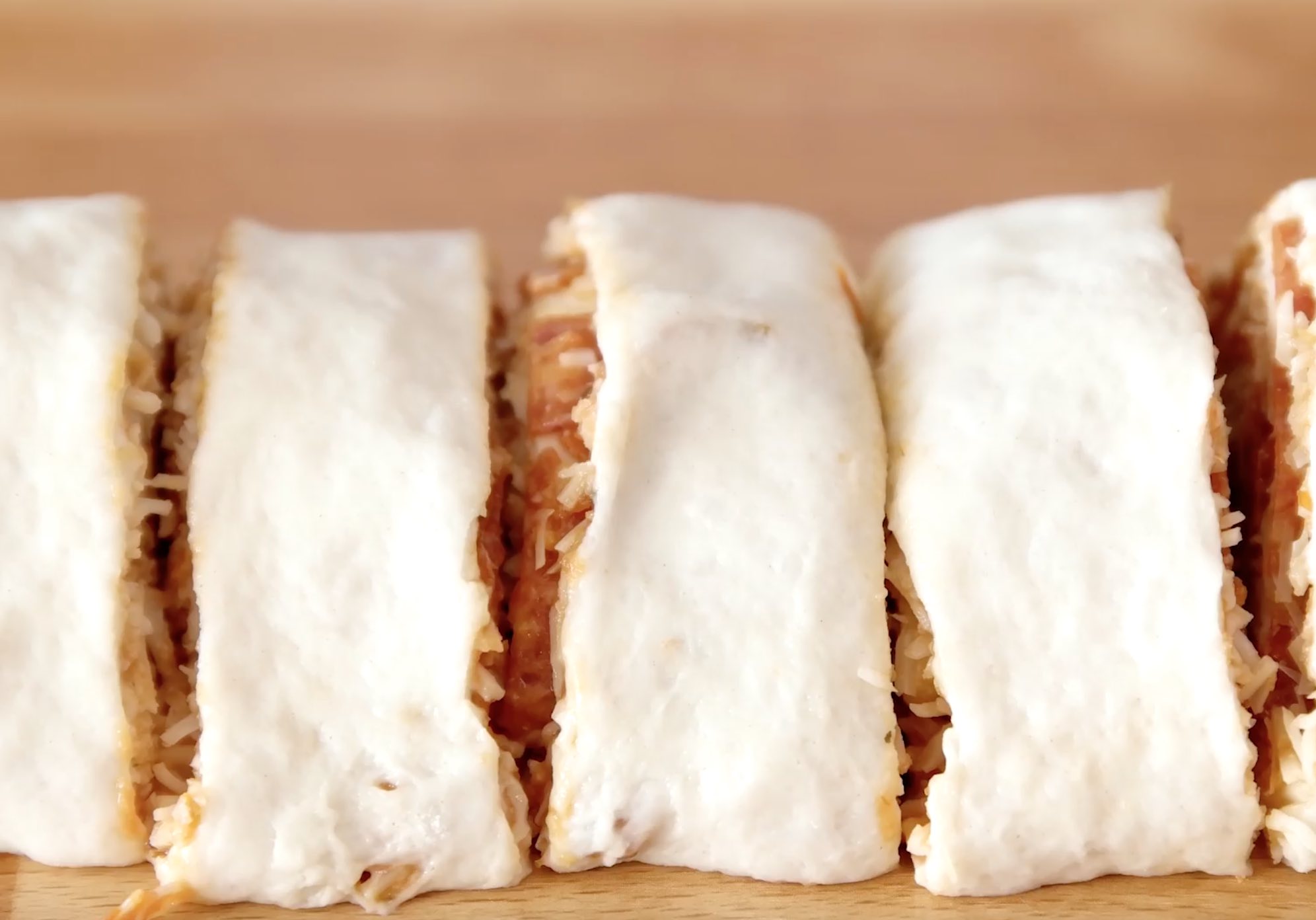 Other Topping Ideas
This recipe is very versatile and you can add your favorite toppings. Some great options are:
Chopped ham
Shredded chicken
Sausage
Cooked bacon
Bell peppers
Onions
Mushrooms
Italian seasoning
Garlic butter
Best Dipping Sauce:
Besides Marinara sauce, some of my favorite dipping sauce include ranch sauce, hummus dip, BBQ dip, and Mayonnaise dip.
Cooking Temperature and Time
Heat the oven to 400ºF (204ºC). Arrange the rolls 1 inch (2.5cm) apart in a single layer on a baking sheet.
These rolls cook faster than the entire pizza and need about 10-15 minutes, depending on the size of your rolls.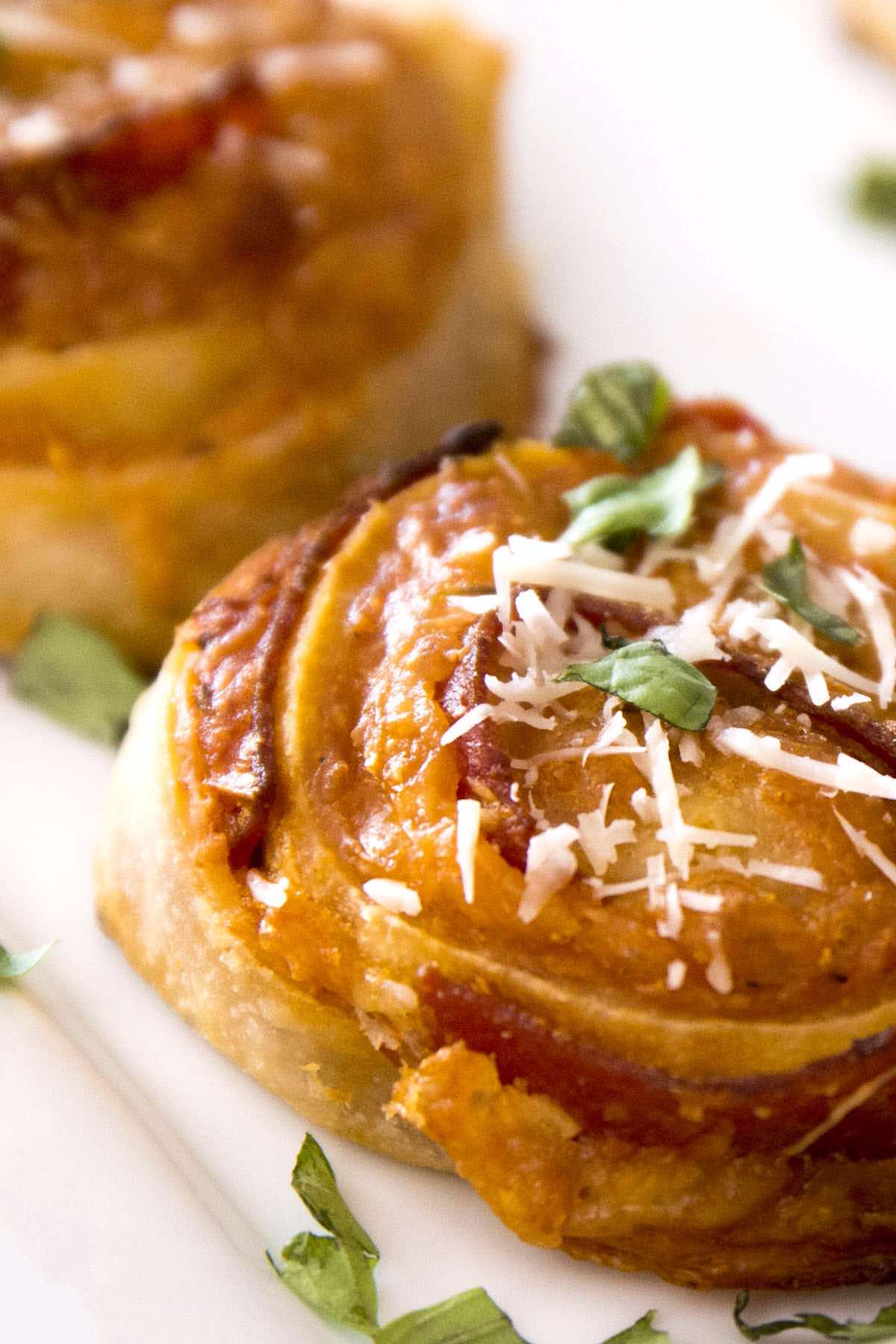 How Do You Know They're Done?
Your mini pizza rolls are done when the bottom is well-browned and crispy, and the cheese is fully melted on the top.
How to Prevent Soggy Rolls?
Watery pizza sauce can sometimes make roll-ups soggy. Adding a layer of olive oil creates a barrier between the dough and sauce to ensure you get nice, crispy rolls.
Top Tips for Making the Best Pizza Rolls
When you add the sauce on top of your dough, don't spread it all the way to the edge. Leave a gap of about 1 inch (2.5cm) around the edges.
It's important to use parchment paper to create a non-stick surface, and place rolls 1 inch apart from each other in a single layer, as they will expand during baking.
Make sure to roll your dough tightly into a log, otherwise, it will fall apart after you cut it into small pieces.
Brush with egg wash and it will give a golden brown sheen to your rolls during the baking process.
Other Pizza Recipes You'll Love
Watch the video below where we will show you every step of how to make this recipe.
Easy Pizza Rolls
Pizza Rolls are loaded with pepperoni and cheese rolled in pizza dough. They are soft on the inside and crispy on the bottom.




Ingredients
1 pound pizza dough, homemade or 1 package store-bought dough
3 teaspoons olive oil, (15ml)
2/3 cup marinara sauce, (150g)
2 cups shredded mozzarella cheese, (200g)
50 pepperoni slices
egg wash, mixture of 1 beaten egg and 1 tablespoon of water
chopped parsley, optional for serving
grated parmesan cheese, optional for serving
Instructions
Preheat oven to 400ºF (204ºC). Set aside a baking sheet lined with parchment paper.

On a lightly floured surface, roll the dough out into a 10x14 inch (25x35 cm) rectangle. You can use store-bought dough or make your own pizza dough. See recipe notes below for homemade pizza dough recipe.

Brush the surface with olive oil. (This will prevent your rolls from getting soggy.)

Spread marinara sauce on top of the dough. Leave a gap of about 1 inch (2.5cm) around the edges, you don't want to spread your sauce all the way to the edge.

Sprinkle with mozzarella and then top with pepperoni.

Starting with the long end, carefully roll the dough into a tight log. Make sure you roll your dough very tightly so that they won't fall apart when you slice them into smaller pieces.

Place the log seam side down and slice it into 1-inch (2.5 cm) pieces.

Place rolls on baking sheets lined with parchment paper. (It is important to use parchment paper so that the rolls won't stick to the baking sheet)

Arrange them 1 inch (2.5 cm) apart in a single layer.

Brush the rolls with egg wash. This will make rolls golden brown when they are baked.

Bake for about 10-15 minutes or until browned on top.

Let cool for 5 minutes. Sprinkle with chopped parsley and grated parmesan cheese if desired.

Serve warm with marinara or ranch sauce for dipping.
Notes
These rolls taste best when served immediately. Store leftovers in a sealed container in the refrigerator for up to 3 days.
Homemade Pizza Dough Ingredients:

1packet active dry yeast, (2-1/4 teaspoons, or 8g)
1cup warm water, 105-110°F (40-43°C, 250ml)
1teaspoon sugar, (8g)
2 ½cups all-purpose flour, (312g)
½teaspoon salt, (3g)
1tablespoon olive oil, (14ml) 

 How to Make Pizza Dough at Home:

Combine dry yeast, sugar and warm water. Let it sit for 10 minutes.
Mix together flour, salt and yeast mixture. Mix for a few minutes and add oil.
Beat and knead until the dough is soft and elastic.
Place the dough in a greased mixing bowl.
Nutrition Facts
Easy Pizza Rolls
Amount per Serving
% Daily Value*
* Percent Daily Values are based on a 2000 calorie diet.
Please read our nutrition disclaimer.
Other Rolled Food You'll Love
© TIPBUZZ. Images and text on this website are copyright protected. Please do not post or republish without permission. If you want to republish this recipe, please link back to this post. This post may contain affiliate links. Read the disclosure policy here.