Bacon Brown Sugar Garlic Chicken
This flavorful Bacon Brown Sugar Garlic Chicken will have your family's mouth watering in no time! With its irresistible sweet and juicy flavors, this is my favorite chicken and bacon recipe… And there are only 5 ingredients!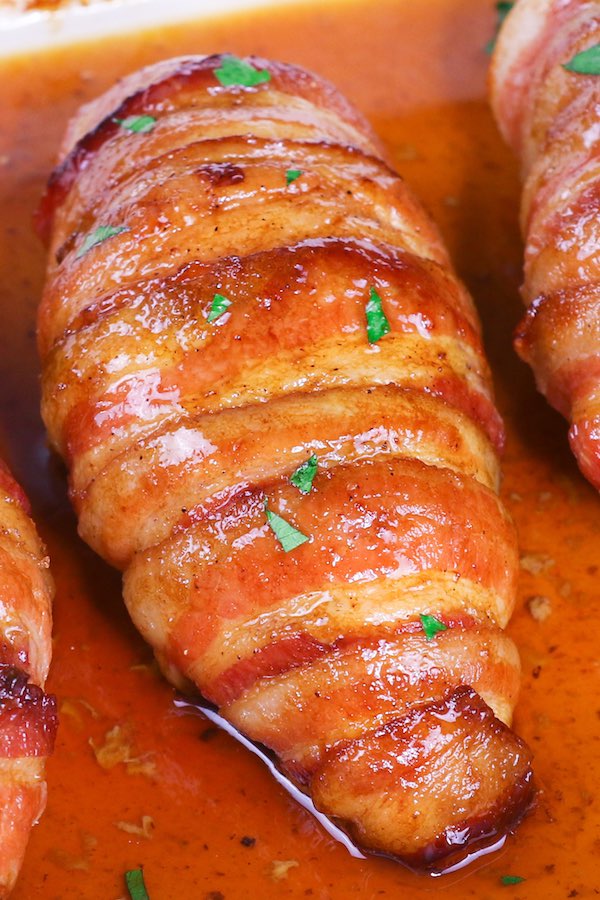 This recipe combines bacon wrapped chicken with fresh garlic for a delicious melt-in-your-mouth flavor the whole family will love. The bacon keeps the chicken juicy and adds flavor to make an incredible homestyle meal. Even picky eaters love it!
It's one of the most popular chicken recipes along with my honey garlic chicken, teriyaki chicken and baked chicken fajitas. The best part? You can do most of the prep work ahead of time, and make it look like you spent hours preparing!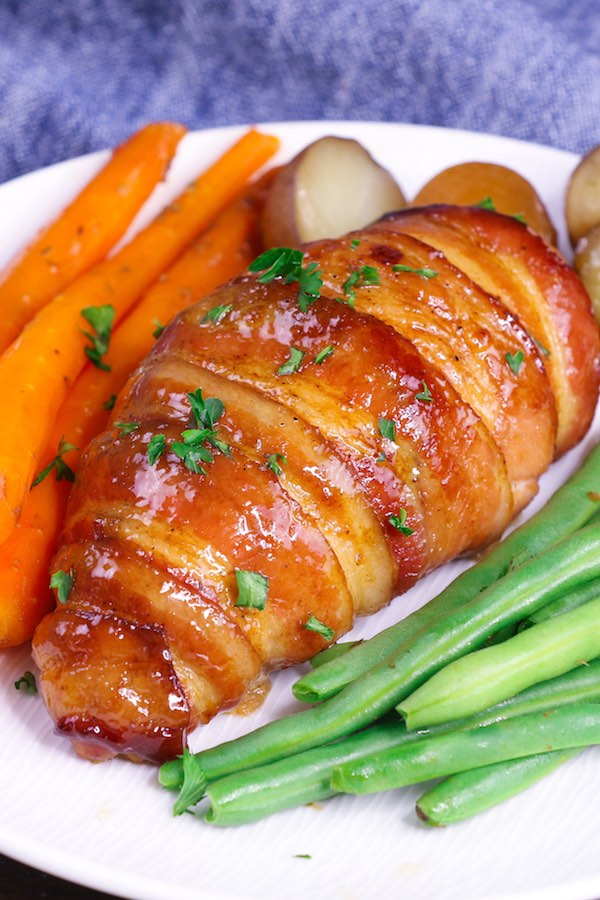 How to Make Bacon Brown Sugar Garlic Chicken
Step 1: Make the Brown Sugar Mixture: Combine brown sugar, garlic, salt and pepper before rubbing it all over the chicken breasts.
Step 2: Wrap the Chicken with Bacon: Wrap each chicken breast with 2-4 strips of bacon. The amount of bacon depends on the size of the chicken breasts and the length of the bacon slices. Try to start and finish seam-side down with each piece to secure the bacon.
Step 3: Bake: Place the bacon wrapped chicken into a 13×9 inch baking dish, and bake in the middle of a 375°F oven for about 25 minutes. During baking spoon or brush the chicken with juices from the pan 2-3 times and rotate the pan for even cooking.
That's it! If the bacon is not fully caramelized, you can put it under the broiler for a few minutes at the end to get it crispy.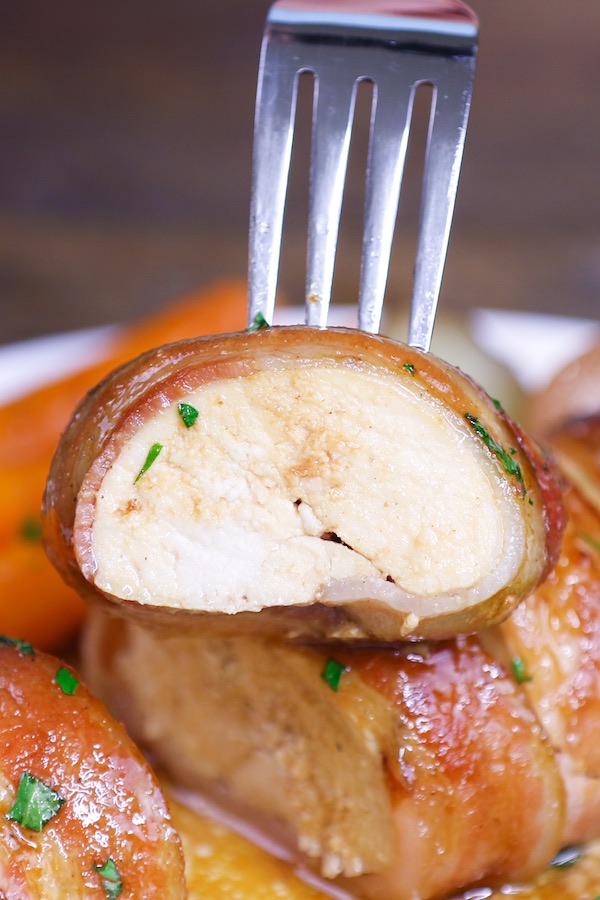 Tips and Secrets for Making Bacon Brown Sugar Garlic Chicken
If you have a forced air convection oven, definitely use it to cook the bacon as evenly as possible.
Baste your bacon with drippings regularly in the oven for the best look and extra flavor.
To get extra-crispy bacon, you can put it under the broiler for a few minutes after baking. Just monitor carefully to avoid burning.
For an overall healthier option use natural nitrate-free bacon that's low sodium and sugar, or use turkey bacon for a lower fat option.
Make Ahead Tips
You can make this recipe up to 1-3 days ahead of time if you store the cooked chicken and bacon in an airtight container in the fridge. To reheat, place in a covered skillet over medium heat for about 5 minutes.
You can also freeze the cooked dish for up to one month in an airtight container. Thaw completely and reheat in a skillet.
How to Serve Bacon Brown Sugar Garlic Chicken
Chicken and bacon recipes like this go well with potatoes and vegetables like broccoli or carrots. You can also serve with a salad for a low carb meal.
Bacon Brown Sugar Garlic Chicken is a fabulous main course for a party when you're entertaining, and an irresistible aroma will waft out of your kitchen while it's cooking.
For party appetizers, slice the bacon wrapped chicken breast into pieces and serve with toothpicks. We've done this on game day and watched it disappear in minutes!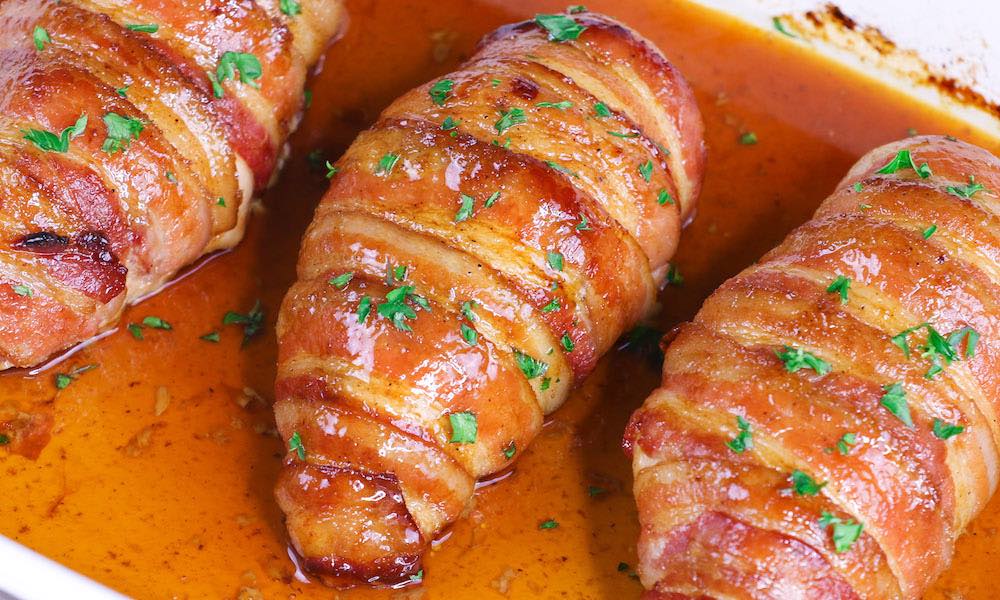 Ingredients for Making Bacon Brown Sugar Garlic Chicken
Thick-cut bacon (1/8" thick) will hold together the best during baking. If you can't find it, then use a quality regular bacon.
Boneless skinless chicken breasts are ideal for this recipe. Bone-in chicken breasts are a flavorful budget-friendly option, although they are trickier to eat.
Boneless skinless chicken thighs are an even juicier alternative although count on about 8 chicken thighs since they're smaller than chicken breasts.
Equipment for Making Bacon Brown Sugar Garlic Chicken
A large nylon cutting board is a great surface for wrapping the chicken and hygienic for easy cleanup.
I used a simple 13×9 inch baking dish with a 10×8 wire rack underneath. The rack keeps the meat out of the liquid in the pan, allowing the bacon to get crispy underneath.
A BBQ brush is very handy for brushing the bacon with the pan juices while it cooks.
Watch How to Make Bacon Brown Sugar Garlic Chicken
Bacon Brown Sugar Garlic Chicken
This Bacon Brown Sugar Garlic Chicken is a 5-ingredient dinner idea that's bursting with flavor. Chicken is rubbed with brown sugar and garlic seasoning, wrapped in bacon and baked to caramelized perfection! You'll want to make it again and again…
Ingredients
4 chicken breasts, boneless and skinless
12 oz bacon, about 12 slices
1/2 cup brown sugar
3 large cloves garlic, minced, or garlic powder
salt and pepper to taste
fresh parsley, minced - optional for serving
Instructions
Preheat oven to 375°F. Set aside a 13x9 inch baking pan with a trivet or rack to hold the chicken.

In a medium bowl, mix brown sugar, garlic, salt and pepper together.

Lay the chicken breasts on a work surface, and rub 1-2 tbsp of brown sugar onto each.

Wrap each chicken breast with 2-3 bacon slices with slight overlap, starting and finishing on the bottom of the breast to secure if possible.

Place into prepared pan and sprinkle any remaining brown sugar mixture on top.

Bake for 25-30 minutes, brushing or spooning juices from the pan every 10 minutes for extra flavor.

Optional: after baking, place under the broiler (about 6 inches) for 2-3 minutes to crispen. Serve and enjoy!
Notes
• Bacon can start to smoke above 375°F, so turn the temperature down slightly if your oven runs hot.
Nutrition Facts
Bacon Brown Sugar Garlic Chicken
Amount per Serving
% Daily Value*
* Percent Daily Values are based on a 2000 calorie diet.
Please read our nutrition disclaimer.
Looking for more chicken recipes?
© TIPBUZZ. Images and text on this website are copyright protected. Please do not post or republish without permission. If you want to republish this recipe, please link back to this post. This post may contain affiliate links. Read the disclosure policy here.