Singapore Chow Mei Fun
Singapore Chow Mei Fun is a delicious stir fry of thin rice noodles combined with pork and vegetables along with some shrimp or chicken. Curry powder adds a bright yellow color and some mild heat to this favorite Chinese dish!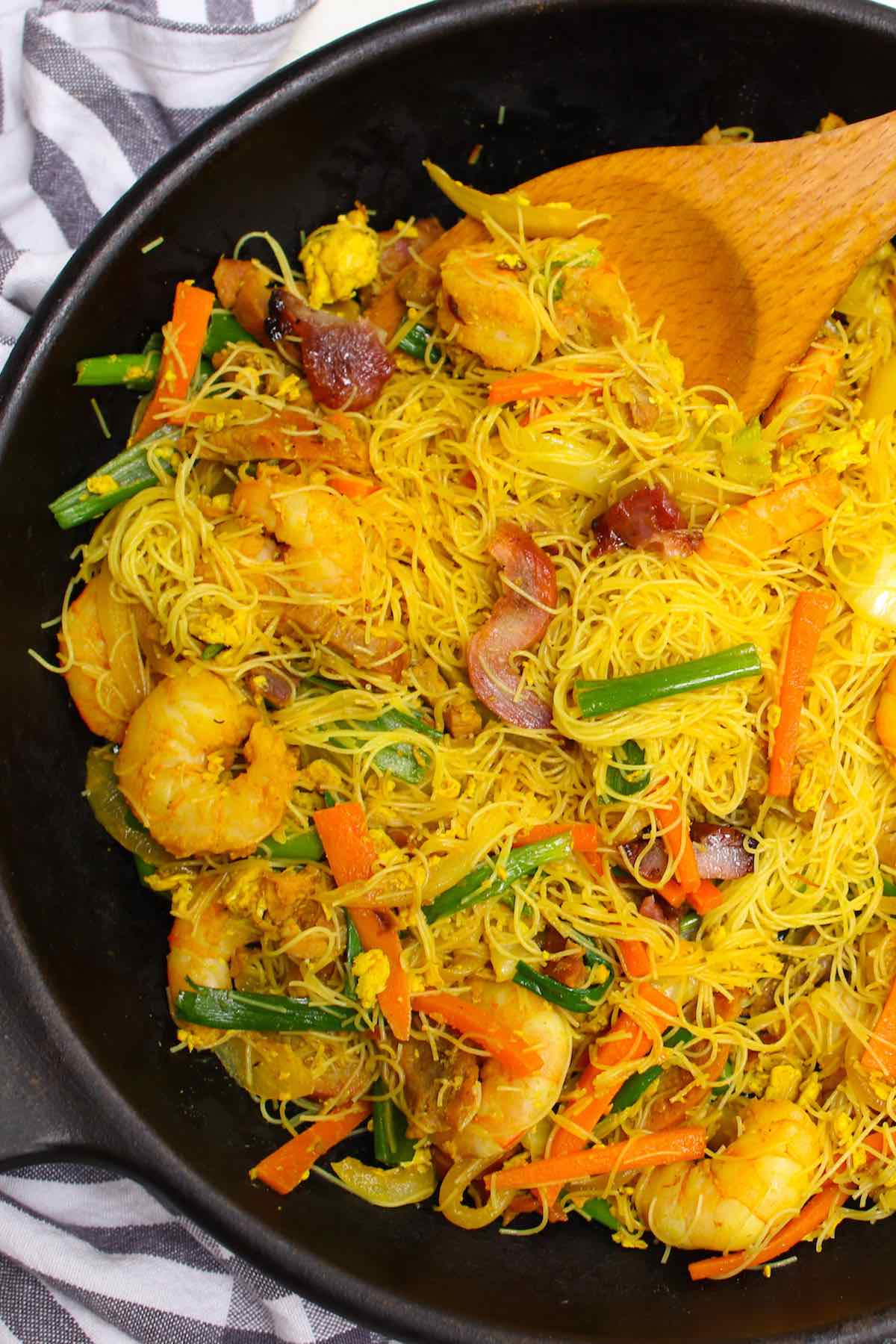 When I used to live in Hong Kong, going out for Singapore noodles with friends was a ritual. You could find them on most restaurant menus and they were comfort food with thin noodles, pork, veggies and shrimp.
In spite of the name, this dish is nowhere to be found in Singapore! It's a classic Cantonese dish that borrows curry powder seasoning in a nod to South Asian cuisine.
You've probably had it at your local Chinese restaurant, but it's actually easy to make restaurant-quality Singapore chow mei fun yourself. Fresher and healthier than takeout, it's ready in just 20 minutes!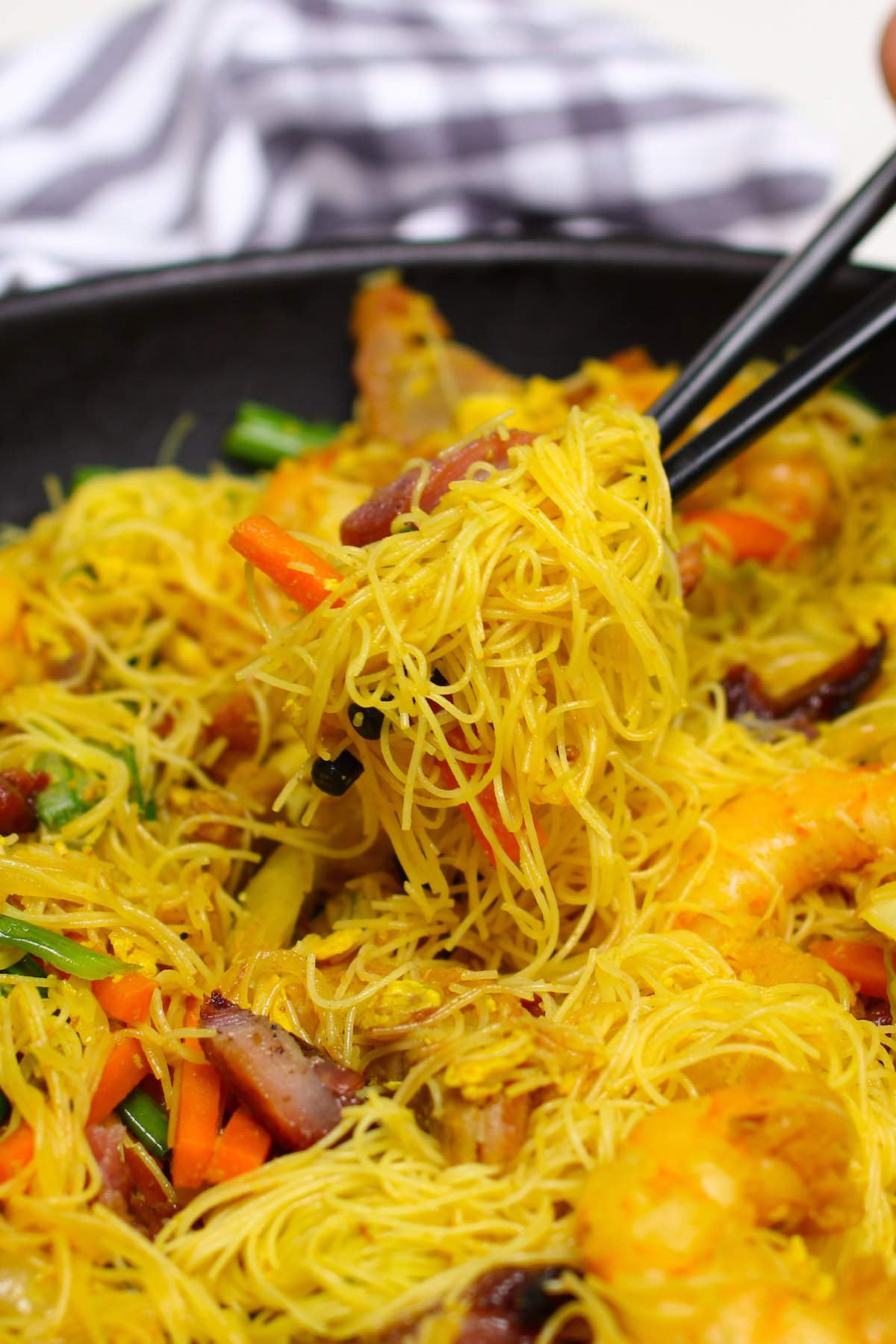 Ingredients
The ingredients for chow mei fun usually warrant a visit to an Asian grocery store for a one-stop shop. Here's what you'll need:
Rice Noodles (mei fun): These rice vermicelli are available in any Asian grocery store or online. They're made with just rice and water, so are usually gluten-free.
Vegetables: Carrots, cabbage and onions are traditional choices, although bell peppers and others will work too.
Chinese barbecue pork (char siu): Authentic chow mei fun uses fresh barbecue pork from any Chinese deli or restaurant. It's roasted pork with a delicate smoky and sweet flavor. If you can't find any, try hard Chinese sausage (lop cheung) instead.
Shrimp: Use large or jumbo shrimp sizes that are peeled, deveined and tail-off. Make sure they're thawed fully if frozen.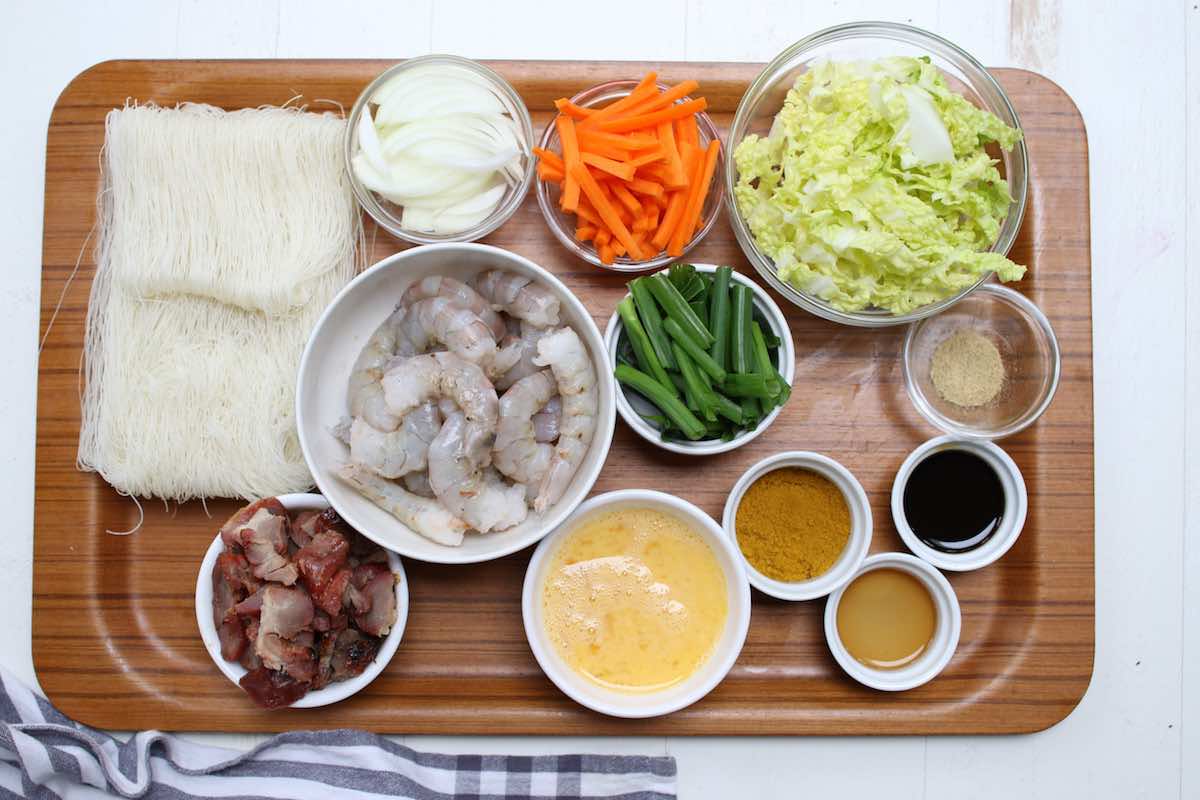 Dried red chili peppers (optional): These are your common red cayenne peppers, and you can use red pepper flakes if you prefer.
Eggs: Beaten eggs are often, but not always, used in this dish, so consider them optional.
Curry powder: This is the common, widely available spice.
Shaoxing wine: The Chinese cooking wine available at Asian grocery stores or online. Sherry or cooking sherry is a good substitute, as is rice wine vinegar.
Soy sauce: A decent low-sodium product like Kikkoman or San-J is recommended.
Asian sesame oil: This is toasted sesame oil with a caramel color available from Asian grocery stores or online.
Green onions: Fresh green onion (scallions) are an important garnish towards the end of cooking both for color and flavor.
How to Make Chow Mei Fun
Start by soaking the rice noodles in hot or cold water for about 10 minutes until al dente, following the package directions. They don't need to be boiled like spaghetti, as it would make them turn mushy.
During the soaking period, get the other ingredients ready. Set aside the shrimp and thaw if needed. You can chop up the pork and vegetables and also beat the eggs if you're using them. It's also a good idea to measure the amounts of curry powder, Shaoxing wine, soy sauce and sesame oil to make stir frying easier.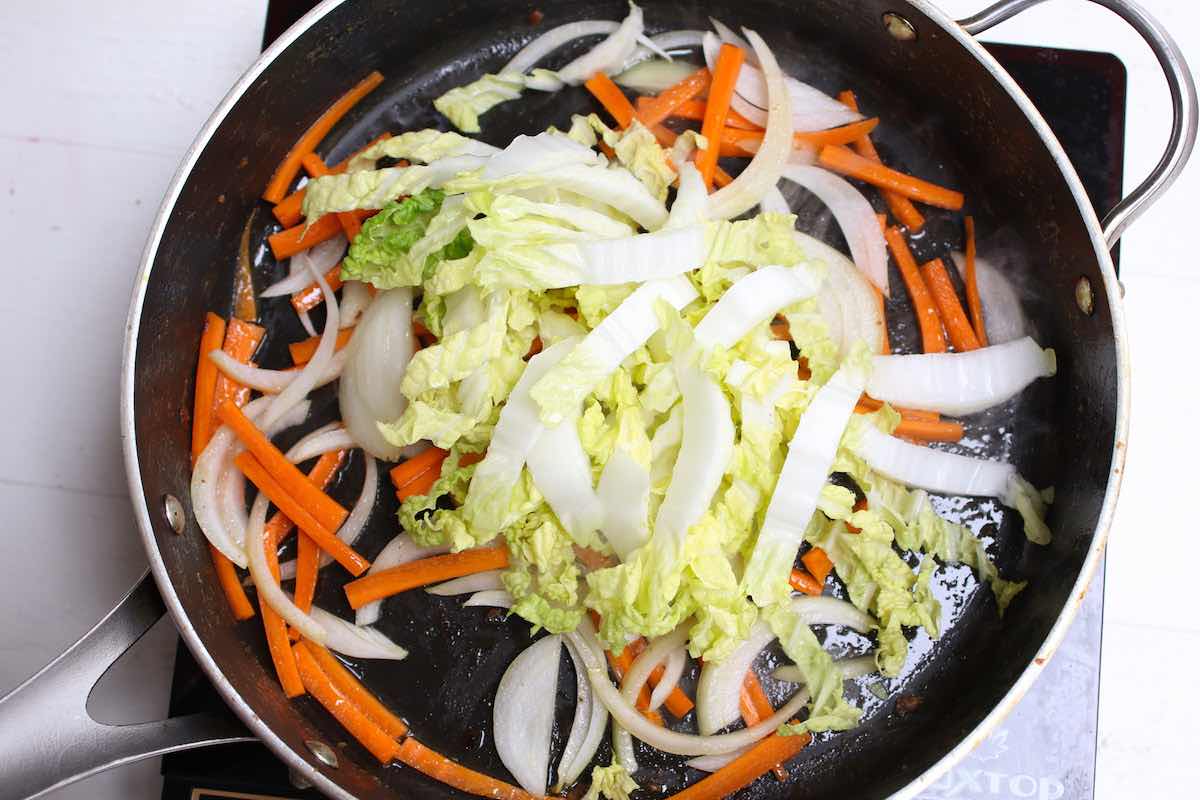 Now you're ready to stir fry. Place a wok or large nonstick skillet over medium-high heat. When hot, add a tablespoon of oil and fry the pork and shrimp for one minute and then remove to a plate. Add the vegetables and red peppers to the pan and fry for 3-4 minutes until tender, stirring with a wooden spoon.
Now's the time to add the optional beaten eggs. Make space in the middle of the pan by pushing the vegetables to the side. Pour in the eggs and scramble them by scraping the bottom of the pan for about one minute.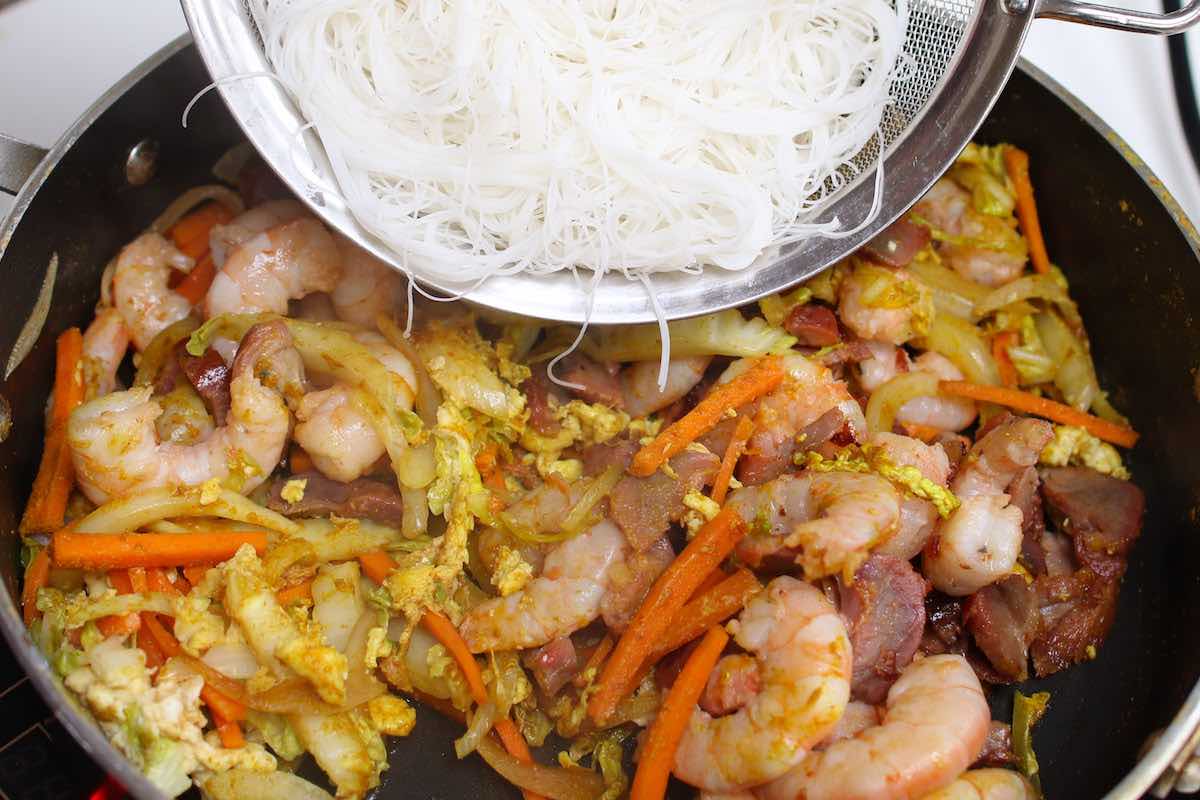 The final step is to combine everything together with the seasonings. Drain the noodles and add to the pan. Add back the pork and shrimp. Add the curry powder, Shaoxing wine, soy sauce. Now toss continuously to combine for about a minute. The noodles should be turning yellow. Add the green onions and sesame oil and give everything a final toss before serving.
What is Chow Mei Fun?
Chow Mei Fun (also called Chow Mai Fun) translates from Cantonese as fried rice vermicelli noodles. Made with rice and water, the rice noodles are soaked in hot water to soften before being stir-fried with barbecue pork, eggs, vegetables and sometimes shrimp or chicken.
The name Singapore noodles is actually a misnomer, as this dish comes from Hong Kong and does not exist in Singapore! However, the curry powder seasoning imparts a taste and yellow color in a nod to South Asian cuisines.
Chow Fun vs Mei Fun
Mei Fun are thin and round rice vermicelli noodles commonly used in China and across South Asia. In contrast, chow fun are flat and wide rice noodles (the shape of pappardelle), so quite different.
Other noodles like chow mein and lo mein are egg noodles made with wheat flour. They're not a great substitute for mei fun but work in a pinch.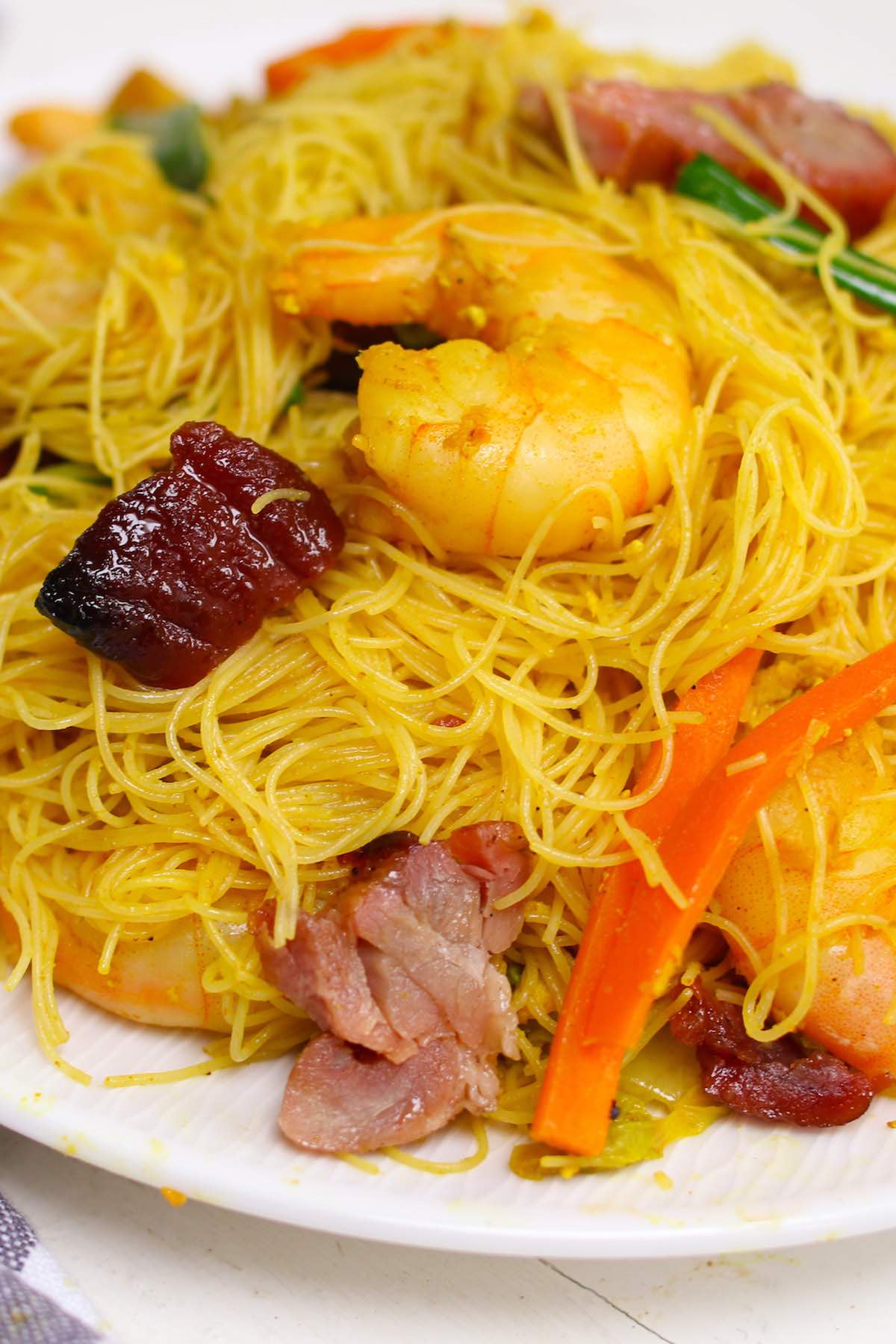 Can I make it with Chicken?
Yes, chicken chow mei fun is a popular variation. Just slice one boneless chicken breast or two thighs into thin strips and use instead of the shrimp in the recipe.
What to Serve with Chow Mei Fun:
View all Asian dishes
More Asian noodle recipes:
Singapore Chow Mei Fun
An authentic Cantonese dish made with thin rice noodles, vegetables and barbecue pork along with either shrimp or chicken. Ready in 20 minutes!
Ingredients
Noodles
6 oz rice vermicelli noodles, 2 ½ cups after soaking
1 tablespoon vegetable oil
¼ pound Chinese bbq pork, or Chinese sausage, chopped (1/2 cup)
½ pound large shrimp, peeled and tail off
2 cups Napa cabbage, shredded
1 carrot, cut into matchsticks
1 small yellow onion, sliced thin
2 dried red chili peppers, optional, or ½ teaspoon red pepper flakes
2 large eggs, lightly beaten (optional)
Seasonings
1 tablespoon curry powder
1 tablespoon Shaoxing wine, or cooking sherry or rice wine vinegar
1 tablespoon soy sauce, low sodium recommended
½ teaspoon Asian sesame oil
salt, and freshly ground white pepper to taste
2 green onions, chopped
Instructions
Add the rice noodles to a medium bowl and pour hot water on top to cover. Soak for 10 minutes until al dente or as specified on the package directions. Meanwhile, prepare the other ingredients.

Drain the noodles. Cut several times with scissors into roughly into 6-inch lengths and set aside.

Place a wok or large skillet over medium-high heat. When hot, add the oil, pork and shrimp. Stir fry for one minute using a wooden spoon. Then remove to a plate.

Add the cabbage, carrot, red onion and chili peppers to the pan. Sauté for 3-4 minutes or until tender.

Optional: Make space in the middle of the pan by pushing the vegetables to the edge. Then pour the beaten eggs into the middle and scramble them, scraping the bottom of the pan to prevent sticking.

Mix in the curry powder, wine and soy sauce. Then add back the noodles and toss until they absorb the yellow color.

Drizzle the sesame oil on top and add the green onions. Toss several times more and taste. Add salt and pepper if needed and serve immediately.
Notes
Chicken chow mei fun: Instead of the shrimp, thinly slice one boneless skinless chicken breast or two boneless skinless chicken thighs.
Beef chow mei fun: Use 4 oz of thinly sliced flank steak, top sirloin or a similar cut. Marinate in 1 tbsp soy sauce for 10 minutes and use in place of the shrimp.
Make it gluten-free: Use gluten-free soy sauce or coconut aminos. Rice noodles are normally gluten-free but check the package details.
Nutrition Facts
Singapore Chow Mei Fun
Amount per Serving
% Daily Value*
* Percent Daily Values are based on a 2000 calorie diet.
Please read our nutrition disclaimer.
Recipe tools:

© TIPBUZZ. Images and text on this website are copyright protected. Please do not post or republish without permission. If you want to republish this recipe, please link back to this post. This post may contain affiliate links. Read the disclosure policy here.