Smoked Chuck Roast
This Smoked Chuck Roast is tender and moist with irresistible smokey barbecue flavors! It's a delicious pot roast that's cooked low and slow on the smoker until the beef falls apart. You can serve it sliced or pulled!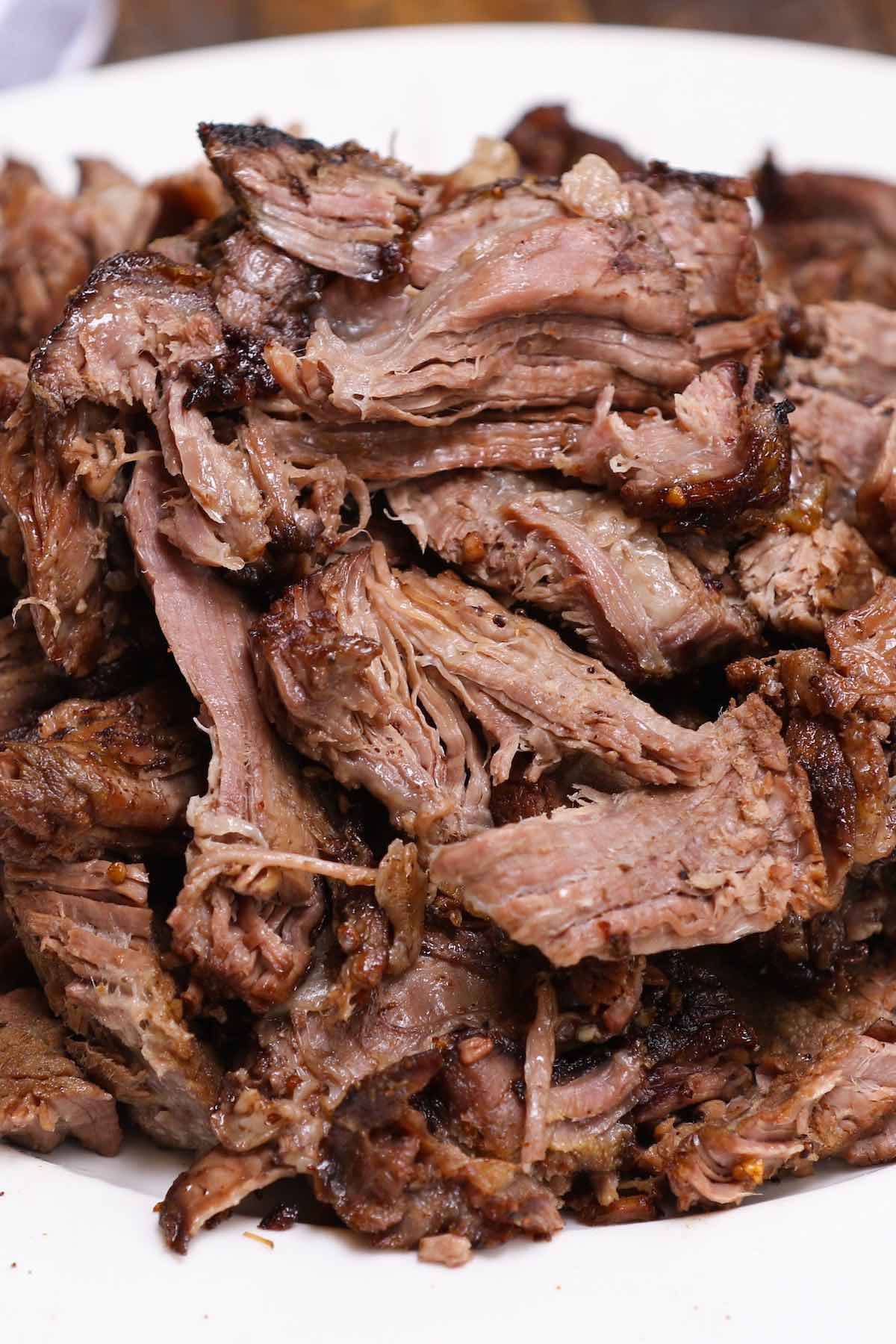 One of my favorite recipes for the smoker is chuck roast. It's more affordable than brisket and has rich, beefy flavors. Smoking at low temperature renders the fat while breaking down the tough connective tissues in the meat.
The meat is so tender it literally melts in your mouth. Plus, you get a nice dark "bark" on the outside. It's one of the best ways to feed a crowd and celebrate summer!
Smoked Beef Chuck Roast
Chuck roast comes from the large shoulder section of the cow and is available boneless or bone-in. It goes by many names including blade roast, chuck arm roast, shoulder pot roast or pot roast. While the marbling makes it flavorful, it needs slow cooking methods such as braising, smoking or sous-vide to break down its tough connective tissues.
Chuck is often compared to brisket, which comes from the cow's breast beneath the chuck primal. Brisket is leaner and flatter with longer muscle strands that require slow cooking to become tender. While both cuts have excellent flavor, brisket is usually more expensive.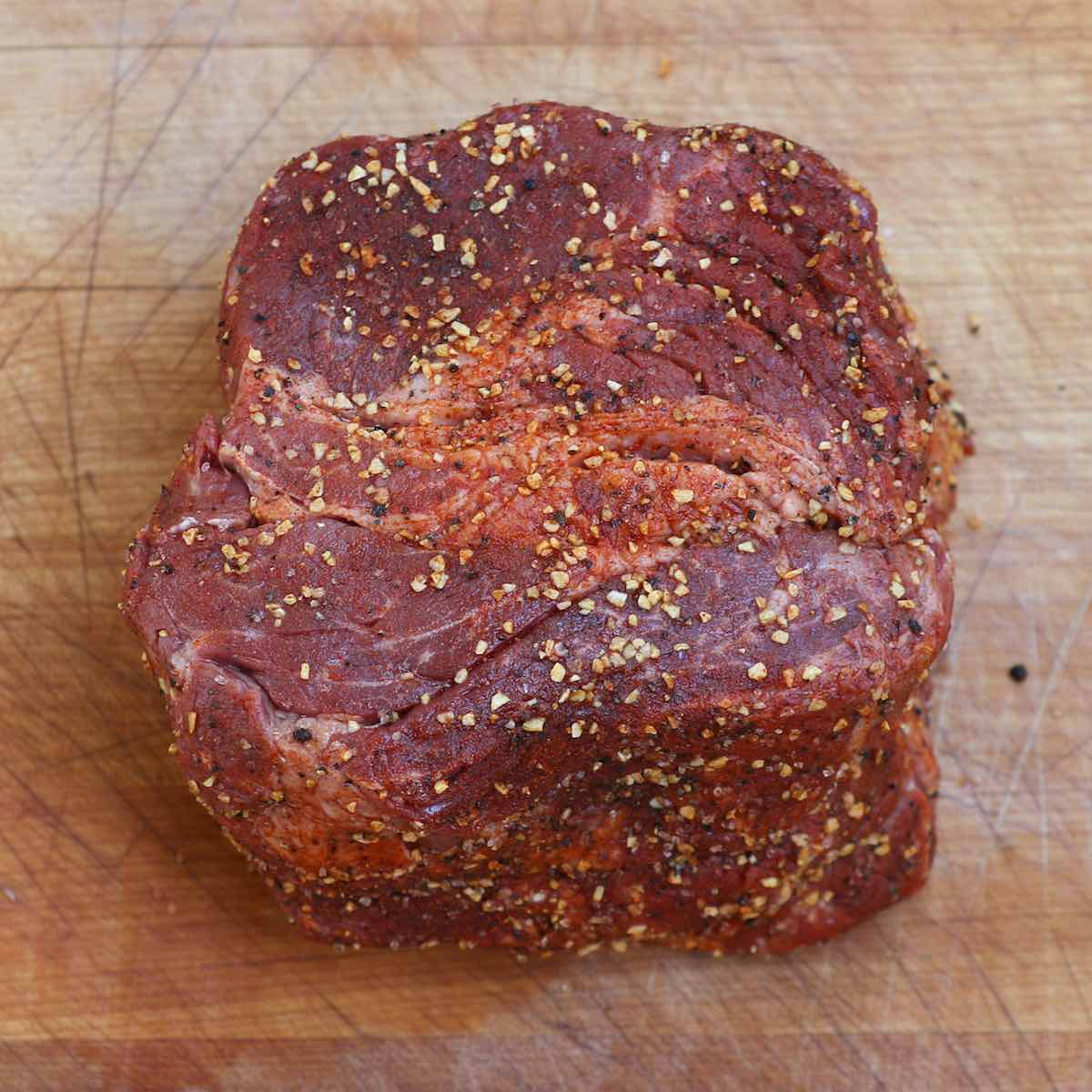 How to Smoke a Chuck Roast
Smoking a chuck roast is easy. Start by preparing your smoker for indirect cooking at 225°F. Meanwhile, season the meat with salt, pepper, paprika and garlic powder.
The smoker: You can use whatever you have on your patio (this recipe works with a Masterbuilt electric smoker, a Traeger pellet grill or a charcoal smoker). Adjust the smoker or grill vents to get the temperature to 225°F.
If you're using a grill, set up the heat so one side is hot, leaving the other side off for cool, indirect heat. Wrap several handfuls of soaked wood chips in foil and place below the grates to create the smoke.
The wood: For chuck roast, I recommend using bolder flavors of pecan, oak, apple to enhance the beefy flavor of the meat. You can also use a combination.
Place the roast on the grates and then close the lid to start smoking. (Some people like to wrap the roast in foil partway through, although I find the chuck roast temp rises too quickly and risks becoming chewy.)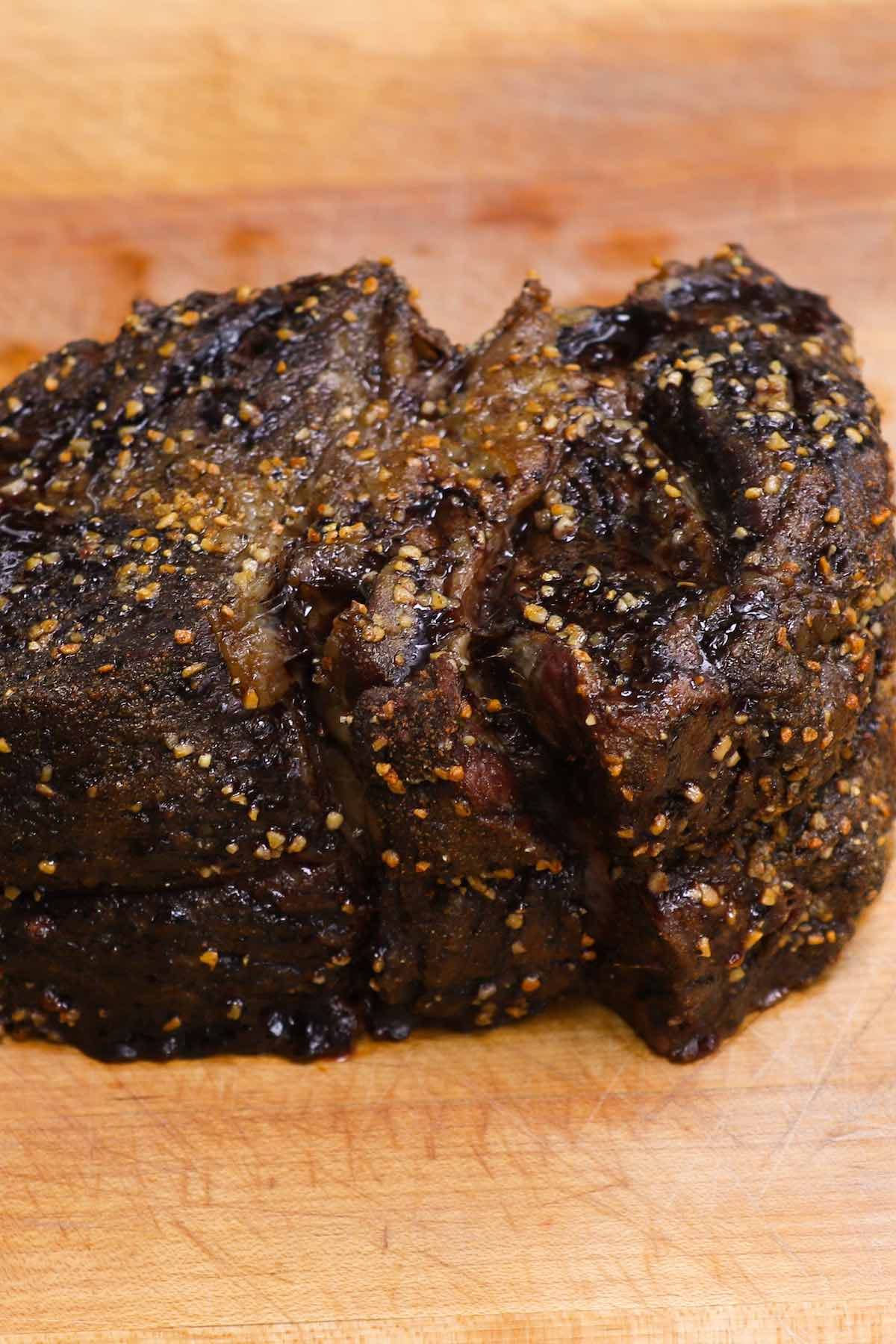 How Long to Smoke a Chuck Roast
Smoking chuck roast is a balancing act between time and temperature. You need enough time to break down the connective tissue before the meat reaches the target internal temperature of 165°F for slicing and 205°F for pulling. If you go faster, it could turn out tough.
Smoking at 225°F heats the chuck roast slowly enough to become ultra-tender. Here's how long you'll need at 225°F:
| | | |
| --- | --- | --- |
| Weight | Sliced (165°F) | Pulled (205°F) |
| 3 lb | 3 hours | 4 hours |
| 4 lb | 4 hours | 5 hours |
| 5 lb | 5 hours | 7 hours |
| 6 lb | 6 hours | 8 hours |
Of course, don't depend on time alone. Start checking doneness at least 30 minutes before by inserting an instant-read thermometer into the middle of the roast. Alternatively, use a wireless thermometer for remote monitoring during smoking.
The Stall: You may notice the internal temperature stall around 150-160°F for an hour or two. This is normal and a result of the connective tissues breaking down. Just hang in there and the temp will continue rising eventually.
Serving Ideas
You can serve smoked chuck roast with some mashed potatoes, mac and cheese or potato salad. For the veg, some great options include corn on the cob, apple salad and cole slaw. BBQ sauce is always appreciated too.
More BBQ recipes:
Smoked Chuck Roast
Delicious BBQ that's smoked low and slow to produce moist and tender meat that's fully of smokey, beefy flavors. Serve it sliced or pulled!
Ingredients
3-6 pounds chuck roast, square cut recommended, tied with Butcher's twine
2 teaspoons kosher salt, or to taste
2 teaspoons black pepper, freshly ground
2 teaspoons paprika
2 teaspoon granulated garlic, or minced fresh garlic
Instructions
Combine the rub ingredients in a small bowl. Pat dry the meat with paper towels and then rub the seasonings evenly on all sides. (Optional: Wrap the meat and refrigerate for 2 hours to overnight to penetrate into the meat for extra flavor.)

Soak the wood in water for 30 minutes (see note). Meanwhile, preheat the smoker to 225°F.

When the smoker is at temperature, add the soaked wood. Then place the chuck roast on the grill grate with the fat side facing up (if there is one). Insert thermometer probe if using (see note).

Close the lid and smoke until the internal temperature reaches 165°F for slicing or 205°F for pulling, anywhere from 3 to 8 hours depending on size. Check your smoker occasionally and add more wood as needed, adjusting vents to maintain temperature.

Remove the roast to a carving board to rest for 10 minutes before slicing or pulling.
Notes
Chuck roast: When shopping, look for a thick, square cut tied with twine to hold its shape during smoking. It may be labeled as shoulder roast, arm roast, blade roast, pot roast, chuck roll, 7-bone or similar. You can substitute brisket when you can't find chuck.
Wood: I recommend using pecan, oak, apple or a combination.
Temperature: I recommend using a dual-probe wireless thermometer to monitor the temperature of both the smoker and the meat throughout smoking.
Sauce: If you'd like to serve it with au jus, place a disposable foil drip tray beneath the roast to catch the drippings during smoking.
Leftovers: Use leftovers to make French dip sandwiches! They'll keep for up to 3 days in the refrigerator in an airtight container.
Nutrition Facts
Smoked Chuck Roast
Amount per Serving
% Daily Value*
* Percent Daily Values are based on a 2000 calorie diet.
Please read our nutrition disclaimer.
Recipe equipment:
© TIPBUZZ. Images and text on this website are copyright protected. Please do not post or republish without permission. If you want to republish this recipe, please link back to this post. This post may contain affiliate links. Read the disclosure policy here.