Smoked Meatloaf
This Smoked Meatloaf is juicy and flavorful with a tangy BBQ glaze. This mouthwatering recipe is easy with just 10 minutes of prep before the smoker does the rest!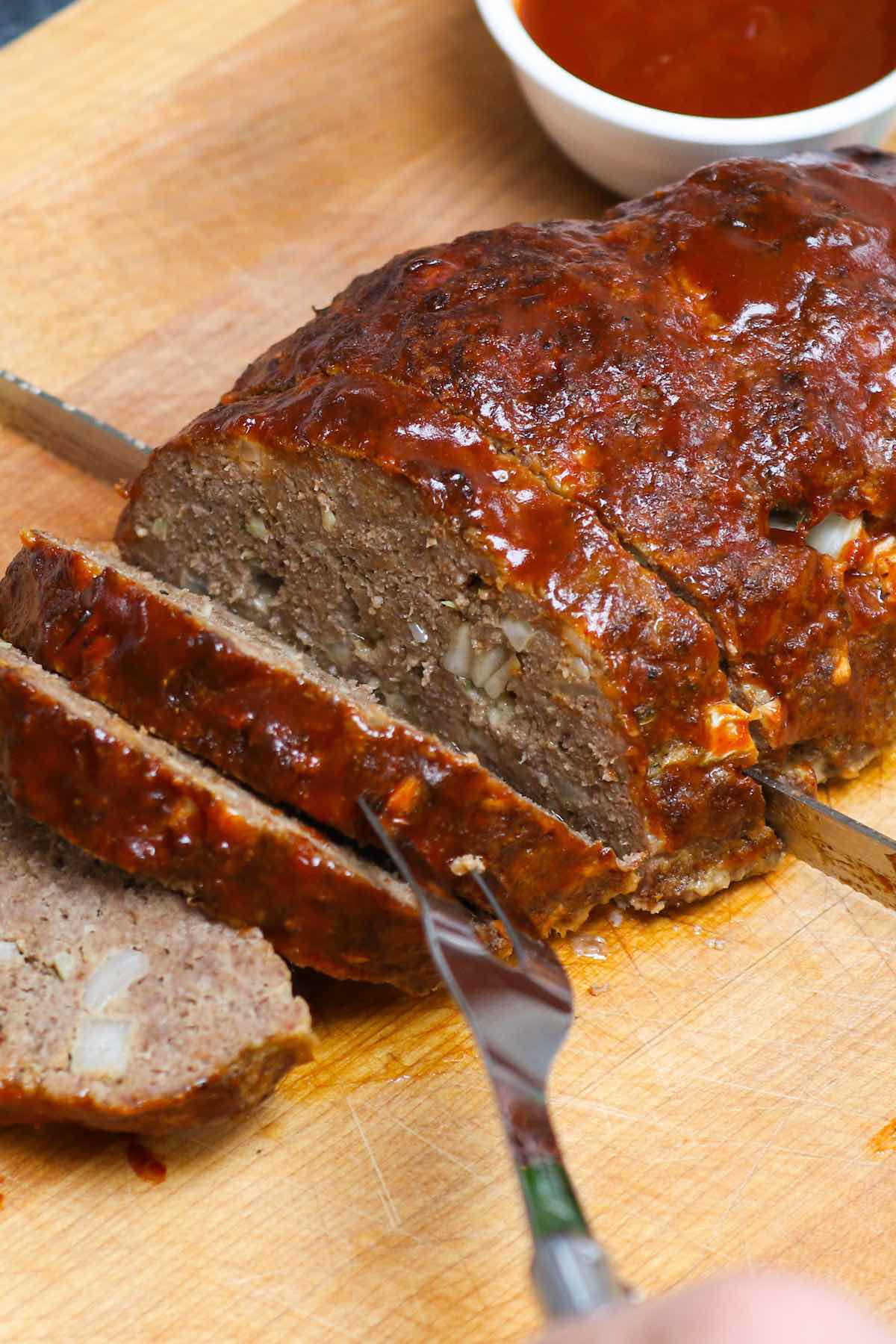 Today we're using the smoker to take classic comfort food to a new level! It's moist and flavorful with the most amazing BBQ aroma.
Add a few side dishes such as mashed potatoes, broccoli, coleslaw or apple salad and you've got the perfect meal!
We're using traditional meatloaf ingredients with BBQ sauce, which saves you from having to soak the breadcrumbs in milk. You only need 10 minutes of prep before the meatloaf goes into the smoker!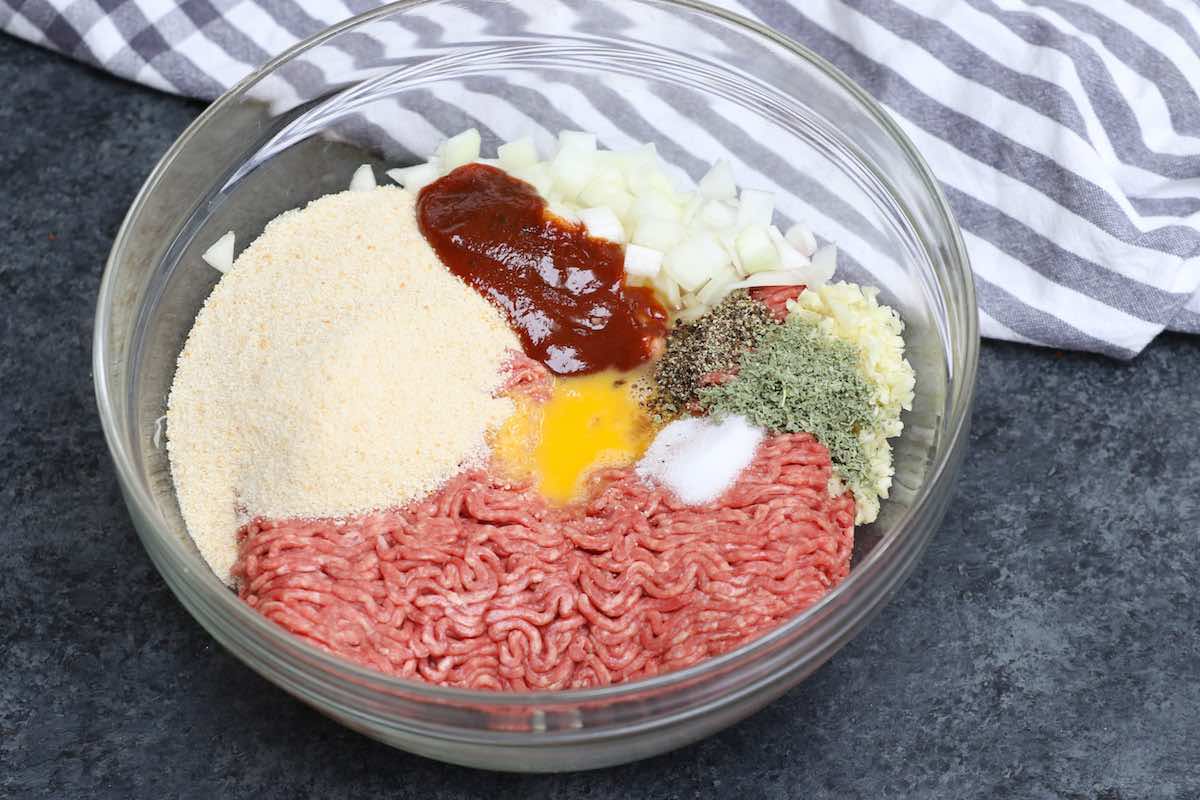 Ingredients for Smoked Meatloaf
Ground beef: I recommend regular ground beef that's 70-77% lean. You can use a 50/50 mix of ground beef and ground pork if you prefer.
Breadcrumbs: Regular white breadcrumbs help to hold the mixture together.
Onion: Yellow or white onion
Garlic: Freshly minced is best, but you can use garlic powder or granulated garlic.
Eggs: They're a crucial binding agent to prevent the meatloaf from falling apart
Sage: Dried sage seasons the meat, and you can substitute dried parsley too.
BBQ Sauce: Use your favorite BBQ sauce for the glaze (I like Stubb's)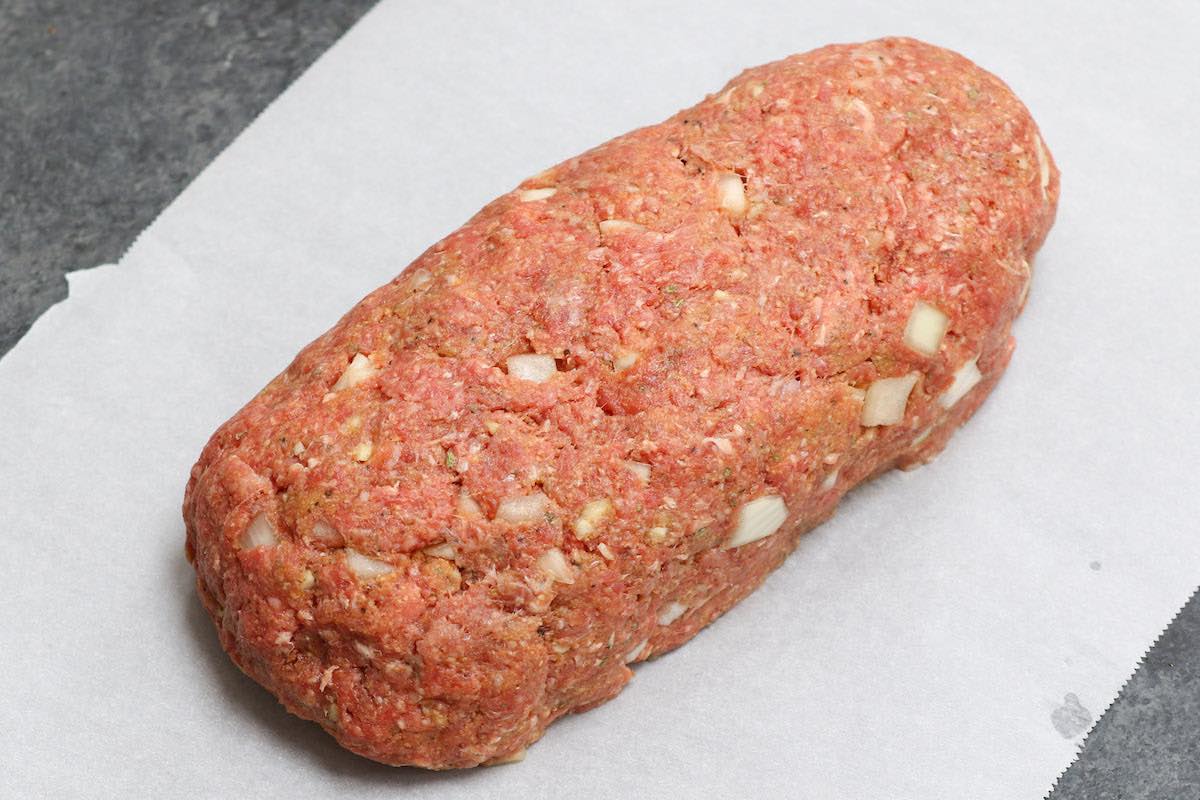 How to Smoke a Meatloaf
The first step is combining the ingredients to make the meatloaf. Simply combine the ground meat, breadcrumbs, eggs, onion, garlic, BBQ sauce and seasonings in a large mixing bowl. Mix just until combined using a large spoon.
Next, turn the mixture onto a sheet of parchment or wax paper. Using your hands, shape it into an oval or rectangular meatloaf, smoothing out any imperfections with your fingers. Move the meatloaf onto a nonstick grill tray or basket if you have one. Brush the outside with BBQ sauce to create a glaze. Now you're ready to smoke!
The best temperature is 250°F and you can use almost any type of wood including hickory and mesquite (my preference) or Cherrywood, pecan, oak or maple.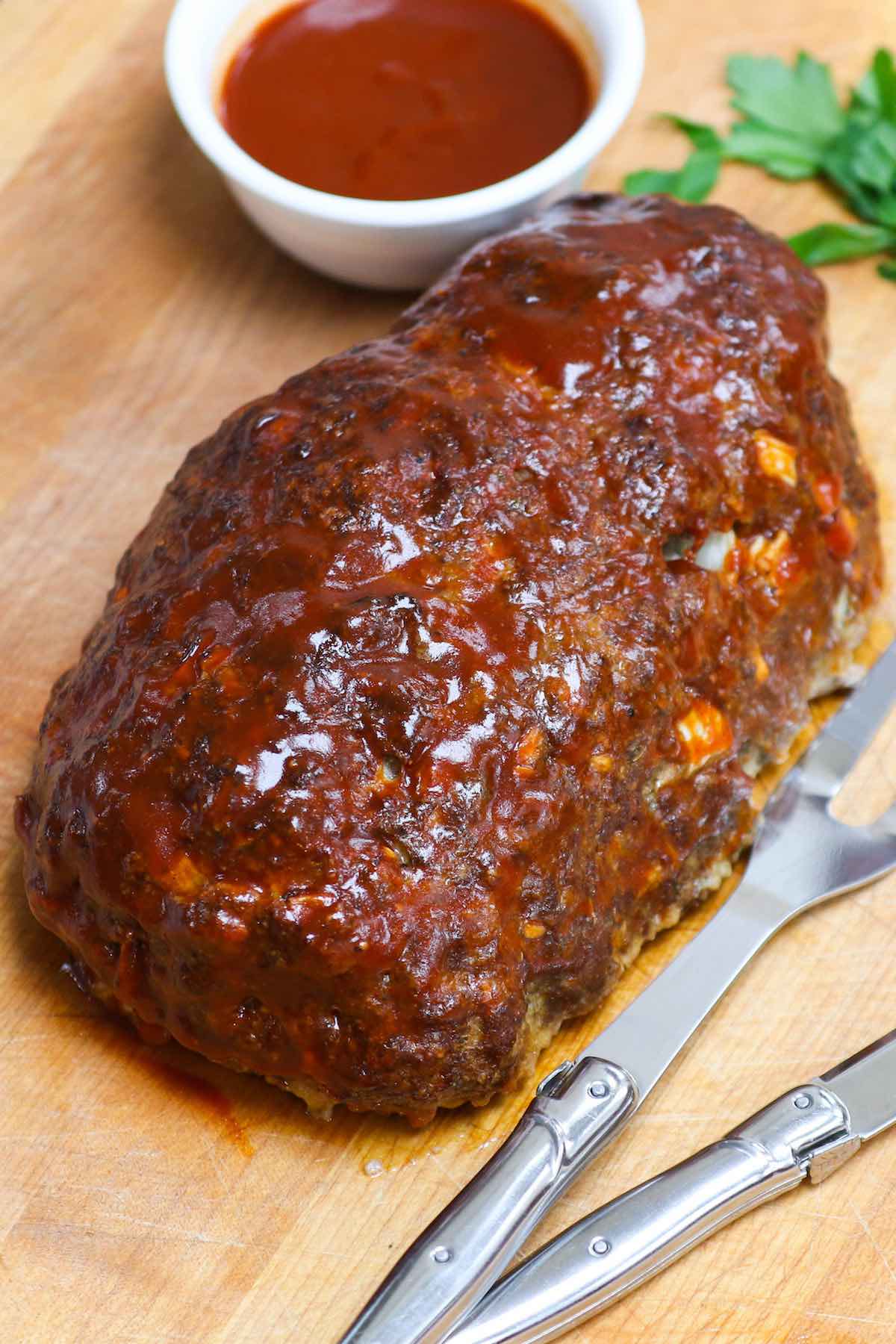 I'd highly recommend using a wireless meat thermometer to monitor temperature during smoking. It saves you the trouble of opening up the smoker periodically to check, plus it prevents overcooking your delicious smoked meatloaf! Simply insert the probe into the middle of the meatloaf before placing it in the smoker.
How Long to Smoke a Meatloaf
Smoking will take about 2 hours, although it can vary depending on shape and size of your meatloaf.
You want to cook it to an internal temperature of 160°F, which is safe according to the USDA. In my experience meatloaf will stay juicy up to 170°F before slowly beginning to dry out.
When it's done, remove the meatloaf from the smoker and let it rest for 15 minutes before slicing.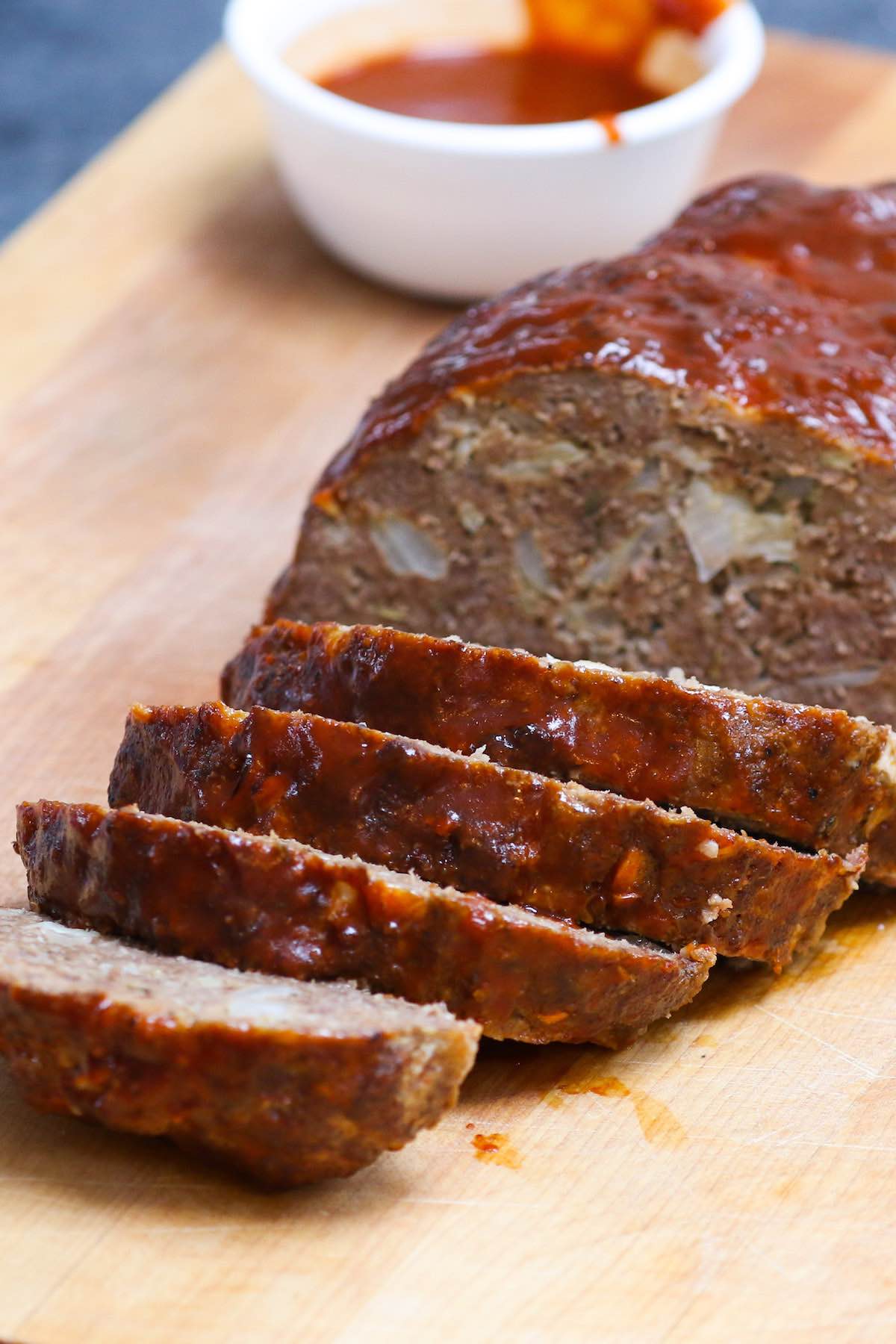 Smoked Meatloaf Recipe
This Smoked Meatloaf is tender and juicy with a mouthwatering BBQ glaze. Quick and easy to prepare.
Ingredients
2 pounds lean ground beef
1 medium onion, minced, ½ cup
3 garlic cloves, minced
2 large eggs, lightly beaten
3/4 cup bread crumbs
1 tsp salt, or to taste
1 tsp black pepper
1/2 tsp dried sage, or dried parsley
½ cup BBQ sauce
Instructions
Preheat your smoker to 250°F for indirect smoking. There are many options for the wood including hickory, mesquite, cherrywood, pecan, oak or maple.

In a large bowl, add the ground beef, onion, garlic, eggs, breadcrumbs, salt, pepper, sage and 2 tablespoons of BBQ sauce. Using a large spoon or your hands, mix just until combined.

Place a large piece of parchment on a work surface. Turn the meat mixture onto the parchment and form into a oval or log shape using your hands, smoothing out any bumps or imperfections. (See notes if you want to make it bacon-wrapped or stuffed).

Transfer the meatloaf to a grill tray or basket (or make your own using aluminum foil). Insert the probe of a wireless thermometer into the middle of the meatloaf (if using).

Place in the smoker for about 2 hours. After about 1 1/2 hours, brush with the remaining BBQ sauce to form a glaze. The meatloaf is done when the internal temperature reaches 160°F.

Remove from the smoker and let it rest for 15 minutes before slicing.
Notes
Smoked Bacon Wrapped Meatloaf: On a piece of parchment, create a large basket weave of bacon in a rectangular pattern. Skip glazing the meatloaf with BBQ sauce and instead place it on the bacon. Invert and peel off the parchment, tucking the edges beneath the meatloaf. The bacon will become crispy during smoking.
Smoked Stuffed Meatloaf: Simply insert 4-6 oz of mozzarella or Jack cheese strips into the middle of the meatloaf during forming.
Make Ahead: You can make meatloaf up to 3 days ahead of time and store in an airtight container in the fridge. It also freezes well for up to 3 months in heavy-duty freezer bags.
Leftovers: Use them to make meatloaf sandwiches, meatloaf mac and cheese and more!
Nutrition Facts
Smoked Meatloaf Recipe
Amount per Serving
% Daily Value*
* Percent Daily Values are based on a 2000 calorie diet.
Please read our nutrition disclaimer.
More BBQ recipes
Recipe tools

© TIPBUZZ. Images and text on this website are copyright protected. Please do not post or republish without permission. If you want to republish this recipe, please link back to this post. This post may contain affiliate links. Read the disclosure policy here.