Smoked Pork Shoulder
This Smoked Pork Shoulder is fall-apart tender with mouthwatering BBQ flavors. It's rubbed with delicious seasonings before being cooked low and slow in the smoker. Learn more about this cut, smoking times, temperatures and more!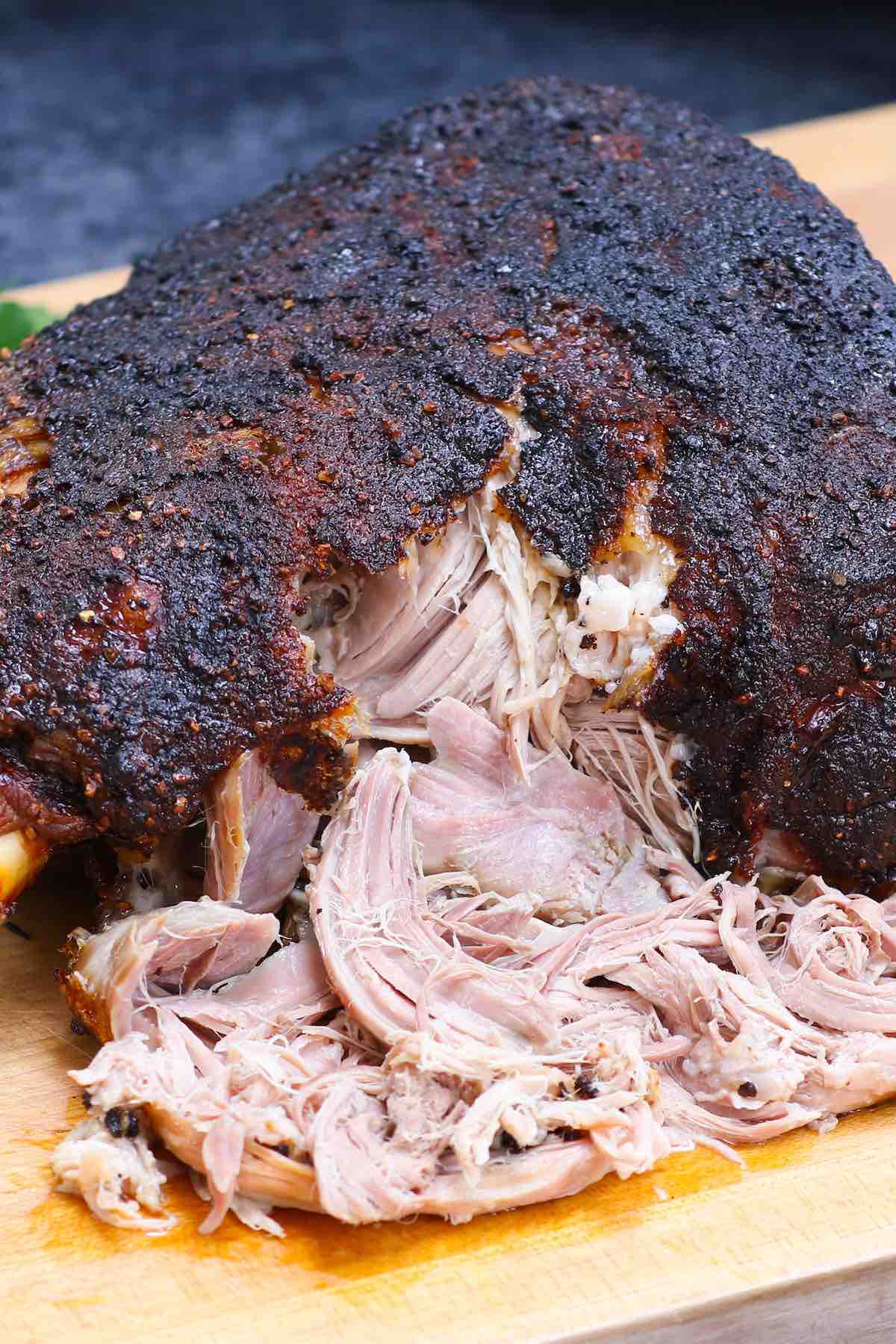 When it comes to smoking, this smoked pork shoulder recipe is one of our all-time favorites. It's got a crispy crust on the outside with juicy meat that practically melts in your mouth!
You can slice pork shoulder to serve on its own or shred it to make pulled pork sandwiches or carnitas. It's one of the best ways to feed a crowd on a budget!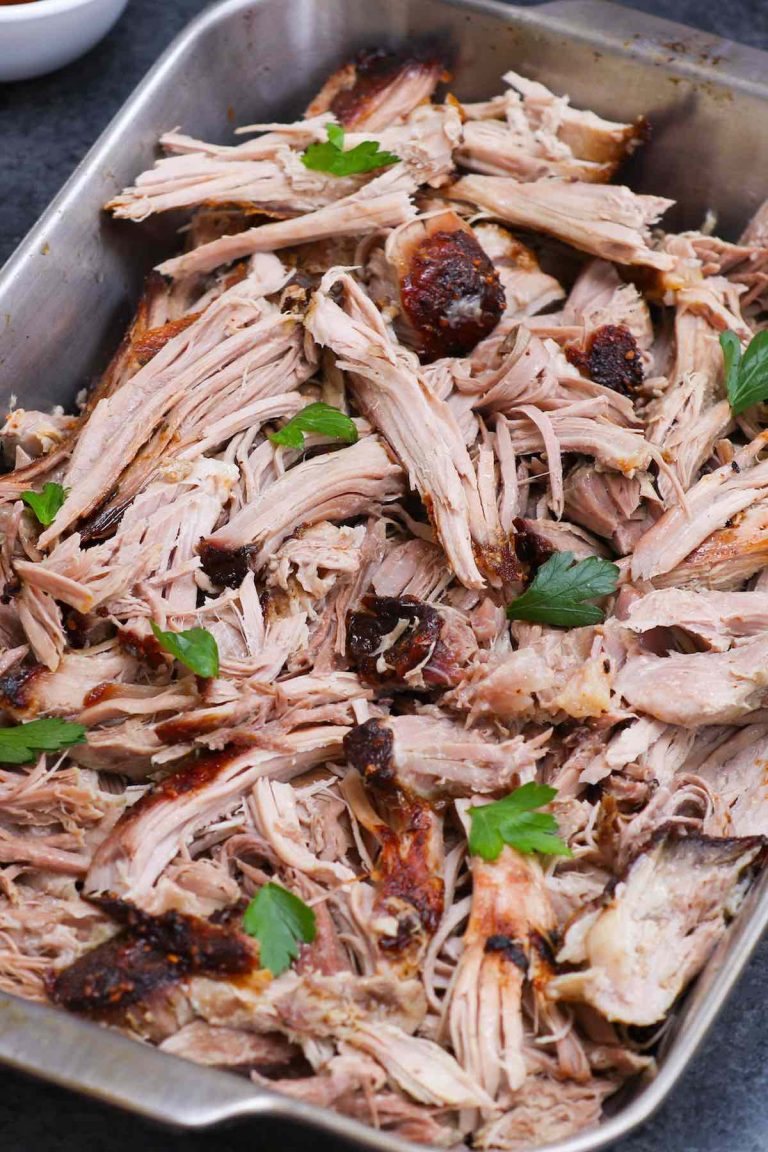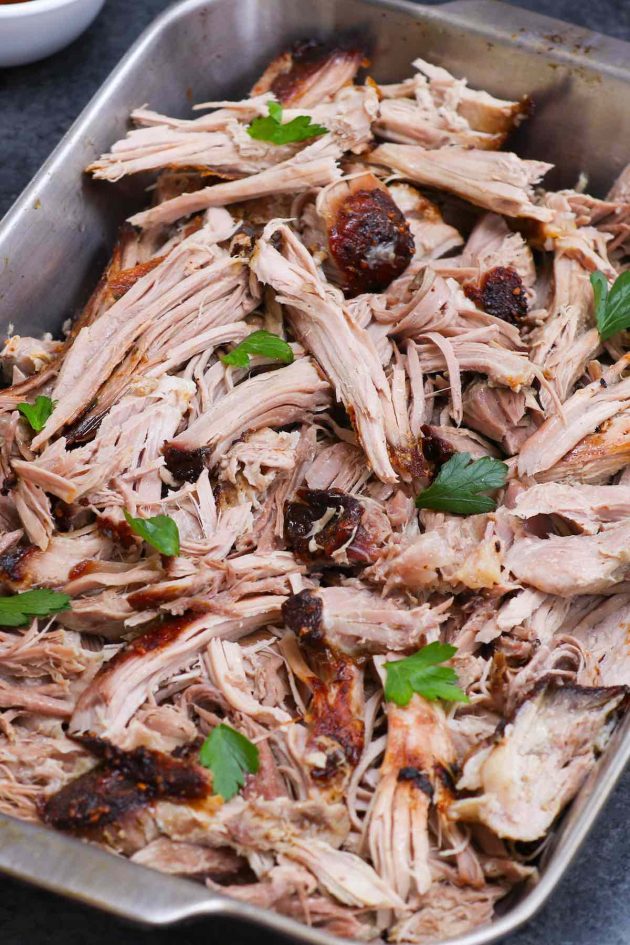 How Long to Smoke Pork Shoulder
Smoking pork shoulder is an all-day affair that requires a bit of patience. At 225°F it'll take 90 minutes per pound on average, or 9 hours for 6 pounds.
You should cook it to an internal temperature of 185°F for slicing or 195-200°F for pulled pork. I highly recommend a wireless meat thermometer to monitor the temperature during smoking. There will be a stall where the temperature seems to stand still for an hour or two, but it eventually will keep rising.
Resting: Once you reach that temperature, remove the shoulder from the smoker and tent with aluminum foil. Then let it rest for 1 hour to get moist meat with easy shredding.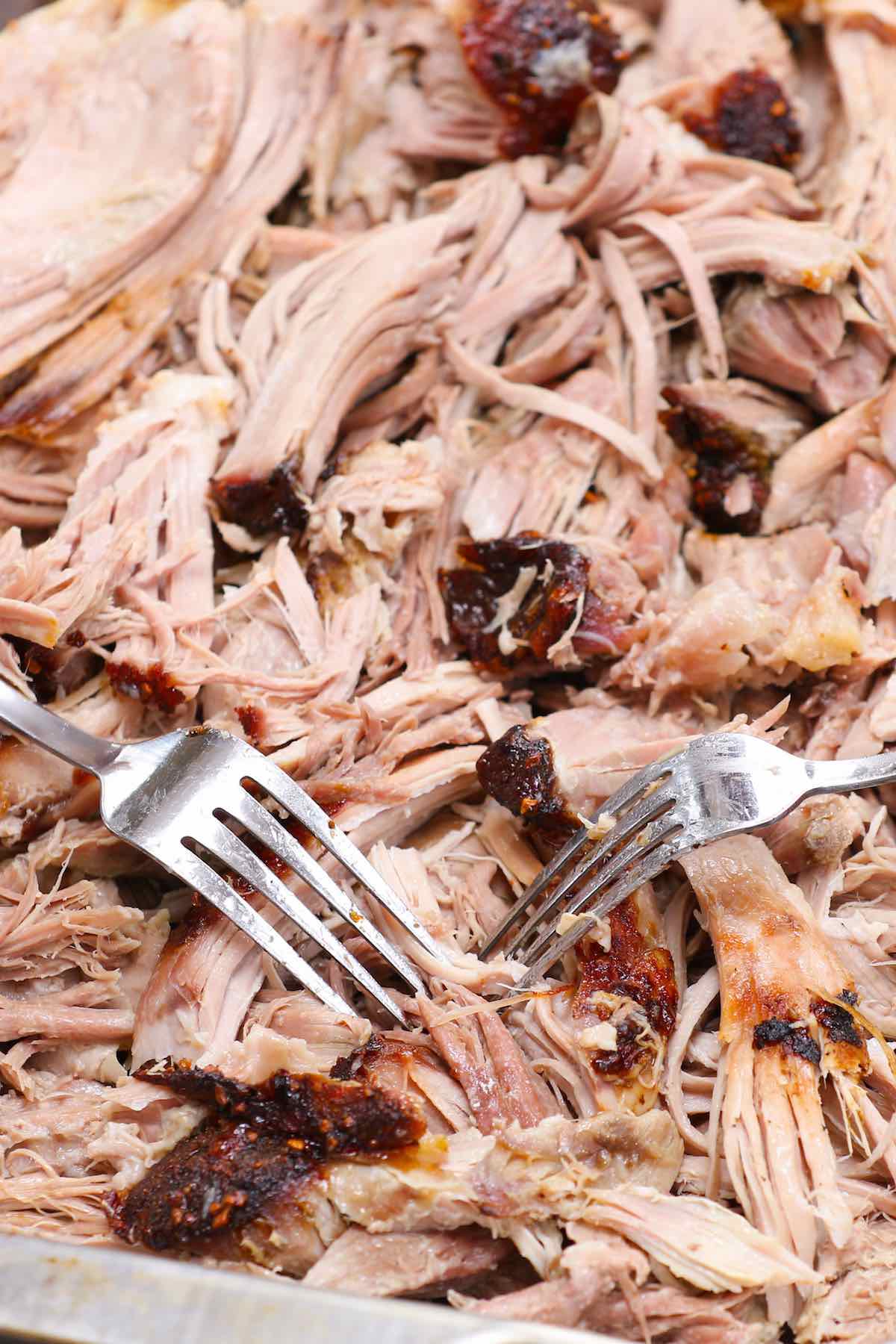 Smoked Pork Shoulder Rub
This rub is the secret to bringing out the delicious flavors of the meat:
Brown sugar: Light or dark brown sugar will work
Salt: Kosher salt or another coarse salt
Black pepper: freshly cracked is ideal
Paprika: regular paprika is great or smoked if you want extra smokey flavor
Garlic powder: you can also use granulated garlic or dried minced garlic
Onion powder: or granulated onion
Cayenne pepper: optional to make it spicy
Note: you don't need any liquid smoke in this recipe, as the flavor is inferior to what the smoker produces!
How to Smoke a Pork Shoulder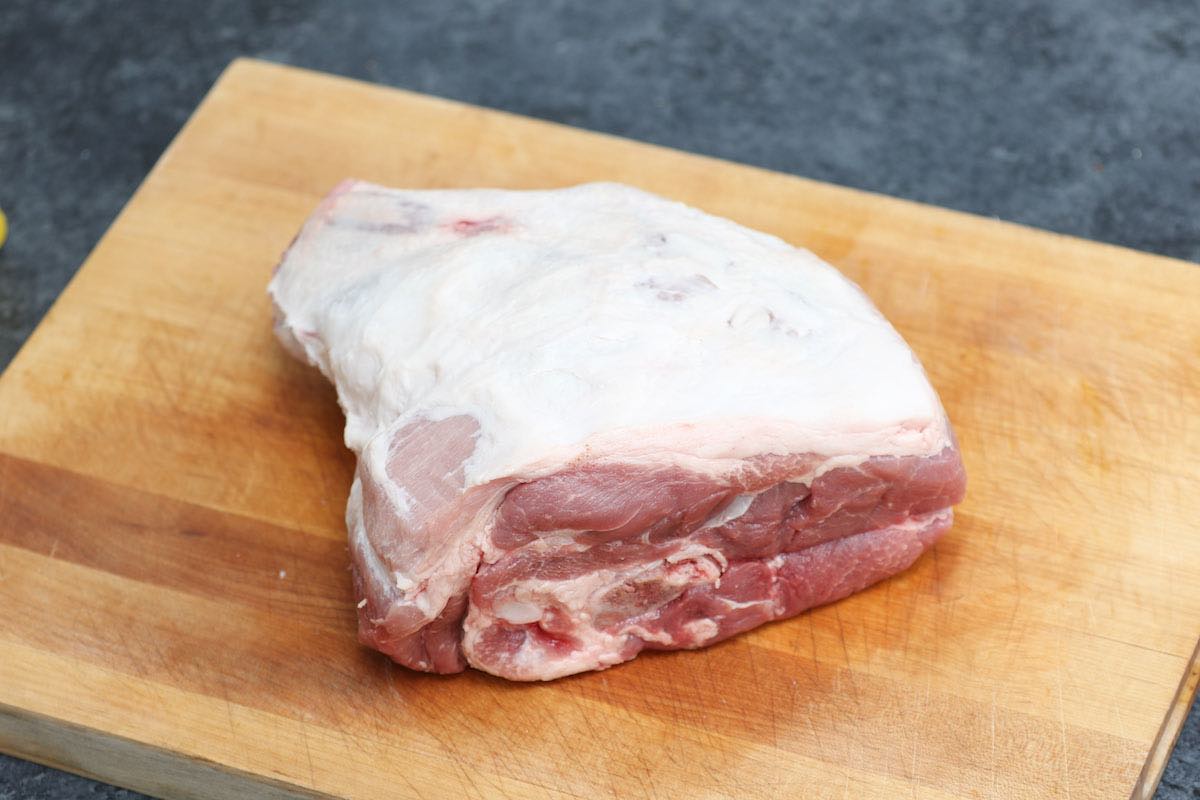 To prepare the meat, slather on all sides with mustard, which is a traditional method for helping seasonings stick to the meat: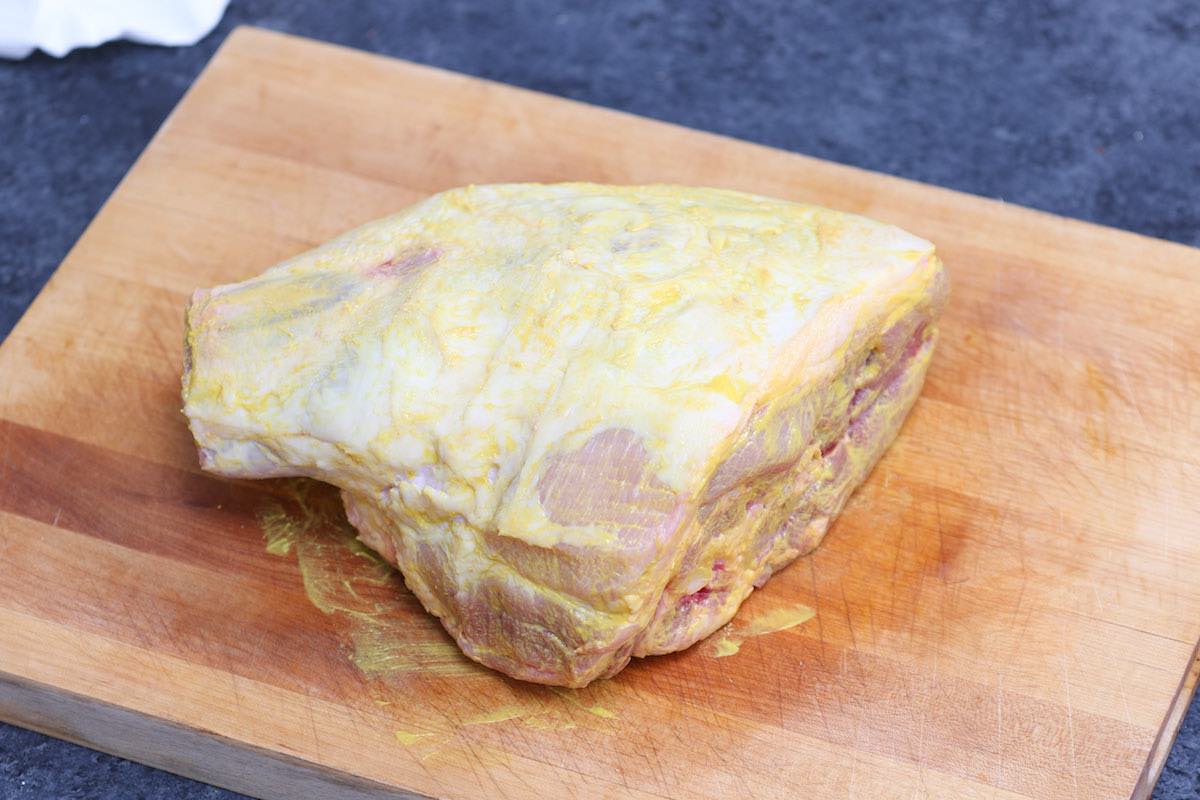 Next, mix the rub ingredients in a bowl and then spread evenly all around the meat using your hands. This rub will transform the outside into a crispy "bark" that can be even tastier than the meat itself!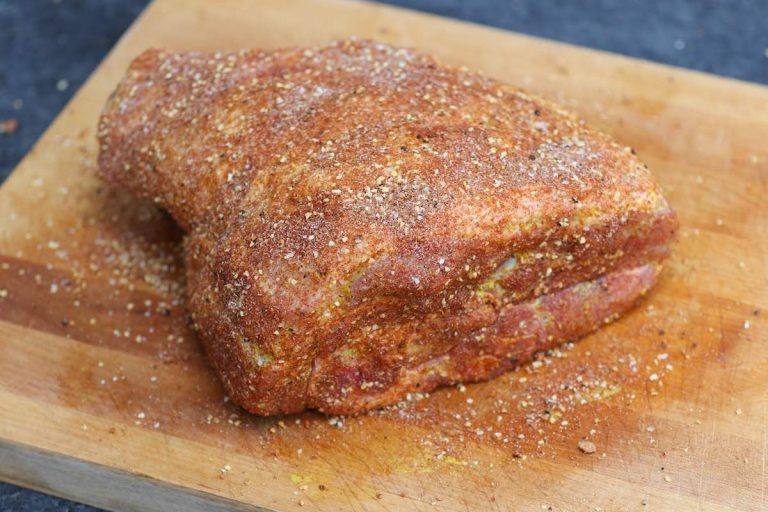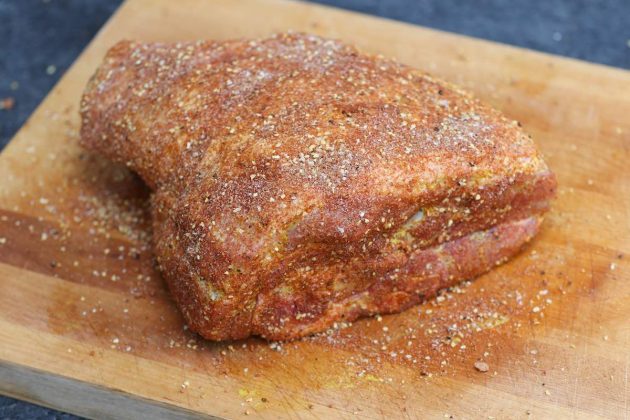 The Smoker: This recipe works great on an electric smoker like a Traeger or Masterbuilt using pellets, or you can use something like a Big Green Egg with lump charcoal. All a matter of personal preference!
The Wood: Look for mild flavors such as apple or cherrywood for pork shoulder. Hickory will work too, or you can try a combination.
Get your smoker up to 225°F. Then add the pork shoulder and close the lid, adjusting the vents as needed. Note: You may need several additions of water-soaked wood to keep the smoke going. If you like a milder smoke flavor, you may want to wrap the meat in foil after 6 hours.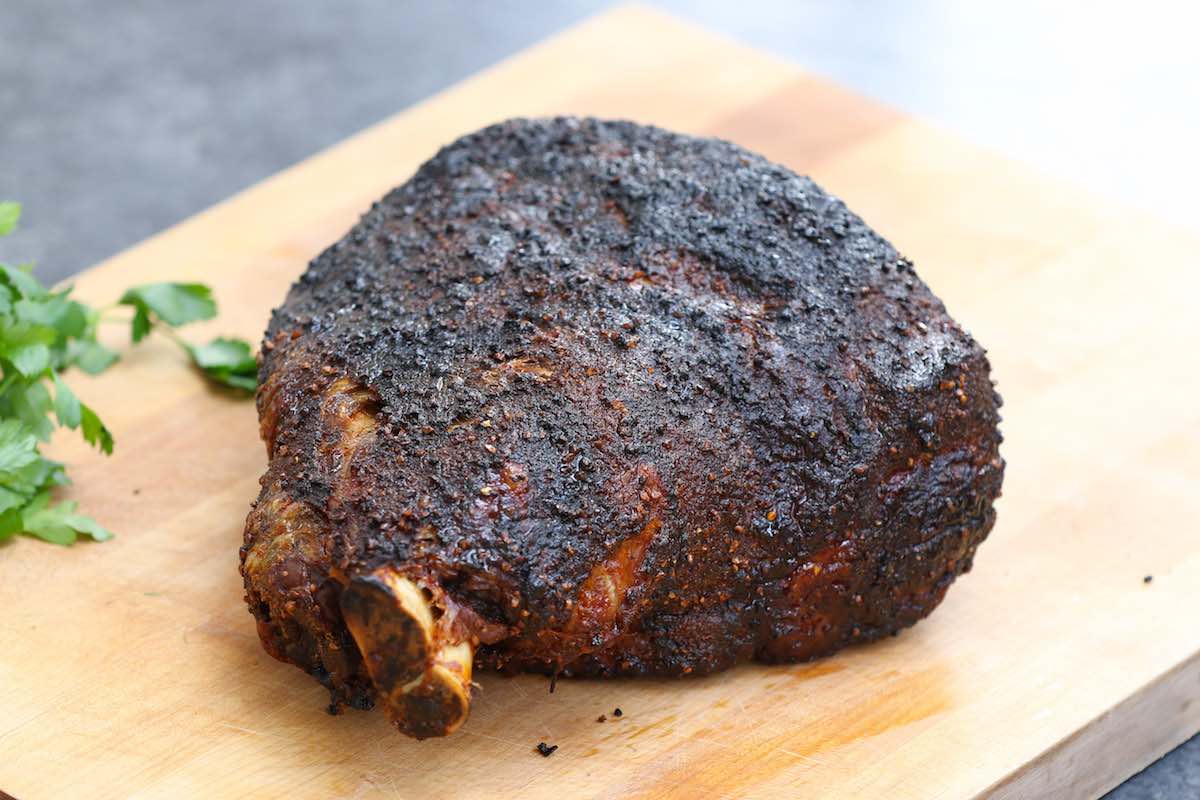 Pork Shoulder vs. Pork Butt
These two cuts are pretty much interchangeable, but there are some differences:
Pork shoulder is a triangular-shaped, bone-in cut located around the foreleg of the pig, weighing 4-6 pounds. You may see it labeled pork picnic roast or pork picnic shoulder.
Pork butt is a rectangular-shaped boneless cut located higher up on the foreleg (in spite of the name butt). It's can weigh as much as 10 pounds and is sometimes called Boston butt.
Pork butt has more marbling of the two cuts, making it slightly juicier and more flavorful.
Serving Ideas
You can serve sliced smoked pork shoulder with classic side dishes like mashed potatoes, rice or a salad.
If you're chopping shredding the meat, you can make pulled pork sandwiches and serve with sides like coleslaw, apple salad and corn on the cob. Other options include cornbread and French fries.
More smoked recipes:
View all BBQ recipes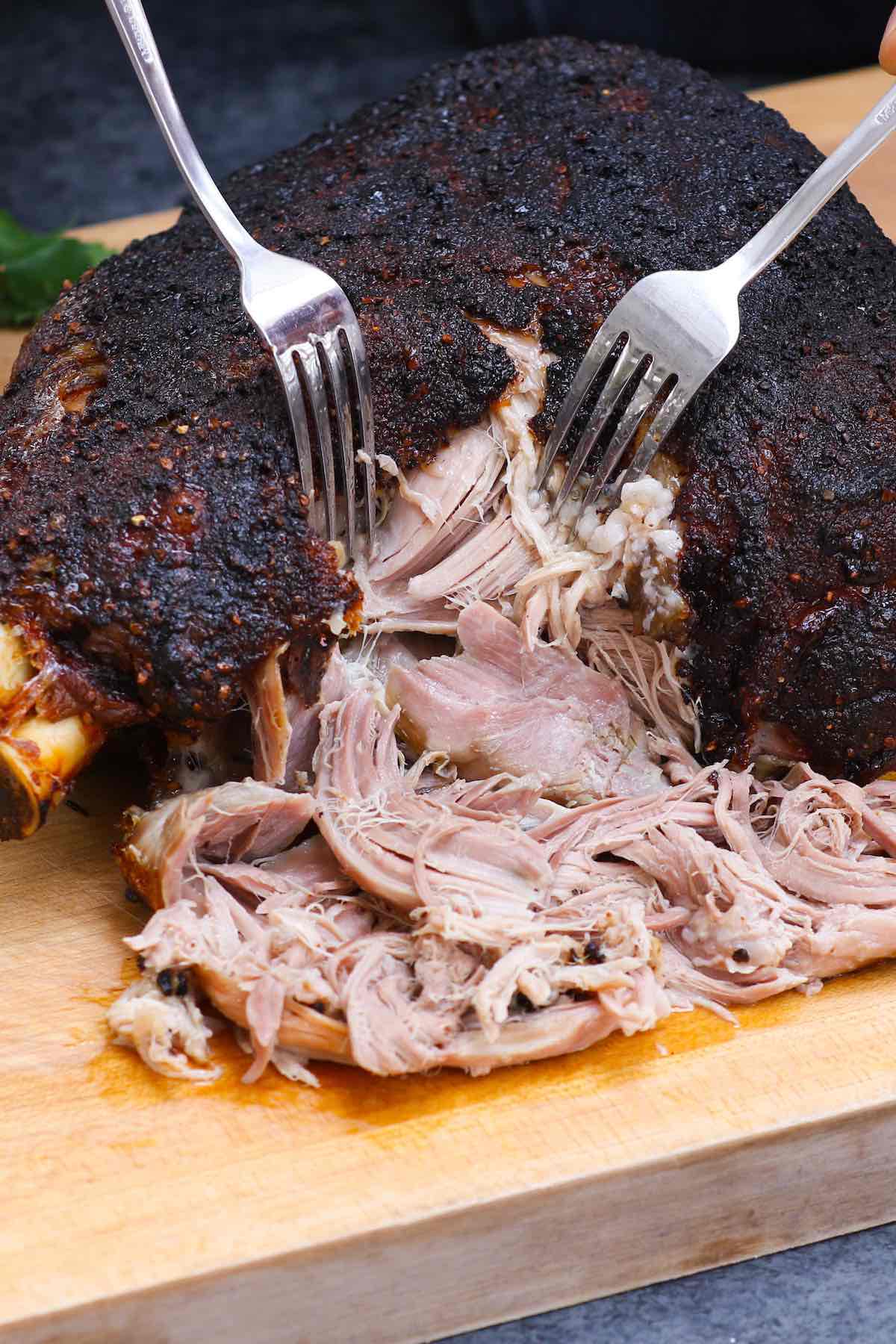 Recipe tools:
Smoked Pork Shoulder
This Smoked Pork Shoulder is rubbed with delicious seasonings before being cooked low and slow in the smoker.
Ingredients
4-6 lb pork shoulder, or pork butt (see note)
2 tablespoons yellow mustard
BBQ sauce, optional for pulled pork
Smoked Pork Shoulder Rub
4 tablespoons brown sugar
1 tablespoon kosher salt, or to taste
2 teaspoons black pepper, cracked
2 teaspoons paprika, or smoked paprika
2 teaspoons garlic powder, or granulated garlic, or 1 tablespoon fresh minced garlic
2 teaspoons onion powder, or granulated onion
Instructions
Remove the pork shoulder from the fridge to rest at room temperature for up to one hour before smoking. Trim off skin and excess fat if needed using a sharp knife.

Make the rub in a small bowl by mixing the brown sugar, salt, pepper, paprika, garlic powder, onion powder and optional cayenne.

Spread the mustard all over the pork shoulder with your hands (the mustard helps the rub to stick to the meat). Then spread the rub evenly on all sides. Insert a wireless thermometer probe into the middle of the shoulder (if using).

Heat the smoker to 225°F, add water-soaked wood such as apple or cherrywood as needed (note: you may need to add more during smoking).

Once the temperature is stable, add the pork shoulder. Close the lid and adjust the vents for optimal smoke flow.

Smoke for 90 minutes per pound (about 9 hours for a 6 pound shoulder). The internal temperature should reach 185°F for slicing or 195-200°F for pulled pork. For a milder smoke flavor, wrap the meat in foil after 5 hours and continue smoking.

Remove the pork shoulder to a carving board and rest for 30 minutes to get juicier meat.

Slice the meat with a carving knife or shred using two forks (or meat claws). Serve with optional BBQ sauce!
Notes
For pork shoulder, remove the skin and excess fat using a butcher's knife (you can also ask a meat counter to do this for you). It's not necessary for pork butt.
Wood: Good choices include apple, cherrywood, hickory or a combination.
Drip Pan: It's optional to put a drip pan beneath the meat during smoking. The drippings can be used for dipping, although note they're calorific!
Make Ahead: Cooked pork shoulder will keep up to 3 days in the fridge stored in an airtight container. It also freezes well in a resealable plastic bag. Reheat gently over low-medium heat in a skillet for 15-20 minutes.
Nutrition Facts
Smoked Pork Shoulder
Amount per Serving
% Daily Value*
* Percent Daily Values are based on a 2000 calorie diet.
Please read our nutrition disclaimer.

© TIPBUZZ. Images and text on this website are copyright protected. Please do not post or republish without permission. If you want to republish this recipe, please link back to this post. This post may contain affiliate links. Read the disclosure policy here.