3 2 1 Ribs
These 3 2 1 Ribs are extra-tender with meat that literally slides off the bone! This popular smoking method has three stages and is perfect for a backyard BBQ using baby back ribs or spare ribs.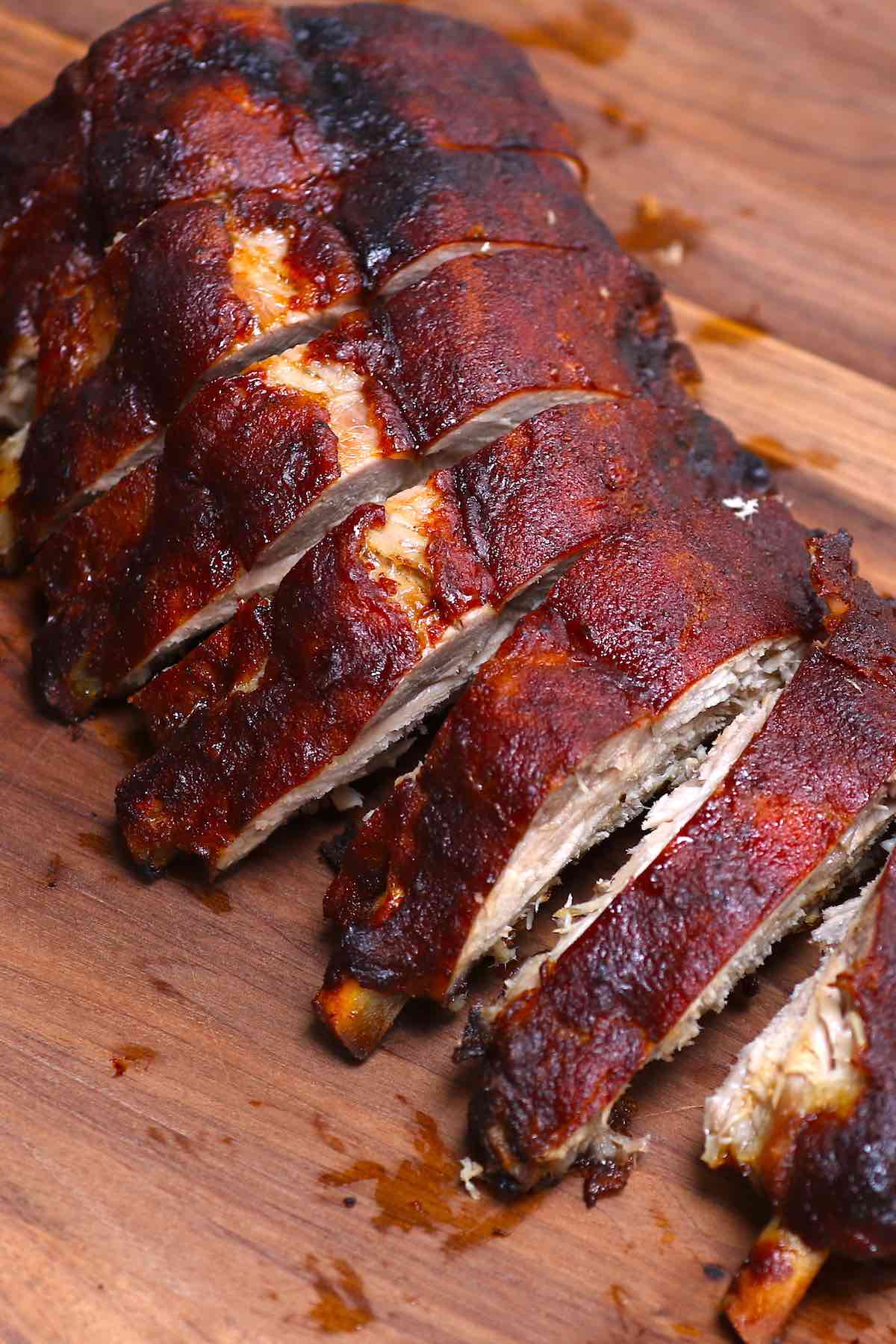 If you love ribs where the meat falls off the bone, look no further than 3 2 1 ribs. They're juicy and tender with delicious BBQ flavors.
Guests from backyard BBQs have demanded the recipe, so we're sure it'll become one of your favorites too. You can use baby back ribs or spare ribs as you like. Just start early, since it requires a bit of patience…..
What are 3 2 1 Ribs?
3-2-1 is a smoking method that makes ribs so tender that the meat falls off the bone. This technique is also called 'crutching' in reference to wrapping the ribs to speed up cooking during BBQ competitions.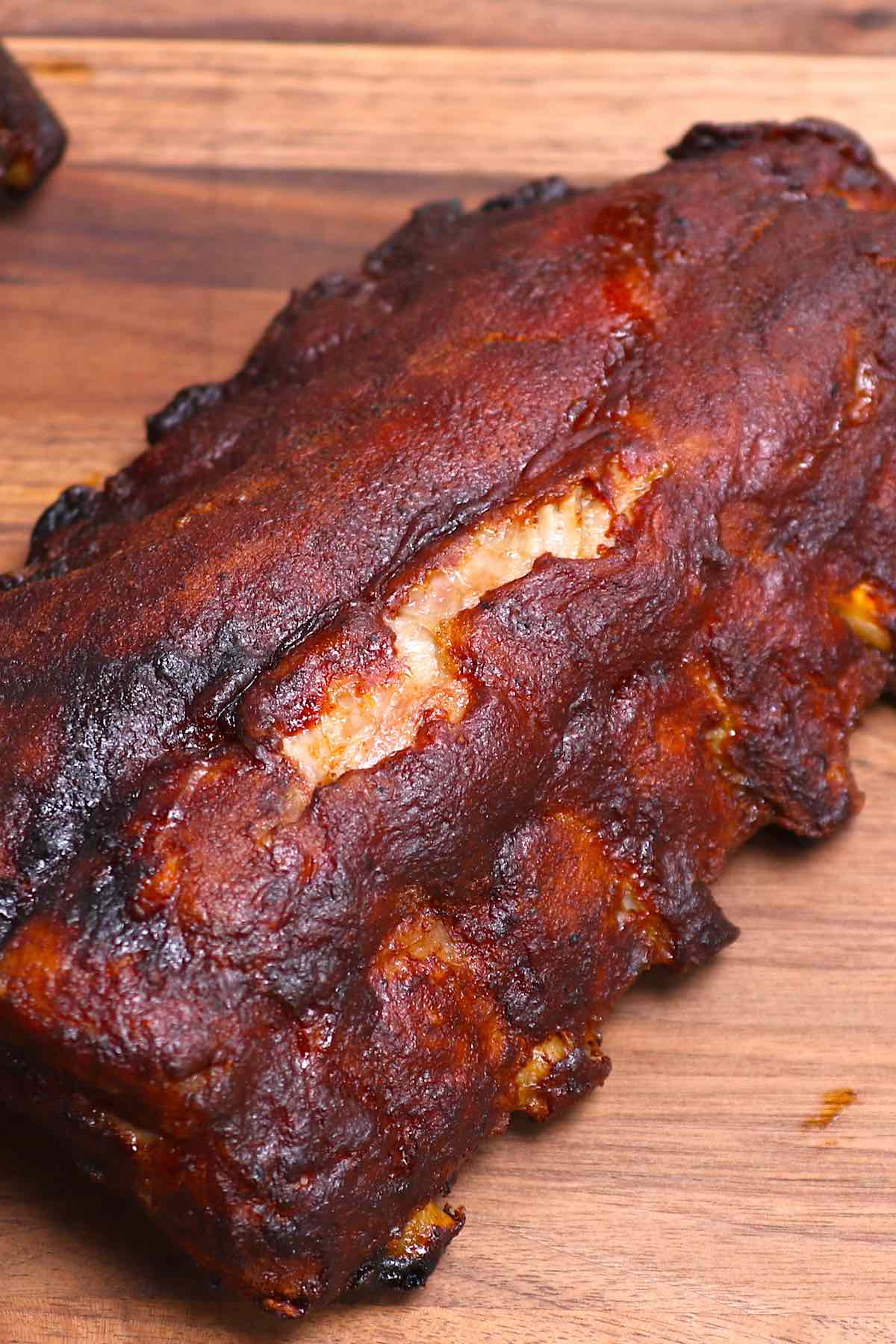 There are three steps involved: 1) Smoking at low-temperature for 3 hours, 2) wrapping in foil with some liquid and smoking for 2 hours, and finally 3) saucing the ribs and smoking one hour more.
This technique is not without controversy. Purists believe that wrapping the ribs steams the meat, creating a washed-out flavor and ruining the bark. So while 3-2-1 may be frowned upon at competitions, it's still a very popular way to make tender ribs.
How to Smoke Ribs Using the 3-2-1 Method
To make 3 2 1 ribs, you'll need 6 hours in total. There are 3 stages of smoking:
Smoke (3 hours): Rub the ribs with seasonings and then smoke low-and-slow on indirect heat at 225°F for 3 hours.
Braise in Foil (2 hours): Place the ribs in foil and add cider vinegar or your favorite liquid. Wrap tightly and smoke for 2 hours more.
Smoke (1 hour): Unwrap the ribs and brush with BBQ sauce. Smoke for one more hour or until the sauce has set.
Cider vinegar is one of the secret ingredients, adding flavor while tenderizing the meat. If you don't have any, a similar quantity of beer or apple juice will work. As for the BBQ sauce, you can use your favorite brand or make your own.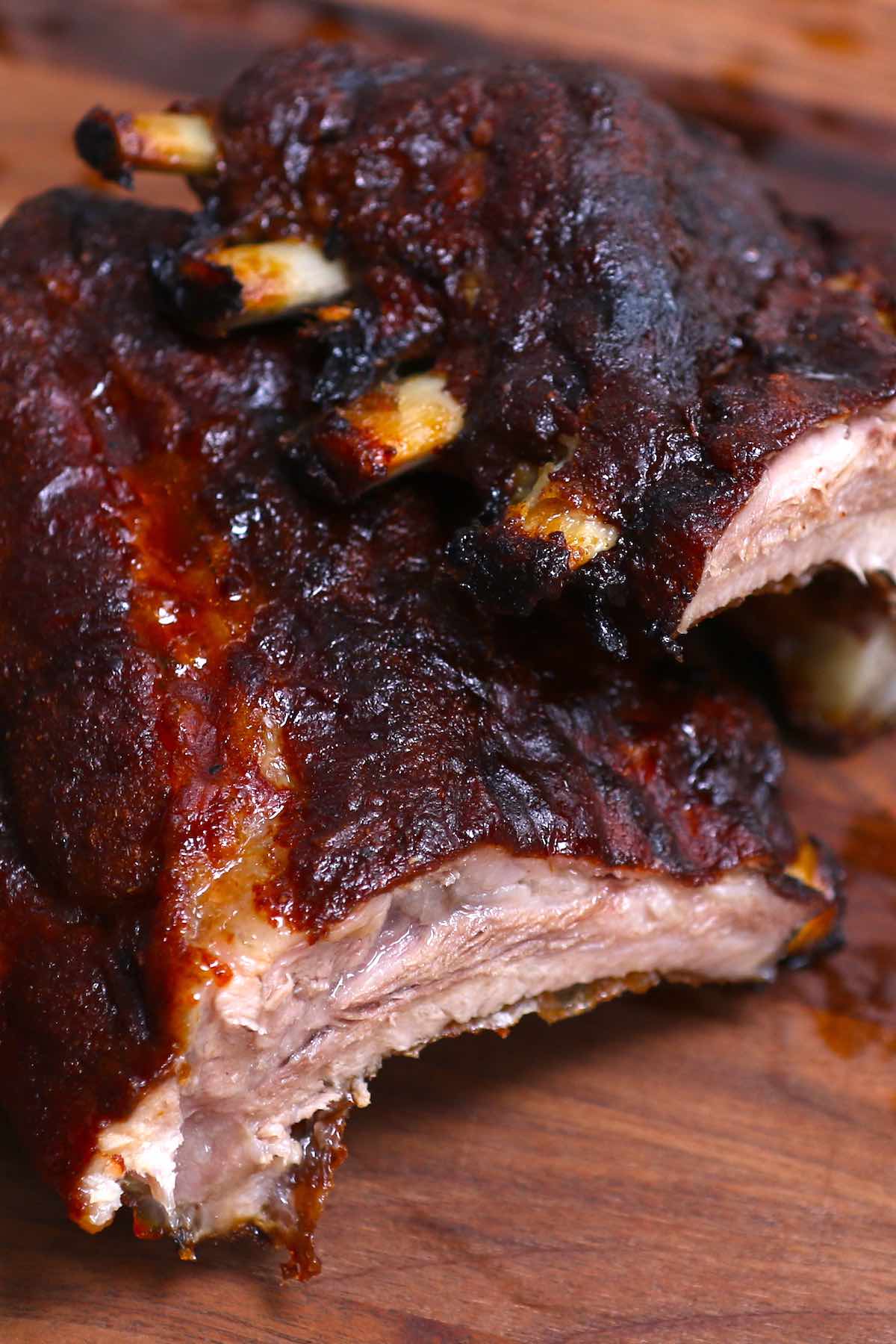 Everyone has their preference in terms of smoking equipment. You can use a Traeger pellet grill, an electric smoker (Masterbuilt) or of course charcoal (Big Green Egg). When the weather's not cooperating, the oven will work although the ribs will be less flavorful.
For the wood, I prefer hickory or alder but you can also use fruit woods like apple or cherrywood. Or use a combination.
What to Serve with 3-2-1 Ribs:
More Smoked Recipes:
View all BBQ recipes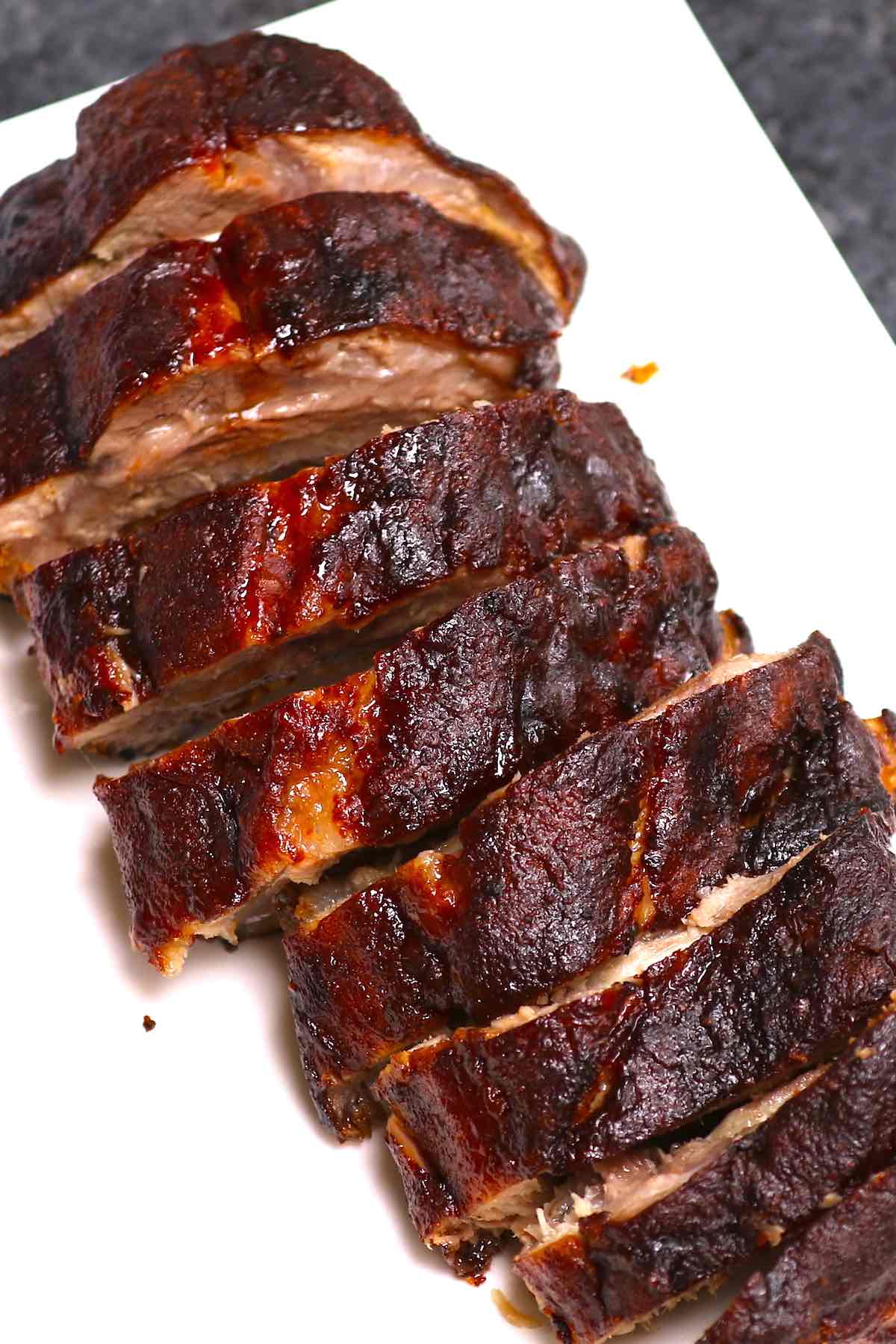 Easy 3-2-1 Ribs
These 3 2 1 Ribs are extra-tender with the meat literally sliding off the bone! This popular method has three stages of smoking and is perfect for a backyard BBQ using baby back ribs or spare ribs.
Ingredients
2 racks baby back ribs, or spare ribs (3-4 lb)
1 tablespoon paprika
1 tablespoon garlic powder, or granulated garlic/minced garlic
2 teaspoons mustard powder, optional
1-2 teaspoons coarse salt, to taste
2 teaspoons black pepper, freshly ground
1/3 cup brown sugar, packed
1/2 cup apple cider vinegar
1/2 cup BBQ sauce
Instructions
Preheat your smoker for indirect smoking with a temperature of 225°F.

Pat dry the ribs with paper towels to remove excess moisture. Next, remove the membrane from the underside by slide a knife tip beneath to separate it from the meat. Then grasp with paper towel and pull it off. (You may need to do it in multiple pieces.)

In a small bowl, mix the paprika, garlic powder, mustard, salt, pepper and brown sugar.

Rub the ribs on all sides with the seasoning mixture. Then place them bone side down in the smoker to smoke for 3 hours.

Remove the ribs from the smoker. Place each rack on a large piece of aluminum foil. Pour about 1/2 cup of cider vinegar around each rack. Then carefully wrap the ribs as tight as possible without puncturing the foil.

Using oven mitts, carefully place the wrapped ribs back into the smoker for 2 hours more. (During this time the vinegar will steam the ribs and make the bones protrude about a half-inch.)

Remove the ribs to a work surface and unwrap. Brush with the leftover liquid (if any) followed by the BBQ sauce.

Place the ribs back into the smoker for a final hour, or until the sauce has set, about 1 hour (see note).

Remove the ribs and cut into pieces to serve.
Notes
To check doneness, insert an instant-read thermometer into the thickest section. While the safe temp for pork is 145°F, the ribs will be most tender around 190°F once the collagen has melted.
Oven Method: Bake in the oven at 225°F following the instructions above, with convection/forced air on if available. Add 1/2 teaspoon liquid smoke to the BBQ sauce.
Nutrition Facts
Easy 3-2-1 Ribs
Amount per Serving
% Daily Value*
* Percent Daily Values are based on a 2000 calorie diet.
Please read our nutrition disclaimer.
Recipe equipment:

© TIPBUZZ. Images and text on this website are copyright protected. Please do not post or republish without permission. If you want to republish this recipe, please link back to this post. This post may contain affiliate links. Read the disclosure policy here.