Southern Baked Mac and Cheese
This Southern Baked Mac and Cheese made from scratch is creamy, cheesy and perfectly seasoned! It's the perfect soul food with three types of cheese and delicious Southern flavors. Serve it as a side dish for any celebration or holiday feast!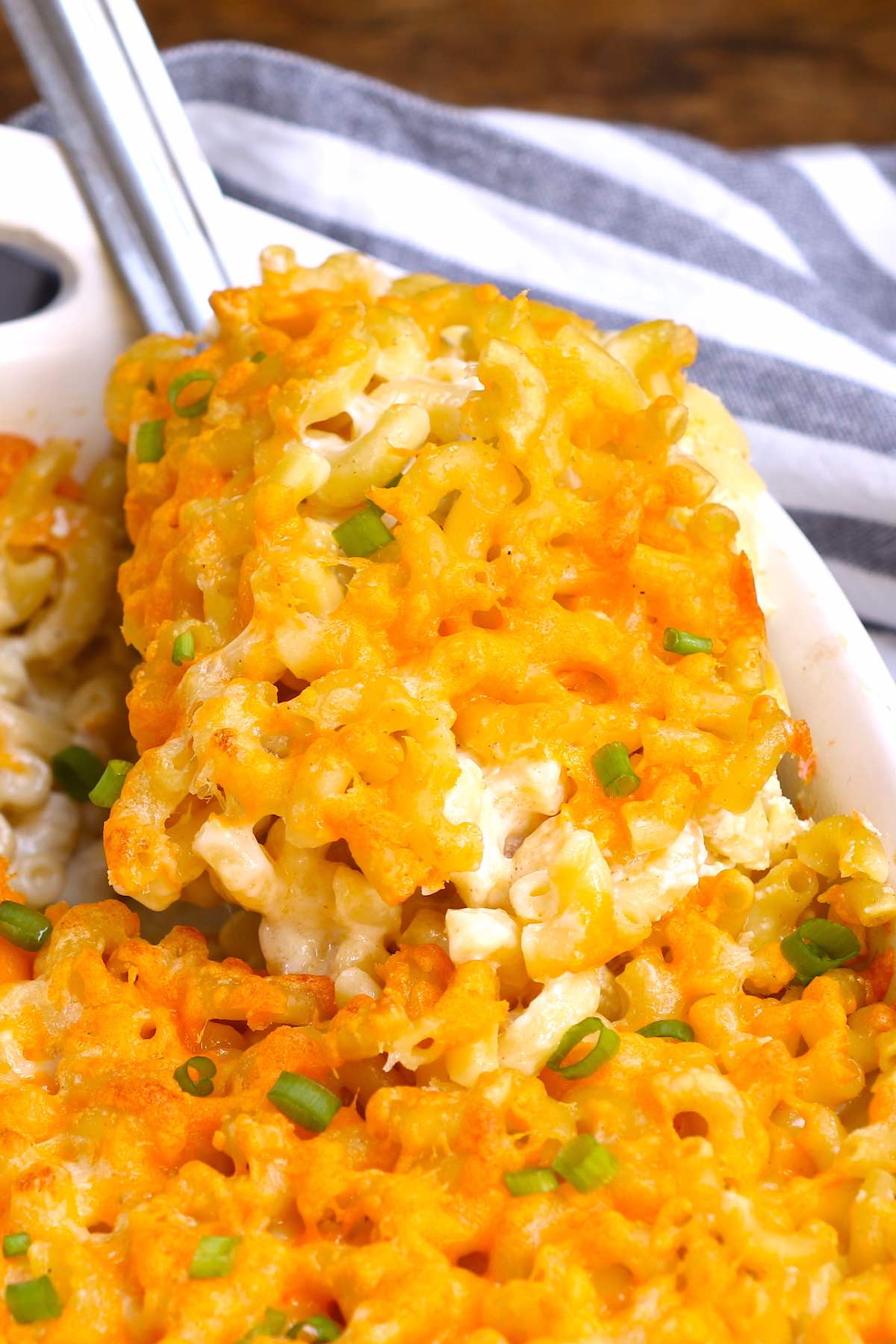 With a deliciously creamy texture, this is the comfort food to conquer boxed varieties and even stovetop mac and cheese! I first experienced it while eating barbecue in Nashville and have been making it at home ever since.
Whether you're trying it for the first time or want to recreate a taste from the past, read on. This recipe makes enough to feed a crowd and you're guaranteed to get compliments at holidays, backyard BBQs and beyond!
What is Southern Mac and Cheese?
Southern baked mac and cheese has centuries of history and is a welcome part of any Southern celebration or holiday, where it's served as a side dish, not a main. Here are the distinctive features of southern mac and cheese:
Firstly, it's thickened with eggs instead of the usual cheese sauce made with a flour and butter roux. This allows the raw ingredients to be combined with the cooked macaroni in the pan just before baking. Secondly, it includes evaporated milk and sharp cheddar cheese, both hailing from a colonial era. Thirdly, cajun seasonings such as garlic powder and paprika are customary to create Southern flavors. Last but not least, there are NO breadcrumbs on top!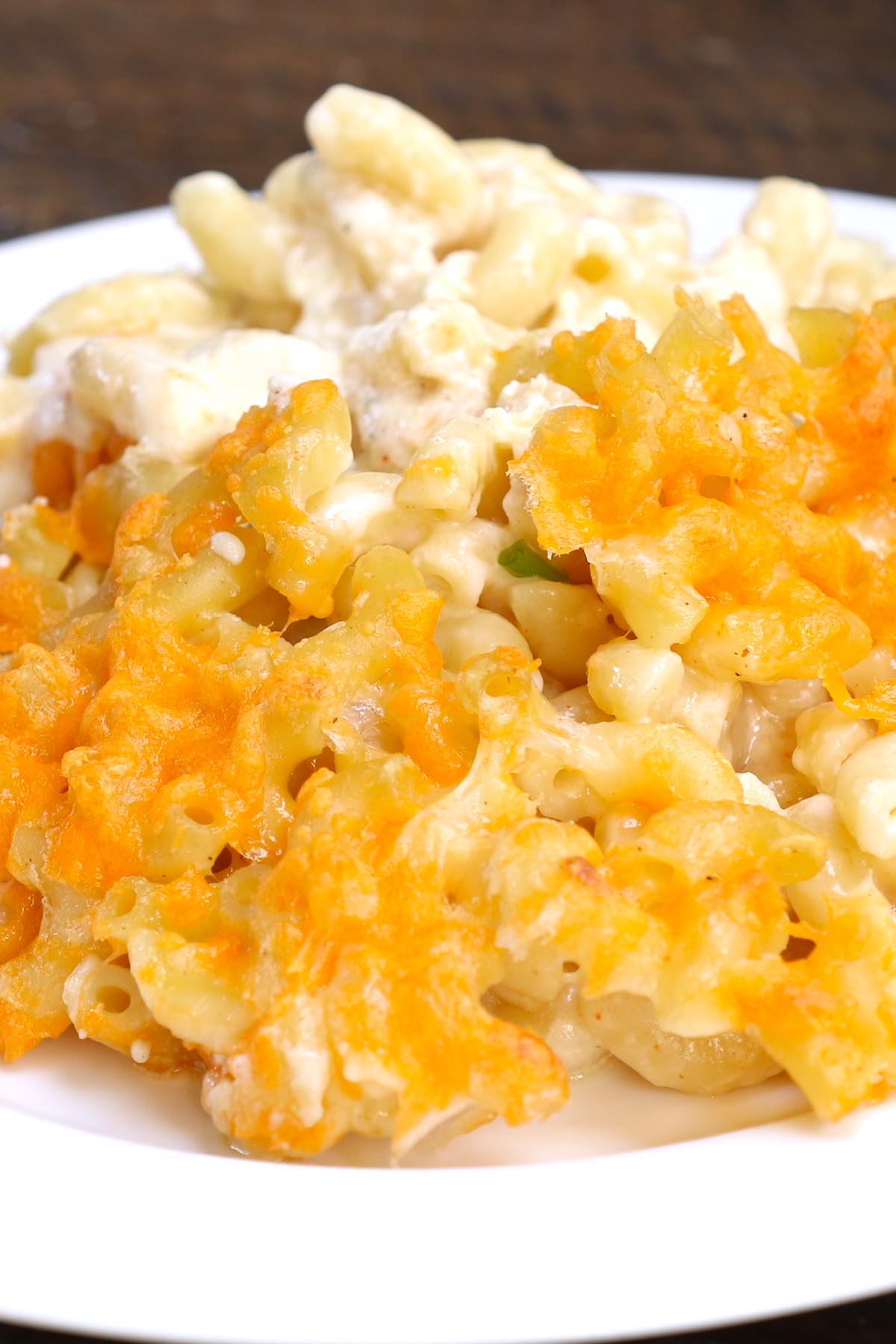 Ingredients
Here's what you'll need to make it:
Macaroni: You can use elbow pasta, macaroni or similar.
Evaporated milk: This canned milk is inexpensive and lends a creaminess to the mac and cheese. You can substitute fresh milk, but the taste isn't quite the same.
Half and half: This half-milk, half-cream adds flavor and creaminess. You can also use heavy cream to go all-out.
Eggs: The eggs help to make a custard-like texture as it bakes in the oven.
Seasonings: We're using cajun seasonings including paprika, garlic powder/onion powder, cayenne, salt and pepper to add Southern flavor.
Cheeses: A combination of 2-3 cheeses are mixed into the macaroni, with Jack, cheddar and Havarti being great options. Velveeta (American cheese) is another popular option.
Topping: Use sharp cheddar or smoked cheddar for a bold flavor in keeping with tradition, or medium cheddar as an alternative.
Always grate the cheeses yourself if possible, since pre-shredded varieties have anti-caking agents that interfere with melting.
For a healthier southern baked mac and cheese, use whole wheat macaroni along with low-fat evaporated milk and low-fat cheeses. The result will be less creamy, but still very worthwhile.
How to Make Southern Baked Mac and Cheese
To make it, start by cooking the macaroni. Bring a large pot of salted water to a boil, add the pasta and cook until al dente.
While the pasta cooks, you can get everything else ready. Grease a 9×13 baking dish. In a medium bowl, whisk together the evaporated milk, half & half, eggs, cheeses and seasonings.
Next, drain the macaroni and add to the baking dish. Then pour the milk mixture on top and stir several times to mix. Sprinkle some sharp cheddar on top and bake at 375°F for 20-30 minutes until bubbly and golden.
What Goes With Southern Mac and Cheese?
Since this dish is pretty rich, it pairs well with simple sides including corn on the cob, boiled broccoli, coleslaw and apple salad.
It's also a guaranteed hit with turkey and other holiday roasts!
More southern dishes: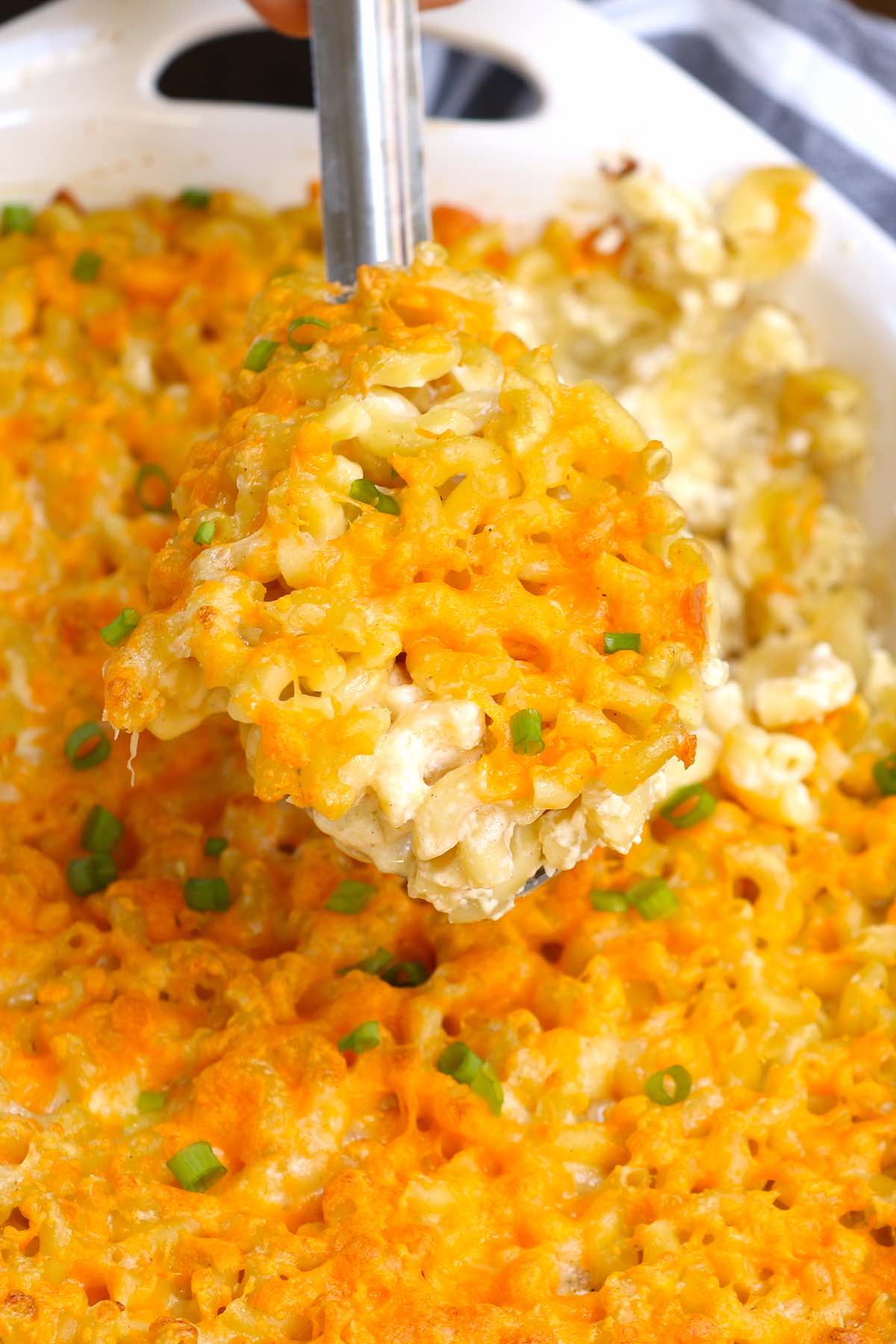 Southern Baked Mac and Cheese
This Southern Baked Mac and Cheese is creamy, cheesy and perfectly seasoned. It satisfied all cravings for soul food! Serve as a side dish for any celebration or holiday feast.
Ingredients
1 pound elbow macaroni, 3 cups dry or 8 cups cooked, regular or whole wheat pasta
24 oz evaporated milk, 3 cups, or use fresh milk
3/4 cup half and half, or heavy cream
2 eggs, lightly beaten
1 teaspoon garlic powder, or onion powder (or a mix)
1/2 teaspoon paprika, or smoked paprika
1/4 teaspoon cayenne pepper, optional
1/2 teaspoon salt, or to taste
1/2 teaspoon black pepper, freshly ground
8 oz cheddar cheese, grated (2 cups)
8 oz Monterey Jack cheese, grated (2 cups), or Havarti
4-8 oz Colby cheese , grated (2 cups), or Velveeta
Topping
8 oz sharp cheddar cheese, or smoked cheddar (see note), grated (2 cups)
Instructions
Preheat the oven to 350°F. Grease a 9x13-inch rectangular baking pan with butter and set aside.

Bring a large pot of salted water to a boil. Add the macaroni and cook according to the package directions.

In a medium bowl, whisk together the milk, half and half, eggs and seasonings. Then stir in the grated cheeses.

Drain the macaroni and add to the prepared pan. Pour the milk-cheese mixture on top and stir to distribute evenly.

Sprinkle the topping cheese evenly across the surface.

Bake for 30-35 minutes, or until the top is golden and bubbly. (If it's looking pale for any reason, raise the heat to 375°F for the final 15 minutes.)

Remove from the oven. Cool in the pan for at least 15 minutes before serving.
Notes
Cheeses: Grate the cheeses yourself, as pre-shredded doesn't melt as well. Note: some orange cheeses contain food dyes, but others use the natural coloring annatto, so check the label if you're concerned.
Lighter Options: You can substitute whole wheat macaroni, skim evaporated milk and reduced fat cheeses. Note that the result will still be tasty although less creamy.
Make Ahead: You can make mac and cheese up to 3 days ahead of time and reheat for 20 minutes in the oven. It also freezes for up to 3 months if wrapped tightly with foil plus plastic wrap to prevent freezer burn.
Nutrition Facts
Southern Baked Mac and Cheese
Amount Per Serving (6 oz)
Calories 467 Calories from Fat 153
% Daily Value*
Fat 17g26%
Saturated Fat 10g50%
Cholesterol 83mg28%
Sodium 685mg29%
Potassium 429mg12%
Carbohydrates 44g15%
Fiber 2g8%
Sugar 9g10%
Protein 32g64%
Vitamin A 852IU17%
Vitamin C 1mg1%
Calcium 666mg67%
Iron 1mg6%
* Percent Daily Values are based on a 2000 calorie diet.
Please read our nutrition disclaimer.
Recipe equipment:

© TIPBUZZ. Images and text on this website are copyright protected. Please do not post or republish without permission. If you want to republish this recipe, please link back to this post. This post may contain affiliate links. Read the disclosure policy here.