Slow Cooker Bacon Garlic Chicken Breast
Slow Cooker Bacon Garlic Chicken Breast is a tender and juicy chicken dinner with just 4 simple ingredients and 15 minutes of prep! Boneless, skinless chicken breasts are wrapped with bacon so the chicken stays moist while absorbing delicious flavors in the crock pot.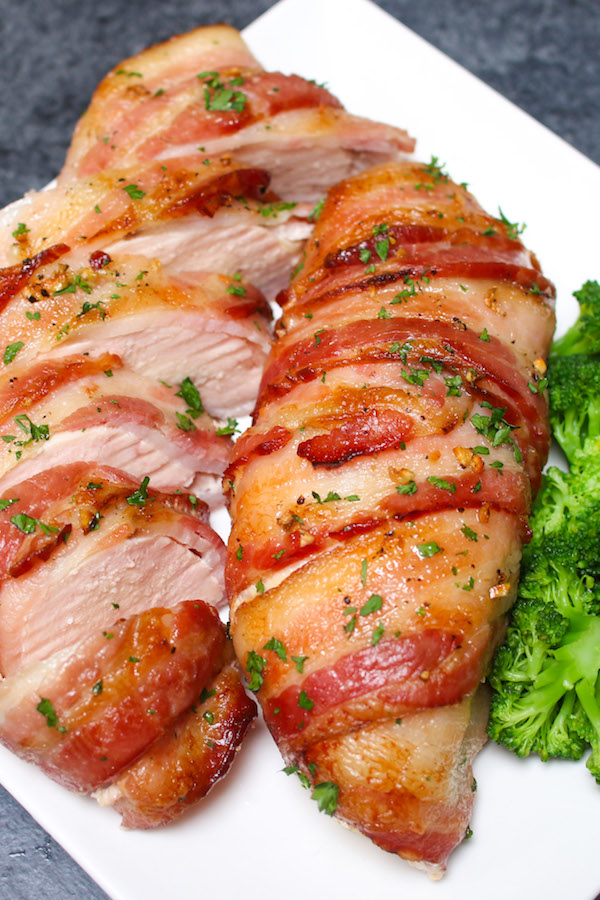 Why you'll love this crockpot chicken breast recipe
The biggest challenge of cooking chicken breasts in a crock pot is the white meat easily drys out. Chicken breasts are very lean with little fat, so they're more likely to overcook than chicken thighs in a slow cooker. But with a few simple tips, you can easily make TENDER and JUICY chicken breasts every time!
Bacon is the secret ingredient here, as it helps to prevent the chicken from drying out while adding tons of flavor. In this recipe, I wrap seasoned boneless chicken breasts with bacon and cook them in the crockpot until perfectly brown. These boneless chicken breasts are great served by themselves or added to salads, tacos, burritos, and sandwiches!
The best part? This crockpot chicken recipe requires very little effort with less than 15 minutes of prep. It looks so impressive in spite of using just 4 simple ingredients. It's one of the EASIEST, delicious slow cooker chicken meals to make on a weeknight!
Want to see how easy this recipe is? Watch the video:
Slow cooker chicken breasts with only 4 ingredients
This slow cooker chicken recipe calls for just 4 simple ingredients plus optional salt and pepper:
Chicken Breasts: I use boneless skinless chicken breasts for this recipe. You can substitute bone-in chicken thighs, but make sure to cook 1-2 more hours. Note: You can cook raw chicken breasts in the slow cooker and they don't need to be seared first.
Bacon: It's important to use high-quality bacon, as it holds better during the lengthy cooking process. Avoid bacon that's too thick, as it's difficult to wrap around the chicken and may taste rubbery after cooking.
Brown Sugar: You can use either light brown sugar or dark brown sugar for amazing flavor.
Garlic: It's best to use freshly minced garlic.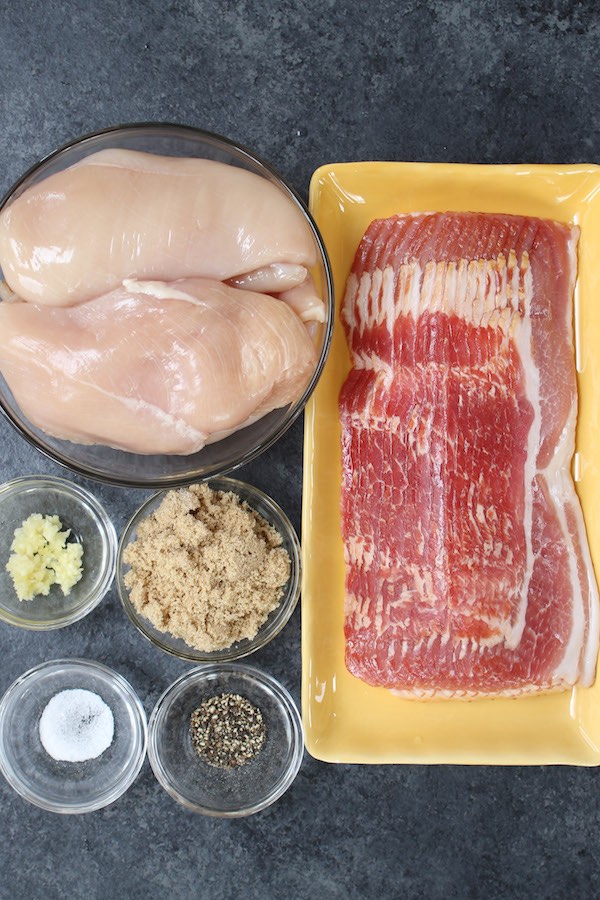 I find it easiest to lay out all the ingredients ahead of time to minimize handling once you start wrapping the chicken.
Note: There's no need to add liquid to the crockpot! The slow cooker will trap steam generated from cooking to keep the meat moist.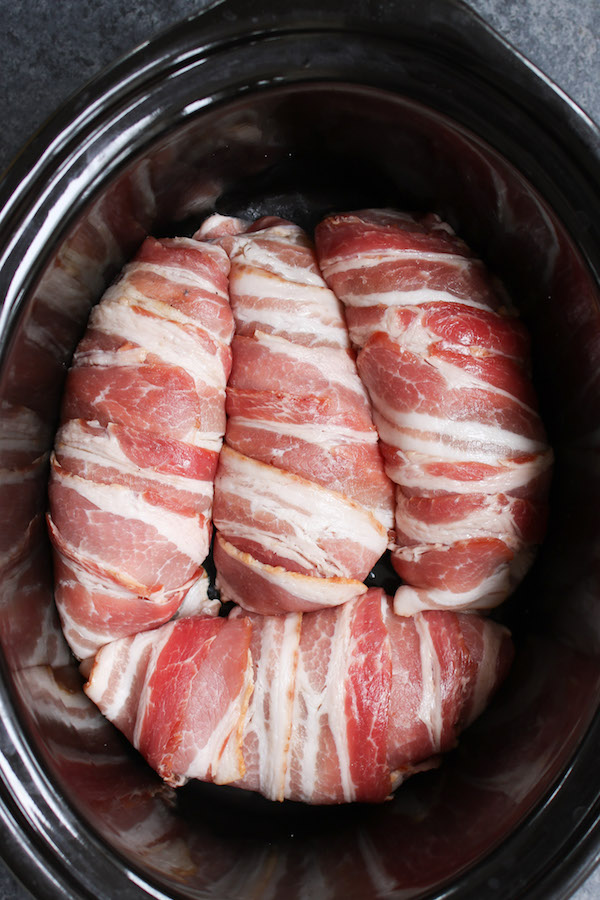 How to make the best crockpot chicken breasts
Combine brown sugar, minced garlic, salt and pepper in a small bowl.
Rub half of the mixture all over the chicken breasts.
Wrap each chicken breast with bacon strips.
Place the chicken in a single layer into the bottom of your crock pot, snuggling them in as evenly as you can.
Sprinkle the remaining seasoning mixture on top, and put the lid on.
Set the slow cooker on LOW and cook for about 3 hours.
If you prefer a crispy texture on your bacon, then simply broil the bacon-wrapped chicken for 2-3 minutes before serving. Just be sure to watch the chicken constantly, as it can burn fairly quickly under the broiler.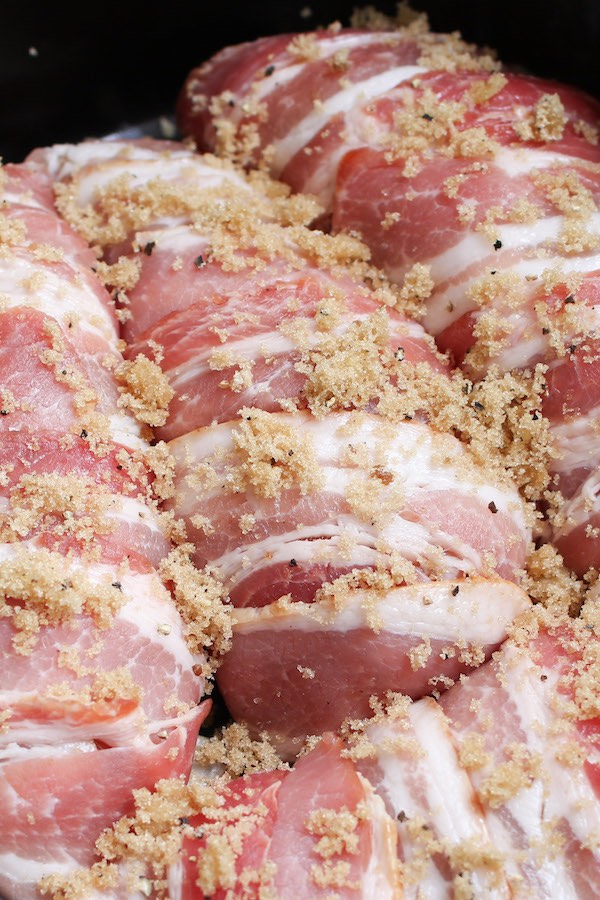 Wrap with bacon (the secret for tender and juicy meat)
After our popular Bacon Wrapped Chicken recipe, we discovered the secret of wrapping chicken breasts with bacon to keep them moist and juicy. The bacon helps to "baste" the chicken constantly while it cooks, producing extra tender and juicy meat!
The magic combination of brown sugar and bacon also creates an unforgettable sweet, savory and juicy flavor that everyone raves about. It's totally a game-changer when you want the most delicious chicken meal ever!
How long to cook chicken breasts in a slow cooker?
It takes 2.5 – 3.5 hours on "LOW". If you decide to use bone-in chicken thighs, it'll take 4-5 hours on "LOW".
Avoid cooking chicken breasts on "HIGH" in the slow cooker as they can easily overcook! (Note: Cooking time varies by chicken breast size and the brands of the slow cooker. Chicken also cooks faster in a larger crockpot.)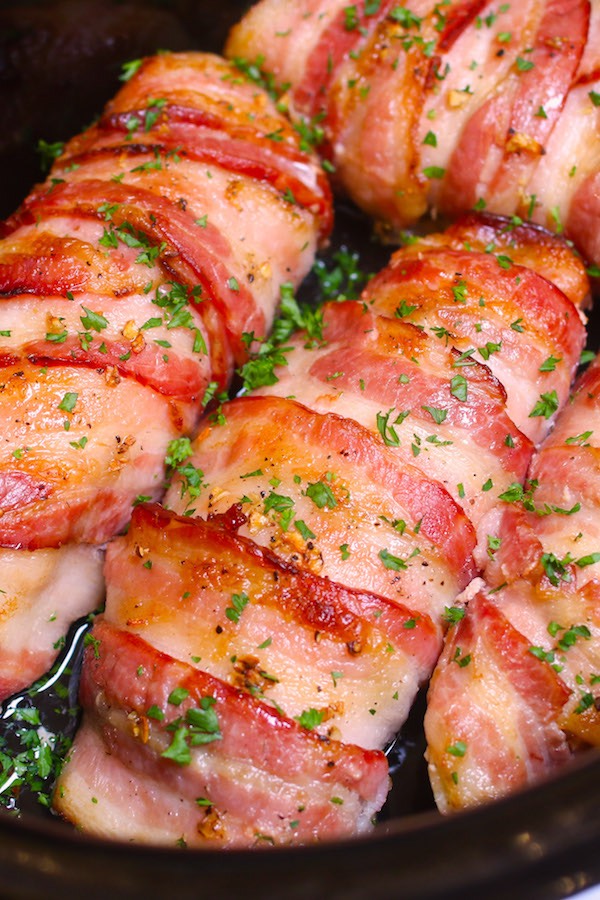 Avoid overcooking in the crockpot
Chicken can be easily overcooked in the crockpot. How to avoid this?  First, make sure your slow cooker is filled snugly in a single layer, usually about 4 breasts in a 6-quart crockpot. Secondly, be sure to check your chicken breast after 2.5 hours. The chicken is fully cooked when an instant-read thermometer inserted in the middle measures 165°F (74°C).
How to serve crockpot chicken breasts?
Serve over mashed potatoes, pasta, or rice along with some green vegetables such as broccoli. It also goes great with a side dish like boiled corn and salad. For leftovers, you can shred the chicken to make salads and sandwiches.
Tips for cooking frozen chicken in a slow cooker
We've all had the experience of forgetting to thaw chicken the night before. The USDA states it's unsafe to put frozen meat directly in a slow cooker due to bacteria risks. But don't be discouraged, your dinner plans can still be saved!
For quicker thawing, place the frozen chicken breasts in a sealed ziptop bag. Submerge the bag completely in cold tap water. As the chicken thaws, pull the pieces apart to expedite the process. After 20 minutes, replace with fresh cold water and submerge for 10 to 20 more minutes. Voilà – your chicken breasts are now ready to be cooked!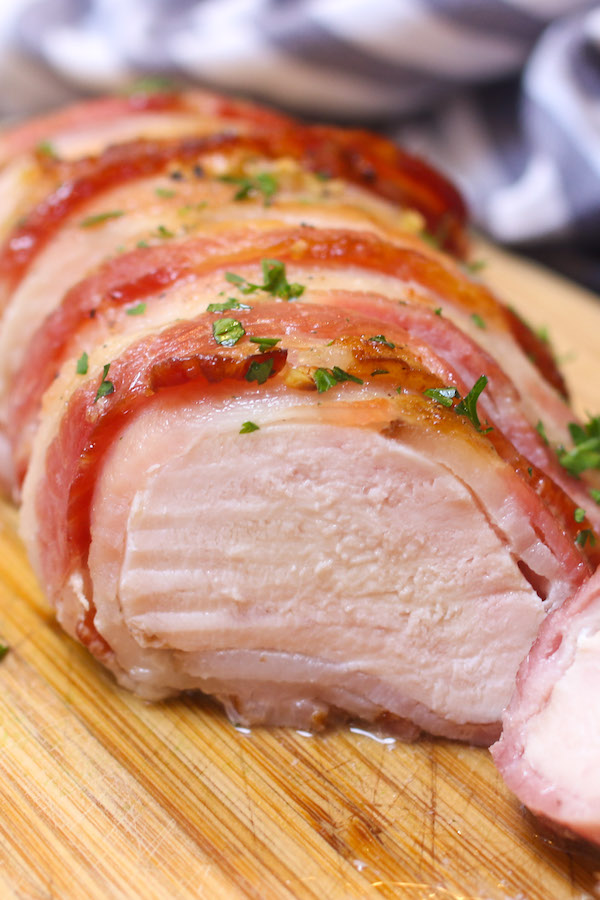 Seasoning variations:
This recipe is very versatile and you can swap the brown sugar and garlic seasoning with the following:
Taco seasoning for a healthy keto and paleo
Honey garlic sauce
BBQ sauce
Italian seasoning
Lemon pepper seasoning
5 more easy crockpot chicken recipes
Slow Cooker Bacon Garlic Chicken Breast (+VIDEO)
Slow Cooker Bacon Garlic Chicken Breast is a tender and juicy chicken dinner with just 4 simple ingredients and 15 minutes of prep! Boneless, skinless chicken breasts get seasoned and wrapped with bacon so the chicken stays moist and absorbs delicious flavors in the crock pot.
Ingredients
4  chicken breasts, boneless and skinless
8-12 slices bacon
1/3 cup brown sugar, or honey*
2 teaspoons garlic, minced (about 2 cloves)
Optional
1/2 teaspoon salt, or to taste
1/4 teaspoon black pepper, freshly ground or to taste
fresh parsley, chopped, for garnish
Instructions
In a medium bowl, mix brown sugar, minced garlic, and optional salt and pepper.

Place the chicken breasts on a plate and rub half of the spice mixture all over the chicken breasts.

Wrap each chicken breast with 2-3 slices of bacon, starting and finishing on the bottom of each breast. (The amount of bacon needed depends on the size of your chicken and bacon.)

Place the wrapped chicken breasts seam-side down in the crock pot in a single layer, snuggling them in as evenly as possible.

Sprinkle the remaining brown sugar mixture on top.

Cover with lid and cook on LOW for 3 hours or until an internal temperature of 165°F (74°C) is reached**.

Optional: After cooking, place under the broiler (about 6 inches from the heating element) for 2-3 minutes to make the bacon crispy and add a nice caramelized color***.

Remove chicken to a cutting board or plate, and cover with aluminum foil to keep it warm. Let rest for 5-10 minutes so that you will get clean slices.

Garnish with optional parsley. Serve and enjoy!
Notes
*Make it low carb and Whole30: Substitute low carb maple syrup for brown sugar.
**Check doneness after 2.5 hours the first time around, as there can be some variation among crockpots. It's best to insert an instant-read meat thermometer through the middle of the chicken.
*** It's important to watch closely when broiling the chicken, as it can burn quickly if left to broil too long.
Avoid removing the lid unnecessarily during cooking, as doing so will lengthen the cooking time by 15-30 minutes.
You can add vegetables during the final hour of cooking. My favorite choices include green beans, onions, and broccoli. When the chicken is cooked through, remove it from the slow cooker.
Store leftovers in an airtight container in the refrigerator for about 4 days. Reheat on the stovetop with a splash of water to keep it from drying out.
Nutrition Facts
Slow Cooker Bacon Garlic Chicken Breast (+VIDEO)
Amount Per Serving
Calories 405 Calories from Fat 108
% Daily Value*
Fat 12g18%
Saturated Fat 3g15%
Cholesterol 160mg53%
Sodium 833mg35%
Potassium 941mg27%
Carbohydrates 19g6%
Sugar 18g20%
Protein 54g108%
Vitamin A 68IU1%
Vitamin C 3mg4%
Calcium 29mg3%
Iron 1mg6%
* Percent Daily Values are based on a 2000 calorie diet.
Please read our nutrition disclaimer.
More Chicken Breast Recipes
Cooking Tools:
Editor note: Originally published March 15, 2019 and updated October 1, 2019.
© TIPBUZZ. Images and text on this website are copyright protected. Please do not post or republish without permission. If you want to republish this recipe, please link back to this post. This post may contain affiliate links. Read the disclosure policy here.