Easy Crockpot Chicken Thighs
These Crockpot Chicken Thighs are the best you'll ever taste – super tender and succulent slow cooker chicken thighs with amazing flavor. Serve with veggies and potatoes or rice, then drizzle the thick and delicious gravy on top!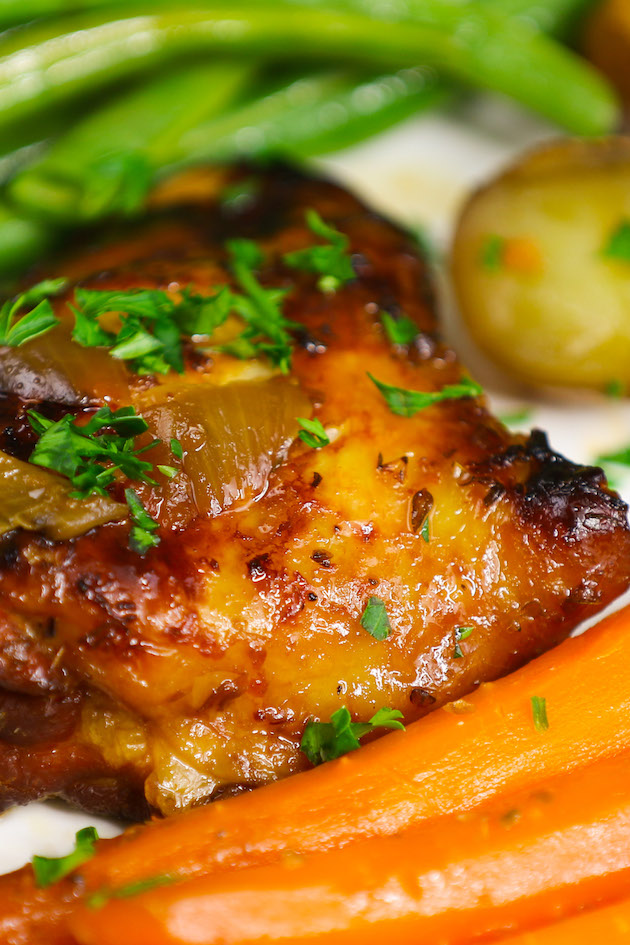 EASY SLOW COOKER CHICKEN THIGHS
This easy recipe produces tender and juicy chicken thighs that are full of flavor after simmering in a brown sugar garlic sauce in the slow cooker.
It's one of my favorite chicken crockpot meals for busy weeknights and only takes a few minutes of prep. The combination of sweet, garlicky and savory seasoning of these crock pot chicken thighs reminds me of Slow Cooker Teriyaki Chicken Thighs and Slow Cooker Bacon Wrapped Chicken.
HOW TO COOK CHICKEN THIGHS IN A CROCK POT
Cooking chicken in your crockpot is probably one of the easiest slow cookers dinners around! It helps to keep it moist and making the chicken extra tender.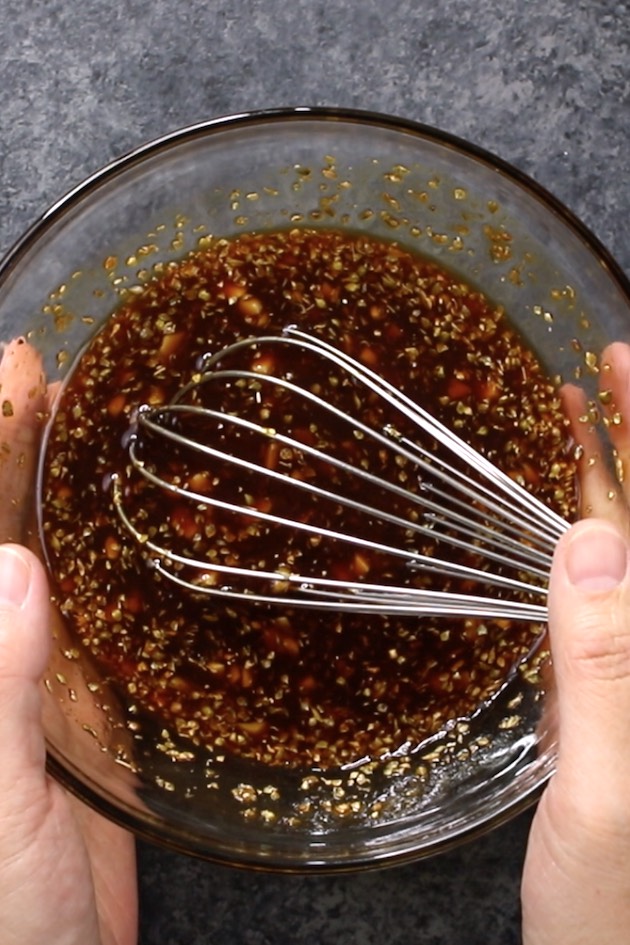 To add extra flavor and crispness to the chicken thighs, brown the meat before adding to the slow cooker. Start by searing in a cast iron skillet on all sides until the skin turns brown (they don't need to be fully cooked as they will keep cooking in the crockpot).
Add the browned chicken thighs to the slower cooker with carrots, onions and potatoes. Then make the brown sugar garlic sauce and pour the marinade on top.
Once the crock pot chicken is fully cooked and the vegetables are nice and tender, remove them from the crockpot to a serving platter.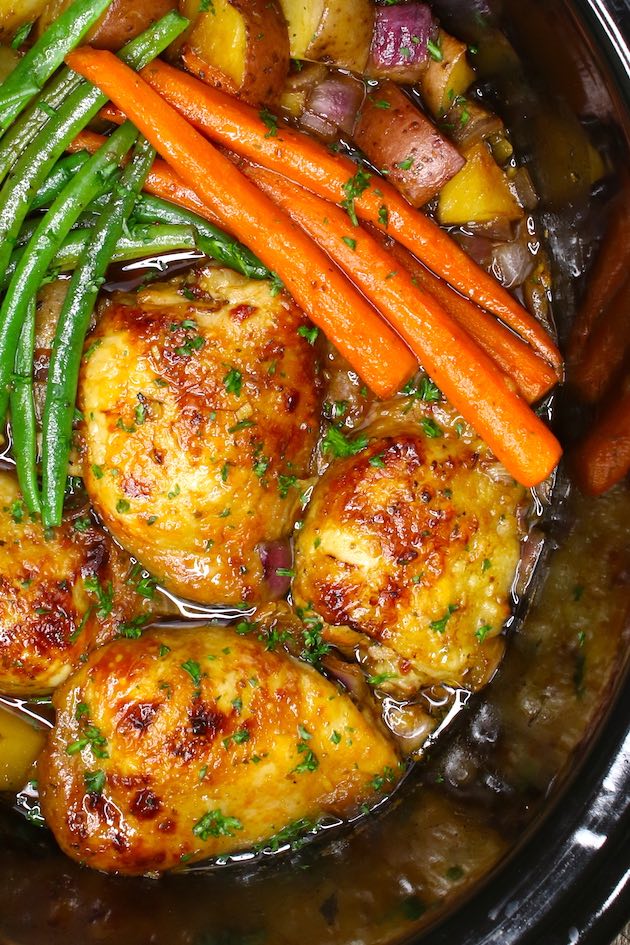 HOW TO LONG TO COOK CHICKEN IN CROCK POT
Chicken thigh cook time can fluctuate depending on the sizes and types of your meat.
In this slow cooker chicken recipe, I sautéed my bone-in skin-on chicken thighs for about 7-8 minutes in a skillet, and then place them in my 7-quart crockpot with the sauce. I cooked them for about 5 hours on a low setting until the chicken thighs' internal temperature reached 165°F ( 74°C) using an instant-read thermometer.
Below is guidance on how long to cook chicken thighs in a crockpot:
Bone-in Chicken Thighs: 3-4 hours on High or 4-7 hours on Low
Boneless Chicken Thighs: 2-3½ hours on High or 4-5½ hours on Low
BROWN SUGAR GARLIC SAUCE
What makes this recipe stand out is the brown sugar garlic sauce, which is a perfect combination of sweet and savory flavor. It's made with a few real ingredients in the sauce: brown sugar, garlic, soy sauce and ketchup. That's it!
Chicken thighs will absorb flavors from the sauce during the lengthy cooking process and become mouthwateringly tender. You can also turn the sauce into an amazing gravy at the end of the cooking process by adding a cornstarch and water mixture (1:1 ratio).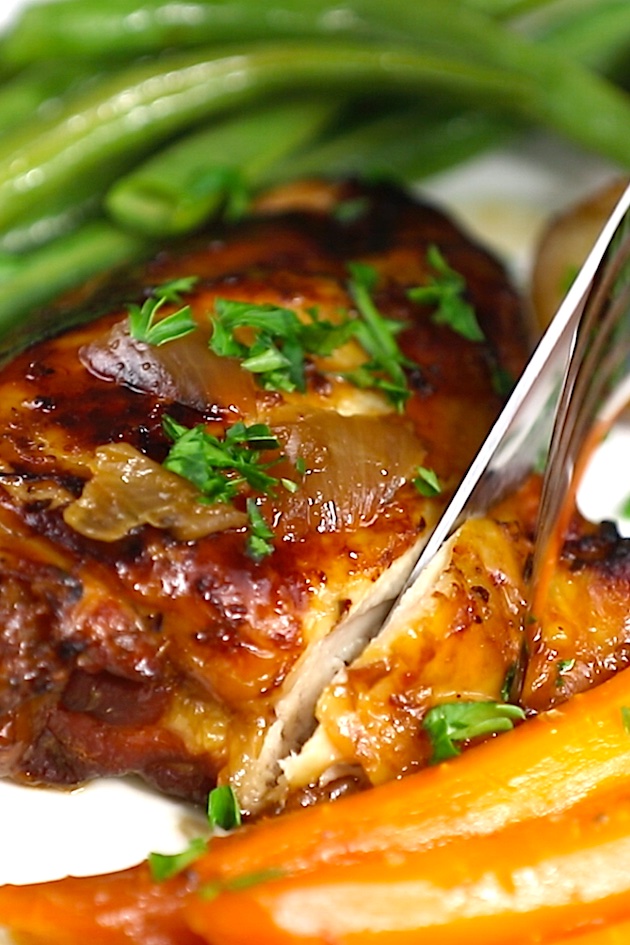 EASY SLOW COOKER RECIPES TO TRY
View all slow cooker recipes
TIPS FOR MAKING THE BEST CROCK POT CHICKEN THIGH RECIPE
Sear the chicken thighs. Don't skip this step as it helps to seals in the flavor and creates a beautiful golden color.
Broil your chicken for a few minutes before serving to give it additional color.
Customize the vegetables. Swap out carrots and potatoes for your favorites such as sweet potatoes, mushrooms, etc.
WHAT KIND OF CHICKEN THIGHS ARE BEST FOR COOKING IN THE CROCKPOT?
Bone-in and skin-on chicken thighs work best for this recipe, as they produce the most juicy and flavorful meat.
DO YOU HAVE TO BROWN THE CHICKEN THIGHS BEFORE PUTTING IT IN THE CROCKPOT?
You don't have to, but we recommend you brown them first because doing so will create a richer flavor in the meat.
CAN YOU PUT FROZEN CHICKEN THIGHS IN THE CROCKPOT?
No, it's considered unsafe to cook frozen poultry in a crockpot. Let them thaw first before placing them into a slow cooker. You can cook frozen meat in an instant pot or pressure cooker, however.
Slow Cooker Chicken Thighs
Slow Cooker Chicken Thighs are tender and succulent chicken thighs smothered in a rich brown sugar garlic sauce.
Ingredients
Chicken Thighs and Veggies
4-5 chicken thighs, bone-in, skin on, about 1½ - 2 pounds
2 tablespoons olive oil
Salt and pepper, to taste
1 pound baby potatoes
1 pound carrots, peeled
1 cup onions, sliced
Brown Sugar Garlic Sauce
1/3 cup brown sugar
2 tablespoons garlic, minced
½ cup soy sauce, low sodium recommended
¼ cup ketchup
Instructions
Season the chicken thighs with salt and pepper, rubbing it into all sides.

Heat a large skillet over medium-high heat, and once hot add olive oil.

Add the chicken and brown on both sides, about 3-4 minutes each side.

Transfer the chicken to the crockpot, and add carrots, potatoes and onions.

In a small bowl, whisk together brown sugar, garlic, soy sauce and ketchup.

Pour the sauce mixture on top.

Cover the lid and cook for 2-4 hours on High or 4-6 hours on Low.

(Optional) Broil the chicken for 2-3 minutes before serving for additional crispiness and color.

Remove the chicken and veggies onto serving plates.

(Optional) Thicken the sauce by adding a slurry of 1 tablespoon of cornstarch mixed with 1 tablespoon water. Cook for about 10 minutes until the sauce is thickened.

Drizzle with sauce and garnish with optional parsley.
Notes
Avoid over-cooking by checking the chicken at the earliest time of the range.
If you are making crockpot chicken breasts, follow the same instruction but adjust the cooking time.
Don't put the frozen chicken into the crockpot, let it thaw first before cooking.
Guidance on how long to cook chicken in a crockpot:

Bone-in Chicken Thighs: 3-4 hours on High or 4-7 hours on Low
Boneless Chicken Thighs: 2-3½ hours on High or 4-5½ hours on Low
Bone-in Chicken Breasts: 2-3½ hours on High or 4-5 hours on Low
Boneless Chicken Breasts: 2-3 hours on High or 3-4 hours on Low
Whole Chicken (6 lbs): 6-6½ hours on High or 7-8 hours on Low
Nutrition Facts
Slow Cooker Chicken Thighs
Amount per Serving
% Daily Value*
* Percent Daily Values are based on a 2000 calorie diet.
Please read our nutrition disclaimer.
MORE EASY CHICKEN THIGH RECIPES YOU'LL LOVE
View all chicken thigh recipes
© TIPBUZZ. Images and text on this website are copyright protected. Please do not post or republish without permission. If you want to republish this recipe, please link back to this post. This post may contain affiliate links. Read the disclosure policy here.