Montreal Steak Seasoning
Montreal Steak Seasoning is a delicious rub that enhances the natural flavors of steak and other meats. You can use this homemade recipe for grilling, broiling or pan frying. So much better than storebought!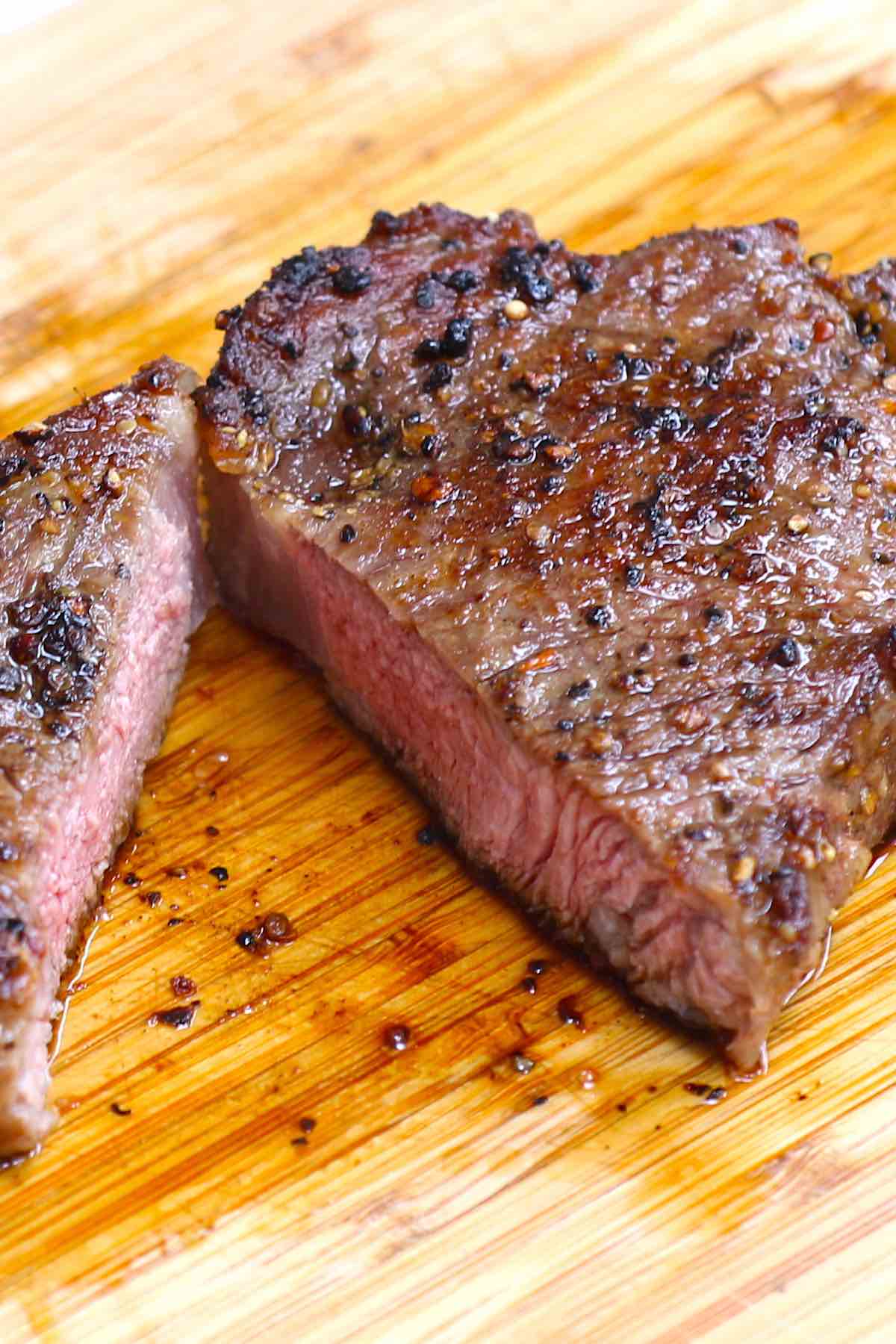 I used to live in Montreal years ago and discovered their amazing steak when dining at the legendary delicatessen Schwartz's. It was here 70 years ago that grill-master Morris "The Shadow" Sherman decided to experiment with using pickling spices from Montreal smoked meat (brisket similar to pastrami) on steak.
This tangy seasoning really brings out the natural flavors in steak and always gets rave reviews! We've also used it for chicken, pork, ribs and even salmon! Making your own is the way to go since you can control the saltiness to your preference, plus it's less expensive.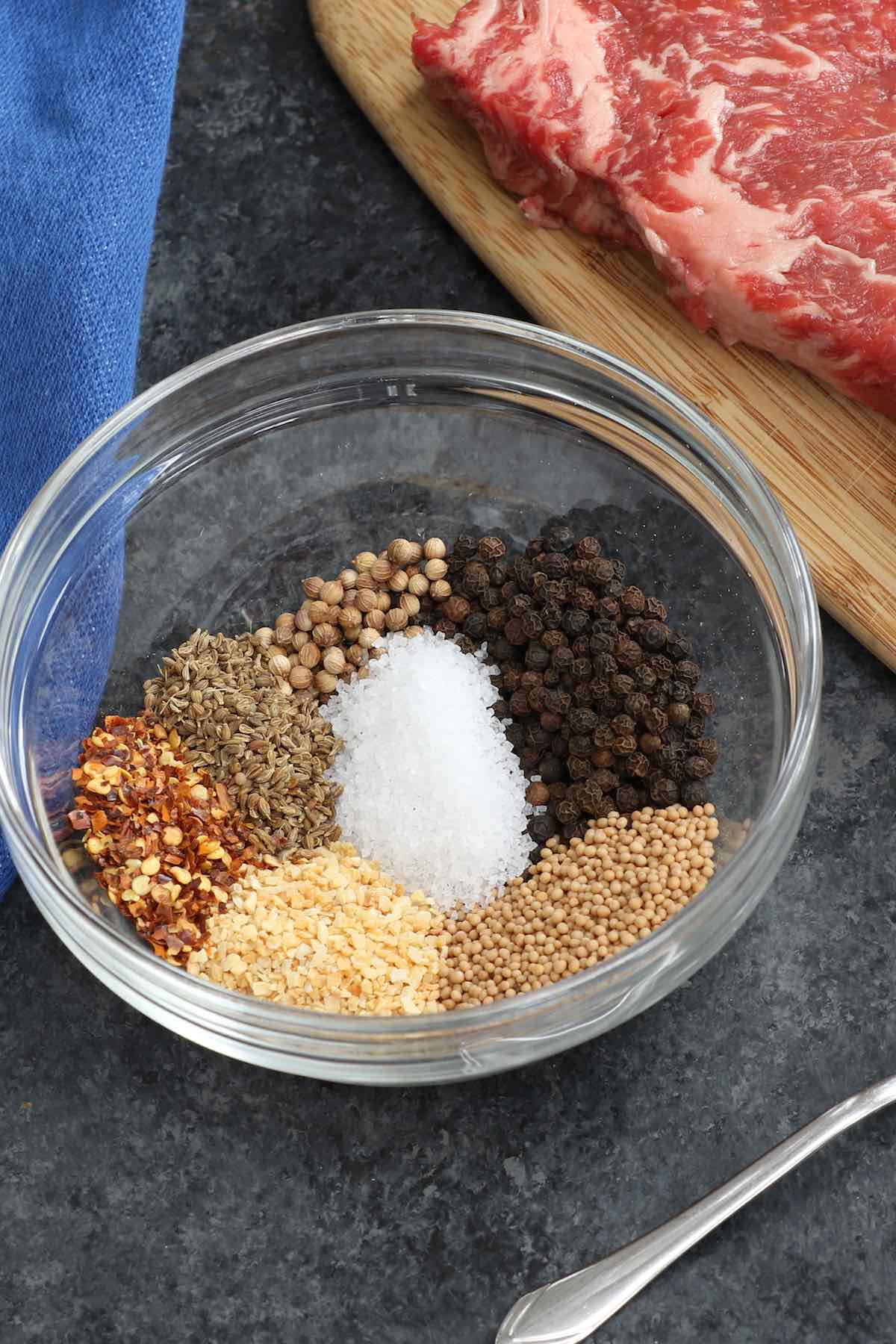 Ingredients
Many recipes call for powdered spices, but the traditional recipe consists of crushed whole spices for more intense flavors and an attractive look. (Storebought mixes from McCormick or Club House have no powder in them!)
Here's what you'll need to make it:
Black peppercorns: or crushed black pepper
Coarse salt: kosher salt is ideal
Mustard seeds: you can use yellow or black mustard seeds
Coriander seeds
Dill seeds: sometimes called anise seeds, you can sub fennel seeds instead
Granulated garlic: this is fine flakes of garlic, you can also use dried minced garlic
Granulated onion: you can also use dried minced onion
Red pepper flakes
Lemon zest (optional): or dehydrated lemon peel or lemon pepper seasoning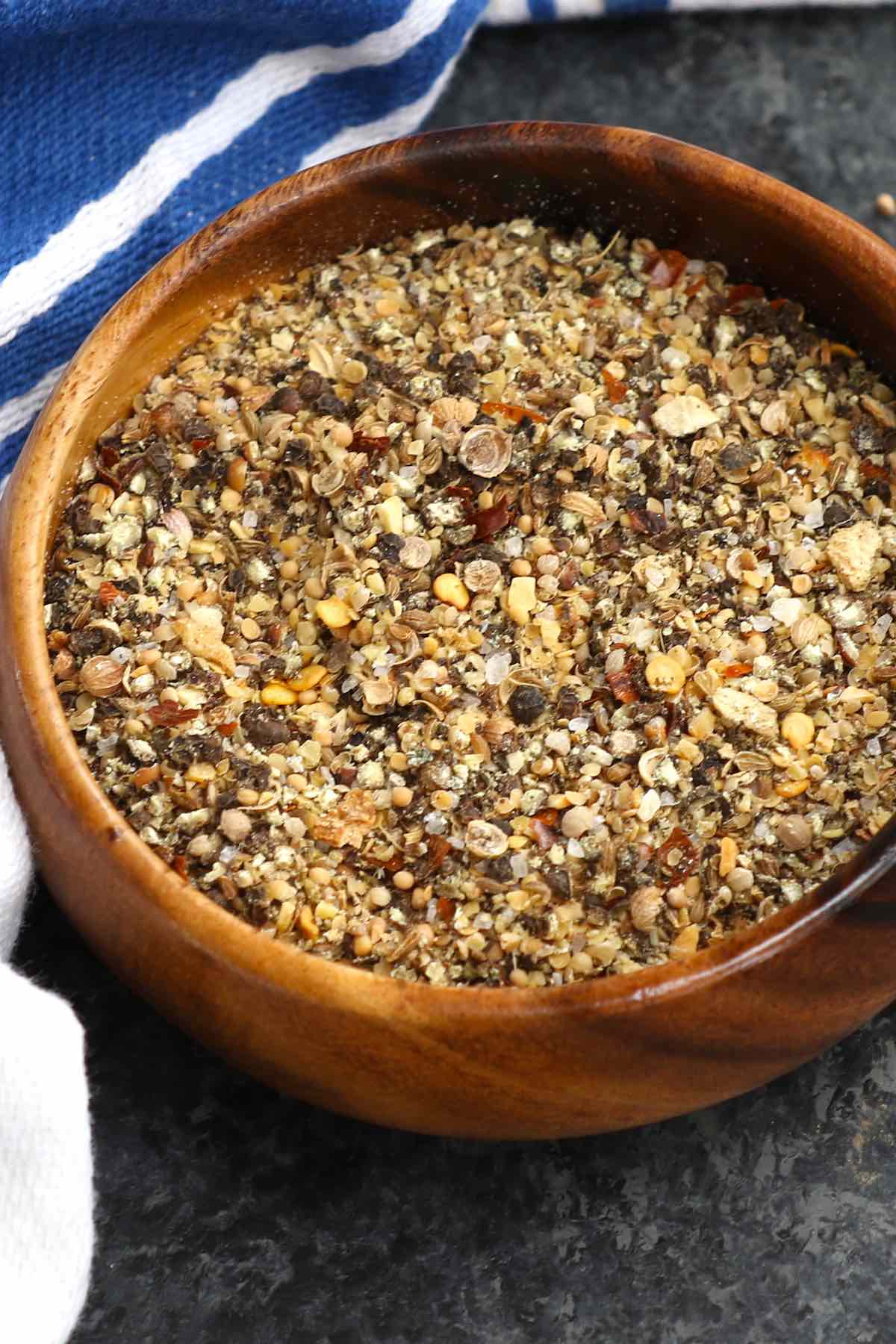 How to Make Montreal Steak Seasoning
It only takes 5 minutes to make. You can crush the spices using a mortar and pestle or a spice grinder. You can also use a food processor or blender although I recommend doubling the recipe for even blending.
Simply mix your spices in a bowl. Then add to the mortar and pestle or spice grinder. You'll want to grind the mixture just long enough to crush the whole peppercorns. Do it in batches if needed.
I like to double or triple the recipe and store in a mason jar. That way, it's always on-hand for easy use when making steak.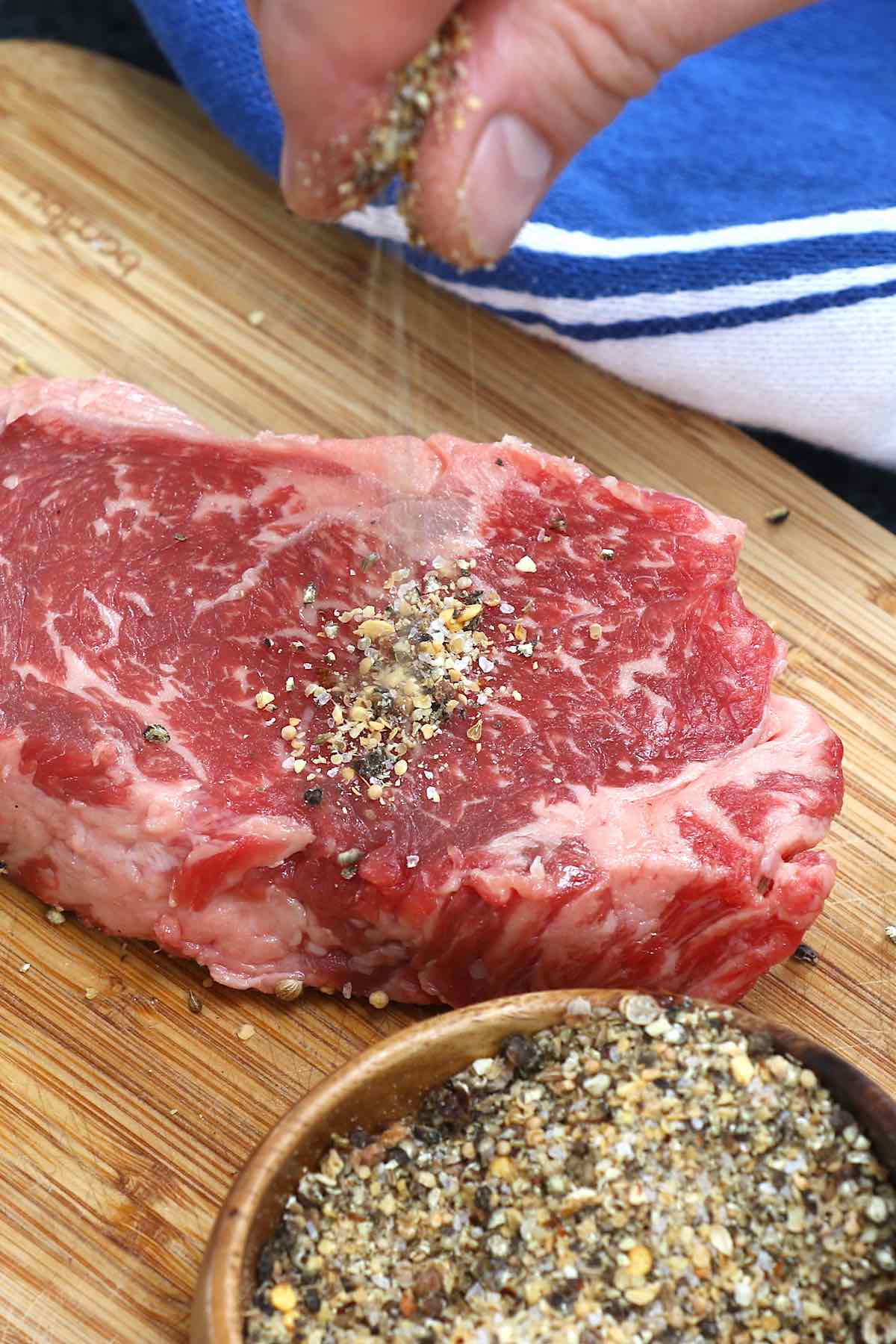 How to Use Montreal Steak Seasoning
This seasoning is great for grilling, pan frying and broiling steak. Here's how to get the best results:
Pat dry the steak with paper towels to remove excess moisture
Rub the steak with oil such as canola oil, sunflower oil or refined olive oil.
Then rub the seasoning generously onto the meat. (I usually use about 1 tablespoon per steak)
Proceed to cook the steak as you like.
Montreal steak seasoning goes with most steak cuts including striploin, sirloin, T-bone, porterhouse, cowboy steak, ribeye, London broil and more!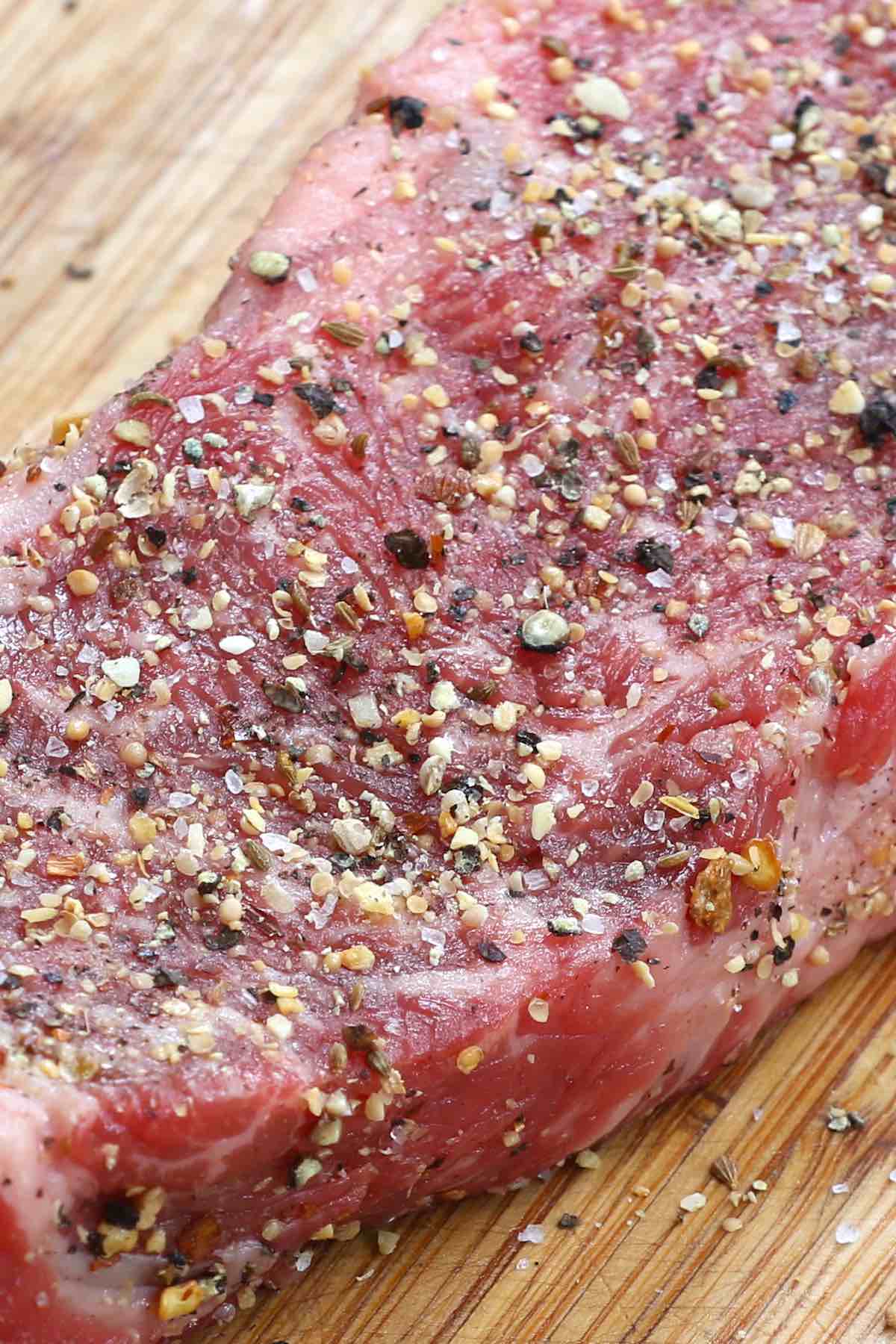 Montreal Steak Marinade
You can also make your own Montreal steak marinade for use on tougher cuts like flank steak, sirloin tip or eye of round. For 2 pounds of steak, whisk 2 tablespoons Montreal steak spice with ¼ cup soy sauce and ¼ cup olive oil in a bowl. Then marinate the meat in it for at least one hour to overnight.
Montreal Steak Seasoning
A mouthwatering spice rub that you can use for steak, chicken, pork and even salmon! Quick and easy to make.
Ingredients
2 Tablespoons black peppercorns
1 Tablespoon coarse salt, kosher salt recommended, or to taste
1 Tablespoon mustard seeds, yellow mustard seeds
1 1/2 teaspoons coriander seeds
1 teaspoon anise seeds, dill seeds or fennel seeds
1 Tablespoon granulated garlic, or dried minced garlic
1 Tablespoon granulated onion, or dried
1 teaspoon lemon zest, or dried lemon peel
1 1/2 teaspoons crushed red pepper flakes, optional
Instructions
Add all spices to a bowl and mix to combine.

Add the mixture to a spice grinder or mortar and pestle.

Grind briefly just crushed coarsely.

Use as directed in your recipe or store in a mason jar for later use.
Notes
Rub Montreal steak seasoning onto meat immediately before cooking. Doing so ahead of time will draw moisture out of the meat and cause it to dry out.
Recipe yield: ½ cup of seasoning (enough for 8 small steaks or 4 large steaks)
Storage: The seasoning will last up to 3 months at room temperature in an airtight container such as a mason jar. Do not freeze.
Nutrition Facts
Montreal Steak Seasoning
Serving Size
1 tablespoon
Amount per Serving
% Daily Value*
* Percent Daily Values are based on a 2000 calorie diet.
Please read our nutrition disclaimer.
Recipe tools

© TIPBUZZ. Images and text on this website are copyright protected. Please do not post or republish without permission. If you want to republish this recipe, please link back to this post. This post may contain affiliate links. Read the disclosure policy here.