Mac and Cheese Burger
This incredible Mac and Cheese Burger has buns made of creamy mac n cheese that's breaded and deep fried. Skip Cheesecake Factory and make a restaurant-quality Mac Attack burger at home!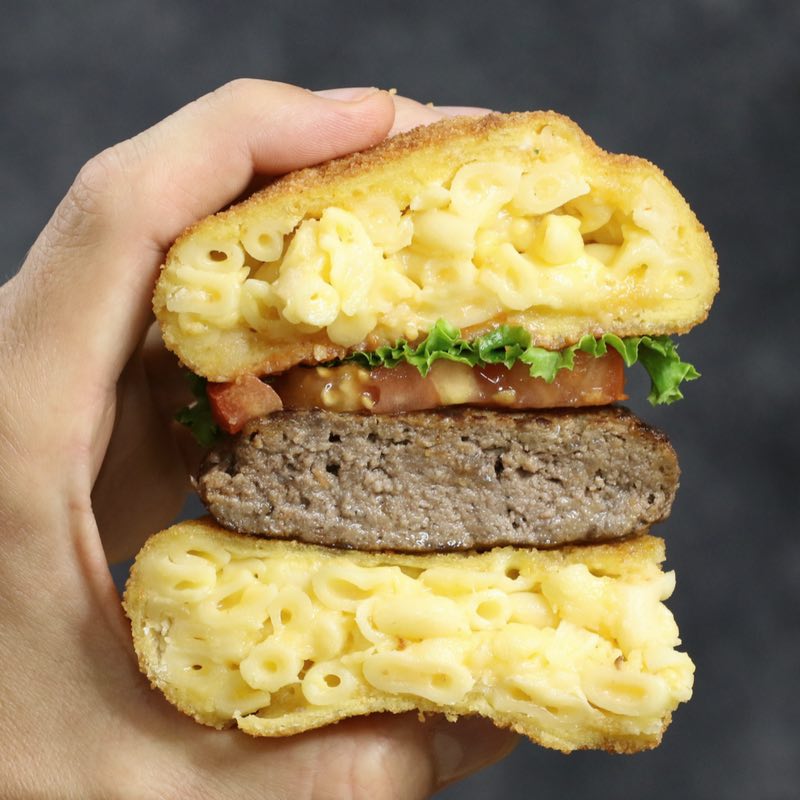 We've all had many burgers, but there's nothing quite like this! And there's no need to buy buns because mac and cheese IS the bun! This over-the-top recipe is a fun idea for Game Day or a party, and is sure to satisfy your cravings for macaroni and cheese.
The story began back in 2013 when Rockit Burger Bar in Chicago created the Mac Attack burger using breaded, deep-fried mac and cheese as buns. Not long after, the Cheesecake Factory Mac and Cheese burger arrived. Today, this concoction can be difficult to find in restaurants so we're showing you how to DIY it!
How to Make a Mac and Cheese Burger
There are two options for making them:
Homemade: Make the mac n cheese and hamburgers from scratch. This requires a bit moe effort, but is well worth it in my opinion. Also, this is a great way to use up leftover mac and cheese.
Storebought: Work with pre-made mac and cheese from a box and frozen hamburger patties to save time. You only need to bread and deep fry the mac, plus cook the burgers.
To make the fried mac and cheese, cook the pasta in boiling water and drain. Then mix in milk, garlic powder and cheese. Remove from heat to cool.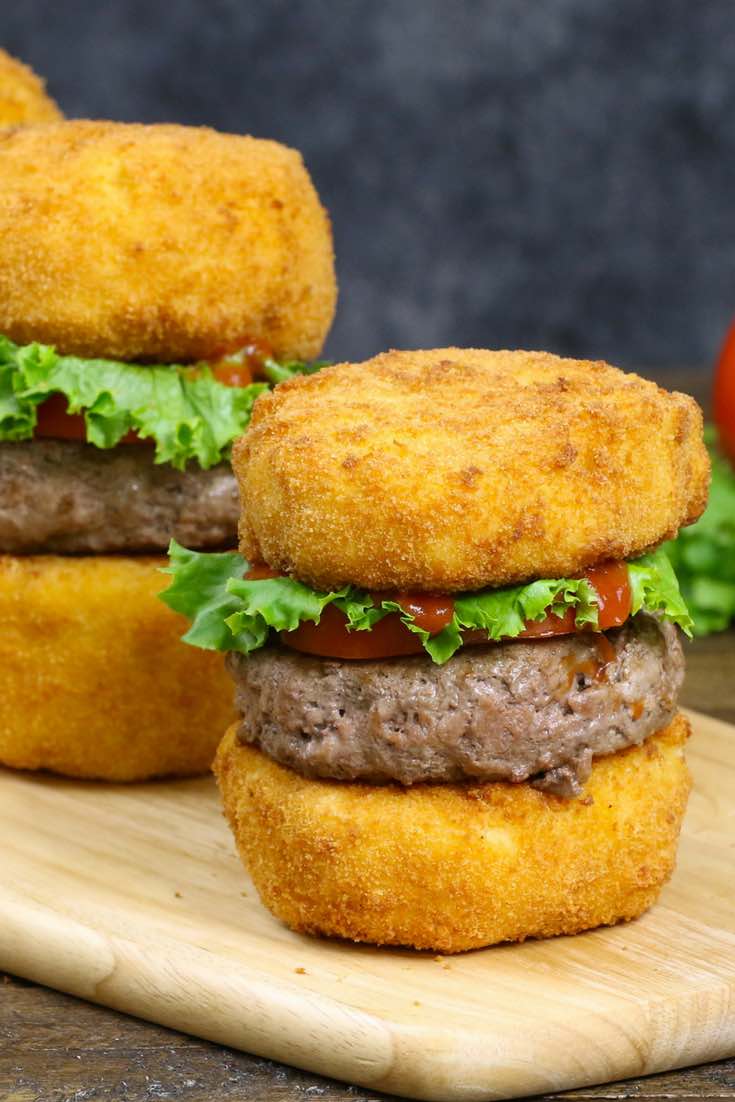 Form the mac n cheese into bun-size pieces and place on a baking sheet. Freeze for at least 2 hours to harden. Then bread the pieces by dipping into flour, beaten egg and breadcrumbs before deep frying until golden.
For the burgers, combine ground beef with seasonings and form into patties. Then pan fry or grill them as you like. Serve with your favorite toppings like lettuce and sliced tomato.
Watch Recipe Video
This video tutorial will show you exactly how to make a mac and cheese burger:
More mac and cheese recipes:
Mac and Cheese Bun Burgers
Enjoy two favorites in one with this Mac and Cheese Burger. The buns are made of breaded, deep-fried mac n cheese that melts in your mouth! Perfect for a party, Game Day or just because.
Ingredients
Mac and Cheese Buns
1 pound elbow pasta, 455 grams
1/4 cup milk
1/2 tsp garlic powder
3/4 cup shredded cheddar cheese
2 cups bread crumbs
4 large eggs
2 cups flour
1 quart vegetable oil, for frying
Burgers
1 1/2 pounds ground beef, or 3 beef patties
3 slices tomato, optional
lettuce, optional
Instructions
Mac and Cheese Buns
Cook pasta according to the package directions. Drain and return to the pot.

Place the pot on medium-low heat. Add the milk, garlic powder and cheddar cheese, stirring until creamy. Remove from heat to cool and thicken for 5 minutes.

Meanwhile, line a baking sheet with parchment. Place a 4-inch circular cookie (bun size) on top and spoon cooled mac and cheese into to 1-inch thickness. Lift off the cookie cutter and repeat for 5 more pieces. Place the baking sheet into the freezer for at least 2 hours to harden.

Add 2 inches of oil to a pot or deep fryer and heat to 325°F. Line a large plate with paper towel and set aside.

Set up three shallow bowls with flour, egg and breadcrumbs. Dredge one piece of mac and cheese first in flour, then egg and finally breadcrumbs. Using tongs, place the breaded mad and cheese into the hot oil.

Fry for 1-2 minutes per side or until golden brown before removing to the paper towel lined plate. Repeat for the remaining pieces of mac and cheese.
Burgers
Season the ground beef with salt and pepper and form into patties. Place a nonstick skillet over medium-high heat and fry the burgers to your desired doneness, about 2-4 minutes per side.

Place each burger between two mac and cheese buns. Garnish with optional tomato slices, onions and condiments. Serve immediately.
Notes
Mac and Cheese: You can use boxed mac and cheese to save time. You'll still need to form it into buns and freeze before breading and deep frying.
Hamburgers: You can use frozen patties instead of making homemade burgers if you prefer.
Nutrition Facts
Mac and Cheese Bun Burgers
Amount per Serving
% Daily Value*
* Percent Daily Values are based on a 2000 calorie diet.
Please read our nutrition disclaimer.
Recipe tools:
© TIPBUZZ. Images and text on this website are copyright protected. Please do not post or republish without permission. If you want to republish this recipe, please link back to this post. This post may contain affiliate links. Read the disclosure policy here.