Homemade Flour Tortillas
Homemade Flour Tortillas are soft, tender and fluffy – delicious Mexican thin flatbread made from scratch! They're easy to make by hand using just 5 simple ingredients! A perfect canvas for burrito, tacos, enchiladas and quesadillas.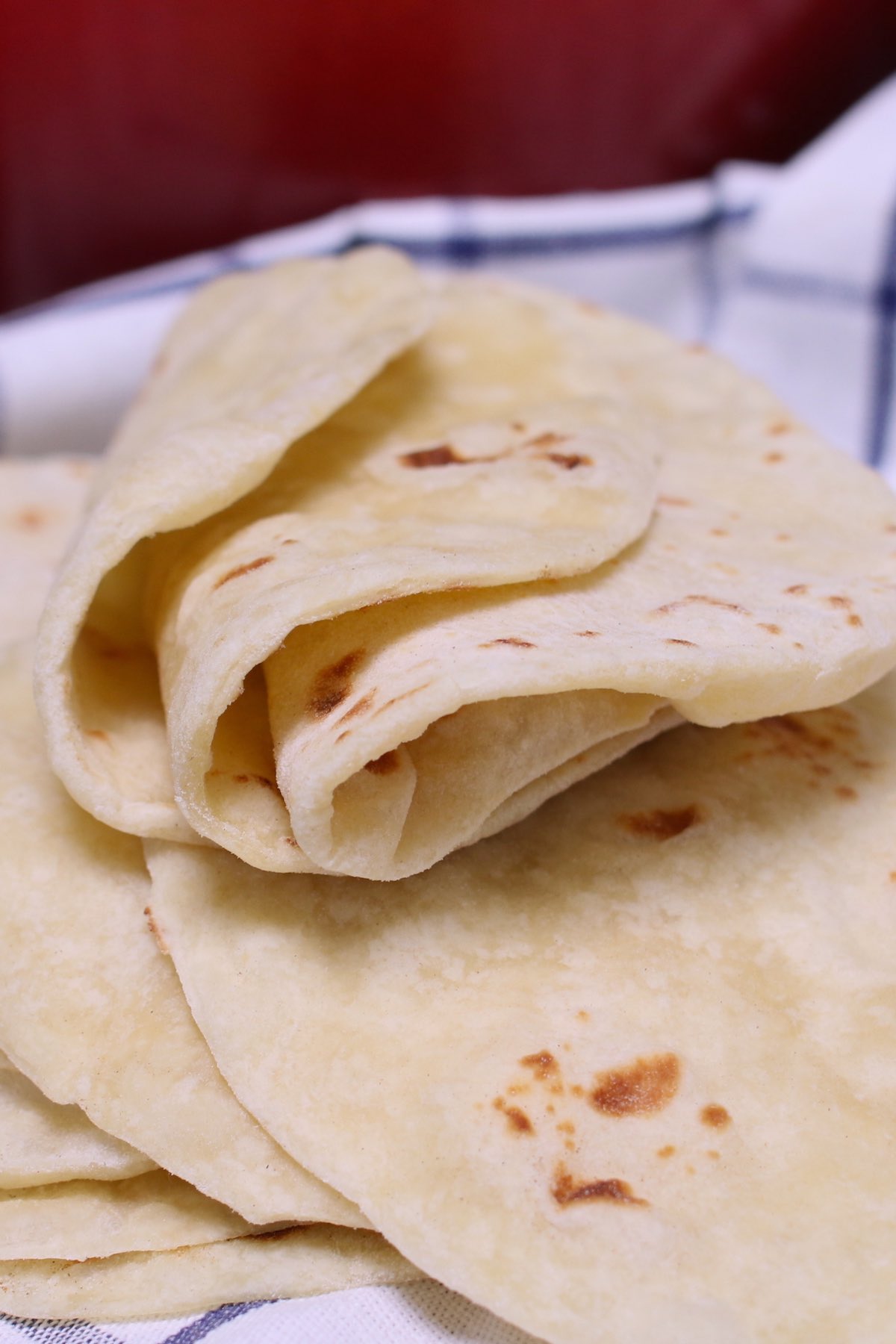 This easy recipe produces warm and fresh tortillas with beautiful golden brown spots on the surface. It's vegan and so much better than store-bought varieties.
If you haven't tried homemade tortillas yet, now's the time! I've tried many many tortilla recipes and I have to admit that this one is my favorite. In this post, I will share with you all the tips and tricks!
How Do You Make Flour Tortillas from Scratch
Start by combining flour, salt and baking powder.
Add in oil and mix well.
Pour in hot water and knead it into a soft dough.
Divide the dough into 16 portions and roll each into a small ball.
Let them rest for 15 minutes, and then roll each one out thin.
Cook the tortillas one-by-one in a hot cast iron skillet. When you see bubbles on the surface, flip it. It takes about 1-2 minutes to cook each tortilla.
I like to mix the ingredients by hand, but feel free to use a stand mixer or hand mixer (see instructions in the recipe notes below).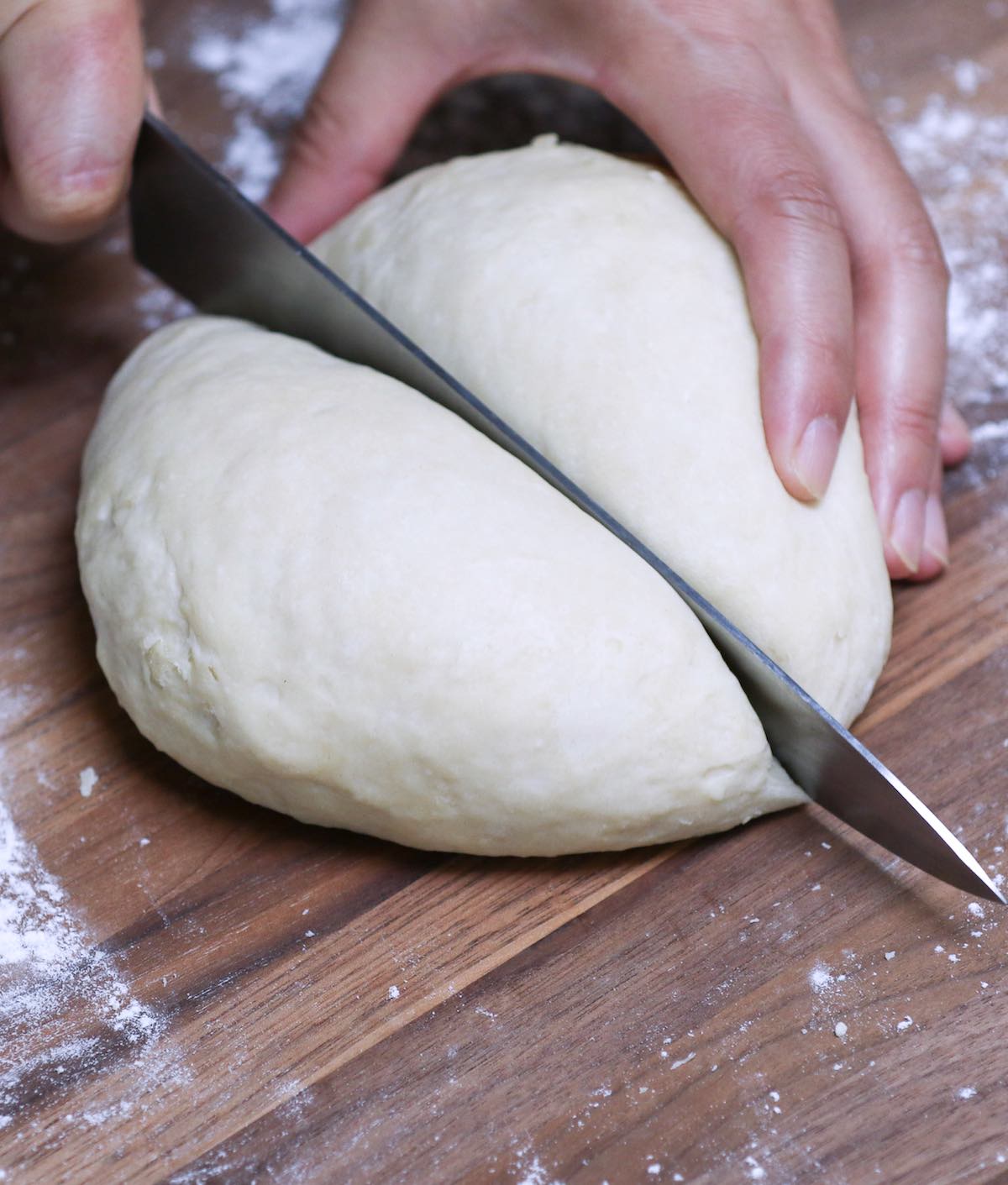 What Makes Flour Tortillas Soft and Fluffy?
Adding the right amount of fat gives the tortilla a soft and moist texture. Using oil, as I did in this recipe lets you achieve this while avoiding unhealthy fat.
Another important technique to make your tortilla shells tender and fluffy is adding hot water. Hot water (not boiling water) can be more easily absorbed by the flour, yielding a more elastic dough.
With or Without Lard
Traditionally people use lard as the fat when making authentic tortillas, but vegetable oil, olive oil, butter or shortening work well too. I have tested different types of fat, there is no significant difference in terms of texture and taste. Flour tortillas without lard are also much healthier.
Make Them Puff Up
My favorite part of making this recipe is to watch the rolled-out dough puff up in the skillet! Make sure your skillet or pan is HOT before adding the tortillas, which will puff up like a balloon when big bubbles form on the surface!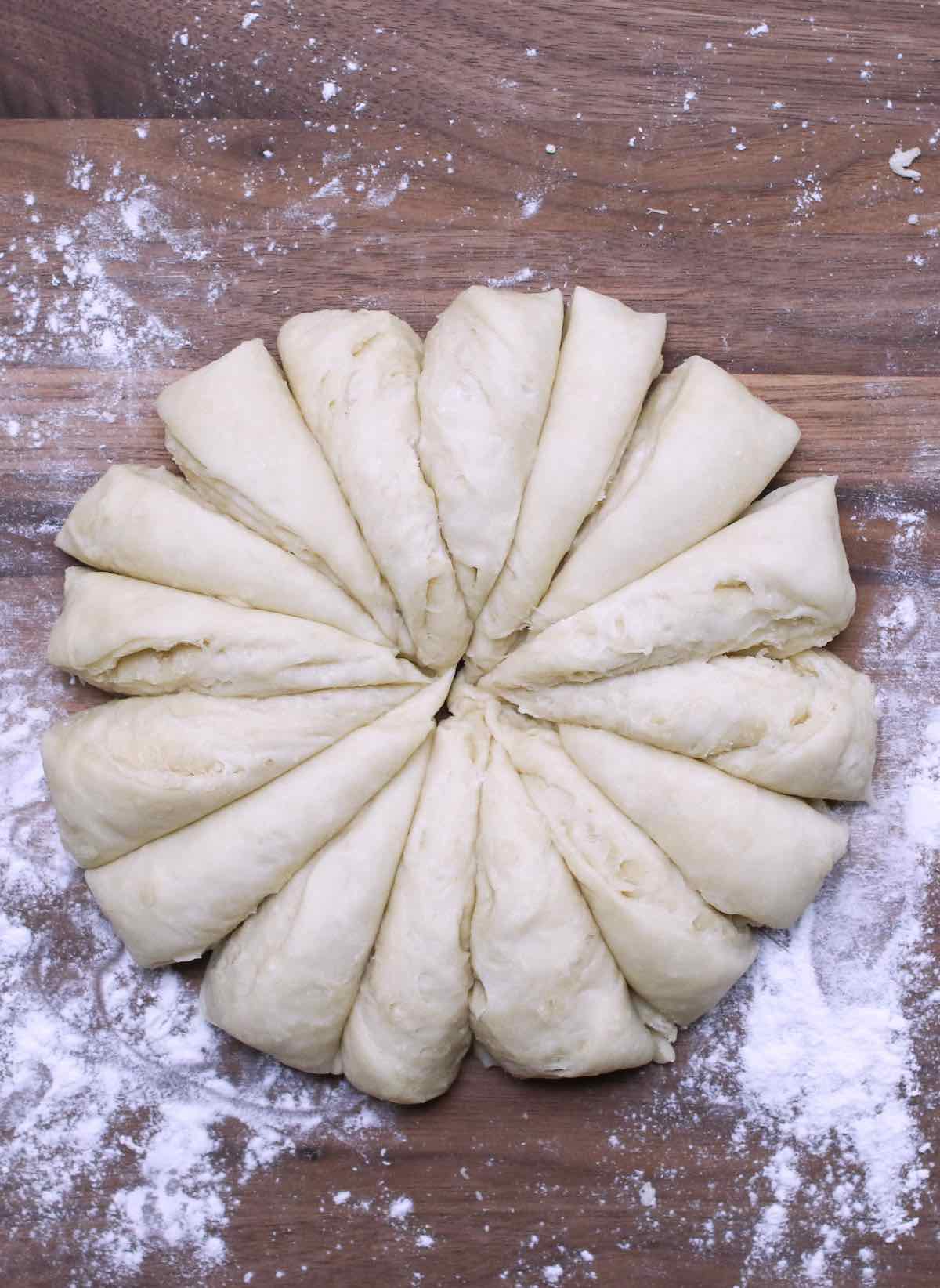 Reheating Flour Tortillas
When reheating, there's a special technique to get very soft and moist tortillas.  The trick is to wrap your tortillas (less than 12 at a time) with a damp cloth or paper towel, and microwave in 30-second intervals until they are warmed through. This extra moisture will create steam in the microwave, giving you very soft and moist tortillas, just like the freshly made ones.
What are Tortillas?
Tortillas are round and thin Mexican flatbread made from corn flour or all-purpose flour. The dough gets shaped into small, individual balls and then rolled into thin disks. They are then cooked on a cast-iron surface or the like.
Corn Tortillas vs Flour Tortillas
The major difference is in the ingredients used. Corn is the base ingredient for corn tortilla, while flour tortillas are made with all-purpose flour. Flour tortilla shells are softer and can stretch better. They also usually come in larger sizes than corn tortillas.
Flour tortillas typically have more calories, protein, carbs and fat, while corn tortillas have more fiber.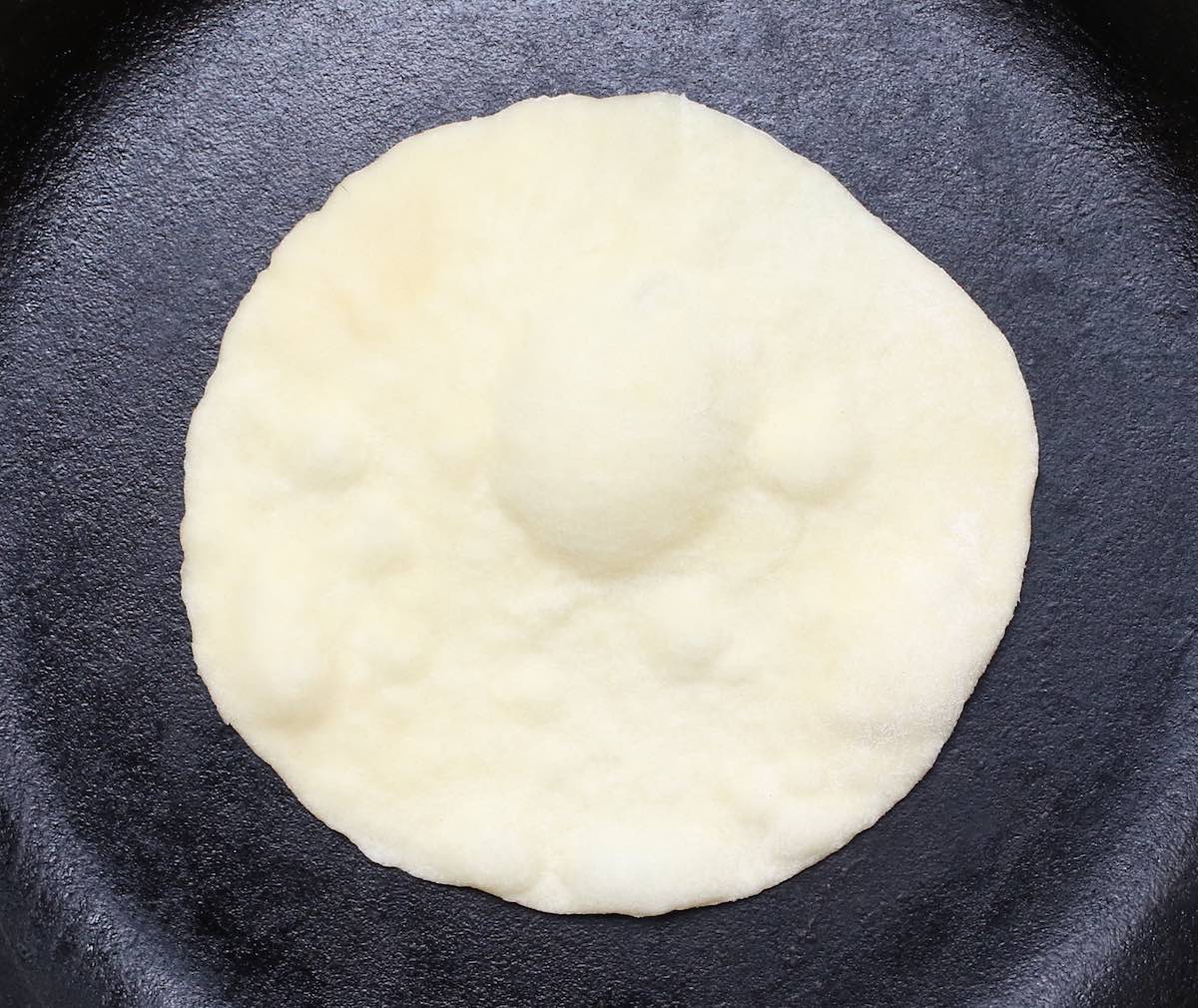 Ways to Use Tortillas
Flour tortillas are very versatile and can accompany most Mexican dishes including tacos, burritos, nachos, enchiladas, tostadas and tortilla soup. They are perfect for roll-ups and wraps. You can even use them as pizza crusts by adding pizza toppings.
I've also made many SWEET TREATS using flour tortillas, such as Cinnamon Sugar Tortilla Chips, Cheesecake Chimichangas, and Apple Pie Tortilla Cups.
Pro Tips for Making the Best Flour Tortillas
Use HOT water! Yes, HOT water (not boiling)! This will make your tortillas super soft and fluffy! Using hot water allows for a higher ratio of liquid to be absorbed, and the resulting dough is very tender.
Don't over-knead your dough. It takes about 3-5 minutes until the dough is smooth and elastic. When you poke the dough with your fingers, it should no longer be sticky and will back slowly. Then you know your dough is ready.
DO NOT stack uncooked tortillas or they may stick to each other and become soggy.
Make sure your skillet is hot before adding uncooked tortillas. Then you'll only need 30-60 seconds per side. Increase the heat if you don't see bubbles on the surface within 1 minute. Lower the heat if you see black spots upon flipping the tortilla.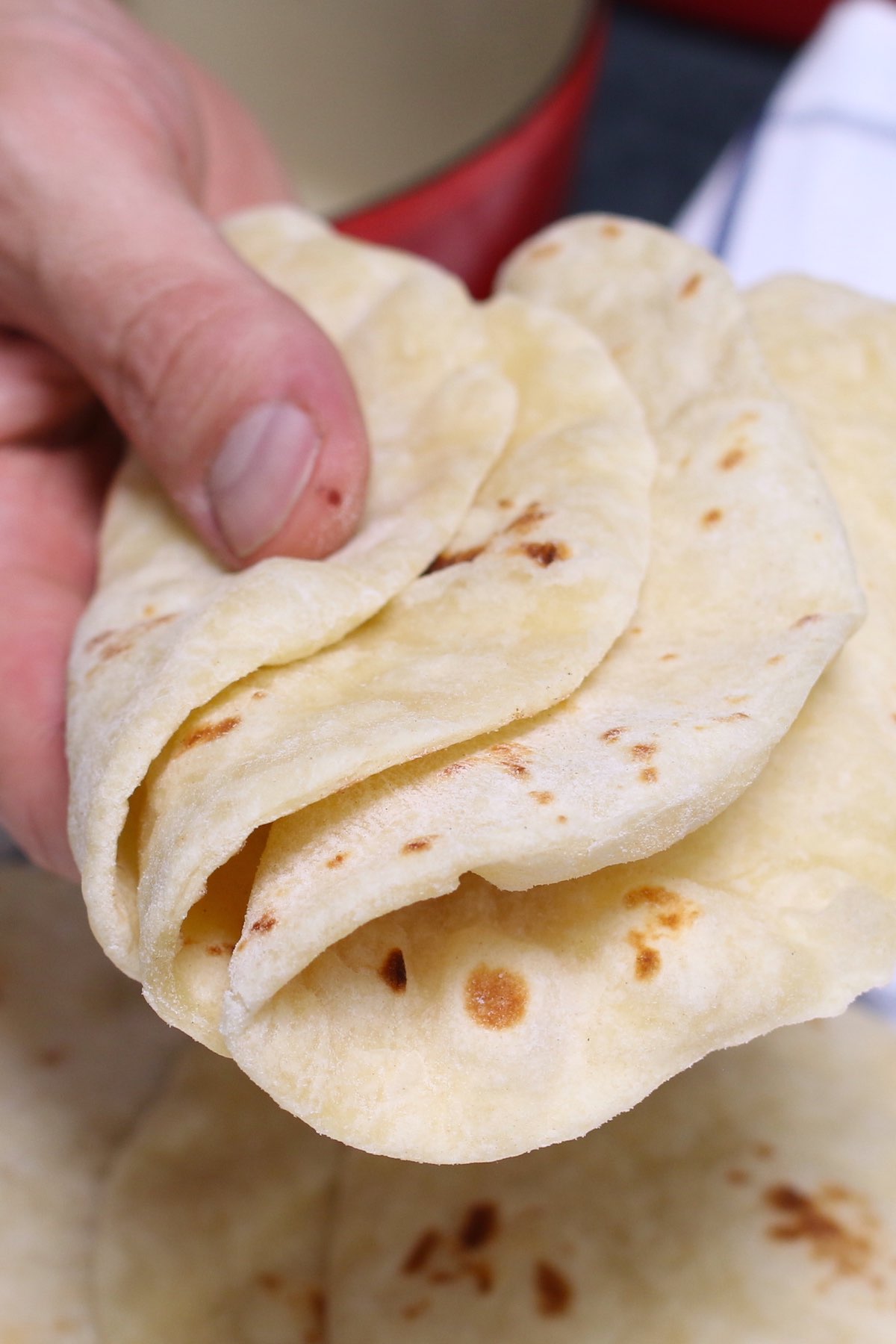 Flour Tortilla Filling Ideas:
Frequently Asked Questions:
Are flour tortillas vegan? Yes, this recipe makes vegan tortillas as long as you use vegetable oil or olive oil.
Are flour tortillas healthy? Flour tortillas have more calories than other tortillas because they contain plain flour and added fat to make them soft. If you prefer a healthier option, you can use corn tortillas or whole-wheat tortillas.
How do you make whole wheat tortillas? Use a mixture of 2 ½ cups (283 grams) whole wheat flour and ½ cup all-purpose flour (60 grams). Other ingredients are the same.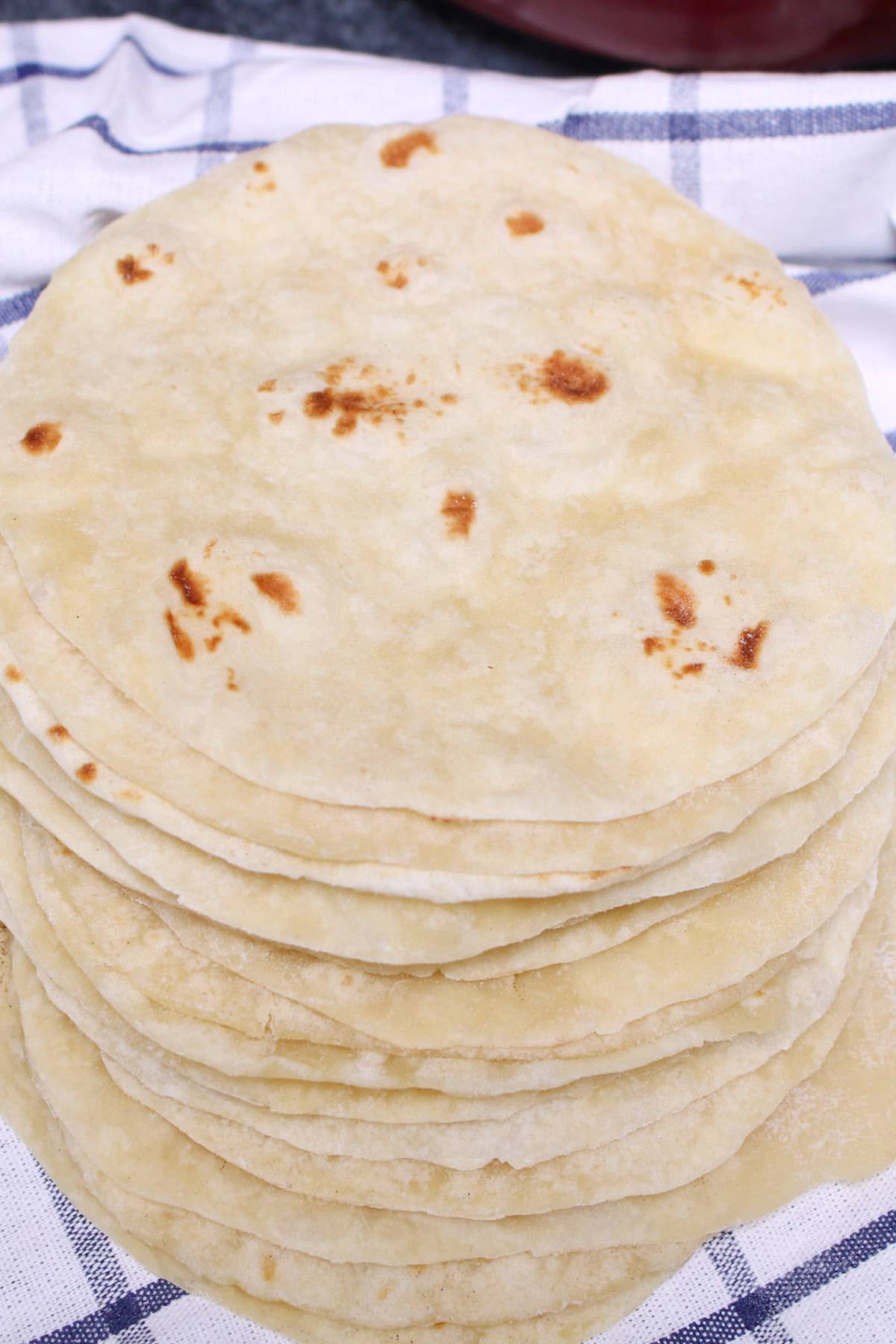 How long do flour tortillas last? Fresh tortillas go stale quickly, so it's best to use them the same day. Homemade tortillas last for up to 12 hours at room temperature. Store in an airtight container in the fridge for 1 week or in the freezer for up to 6 months.
Flour Tortillas Video Tutorial
Homemade Flour Tortillas
Homemade Flour Tortillas are soft, tender and fluffy! Make this Mexican flatbread with 5 simple ingredients, either by hand or using a stand mixer.
Ingredients
3 cups all-purpose flour, (360g, 13 oz)
1 teaspoon baking powder, (4g)
1 teaspoon salt, (6g)
1/3 cup vegetable oil, (79ml) or olive oil, shortening, or lard
1 cup hot water, (237ml) not boiling water
Instructions
Prepare the dough: In a large mixing bowl combine flour, salt and baking powder. (See notes below if you use a stand mixer)

Add the oil and stir until the mixture resembles coarse crumbs. It's easier to rub with your fingers until crumbly.

Pour in hot water and stir to combine (Make sure the water is hot but not boiling).

Transfer the dough to a well-floured work surface. With lightly floured hands, knead for 3-5 minutes to make a soft dough (for a visual, watch the video above!)

After kneading, the dough can still feel a little sticky. Poke it with your finger: if it slowly bounces back, your dough is ready for the next step. If not, keep kneading.

Divide the dough: Divide it into 16 portions and roll each one into a small round and smooth ball.

Let them Rest: Cover the balls with a clean kitchen towel and let them rest for about 15 minutes (or up to one hour).

Roll out the Dough: Place a small ball on a well-floured surface, flatten it with the palm of your hand.

Using a lightly floured rolling pin, roll each piece into a circle about 6 inches (16cm) in diameter or until very thin. Roll from the center outwards then rotate 90 degrees and repeat, dusting with more flour if sticky.

Place a piece of parchment between each uncooked tortilla, as stacking may cause them to stick or become soggy.

Cook the Tortillas: Place a cast-iron skillet on medium-high heat. When hot, transfer one uncooked tortilla to the skillet. (Shake off any excess flour before cooking and wipe away any flour that accumulates in the skillet in between batches.)

Cook for 30-60 seconds or until bubbles start to form on the surface. Flip and cook the other side for 30-60 seconds more. Note: you should see golden brown spots on the other side.

Adjust the Heat: If it takes longer for you to see bubbles or brown spots, increase the heat accordingly. If you see dark spots, you will need to lower the heat.

Remove the cooked tortillas from pan and serve warm!
Notes
How to Keep Tortillas Warm? Place them in a pot lined with a towel, and cover with the lid. Steam from the hot tortillas will keep them soft and tender.
Make Ahead Instructions: Let them cool completely, and then separate each tortilla with parchment paper. Place the whole stack in a ziptop bag. Seal them completely as they will dry out when exposed to air. They can last for about 1 week in the fridge or up to 6 months in the freezer.
How long do flour tortillas last? Fresh tortillas become stale quickly and it's best to use them the same day. Homemade tortillas are ok at room temperature for about 12 hours.  They can be stored in an airtight container in the refrigerator for 1 week and up to 6 months in the freezer.
Prepare the Dough Using a Stand Mixer: Combine flour, salt and baking powder in the bowl of your stand mixer fitted with a dough cook. Add oil and hot water. Beat on medium speed for about 2 minutes. After the dough starts to come together into a ball, reduce the speed to low and continue beating for another minute or so until the dough is smooth.
Nutrition Facts
Homemade Flour Tortillas
Amount Per Serving
Calories 125 Calories from Fat 45
% Daily Value*
Fat 5g8%
Saturated Fat 4g20%
Sodium 146mg6%
Potassium 50mg1%
Carbohydrates 18g6%
Fiber 1g4%
Sugar 1g1%
Protein 2g4%
Calcium 14mg1%
Iron 1mg6%
* Percent Daily Values are based on a 2000 calorie diet.
Please read our nutrition disclaimer.
© TIPBUZZ. Images and text on this website are copyright protected. Please do not post or republish without permission. If you want to republish this recipe, please link back to this post. This post may contain affiliate links. Read the disclosure policy here.