Bacon Covered Crunchwraps
Don't we all love brunch, and isn't everything better with bacon? We love to linger with friends on lazy Sundays while avoiding restaurant crowds. It's time to bring brunch home with these awe-inspiring Bacon Covered Crunchwraps! While this post is sponsored by Smithfield, all opinions and views expressed here are those of TipBuzz.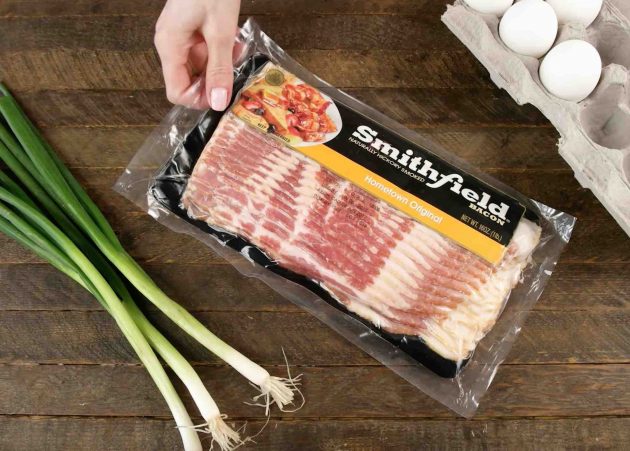 For the uninitiated, crunchwraps are tortillas wrapped five times into a bundle that's crispy on the outside and soft on the inside, hence the name crunch! They were invented about ten years ago and have been a sensation for all their yumminess!
Here we are elevating the crunchwrap to a new level for brunch! We filled the inside with eggs, cheese and minced green onion. Then we wrapped it in Smithfield Hometown Original Bacon for a burst of hickory-smoked bacon goodness and an extra crispy bite. Totes legendary!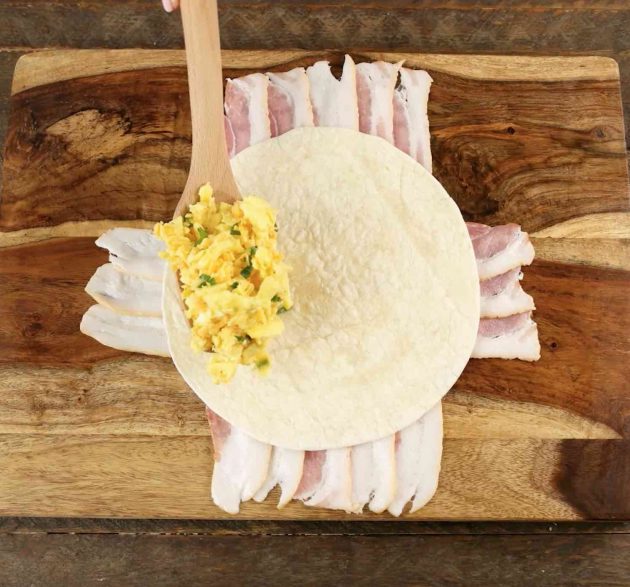 Smithfield is the bacon kings in our humble opinion. They have the hickory-smoked Hometown Original we've used here as well as Cherrywood Thick Cut. The flavor is amazing and always get people around the table.
How to make them? You don't need any special equipment, just a mixing bowl and a baking dish or sheet. And they only need 15 minutes of prep before going into the oven.
The aroma of bacon wafting out of your oven will definitely whet everyone's appetite… If you don't want to use the oven, you can fry them in a large frying pan over medium heat. Just put a lid on to keep it clean and cook evenly.
To assemble them, start by laying down strips of bacon on a work surface, followed by a flour tortilla. Then you add the cheesy egg mixture, wrap up the tortilla, and finally fold up the bacon to make a package.
These crunchwraps go great with almost everything you'd ever want for brunch. You could serve them with hash browns, fresh fruit, a salad. Add in some coffee, tea and fresh juice and you'll have a complete meal fit for royalty.
Plan on two servings per crunchwrap, so you might want to double the recipe if you're feeding a crowd. Trust us, there won't be leftovers no matter how many you make 🙂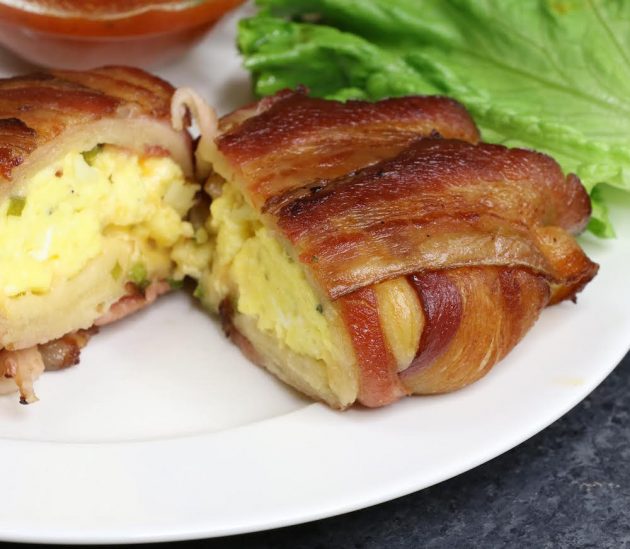 All it takes is one glance at these crunchwraps to produce a serious drool alert! We like to bring them to the table whole out of the oven, and cut them into halves to serve. Everyone loves the drama of discovering the yummy filling inside… This is what brunch was meant to be!
If you have family or friends around, they'll have fun helping you make them too! After all, the best thing about brunch after all is spending quality time with the people you care about. Happy brunching!
Watch our video tutorial to see how to make them. This is a sponsored video by TipBuzz on behalf of Smithfield.

Bacon-covered Crunchwraps
A new brunch idea with scrambled eggs inside a tortilla crunchwrap, covered in bacon and baked to perfection
Ingredients
8 large eggs, scrambled
1 tbsp oil for frying
1 1/2 cup grated cheddar cheese
1-2 Green Onions, minced fine
salt and pepper to taste
2 flour tortillas 10-11" size
2 lbs Smithfield bacon
Guacamole and/or salsa for serving
Instructions
Preheat oven to 400°F. Set aside a 9x13 inch baking dish or baking sheet.

On a work surface, lay 4-5 strips of bacon vertically side by side. Then lay another 3 strips on top horizontally. Lay tortilla centered on top of bacon strips.

Scramble eggs until fluffy in a frying pan. In a medium bowl, add scrambled eggs, cheese, minced green onion, salt and pepper and mix together.

Add about 1-1/2 cups of egg mixture to middle. Then fold up edges to make a crunchwrap. Then fold bacon around the outside of the tortilla to make a package.

Repeat previous steps for additional crunchwraps. Then set into prepared baking dish.

Bake for 15 minutes until golden and crispy, then turn over and bake another 15 minutes. Slice in half to serve and enjoy!
Nutrition Facts
Bacon-covered Crunchwraps
Amount per Serving
% Daily Value*
* Percent Daily Values are based on a 2000 calorie diet.
Please read our nutrition disclaimer.
This is a sponsored post written by TipBuzz on behalf of Smithfield.
© TIPBUZZ. Images and text on this website are copyright protected. Please do not post or republish without permission. If you want to republish this recipe, please link back to this post. This post may contain affiliate links. Read the disclosure policy here.