Strawberry Cheesecake Chimichangas
These Strawberry Cheesecake Chimichangas are crispy on the outside and creamy inside with fresh strawberry flavors. This Tex Mex favorite is easy to make for Cinco de Mayo and other celebrations!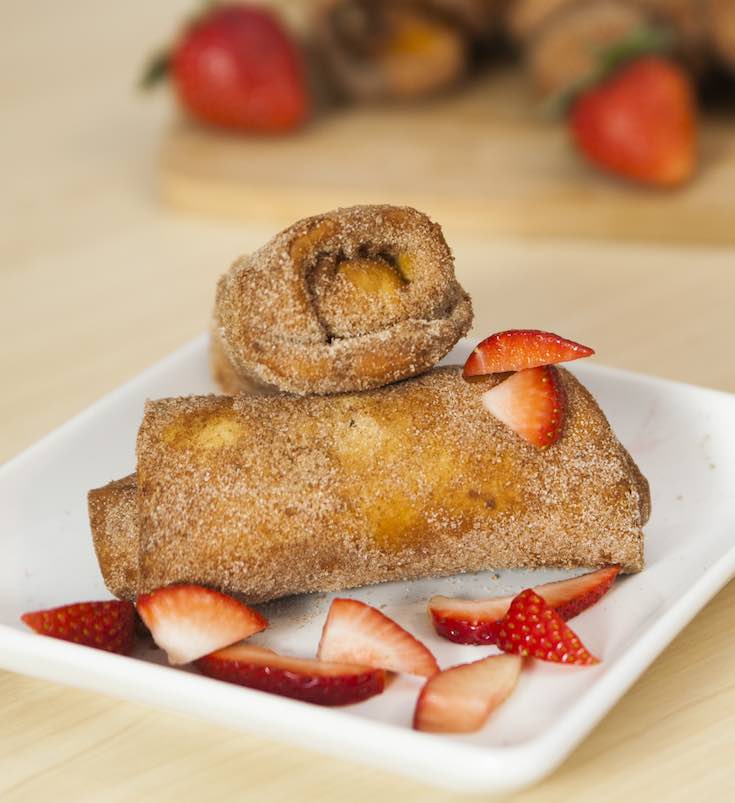 These Strawberry Cheesecake Chimichangas are perfect for a celebration, whether it's a party, birthday or holiday. They contain homemade cheesecake and sliced strawberries wrapped in a flour tortilla and deep fried to crispy perfection.
Chimichangas come from Mexico and the southwestern U.S., sometimes being called a deep fried burrito. While they were originally savory dishes, Tex Mex cuisine later made a dessert variation like this one.
How to Make Strawberry Cheesecake Chimichangas
Preparation is really quick and easy. Just combine fresh strawberries with cheesecake filling, stuff it into a tortilla and deep fry!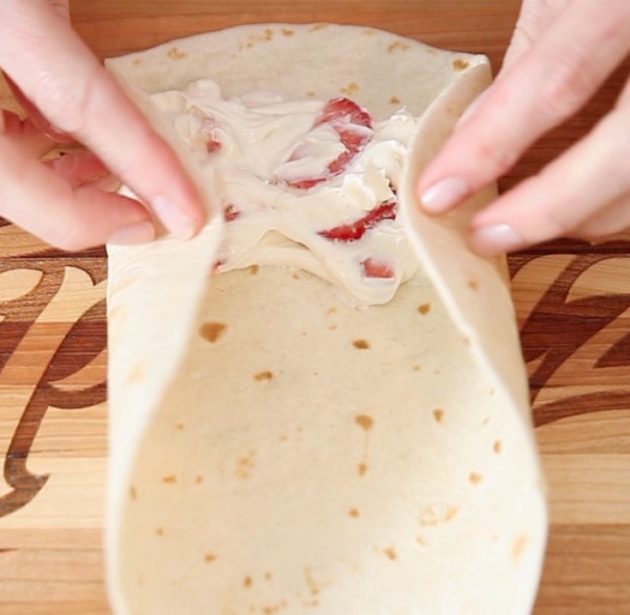 Use a toothpick to hold the package together like a safety pin). When the oil is up to temperature, use kitchen tongs to place one chimichanga into the deep fryer.
Let it cook for 3-4 minutes, turning occasionally for even browning. Then remove to a paper towel lined plate and repeat for the remaining chimichangas.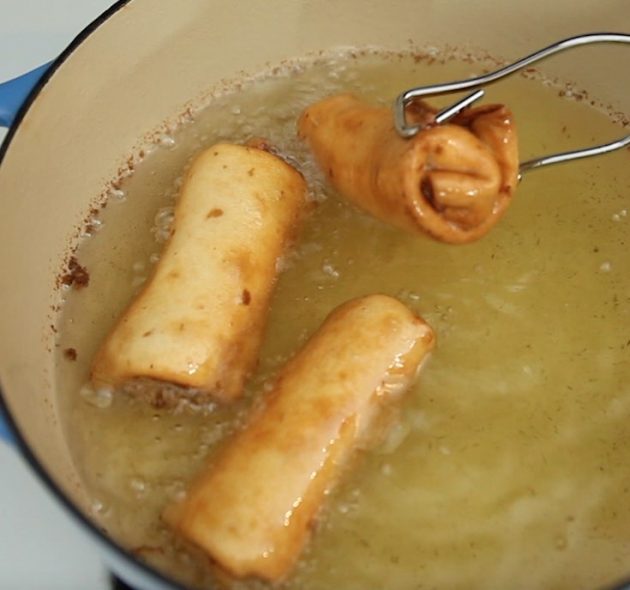 After frying, roll each chimichanga in cinnamon sugar to coat and serve warm!
Watch Recipe Video
This tutorial shows how to make strawberry cheesecake chimichangas:
[wprm-recipe-maker]
More cheesecake recipes:
Strawberry Cheesecake Chimichangas
Strawberry Cheesecake Chimichangas combine a homemade creamy cheesecake filling with strawberries wrapped inside a flour tortilla before being fried to crispy perfection.
Ingredients
1 quart vegetable oil, for frying
8 oz cream cheese, softened
1/4 cup sour cream
1 tbsp sugar
1/2 tsp lemon zest
1 tsp vanilla extract
2 cups sliced strawberries
6 flour tortillas, 8-inch size
1/2 cup cinnamon sugar, 1/2 cup sugar+2 teaspoons cinnamon
Instructions
Preheat 2-3 inches of oil to 350°F in a saucepan or deep fryer. Line a large plate with paper towel and set aside.

In a medium bowl, add cream cheese, sour cream, sugar, lemon zest and vanilla. Beat until smooth and then fold in the sliced strawberries.

Lay a flour tortilla on a work surface. Spread a large spoonful of cheesecake filling onto the lower third of the tortilla. Roll up the tortilla as if it were a burrito, tucking in the edges. Then seal with a toothpick to hold it all together. Repeat for remaining five tortillas.

Using kitchen tongs, carefully place one chimichanga into the hot oil. Deep fry for 3-4 minutes until golden, turning occasionally for even browning. Remove to the prepared plate and repeat for the remaining chimichangas.

Add the cinnamon sugar to a plate. Then roll each chimichanga in it to coat before serving.
Notes
Make Ahead: You can make them up to one day ahead and store in an airtight container in the fridge. Do not freeze.
Nutrition Facts
Strawberry Cheesecake Chimichangas
Amount per Serving
% Daily Value*
* Percent Daily Values are based on a 2000 calorie diet.
Please read our nutrition disclaimer.
Recipe tools:
Editor note: Published May 19, 2016 and updated Oct 13, 2018

© TIPBUZZ. Images and text on this website are copyright protected. Please do not post or republish without permission. If you want to republish this recipe, please link back to this post. This post may contain affiliate links. Read the disclosure policy here.