Crock Pot Cube Steak with Gravy
This Crock Pot Cube Steak is tender and succulent with a rich mushroom sauce. It's easy to make in the slow cooker and serve with mashed potatoes and green vegetables on the side. Smothered with a thick gravy, this cubed steak is the perfect homestyle dinner!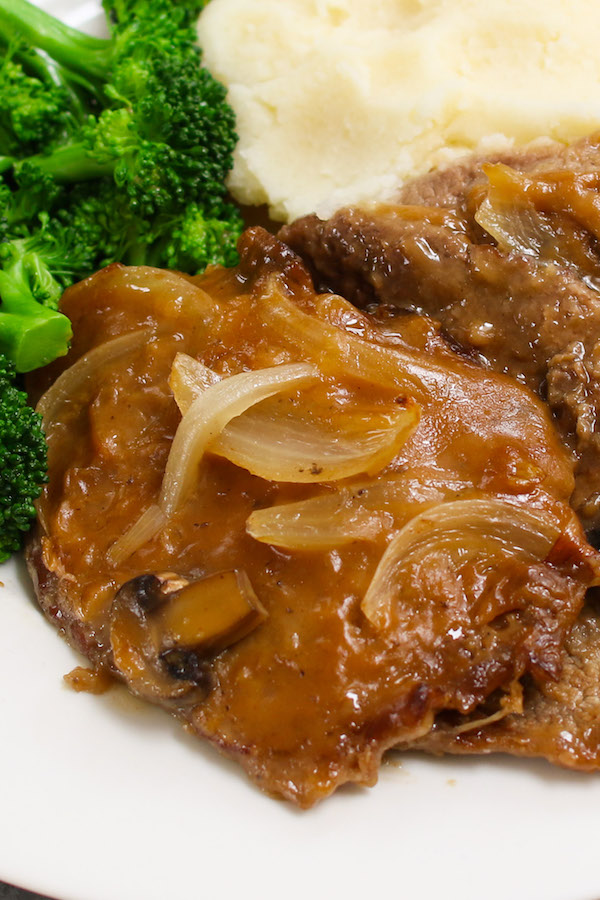 When it comes to cube steak, the crock pot is an ideal way to cook this tough cut of meat. It only takes a few minutes of prep before the slow cooker works its magic.
Braising cubed steak in a slow cooker tenderizes the meat while letting it absorb the sauce's flavors during the long cooking process.
To elevate this dish, try breading and pan-frying the cubed steak before adding it to the crock-pot, as this quick step adds flavor and crispness to the meat. Also make sure to thicken the sauce to get a decadent gravy, and drizzle over mashed potatoes to soak up all the yummy flavors.
Serve it with side dishes such as boiled broccoli or corn for a guaranteed hit at meal-time!
What is Cube Steak?
Cube steak is sirloin or top round steak that's been tenderized by pounding with a meat tenderizer. This process helps to tenderize and flatten the tough cut of meat, while leaving small cube-shaped indentations, hence the name!
Cubed steak is sometimes labeled as "minute steak" or "fast fry steak" in supermarkets and is usually a budget-friendly meat option. All these types of steaks are tenderized and thin, but still tough. I've tested different cooking methods and slow cooking is one of my favorites!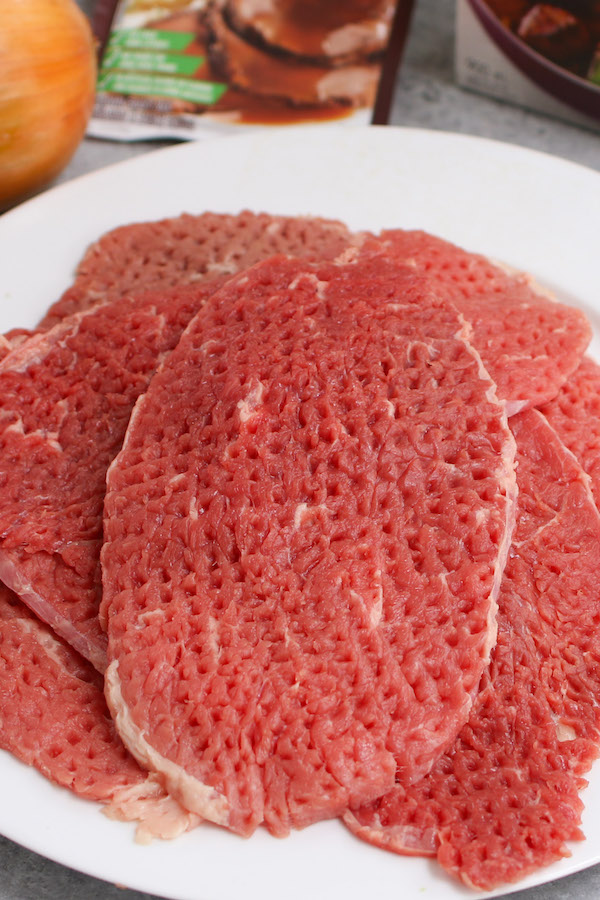 Please note that cube steaks may shrink up to half their original size during cooking, so keep that in mind while shopping. This recipe calls for 8 raw cube steaks to serve 4 people as a main dish.
Ingredients You'll Need
Cube Steak: It's an affordable cut but tough naturally
Olive Oil: You can also use other types of oil
Flour: It's used to coat the cube steak before cooking it.
Cream of Mushroom Soup: It's canned soup that is made from a blend of mushrooms, cream, and other ingredients. It is commonly used as a base for sauces and casseroles.
Onion Soup Mix: It's a blend of dehydrated onions, herbs, and spices that is used to add flavor to soups, stews, and other dishes. In this recipe, it is used to season the dish and add a savory flavor to the gravy.
Brown Gravy Mix: This is a pre-packaged blend of flour, salt, and various seasonings that is used to make gravy quickly and easily. In this recipe, it is used to thicken the gravy and add flavor.
Beef Stock: We recommend using low-sodium version.
Thyme: It has a strong, earthy flavor. It is often used in meat dishes, stews, and soups to add flavor and aroma.
Onions: They are used in cooking due to its pungent flavor and ability to add depth and complexity to dishes. In this recipe, onions are used to add flavor and texture to the dish.
Button Mushrooms: They have a mild, earthy flavor and a meaty texture.. In this recipe, button mushrooms are used to add flavor and texture to the dish.
Cornstarch and Water: for thickening the gravy.
How to Make Crock Pot Cube Steak
Braising in a slow cooker is the method of choice for cooking cube steaks, since they're less tender cuts. The slow cooker creates a moist and consistent temperature that allows the ingredients to tenderize. The onions and mushroom also cook gently in the delicious braising liquid, adding extra flavor to the dish.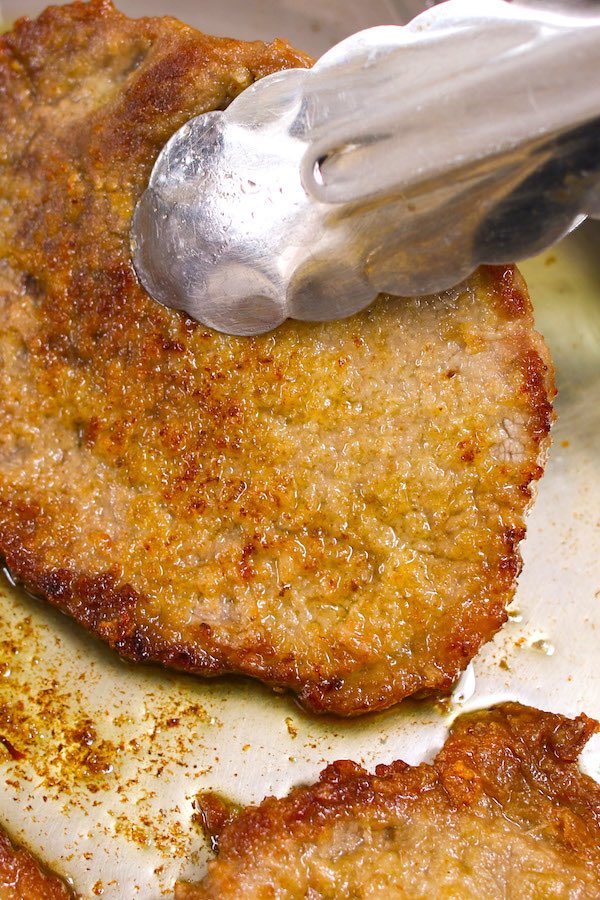 The end result is tender and flavorful steaks that melt in your mouth! You have to braise your steak with a small amount of liquid to keep it from drying out.
How Long Does it Take to Cook Cube Steak in a Slow Cooker?
Cooking cube steak in a slow cooker can take anywhere from 6 to 8 hours on a Low setting or 3 to 4 hours on a High setting.
Mushroom Sauce and Gravy
The best part of this recipe is that the sauce is so easy to make. You'll need the following ingredients for the sauce:
Dry onion soup mix
Cream of mushroom soup
Gravy packet
Beef stock
Thyme
All you need to do is mix together and pour over the steaks. The mixture cooks gently in the crock pot to form a mouthwatering sauce!
To make the sauce into a gravy, simply add a cornstarch slurry (a cornstarch and water mixture), which will absorb the liquid and gelatinize into a nice and thick gravy.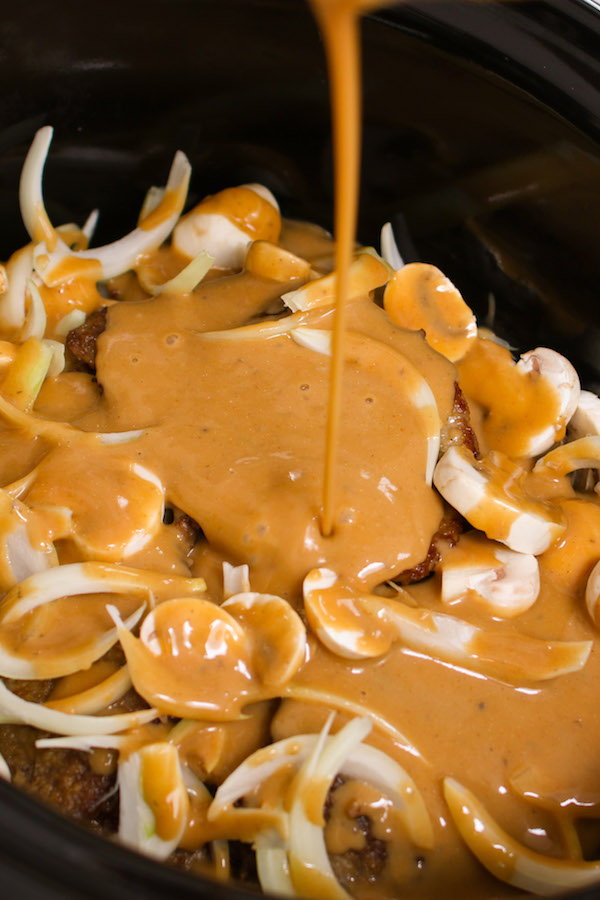 Tips for Making the Best Crock Pot Cube Steak
Look for thin cuts of top round, bottom round and sirloin tip. Sometimes meat counters will also label them as "minute steak".
Brown the meat briefly in a skillet before adding it to the crock pot for extra flavor.
Add sliced onions, carrots and/or celery for added flavor and nutrition.
Use a low setting on your crock pot for maximum tenderness.
Thicken the gravy after cooking using a cornstarch slurry. That way the gravy will coat the meat for dining enjoyment.
While there are many possible sides, mashed potatoes, cauliflower rice, steamed rice and noodles are all great options for soaking up the sauce.
What to Serve with Cube Steak
Cube steak pairs beautifully with mashed potatoes, steamed rice (or cauliflower rice) or pasta. Side dishes to consider include carrots, corn on the cob, broccoli, mushrooms and more. Another option is a crisp green salad!
How to Store Leftover Slow Cooker Cube Steak
Once the cube steak has reached room temperature, it can be stored in an airtight container in the fridge for up to 3 days or frozen for up to 3 months.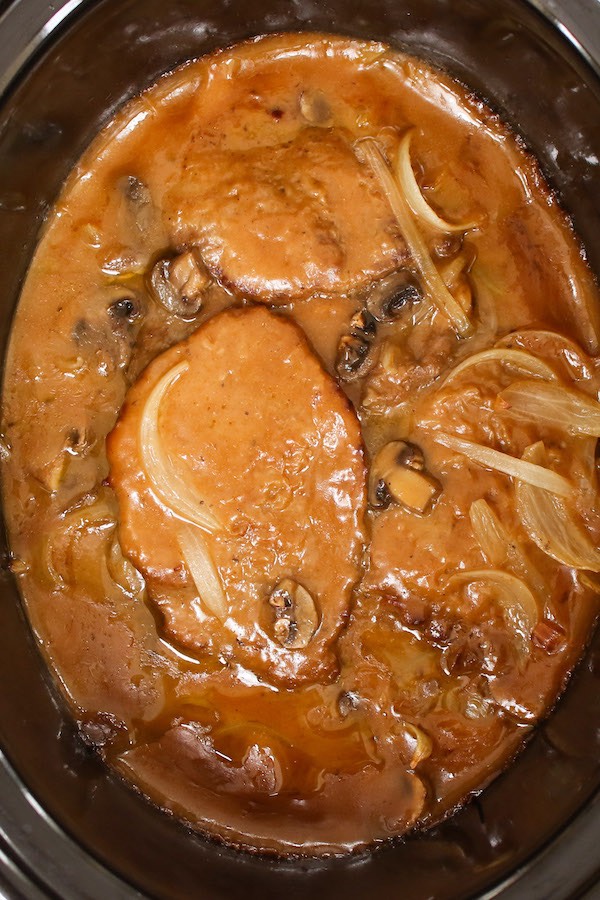 FAQ
Can I Put Raw Cube Steak in a Slow Cooker?
You can put raw cube steak in a slow cooker, although flavor will be enhanced by brief pan-searing beforehand for browning purposes.
Can I Use Frozen Cube Steak in the Crock Pot?
Yes, you can use frozen cube steak in a crockpot. The USDA generally discourages this practice for larger cuts, but cube steak is thin and thaws quickly. Simply substitute frozen cube steak and proceed according to the recipe directions.
How to Thicken Gravy for Crock Pot Cube Steak
A cornstarch slurry is an ideal way to thicken gravy for cube steak. If you don't have any cornstarch on hand, you can substitute flour (instant-blending flour is ideal) to make a roux.

Failing that, a gravy mix is a fallback option. Simply follow the package directions. Note that you may need to use less salt than the recipe calls for, as packaged gravies tend to be quite salty on their own.
Will Cooking Cube Steak Longer Make It Tender?
Cooking cube steak longer will not necessarily make it tender, as it's quite thin and prone to losing moisture. Best to stick with braising methods and not to exceed the recommended cooking time.
Can I Make Cube Steak in An Instant Pot?
You can successfully make cube steak in an Instant Pot, although it's usually less tender than in a crock pot. Cook on manual at high for 20 minutes with a natural pressure release.
More Round Steaks You May Like:
Crock Pot Cube Steak with Gravy
Crock Pot Cube Steak and Gravy made with tender and succulent cubed steak smothered in a rich and divine mushroom sauce in a slow cooker.
Ingredients
8 pieces cube steak , about 2-3 pounds
2 tablespoon olive oil
1 cup flour
1 can cream of mushroom soup
2 oz onion soup mix, 1 packet
1 oz brown gravy mix, 1 packet
1 cup beef stock
2 teaspoon thyme
1 onion, sliced
2 cups button mushrooms, sliced
1 tablespoon cornstarch
1 tablespoon water
Instructions
Heat a large skillet over medium-high heat, once hot add olive oil.

Dredge the cube steak through flour and add to the hot oil, cook until skin is golden in color, about 5 minutes (Cook in batches and don't overcrowd your pan)

Add half of onion slices and mushroom slices in the bottom of the crockpot, and then add the fried cube steaks on top. Add the rest of onion and mushroom on top of the steaks.

In a medium-sized bowl whisk together cream of mushroom soup, onion soup mix, gravy packet, beef stock and thyme, add to slow cooker

Cover and cook 2 to 4 hours on high setting or 4 to 6 hours on low setting, until the steak is cooked through and tender

Transfer the steak and vegetables to serving plates

If the sauce is not thick enough, mix 1 tablespoon cornstarch and 1 tablespoon water and pour into the sauce. Cook 10 to 15 minutes to thicken the sauce into gravy.

Serve with mashed potatoes and broccoli
Notes
If you like a smoother gravy, you can pour the sauce through a strainer before adding the cornstarch and water mixture.
Nutrition Facts
Crock Pot Cube Steak with Gravy
Amount per Serving
% Daily Value*
* Percent Daily Values are based on a 2000 calorie diet.
Please read our nutrition disclaimer.

© TIPBUZZ. Images and text on this website are copyright protected. Please do not post or republish without permission. If you want to republish this recipe, please link back to this post. This post may contain affiliate links. Read the disclosure policy here.