Crock Pot Cube Steak with Gravy
Crock Pot Cube Steak with Gravy is tender and succulent cubed steak smothered with a rich mushroom sauce. It's easy to make in the slow cooker and serve with mashed potatoes and green vegetables on the side. Drizzle the thick and flavorful gravy on top for the perfect home-style dinner!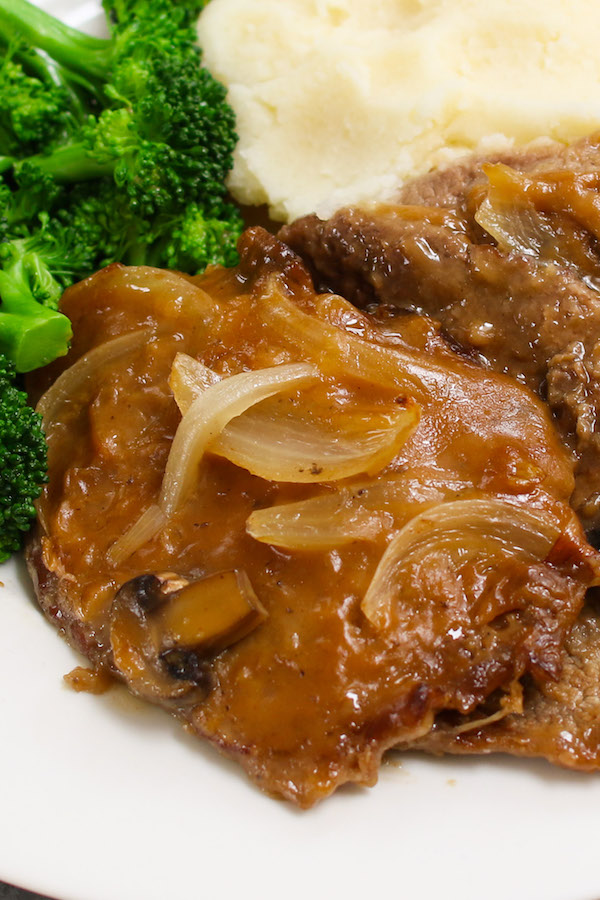 Crock pot cube steak is one of the best ways to cook this tough cut of meat. It only takes a few minutes of prep time before simmering all day for a succulent and comforting dinner! Braising cubed steak in a slow cooker tenderizes the meat while letting it absorb the sauce's flavors during the long cooking process.
To elevate this dish, try breading and pan-frying the cubed steak before adding it to the crock-pot, as this quick step adds flavor and crispness to the meat. Also make sure to thicken the sauce to get a decadent gravy, and drizzle over mashed potatoes to soak up all the yummy flavors.
Serve it with side dishes such as boiled broccoli or corn for a guaranteed hit at meal-time!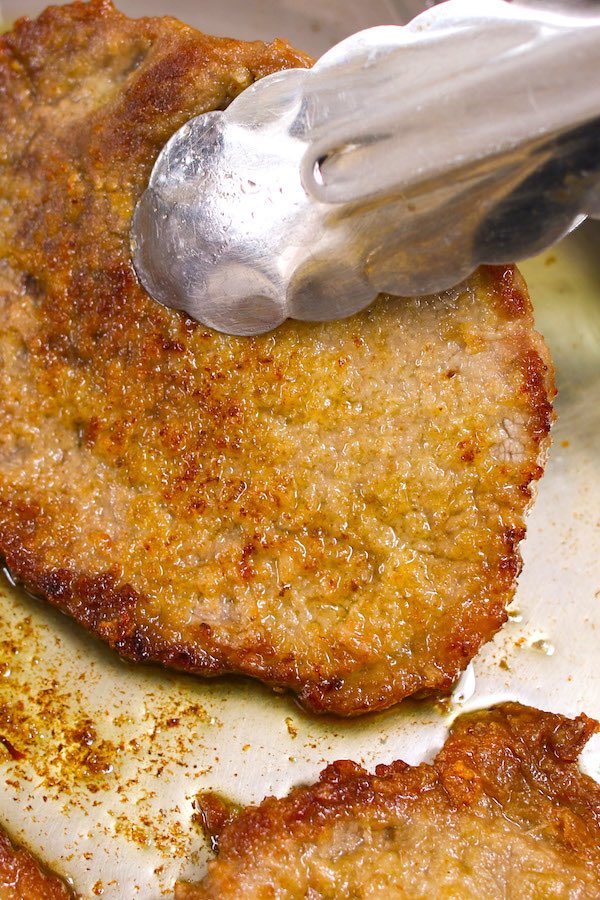 WHAT IS CUBE STEAK?
Cube steak is sirloin or top round steak that's been tenderized by pounding with a meat tenderizer. This process helps to tenderize and flatten the tough cut of meat, while leaving small cube-shaped indentations, hence the name!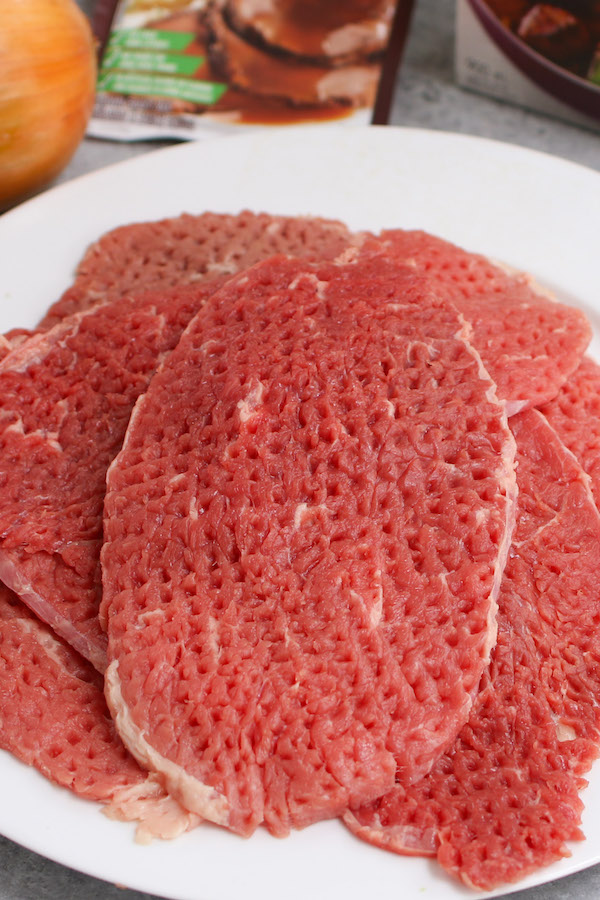 Cubed steak is sometimes labeled as "minute steak" or "fast fry steak" in supermarkets and is usually a budget-friendly meat option. All these types of steaks are tenderized and thin, but still tough. I've tested different cooking methods and slow cooking is one of my favorites!
Please note that cube steaks may shrink up to half their original size during cooking, so keep that in mind while shopping. This recipe calls for 8 raw cube steaks to serve 4 people as a main dish.
Mushroom Sauce and Gravy
The best part of this recipe is that the sauce is so easy to make. You'll need the following ingredients for the sauce:
Dry onion soup mix
Cream of mushroom soup
Gravy packet
Beef stock
Thyme
All you need to do is mix together and pour over the steaks. The mixture cooks gently in the crock pot to form a mouthwatering sauce!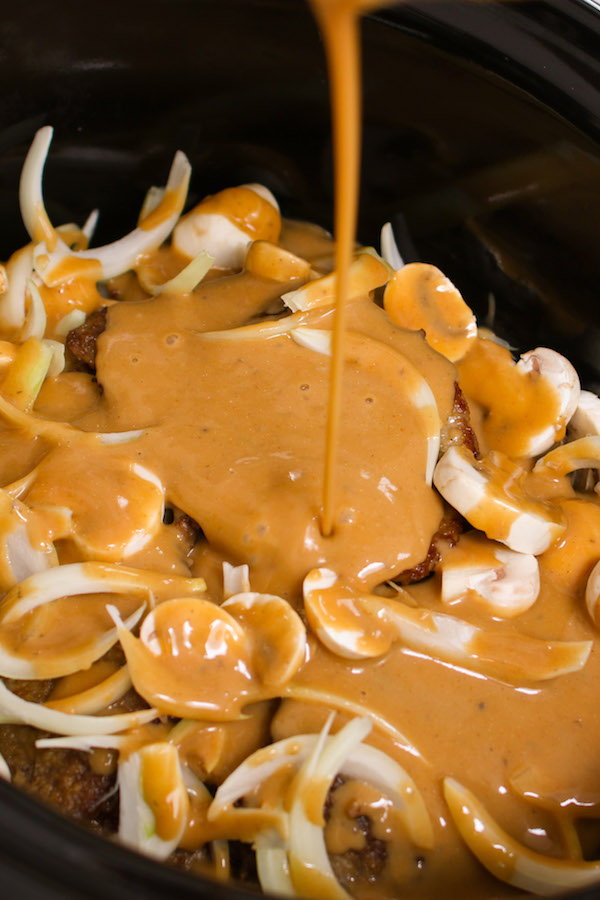 To make the sauce into a gravy, simply add a cornstarch slurry (a cornstarch and water mixture), which will absorb the liquid and gelatinize into a nice and thick gravy.
BRAISING STEAK IN THE SLOW COOKER
Braising in a slow cooker is the method of choice for cooking cube steaks, since they're less tender cuts. The slow cooker creates a moist and consistent temperature that allows the ingredients to tenderize. The onions and mushroom also cook gently in the delicious braising liquid, adding extra flavor to the dish.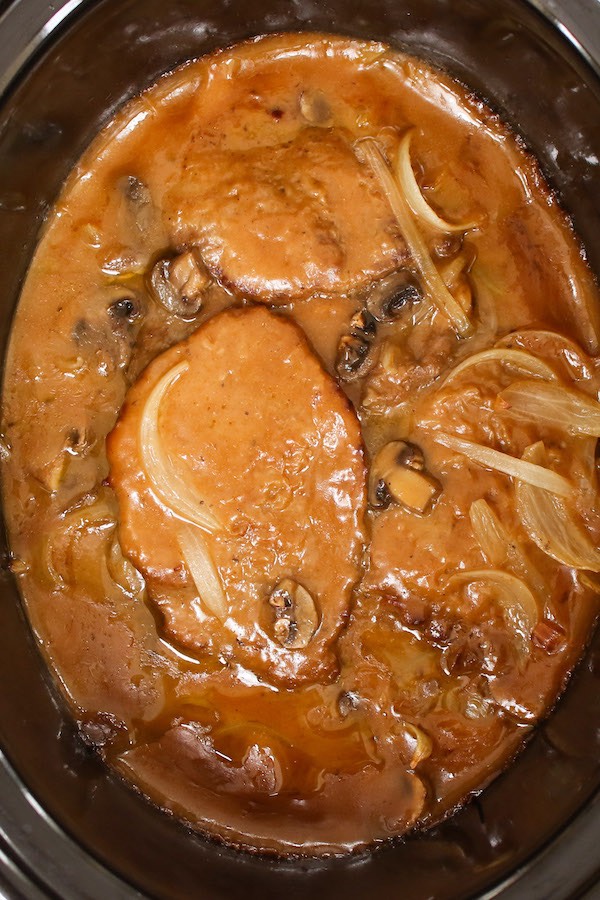 The end result is tender and flavorful steaks that melt in your mouth! You have to braise your steak with a small amount of liquid to keep it from drying out.
Crock Pot Cube Steak with Gravy
Crock Pot Cube Steak and Gravy made with tender and succulent cubed steak smothered in a rich and divine mushroom sauce in a slow cooker.
Ingredients
8 pieces cube steak , about 2-3 pounds
2 tablespoon olive oil
1 cup flour
1 can cream of mushroom soup
2 oz onion soup mix, 1 packet
1 oz brown gravy mix, 1 packet
1 cup beef stock
2 teaspoon thyme
1 onion, sliced
2 cups button mushrooms, sliced
1 tablespoon cornstarch
1 tablespoon water
Instructions
Heat a large skillet over medium-high heat, once hot add olive oil.

Dredge the cube steak through flour and add to the hot oil, cook until skin is golden in color, about 5 minutes (Cook in batches and don't overcrowd your pan)

Add half of onion slices and mushroom slices in the bottom of the crockpot, and then add the fried cube steaks on top. Add the rest of onion and mushroom on top of the steaks.

In a medium-sized bowl whisk together cream of mushroom soup, onion soup mix, gravy packet, beef stock and thyme, add to slow cooker

Cover and cook 2 to 4 hours on high setting or 4 to 6 hours on low setting, until the steak is cooked through and tender

Transfer the steak and vegetables to serving plates

If the sauce is not thick enough, mix 1 tablespoon cornstarch and 1 tablespoon water and pour into the sauce. Cook 10 to 15 minutes to thicken the sauce into gravy.

Serve with mashed potatoes and broccoli
Notes
If you like a smoother gravy, you can pour the sauce through a strainer before adding the cornstarch and water mixture.
Nutrition Facts
Crock Pot Cube Steak with Gravy
Amount per Serving
% Daily Value*
* Percent Daily Values are based on a 2000 calorie diet.
Please read our nutrition disclaimer.
EQUIPMENT TO MAKE CROCK POT CUBE STEAK:
More Steak Recipes:
View all steak recipes
© TIPBUZZ. Images and text on this website are copyright protected. Please do not post or republish without permission. If you want to republish this recipe, please link back to this post. This post may contain affiliate links. Read the disclosure policy here.