How to Make Chicken Fajitas
These Chicken Fajitas are an easy dinner with tender chicken breasts, bell peppers and sweet onions tossed in homemade seasonings and piled high on tortillas! Serve with your favorite toppings like sour cream, salsa, guacamole or cheese.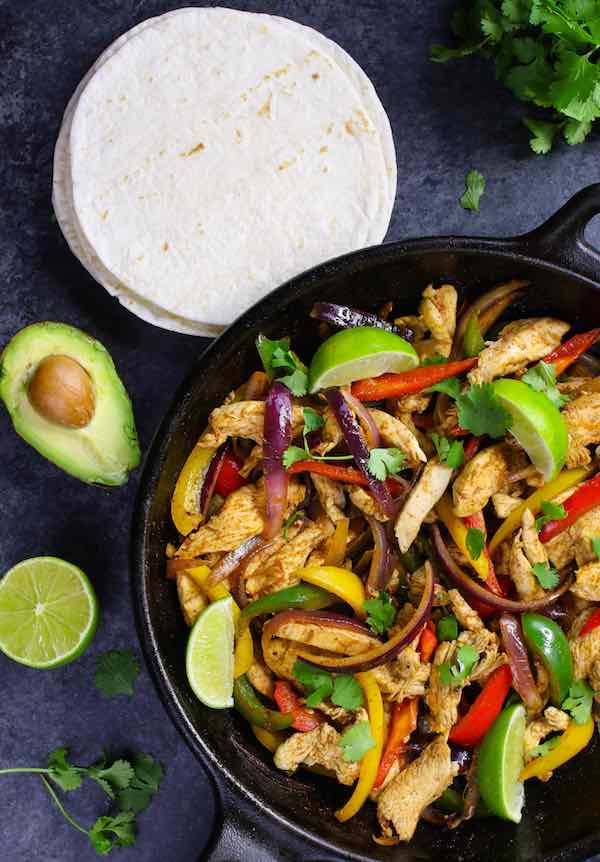 Fajitas are one of our all-time favorite Mexican dishes. They're delicious and always popular, plus you can make them in just 20 minutes, including prep! We used a combination of red, yellow and green bell peppers for a colorful look.
These chicken fajitas are a healthy meal using lean chicken, fresh vegetables and homemade seasonings. You can also make them with whole-grain corn tortillas and lighter toppings such as crisp lettuce and sliced jalapeños.
Chicken Fajita Seasoning and Marinade
Knowing how to season chicken for fajitas is One of the secrets to this recipe is homemade fajita seasoning made with cumin, chili powder, garlic powder, paprika and cayenne as well as salt and pepper.
You can still use store-bought fajita seasoning packets to save time, but they usually have additives and tend to be salty too. Taco seasoning is another option when you can't find anything else.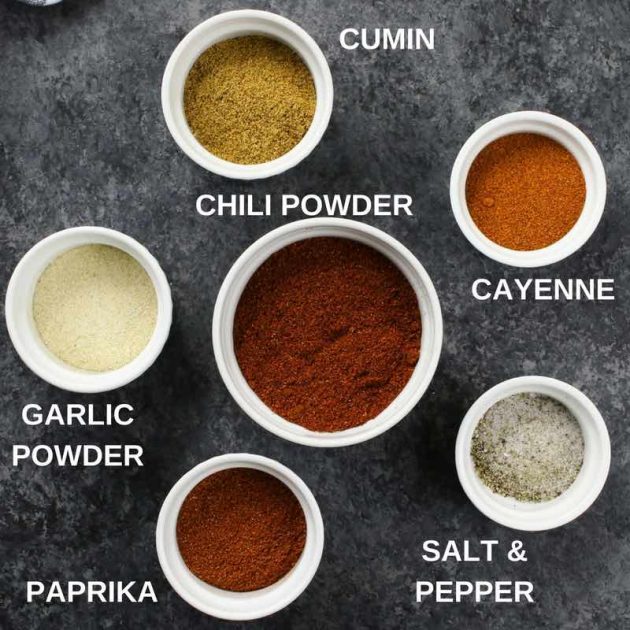 Chicken Fajita Marinade (Optional): For even more flavor, you can let the chicken slices marinate in fresh lime juice and olive oil for a few minutes while you prepare the other ingredients.
Chicken Fajita Recipe
You want to cook just long enough to get the chicken juicy and the bell peppers tender. Here are the steps for one pan chicken fajitas:
Make the seasoning mix.
Cut the chicken and veggies.
Cook in a skillet (or on the grill if you prefer)
Add to tortillas along with your favorite toppings
To ensure the chicken pieces get nicely browned, avoid crowding the pan and fry in batches if needed.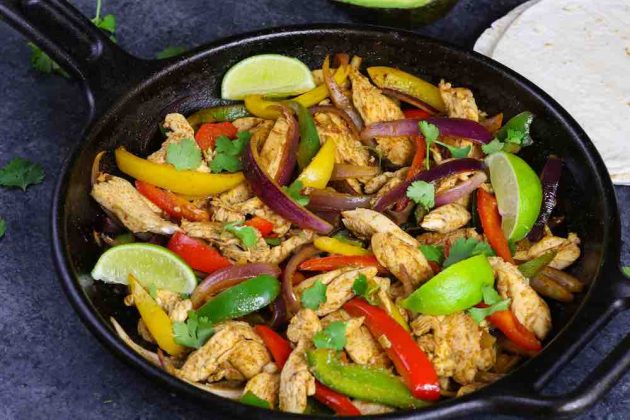 How to Cut Chicken for Fajitas
You want to cut the chicken breasts into thin strips for quick cooking, so they'll be less likely to dry out.
Slice your chicken breasts horizontally into 1/2-inch thick slabs. You may want to freeze the chicken for about 30 minutes beforehand, making it firmer and easier to slice.
Then slice the chicken against the grain into 1/2-inch strips. If you're using a marinade, add the chicken and marinade to a bowl, cover and refrigerate until cooking.
Watch Recipe Video
This short tutorial will show you exactly how to make chicken fajitas:
Serving Ideas
Traditional fajita toppings include salsa, sour cream and guacamole along with cheese, shredded lettuce and diced tomatoes. It's also fun to set up a fajita bar so people can assemble their own.
For sides, think about steamed rice, refried beans and corn on the cob! Don't forget the Margaritas for drinks too.
More fajita recipes: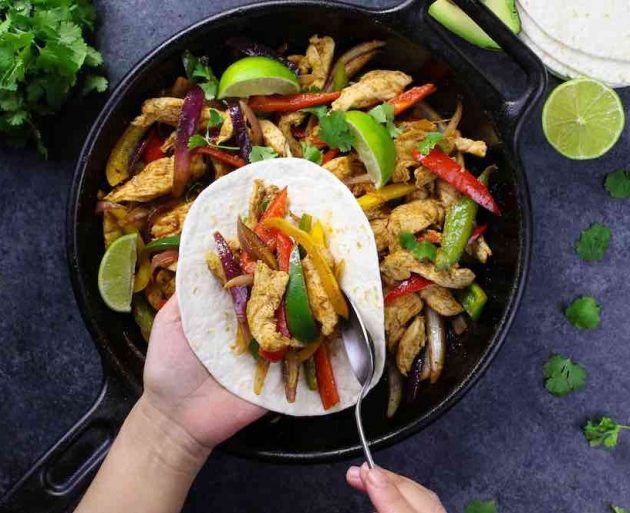 Easy Chicken Fajitas
These Easy Chicken Fajitas are an easy dinner with tender chicken breasts, bell peppers and sweet onions tossed in homemade seasonings and piled high on tortillas!
Ingredients
Fajitas
3 boneless skinless chicken breasts, about 1 1/2 pounds
3 bell peppers, red, orange, yellow or green (sliced thinly)
1 medium onion, sliced thinly
1 lime
3 tablespoons olive oil, divided
Fajita Seasoning
1 teaspoon cumin powder
1 teaspoon chili powder
1 teaspoon garlic powder, or minced garlic
1/2 teaspoon paprika
1/4 teaspoon cayenne, optional
salt, to taste
For serving
8-10 tortillas, flour or corn, 8-inch
cilantro, chopped (optional)
Instructions
In a small bowl, add the cumin powder, chili powder, garlic powder, paprika and cayenne. Stir and set aside.

Place the chicken on a work surface. Slice lengthwise horizontally into slabs about 1/2-inch to 3/4-inch thick. Then cut against the grain into thin strips. (Note: You can freeze the chicken breasts for 30 minutes for easier slicing.)

To a medium bowl, add the seasoning mixture, 2 tablespoons lime juice and 1 tablespoon of olive oil. Add the chicken strips and toss to coat. Cover and refrigerate for 15 minutes or up to 4 hours for extra flavor.

Place a large skillet or cast iron pan on medium-high heat. When the pan is hot, add the olive oil and half of the chicken. Sauté for 1-2 minutes until tender and lightly browned. Remove to a plate and cover with foil. Repeat for the remaining chicken.

Wipe the pan with a moist cloth. Then add 1 tablespoon oil plus the onions and bell peppers. Sauté undisturbed for 2 minutes. Then stir and cook for 2 minutes more, or until crisp tender.

Add the chicken back to the pan and stir to combine. Drizzle with droplets of fresh lime and some chopped cilantro if desired. Serve on warm tortillas with toppings.
Notes
Fajita Seasoning: You can also substitute 1 tablespoon of storebought fajita seasoning instead of using the homemade seasoning above.
Make Ahead: You can cut the chicken and vegetables up to one day ahead of time and store in resealable plastic bags in the fridge.
Warming Tortillas: You can quickly warm the tortillas by placing in a hot, dry skillet for 20-30 seconds per side. Alternatively, you can microwave them in stacks of 5 or heat in a 300°F oven. Note: To keep tortillas warm, wrap in a clean, damp towel or aluminum foil.
Toppings: Traditionally fajitas are served with lime juice and possibly some minced cilantro. Other possibilities are sour cream (or yogurt for a lighter option), salsa such as pico de gallo, guacamole, cheese (queso fresco, Jack or others), shredded lettuce, diced tomatoes and sliced jalapeños. 
Nutrition Facts
Easy Chicken Fajitas
Amount per Serving
% Daily Value*
* Percent Daily Values are based on a 2000 calorie diet.
Please read our nutrition disclaimer.
Recipe tools:
© TIPBUZZ. Images and text on this website are copyright protected. Please do not post or republish without permission. If you want to republish this recipe, please link back to this post. This post may contain affiliate links. Read the disclosure policy here.