Golden Kiwi
The Golden Kiwi is a modern cultivar with smooth skin and a sweeter taste than other varieties. Learn about its health benefits and how to cut it easily. You can eat this yellow kiwi with the skin on for a snack, or peel it to make smoothies, fruit salads or desserts!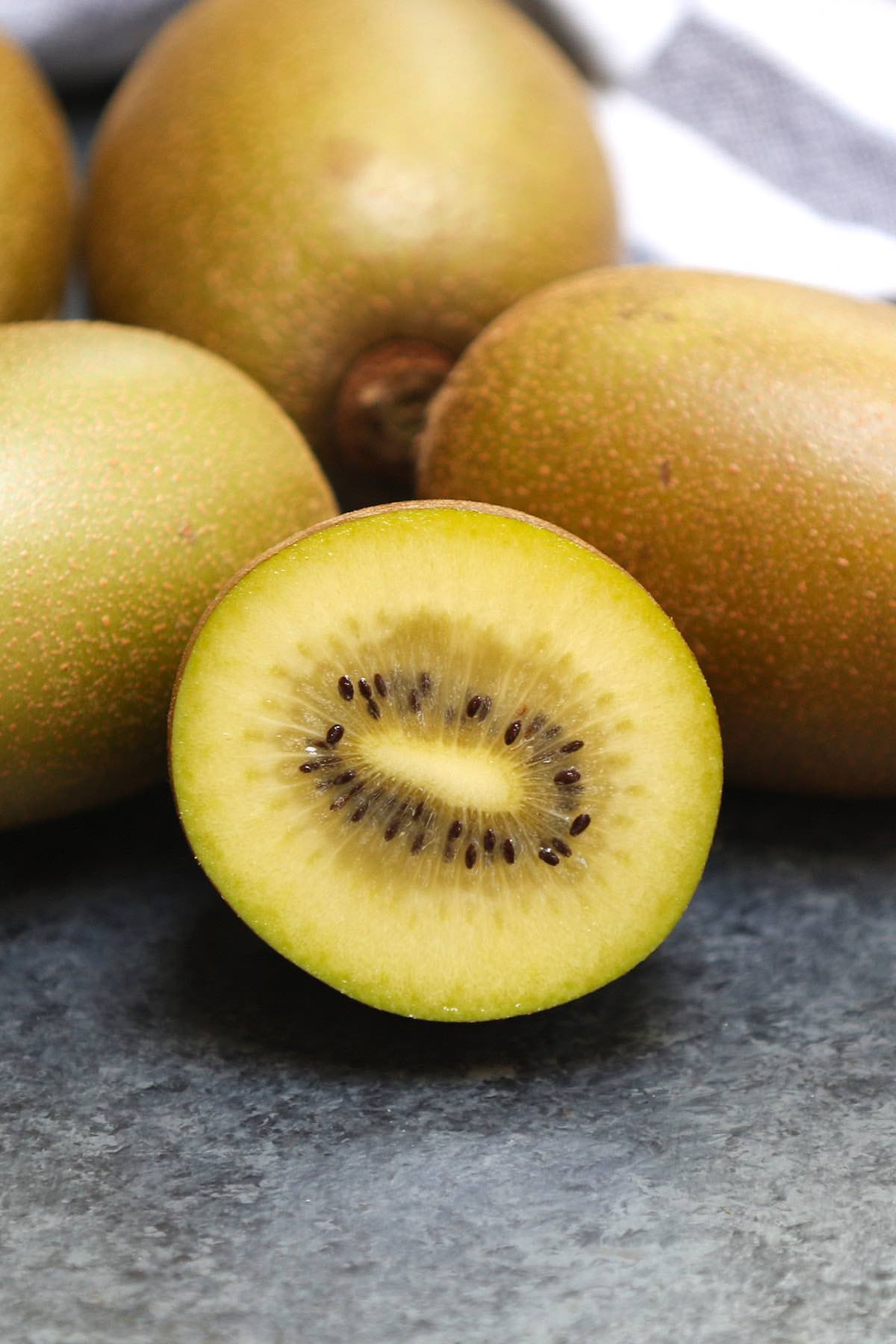 If you're like me, it probably took you a few passes in the produce aisle before getting curious about golden kiwis. While they may look similar to regular kiwi fruit, there's a good reason that grocers stock them! So keep reading on to find out more…
What is Golden Kiwi?
Golden kiwi, also called yellow kiwi or actinidia chinensis, is a fruiting vine native to China where it's known as the Chinese gooseberry. One of about 60 varieties of kiwifruit, this climbing plant features sweet flesh and smooth skin.
The Zespri SunGold the most common cultivar with over 10,000 acres farmed worldwide. New Zealand is a top growing region with a season running from May through November, while Italy produces another harvest for nearly year-round coverage.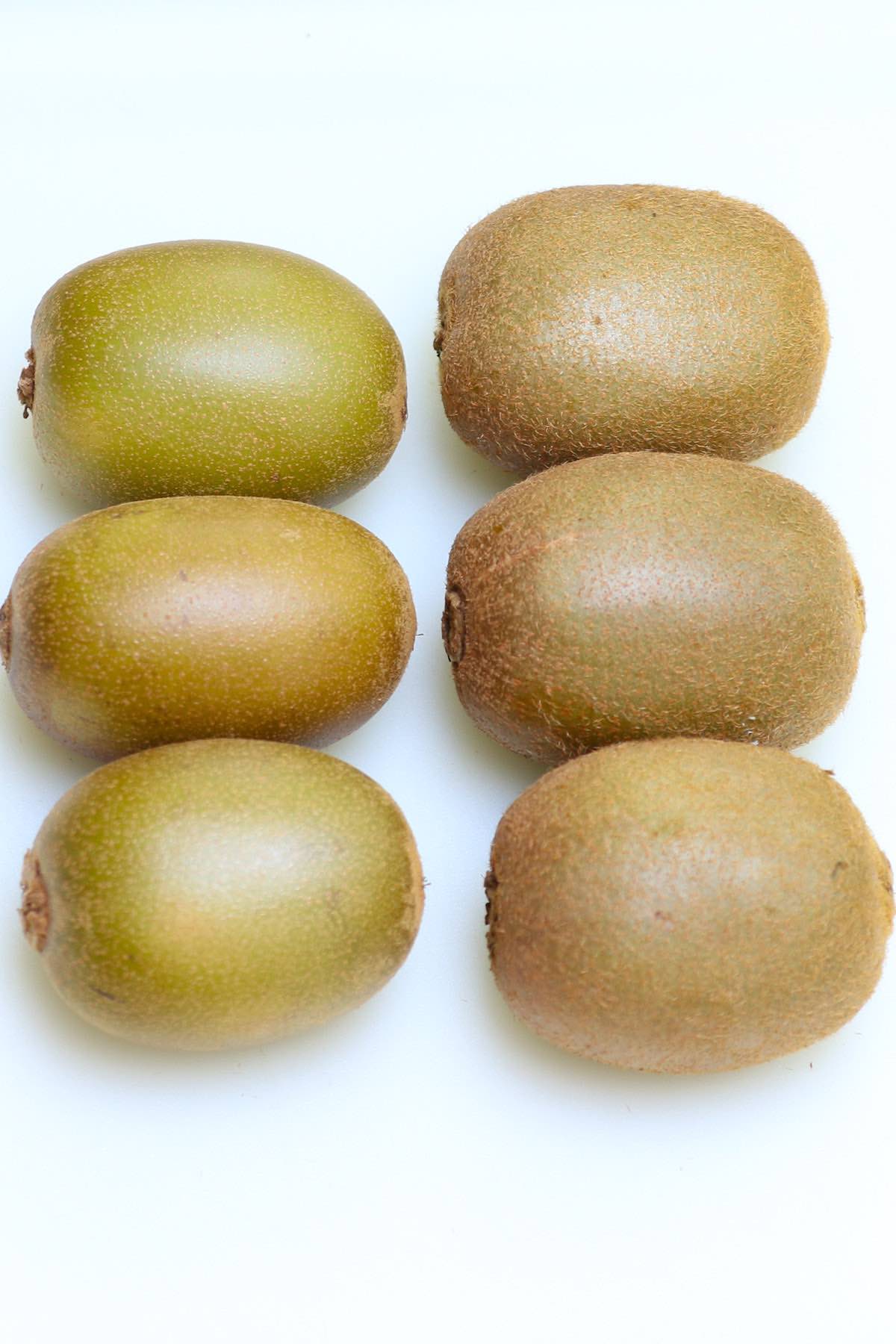 Golden Kiwi vs Green Kiwi
When compared to the common green variety, golden kiwis have smoother skin with sweeter, lighter-colored flesh. Here's a quick comparison of the similarities and differences:
| | | |
| --- | --- | --- |
| | Golden Kiwi | Green Kiwi |
| Flesh color | Pale golden with black seeds | Bright green with black seeds |
| Skin | Smooth and thin with a smaller knobby end | Fuzzy and thicker with a larger knobby end |
| Taste | Sweet and mild | Tart |
While it really boils down to personal preference, some people feel golden kiwis taste better despite their rather pale color. Plus, they're the only variety available without fuzzy or hairy skin!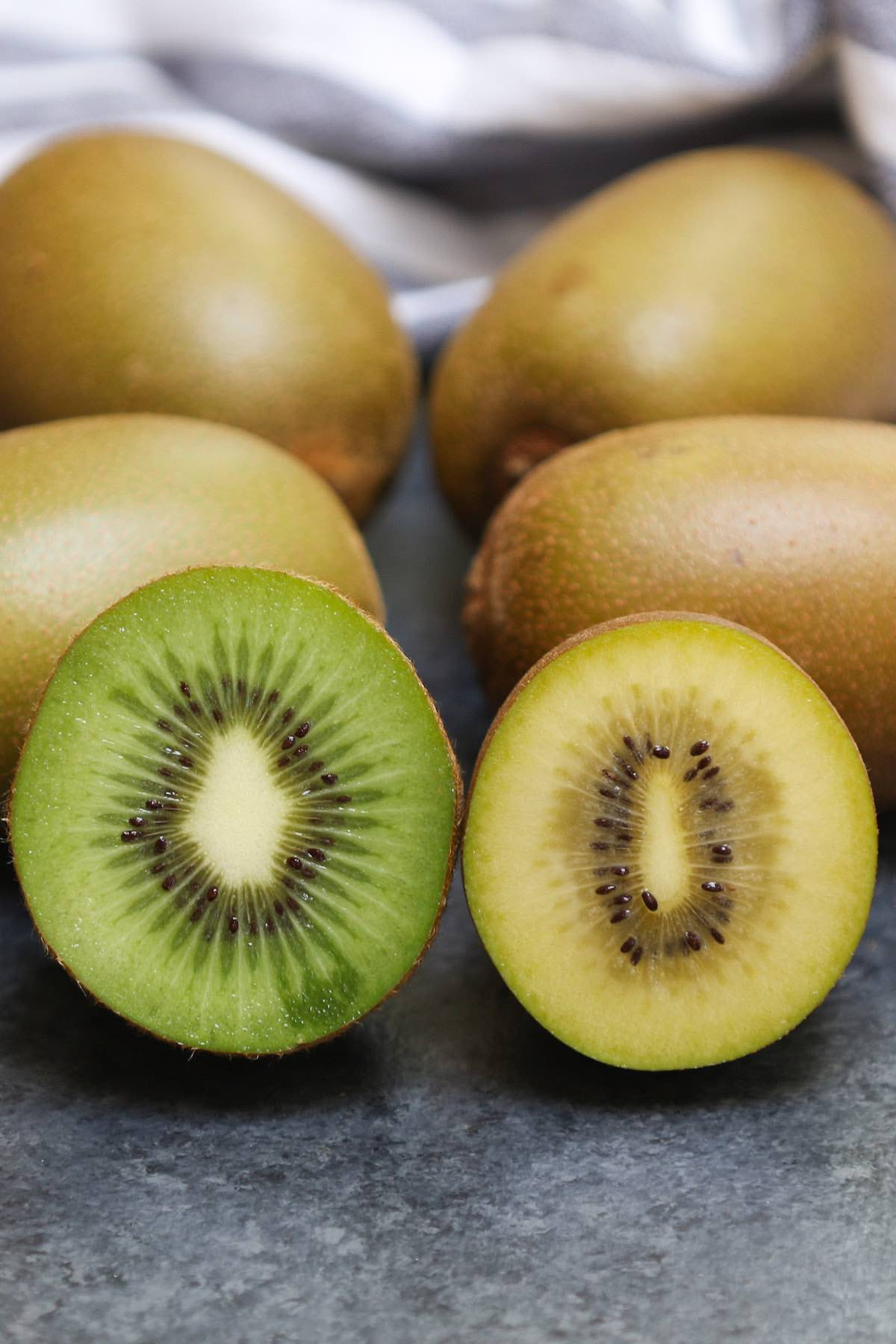 Golden Kiwi Nutrition Benefits
A typical golden kiwi has about 42 calories and similar nutrition as other kiwis:
Vitamin C: one kiwi has 64 milligrams or 71-85% of the recommended daily intake (RDI).
Antioxidants: Along with Vitamin C, kiwis have beneficial antioxidants like choline, lutein and zeaxanthin that help remove free radicals from the body.
Dietary Fiber: there are 2 grams or 6-9% of the RDI to support digestive health.
Potassium: there are 215 milligrams or 5% of the RDI to support heart health.
Folate: there are 17 micrograms or 4% of the RDI which is essential for cell division and pregnancy.
In addition, other benefits are believed to include anti-inflammatory effects, improved sleep and kidney stone prevention.
There are 11 grams of net carbs per 100 gram serving, or roughly 8 grams per kiwi. That means golden kiwis are only suitable for a keto diet in moderation.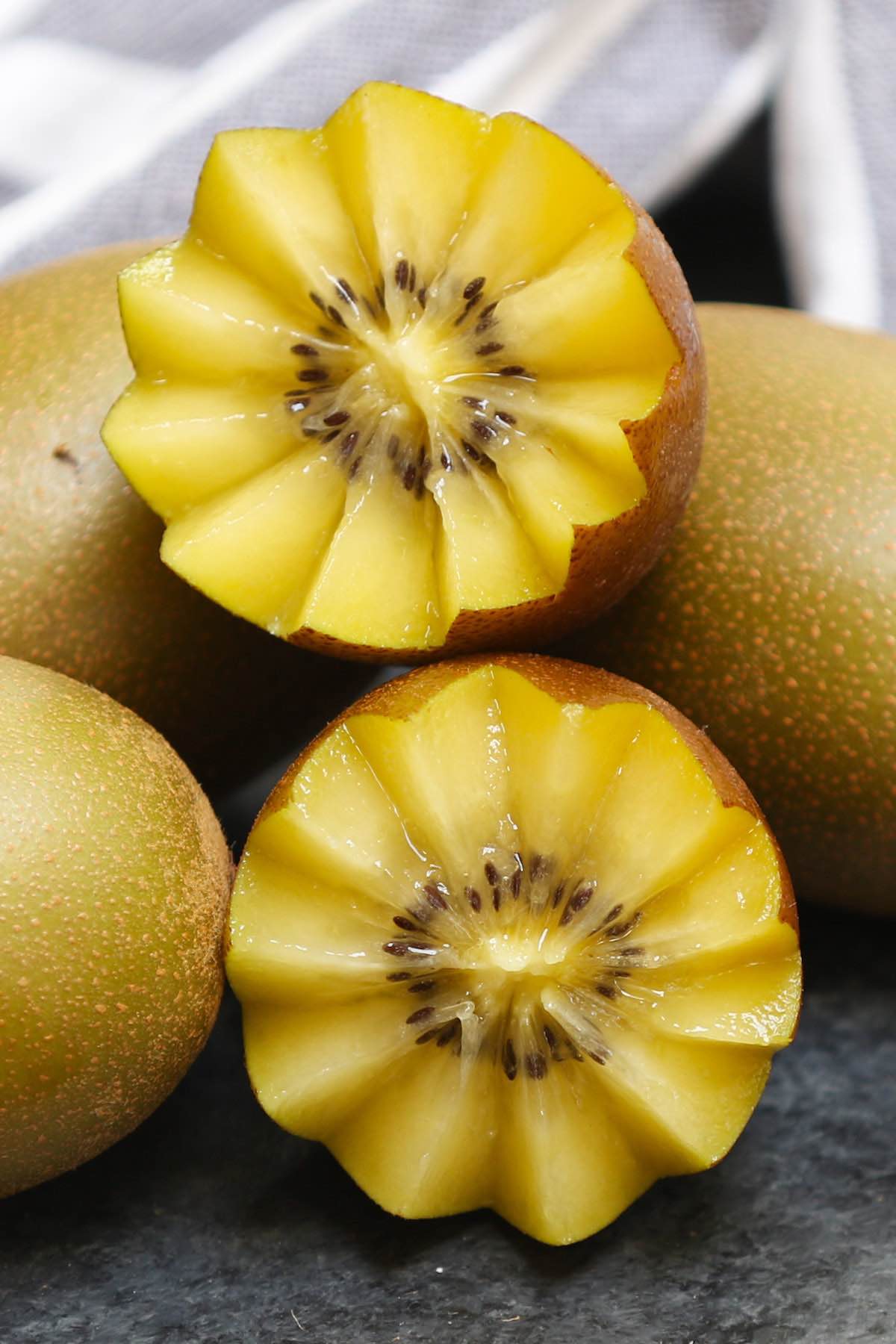 Ripening and Storing Kiwis
When a kiwi is ripe, the surface will give slightly when pressed just like a pear or mango. Fruits that are still hard are under-ripe, while mushy or blemished fruits are usually overripe.
You can store them at room temperature for several days, and they'll ripen naturally:
To speed up ripening: store in a paper bag with ethylene-producing fruits like bananas, pears or apples.
To slow down ripening: place in the fridge where they can last up to several weeks in a resealable plastic bag.
How to Cut a Golden Kiwi
You can cut a golden kiwi in much the same way as other kiwis. Start by rinsing the outside with vinegar and water. Then, cut off the knobby ends with a knife.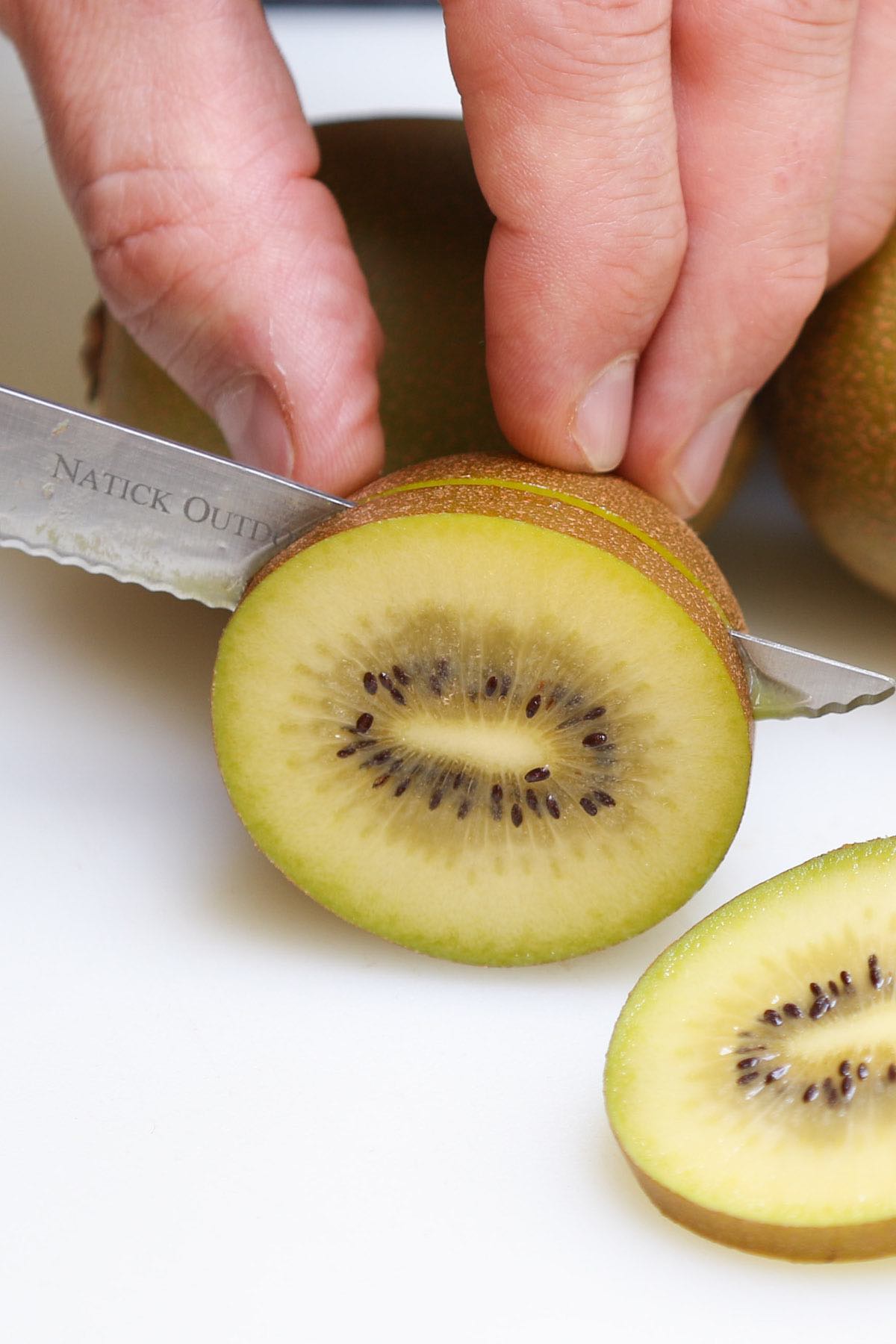 How to Peel a Golden Kiwi: The easiest way is to slide a paring knife in between the skin and flesh, removing the peel in strips lengthwise. You can also use a vegetable peeler, but it may remove more flesh than you want since the peel is quite thin on a golden kiwi.
You can cut the flesh into chunks or slice into rounds as you like. Cut kiwi fruit will last up to one day when stored in an airtight container in the fridge.
Can You Eat the Skin on Golden Kiwis? Many people find the fuzzy skin on green kiwis off-putting, but golden kiwis don't have that problem. So it's easy to eat the skin, and you'll get the benefit of additional fiber intake too.
More Tropical Fruits: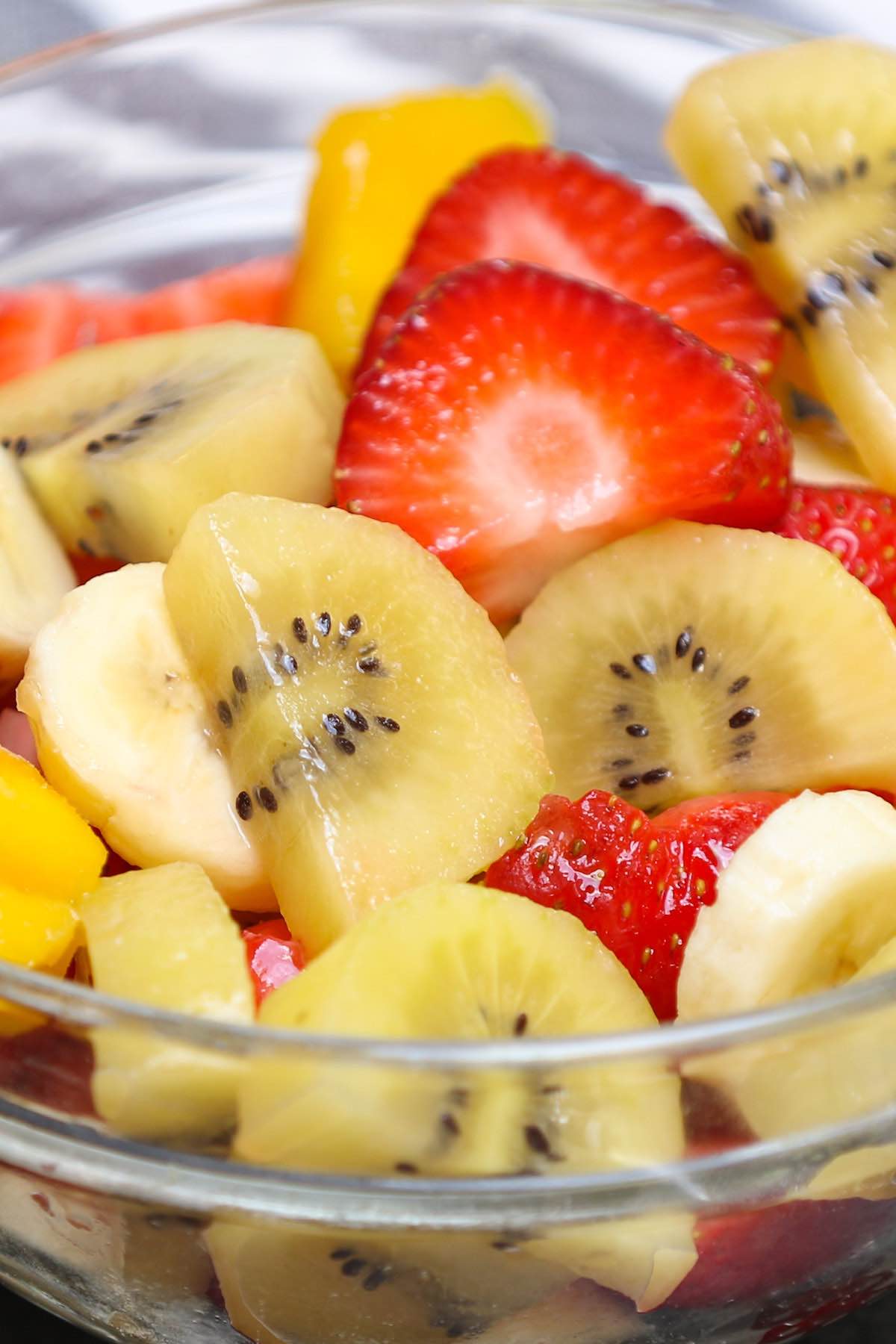 How to Eat a Golden Kiwi
A refreshing tropical fruit salad featuring golden kiwi, strawberries, mango and banana. This healthy snack or dessert is ready in 10 minutes, or you can add liquid to make it into a smoothie!
Ingredients
Kiwi Fruit Salad
3 golden kiwis
1 cup strawberries, fresh or frozen
1 cup mango chunks, fresh or frozen
1 medium banana, cut into chunks
Strawberry Kiwi Smoothie (optional)
1 1/2 cups almond milk, or other milk
Instructions
Peel the kiwi using a paring knife and cut the flesh into chunks. Then cut the strawberries, mango and banana into bit-size chunks.

In a medium bowl, mix the fruits and serve immediately.
Strawberry Kiwi Smoothie (optional)
Add the ingredients above to a blender with the almond milk. Blend for 5-10 seconds or until smooth and serve immediately.
Notes
Substitutions: If you need to substitute fruits, you can use raspberries, pears and  apples successfully in this recipe.
Make Ahead: You can make it up to 8 hours ahead of time, but cut the banana and add just before serving to avoid discoloration. Chill until serving.
Nutrition Facts
How to Eat a Golden Kiwi
Amount per Serving
% Daily Value*
* Percent Daily Values are based on a 2000 calorie diet.
Please read our nutrition disclaimer.
View more kiwi recipes
© TIPBUZZ. Images and text on this website are copyright protected. Please do not post or republish without permission. If you want to republish this recipe, please link back to this post. This post may contain affiliate links. Read the disclosure policy here.