Cherry Pull Apart Pie
This Cherry Pull Apart Pie features delicious bites of cherry pie that melt in your mouth! It's a fun dessert for sharing at a party or potluck, plus you can eat it with your fingers. Ready in just 30 minutes with only 2 ingredients. Plus video tutorial!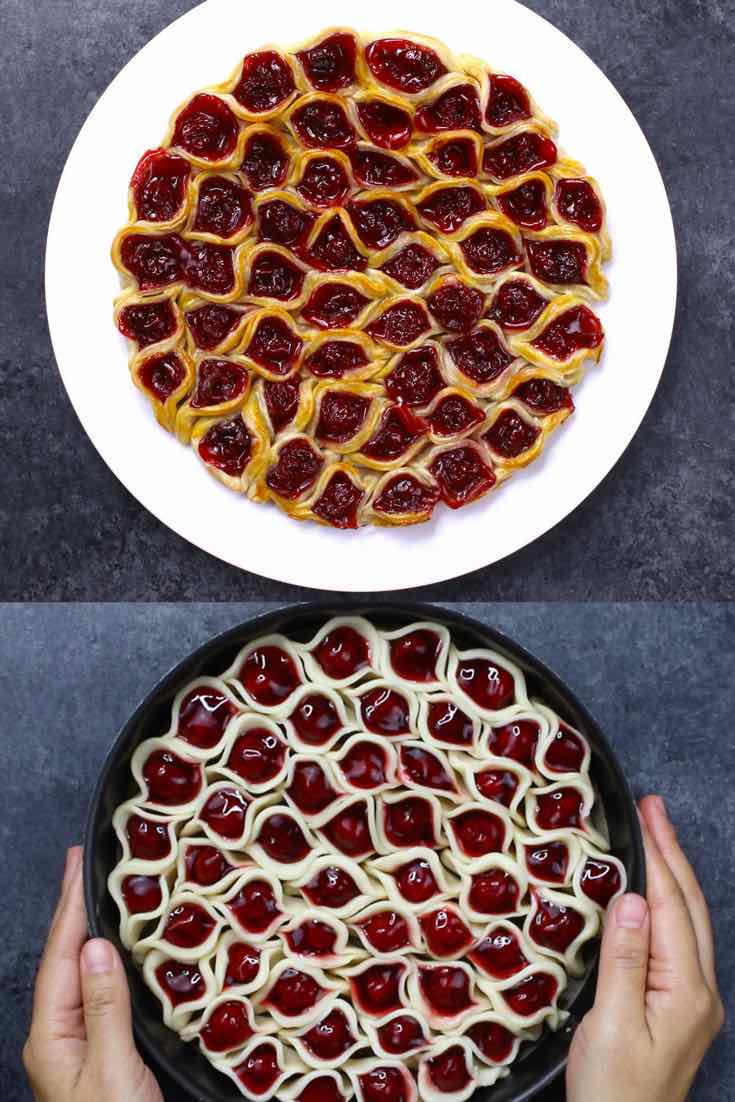 This dessert is perfect when you want to change up your cherry pie routine and make something unique. This pull apart pie follows on the popularity of our Pumpkin and Nutella versions, which received rave reviews.
The decorative presentation is super-attractive. The best part? It's easy to make in any round cake pan or springform pan. The gorgeous red color from the cherries is hard to beat!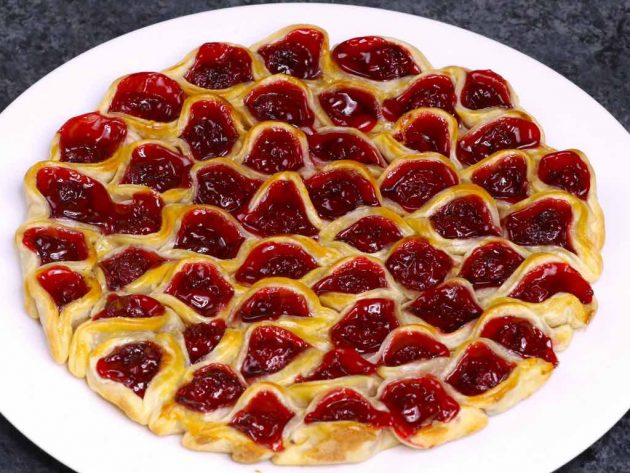 HOW TO MAKE A CHERRY PIE PULL APART
Here's what you'll need to make it:
Pie Crust: I used two packages of refrigerated Pillsbury pie dough from the store, but you can also make your own pie crust.
Cherry Pie Filling: Any brand will do and organic is an option too
Egg Wash (Optional): For an attractive look, you can brush the dough lightly with beaten egg before baking
There are 4 steps for making the cherry pie pull apart:
Roll out the pie dough to about 1/8-inch / 3 cm thickness
Cut into 2-inch circles
Fill each circle with a cherry
Pinch the end together with your fingers
Place in a circular baking pan or pie plate
Once the pan is packed full, then you're ready to bake. Always follow the product directions, but it takes about 12-15 minutes at 400°F for a Pillsbury pie crust. Here's a summary of the process: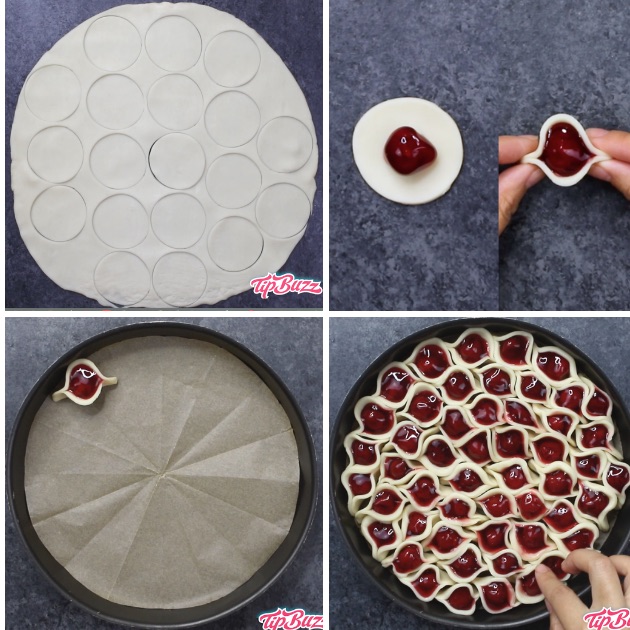 EQUIPMENT FOR MAKING CHERRY PIE PULL APART
There are only a few pieces of equipment required:
Round baking pan: An 8-9 inch / 20-22 cm layer pan, springform pan or pie plate will work.
Cookie cutter: A 2-inch / 5-cm cutter will work, and failing that try using the rim of a water glass 🙂
Parchment: helps to prevent sticking in the pan
You may wish to have a large spatula to transfer the pie from the pan to a serving plate (or use a springform pan if you have one to avoid this step). Alternatively, you can serve it like pie using a sharp knife to cut into larger pieces.
WATCH HOW TO MAKE CHERRY PIE PULL APART:
Cherry Pull Apart Pie (with Video)
Cherry Pie Pull Apart features delicious bites of cherry pie that melt in your mouth! Perfect for a party or potluck.
Instructions
Preheat oven to 400°F. Line an 8-9 inch round cake pan with parchment paper.

On a work surface, roll out the pie dough.

Using a 2-inch round cookie cutter (or similarly sized water glass), cut as many circles as possible from the dough. Repeat for second pie dough.

Pick up one circle and pinch the ends together to make a boat shape. Spoon in one cherry from the pie filling, and place into the cake pan facing up.

Repeat for the remaining circles until the pan is full.


Brush with optional beaten egg, and then bake for 12-15 minutes until the edges turn golden.

Serve in the pan, or use a spatula to get beneath the parchment and lift the pie up onto a serving plate. Enjoy!
Notes
Note that baking time can vary by product - check the package directions for the baking temperature and time.
Nutrition Facts
Cherry Pull Apart Pie (with Video)
Amount per Serving
% Daily Value*
* Percent Daily Values are based on a 2000 calorie diet.
Please read our nutrition disclaimer.
More 3 Ingredient recipes
Looking for more cherry desserts?
Editor note: Originally published Oct 1, 2017 and updated on Oct 2, 2018.
© TIPBUZZ. Images and text on this website are copyright protected. Please do not post or republish without permission. If you want to republish this recipe, please link back to this post. This post may contain affiliate links. Read the disclosure policy here.