Cherry Clafoutis
Cherry Clafoutis is a classic French dessert of fresh cherries baked in a dense, flan-like custard. This clafoutis recipe is surprisingly simple to make. When it's cherry season, give this clafoutis a try!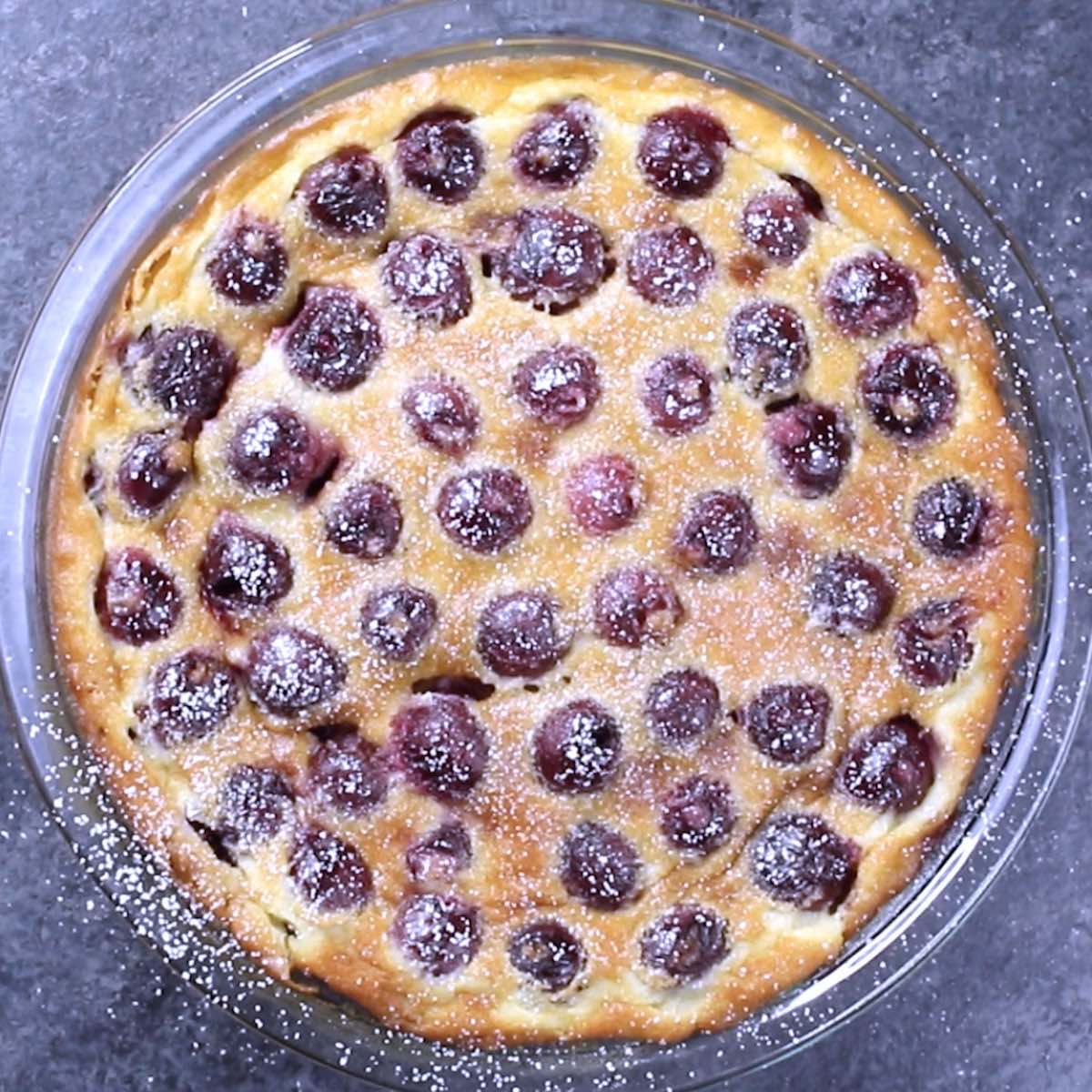 A clafoutis is a favorite French dessert that's also fabulous for breakfast and brunch! Its velvety, tart-like flavors are totally irresistible. When cherries are in season, usually in May through August, there's nothing better!
While cherry clafoutis or clafoutis aux cerises is most common, it's easy to substitute fruits and make a blueberry clafoutis or pear clafoutis instead. There are other variations including apple, peach, plum, berry and more.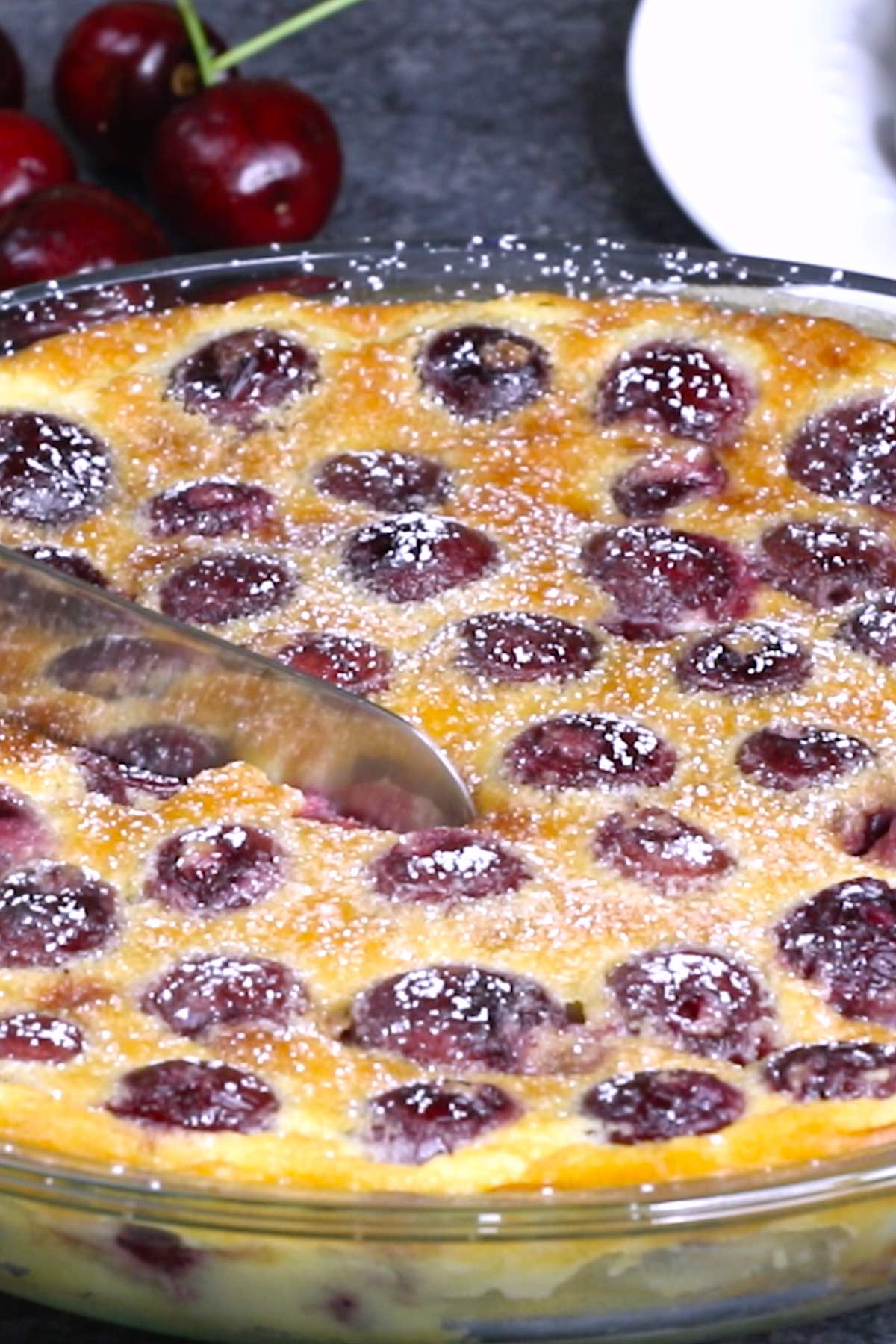 Top Tips for Making Clafoutis
Fresh cherries are best, although frozen cherries will also work. Any variety of sweet cherries will work, including Bing, Montmorency and Rainier.
Pit the cherries using a cherry pitter or alternatively an empty bottle with a chopstick. Hold the cherry on the top of the bottle and use the chopstick to push the pit down into the bottle.
Use a heavy pie plate, cast iron pan, tart mold or individual ramekins. Avoid thin metal pans, which can cause burning around the edges.
The batter will have a runny, pourable consistency that's a bit thinner than pancake batter.
Always let the clafoutis cool for 20-30 minutes after baking to let it firm up and avoid collapse.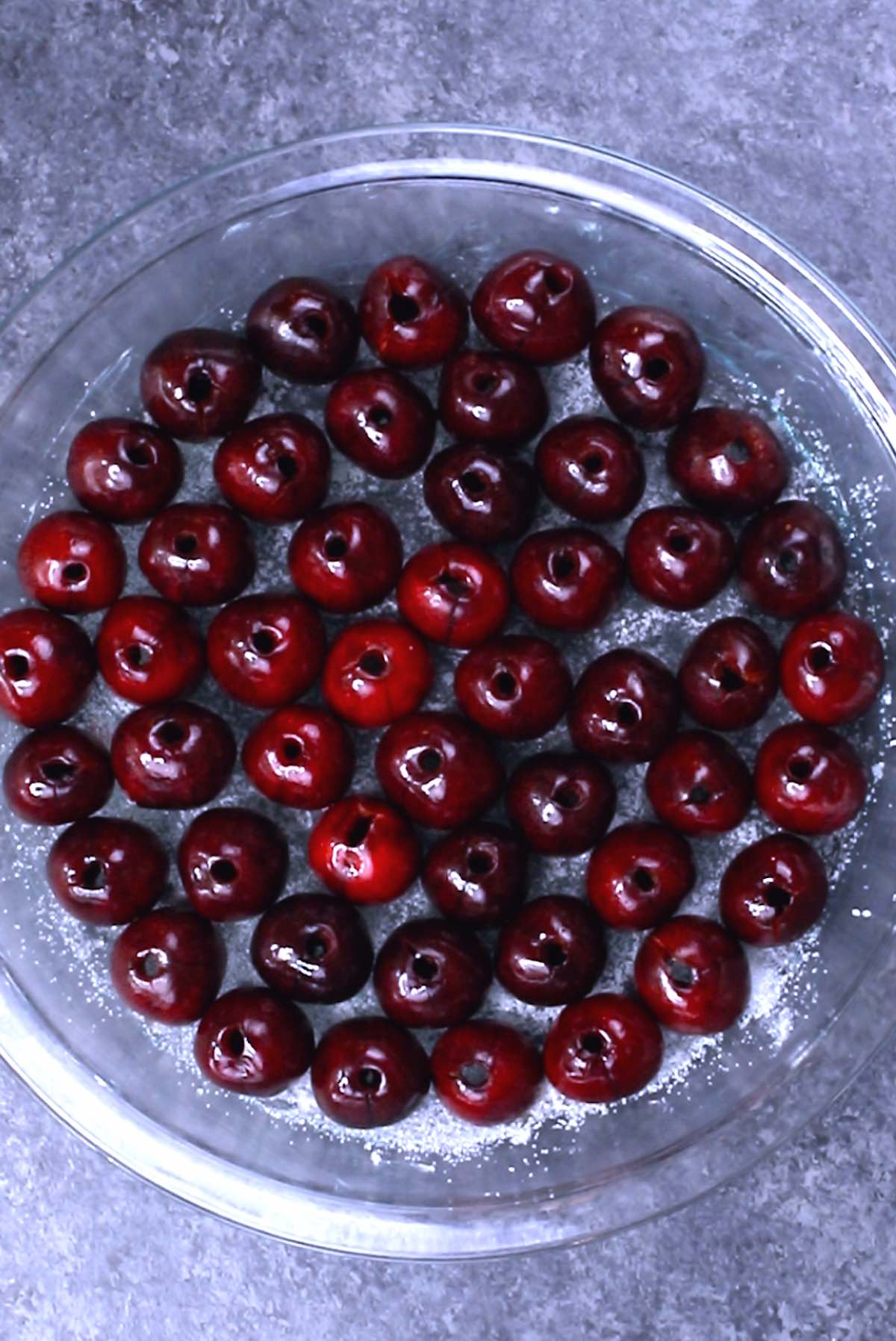 How to Make Cherry Clafoutis
Grease the pan with butter and sprinkle sugar on top.
Pit the cherries and add to the pan in a single layer.
Make the batter by mixing the dry ingredients and then adding the wet ingredients. You can use a blender or mixing bowl for this step.
Pour the batter into the pan so it surrounds the cherries.
Bake for 40-45 minutes at 350°F (177°C).
Watch how to make a clafoutis step by step in the following video:
While a clafoutis is gorgeous served on its own, you can add a dollop of whipped cream on the side if you wish.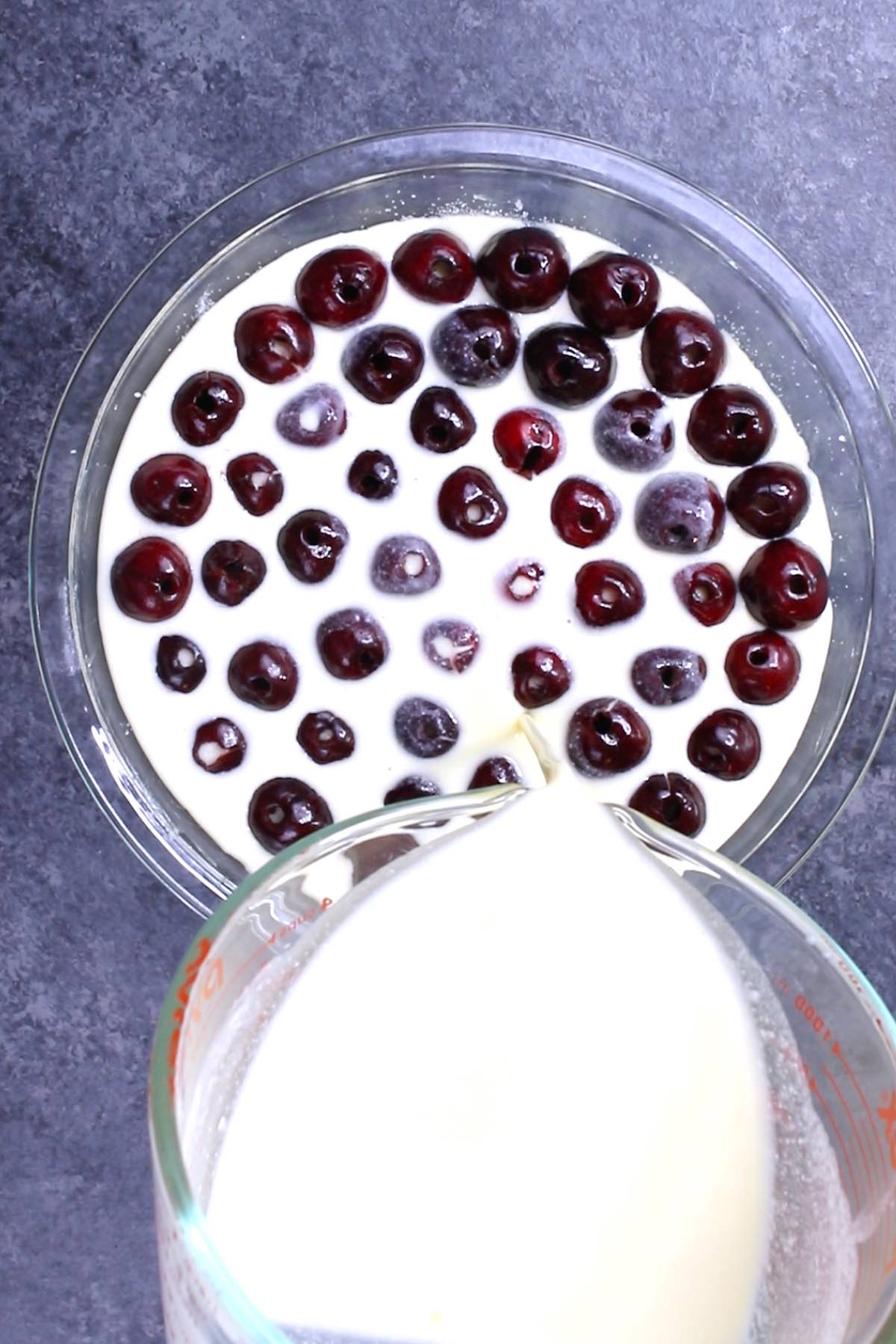 How do you know when clafoutis is done?
Bake the clafoutis until it's puffy in the middle and golden on top. A knife tip inserted into the middle will come out clean, although it may still have a slight jiggle.
It's normal for a clafoutis to deflate or even crack slightly after baking. Dusting with powdered sugar makes for a beautiful presentation while covering up any imperfections.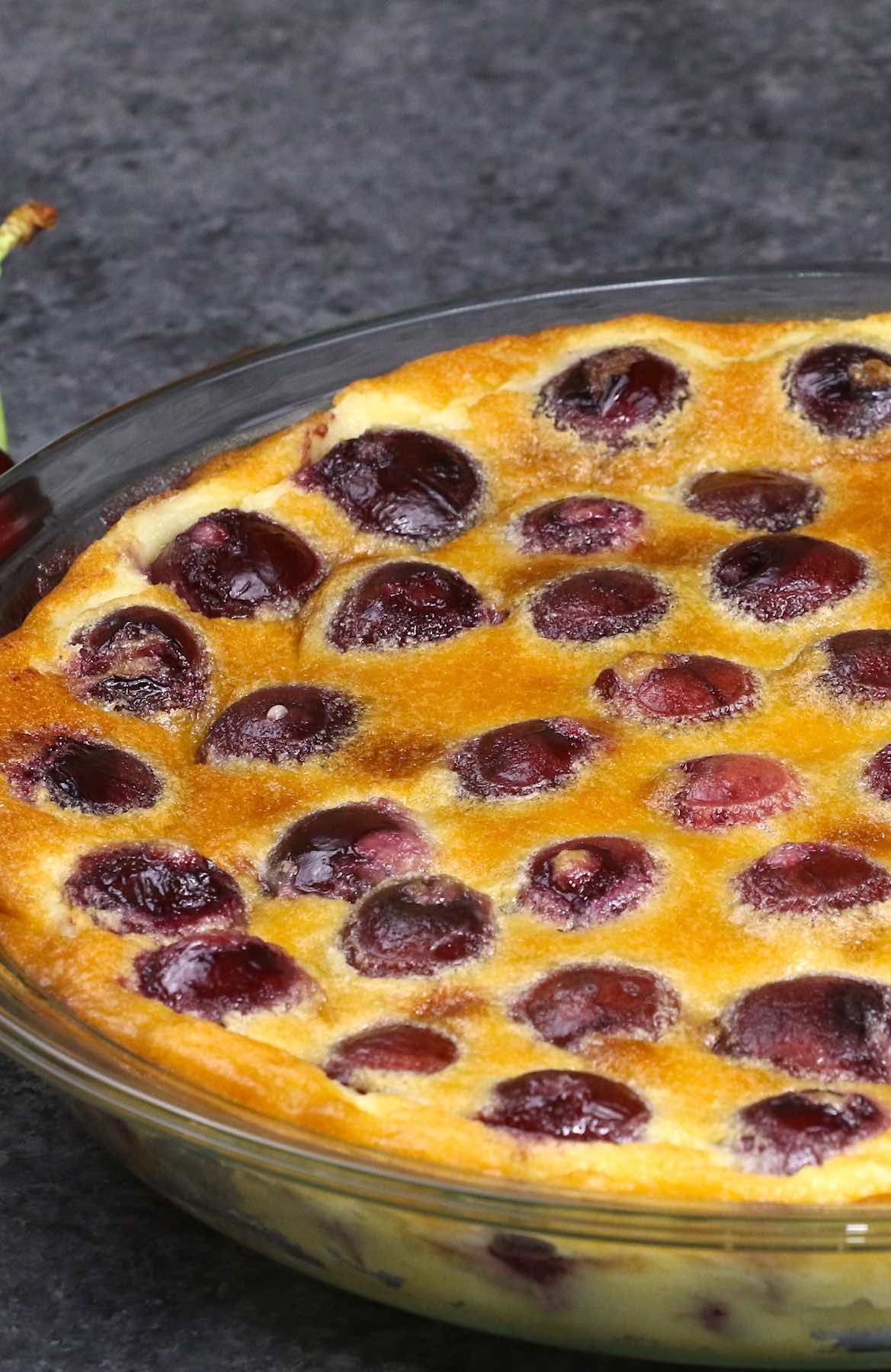 Should clafoutis be refrigerated?
It's best to serve a clafoutis warm out of the oven, but you can also serve it at room temperature or even chilled.
Refrigerate leftover clafoutis and reheat for 15-20 minutes in the oven if desired.
What is clafoutis?
The clafoutis, pronounced "kla-foo-TEE", was invented in the agricultural region of Limousin, France. Unpitted cherries were traditionally used, since the pits release extra flavor compounds when heated.
Julia Chila later helped to bring this dessert in America, and it's been popular ever since! Note that variations without cherries are officially called a flaugnarde.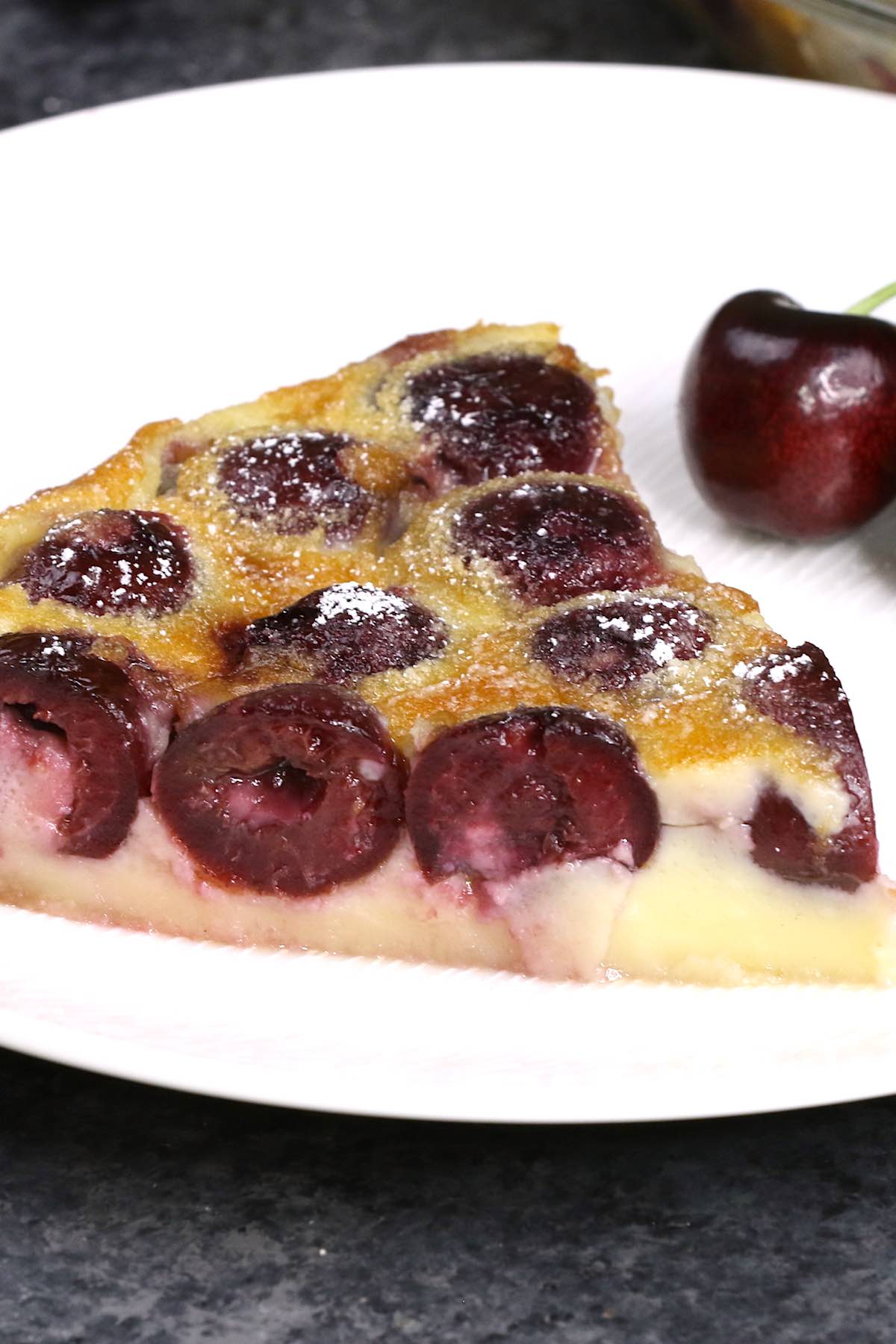 Cherry Clafoutis Recipe
Cherry clafoutis is a classic French dessert of fresh cherries baked in a dense, flan-like batter.
Ingredients
Cherries
3 1/2 cups fresh cherries, stemmed and pitted
unsalted butter, to grease the baking dish
1 1/2 tbsp granulated sugar
Clafoutis Batter
3 large eggs
1/2 cup granulated sugar
1/2 cup all-purpose flour
pinch salt
2 tbsp unsalted butter, melted and cooled
1 tsp vanilla extract
1 tsp almond extract
1 cup milk
powdered sugar, for dusting
Instructions
Preheat oven to 350°F (177°C). Butter a 9-inch (23 cm) pie plate and sprinkle granulated sugar evenly on top.

Wash and dry the cherries. Then remove the stems.

Remove the pits one-by-one. Use a cherry pitter or place onto the mouth of an empty beer or wine bottle and push out each pit using a chopstick.

Place the cherries in the prepared pan. They should fit snugly into a single layer.

In a medium bowl or a blender, beat the eggs, sugar, salt, vanilla and almond extract just until smooth. 

Mix in the melted butter. Then mix in the flour until smooth. Finally mix in the milk.

Pour the batter over the cherries in the pan. 

Bake 40-45 minutes or until puffy and golden on the edges.

Remove from oven and allow to cool for 20-30 minutes. This is important to let it firm up.

Dust with powdered sugar and cut into wedges to serve.
Notes
If you don't have cherries, you can use blueberries, pears, sliced peaches, sliced apples, raspberries, strawberries, blackberries, sliced apricots or plums.
To make a gluten free clafoutis, substitute gluten-free flour 1:1 for all-purpose flour.
Nutrition Facts
Cherry Clafoutis Recipe
Amount per Serving
% Daily Value*
* Percent Daily Values are based on a 2000 calorie diet.
Please read our nutrition disclaimer.
More cherry desserts:
Editor note: Originally published Aug 22, 2017 and updated July 26, 2019
© TIPBUZZ. Images and text on this website are copyright protected. Please do not post or republish without permission. If you want to republish this recipe, please link back to this post. This post may contain affiliate links. Read the disclosure policy here.