How Long to Bake Chicken Breast
Learn how long to bake chicken breast the right way to enjoy tender and juicy meat. As a lean protein, it's so easy to overcook and become dry and chewy. Here you'll find tips to easily make the perfect baked chicken breast every time!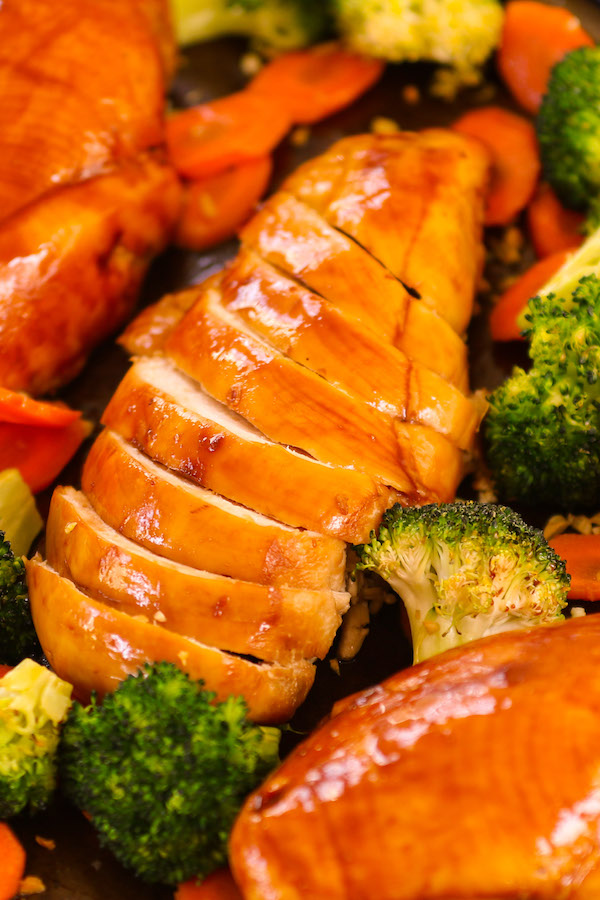 HOW LONG TO BAKE CHICKEN BREAST
Let's face it, no two chicken breasts are the same, so you need to consider a few factors to determine how long to bake chicken breast:
Oven temperature: A hotter oven means less cooking time
Size of the chicken breasts: Larger breasts take longer to cook
Boneless vs. bone-in: Bone-in breasts typically require an extra 5 minutes
Some people suggest skinless vs. skin-on should also be considered, but I've found the impact to be really minimal. You'll find the exact times for each setup below.
The chicken breast is fully cooked when the internal temperature reaches 165°F / 74°C. However, it's best to remove them from the oven at 160°F / 71°C, as the temperature will keep rising in the pan for several minutes more.
Don't cut into the meat to eyeball whether the chicken is no longer pink! This'll cause the chicken to dry out by letting juices escape, and it's also not accurate according to the FDA.
The best way to check doneness is by measuring the internal temperature using a quick read thermometer.
HOW TO USE A INSTANT READ MEAT THERMOMETER
Instant read thermometers are an inexpensive tool used all the time by even professional chefs. The readout is almost instant so the chicken doesn't cool down much during measuring, in case it needs to go back into the oven to continue cooking.
This instant read thermometer is the one I use and it costs about $10, or less than the cost of a pack of chicken breasts at the supermarket!
Simply insert the probe into the thickest part of the chicken breast and wait for the temperature reading to stabilize. It can take up to 10 seconds or so depending on the thermometer. If it's below 160°F / 71°C, put the chicken back in the oven and measure again several minutes later.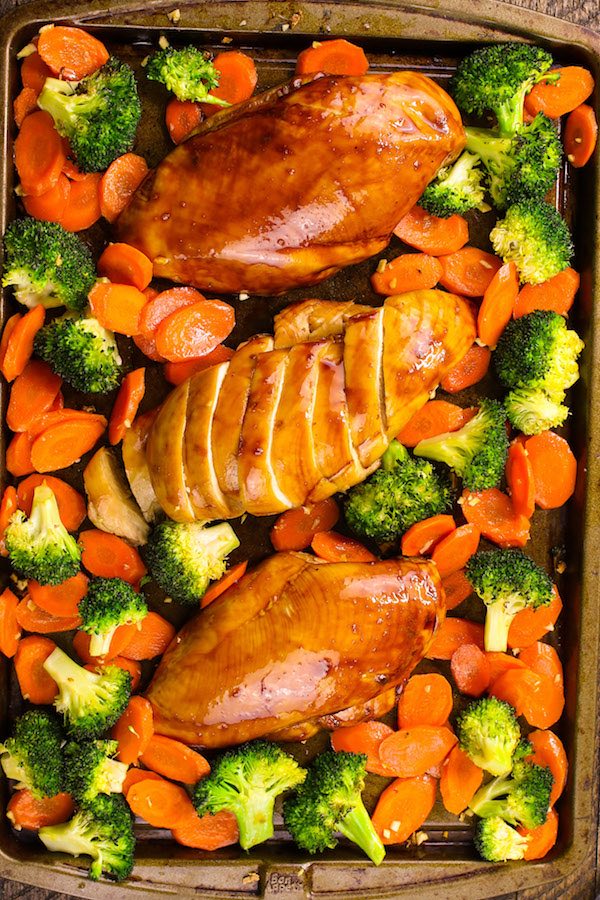 HOW LONG TO BAKE CHICKEN BREAST AT HIGH TEMPERATURE
I find that baking chicken breast at high temperature of 450°F / 230°C gives me the juiciest results. It can be daunting to put meat in such a hot oven, but it really does work wonders for beautiful roast chicken.
After lots of testing, I've determined that you should cook chicken breasts for 15-25 minutes at 450°F depending on size and whether they're boneless or not. Use the following table as a guide:
| | | |
| --- | --- | --- |
| Chicken Breast Cooking Time at 450°F | Small (4 oz/120 g) | Large (8 oz/240 g) |
| Boneless | 15 min | 18 min |
| Bone-in | 20 min | 25 min |
HOW LONG TO BAKE CHICKEN BREAST AT STANDARD TEMPERATURE
Sometimes you need to know how long to bake chicken breast at a lower temperature. Maybe your oven isn't reliable at high temperatures, or it's the holidays and you've got other dishes in the oven at the same time. No problem!
For situations like this, you can bake for 22-40 minute at 350°F / 175°C instead using the following table as a guide:
| | | |
| --- | --- | --- |
| Chicken Breast Cooking Time at 350°F | Small (4 oz/120 g) | Large (8 oz / 240 g) |
| Boneless | 22 min | 30 min |
| Bone-in | 30 min | 40 min |
Surprisingly, chicken breasts can dry out more easily with longer cooking times, so you should still be vigilant and use the quick read thermometer and check the internal temperature.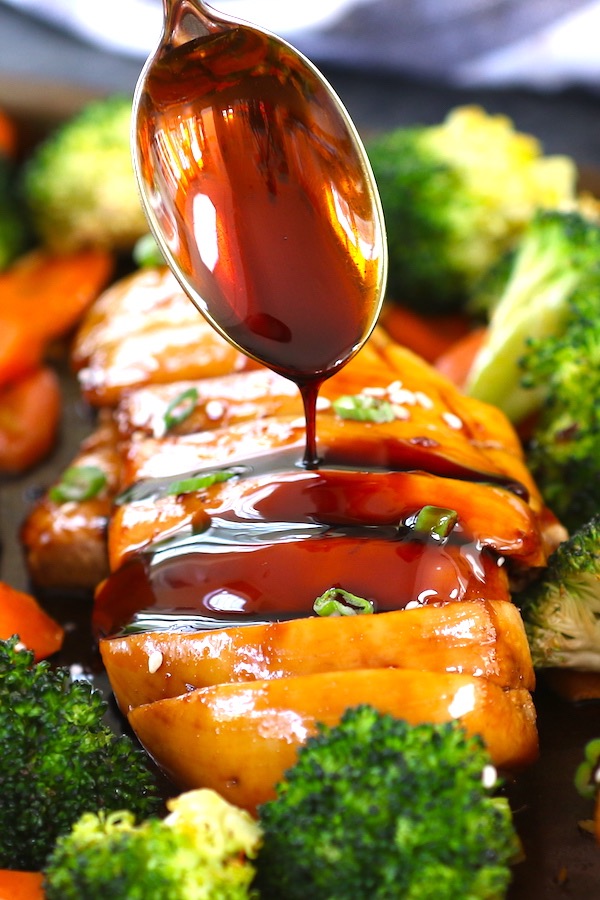 TIPS AND SECRETS FOR BAKED CHICKEN BREAST
Pound the chicken breasts to roughly the same thickness for even cooking. I try to get them to a maximum 1-inch/2-cm thickness. A meat tenderizer is ideal for this.
Rub each chicken breast thoroughly with oil or melted butter to help seal in the delicious juices during cooking.
If you're using a convection oven with a shallow pan or sheet pan, then reduce the cooking time by 3-5 minutes as the extra air circulation will speed up the cooking process.
Allow the chicken breast to rest in the pan for 5 minutes out of the oven, ideally covered with aluminum foil. This allows the juices to retreat back into the meat so you get moist chicken.
Also see my post on how long to bake chicken for other cuts of chicken. Remember that chicken should be refrigerated within two hours after being cooked. See my post on how long cooked chicken will last in the fridge for more info.
Baked Chicken Breast
It doesn't get tastier or healthier than this tender and juicy Baked Chicken Breast. It's a simple one-pan dish seasoned with Italian spices and roasted to perfection. This delicious dinner be on your table in just 30 minutes with quick cleanup. It's guaranteed to please!
Ingredients
3-4 chicken breasts, boneless, skinless
2 tbsp olive oil
1 lb baby red potatoes, halved
12 cherry tomatoes, or grape tomatoes
1 tsp oregano
1 tsp thyme
salt and pepper to taste
3/4 lb green beans, trimmed
fresh parsley, for serving
Instructions
Preheat oven to 450°F and set your oven rack to the middle of the oven. Set aside a large baking sheet.

Scatter potatoes and tomatoes across the baking sheet.

Rub the chicken thoroughly with 1 tbsp oil and add to the middle an inch or so apart.

Sprinkle minced garlic, oregano and thyme across pan. Add salt and pepper to taste.

Drizzle the remaining 1 tbsp olive oil across evenly. Toss to mix well.

Bake for 15-22 minutes depending on the size of your chicken breasts, adding the green beans halfway through.

Several minutes before finishing, check the internal temperature using a quick-read thermometer. The chicken is done when it reads 160°F / 71°C.

Let the chicken rest in the pan for 5 minutes before serving, ideally covered with aluminum foil.

Garnish with optional parsley. Serve and enjoy!
Nutrition Facts
Baked Chicken Breast
Amount Per Serving
Calories 230 Calories from Fat 99
% Daily Value*
Fat 11g17%
Saturated Fat 2g10%
Polyunsaturated Fat 1g
Monounsaturated Fat 8g
Cholesterol 42mg14%
Sodium 126mg5%
Potassium 236mg7%
Carbohydrates 21g7%
Fiber 5g20%
Sugar 3g3%
Protein 16g32%
Vitamin A 750IU15%
Vitamin C 30.5mg37%
Calcium 60mg6%
Iron 2.9mg16%
* Percent Daily Values are based on a 2000 calorie diet.
Please read our nutrition disclaimer.
More baked chicken breast recipes:
© TIPBUZZ. Images and text on this website are copyright protected. Please do not post or republish without permission. If you want to republish this recipe, please link back to this post. This post may contain affiliate links. Read the disclosure policy here.