Beef Lo Mein Meal Prep
This Beef Lo Mein Meal Prep is one of the easiest and most flavorful meal prep recipes with only 20 minutes of preparation, allowing you to save time and money while making healthier choices on-the-go!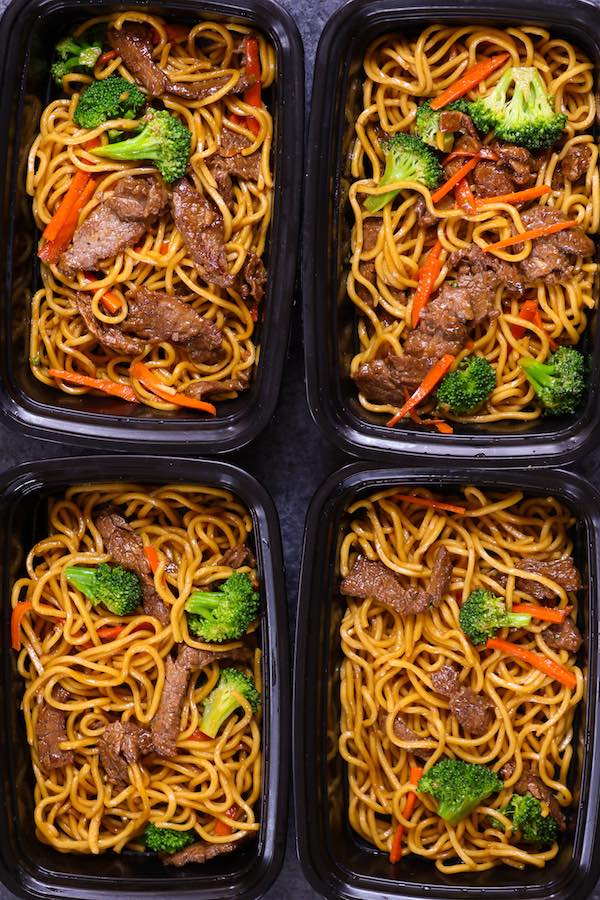 There's a reason meal prep has become so popular, and this beef lo mein recipe is just one reason. It's a one pan meal you can make in 20 minutes and meal prep for an entire week or lunches or dinners. It's a healthy, well-balanced meal that'll make your mouth water!
How to Make Beef Lo Mein Meal Prep
There are just a few steps to make beef lo mein meal prep:
Step 1: Cook Lo Mein Noodles: You'll want to get the lo mein noodles ready and follow the package directions. If you're using refrigerated noodles, you don't need to boil them. One trick is placing the unopened package in hot water to warm up the noodles before use without making them soggy.
Step 2: Marinate Steak Strips:  Slice the beef into thin strips. Then in a medium-sized bowl, mix together 1 tbsp of soy sauce and 1 tbsp of cornstarch. Mix well and then add beef strips for 5-10 minutes. This process is called "velveting", an Asian secret to getting soft and tender meat.
Note: You can marinate the beef for up to 2 hours. But if you are in a rush, you can skip this process.
Step 3: Make Lo Mein Sauce: Combine soy sauce, hoisin sauce, sugar and ginger in a small bowl. Mix well and set aside.
Step 4: Sauté Beef and Vegetables: Place a large skillet or wok over high heat. Add oil and when it's hot, add marinated beef. Sauté for 1-2 minutes until no longer pink (no need to be fully cooked), and then add minced garlic, sliced carrots and broccoli. Sauté for 4- 5 minutes until vegetables are tender.
Note: The pan needs to be hot enough before you add the beef. Make sure the beef strips are in a single layer for even cooking.
Step 5: Toss Lo Mein Noodles with Beef and Vegetables: The last step is to add in the lo mein noodles, and then toss everything with the Lo Mein sauce and drizzle with Asian sesame oil. Now you can place into your meal prep containers and you're good to go!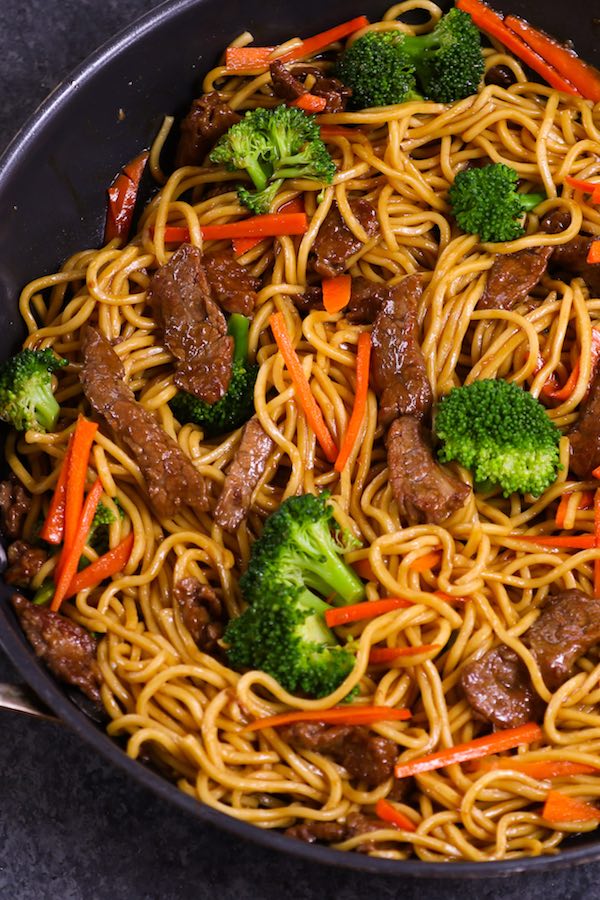 More meal prep ideas:
View all meal prep recipes
How to Meal Prep
We'll often double one of your favorite recipes like Chicken Pad Thai or Honey Garlic Shrimp and pack into meal prep containers and store in the fridge for the week. You can also use a crock pot to make a larger batch of food like Honey Garlic Chicken or Beef Stew with just 10-20 minutes of total prep time.
Meal Prep doesn't need to be complicated or time-consuming. Most people meal prep their weekday lunches on a Sunday for the entire week. Here are some tips for getting started:
Check your calendar: Figure out how many meals you need for the week after considering travel, dates etc.
Make a menu: Plan a few meals that include protein, carbs and veg and make a shopping list. One pan meals like this beef lo mein are nutritionally balanced and easy to prepare with no assembly.
Cook the food: Get your ingredients and follow the recipe to make the food.
Pack it up: Divide the dish into single servings in individual containers for easy portion control. Then store in the fridge or freezer until needed.
One way to simply meal prep is to double your dinner recipe and bring the leftovers for lunch J Also keep this beef lo mein meal prep in mind for kids meals at school. It's just as good as a sandwich if not better!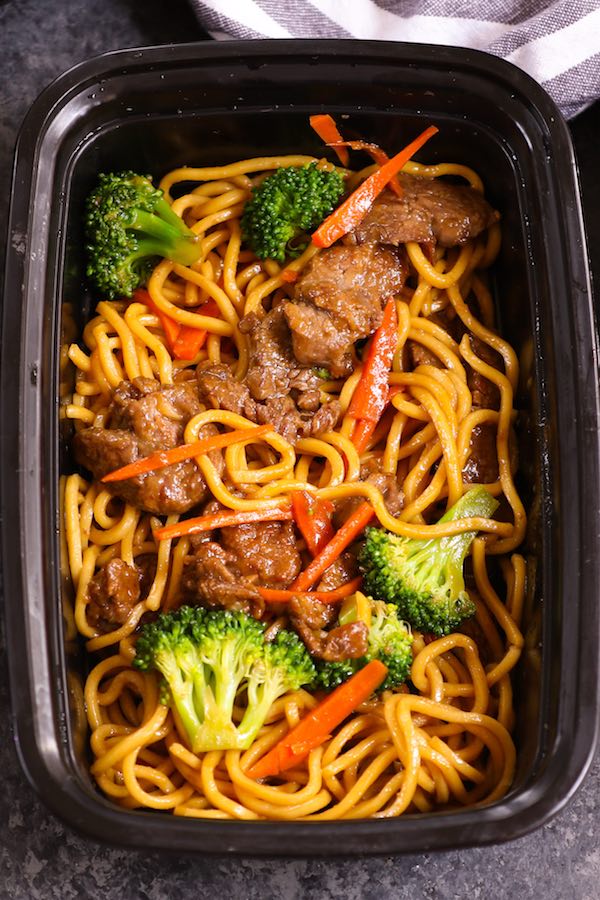 What is Meal Prep
Meal Prep means planning and preparing meals ahead of time, and putting them into containers to take with you to work/school or for freezing for later on. It's a game-changer with some awesome benefits:
Simplifying: avoiding making decisions at every meal frees your mind to focus on what's important to you, like a relationship or career 🙂
Healthier: you can also more easily resist convenience options like takeout and fast food, and also manage your portions proactively when you're trying to lose weight 🙂
Cheaper: you'll save a pile of money on restaurant food 🙂
Time saving: cooking once for the week will save you time especially as schedules get hectic 🙂
Tips for Selecting Meal Prep Containers
Having a decent set of meal prep containers will help keep your organized, making meal prepping easier and faster. They can also look good!
Most meal prep containers have a rectangular shape and will hold 4-5 cups of food. Here are some tips for selecting them:
Brand and size: Buy the same brand and size of containers! Trust me, you don't want to be sorting through mismatched lids on different types of containers.
Quantity: You want to buy a pack of at least 10 containers to have enough ready to be loaded up at any time.
Material: Microwaveable, BPA-free plastic containers like these ones are the best lightweight option if you're always on-the-go. Glass containers like these are a good durable alternative if you want to avoid plastic.
Easy Beef Lo Mein Meal Prep
Beef Lo Mein Meal Prep – Tender beef cooked with flavorful vegetables and delicious Lo Mein noodles in an addictive garlicky sauce. This 20 minute one pan meal is a perfect quick and easy meal prep recipe to make for the week.
Ingredients
8 oz lo mein noodles, or spaghetti
8 oz flank steak, thinly sliced against the grain
1 tbsp soy sauce, low sodium
1 tbsp cornstarch
1 tbsp vegetable oil
1 tbsp garlic, minced
1 medium carrot, matchsticks
3 cups broccoli, cut into florets
Sauce
2 tbsp soy sauce, use light soy sauce or a mix of 1 tbsp light soy sauce and 1 tbsp dark soy sauce
2 tbsp hoisin sauce
1/4 cup brown sugar
1/2 tsp ground ginger
1 tsp Asian sesame oil
Instructions
Prepare the noodles according to the package directions (see note).

Cut flank steak into thin strips.

In a medium-sized bowl, mix 1 tbsp of cornstarch and 1 tbsp of soy sauce. Then add the beef strips to the mixture. Marinate for 5-10 minutes to tenderize the beef. You can skip this step if you are in a rush

In a medium bowl, mix 2 tbsp soy sauce, hoisin sauce, sugar and ginger. For the best results, use 1 tbsp of light soy sauce and 1 tbsp of dark soy sauce.

Meanwhile, place a large skillet over medium-high heat.

Add in vegetable oil. When the oil is hot, add the beef strips and stir fry about 2 minutes until the beef is no longer pink.

Then add the minced garlic, sliced carrots and broccoli. Stir fry for about 5 minutes until vegetables are tender.

Add Lo Mein to the beef/vegetable mixture.

Toss together with the lo mein sauce and drizzle with the Asian sesame oil. Serve and enjoy!
Notes
Refrigerated Lo Mein noodles don't need to be boiled, and you can warm them up in hot water. If you use dry noodles, cook them in boiling water according to the instructions.
Nutrition Facts
Easy Beef Lo Mein Meal Prep
Amount per Serving
% Daily Value*
* Percent Daily Values are based on a 2000 calorie diet.
Please read our nutrition disclaimer.
© TIPBUZZ. Images and text on this website are copyright protected. Please do not post or republish without permission. If you want to republish this recipe, please link back to this post. This post may contain affiliate links. Read the disclosure policy here.