Trisha Yearwood Mac and Cheese
Trisha Yearwood Mac and Cheese is rich and creamy, plus easy to make. This crockpot mac and cheese is Southern-style comfort food at its best!
Trisha Yearwood is a legendary country singer and celebrity chef with delicious Southern recipes.
This dish is an easy dump-and-go recipe that's perfect for holidays, parties, potlucks or just a comforting weeknight dinner!
What is Trisha Yearwood Mac and Cheese
Trisha mastered making mac and cheese in a crockpot. Key ingredients include sharp cheddar cheese, egg yolks and combination of evaporated milk and regular milk. It's a hearty dish with rich and creamy flavors.
Ingredients
The mac and cheese Trisha Yearwood created features sharp cheddar cheese, butter, eggs and evaporated milk. Here we're using egg yolks, which are less likely to curdle. These are the ingredients you'll need to make it:
Macaroni: You want dried elbow macaroni of a standard size like Barilla or De Cecco. Avoid jumbo or spiral macaroni. If you use gluten-free macaroni, note that it will take less time.
Evaporated Milk: This is canned milk that lends a creamy, southern flavor to this dish. Regular or reduced fat is fine. While you can substitute regular milk, the flavor will not be the same.
Milk: Whole milk or reduced fat will work here.
Cheddar cheese: Trisha's recipe uses sharp cheddar cheese; however, you can use substitute another cheese if that's what you have.
Butter: this is to add richness and flavor.
Paprika (optional): paprika or smoked paprika works well to add flavor and some color on top.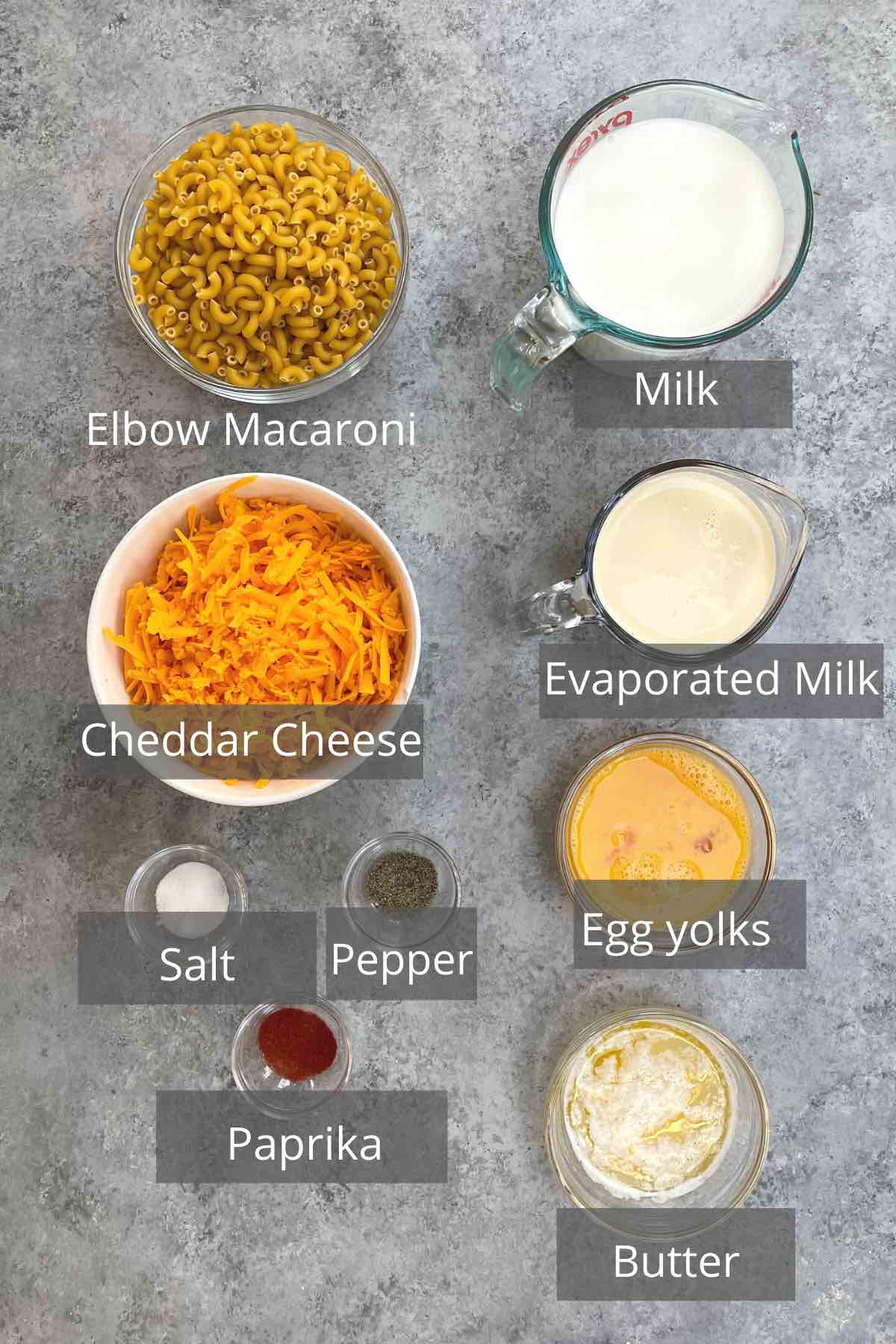 How to Make Trisha Yearwood Mac and Cheese
To make it, add all the ingredients to the slow cooker. Top with a bit more cheese and the paprika. Then seal the lid and set to cook on LOW for about 3 hours.
Always taste the pasta after about 2 1/2 hours to see if it's tender or al dente. You want to avoid it being either too hard or mushy.
Tips for Creamy Trisha Yearwood Mac n Cheese
Grate your own cheddar cheese from a brick for smooth melting and the best flavor. Did you know that pre-shredded varieties have anti-caking agents that impede complete melting?
Use a 4-quart crock pot or alternately a 6-quart slow cooker will also do. An 8-quart crockpot is suitable only when you are doubling or tripling the recipe.
Avoid opening the lid of the crock pot too often, as the heat release can extend cooking time by up to 30 minutes each time.
Check the pasta half an hour ahead of the full cooking time. Some brands may cook faster and this will avoid getting mushy pasta. This is particularly important for gluten-free pasta.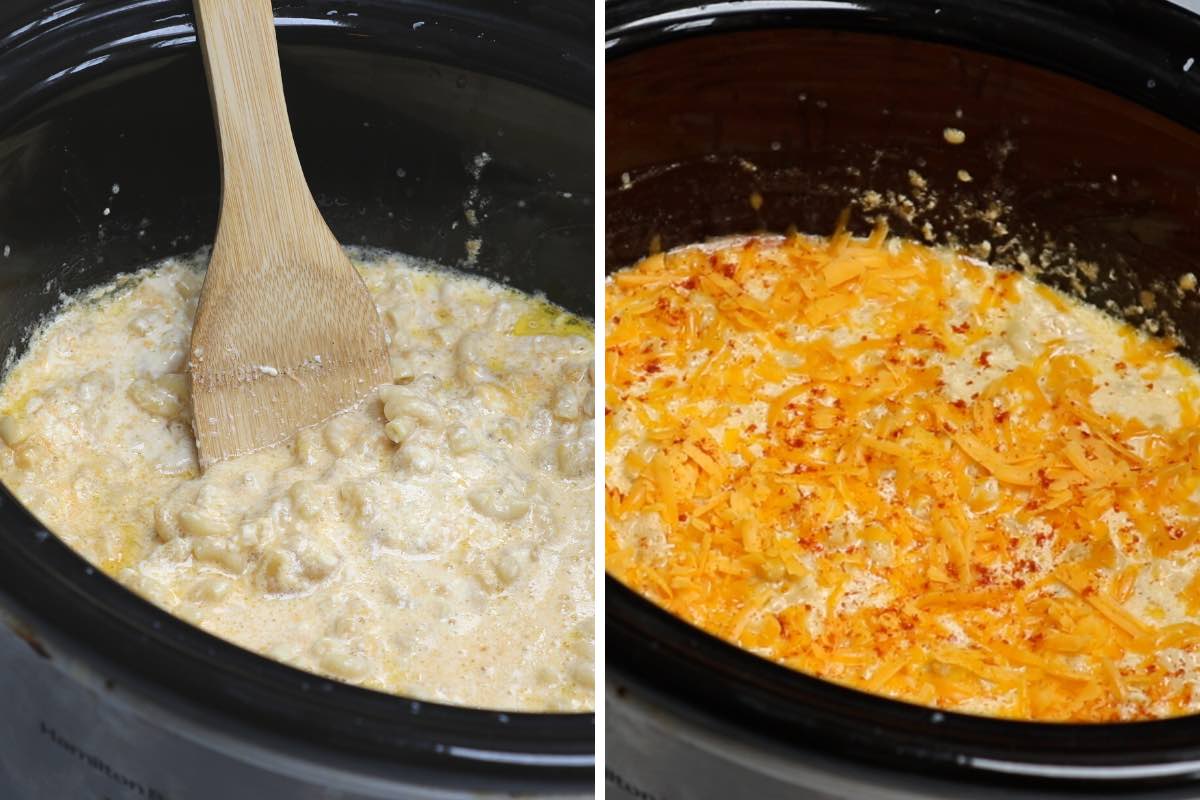 How to Serve Trisha Yearwood Mac and Cheese
You can serve Trisha Yearwood Mac and Cheese directly from the crock pot using a large spoon or ladle. Keep the slow cooker on the Warm setting for the best results.
This mac and cheese is a great addition for a backyard BBQ or potluck. You can serve it with hot dogs, hamburgers, coleslaw, corn on the cob, green salad, baked beans, veggies, onion rings and so much more. The possibilities are endless!
Storage and Reheating Tips
You can store leftovers in an airtight container in the refrigerator for up to 4 days. Alternatively, it freezes well for up to 3 months.
To reheat, place the mac and cheese in a greased oven-safe dish. Add a tablespoon of milk and place in the middle of a 350°F oven for 20 to 30 minutes until heated through.
You can also reheat smaller amounts quickly in an air fryer or microwave.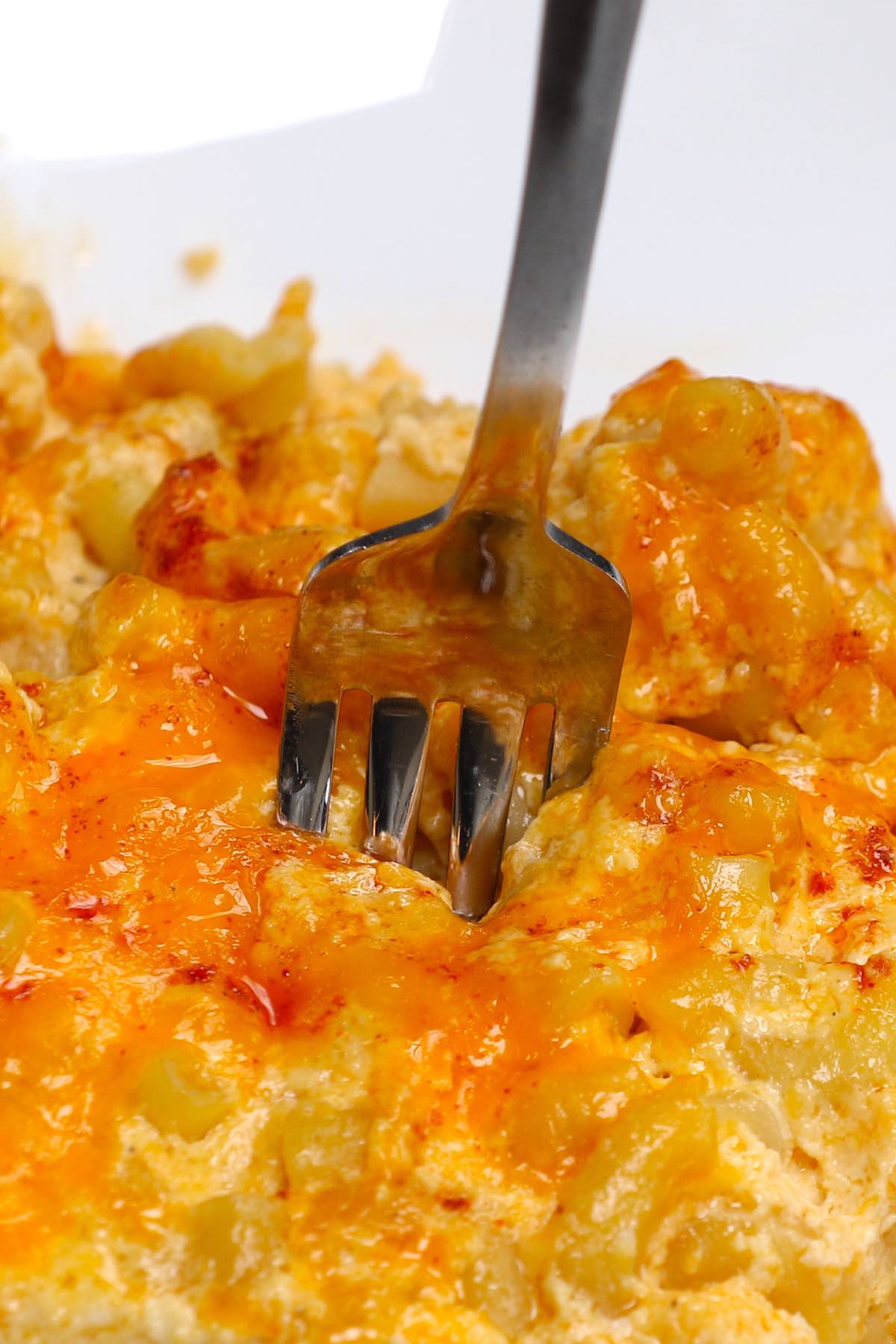 FAQ
Can You Put Raw Pasta in a Slow Cooker?
Yes, you can put raw pasta in the slow cooker. Just be sure to follow the recipe to use the correct amount of liquid and cook for the right amount of time.
What's the Best Cheese to Use for Mac and Cheese?
There are many choices in terms of the cheese selection for mac and cheese, including cheddar, gruyere, parmesan or a combination. Always grate the cheese off a block by hand for smooth melting and avoid pre-shredded cheese.
How to Prevent Mushy Mac and Cheese?
To prevent mac and cheese from becoming mushy in the crockpot, start by picking the right pasta. Durum wheat semolina elbow macaroni is ideal. Then cook on a LOW setting for about 3 hours to avoid too much heat. Note that if you use gluten-free macaroni, the pasta will be done much sooner while whole wheat macaroni will usually take more time.
Which Celebrity Chef Makes the Best Mac and Cheese?
Most celebrity mac and cheese recipes like those from Bobby Flay, Alton Brown, Tyler Florence and Jamie Oliver are baked in the oven. In terms of celebrity musicians, Patti Labelle or John Legend have great recipes. However, Trisha Yearwood is one of the few to make it in the crockpot.
Did Elvis Like Mac and Cheese?
As a fan of Southern food, Elvis did enjoy eating mac and cheese according to various reports.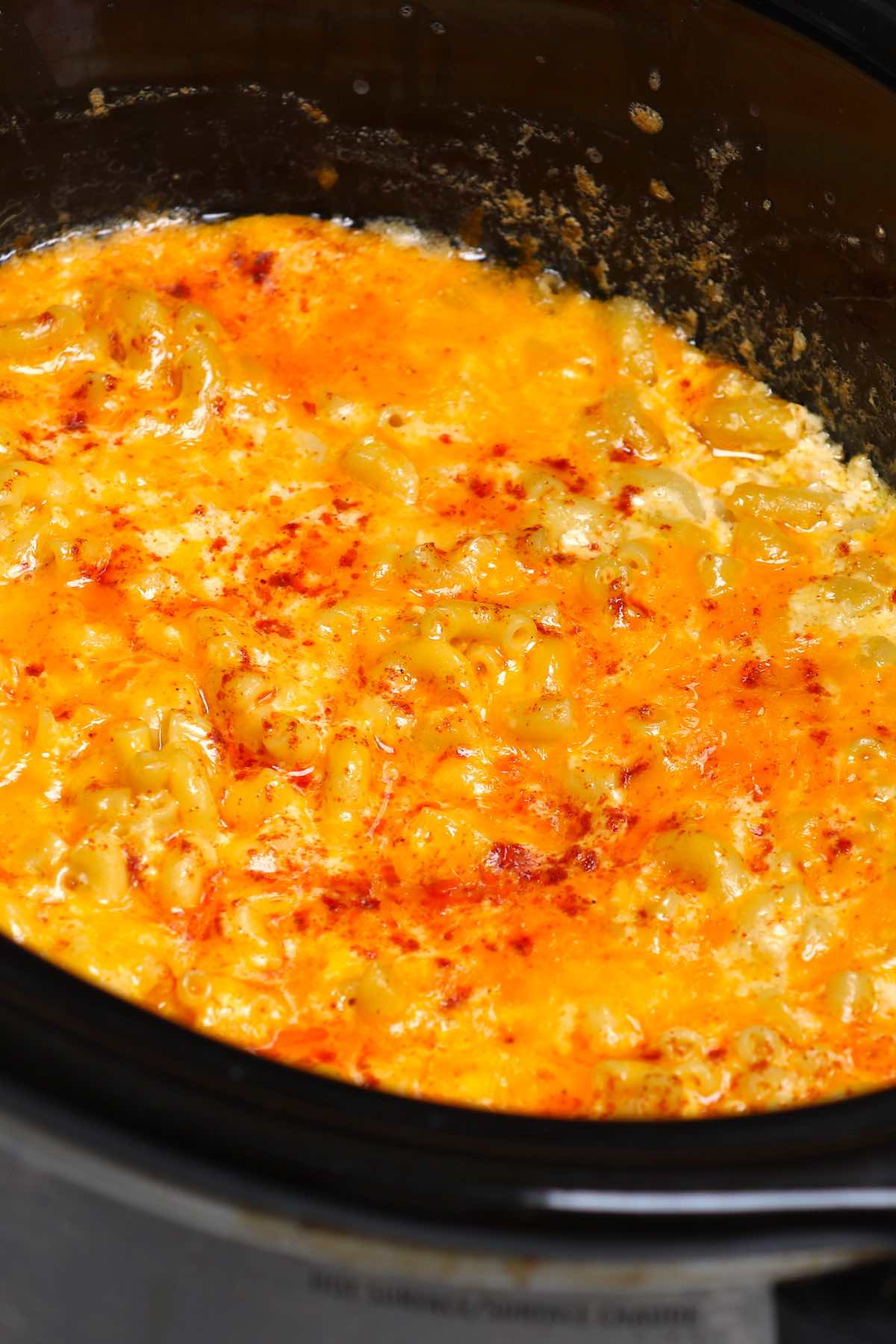 Trisha Yearwood Crockpot Mac and Cheese
The best rich and creamy crockpot mac and cheese! This southern comfort food is an easy dump-and-go recipe.
Ingredients
nonstick cooking spray, (optional)
12 ounces elbow macaroni, about 3 cups uncooked (see note)
12 ounces evaporated milk, see note
2 1/2 cups milk, whole milk recommended
1/4 cup butter, melted
1/2 teaspoon salt, or to taste
1/2 teaspoon black pepper
3 egg yolks, optional (see note)
18 oz sharp cheddar cheese, grated (about 6 cups)
1/2 teaspoon paprika, or smoked paprika (optional)
Instructions
Lightly spray the inside of 4-quart or 6-quart crock pot with cooking spray.

Add the raw elbow macaroni, evaporated milk, milk, butter, egg yolks, salt and pepper.

Stir in 4-5 cups of the grated cheese, reserving the rest for the topping. Mix well with a wooden spoon.

Sprinkle the reserved cheese and paprika on top. Seal the crockpot lid and cook on LOW for about 3 hours.

After 2 1/2 hours, remove the lid and taste the pasta. If it's tender already, proceed to serving. If it's still chewy, continue cooking one more hour before checking again.

Serve warm with your favorite side dishes.
Notes
Macaroni: Use standard-size elbow macaroni from brands such as Barilla or De Cecco. Avoid larger spiral macaroni, which does not cook the same way. If using gluten-free macaroni, reduce cooking time to approximately 2 1/4 hours.
Evaporated Milk: This is canned milk widely available in supermarkets, and it lends a creamier flavor to the dish. You can use regular or 2%, but avoid skim if possible.
Eggs: Trisha Yearwood uses eggs, and we've adapted that to egg yolks to prevent curdling. If you prefer, you can omit them entirely and still get good results.
To Make Baked Mac and Cheese in the Oven: You'll need to boil the macaroni first until al dente. Then spray a 9×13 inch baking pan with cooking spray. Add all ingredients in the pan, and bake at 350°F in the oven for about 50 minutes.
Nutrition Facts
Trisha Yearwood Crockpot Mac and Cheese
Amount per Serving
% Daily Value*
* Percent Daily Values are based on a 2000 calorie diet.
Please read our nutrition disclaimer.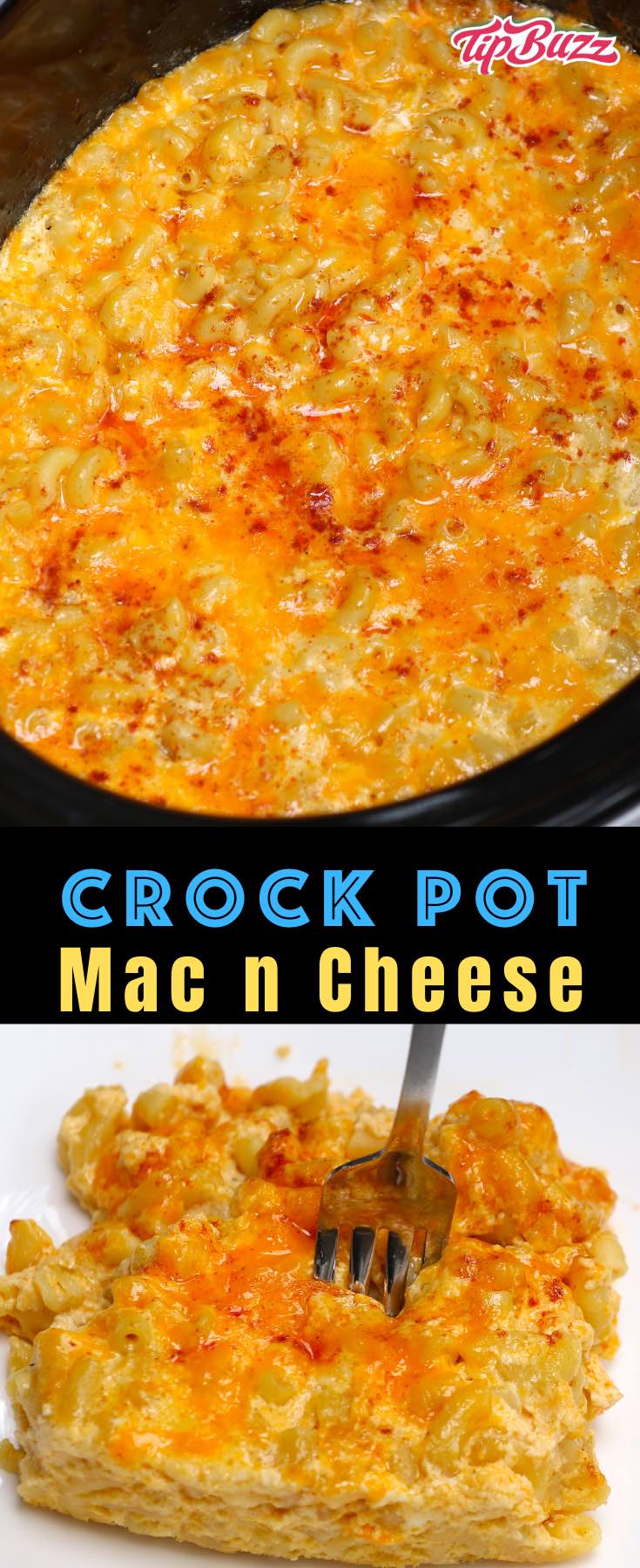 © TIPBUZZ. Images and text on this website are copyright protected. Please do not post or republish without permission. If you want to republish this recipe, please link back to this post. This post may contain affiliate links. Read the disclosure policy here.