Pepino Melon
Pepino melon is an exotic fruit native to South America, where it's also known as pepino and pepino dulce. It has a smooth skin and comes in many different colors and shapes. Despite having a mild and just slightly sweet flavor, pepino melon is nutritious with many health benefits!
Pepino is an exotic fruit that's becoming popular for its health benefits. Women's Fitness hailed it as a superfruit and Gatorade even launched its own Limon Pepino (Lime Cucumber) flavor!
You may need to shop around to find pepino melon, with specialty or Asian grocers being a good starting point. Prices have come down and you should be able to find one for a few dollars. Read on to find out more!
What is a Pepino Melon?
Pepino melon is the fruit of the evergreen shrub Solanum muricatum that's native to the Andes mountains of South America. It also goes by many other names including sweet cucumber, pepino fruit, pepino dulce, melon pear and tree melon.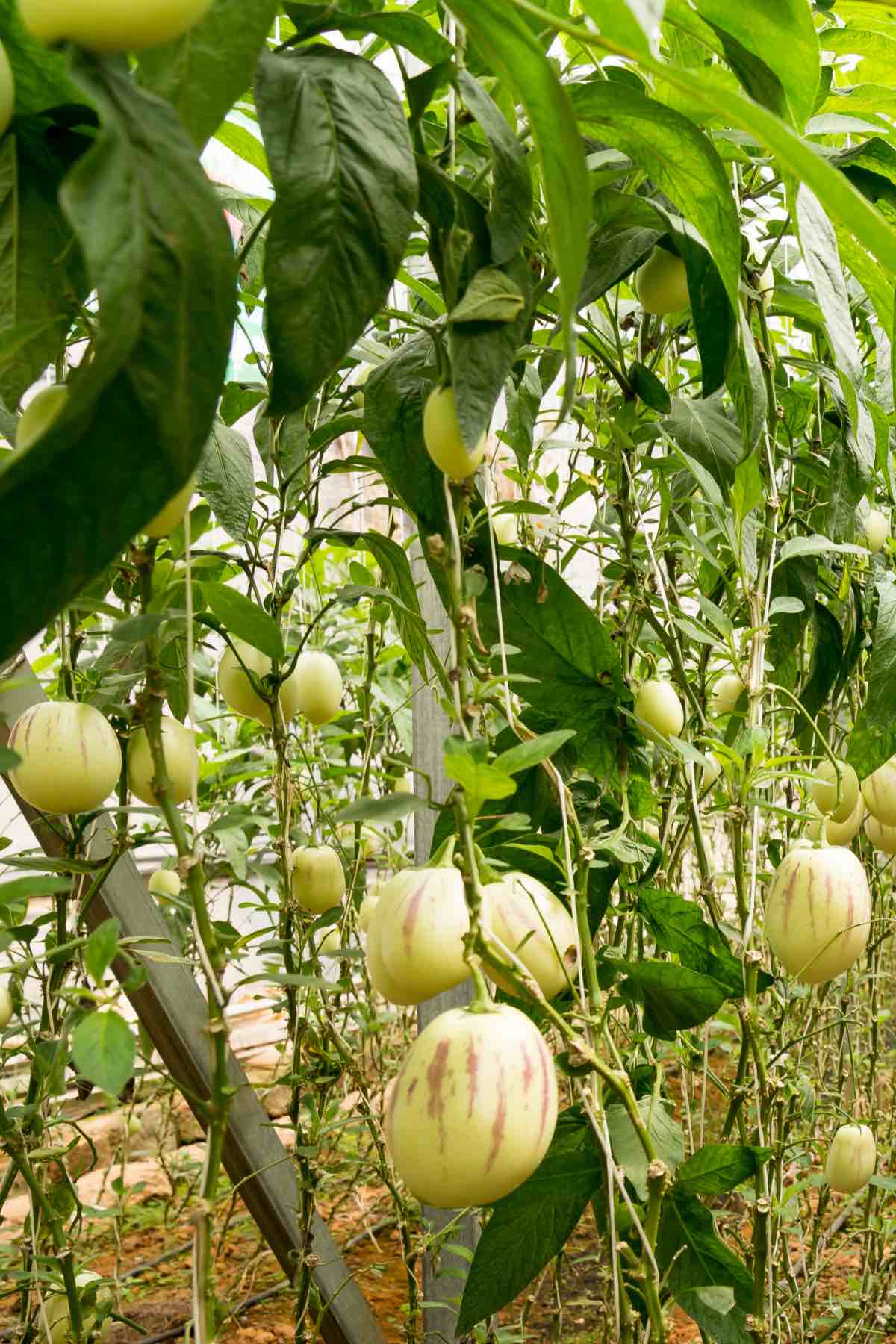 While native to South America, commercial cultivations in the U.S. have picked up as people seek out more exotic fruits for their health benefits. The peak season is typically summer and early fall.
This fruit comes in many shapes including round, oval and teardrop as well as long and slender like a cucumber. It has smooth skin, which also comes in many colors including purple, orange or cream with purple variegations. They can be small enough to fit into the palm of your hand or as large as a cantaloupe!
Is Pepino a Cucumber?
In spite of the name, it's not actually a melon. Pepino translates as "cucumber" in Spanish, but it's not a cucumber either! Rather, it's a member of the nightshade family that includes eggplant and bell peppers.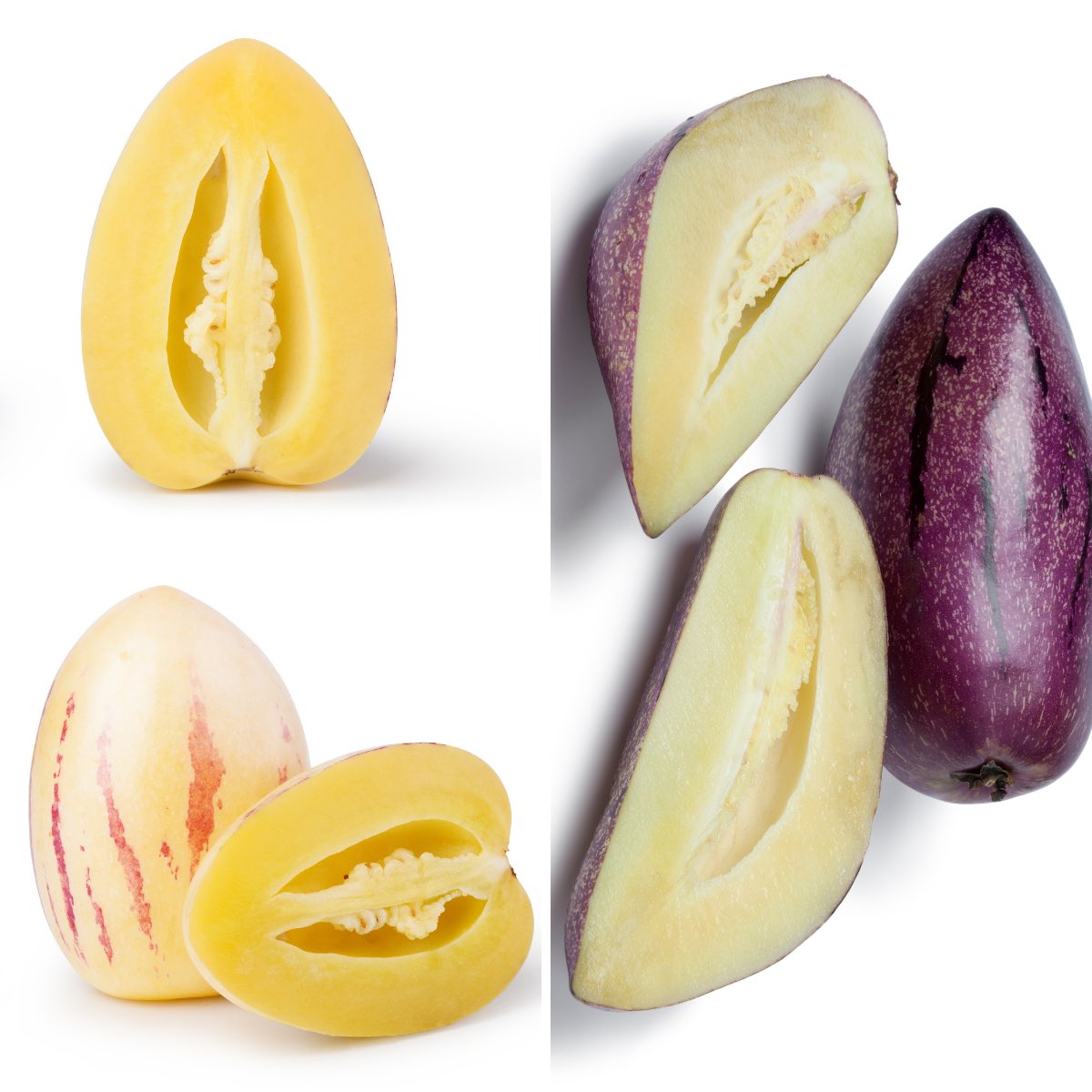 What Does a Pepino Melon Taste Like?
Pepino melon tastes like a cross between honeydew and cucumber. It's slightly sweet with a mildness that somewhat resembles starfruit. As with dragon fruit, I find it tastes better when chilled.
Pepino Melon Benefits
This exotic fruit offers a number of health benefits including:
Anti-inflammatory and anti-oxidative properties
High soluble fiber to promote digestive health
Good source of Vitamins A, C, K and B
Good source of potassium and calcium
In fact, much of the popularity of this fruit comes from its nutrient profile.
What are Pepino Good For?
Pepino melons are good as a low-calorie snack that's also keto when consumed in moderation. You can add it to salads and smoothies or even pair with some prosciutto for an appetizer.
There are 25 to 30 calories in a 100 gram serving (3.5 oz / ⅔ cup) according to CalorieKing and Markon. Each serving has 4 to 5 grams of net carbs, making it comparatively low carb.
When is a Pepino Melon Ripe?
When ripe, pepinos should feel firm but not hard, like an eggplant. A hard pepino melon is under-ripe, while a mushy one is over-ripe and should be discarded.
Light-colored varieties will also take on a rich, creamy hue when ripe. However, darker purple-colored ones have to be judged by touch.
Store a pepino melon at room temperature on the counter. To speed up ripening, place it in a brown paper bag.
Is Pepino Melon Edible?
Yes, the entire fruit is edible, including the skin, flesh and seeds. I tend to remove the skin with a vegetable peeler, as it can often be tough.
Side effects: If you are intolerant of nightshade fruits like tomatoes and eggplants, you may be allergic to pepino melon. This is because the alkaloid solanine may be present, especially beneath the skin.
How to Cut a Pepino Melon
Pepino melons are easy to prepare. You can cut them into chunks or slices as you like.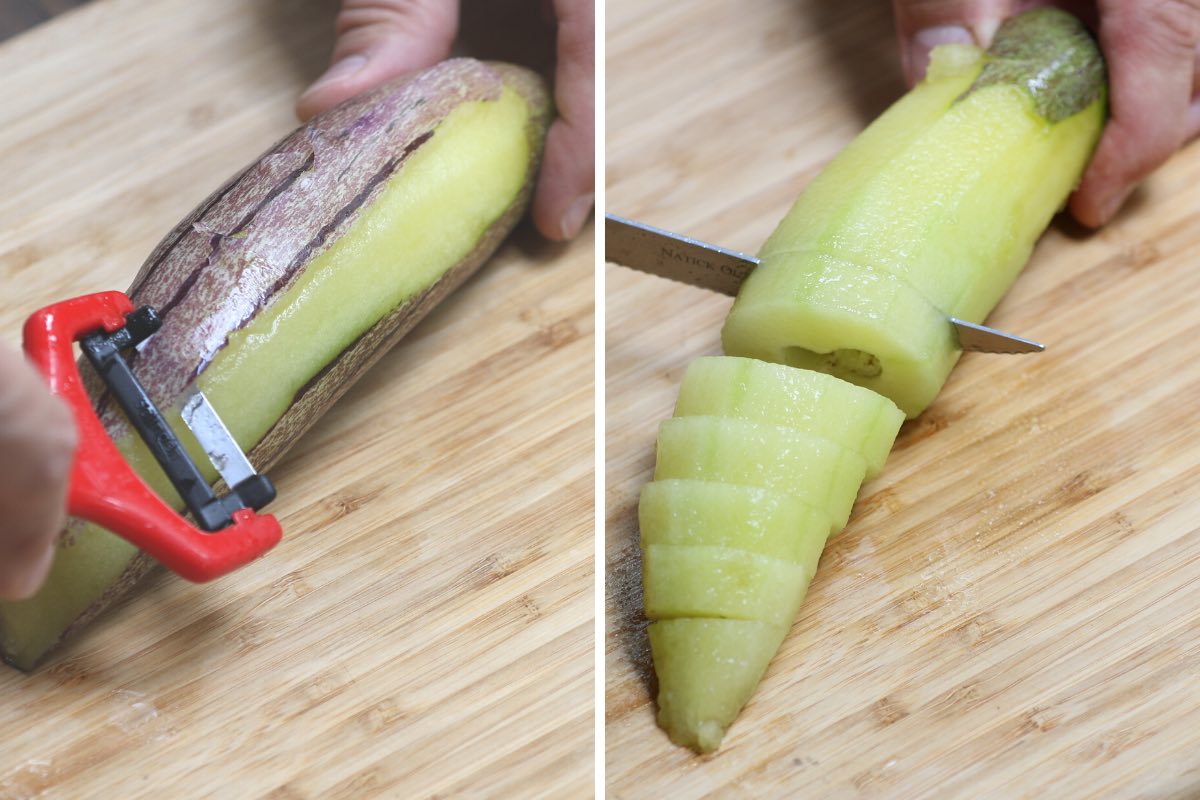 If you wish to remove the skin, a sharp vegetable peeler works well in most cases. For softer melons, you may need to use a paring knife instead.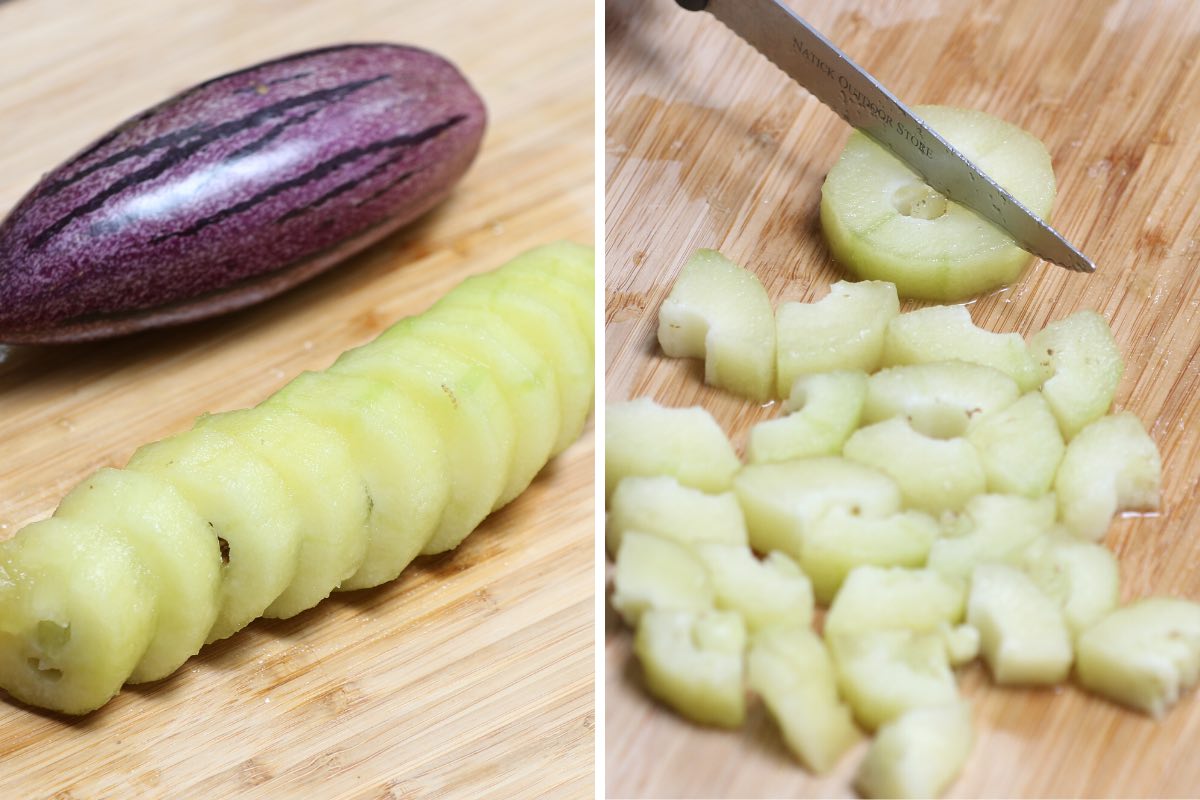 While it's best to eat pepino melon the same day it's cut, you can store it for up to 2 days in an airtight container in the refrigerator. Note that it does not freeze well.
How Do You Eat a Pepino Melon?
Once you have located some at the grocery store, you can explore some of the many ways of enjoying it:
Snack: Slice it into pieces for an easy take-along snack on the go.
Salads: Add it to a spinach or apple salad with some walnuts and blue cheese.
Smoothies: Substitute it for fresh melon or mango in your favorite smoothies.
Appetizers: Pair it with slices of prosciutto or Jamón for a delicious appetizer.
Desserts: Try dipping pieces of pepino in melted chocolate to switch up your chocolate covered strawberries routine. You can also add it to a fruit tart or other desserts.
Just avoid pairing with strong flavors like peaches, which will overpower the mildness of the pepino.
More Exotic Fruits:
Pepino Melon Salad
Pepino melon is an exotic fruit with a mild and slightly sweet flavor plus many health benefits. Learn how to use it in recipes such as this delicious fruit salad!
Ingredients
1 pound pepino melon, 1 large or 2-3 medium
1 cup blueberries, or other berries
½ teaspoon fresh lime
1 sprigs fresh mint, chopped (optional)
Instructions
Peel the pepino melon using a vegetable peeler (optional).

Cut the pepino melon into slices widthwise. Then cut into ½-inch chunks or as desired.

To a medium bowl, add the pepino, blueberries and chopped mint.

Squeeze the half lime over the mixture and toss to combine. Serve chilled if desired.
Notes
Make Ahead: This salad is best the same day, but will last overnight in the fridge in an airtight container. Note: some people prefer the taste when chilled instead of room temperature.
Nutrition Facts
Pepino Melon Salad
Amount per Serving
% Daily Value*
* Percent Daily Values are based on a 2000 calorie diet.
Please read our nutrition disclaimer.
© TIPBUZZ. Images and text on this website are copyright protected. Please do not post or republish without permission. If you want to republish this recipe, please link back to this post. This post may contain affiliate links. Read the disclosure policy here.