How to Cut and Eat Papaya
Learn how to cut a papaya quickly and easily with this step-by-step guide. The sweet flesh is delicious and packed with nutrients. You can eat papaya by itself as a healthy snack or add it to fruit salads, smoothies, desserts and other recipes!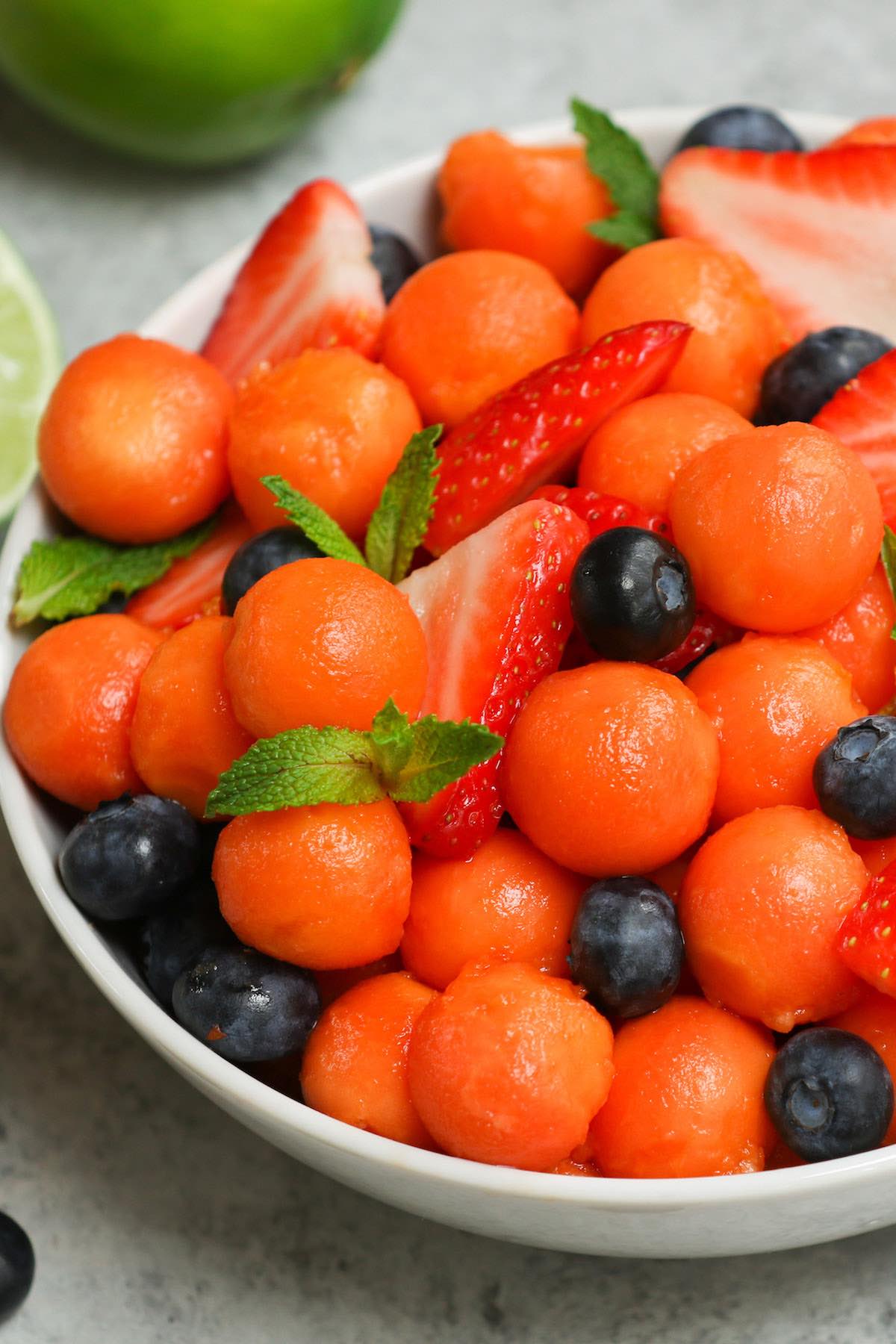 Papaya is sometimes called "the fruit of the angels" for its sweet flesh and wide-ranging health benefits! You can easily cut a papaya for a delicious snack or to add to fruit salads, smoothies and more!
Papayas are easy to prepare and quite affordable at $3-4 for a large fruit. So read on to learn more!
What is papaya?
Papaya (also called pawpaw) is a tropical fruit with orange-colored flesh and edible seeds. It's prized for its sweet flavor as well as nutrients and digestive benefits.
The papaya tree is native to Mexico and northern South America. Today, it's widely cultivated in the Caribbean, Asia, Hawaii and other regions. The large Caribbean and smaller, pear-shaped Hawaiian varieties are most common in the U.S.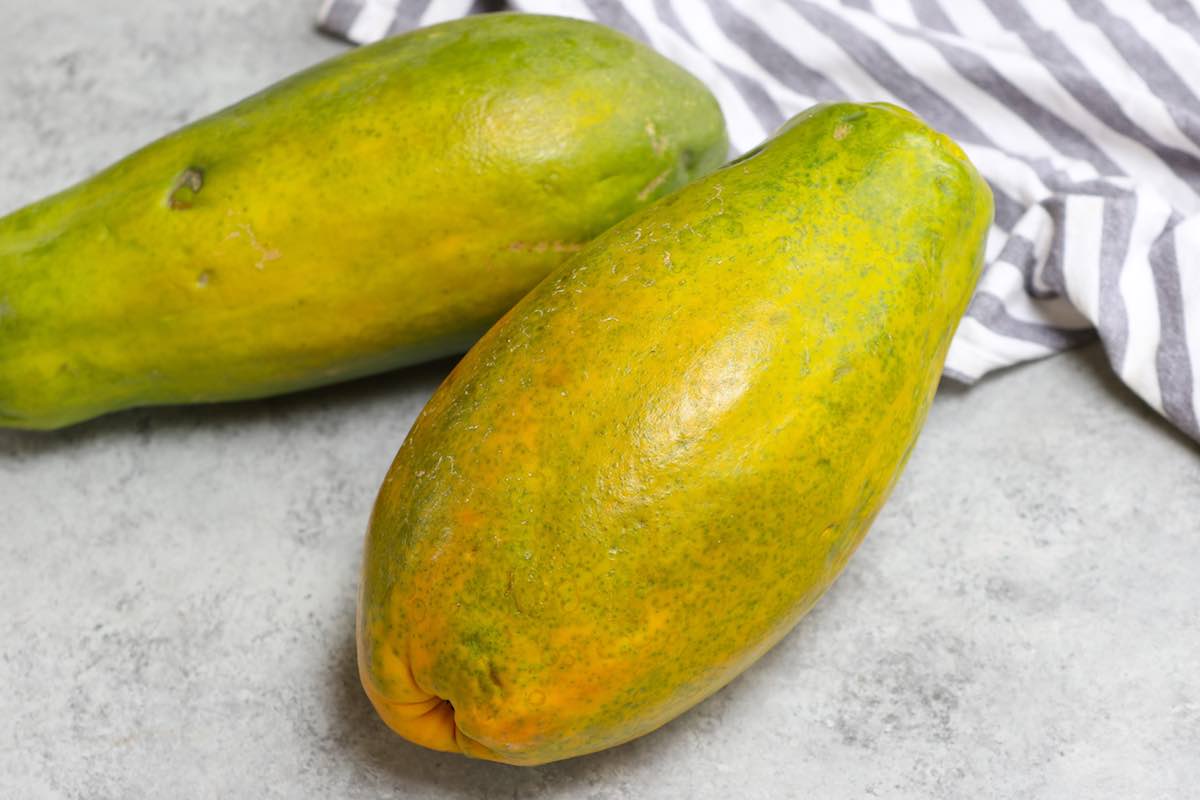 Health benefits
Papayas are incredibly nutritious! They're a low-calorie fruit with just 62 calories per cup (145 grams) with antioxidants such as vitamin C (147% of daily RDI), vitamin A, folate, potassium and lycopene. There are myriad health benefits that include boosting immunity, fighting inflammation, limiting cholesterol buildup and promoting eye health. It's also considered suitable for diabetics.
You also get dietary fiber to aid digestion while making you feel full, which supports weight loss. Plus, the proteolytic enzyme papain in this fruit breaks down proteins, providing a range of digestive benefits!
One word of caution: raw or unripe papaya contains a latex substance that can cause allergies in some people and is unsuitable when pregnant or breastfeeding.
What does papaya taste like?
Ripe papaya has creamy flesh like mango and a sweet flavor resembling cantaloupe melon. Some papayas can have a pungent smell that turns some people off, although it depends on the variety and is not always present.
Unripe or green papaya is the same fruit, but has a crisp, white flesh with a neutral flavor with cucumber or jicama notes. It's the main ingredient for Thai papaya salad (som tam).
Picking papaya
How to tell if a papaya is ripe: The telltale sign is skin that's turning from green to yellow. Also, it'll be heavy for its size and give slightly to pressure like a ripe pear. Blemishes are not a problem, but larger dark blotches and mushy skin indicate the fruit is overripe.
If you want to speed up ripening, simply store it in a paper bag on the counter with other fruits such as apples or bananas. When you want to slow down ripening, put it in the fridge for up to 3 days.
Cutting Papaya
Place the papaya on a cutting board. Using a large chef's knife, cut the papaya in half lengthwise to separate into two sections: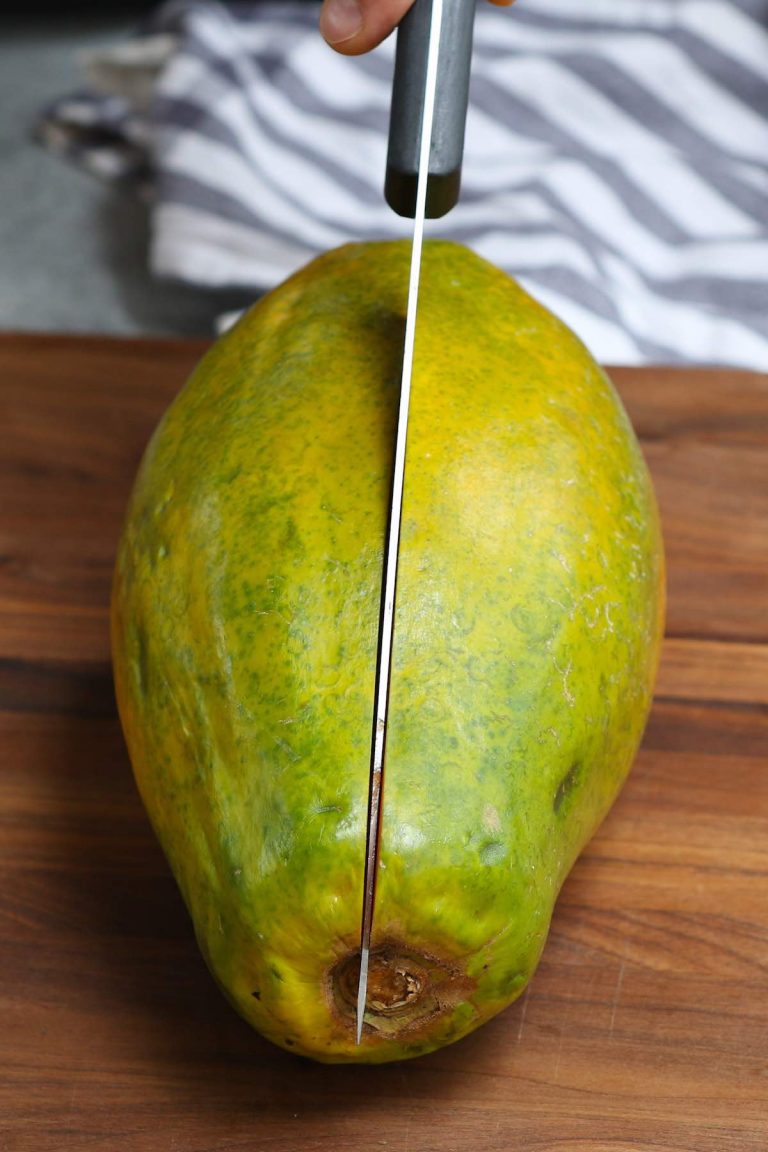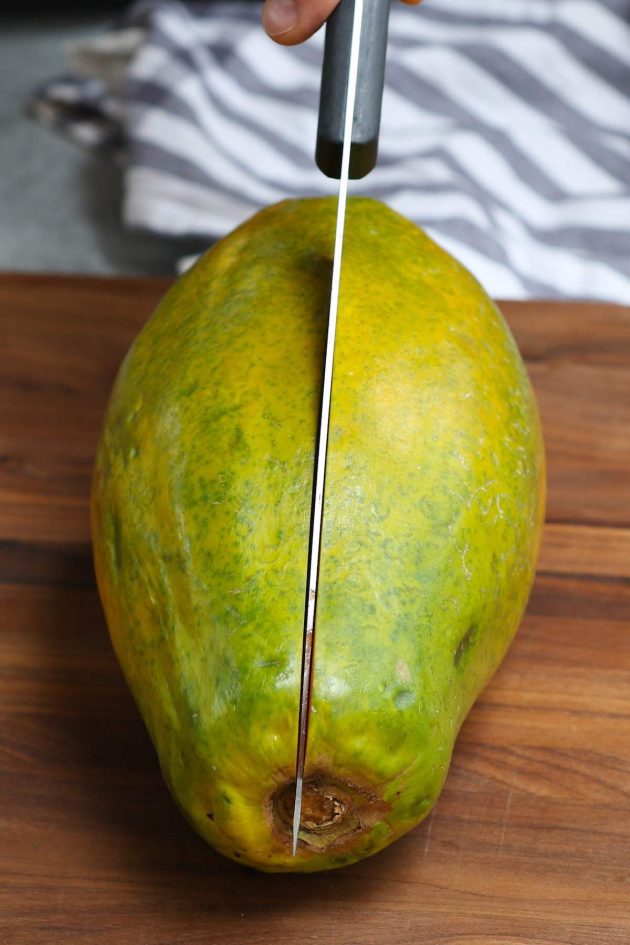 Then use a spoon to scoop out the seeds: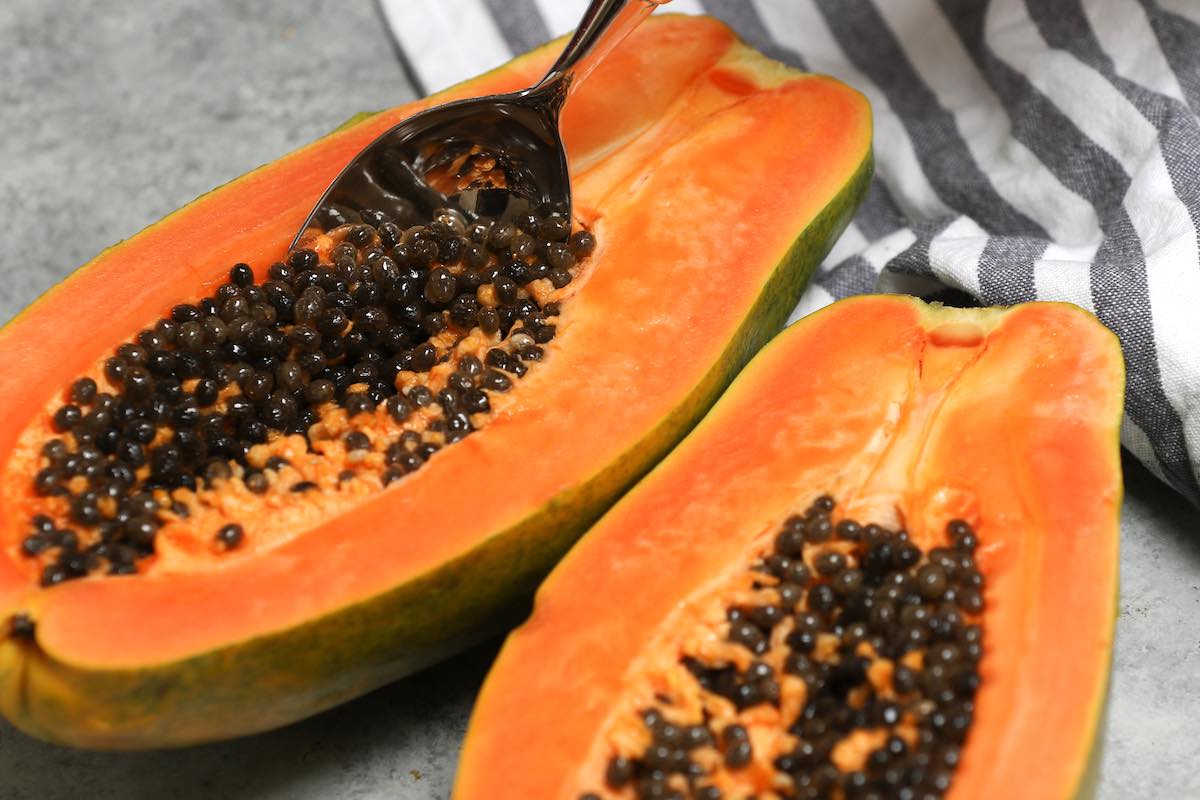 Once the seeds are gone, you can remove the skin using a vegetable peeler or paring knife: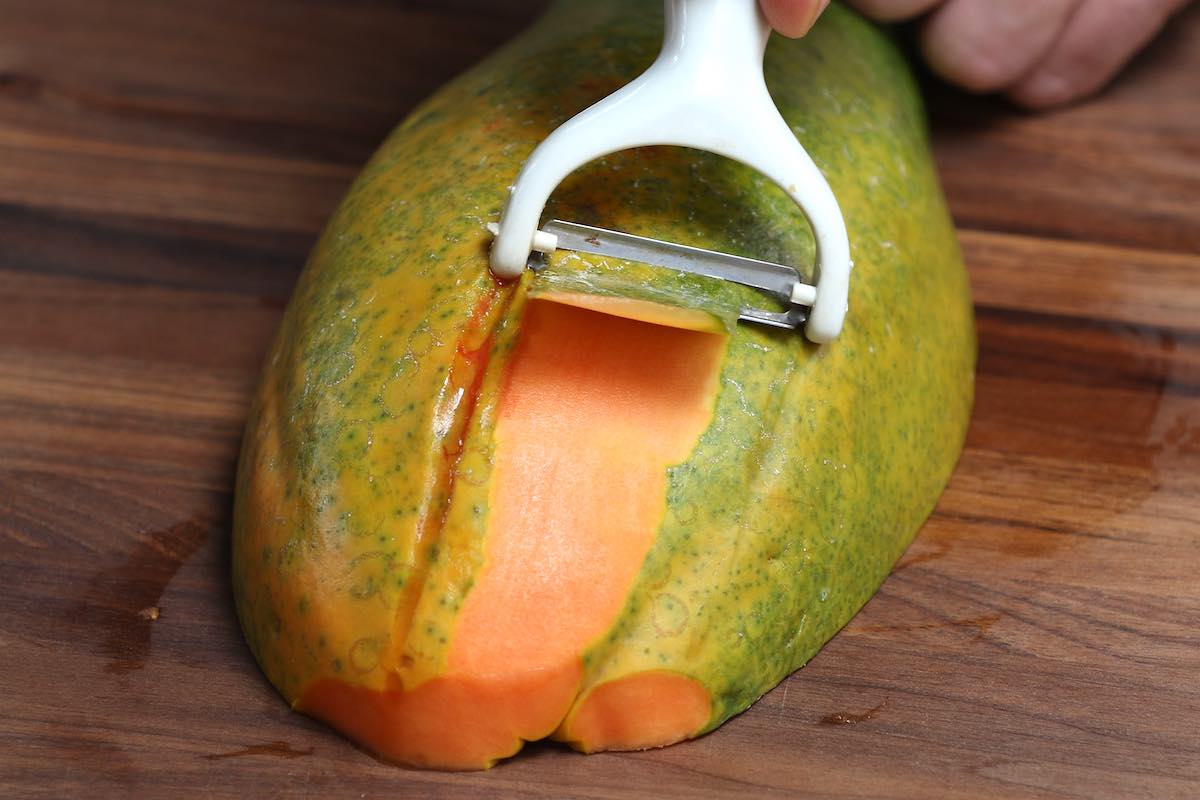 The final step is cutting the flesh into chunks, cubes or wedges as you like: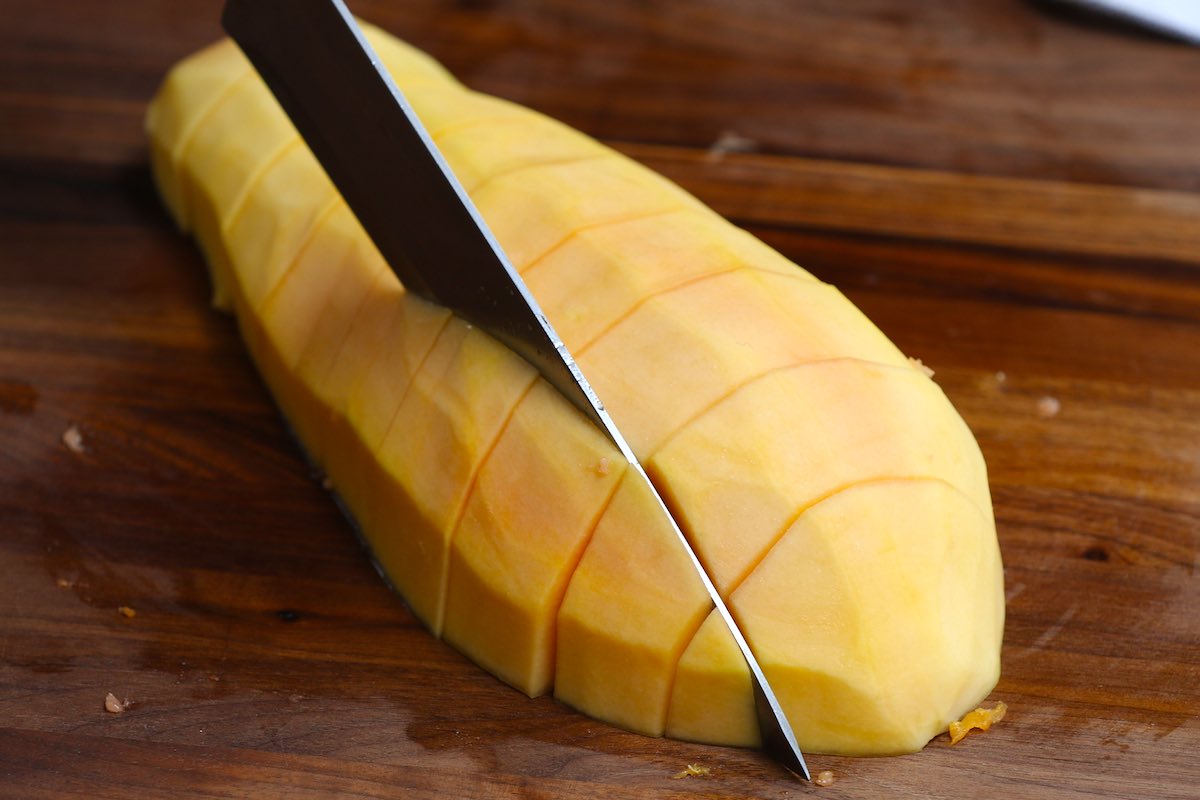 Another option is using a small 1-inch melon baller to create balls, which is a fancier look: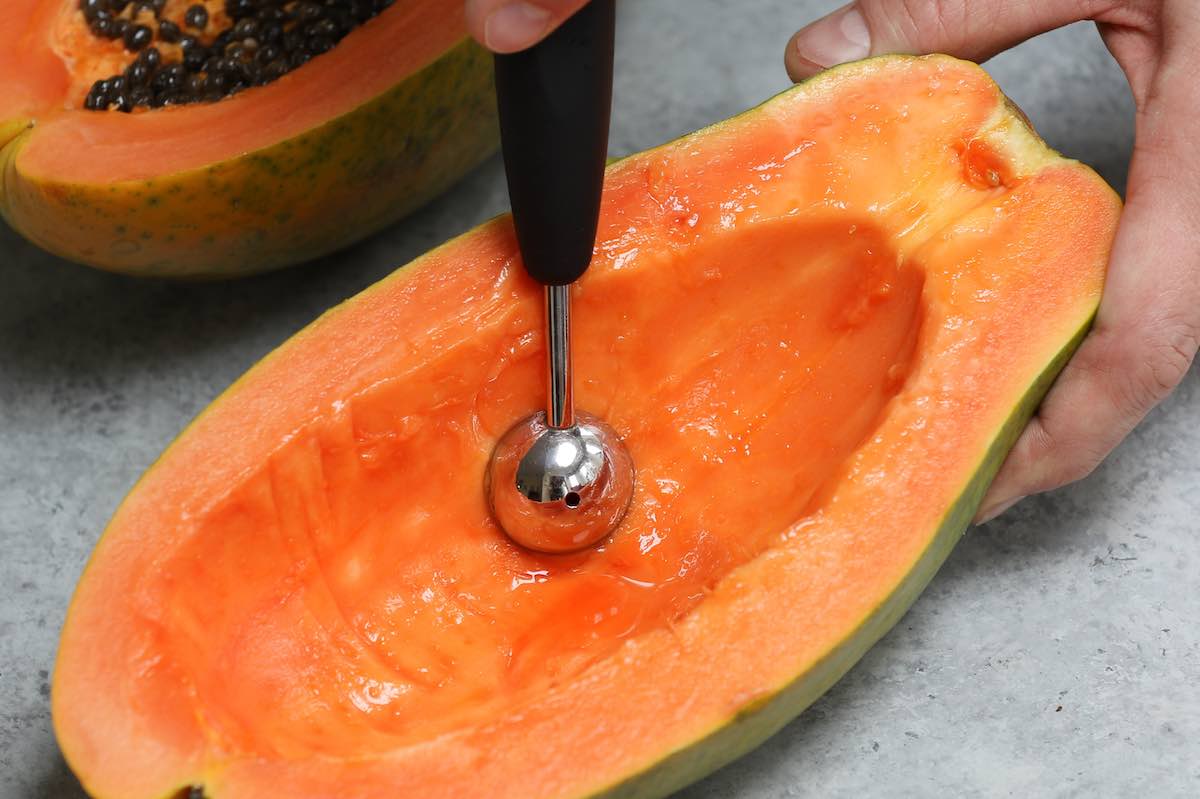 Eating Papaya
Papaya is super-versatile and there are many ways to enjoy it. You can eat it on its own as a healthy snack. You can work it into a fruit salad with berries, kiwifruit, pineapple and mango. Or you can use it to make juice, smoothies or desserts.
A splash of fresh lime juice or lemon juice is a nice complement with the acidity enhancing the flavor. Many people find the flavor is best when served cold, so you may wish to chill the fruit before cutting.
To make a traditional Thai green papaya salad, look for unripe fruit that's hard with crisp flesh like a cucumber! When you're feeling adventurous, you can even bake papaya like squash or include it in stews and other dishes!
More tropical fruits how-to:
How to Cut a Papaya
Learn how to cut a papaya quickly and easily with this step-by-step guide.
Ingredients
1 large papaya, ripe
½ lime, freshly squeezed
1 cup fresh berries, strawberries, blueberries (optional)
fresh mint sprigs, (optional)
Instructions
Place the papaya on a cutting board.

Using a large chef's knife, cut the papaya lengthwise down the middle. The flesh should be an orange-yellow color.

Scoop out the seeds with a large spoon while removing much flesh. You can eat the seeds in small quantities or discard.

Use a vegetable peeler to remove the skin of the papaya in long strips. Alternatively, use a paring knife although it's slower.

Cut the flesh into chunks, cubes or wedges as desired. Alternatively, use a melon baller to make balls.

Squeeze some fresh lemon juice over the cut papaya to enhance flavor and neutralize any unattractive smells.

Combine with optional fresh berries and garnish with fresh mint before serving.
Notes
Make ahead tip: Cut papaya will usually become mushy fairly quickly. You can store in an airtight container in the fridge for up to one day or freeze for up to 3 months for use in smoothies.
Nutrition Facts
How to Cut a Papaya
Amount per Serving
% Daily Value*
* Percent Daily Values are based on a 2000 calorie diet.
Please read our nutrition disclaimer.
Recipe tools
© TIPBUZZ. Images and text on this website are copyright protected. Please do not post or republish without permission. If you want to republish this recipe, please link back to this post. This post may contain affiliate links. Read the disclosure policy here.