Waffle Roll Cake
This Strawberry Waffle Roll Cake uses homemade waffles to make a roll cake filled with whipped cream. It's a beautiful brunch or breakfast idea that's as delicious and easy to make.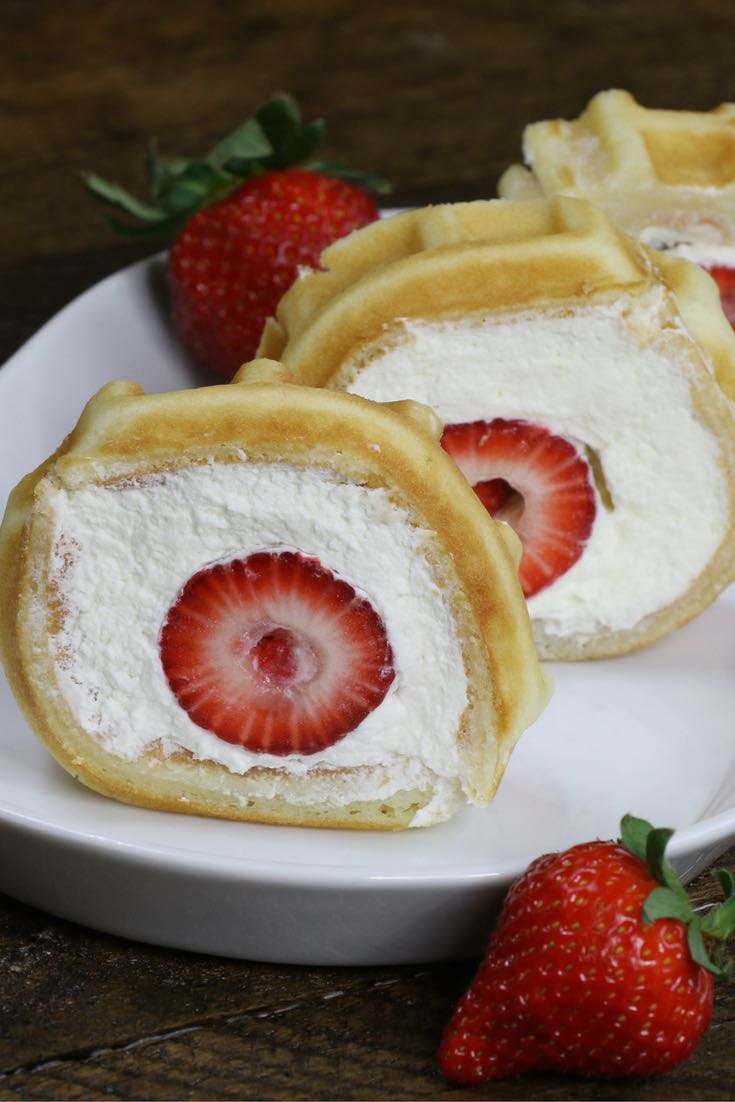 In one bite, you can get your fruits, carbs and protein all in one! It can look a bit daunting to roll up a waffle, but it's easy enough with the help of some plastic wrap.
The key is to put enough batter in the waffle iron to cover the ridges between each waffle. That way it won't tear when you make it.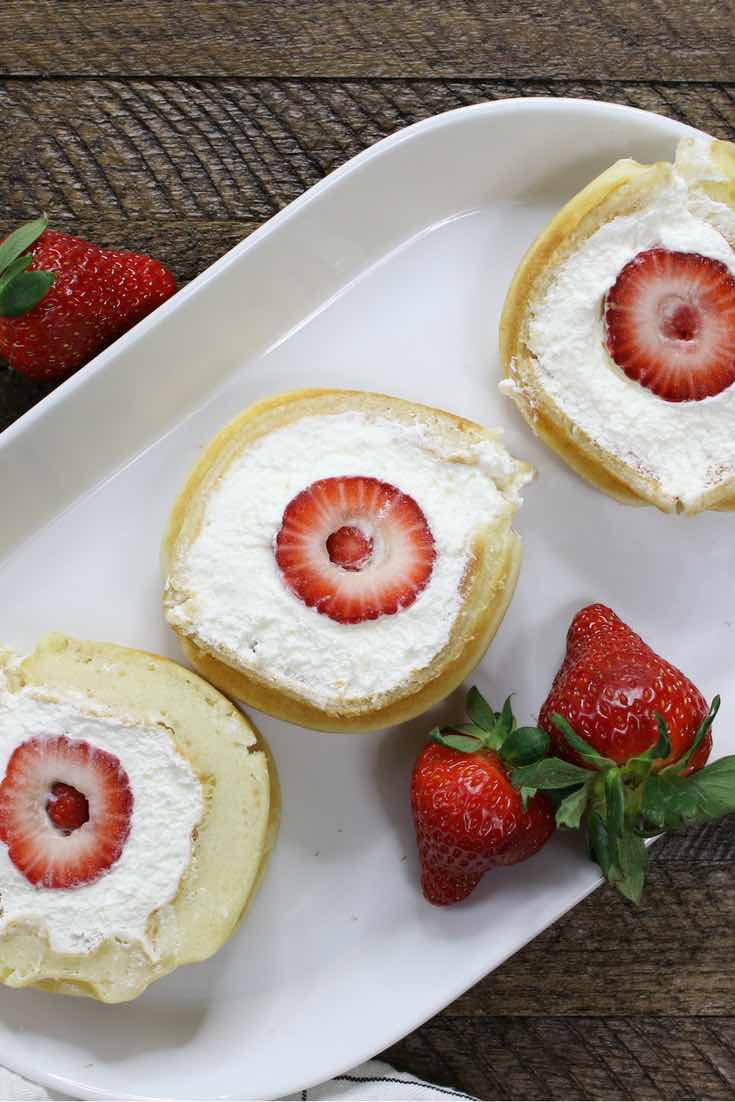 To get started, wash the strawberries and remove the green parts. Then press them together into a horizontal stack. You can actually put them in any way you like, including chopping them up. This stack hack looks fabulous though.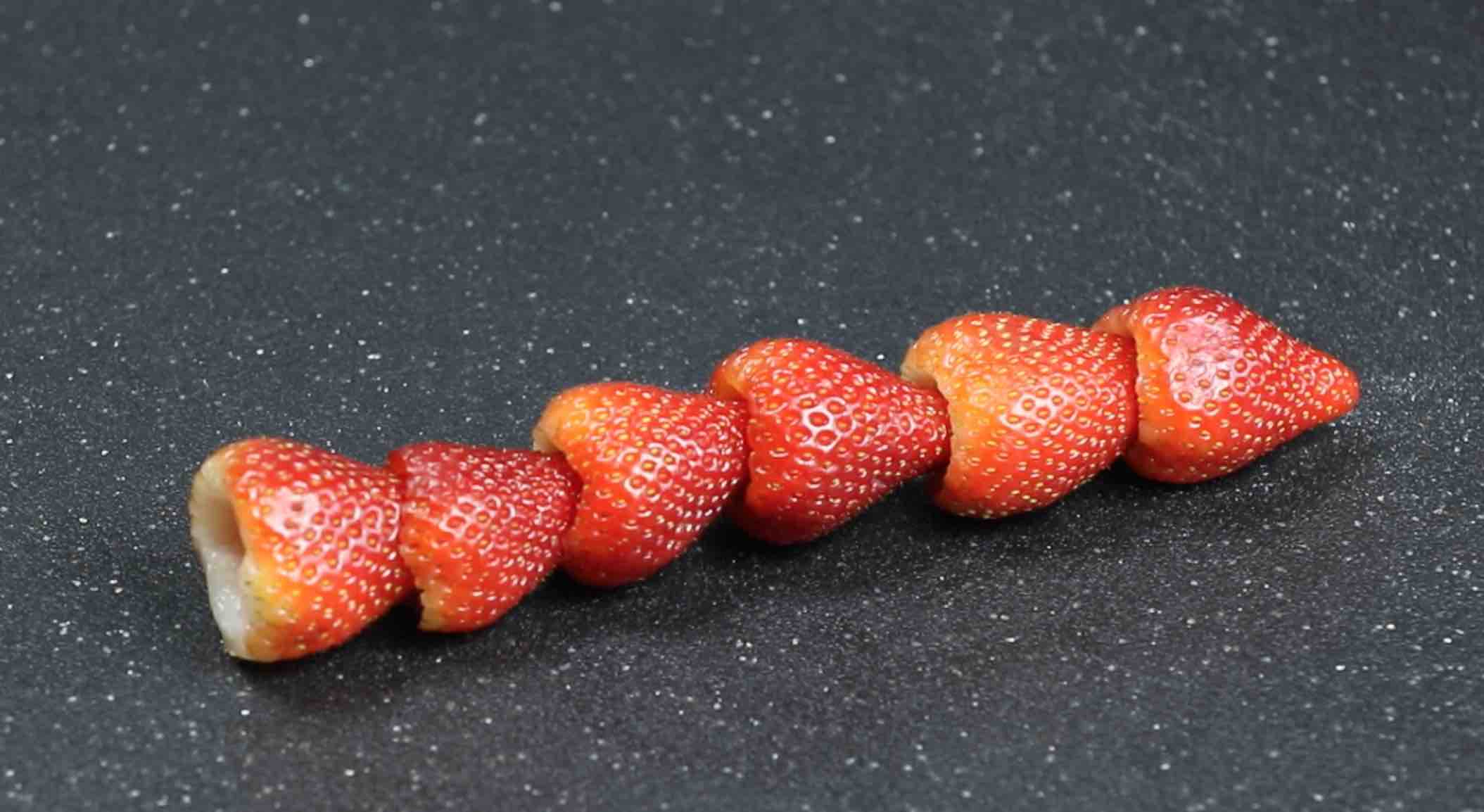 Then prepare your favorite waffle batter using a packaged mix or the ingredients listed. Don't worry if your waffles are not evenly browned, since no one will notice once the waffle rolls are cut.
Once you've let the waffle cool for few minutes, spread the whipped topping onto the waffle.
The last step is adding the strawberries to the middle and rolling it up with some plastic wrap. Best to do this slowly to hold it all together….
And you're almost done. Chill for at least 30 minutes and then peel off the plastic wrap. Then use a sharp knife to slice the waffle roll into pieces and you'll see the beautiful strawberries peeking out.
It's easiest to serve the pieces lying flat on a flat with some berry garnishes. If you're feeling adventurous, you can stand them upright or stack them too. Enjoy!
Video: How to Make a Waffle Roll Cake
Waffle Roll Cake (with Video)
A waffle cake roll filled with whipped cream and strawberries - a perfect breakfast or brunch idea
Ingredients
1 3/4 cups all-purpose flour
1 tsp salt
1 tbsp baking powder
2 tbsp sugar
2 large eggs
1 1/2 cups milk, warmed slightly
1/2 cup melted butter, or oil
7 fresh strawberries
2 1/2 cups whipped cream or topping
Instructions
Turn on your waffle maker. Set aside a wire cooling rack. Wash and hull your strawberries. While it's heating, make the batter.

In a medium bowl, mix together flour, salt, baking powder, sugar. In another bowl, whisk together eggs, milk and butter/oil.

Pour the wet ingredients into the wet ingredients and mix until smooth. Then pour enough batter to fill the waffle iron, about 1/2 cup per waffle. Cook 4-5 minutes until golden.

Using a spatula, gently loosen the waffle from the iron. Then carefully lift away to the cooling rack. Cool 10 minutes, meanwhile prepare the whipped topping.

Place a large piece of plastic wrap on a work surface. Place cool waffle on top. Spread whipped cream/topping about 1/2 inch thick across.

Place strawberries in the middle of the waffle. Then using the plastic wrap for support, roll up the waffle until the ends meet. (Don't worry if the topping squishes out.) Chill 2 hours.

Remove the plastic wrap from the roll. Slice into 1-inch pieces. Serve and enjoy!
Nutrition Facts
Waffle Roll Cake (with Video)
Amount per Serving
% Daily Value*
* Percent Daily Values are based on a 2000 calorie diet.
Please read our nutrition disclaimer.
For more fun dessert ideas, check out TipBuzz Desserts!
© TIPBUZZ. Images and text on this website are copyright protected. Please do not post or republish without permission. If you want to republish this recipe, please link back to this post. This post may contain affiliate links. Read the disclosure policy here.