Picanha Steak
Pincanha is a prized cut of beef in Brazil and a mainstay of Brazilian churrasco or barbecue! Picanha steak, also called culotte steak, is bent into horseshoes and grilled, with a thick fat layer keeping the meat moist and flavorful.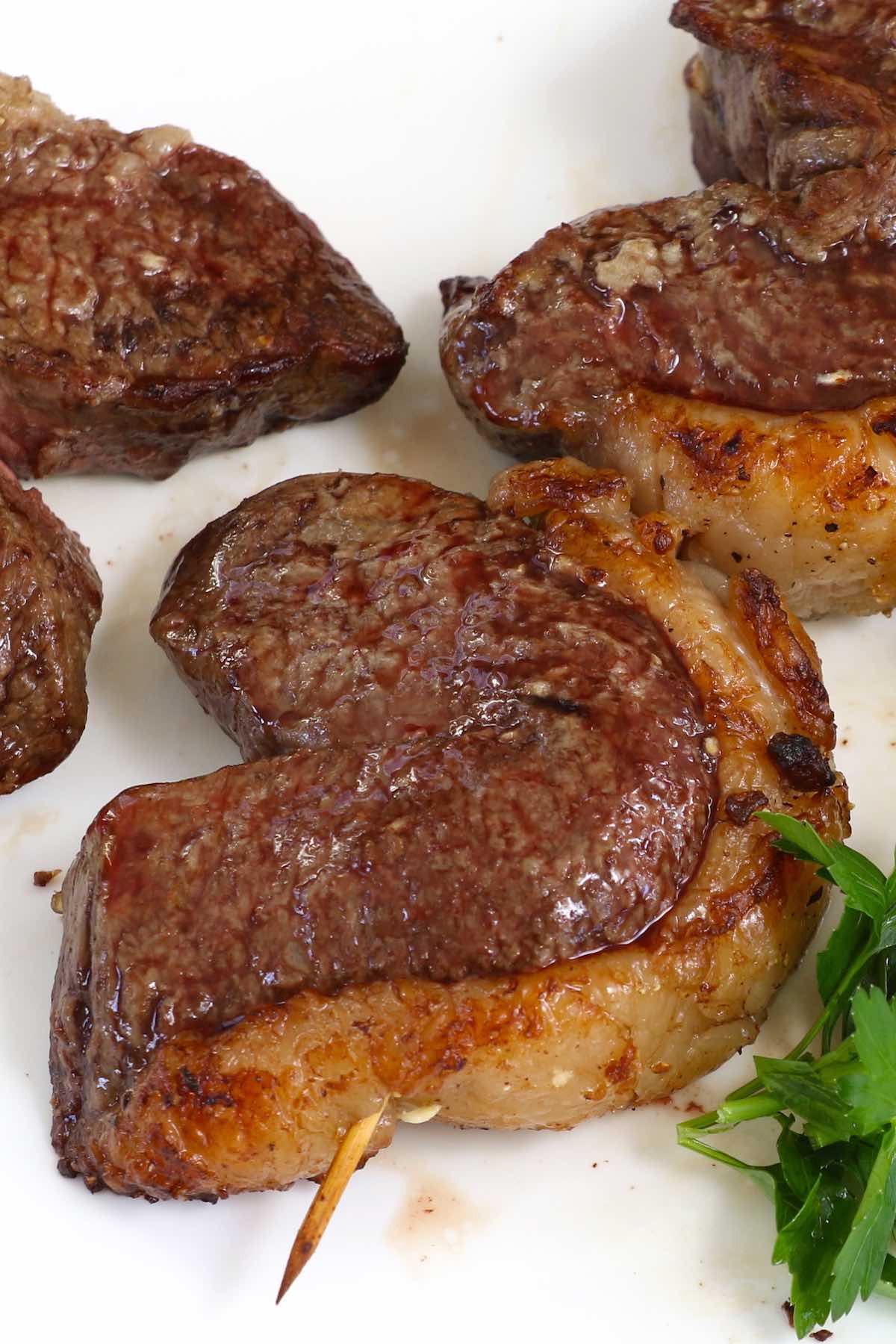 I got my first taste of delicious picanha at a churrascaria or BBQ restaurant in São Paulo, Brazil. The waiters provided rodízio service, where they sliced horseshoe-shaped picanha steaks off skewers right in front of us hungry diners salivating with anticipation!
Fortunately you can get a taste of Brazil by making this steak at home! It's easy to make whether you're grilling or using the oven. You only need a simple seasoning of salt and pepper, although we've added some garlic and onion here too for additional flavor!
Pair it with a green salad and some rice, potatoes for an unforgettable Brazilian-themed dinner!
What is the Picanha Cut?
The picanha (pronounced pee·kaa·nyuh) cut first became popular in Brazil and later caught on in Portugal, hence its Portuguese name. It comes from the biceps femoris muscle of the steer's hindquarters in the sirloin primal.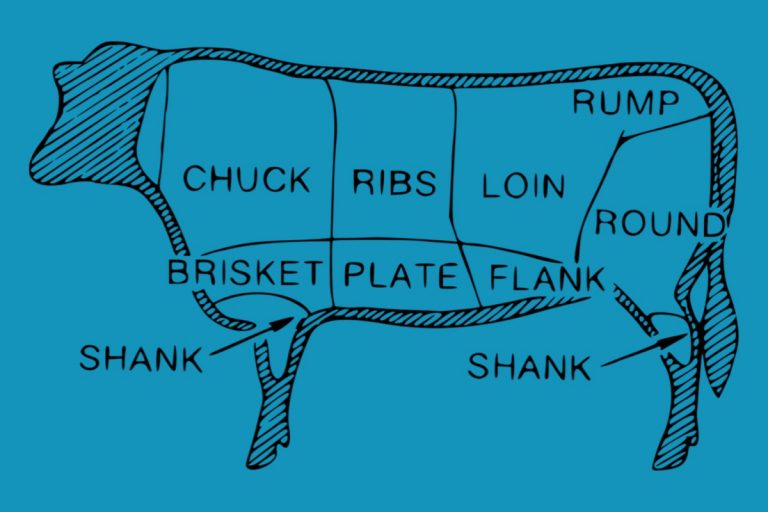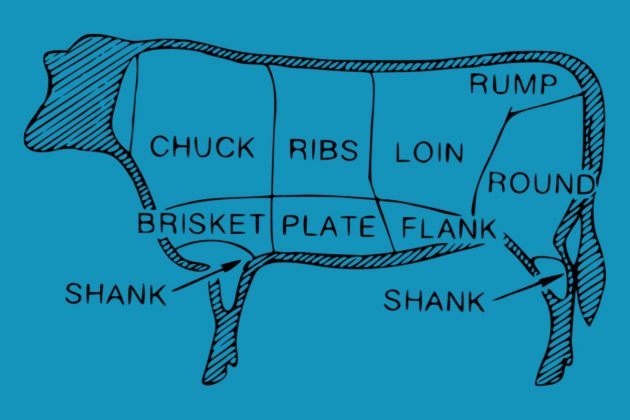 The cut has a triangular shape with a thick fat layer and usually weighs in at 2 to 3 pounds. You may see it labelled in English as rump cover, rump cap, sirloin cap, culotte steak, or picanha steak.
Culotte Steak vs Picanha: While these are the same cut, you'll see culotte steaks cooked as strip steaks, and picanha skewered in horseshoes.
What Makes Picanha so Good?
Picanha beef may well be the more flavorful part of the cow. gets little exercise, so it's nice and tender. The fat cap also bastes the meat as it cooks, keeping it moist and flavorful.
Picanha is a great cut for meat lovers with its rich, beefy flavors. That's why you'll sometimes see people comparing with other flavorful cuts like ribeye.
Picanha vs Ribeye
These two cuts are both quite tender and juicy with intense beefy flavors, but that's where the similarities end. Picanha comes from the rump cap and is typically bent into horseshoes and cooked on skewers over an open fire. The meat is fairly lean and depends on the fat cap to keep it moist.
Rib eye, on the other hand, comes from the rib section and features extensive marbling to make it tender. Needless to say, it's one of the most expensive cuts of beef!
Where to Buy Picanha?
In my experience, the best place to buy picanha is at the meat counter. As with the other triangular cut tri tip, you won't usually find it stocked in supermarkets. The other issue is most butchers will automatically remove the fat cap, which can cause problems.
So tell your butcher to give you an entire rump cap / sirloin cap / culotte steak and remind them to keep the fat on! The price is usually similar to top sirloin, so it's fairly budget-friendly.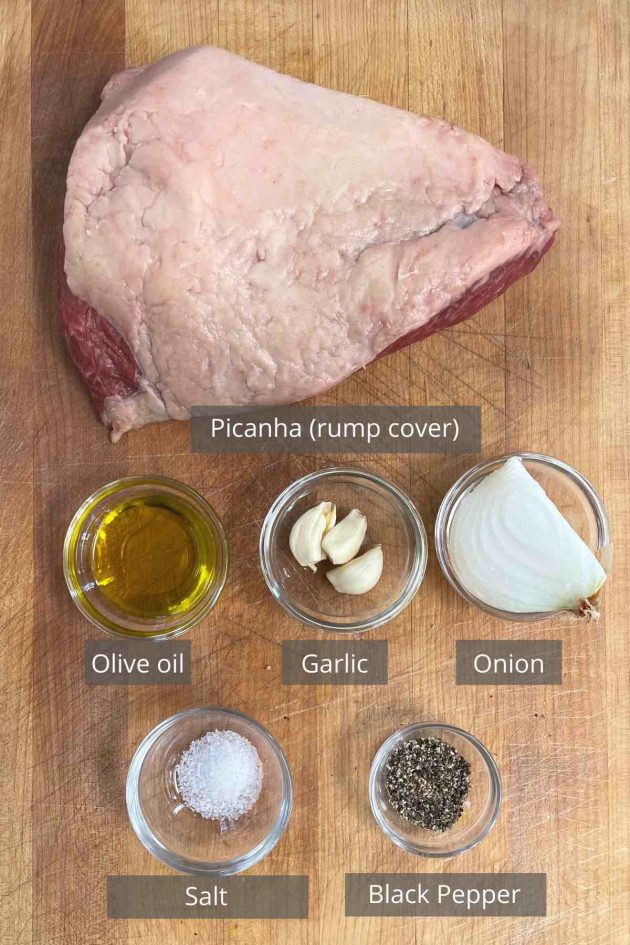 Ingredients
To make it, you only need the meat and simple seasonings. Here we are rubbing it with a garlic, onion and oil mixture for flavor:
Picanha: Try to get a whole rump cover, which is a triangular piece of meat weighing about 2 to 3 pounds. Alternatively, you can buy culotte steaks that have already been cut.
Oil: I recommend refined olive oil to minimize smoking, but you can easily use canola oil or another high-temperature oil.
Garlic: Fresh garlic cloves are what you need, but you can substitute one tablespoon garlic powder in a pinch.
Onion: One medium sweet onion (yellow or white) will do the trick.
Salt: Table salt or coarse salt
Black pepper (optional): Freshly ground if desired
How to Cook Picanha
The Brazilian churrasco (BBQ) way to cook picanha starts with scoring the fat cap with a sharp knife. This helps it to melt easily while allowing the seasonings to penetrate into the meat.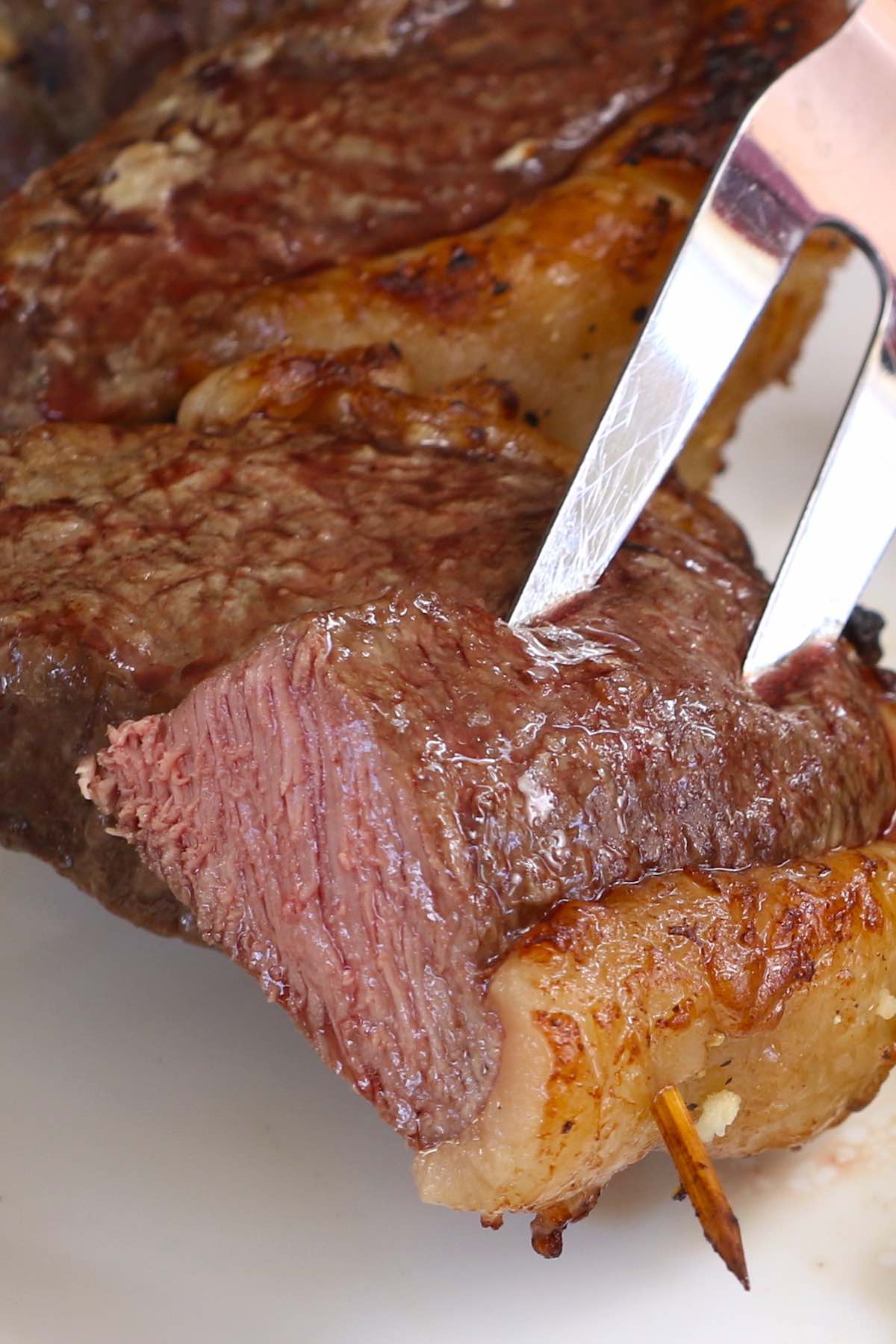 If you wish, you can cook picanha whole by rubbing with oil and seasonings. Then cook it in a 375°F oven or grill for 40 to 60 minutes or 20 minutes per pound.
Picanha Steak
This is the Brazilian preparation. Cut it into long strips about 1 1/2 inches wide. Fold each one into a horseshoe and push a skewer through. Brush with oil and rub seasonings into the meat. Then cook at 400°F for about 10 to 12 minutes depending on your desired doneness. You can use a grill or oven as you like.
If you don't want to skewer the meat, you can cook the strips as traditional American steaks in a cast iron pan for the same amount of time.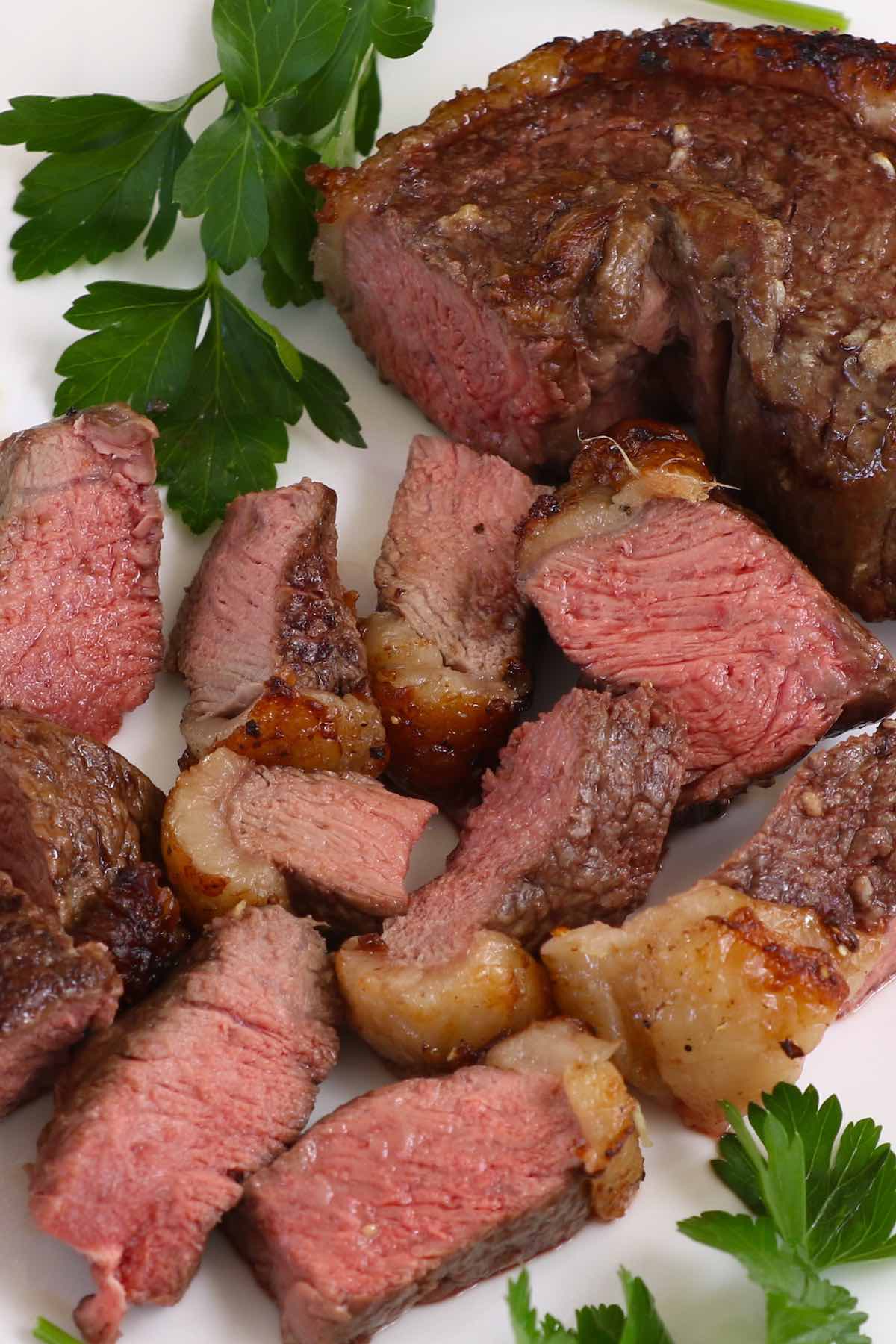 When Is It Done?
I recommend cooking picanha to medium rare (130°F) or medium (140°F). Note that the USDA recommends cooking to 145°F followed by a 3-minute rest before consuming.
The only accurate way to check doneness is by inserting an instant-read theremometer into the center (or by using a wireless dual-probe thermometer). This inexpensive gadget will ensure you don't ruin a nice piece of meat.
More Beef Recipes:
View all steak recipes
Brazilian Picanha Steak
Pincanha is one of Brazil's prized cuts of beef and you'll find picanha steak at any Brazilian churrasco or barbecue. Sometimes called culotte steak, it's a tender cut featuring rich beefy flavors and a fat cap to keep it moist.
Ingredients
2-3 pounds picanha, including fat cap (see note)
3 large garlic cloves, peeled
1 medium onion, roughly chopped
1/3 cup olive oil, see note
2 teaspoons salt
Optional for Serving
black pepper, freshly ground
fresh parsley, minced
Instructions
Remove the meat from the refrigerator one hour ahead of time. This optional step will take the chill off for more even cooking and juicier meat.

Preheat your grill or oven to 400°F. When hot, oil the grill grates.

In a blender or food processor, add the olive oil, onion, garlic and salt. Process for 5-10 seconds or until you get a coarse, paste-like consistency. Set aside.

Place the picanha on a work surface. Score the fat side about a half-inch deep using a butcher's knife. Then cut vertically from the fat down into strips about 1 1/2 inches wide.

Rub the pieces of meat generously on all sides with the garlic mixture.

Fold one piece into a horseshoe and skewer it to hold the shape. Add second and third pieces onto the same skewer. Repeat for additional skewers as needed to use up the beef. Let it sit for up to 15 minutes to marinate.

Using kitchen tongs, place the picanha steaks on the grill and close the lid. Cook for 4-6 minutes per side or until they reach your desired doneness: 120°F for rare, 130°F for medium rare or 140°F for medium. Always check doneness by inserting an instant-read thermometer into the thickest part.

Remove the picanha to a serving plater and tent with foil to keep warm. Let it rest for 5 minutes undisturbed so the juices can redistribute through the meat.

Slice against the grain and garnish with optional black pepper and minced parsley to serve.
Notes
Picanha: This cut is also known as rump cap, sirloin cap and culotte steak. It has a triangular shape and usually weighs 2-3 pounds.
Olive oil: Use refined olive oil instead of extra virgin to minimize smoking; otherwise use another high-temperature oil such as canola or sunflower.
Nutrition Facts
Brazilian Picanha Steak
Amount per Serving
% Daily Value*
* Percent Daily Values are based on a 2000 calorie diet.
Please read our nutrition disclaimer.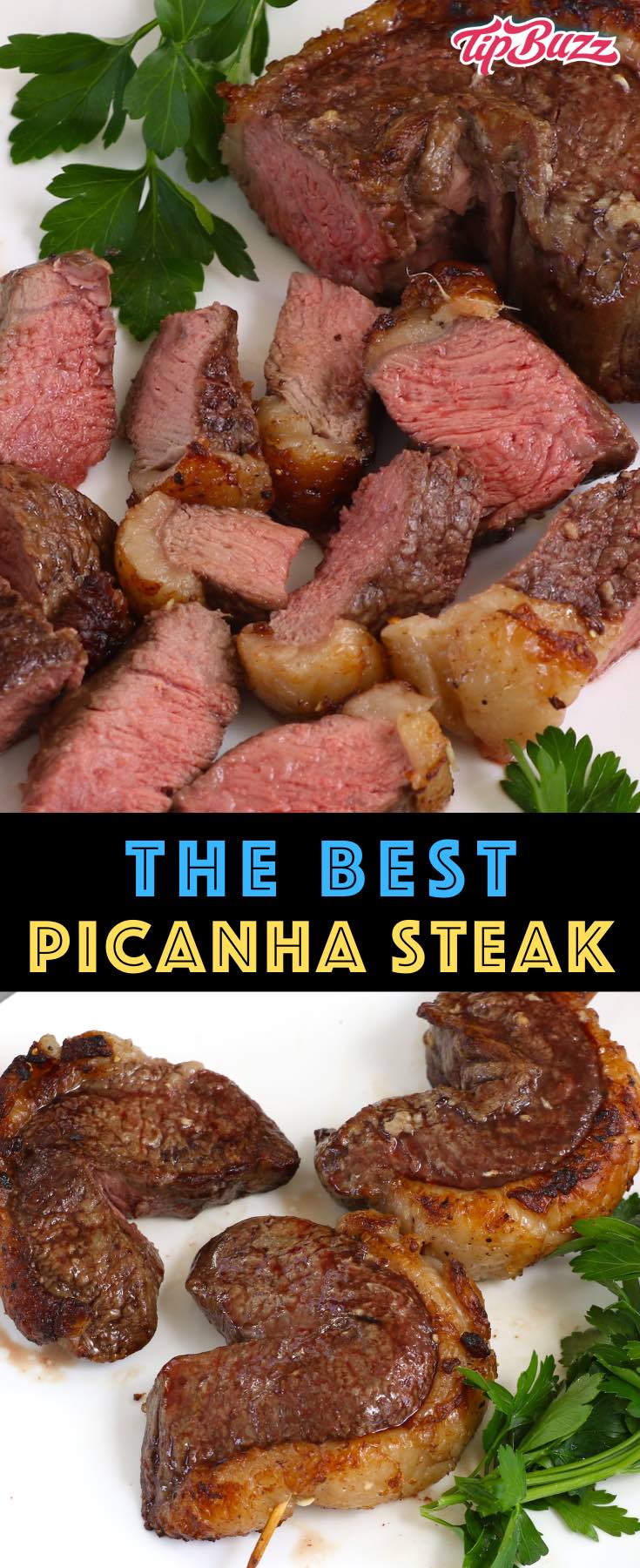 © TIPBUZZ. Images and text on this website are copyright protected. Please do not post or republish without permission. If you want to republish this recipe, please link back to this post. This post may contain affiliate links. Read the disclosure policy here.