How Long to Microwave a Potato
Learn how long to microwave a potato along with tips for getting a perfect microwave potato every time. A microwave baked potato is just as fluffy and delicious as oven-baked, plus it cooks up in minutes!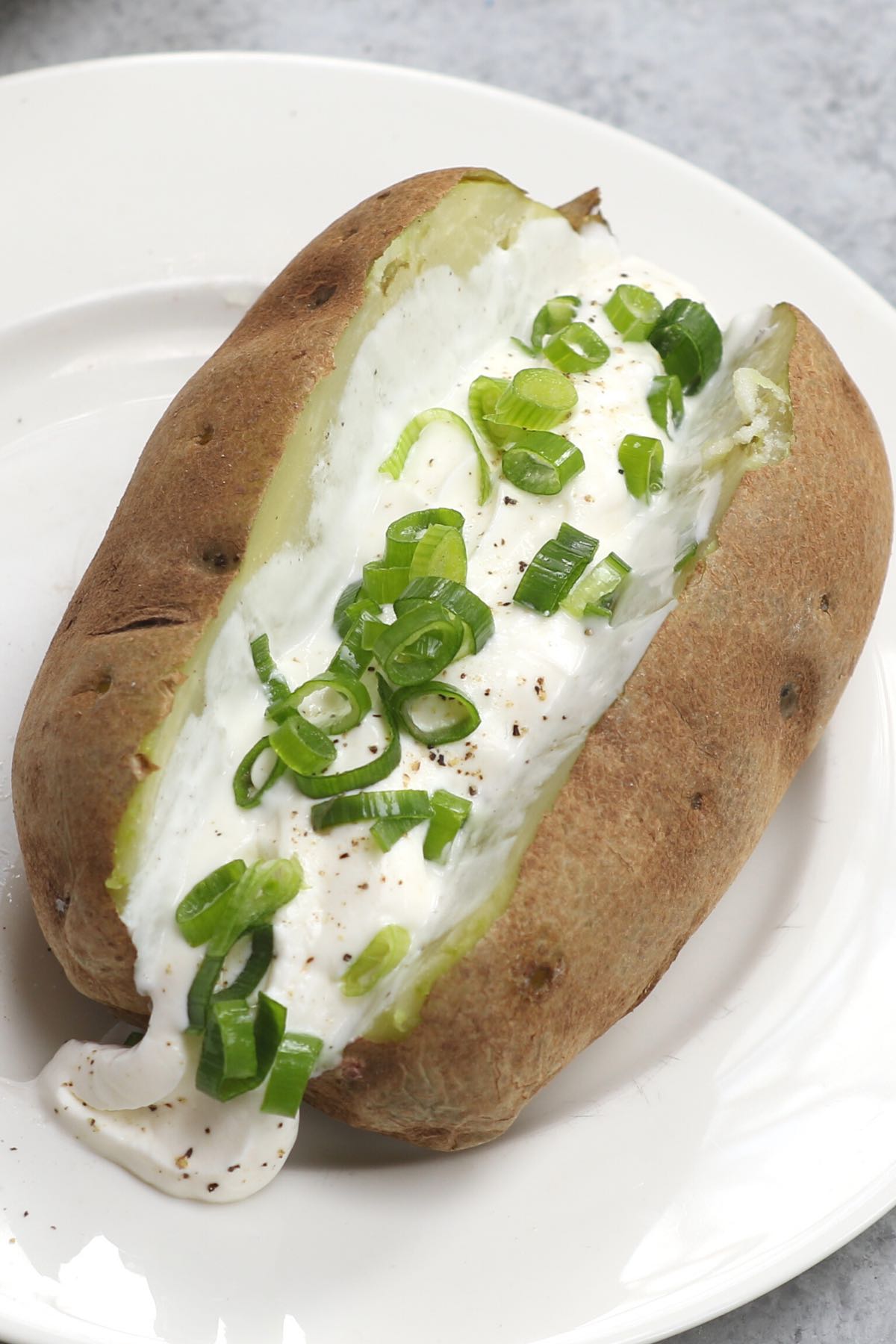 Baked potatoes are healthy and wholesome as a meal on their own or a side dish. Load them up with your favorite toppings and you've got comfort food for a cozy night in. But did you know that potatoes can also be "baked" in the microwave?
Your potatoes will come out soft and fluffy and will be ready to eat in no time. It's ideal for those nights when you want something filling and delicious with minimal effort.
Is it Better to Bake a Potato in the Oven or Microwave?
There are some serious advantages to microwave potatoes:
The process is much faster than traditional oven baking and requires minimal effort.
The potatoes come out just as soft and tender.
It keeps your kitchen cool on a hot day, since the oven stays off.
The only downsides are that the skin won't come out crispy like oven-baked, and you can't cook in quantity.
Baking potatoes is best when you want nice, crispy skin or when you are cooking in quantity. However, count on at least one hour in the oven!
Is It Safe to Microwave a Potato?
Yes, it's safe to cook potatoes in the microwave. Just be sure to use microwave-safe dishes and avoid foil. Always poke holes into the potatoes to allow steam to escape; otherwise, there is some risk the potato could break apart or explode due to pressure buildup.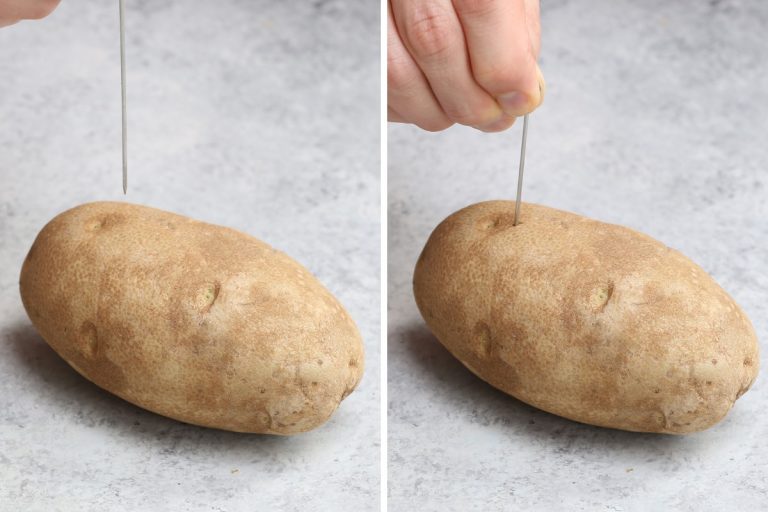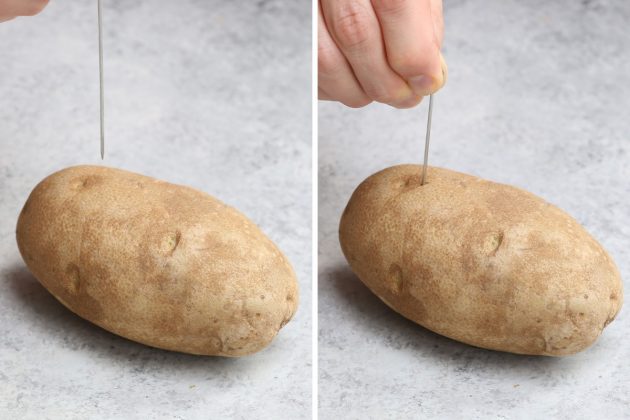 Does Microwaving Kill Nutrients in Potatoes? There is no nutritional difference in potatoes that have been microwaved versus other methods, according to Livestrong.
How to Microwave a Potato
First, you need to thoroughly wash your potato, especially if you like eating the skin. Use a brush to scrub the potato clean. Use a skewer or cake tester to poke several holes to the center of the potato to allow steam to escape. Skipping this important step could lead to an exploded potato!
Put your potato on a microwave-safe plate and then cook on 100% power until the potatoes are tender. See below for recommended cooking times.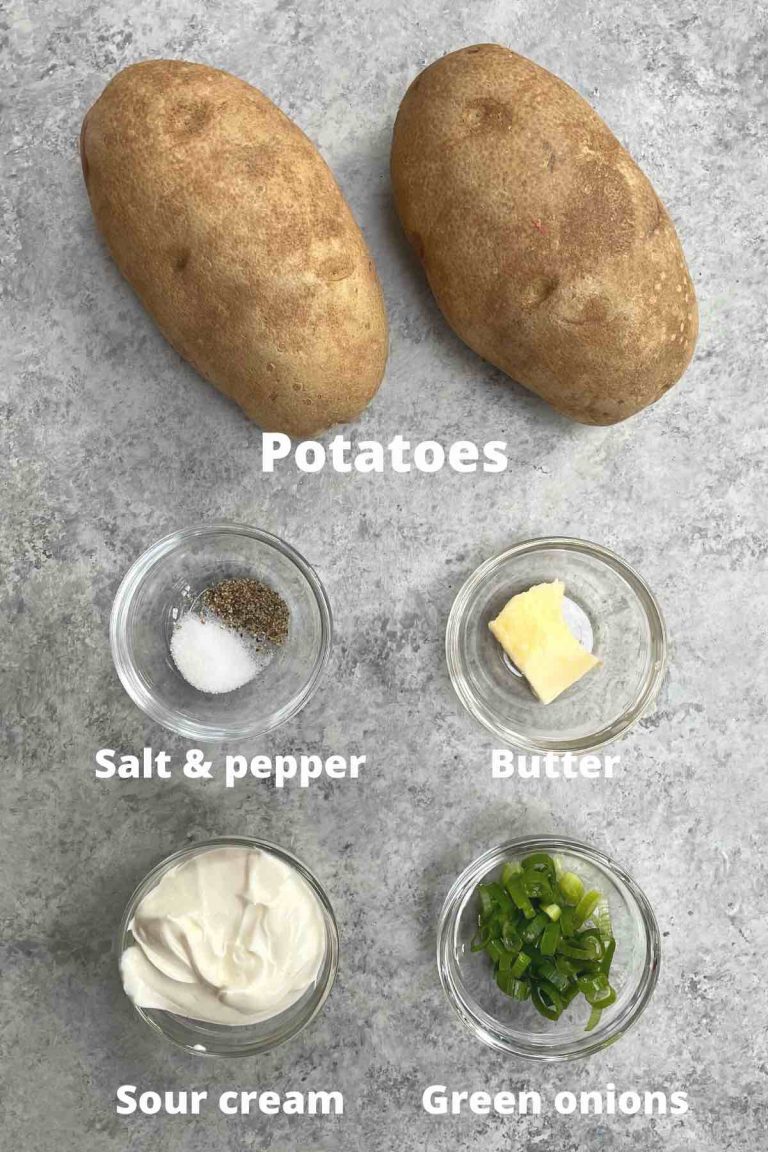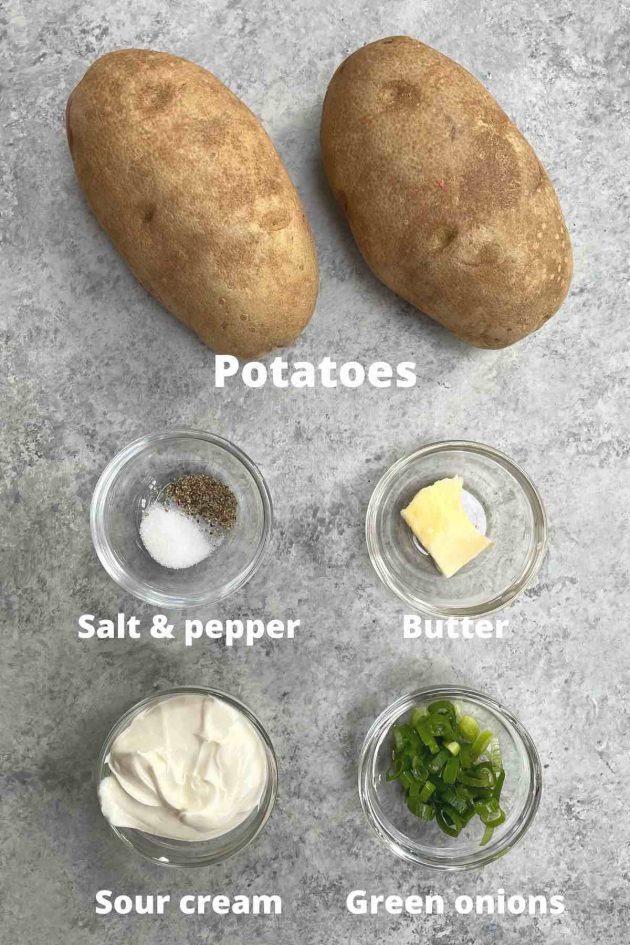 This is the best way to cook a potato in a microwave. Whether it's a baby potato, regular-sized potato or sweet potato, you can't go wrong by following these simple steps. When cooking baby potatoes, just remember that three of them weigh about as much as a medium-sized potato.
It's not necessary to turn your potatoes over during the cook time. However, flipping halfway can be helpful in getting larger or fatter potatoes to cook more evenly or even slightly faster. It's also a good idea if your microwave doesn't have a turntable.
How Many Potatoes Can I Microwave at Once?
Avoid microwaving more than 2-3 large potatoes, or 3-5 medium potatoes, or 7-10 small potatoes at once. Use the low end of the ranges above for small microwave ovens, and the high numbers for a powerful microwave. Exceeding these limits will lead to uneven cooking or other problems.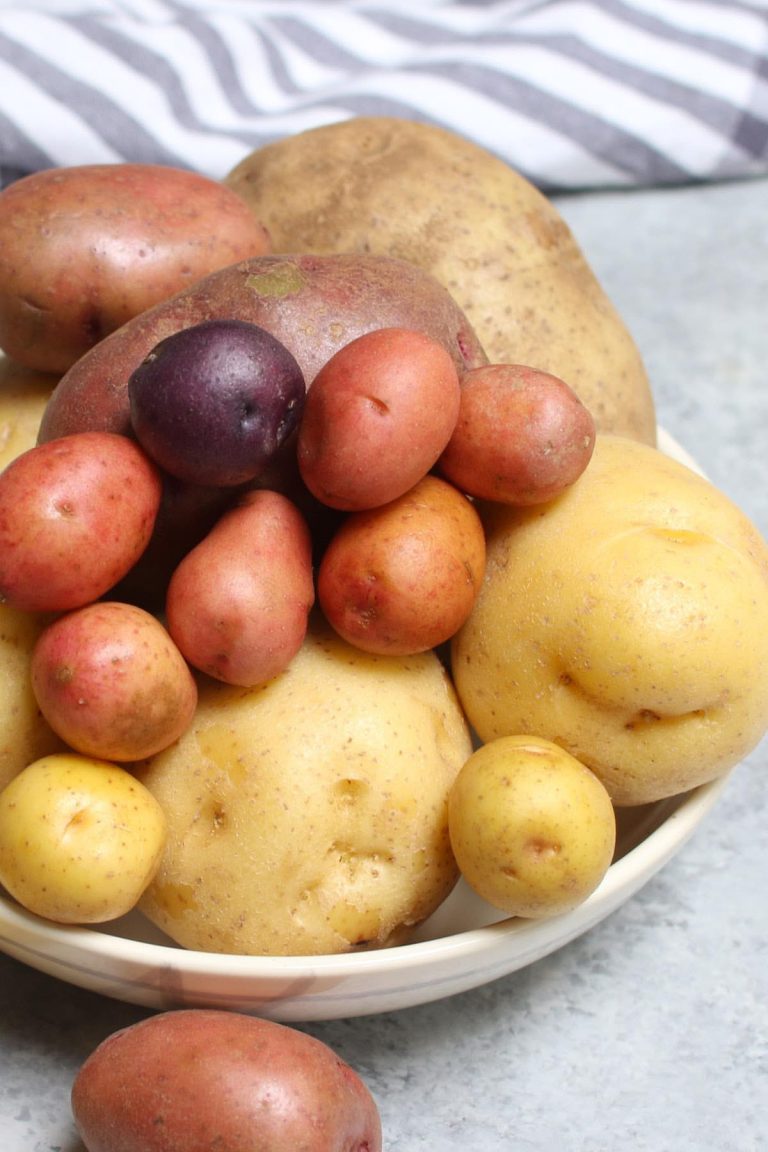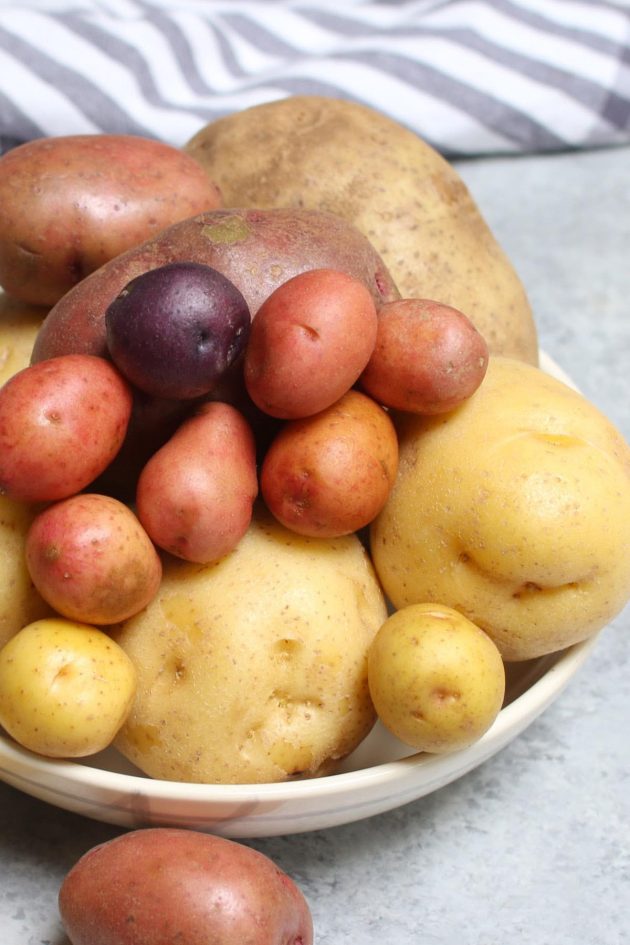 How Long Should I Put My Potato in the Microwave?
The amount of time needed to cook potatoes in the microwave depends on the potatoes themselves. Smaller potatoes cook faster than larger ones. If you are doing multiple potatoes, they will need more time than a single potato. Also, a more powerful microwave oven will get the job done faster.
One medium-sized potato will cook in about seven minutes in a standard microwave oven on full power. Check it after seven minutes by poking with a fork down to the center. If it's not tender, then put it back in the microwave for 45 second intervals more until cooked.
| | |
| --- | --- |
| Potato Size | How Long to Microwave |
| One large potato | 10 to 12 minutes |
| Two large potatoes | 14 to 16 minutes |
| Four medium potatoes | 10 to 12 minutes |
| 6 to 8 small potatoes | 6 to 8 minutes |
Note: These times are for standard microwave oven. For a large, more powerful microwave, subtract a minute or two. Similarly, you'll need to add a few minutes for smaller, tabletop models.
If you are cooking a mix of potato sizes, start checking them after 7 or 8 minutes. Remove the ones that are tender and continue cooking the rest in one minute intervals until they are all done.
How Long Does It Take to Bake 4 Potatoes in the Microwave?
Four large potatoes will take 18 to 22 minutes in the microwave, while four medium potatoes only need 10 to 12 minutes. Adjust these times up or down slightly depending on the strength of your microwave oven.
How Long to Microwave a Sweet Potato
Sweet potatoes vary widely in size and this will affect cooking time. An average sweet potato will cook in about 7 minutes. If it's not ready, put it back to cook in one-minute intervals until tender.
More Tips for Cooking Spuds:
How Long to Microwave a Potato
Learn how long to microwave a potato and get soft and tender potatoes every time. It's quick and easy plus much faster than oven-baking!
Ingredients
1 large russet potato, see note
Garnishes (optional)
1 teaspoon butter
1 tablespoon sour cream
1 tablespoon minced green onion, or minced chives
salt and pepper, to taste
Instructions
Clean the potatoes under running water using a scrub brush. Trim away any blemishes.

Poke the potatoes 3-4 times about an inch deep using a small skewer, cake tester or fork. This important step helps steam to escape for even cooking.

Put the potatoes on a microwave-safe plate and place in the microwave. Cook on full power for 10 to 12 minutes (see notes for other potatoes).

Poke the potatoes with a fork to check they are tender. If not, cook longer in 1 minute increments until done.

As the plate will be hot, use oven mitts to remove it from the oven. Similarly, use kitchen tongs to transfer the potatoes to serving plates.

Carefully cut the potato open with a knife and fluff with a fork as desired. Add optional butter, sour cream, green onion/chives, salt and pepper to serve.
Notes
Potato: Baked potatoes are typically made from starchy varieties such as russets, Idahos or Yukon Golds. However, you can microwave other types and still get good results.
How Long to Microwave a Baked Potato: For two large potatoes (>4 inches), cook for 14 to 16 minutes; for 4 medium potatoes (3-4 inches), cook for 10 to 12 minutes; for 8 baby potatoes (1-2 inches), cook for 10 to 12 minutes. Add several minutes extra for smaller microwaves (600-800 Watts) and subtract several minutes for powerful microwaves that are (1100-1200 Watts).
Storage: Once fully cooled, cooked potatoes can be stored in an airtight container in the fridge for up to 4 days. You can reheat them using the microwave, oven or stovetop.
Nutrition Facts
How Long to Microwave a Potato
Amount per Serving
% Daily Value*
* Percent Daily Values are based on a 2000 calorie diet.
Please read our nutrition disclaimer.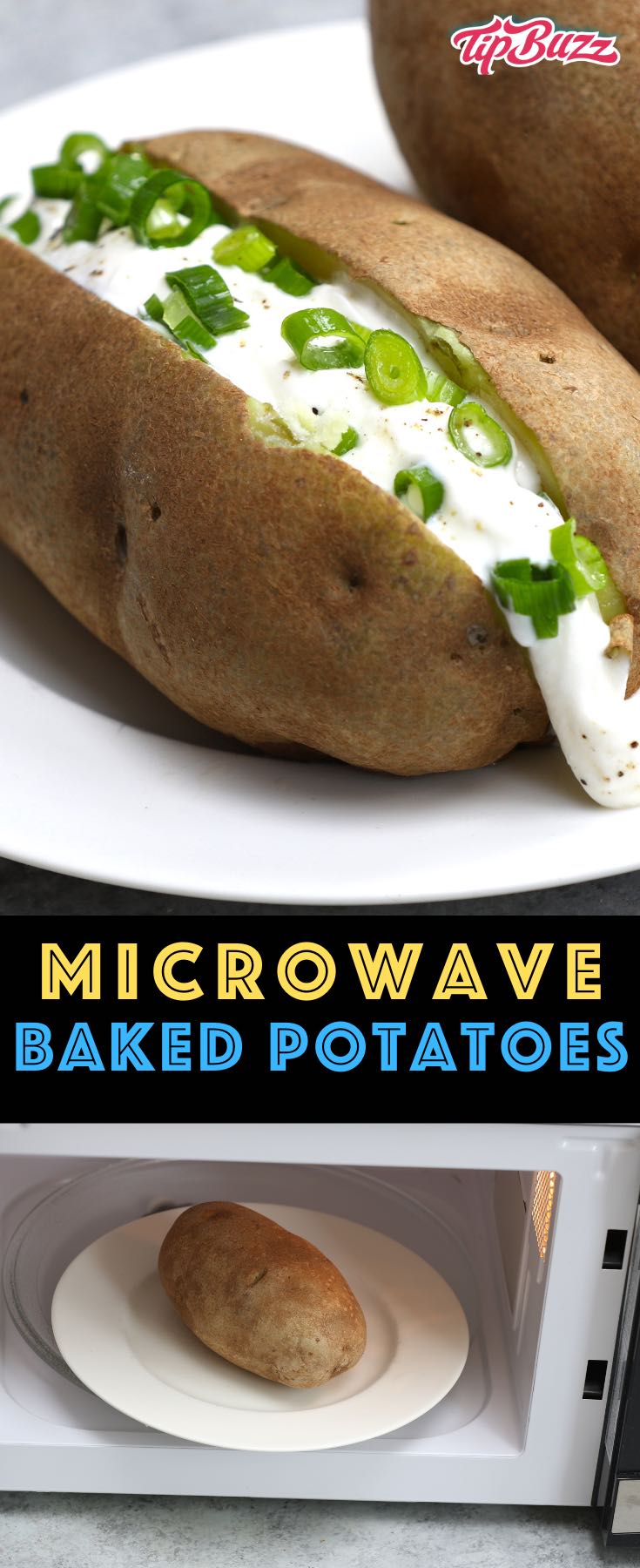 © TIPBUZZ. Images and text on this website are copyright protected. Please do not post or republish without permission. If you want to republish this recipe, please link back to this post. This post may contain affiliate links. Read the disclosure policy here.