How to Cook Wild Rice
Wild rice is a nutritious whole grain with a delicious nutty flavor. Learn how to cook wild rice easily using your stovetop or other ways. It's great in soups, salads and casseroles or simply as a side dish on its own.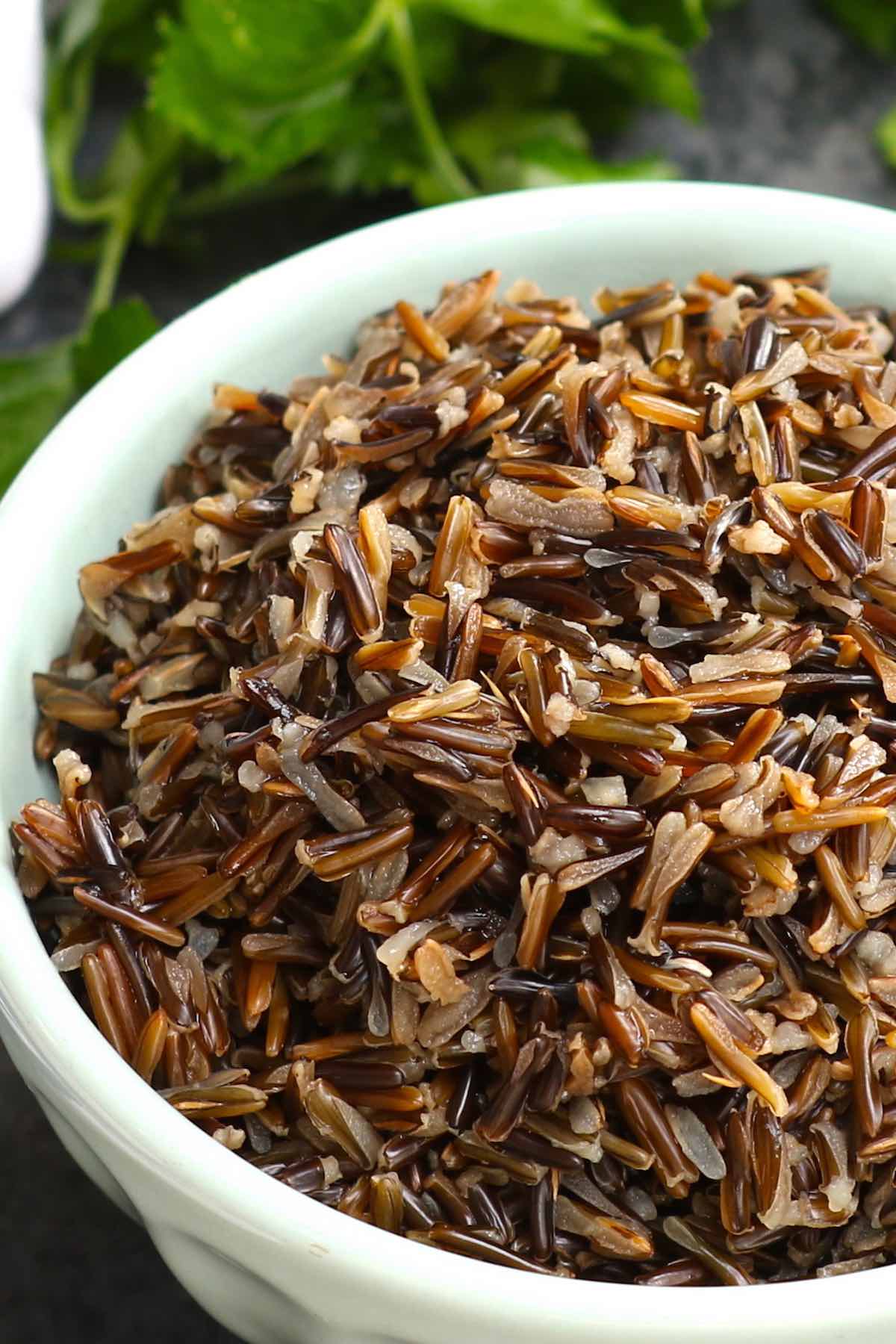 What is Wild Rice?
This delicacy is sought-after for its earthy flavors and fluffy texture as well as nutritional benefits. It's a popular pairing for roasts and game meats around Thanksgiving, and it's also the base for other recipes.
Wild rice is not actually "rice" but a species of aquatic grass. A part of the Native American diet for centuries, it grows in the Great Lakes region including Minnesota, Wisconsin and nearby parts of Canada. Since it's harvested manually, it can be expensive although there are also more budget-friendly cultivated varieties from California.
What Does Wild Rice Taste Like?
The taste is totally unique with an rich, nutty flavor and tea-like aroma. When cooked properly, the texture is fluffy and pleasantly chewy.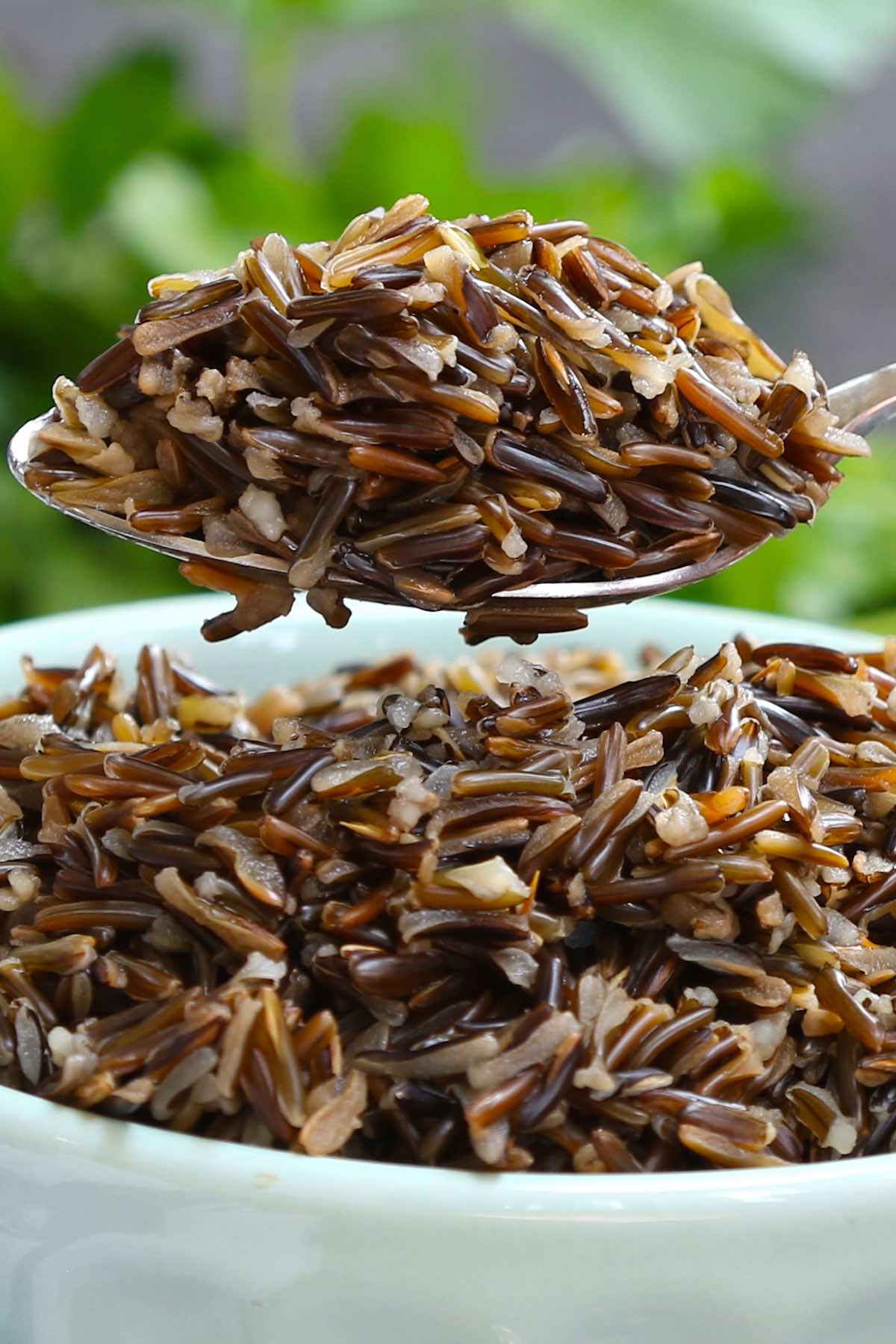 Nutrition and Health Benefits
Wild rice is a whole grain that's high in protein, low in fat, and gluten-free. It also has significantly fewer carbs than white rice. Here are some of the nutrients in a 3.5 oz (100 gram serving):
High in protein with 4 grams, or more than twice as much as brown rice
Source of fiber with 2-3 grams, about the same as brown rice
Antioxidants such as Vitamin C, phosphorus, folate, manganese and zinc
As with other types of rice, there are concerns about arsenic and other contaminants. However, with moderate consumption the health risks are considered low.
Cooking Wild Rice
Wild rice takes 45-60 minutes to fully cook, or as little as 30 minutes if soaked in water overnight. Start with a 3:1 water-rice ratio, although you may need to adjust slightly based on the variety you're using. You can always drain any excess water after cooking without affecting texture.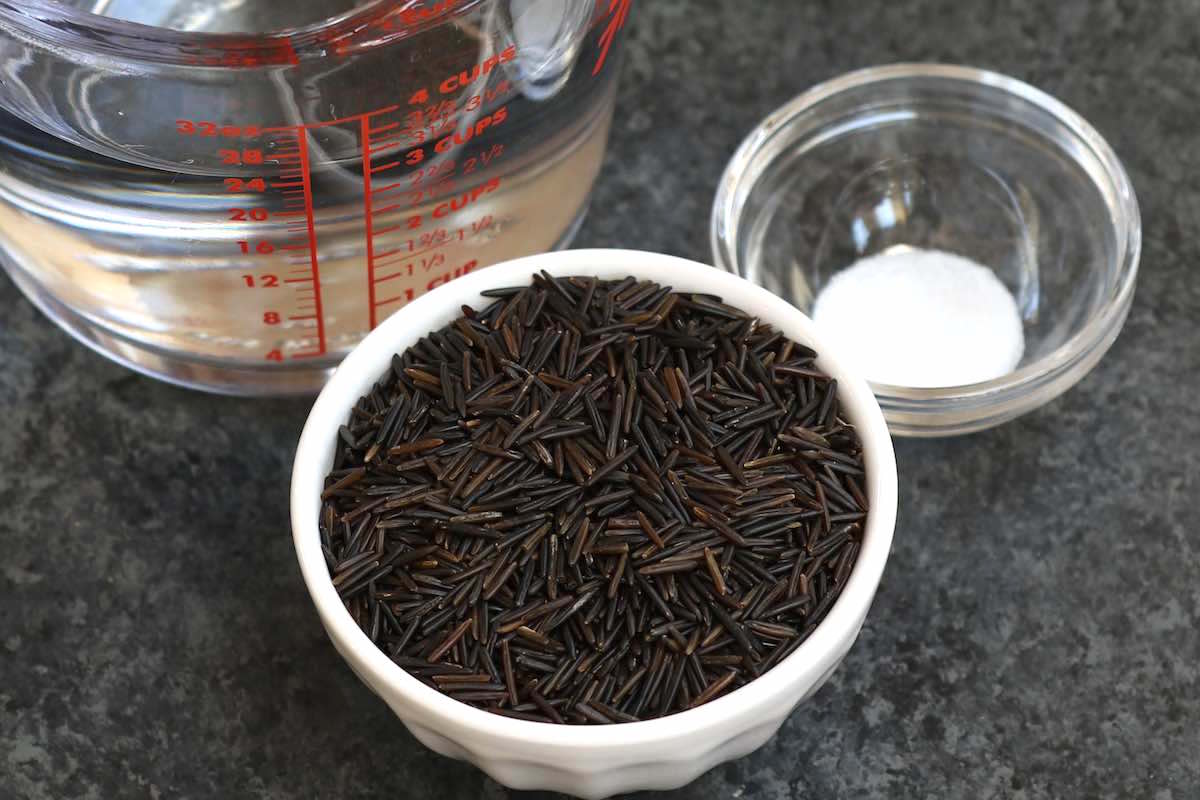 Here are 3 different ways you can cook it:
Stovetop (quick): Place cold water with wild rice in a pot and bring to a boil uncovered. Cover and reduce the heat to low to let it steam until tender, about 45 minutes.
Oven: This is an excellent option when you have to use the oven for other dishes. Fill a 2-quart covered casserole dish or ovenproof pot with 1 cup of rice and 3 cups boiling water. Bake at 350°F for 1 hour or longer if needed.
Rice Cooker (easiest): Use the same 3:1 water rice ratio and use the brown rice setting, which usually takes 1 ½ – 2 hours. While slower, it's also very easy.
When is it done? It's ready when the grains are slightly chewy or al dente. There may be water leftover in the cooking vessel, and it can simply be drained with no impact on texture.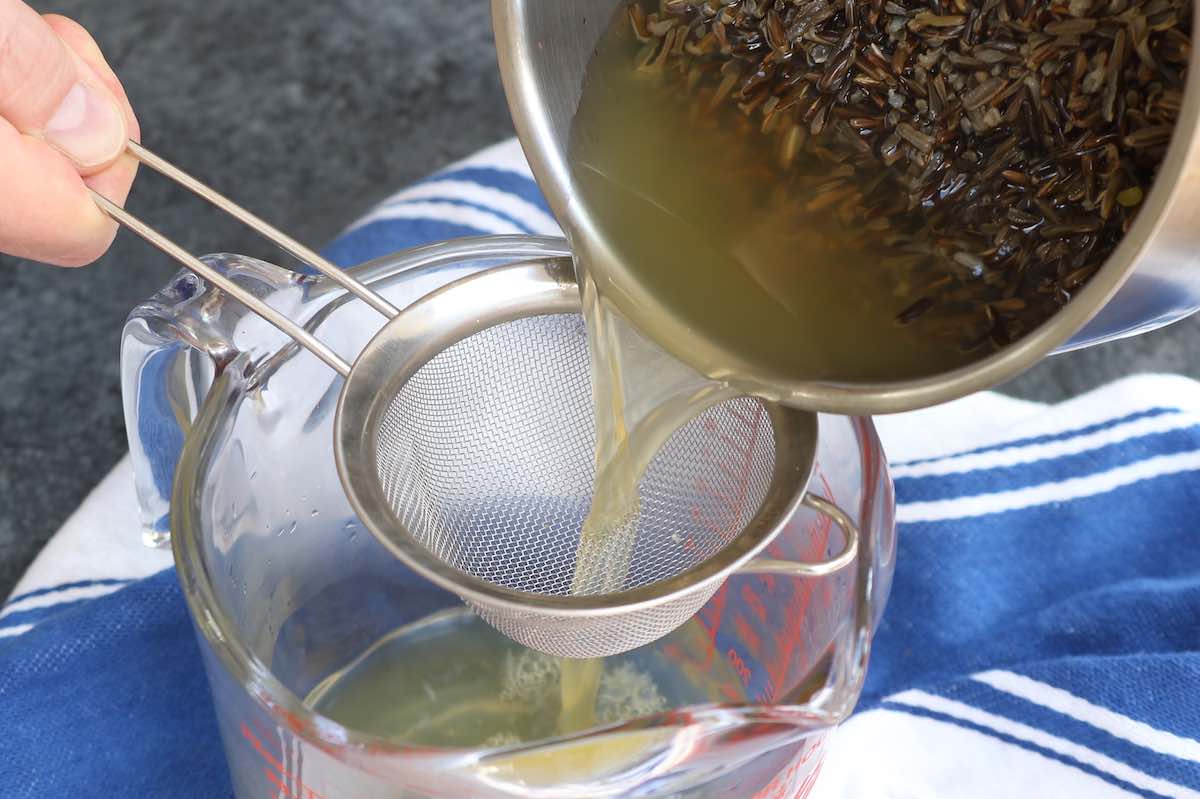 You can microwave wild rice, although results are more variable. Add the rice and water to a covered 2-quart glass container and cook on 30% power for 30-40 minutes until tender.
Another option is making wild rice in the Instant Pot. Put the wild rice and water on a High-Pressure cycle for 20 minutes with natural release.
Recipes for Leftovers
You can use leftover of this grain to make recipes like chicken and wild rice soup, wild rice salad and wild rice casseroles.
It'll last for up to 3 days in the fridge in an airtight container. You can also freeze it in a releasable plastic bag for up to 3 months. Simply reheat in the microwave when needed!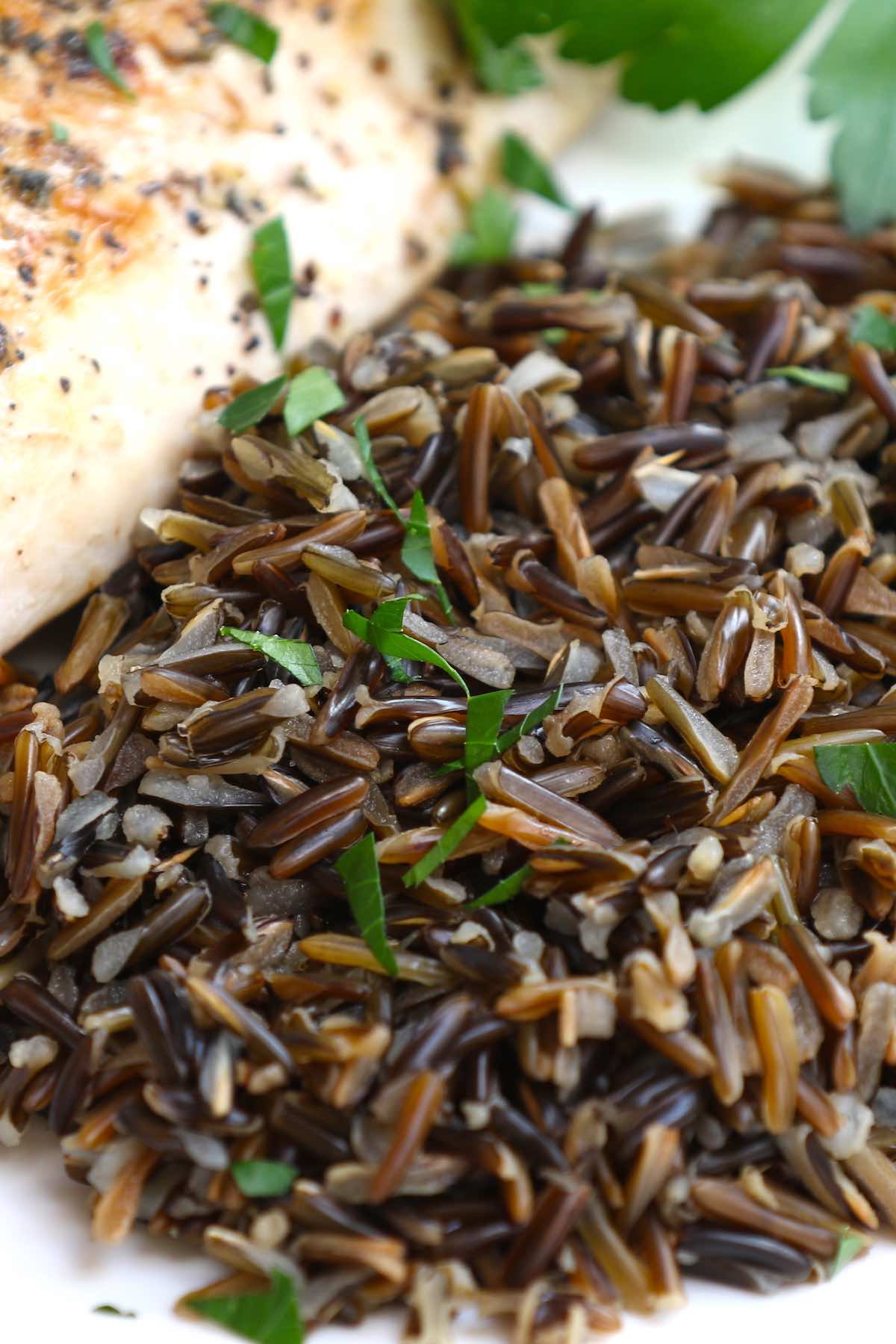 More rice recipes:
View all rice recipes
Easy Wild Rice
Wild rice is a nutritious whole grain with a delicious nutty flavor. Enjoy it as a side dish or add to soups, salads and casseroles.
Ingredients
1 cup wild rice
3 cups cold water
1/4 teaspoon salt, or to taste
Instructions
To a medium saucepan, add the wild rice, water and optional salt and butter.

Bring to a boil on high heat, about 5 minutes.

Cover with a tight-fitting lid and reduce the heat to low.

Simmer for 45 to 60 minutes or until the grains are al dente. (It's no problem if there's some water leftover in the pot.)*

Drain any excess water remaining in the pot and fluff with a fork before serving.
Notes
Recipe yield: 3 to 3 1/2 cups cooked wild rice depending on the variety.
* If the grains are still too firm, add 1/2 cup boiling water and cook covered for 15 more minutes. If water is leftover in the pot but the rice tastes done, simply drain through a sieve and let the rice stand covered for 5 minutes.
Storage: You can store cooked wild rice in the fridge for up to 3 days. Otherwise, freeze in a resealable plastic bag for up to 3 months. Reheat in the microwave.
Nutrition Facts
Easy Wild Rice
Amount per Serving
% Daily Value*
* Percent Daily Values are based on a 2000 calorie diet.
Please read our nutrition disclaimer.
Recipe tools
© TIPBUZZ. Images and text on this website are copyright protected. Please do not post or republish without permission. If you want to republish this recipe, please link back to this post. This post may contain affiliate links. Read the disclosure policy here.