Carne Guisada
Carne guisada is a simple Mexican beef stew that melts in your mouth! This carne guisada recipe features tender chunks of beef in a flavorful brown gravy. It's easy to make and serve with potatoes, tortillas or rice for a delicious meal.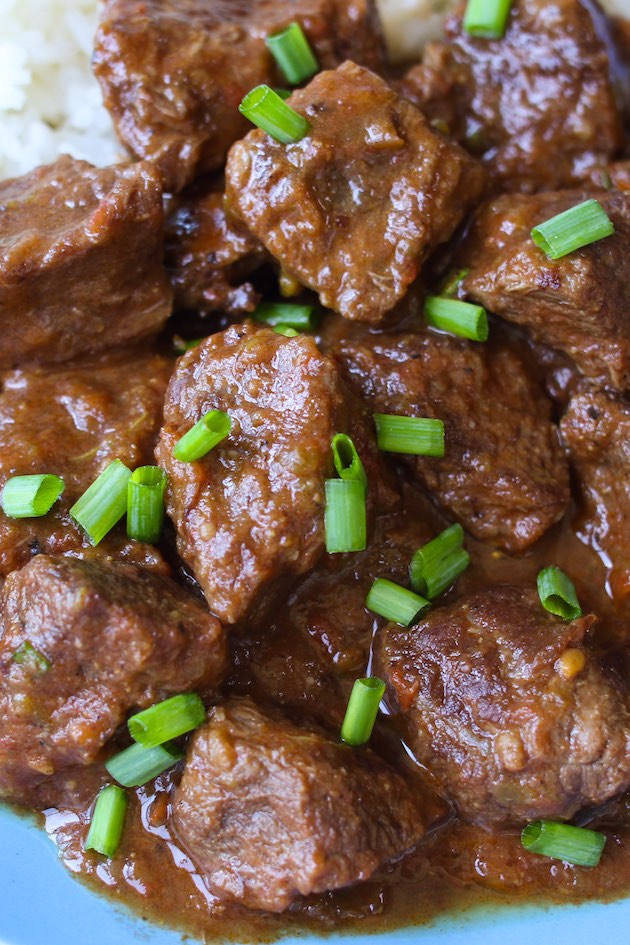 This is comfort food at its best, so tasty and satisfying! You can serve it simply with rice or mashed potatoes, but nothing compares to stuffing it into warm tortillas with a sprinkling of grated cheese on top!
As with any beef stew, it's easy to make ahead and reheat whether it's for a weeknight dinner, party or potluck. You'll find its Tex Mex flavors popular with adults and kids alike!
WHAT IS CARNE GUISADA
In Spanish, carne means meat while guisada means stewed. So carne guisada in English simply means stewed meat with gravy. It's also called carne de res guisada, or stewed beef for clarity. While the dish has Mexican origins, there are many regional and Tex Mex variations.
While it's cousin carne asada is grilled, this dish is made on a stovetop or in a crock pot. It can be served several different ways: with potatoes (carne guisada con patatas), in tortillas (carne guisada tacos), or simply with rice.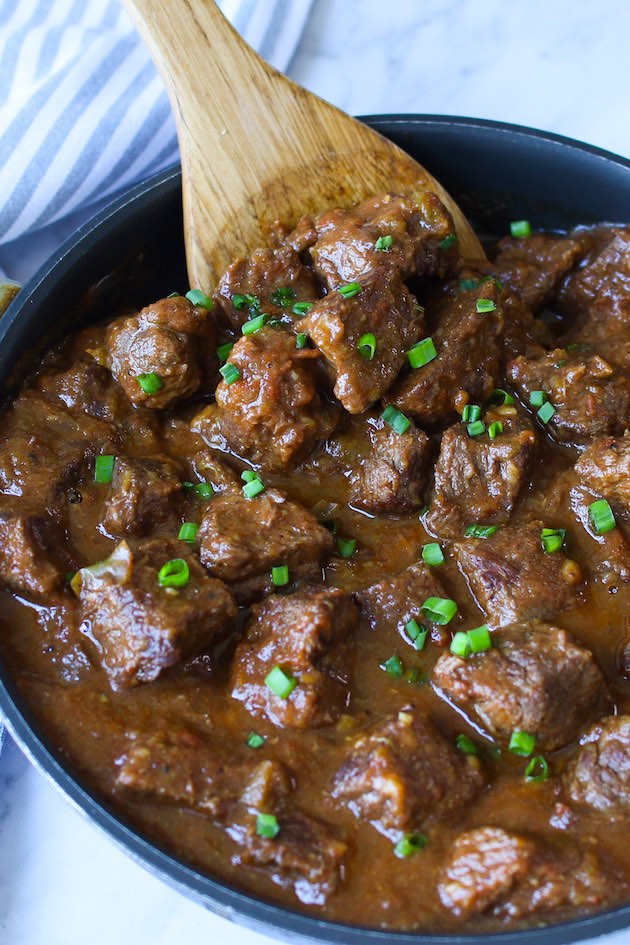 HOW TO MAKE CARNE GUISADA
The basic recipe for carne guisada is to brown the meat and then simmer low and slow with the other ingredients. There are several different ways to make this dish:
Stove top: This one-pot method uses a large skillet, cast iron pan or Dutch oven for browning and simmering
Crock pot carne guisada: Brown the beef in skillet and then transfer to a slow cooker for simmering.
Instant pot carne guisada: Use the saute function to brown the beef and then switch to pressure cooking for 30 minutes. This is the fastest method for making this dish.
Don't skimp on browning the beef, as this is where the rich flavors really develop in this dish. A few extra minutes of effort will produce a more flavorful dish later on!
If you want to know how to make carne guisada gravy, the secret is simmering over low heat covered for at least one hour. The vegetables will literally melt into the sauce, which turns into a thick gravy. Add a tablespoon of flour or cornstarch towards the end for extra thickening.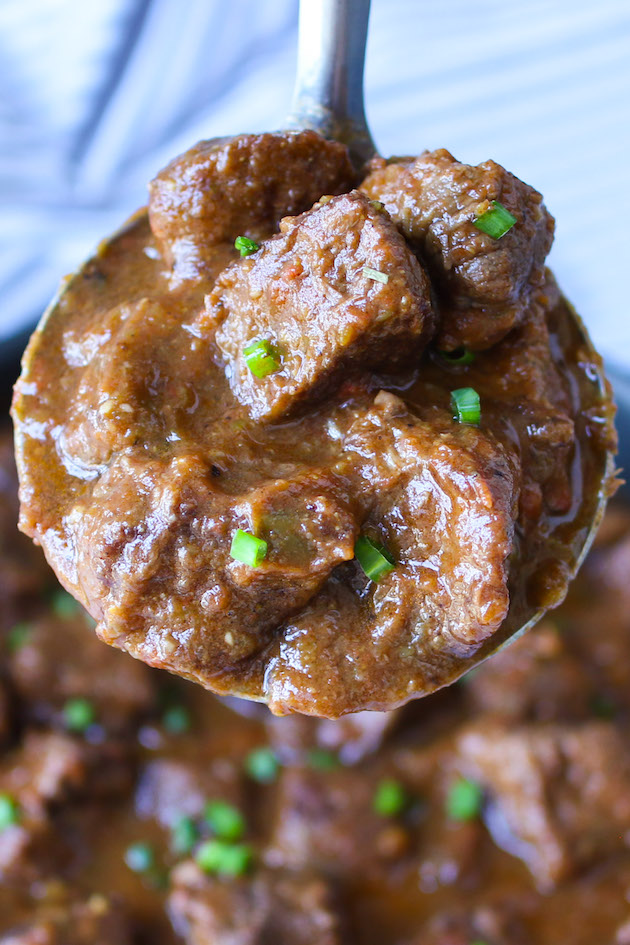 Which cut of meat should I use?
Chuck steak, sirloin or round are ideal cuts for this dish and become tender quickly. Ask the meat counter to cube it for you to save time.
Pre-packaged stewing meat is often tougher and will require extended simmering, although is a good budget friendly option.
Can I make it ahead of time?
Carne guisada is a fabulous freezer meal you can make ahead of time. Simply store in an airtight container in the fridge for up to 5 days, or freeze for up to 6 months.
Reheating is easy on the stovetop for 10-15 minutes over medium heat.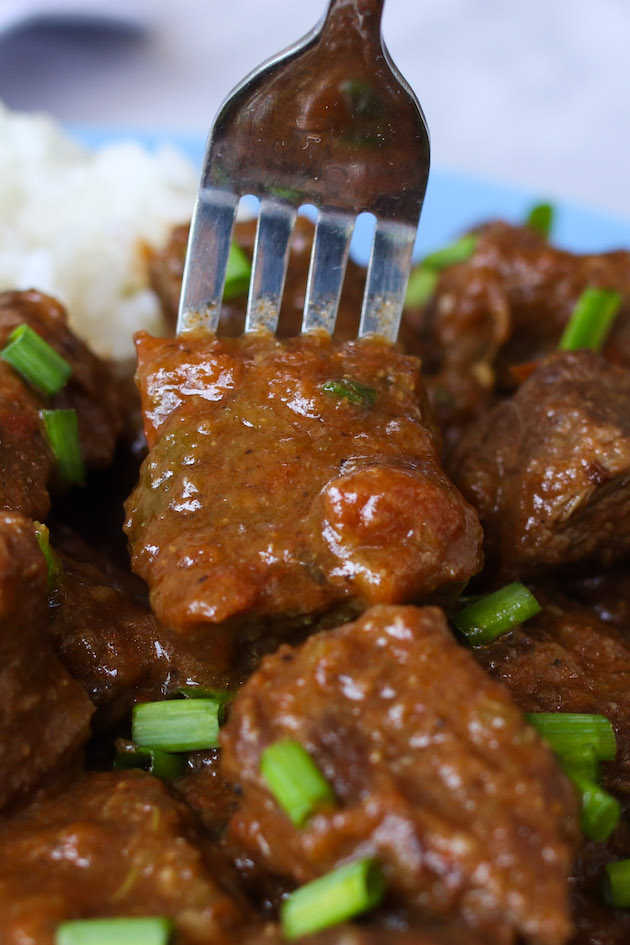 Carne Guisada Recipe
This easy carne guisada recipe will make your mouth water! It's a delicious Mexican beef stew that goes perfectly with potatoes, rice or tortillas.
Ingredients
2 lbs beef chuck steak, in 1-inch cubes (see note)
1 tbsp canola oil
1 medium yellow onion, diced
3 large cloves garlic, minced or 2 tsp garlic powder
1 green bell pepper, diced
2 large tomatoes, diced or 1 cup tomato sauce
2 tsp ground cumin
1/2 tsp dried oregano, optional
1 tsp jalapeño pepper, minced, optional
1 tsp salt, less if using salty chicken broth
black pepper, to taste
1 cup chicken broth, or water
1 1/2 tbsp all-purpose flour, optional
Instructions
Pat dry the cubed beef to remove excess moisture.

Place a large cast iron pan or Dutch oven on medium-high heat. When hot, add the canola oil and cubed beef without crowding the pan (see note).

Sauté the beef for 5 minutes, turning every few minutes until brown on all sides. Repeat with remaining beef if batches are necessary.

Reduce heat to medium and add the onion, garlic and green pepper to the beef. Sauté for 3-4 minutes.

Add the tomatoes, cumin, optional oregano, optional jalapeño, salt, pepper and broth. Bring to a boil.

Reduce heat to low and cover the pan. (You can also transfer to a crock pot at this point if you prefer - see note.)

Simmer for 60-90 minutes or until the beef is tender. Add extra broth halfway if needed to prevent sticking.

If the sauce looks runny, sprinkle in the optional flour and boil for several minutes to thicken up a gravy, stirring regularly to dissolve any lumps.

Serve with rice, potatoes or tortillas.
Notes
Chuck steak and sirloin cuts are ideal. Packaged stew meat varies in quality and may require extra simmering to become tender.
Fry the beef in batches if needed, as crowding the pan will interfere with browning.
Carne guisada slow cooker: complete simmering in a crock pot on a "low" setting for 6-8 hours.
Nutrition Facts
Carne Guisada Recipe
Amount per Serving
% Daily Value*
* Percent Daily Values are based on a 2000 calorie diet.
Please read our nutrition disclaimer.
RECIPE VARIATIONS
Here are some regional variations on classic carne guisada Mexicana:
Puerto Rican carne guisada: use ground beef instead of beef chunks (carne molida guisada)
Carne guisada Salvadoreña: This specialty from El Salvador adds chunks of potatoes and carrots.
Carne guisada Dominicana: This Dominican Republic variation adds lemon/lime juice and minced fresh chilis such as cubanelle peppers or hot banana peppers.
© TIPBUZZ. Images and text on this website are copyright protected. Please do not post or republish without permission. If you want to republish this recipe, please link back to this post. This post may contain affiliate links. Read the disclosure policy here.