Homemade Peppermint Bark
This Peppermint Bark has irresistible layers of dark and white chocolate flavored with peppermint and topped with crushed candy cane! This delectable Christmas treat is very festive and ideal for gift-giving. We show you how to prevent the layers from separating and easily break it apart for the perfect presentation!
Video: Peppermint bark recipe
As the holidays approach, it always seems impossible to ignore Williams Sonoma's peppermint bark in store windows with its sky-high prices. The good news? You can save your money by making this homemade version instead!
This classic peppermint bark has layers of delicious chocolate topped with crushed candy cane. For those of you looking for a twist, we've added crumbled Oreos to take this holiday treat to a completely new level. It tastes just like your favorite peppermint bark with a hint of cookies and cream flavor. You've got to try it!
How to make peppermint bark
This peppermint chocolate bark is easy to make. The key is to use high-quality chocolate and melt it properly. While you can always use a double-boiler to melt chocolate, I find the microwave easier and faster.
Just place chopped chocolate in a microwave-safe bowl. Then microwave in 20-second intervals, stirring each time until smooth. It takes about 3-4 minutes in total.
When the chocolate is mostly melted, I stop microwaving and stir for a few seconds to just let the residual heat gently melt the rest. Be careful not to overheat the chocolate, as it may start to seize.
Pour the melted chocolate onto a parchment-lined baking sheet. Then use a spatula to spread it out to no more than 1/4 inch (6mm) thick.
Sprinkle the crumbled Oreos on top and press gently into the chocolate. Let the chocolate set at room temperature, or if you're in a rush place in the fridge for 15 minutes. Don't freeze it!
Once the dark chocolate has set, you can pour the white chocolate on top. Use a spatula to spread it evenly, making sure it's not too thick in any one area. Leave a ½ inch of dark chocolate exposed around the edges if you wish.
Sprinkle the crushed candy cane evenly across the top and let sit to harden before breaking into pieces.
What kind of chocolate to use?
It's best to use high-quality baking chocolate. Thick bars are great and you can also use baking chocolate chips, looking for cocoa percentage of at least 60%. I use semisweet dark chocolate for the bottom layer and white chocolate for the top layer.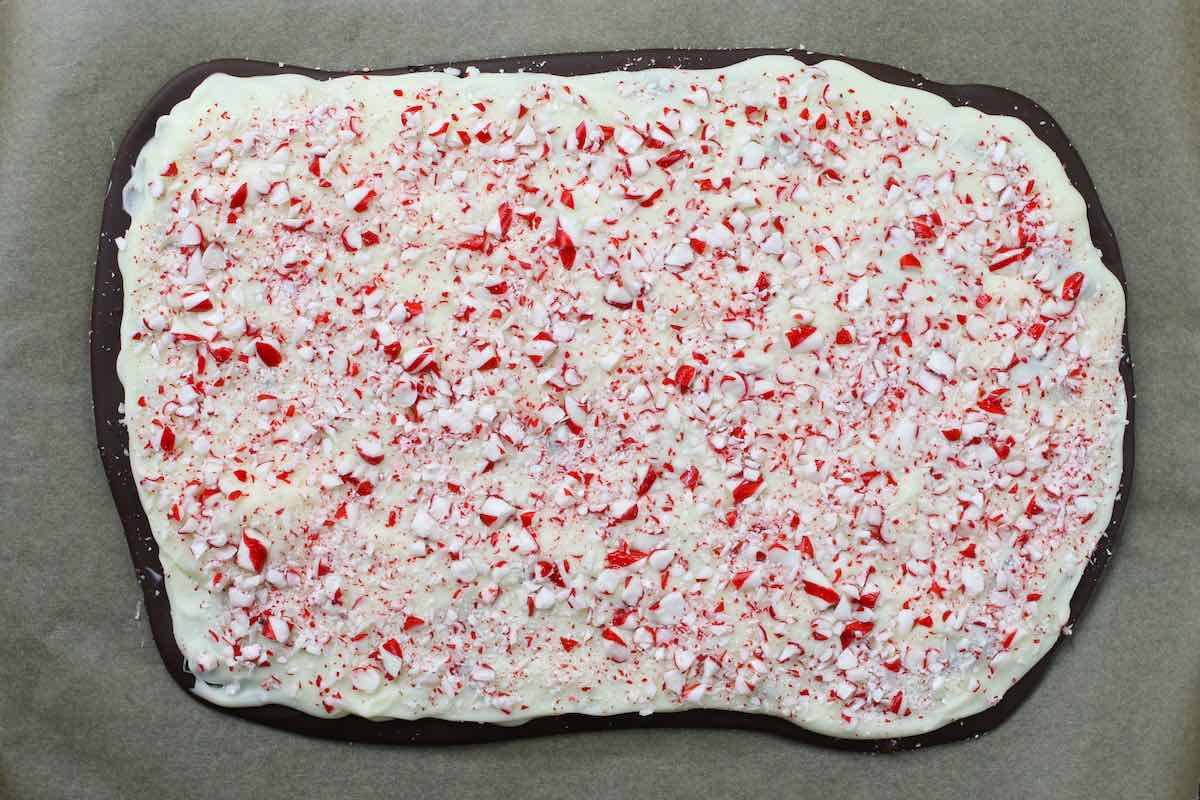 Tips for the perfect peppermint bark
To prevent the layers from separating: First, use high-quality baking chocolates such as Baker's or Lindt to make crumbling and separating far less likely. Then, let the first chocolate layer set gradually at room temperature or in the fridge so the layers bond together completely. It may be tempting to put it in the freezer to harden quickly, but pouring a layer of warm chocolate onto frozen chocolate is a recipe for separation!
To break apart peppermint bark: When breaking apart chocolate peppermint bark, you want to get nice large pieces instead of small shards. You'll find it easiest to snap the bark into pieces when the bark is at room temperature or slightly chilled. Wearing rubber gloves or holding with plastic wrap will avoid fingerprints or smudges on the bark. If you encounter any difficulty, you can always put it on a cutting board and cut with a large knife.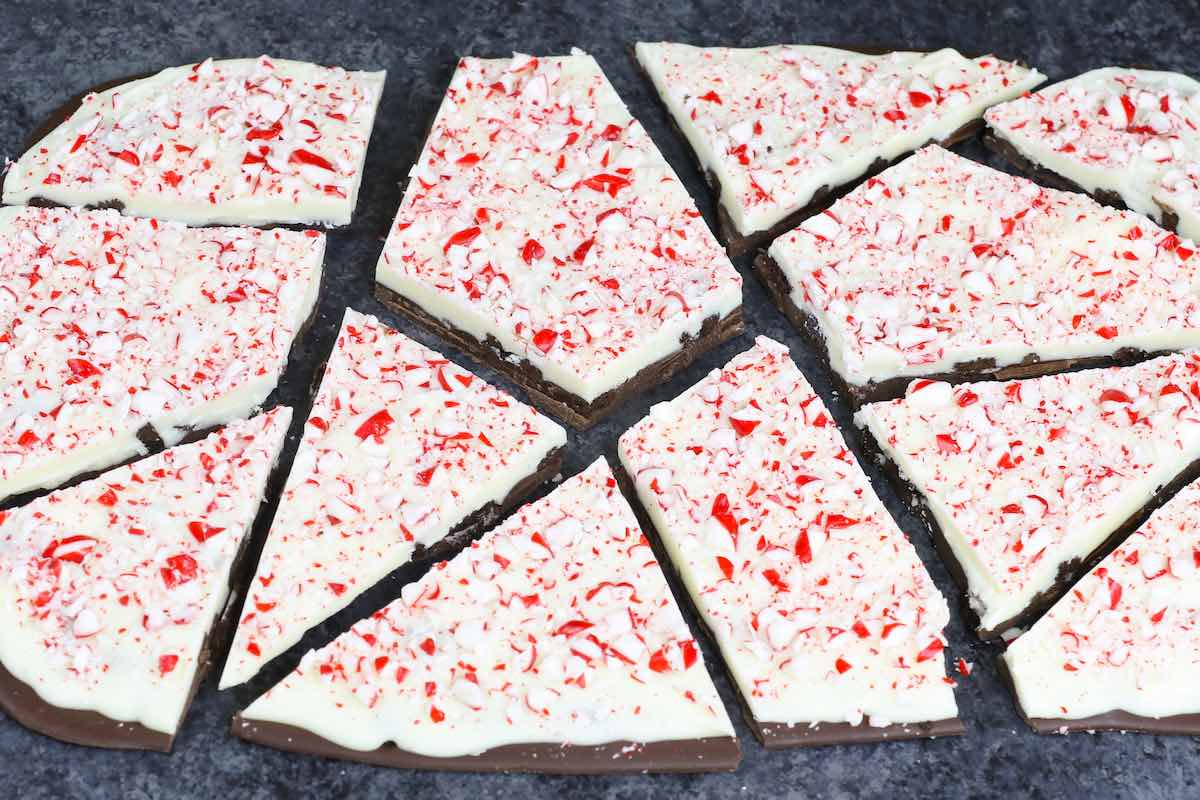 To store peppermint bark: Break and wrap peppermint bark if you don't serve it right away. It's best to store it in an airtight container at room temperature or in the fridge for up to 2 weeks, or freezer for 2 months.
More Christmas treats:
View all Holiday Recipes
Peppermint Bark Recipe (+Video)
This Peppermint Bark has irresistible layers of dark and white chocolate topped with crushed candy cane on top.
Ingredients
16 oz semisweet baking chocolate, chopped (454 grams)
16 oz white baking chocolate, chopped (454 grams)
6 candy canes
1/8 teaspoon peppermint oil, 5-7 drops, or 1/2 teaspoon peppermint extract (divided)*
8 Oreo cookies, crumbled
Instructions
Line a medium baking sheet with parchment paper. Set aside.

Optional: Crumble the oreos into small pieces with your fingers and set aside.

Add the semisweet dark chocolate and the peppermint oil to a microwave-safe bowl. Microwave in 20-second intervals until fully melted, stirring each time (about 3-4 minutes total).**

Pour the chocolate onto the middle of the prepared baking sheet. Spread with a spatula to about ¼-inch (1/2 cm) thick. If you're using the crumbled oreos, sprinkle them evenly on top.

Chill for 15 minutes while you prepare the remaining ingredients.

Place the candy canes into a ziptop bag. Seal and pound lightly with a rolling pin to make small chunks (but don't pulverize completely). Set aside.

Place the white chocolate in a medium-sized bowl. Use the same method above to microwave until melted.**

Remove the baking sheet from the fridge. Pour the white chocolate evenly across the semisweet chocolate, spreading with a spatula to cover. Then sprinkle the crushed candy cane on top.

Let it sit at room temperature for 1 hour or more until completely solid. If you're in a hurry, you can place it in the fridge to chill for 15 minutes, and then let it sit on the counter for 10 minutes before proceeding.

Use the parchment to lift the bark out of the baking sheet and onto a cutting board. Using plastic wrap or rubber gloves, hold the bark with your fingers and snap into pieces. You can also use a large, sharp knife to cut it into pieces of desired size.
Notes
* When using peppermint extract, there's always some risk of the chocolate seizing. Therefore, divide the ½ teaspoon into two amounts, adding ¼ teaspoon in the dark chocolate and ¼ teaspoon in the white chocolate.
** Be careful not to overheat the chocolate by limiting to 20 second intervals and stirring each time. Once it's mostly melted, stop microwaving and let the residual heat melt the rest, stirring a few last times until smooth.
Storing peppermint bark: You can store bark in an airtight container at room temperature or in the fridge for up to 2 weeks. For longer periods, wrap it tightly in foil or plastic wrap and freeze for up to 2 months.
Nutrition Facts
Peppermint Bark Recipe (+Video)
Amount per Serving
% Daily Value*
* Percent Daily Values are based on a 2000 calorie diet.
Please read our nutrition disclaimer.
Recipe Tools:
Editor note: Originally published Dec 7, 2017 and updated Oct 30, 2019
Thank you to Safeway for sponsoring this post. Shop at Safeway for all your baking needs.
© TIPBUZZ. Images and text on this website are copyright protected. Please do not post or republish without permission. If you want to republish this recipe, please link back to this post. This post may contain affiliate links. Read the disclosure policy here.