Deep Fried S'mores
These Deep Fried S'mores are golden on the outside and fluffy inside with delicious graham cracker, chocolate and marshmallow flavors. They melt in your mouth with irresistible s'mores flavors!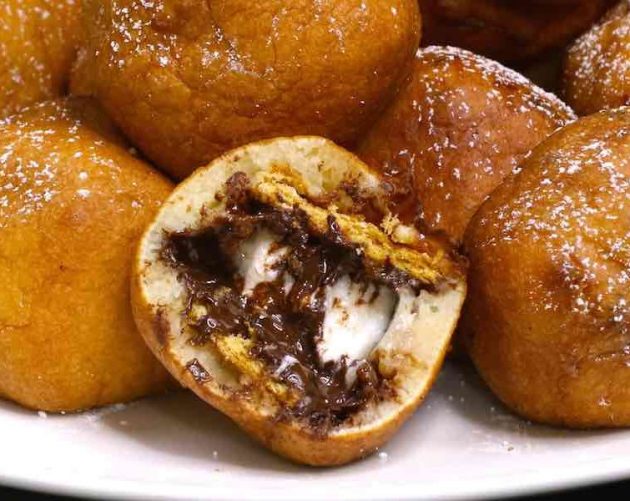 Deep Fried S'mores are one of those cray desserts you have to taste at least once! It could be our all-time favorite s'mores treat, inspired by our Deep Fried Cookie Dough and Deep Fried Cheesecake recipes.
These party-perfect treats feature graham cracker, marshmallow and melty chocolate wrapped in a puffy batter and dusted with powdered sugar. So if the weather's too cool for campfires and you still need s'mores in your life, look no further than this recipe for complete satisfaction.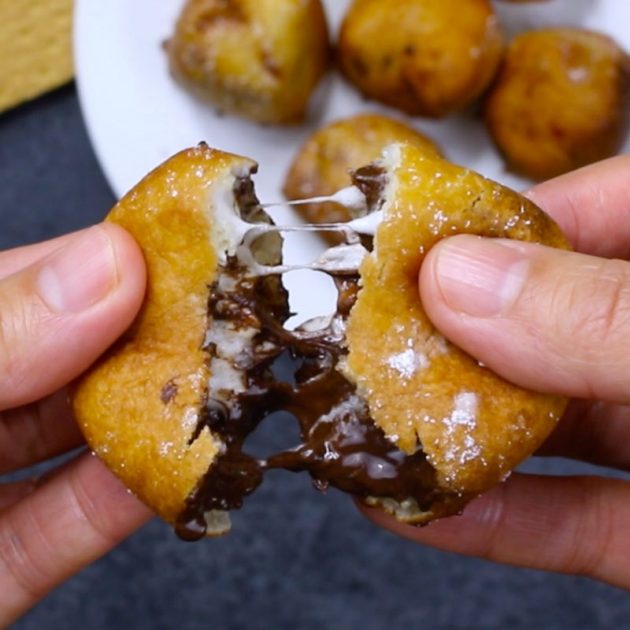 Deep fried smores originated as State Fair concoctions, but haven't really been made at home … until now. In this recipe, we've adapted them into golden pouffy balls that melt in your mouth with gooey s'mores flavors on the inside.
How to make deep fried s'mores
There's a bit of dedication required to make deep fried s'mores. We often sacrifice the first few balls to get the hang of it, and then the rest come along more easily. The first step is to take a square 8-inch pan and line with parchment paper. Then you can place graham crackers in the bottom.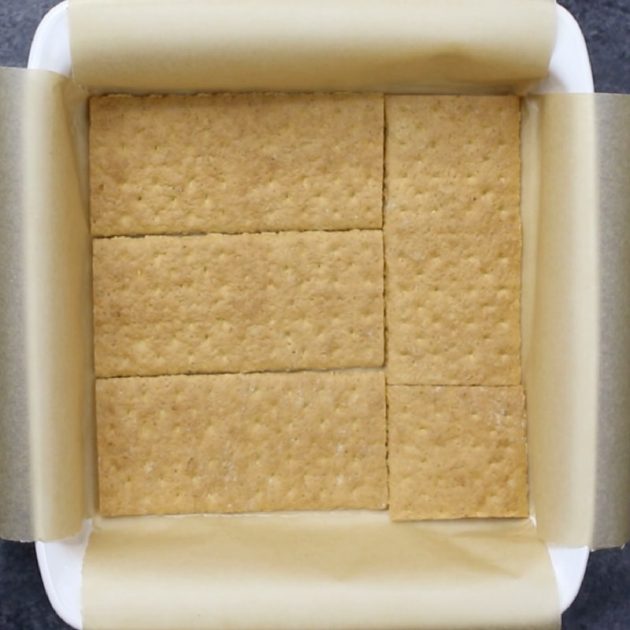 The rest of the smores is a layering process with graham crackers, melted chocolate, chocolate chips and mini marshmallows. The melted chocolate acts as the glue to hold it all together:
Chill for ten minutes, and then cut them into about 36 inch-size squares. You may be wondering how square pieces become round balls, and the battering process that follows is the secret.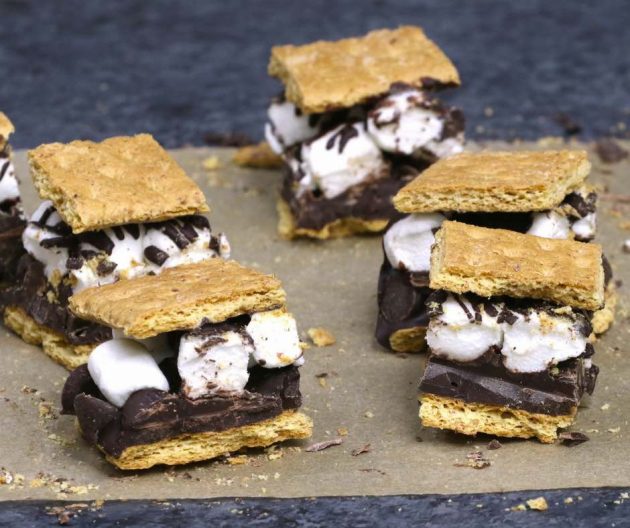 Using a simple pancake batter, either homemade in this recipe or using a packaged mix, dip the s'more pieces in one-by-one and fry them for about a minute in 400°F oil. Repeat the process until all the pieces have been deep fried.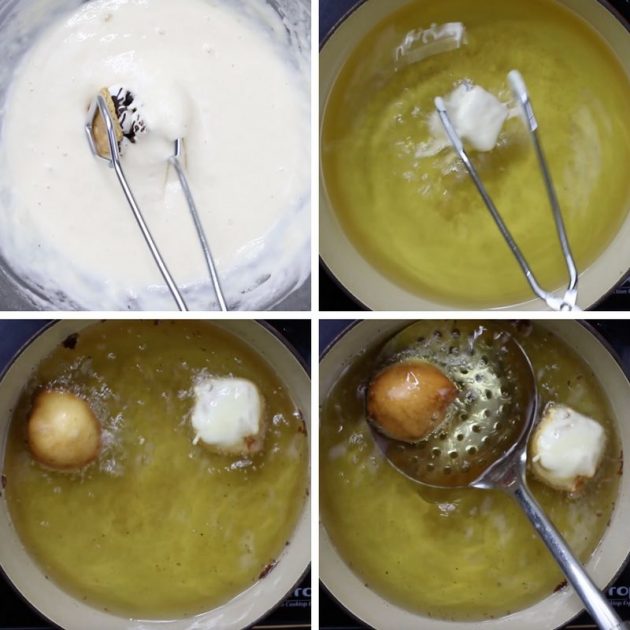 WATCH HOW TO MAKE DEEP FRIED S'MORES:
More s'mores recipes:
Deep Fried S'mores (with video)
Deep Fried S'mores are dipped in homemade batter and fried until golden with melty chocolate chips and marshmallows inside. A great dessert for a party!
Ingredients
Batter
2 large eggs
2 tsp oil
1 1/2 cups milk
2 1/4 cups all-purpose flour
6 tbsp granulated sugar
1 tsp baking powder
1/4 tsp salt
Frying & Serving
1 quart vegetable oil, for frying
powdered sugar , optional for serving
Instructions
S'mores
Line an 8x8-inch pan with parchment paper.

Arrange graham crackers to cover the bottom of the pan, breaking up sheets as needed to fit.

Place 1 cup of chocolate chips in a bowl and microwave in 30 second intervals until smooth, stirring in between.

Drizzle 1/3 of the melted chocolate onto the graham crackers, followed by the remaining chocolate chips, followed by 1/3 more melted chocolate, followed by the marshmallows, and finally the remaining melted chocolate.

Top with a layer of graham crackers according to the video, and place the pan in the refrigerator for 10 minutes. Meanwhile, make the batter.
Batter
In a medium saucepan or deep fryer, add vegetable oil and set temperature to 425°F.

In a medium bowl, whisk together the eggs, oil and milk.

In a separate bowl, mix the flour, sugar, baking powder and salt. Pour in the wet ingredients and whisk until smooth.
Frying
To get ready for frying, line a large plate with paper towel and set aside. Also get tongs and a slotted spoon.

Remove the s'mores from the fridge. Lift them out of the pan and onto a work surface using the parchment paper.

Using a sharp knife, cut the s'mores into 6x6 grid to make 36 pieces. If any pieces break, use melted chocolate to glue them back together.

Drop a s'mores piece into the batter and using the tongs coat completely. Then lift the coated s'more out and let excess batter drip off.

Place the s'more into the hot oil, and fry for about 1 minute until it has puffed into a ball and turned golden brown. Remove to the prepared plate.

Repeat the battering, frying process for the remaining s'mores. (It may take a few to get the hang of it.)

Dust with optional powdered sugar. Serve warm and enjoy!
Notes
-Instead of making homemade batter, you can use dry pancake mix and add water according to the package directions. -Keep the s'mores in the fridge until ready to fry, especially if the weather is warm.
Nutrition Facts
Deep Fried S'mores (with video)
Amount per Serving
% Daily Value*
* Percent Daily Values are based on a 2000 calorie diet.
Please read our nutrition disclaimer.

© TIPBUZZ. Images and text on this website are copyright protected. Please do not post or republish without permission. If you want to republish this recipe, please link back to this post. This post may contain affiliate links. Read the disclosure policy here.