How Long to Boil Hot Dogs
Learn how long to boil hot dogs so you get perfect plump wieners every time! Whether you've got regular or jumbo-size dogs, follow these simple tips to avoid split casings or overcooking. Boiling hot dogs is quick, easy and foolproof!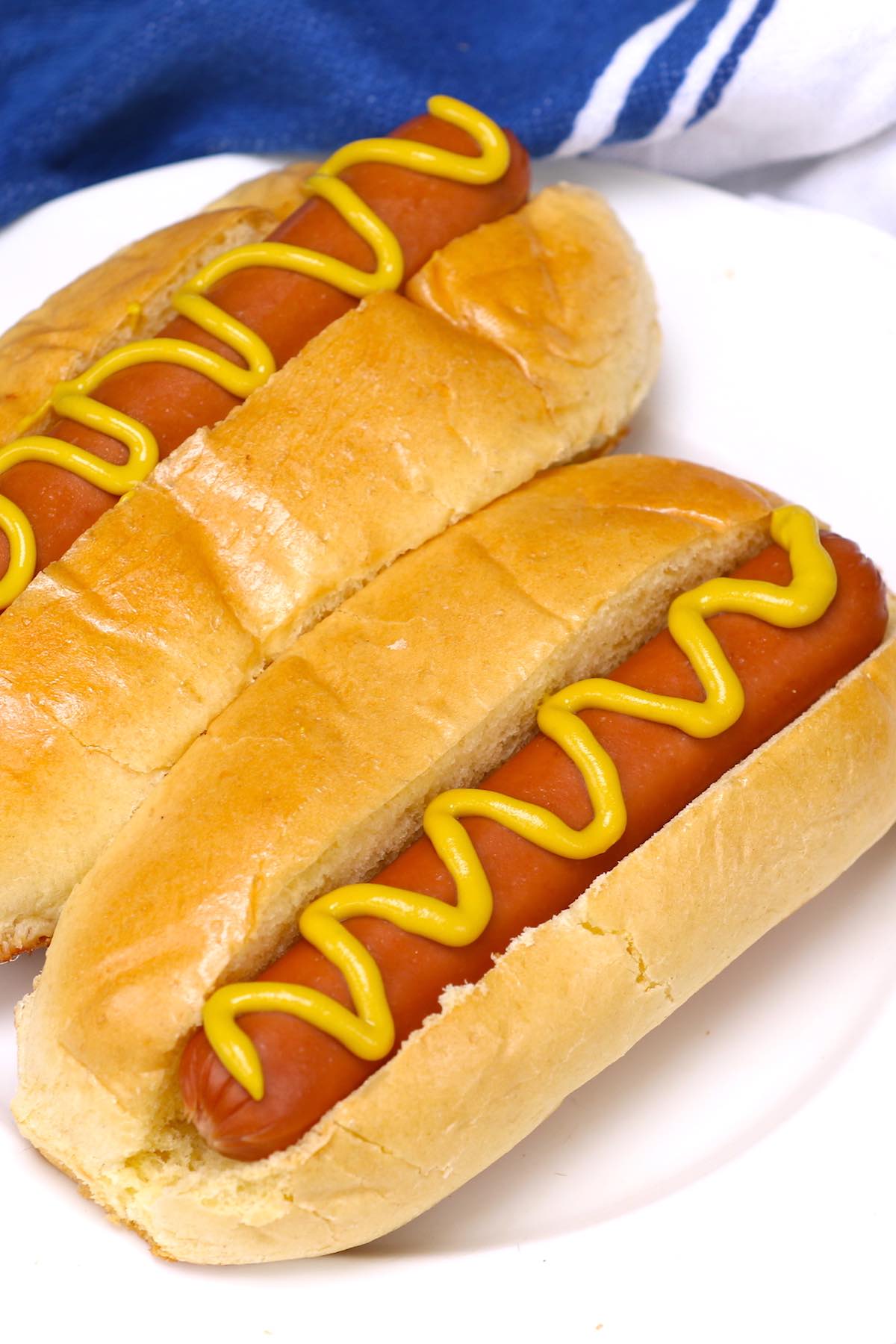 While boiling a wiener is not difficult, you can overcook them. If you've even seen the casings split open or had a chewy dog, you know what I'm talking about!
Hot dogs come pre-cooked, but you shouldn't eat them straight of the package. There have been cases of listeria according to the FDA, so reheating thoroughly is advisable and especially for anyone who's pregnant.
Should You Boil Hot Dogs?
While boiling plumps the meat nicely, some experts feel it also produces a soggy dog with less flavor. At the end of the day, it's a matter of personal preference, but boiling is basically the fastest and easiest.
In terms of alternatives, you can try grilling, pan-frying or baking, but they'll take longer and need oil to avoid sticking. The microwave is somewhat unpredictable, so that leaves steaming as the compromise option (if you have a steamer).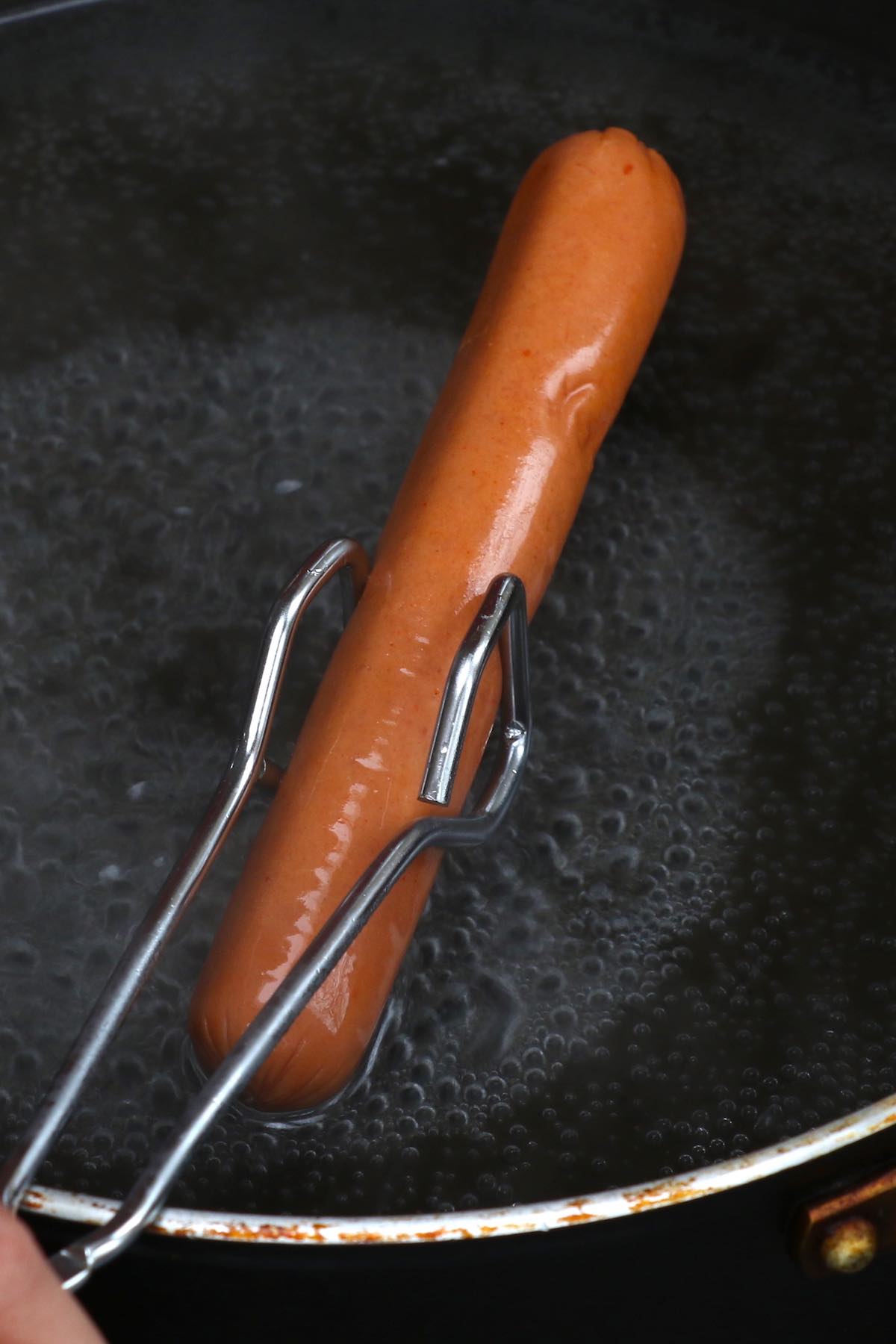 Boiling Hot Dogs
Boiling hot dogs is simple. Fill a large saucepan or skillet with 3-4 inches of cold water and place over high heat.
Once the water is boiling, carefully add the dogs using kitchen tongs (to avoid splashes). Boiling time will vary based on the size of the dogs.
Beer Hot Dogs: This variation involves boiling hot dogs in beer for a mellow flavor (and it's a great way to use up old beer!). Pour 3-4 cans of beer into a saucepan and bring to a low boil over medium heat. Add the hot dogs and cook as usual.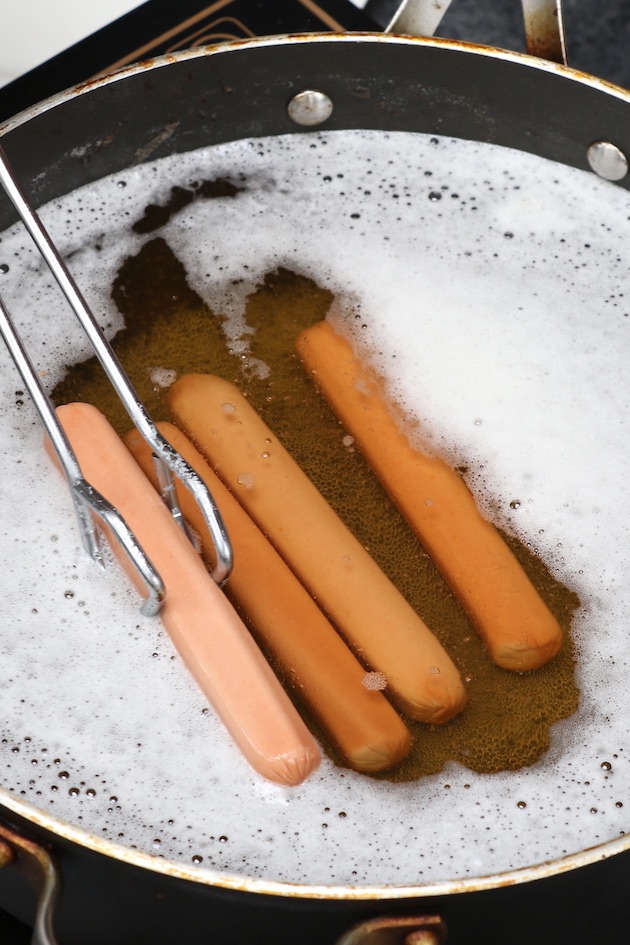 How Long Do You Boil Hot Dogs
The two main factors affecting how long to boil hot dogs are: wiener size and whether they're fresh or frozen:
Chilled Hot Dogs: Boil standard-size wieners for 5 minutes and jumbo dogs for 8 minutes.
Frozen Hot Dogs: Boil regular wieners for 10 minutes and jumbo dogs need 12-13 minutes. (There's no need to thaw the dogs ahead of time.)
How to tell when they're done? They'll be plump and slightly darker when they're done. All-pork hot dogs will often float too, although not always.
Hot dog recipes:
Recipe tools: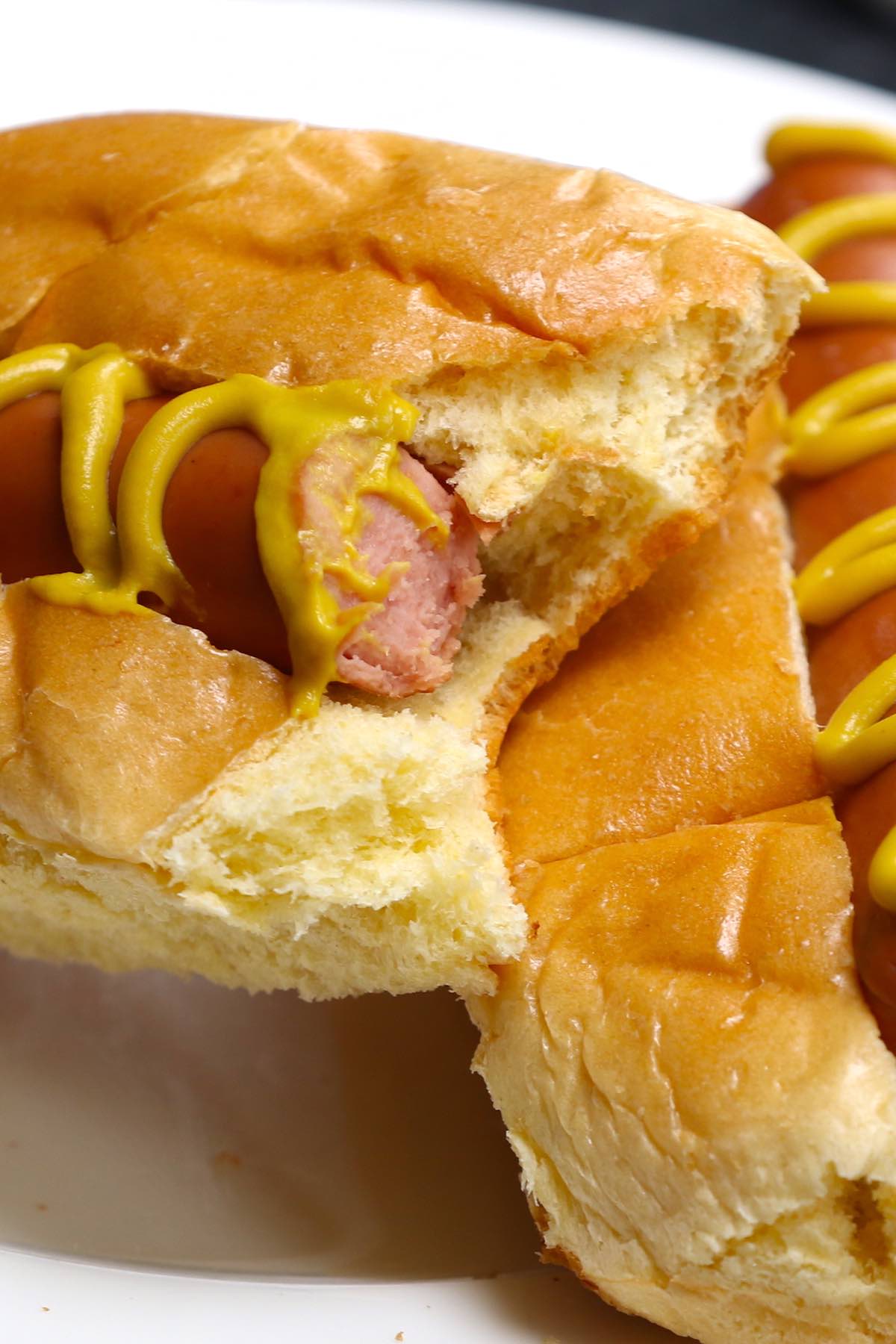 How to Boil Hot Dogs
Step-by-step instructions for boiling the perfect hot dog!
Ingredients
6 hot dogs, refrigerated or frozen
1 1/2 quarts cold water, or beer (6 cups or 3-4 cans)
Instructions
Fill a medium saucepan or skillet with the water and place over high heat (medium heat if using beer).

Once the liquid is boiling, carefully add the hot dogs using kitchen tongs to avoid splashes.

Boil 5 minutes for refrigerated dogs or 10 minutes for frozen dogs. For jumbo size wieners, add 3 minutes extra.

Using tongs again, remove the dogs to a plate for dressing. Serve hot.
Notes
Hot Dogs: Buying quality hot dogs will reduce the likelihood of blemishes and split casings.
Leftover water in the pan can be re-used to boil consecutive batches if desired.
When doubling the recipe, use a large pot to avoid crowding.
Nutrition Facts
How to Boil Hot Dogs
Amount per Serving
% Daily Value*
* Percent Daily Values are based on a 2000 calorie diet.
Please read our nutrition disclaimer.

© TIPBUZZ. Images and text on this website are copyright protected. Please do not post or republish without permission. If you want to republish this recipe, please link back to this post. This post may contain affiliate links. Read the disclosure policy here.