Easy Pan Fried Pork Chops
Pan Fried Pork Chops made with only 5 ingredients!  A scrumptious recipe that'll be on your dinner table in 15 minutes, featuring a mouthwatering golden crust with no marinating or breading required. Perfect for a quick weeknight dinner or entertaining for a party!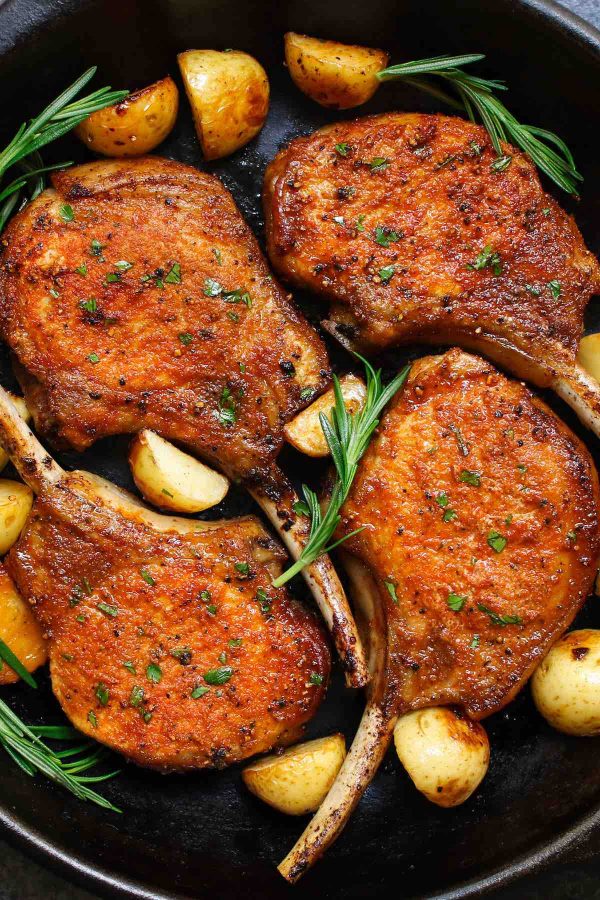 Pork chops are an easy lunch or dinner idea that's less expensive than steak and just as flavorful. You can make a tender and juicy meal that everyone will love by following a few simple tips, and forget about dry and tasteless chops forever!
You can serve these pork chops with just a green vegetable or salad for a low-carb dinner idea. Add in some mashed potatoes or rice to get a complete meal. For a party feast, just add in more sides like coleslaw, corn on the cob or mac and cheese. So good!
How to Fry Pork Chops
Pan frying pork chops need not be complicated. The secret is to start with thick, bone-in pork chops as with Baked Pork Chops. The only ingredients you'll need are pork chops, seasoning, some olive oil and optional minced parsley for garnish.
How to Tenderize Pork Chops
Salt is the main tenderizer here, and you'll need about 1 teaspoon of salt for 4 pork chops.
If you prefer less salt, then it's best to brine the pork chops:
Combine ¼ cup salt (4 tablespoons) with 1 quart of water in a 9×13 baking pan.
Add the chops in a single layer and let sit for 30-60 minutes.
Drain, pat dry with paper towels and continue with the recipe.
Contrary to popular belief, the salt from the brine washes away and does not accumulate on the meat.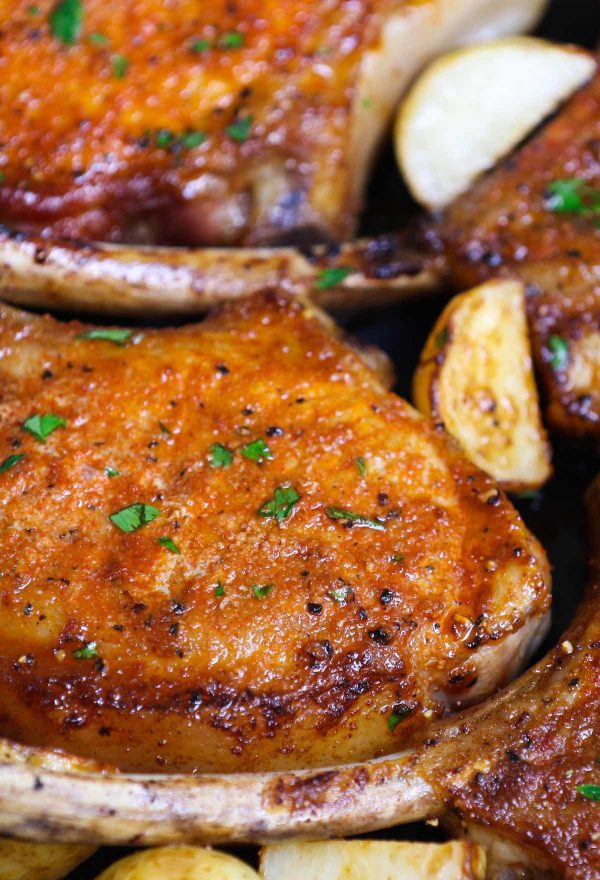 How to Season Pork Chops
There are just a few simple ingredients to season pan fried pork chops:
Paprika (or smoked paprika if you prefer)
Garlic powder
Salt
Freshly ground black pepper (coarse grind if possible)
Mix the seasonings in a small bowl or ziplock bag. Then rub the mixture all over the pork chops using your fingers.
How Long to Fry Pork Chops
How long to fry pork chops depends on the thickness and whether it's a bone-in pork chop. Count on 8-10 minutes total cooking time for thinner ¾-inch bone-in pork chops, and as long as 18-22 minutes for thick 1 ½-inch chops:
| | | |
| --- | --- | --- |
| Thickness | Bone-in pork chops | Boneless pork chops |
| ¾ inch | 8-10 min | 6-8 min |
| 1 inch | 12-14 min | 8-10 min |
| 1 ¼ inch | 16-18 min | 12-14 min |
| 1 ½ inch | 18-22 min | 14-18 min |
When Are Pork Chops Done?
Pork chops are cooked when the internal temperature reaches 145°F / 63°C. It's fine to still have some faint wisps of pink color in the meat.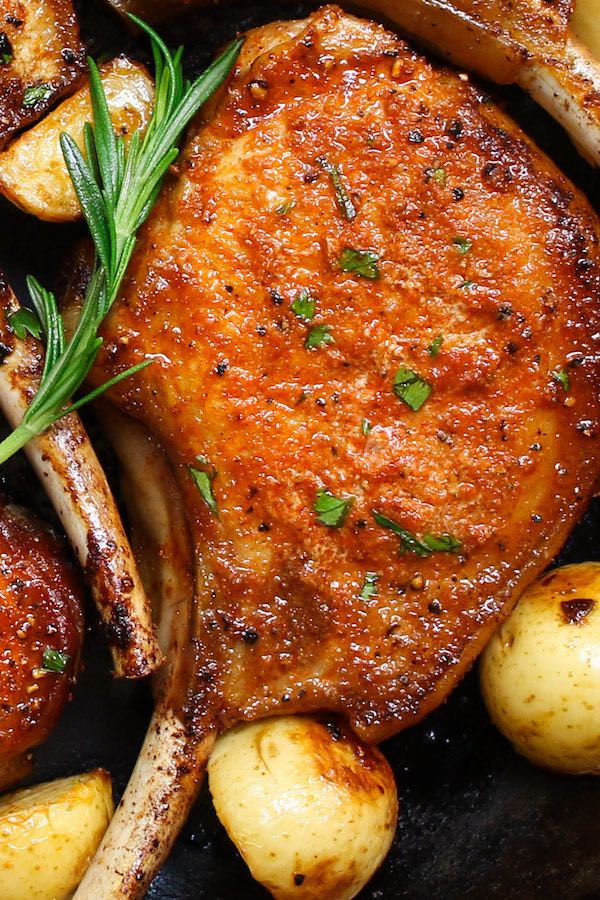 Tips and Secrets for Pan Fried Pork Chops
Select thick, bone-in rib chops for the juiciest texture and most flavor. Avoid thin chops and/or boneless chops.
Remove the pork chops from the fridge 15-30 minutes in advance, and pat dry with paper towels to remove excess moisture.
Season each side of the pork chops with salt and pepper for flavor and tenderizing.
Use a cast iron frying pan and sear at high heat for only 2-3 minutes to lock in the juices and form a golden crust. Then reduce heat to medium-low for the remaining time.
Don't poke or stab the chops, which will cause the precious juices to leak out.
Check for doneness using an instant meat thermometer and remove from heat as soon as the internal temperature reaches the 145°F / 63°C.
When cooked, allow the chops to rest for several minutes before serving so the juices retreat back into the meat. Cover loosely with foil to keep warm.
Equipment for Pan Fried Pork Chops
Cast iron skillet: A cast iron frying pan like this one will help create an even crust on the pork chops.
Thermometer: An instant thermometer helps avoid overcooking the meat.
Easy Pan Fried Pork Chops
These Pan Fried Pork Chops are a scrumptious, no-nonsense pork chop recipe that'll be on your dinner table with just 5 ingredients. There's no marinating or breading required. Perfect for dinner or entertaining!
Ingredients
1 tsp garlic powder
1 tsp paprika
1 tsp salt
1 tsp black pepper, coarsely ground
4 bone-in pork chops, 1-inch thick rib chops
3 tbsp olive oil
fresh parsley, minced - optional
Instructions
In a small bowl, combine garlic powder, paprika, salt and black pepper.

Rub the seasoning mixture over all sides of each pork chop.

Place a large cast iron skillet over medium heat and add the olive oil.

Once the pan is hot, add the pork chops and fry for 2-3 minutes per side to sear.

Insert an instant-read meat thermometer into the middle of a chop. Once it reads 145°F (63°C), remove the chops to a plate.


Let the pork chops rest for 4-5 minutes.

Garnish with optional minced parsley. Serve and enjoy!

Notes
Thick-cut pork chops are less likely to dry out than thinner chops. I recommend buying pork chops that are at least 1-inch thick to get tender and juicy results.
Salt brings out the natural flavor of pork chops, but if you prefer less salt, you can add 1 tsp to the seasoning, and add more to taste during serving.
If the center of your pork chop is slightly pink after cooking, it's ok as long as the internal temperature reaches 145°F (63°C).
Nutrition
Calories: 386kcal, Carbohydrates: 1g, Protein: 35g, Fat: 25g, Saturated Fat: 6g, Cholesterol: 116mg, Sodium: 966mg, Potassium: 601mg, Vitamin A: 245IU, Calcium: 32mg, Iron: 1.3mg
Looking for more pork chop recipes?
© TIPBUZZ. Images and text on this website are copyright protected. Please do not post or republish without permission. If you want to republish this recipe, please link back to this post. This post may contain affiliate links. Read the disclosure policy here.