Pan Fried Pork Chops
The best tender and juicy Pan Fried Pork Chops recipe! With only 5 simple ingredients and 15 minutes, you can turn underrated pork chops into a scrumptious dinner that rivals the best steak. By following a few easy tips, you can forget about dry and tough chops forever!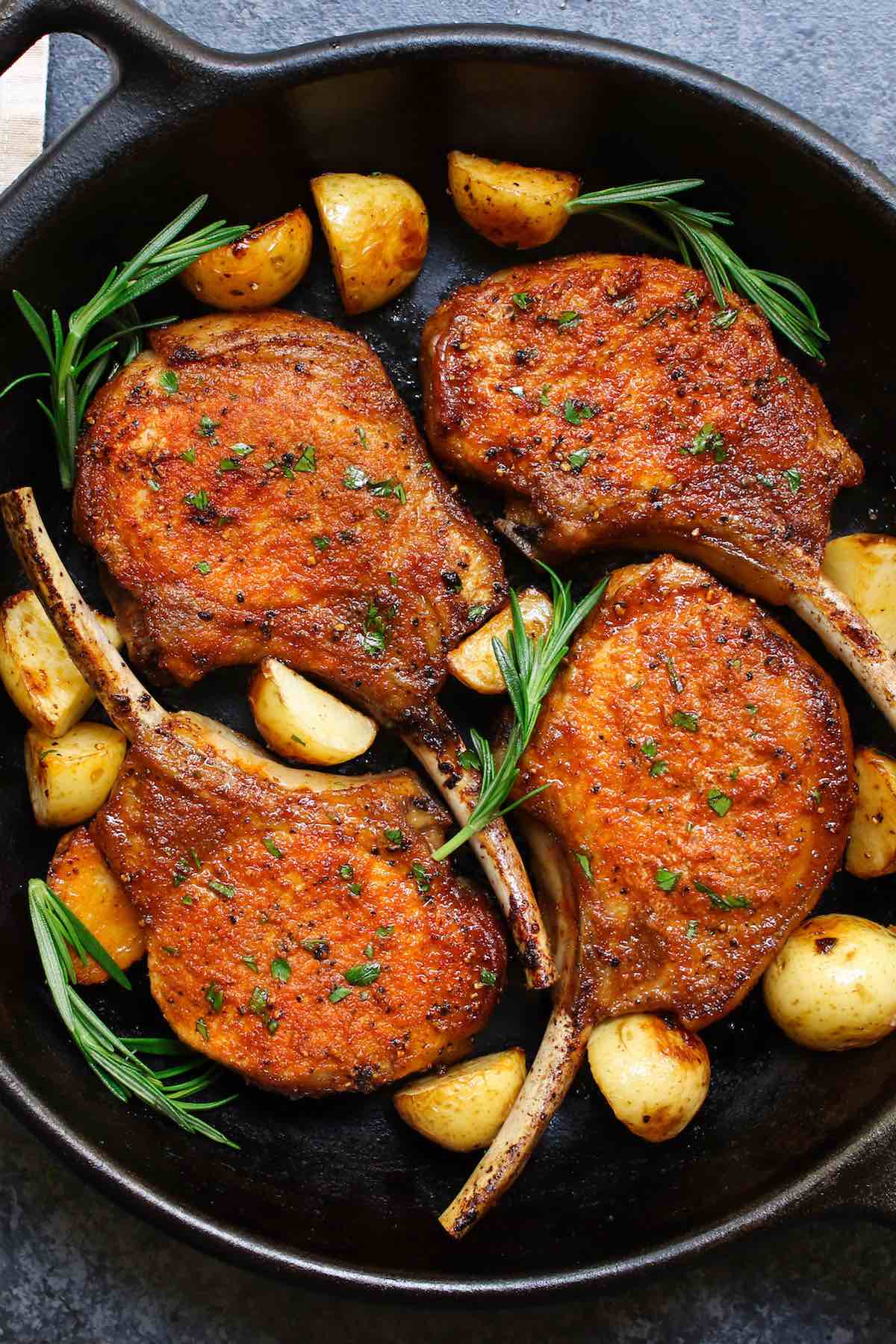 Never make a dry pork chop again
Pork chops are such a lean cut that they're prone to overcooking. After many experiments, we've cracked the code on how to easily make them tender every single time. 100% guaranteed! Say goodbye to tough and dried-out pork chops!
The best part? These stove top pork chops use no flour, meaning there's no dredging or deep frying so they're healthier with far less calories. This recipe is budget-friendly, paleo, gluten-free and keto!
Watch the video to see how easy it is to make this recipe:
How to fry pork chops on the stove
Remove pork chops from the fridge 15-20 minutes before cooking.
Pat dry with paper towels.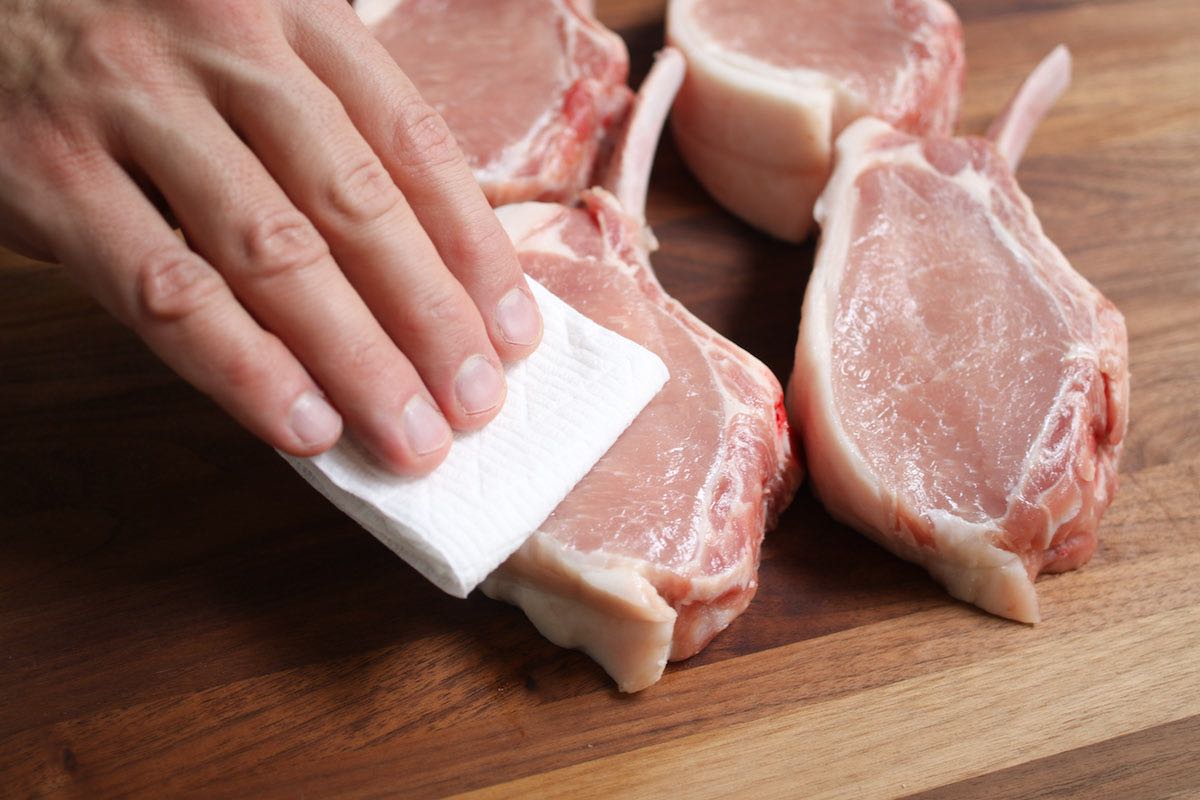 Mix paprika, garlic powder, salt and pepper in a small bowl.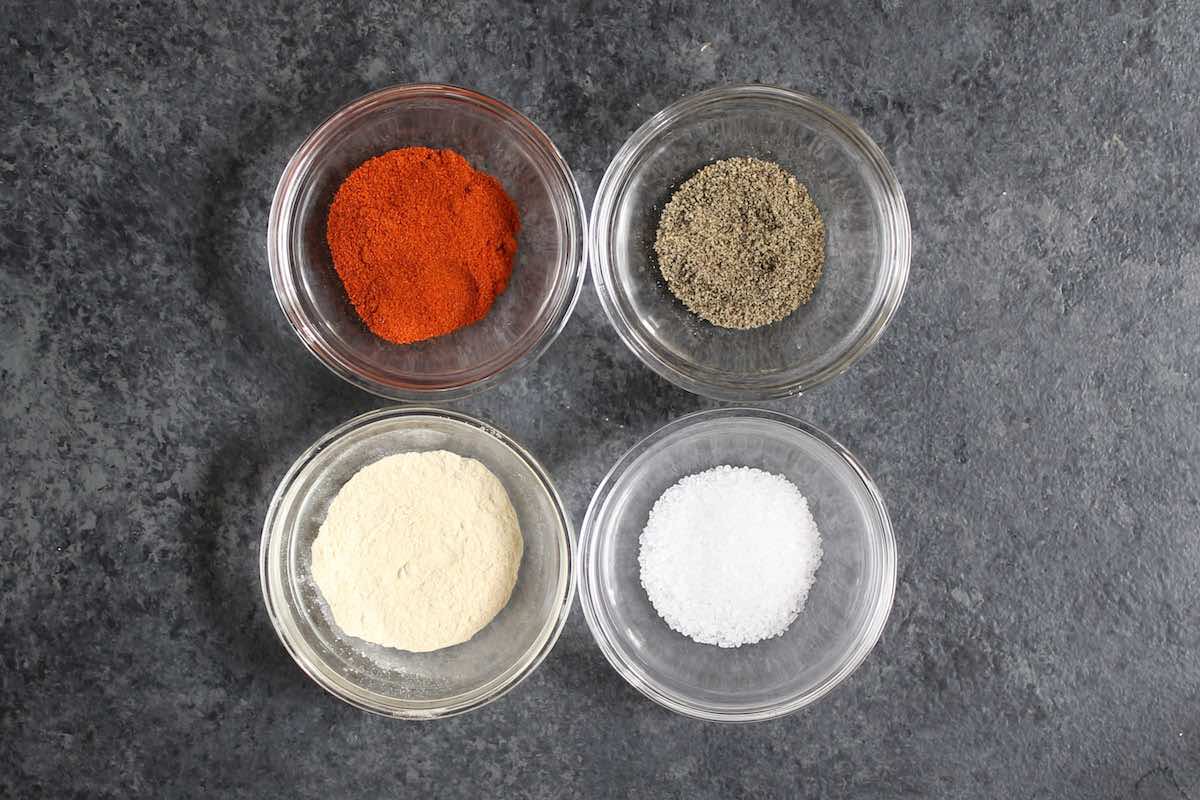 Rub with olive oil and seasonings on all sides.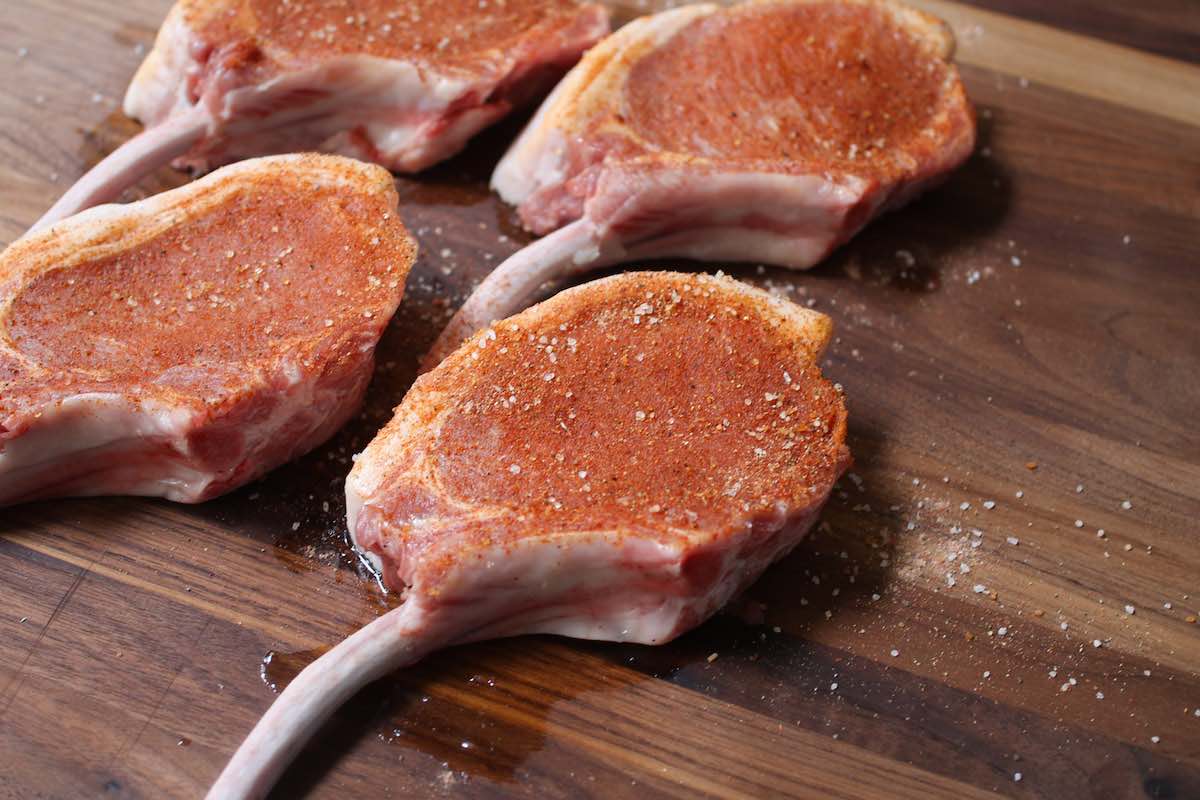 Place a large cast-iron skillet over medium-high heat.
Once the pan is hot, add oil and pork chops.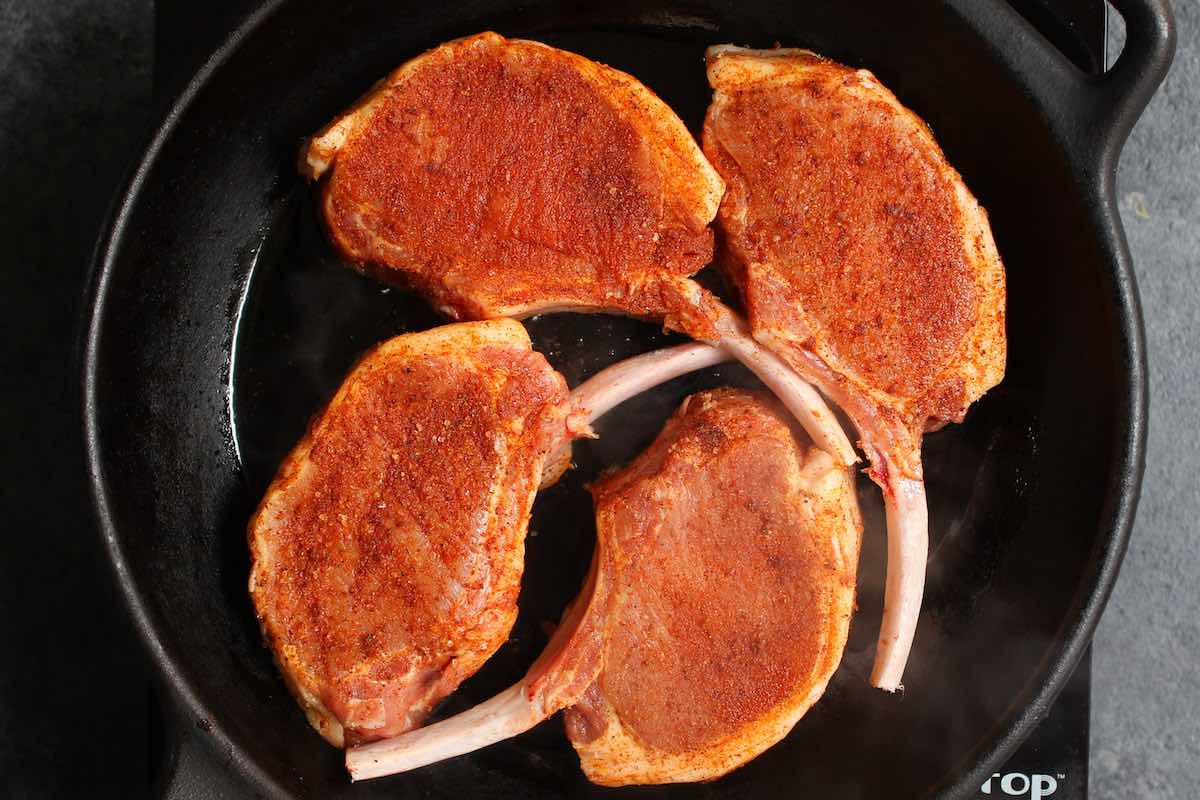 Cook for 5-10 minutes in total depending on the thickness, flipping every minute.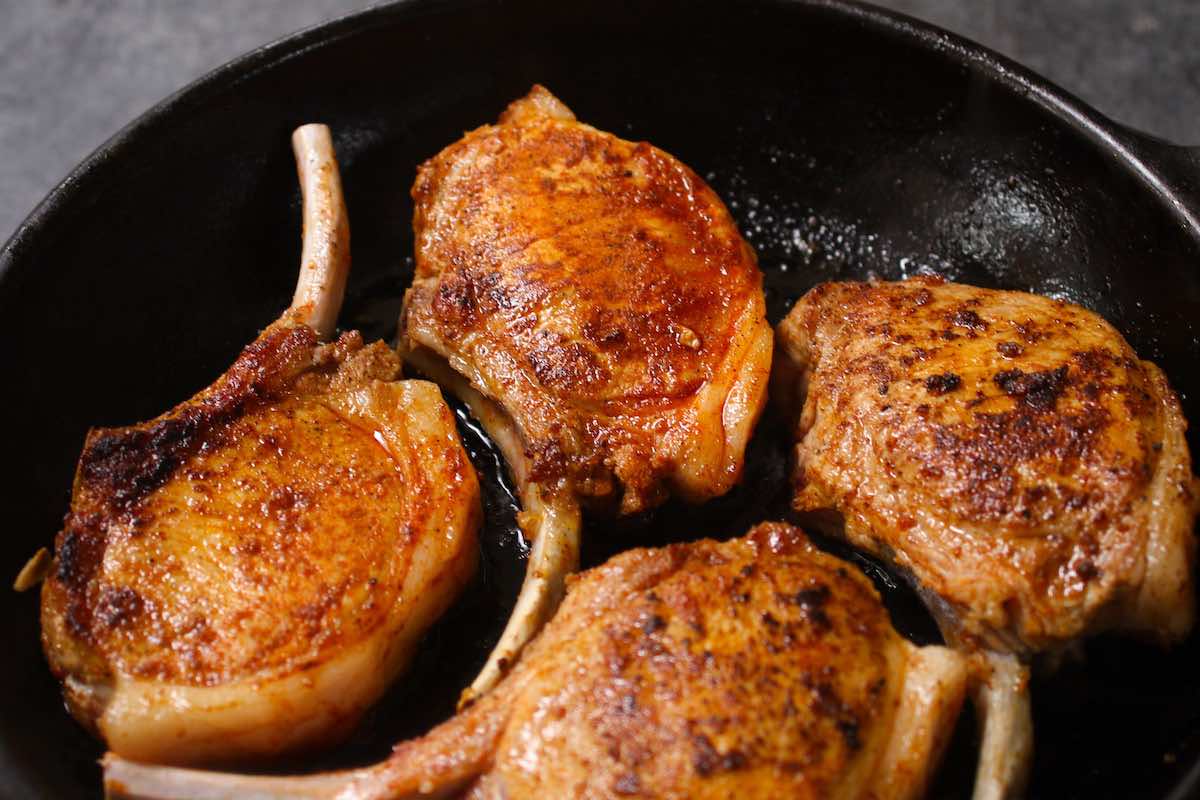 Check doneness using an instant-read thermometer.
Remove the pork chops to a plate to rest for 5 minutes before serving.
Flipping multiple times in the skillet for the best results
It might sound counterintuitive, but our experiments prove that extra flipping is the secret to tender and juicy pork chops!
Flipping every minute prevents the exterior of your pork chops from overcooking or burning while you're waiting for the interior to cook through. This way, you'll get more evenly cooked meat with a nice and golden brown crust.
Why are my pork chops tough?
Overcooked pork chops are tough!
Pork chops cook quickly and are prone to overcooking. Even just a few minutes too long on the stovetop will make them tough and chewy. Did you know the temperature of your pork chops keeps rising even after they're removed from the heat, a phenomenon called carryover cooking.
So knowing how long to cook your chops and when to remove from heat are the most important keys to avoiding dry-out pork chops!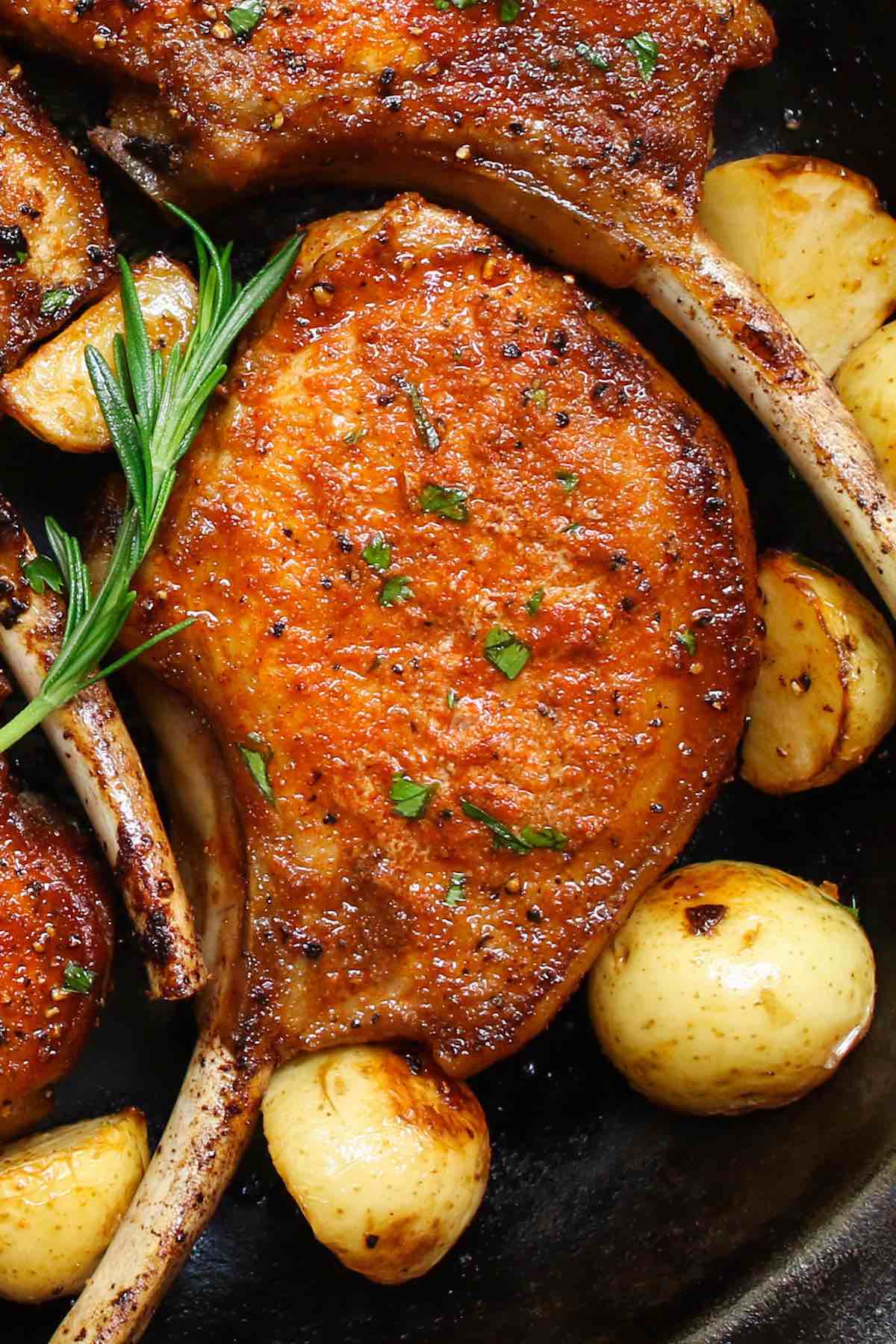 How long to fry pork chops
Cooking times vary for thin vs. thick pork chops. Simply follow the cook time chart below for the chops you're using:
| | |
| --- | --- |
| Thickness | Frying Time |
| ¾ inch / 1.9 cm | 4-6 min |
| 1 inch / 2.5 cm | 6-8 min |
| 1 ¼ inch / 3.2 cm | 8-10 min |
| 1 ½ inch / 3.8 cm | 10-12 min |
Note: Times above are for room temperature chops. As kitchen equipment may vary in the amount of heat produced, it's best to verify doneness using a thermometer instead of relying on time alone.
When are pork chops done frying?
Cook time and color are NOT accurate ways to measure doneness.
The most reliable way is by using an instant-read thermometer. Insert the probe into the thickest part of the chop (about an inch away from the bone for bone-in chops). As soon as the temperature reads 140°F (61°C), remove the pork chops to a plate to rest. The temperature will rise a few degrees more during resting to reach the final internal temperature of 145°F (63°C),
One of the biggest mistakes people make is to cook the meat until it's completely white. Your pork chops will be overcooked by then. It's OK if the meat appears slightly pink as long as the temperature reaches the desired level, since temperature (not color) is the safe indicator of pork doneness according to the USDA.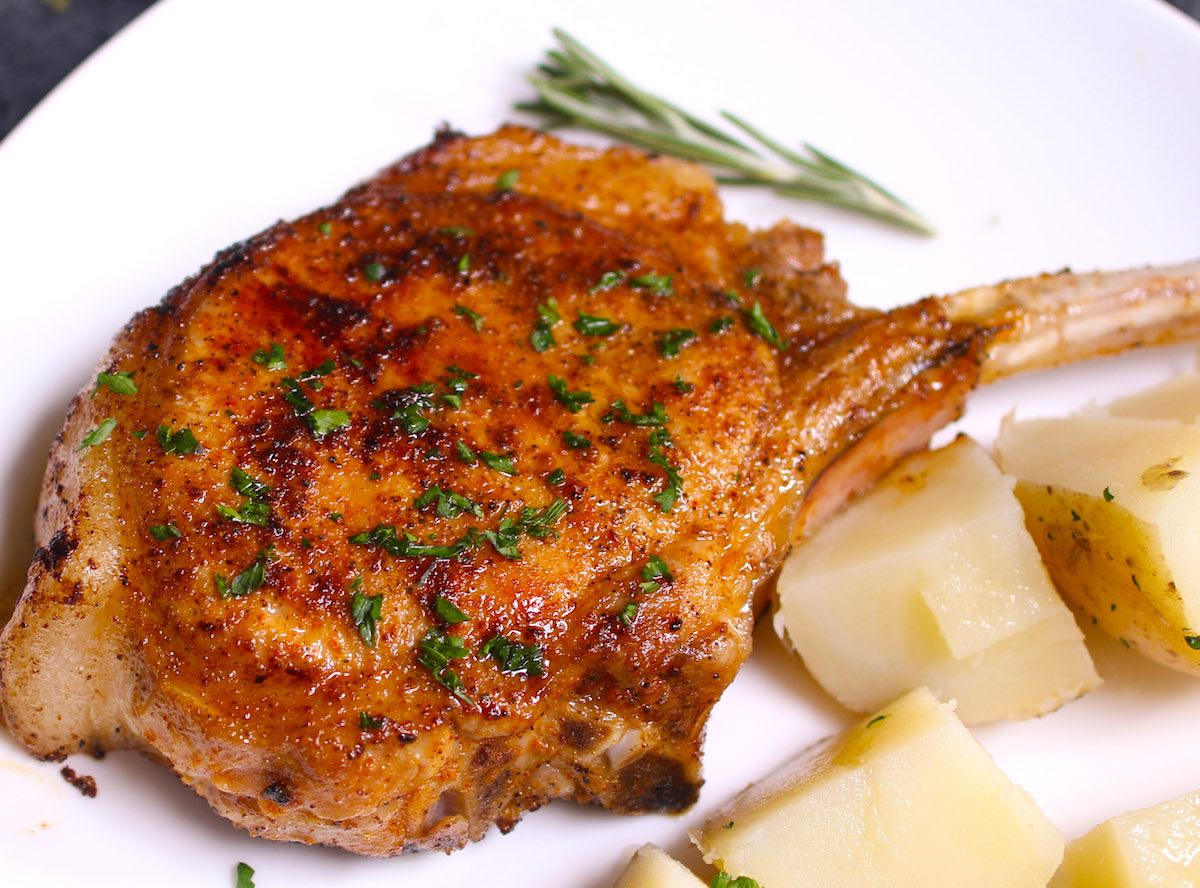 Tips: extra steps to take the tenderness to a new level
Look for fresh, high-quality pork chops that are plump with a nice pink color and some fat around the edges.
Thicker pork chops that are 1-1.5 inches thick are less likely to dry out than thin chops.
Bone-in pork chops are more tender and flavorful than boneless cuts.
Remove the chops from the fridge 15 minutes before cooking so the meat gets closer to room temperature for more even cooking.
I highly recommend brining the chops before cooking. Just place your chops in the salt and water mixture (1/4 cup of salt + 4 cups of water). A quick 30 minutes brine makes a big difference.
Season generously with salt and other seasonings. I use a simple dry rub consisting of garlic powder, paprika, salt and pepper.
Let the pork chops rest covered for about 5 minutes after cooking to let the juices retreat back into the meat.
What goes well with pork chops
More Pork Chop Recipes:
Pan Fried Pork Chops Recipe (+Video)
These Pan Fried Pork Chops are a scrumptious pork chop recipe that'll be on your dinner table in 15 minutes using just 5 ingredients.
Ingredients
4 pork chops, boneless or bone-in, 1-inch (2.5cm) thick *
1 teaspoon garlic powder
1 teaspoon paprika
1 teaspoon salt**
1 teaspoon black pepper, coarsely ground
2 tablsepoons olive oil
fresh parsley, minced - optional
Instructions
Remove the pork chops from the fridge 15-20 minutes before cooking to approach room temperature for even cooking and juicier chops.

Pat dry the chops with paper towels to remove excess moisture.

Rub the chops on all sides with 1 tablespoon of oil.

In a small bowl, combine garlic powder, paprika, salt and black pepper.

Rub the seasoning mixture on all sides of each pork chop.

Place a large cast iron skillet over medium-high heat and add the olive oil.

Once the pan is hot and the oil is shimmering, add the pork chops.

Fry for 7-8 minutes for 1-inch thick pork chops, flipping every minute to prevent overheating. For other thicknesses, see recipe notes*.

Insert an instant-read thermometer into the thickest part of the chop. When it reads 140°F (61°C), the pork chops are done***.

Remove the chops to a plate and rest for 5 minutes covered with foil or a plate. This is to let the juices retreat back into the meat for juicier chops.

Garnish with optional minced parsley and serve.
Notes
* Cook 4-6 minutes for 3/4 inch thick chops; 8-10 minutes for 1 1/4 inch thickness; 10-12 minutes for 1 1/2 inch thickness. 
**If you brine your chops, then reduce the salt by at least half.
***It's ok if the center of your pork chop is slightly pink after cooking, as long as the internal temperature reaches 140°F (61°C). The temperature will keep rising to the safe level of 145°F (63°C) while resting.
Nutrition Facts
Pan Fried Pork Chops Recipe (+Video)
Amount per Serving
% Daily Value*
* Percent Daily Values are based on a 2000 calorie diet.
Please read our nutrition disclaimer.
Recipe Equipment

© TIPBUZZ. Images and text on this website are copyright protected. Please do not post or republish without permission. If you want to republish this recipe, please link back to this post. This post may contain affiliate links. Read the disclosure policy here.