BBQ Chicken Meatballs Meal Prep
These BBQ Chicken Meatballs are tender and juicy with a sweet and tangy sauce that is to die for. And you only need 6 ingredients to make them! We've paired the meatballs with buttered noodles and green beans for an irresistible meal prep idea to enjoy on the go!
BBQ meatballs are a classic dish for potlucks, game day and even holiday parties, but let's face it: they're good anytime! So here we've meal prepped them so you can enjoy them all week long…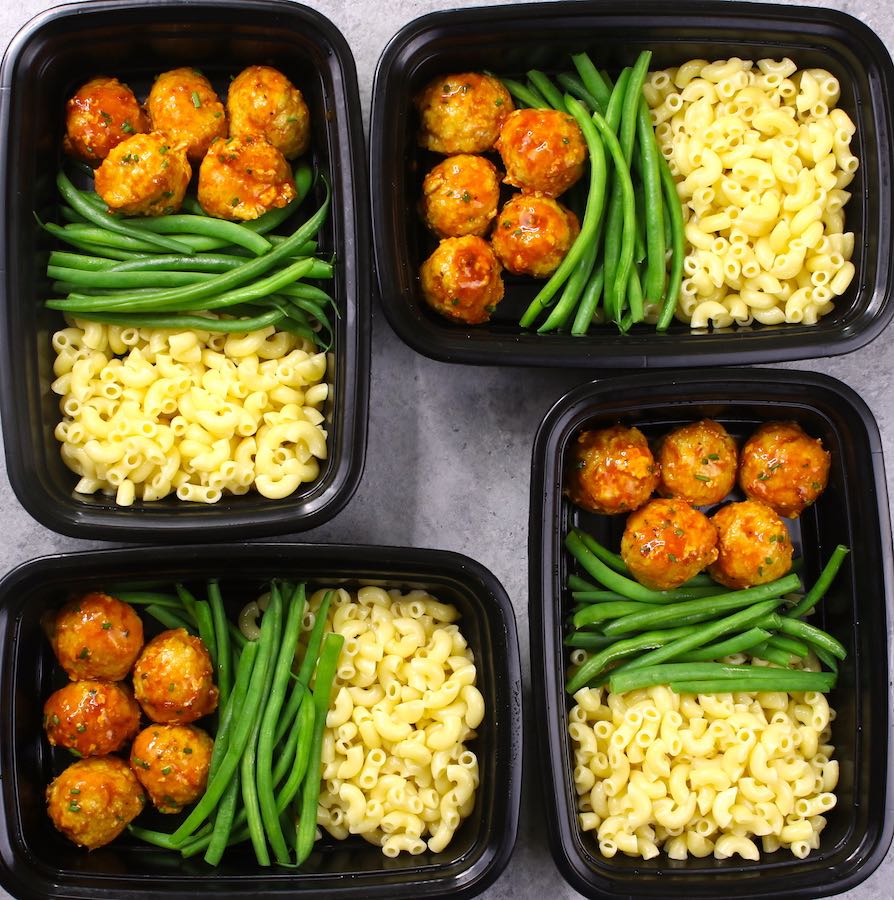 If you want an easy weeknight meal, simply pair them up with mashed potatoes, rice or noodles for some delicious meal that'll be a family favorite, including picky eaters.
Today we've made meatball meal prep, so you can enjoy them all week long. It's a perfectly delicious meal to take to work or school, and give your colleagues some serious food envy! You can easily double the recipe to make extra.
How to Make BBQ Chicken Meatball Meal Prep
These BBQ meatballs are baked in the oven to develop the richest, meatiest flavors with a thick homemade sauce. You only need 6 ingredients you'll likely have on-hand:
Chicken meatballs: frozen Italian meatballs like Simply Balanced from Target or Cooked Perfect from Kroger work great
Grated onion
Ketchup: Regular or low-sodium if you prefer less salty
Brown sugar or honey
Cider vinegar
Worcestershire sauce
If you prefer making homemade meatballs instead of using frozen, follow this recipe to make your own from scratch. Budget some extra time, as making meatballs is a labor of love, although a very worthwhile one at that 🙂
Start cooking the rice or noodles before preparing the meatballs so everything is ready to meal prep at the same time. The green veg can be cooked towards the end.
Can I Use the Slow Cooker?
If you prefer not to use an oven, you can use a slow cooker instead of baking the meatballs. The only caveats are that cooking takes several hours instead of 40 minutes, and there's no browning in the crock pot, so the flavor is not quite the same.
The good news? It's super easy! You simply dump all the ingredients into the crock pot, set the timer and forget about them until they're done. Here's how to do it:
In a 4-6 quart crock pot, add the meatballs along with the sauce ingredients.
Set the slow cooker to HIGH for 2-3 hours (two hours if the meatballs are thawed, and three hours if frozen). Alternatively, you can also cook on LOW for 6-8 hours.
Can I use bottled barbecue sauce?
If you don't have all the sauce ingredients, you can substitute 1 ½ cups of bottled barbecue sauce. I prefer Sweet Baby Ray's BBQ sauce, but everyone has their fave, right? While the sauce will be a bit less flavorful, this is still a good option in a pinch.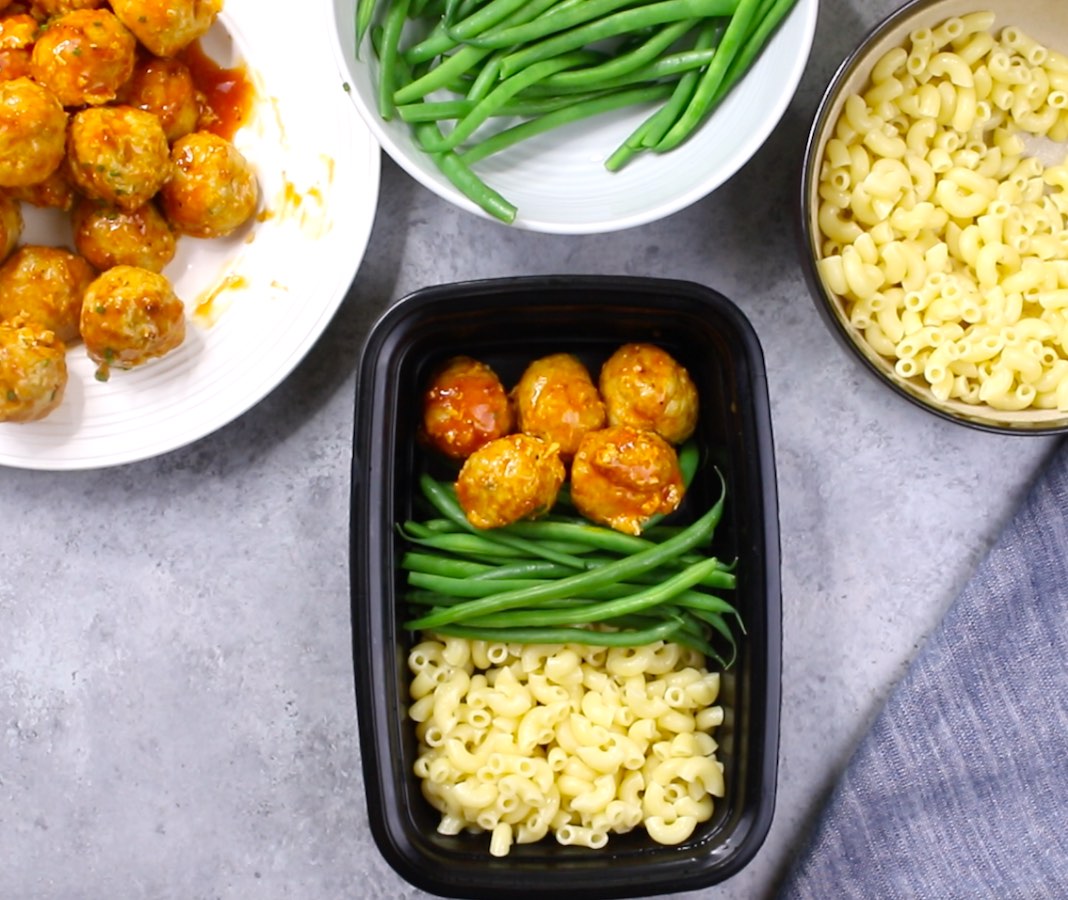 Equipment to Make BBQ Meatball Meal Prep
You can easily make BBQ meatballs with common equipment:
13×9" baking pan: I prefer Pyrex, but metal is fine too
Mixing bowl: I use Pyrex, but any kind will do
Grater: I like using a box grater for the onion
It's also super helpful to have the right containers for meal prep. Most containers have a rectangular shape and will hold 4-5 cups or 28 oz of food. Here are some tips to keep in mind when choosing your containers:
Get at least 10 containers to have enough ready to be loaded up at any time.
Select the same brand and size, so you don't have to sort through mismatched lids and containers
Microwaveable, BPA-free plastic containers are the best lightweight option; otherwise, glass containers like theseones are a good alternative.
If you're transporting the meatballs to a potluck, the meal prep containers work nicely!
Tips and Secrets for Making BBQ Meatballs
This recipe Plan on 5-6 meatballs per container, or about 30 meatballs total leaving a few extra leftover.
Make sure all ingredients are lukewarm or cool before sealing the meal prep containers to ensure maximum freshness.
You can freeze this meal prep for up to one month by placing each container in a ziptop bag. Allow 2-3 hours of thawing time before reheating.
Reheat this meal prep for about 4 minutes in the microwave on full power, or in the oven for 8-10 minutes.
You can make this with frozen or thawed meatballs. Just adjust the cooking time accordingly following the recipe.
Baked BBQ Chicken Meatballs
These BBQ Chicken Meatballs are tender and juicy with a sweet and tangy sauce that is to die for. And you only need 6 ingredients to make them! We've paired the meatballs with buttered noodles and green beans for an irresistible meal prep idea to enjoy on the go!

Ingredients
1 ½ lbs frozen meatballs, about 30
1 cup ketchup
2 tbsp brown sugar, or honey
3 tbsp cider vinegar
1 tbsp Worcestershire sauce
1 medium onion, finely grated, about ¼ cup
salt and pepper to taste
Meal Prep
5 cups cooked pasta, or rice
1 lb green beans, or other green vegetable
fresh parsley, minced - optional
Instructions
Preheat oven to 350°F / 175°C. Set aside a 13x9 inch baking dish.

In a medium bowl, whisk together the ketchup, brown sugar, vinegar and Worcestershire sauce.

Grate the onion and mix into the sauce.

Place meatballs into baking dish and pour the sauce on top. Season with salt and pepper.

Place in the oven and bake for 35 minutes. In the meantime, cook pasta and green beans.

Remove from oven and allow to cool slightly. Then arrange in meal prep containers with the pasta and green beans.

Garnish with optional minced parsley. Enjoy!
Nutrition Facts
Baked BBQ Chicken Meatballs
Amount per Serving
% Daily Value*
* Percent Daily Values are based on a 2000 calorie diet.
Please read our nutrition disclaimer.
More meal prep ideas:
View all meal prep recipes
© TIPBUZZ. Images and text on this website are copyright protected. Please do not post or republish without permission. If you want to republish this recipe, please link back to this post. This post may contain affiliate links. Read the disclosure policy here.