Fried Apple Pies
These Fried Apple Pies are a McDonald's copycat but even better. They feature homemade apple pie filling wrapped in tortillas and deep fried to crispy perfection. Delicious and easy to make in 20 minutes!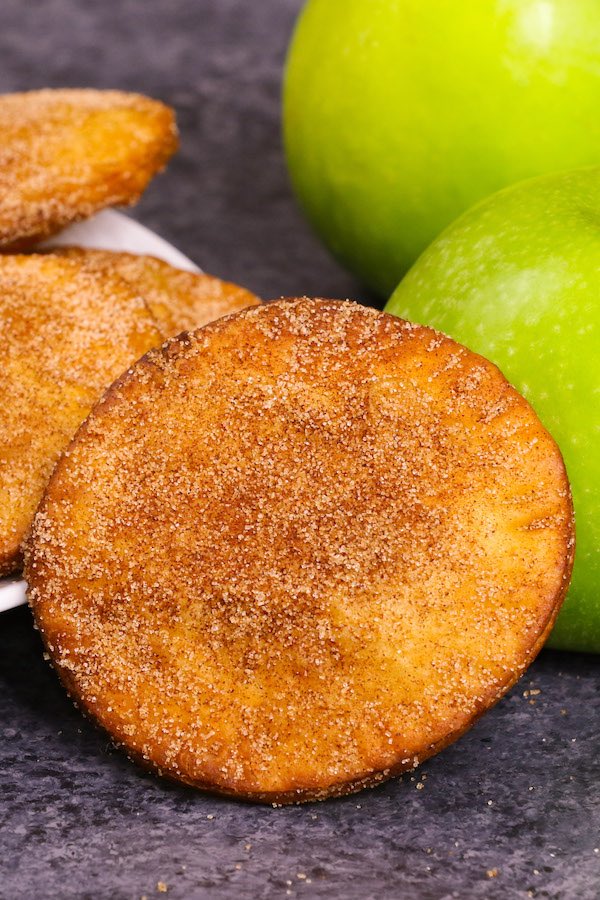 Who knew you could DIY your favorite McDonald's apple pie? This homemade version will satisfy your cravings, plus the dusting of cinnamon sugar takes this dessert to an entirely level!
These apple hand pies are perfect for snacks, parties and even picnics! The secret is using flour tortillas instead of a traditional pie crust. Not only are there fewer calories, but it's faster and easier than rolling out pastry.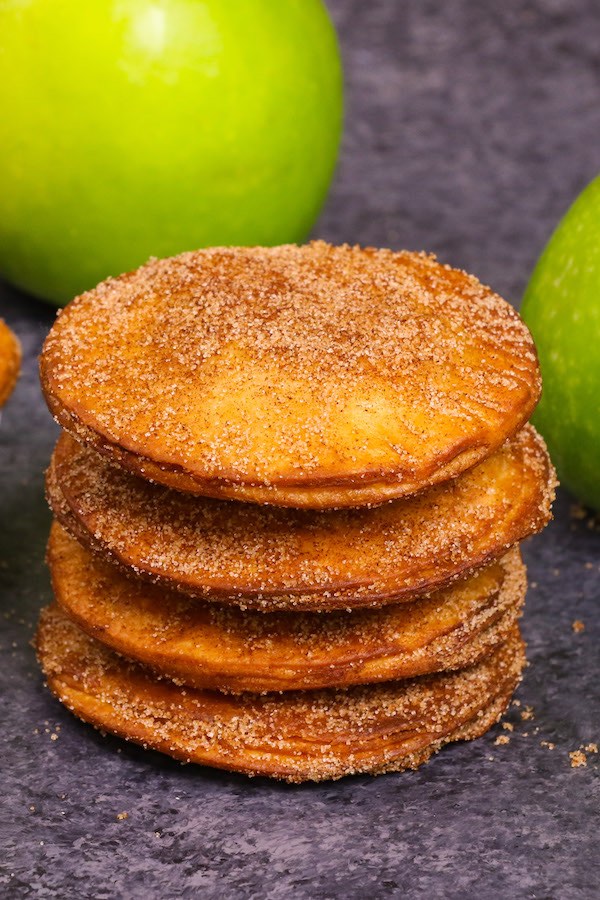 How to Make Fried Apple Pies
Making fried pies involves two part: the filling and the crust.
Apple Pie Filling: You can always use canned filling if you're in a hurry, but it only takes a few minutes to make your own. Peel and dice the apples and mix with lemon juice, cinnamon and sugar. Then sauté over medium heat until soft and remove from the heat.
Pie Crust: Grab some tortillas (larger the better) and a 4-5 inch circular cookie cutter. Then cut 5 circles out of each tortilla. If you prefer using pastry instead, you can use store-bought or make your own pie dough.
To assemble the pies, add a large spoonful of filling to the middle of each tortilla, leaving at least a 1/2-inch of space around the edges. Brush the edges with beaten egg and press another circle on top to seal.
Then deep fry the apple pies in 3 inches of oil at 375°F until golden brown, about 2-3 minutes per side. Dip in cinnamon sugar and serve warm! Here's what the process looks like from start to finish: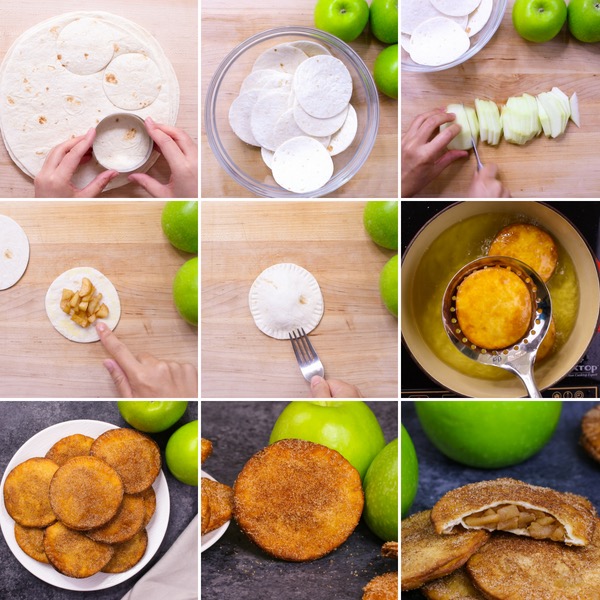 Watch Recipe Video
This tutorial shows how to make fried apple pies from start to finish:
Are They Healthier than McDonald's?
According to the McDonald's website, their baked apple pies have 270 calories each with 14 grams of fat. In comparison, this homemade version has approximately 160 calories with 9 grams of fat, so it is slightly better for you even though it's still an indulgent dessert.
How to Serve Fried Apple Pies
This dessert is best served warm either on its own, or with ice cream and/or caramel sauce for dipping!
More Apple Pie Recipes: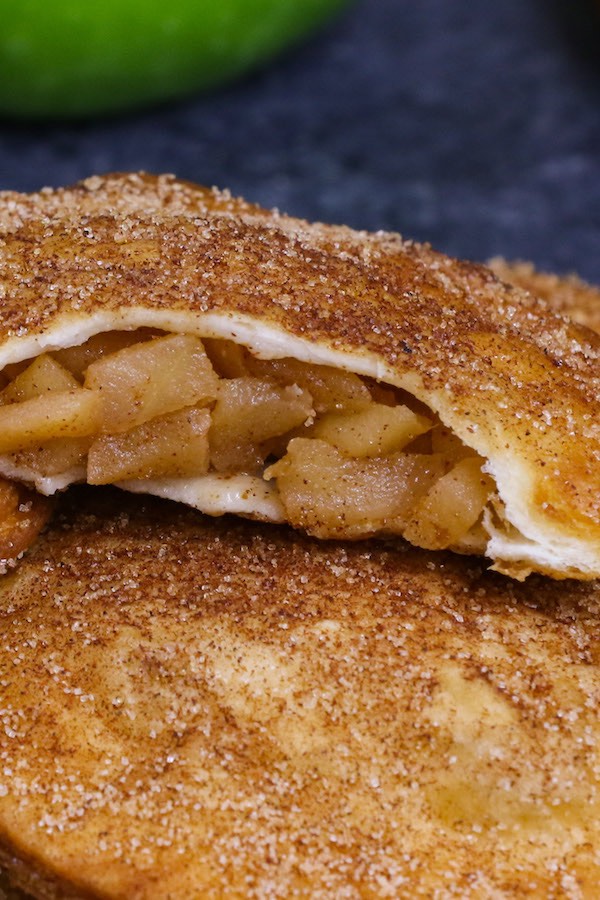 Fried Apple Pies
Fried Apple Pies - soft and sweet on the inside and crispy and flaky on the outside, the easiest dessert that takes less than 20 minutes! Totally irresistible!
Ingredients
5  flour tortillas , 8 inches
1  tbsp  unsalted butter
2  large apples , peeled and chopped (see note)
1.5 tsp  lemon juice
1/4  cup  sugar 
1  tsp  cinnamon
1  large egg , beaten
4  cups  vegetable oil
1/4  cup  cinnamon sugar
Instructions
Peel and core the apples. Then chop them to 1/4-inch thick pieces or less. Toss with lemon juice, cinnamon and sugar in a medium bowl and set aside.

Place a large skillet over medium heat. Add butter and then the apple mixture, cooking for several minutes until soft (see note). Remove from heat.

Cut 4-5 circles from each tortilla using a circular cookie cutter until you have 24 pieces in total (see note).

Add about 1 tablespoon of the apple mixture to the middle of tortilla piece, leaving a 1/2 inch border around the edge. Brush the edge with beaten egg, and press another tortilla round on top to seal, using a fork to crimp the edges.

In a deep pot or deep fryer, add 3 inches of oil and heat to 375°F. Deep fry the pie in oil for 2-3 minutes on each side until the crust is golden brown. Remove with a slotted spoon and drain on paper towels.

Transfer pies to the prepared plate, and dip in cinnamon sugar mixture before serving.
Notes
Apple Varieties: Granny Smith or Golden Delicious are the best options with other possibilities including Honeycrisps, Spy, Braeburn and Jonagold.
If the apples are very juicy, you can thicken the sauce by mixing 1 teaspoon cornstarch with 1 teaspoon water in a cup and adding to the pan, stirring just until it starts to thicken and then removing from heat.
Pie Crust: You can use refrigerated pie dough instead of tortillas if you prefer.
Baked Variation: If you prefer to avoid deep frying, you can bake the apple pies on a parchment-lined baking sheet at 375°F for 15-20 minutes until golden.
Nutrition Facts
Fried Apple Pies
Amount per Serving
% Daily Value*
* Percent Daily Values are based on a 2000 calorie diet.
Please read our nutrition disclaimer.
Recipe tools:
© TIPBUZZ. Images and text on this website are copyright protected. Please do not post or republish without permission. If you want to republish this recipe, please link back to this post. This post may contain affiliate links. Read the disclosure policy here.