Apple Pie Tacos
These Apple Pie Tacos feature a delicious cinnamon-sugar apple filling in a crispy taco that's drizzled with caramel sauce and topped with whipped cream! This easy apple dessert comes together in about 20 minutes.
Watch Video: Apple Pie Tacos
Whenever you get apple pie cravings, these bite-size apple tacos really hit the spot! They're perfect for a party and are especially popular around the holidays.
The mouthwatering apple filling is wrapped in crispy and sweet tacos shells, which are baked instead of fried for fewer calories. You can make the homemade apple filling below or substitute canned filling to save time. Serve them on their own or top with caramel sauce and whipped cream!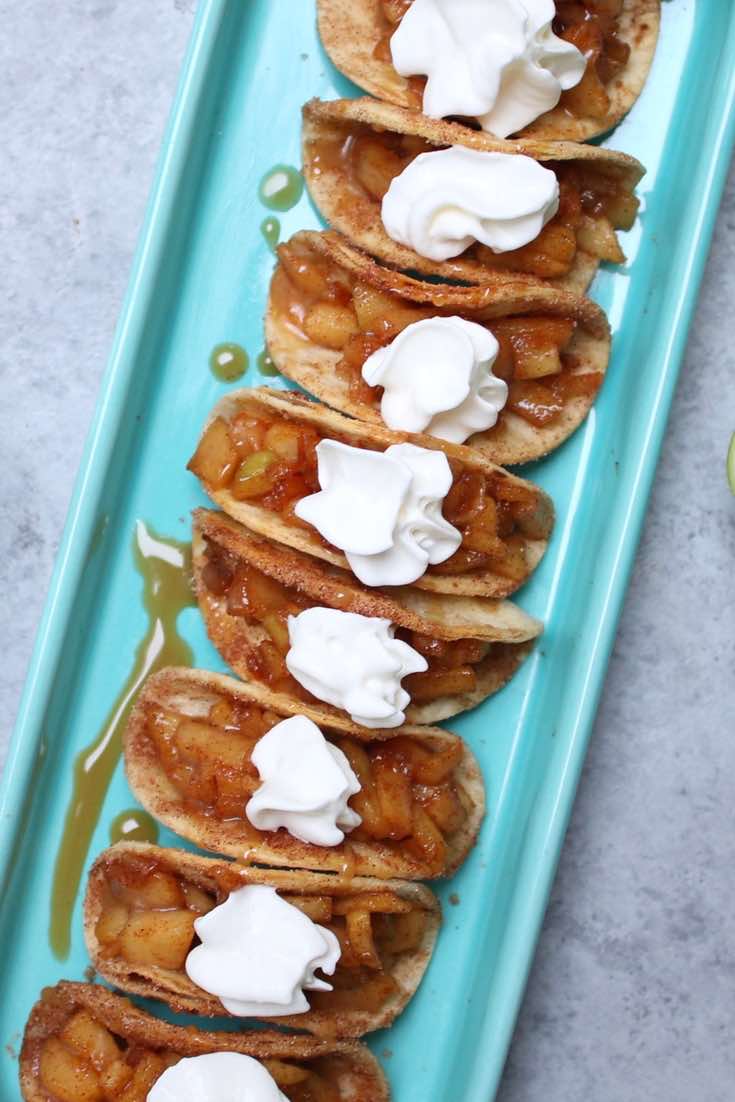 How to Make Apple Pie Tacos
There are 3 simple steps to make these dessert tacos. First, you want to make the taco shells. Start by cutting the tortillas into 3.5-4 inch (9-10 cm) circles using a round cookie cutter: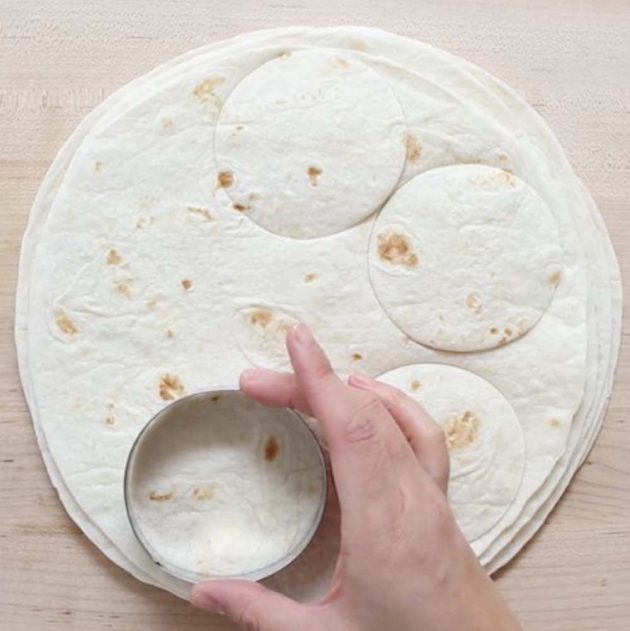 Then combine some melted butter, sugar and cinnamon in a mixing bowl. Toss each tortilla circle in the mixture to coat.
Now here's the fun part: turn a muffin pan upside down – that's right! You're going to slide the taco shells in between the muffin cups for baking. A 12-cup muffin pan can hold about 24 mini tacos shells upright. Now bake for 5-6 minutes until they're puffy and crispy: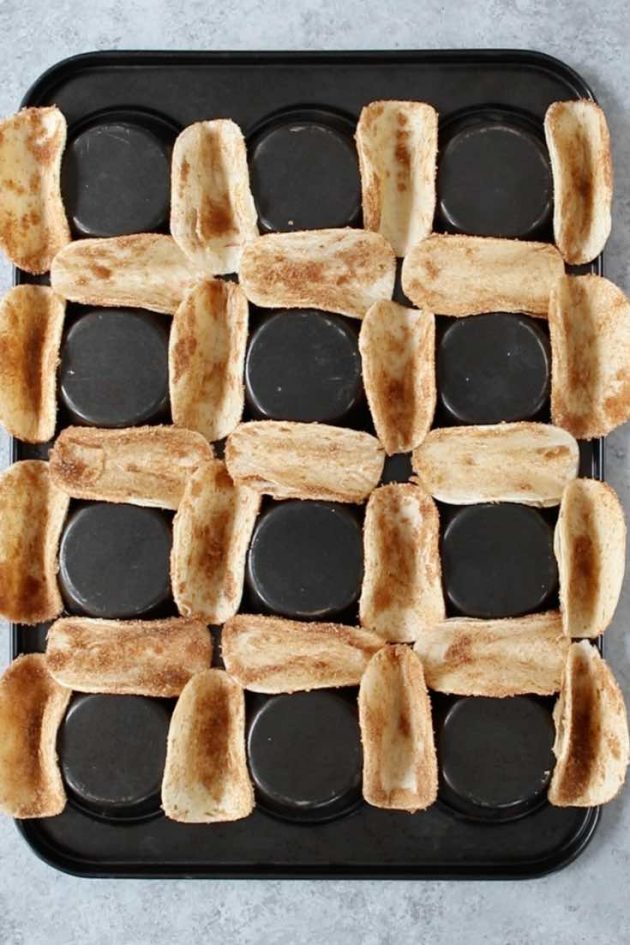 The cinnamon sugar caramelizes as they bake to produce the most irresistible flavor!
While the taco shells are baking, you can make the filling. Add chopped apples, lemon juice, cinnamon and sugar to a skillet on medium heat. Sauté for several minutes until soft.
To assemble the tacos, simply spoon the filling into each taco. Drizzle caramel sauce and top with whipped cream for a stunning presentation!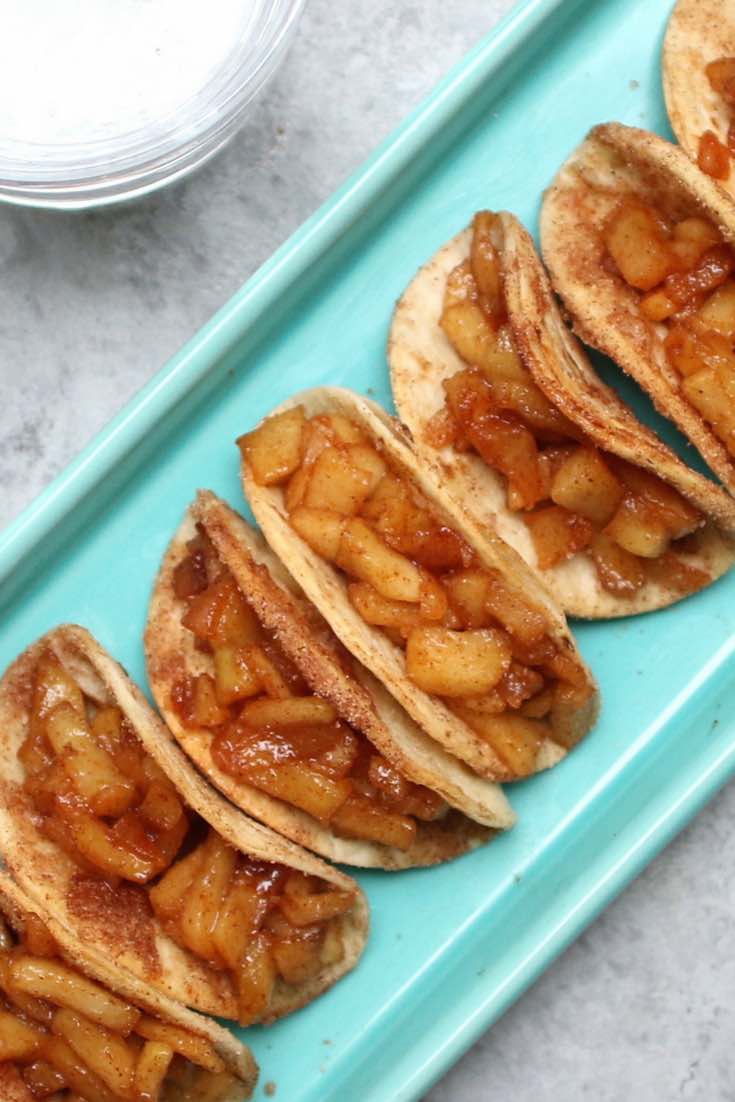 Tips for Making Apple Pie Tacos
We used Granny Smith apples to make a flavorful filling. If you can't find any, some other great options are Honeycrisps, Jonagolds, Spy and Golden Delicious.
You can use canned apple pie filling (21 ounces) instead of homemade if you prefer. You'll want to roughly chop up the filling and warm slightly before assembling.
Make Ahead Tip: bake the taco shells and prepare the filling a day in advance. When it's time to serve, warm the filling slightly and assemble the tacos.
More bite size apple desserts:
Baked Apple Pie Tacos
These easy Apple Pie Tacos have a delicious cinnamon sugary apple filling in a crispy and sweet taco, drizzled with caramel sauce, and then topped with whipped cream!
Ingredients
5 large flour tortillas
4 tablespoons unsalted butter, divided
3/4 cup sugar, divided
3 teaspoons cinnamon, divided
4 Granny Smith apples, peeled and diced
1 tablespoon lemon juice, freshly squeezed
1/4 cup caramel sauce, optional
whipped cream, optional
Instructions
Preheat oven to 400°F (204°C). Set aside a 12-cup muffin pan.

Using a 4-inch round cookie cutter, cut 4-5 circles from each tortilla. Repeat until you have about 20 in total.

In a medium bowl, combine 2 tablespoons melted butter with 1/4 cup sugar and 1 teaspoon cinnamon.

Place one tortilla circle into the bowl and toss until coated. Repeat for the remaining circles.

Flip the muffin tin upside down. Insert one tortilla piece in between every two muffin cups until all tacos are in place.

Bake for 5-6 minutes until golden.

Meanwhile, mix the chopped apples with lemon juice and the remaining 1/2 cup sugar and 2 teaspoons cinnamon.

Place a skillet on medium heat and add the remaining 2 tablespoons butter. Add the apple mixture and sauté for 3-4 minutes until soft.

Remove tacos from oven and spoon apple mixture into them. Top with optional caramel sauce and whipped cream to serve.
Notes
* You can substitute a canned apple pie filling if you wish. Use a 21-ounce can and chop roughly into pieces before use.
Make ahead tip: You can bake the taco shells and prepare the filling one day in advance. When it's time to serve, warm the filling and assemble the tacos.
Nutrition Facts
Baked Apple Pie Tacos
Amount Per Serving (1 taco)
Calories 79 Calories from Fat 18
% Daily Value*
Fat 2g3%
Saturated Fat 1g5%
Cholesterol 5mg2%
Sodium 50mg2%
Potassium 42mg1%
Carbohydrates 15g5%
Fiber 1g4%
Sugar 9g10%
Protein 1g2%
Vitamin A 74IU1%
Vitamin C 2mg2%
Calcium 12mg1%
Iron 1mg6%
* Percent Daily Values are based on a 2000 calorie diet.
Please read our nutrition disclaimer.
Recipe tools:
Editor note: Published Feb 4, 2017 and updated Nov. 23, 2019
© TIPBUZZ. Images and text on this website are copyright protected. Please do not post or republish without permission. If you want to republish this recipe, please link back to this post. This post may contain affiliate links. Read the disclosure policy here.