No Bake Pineapple Pie
No Bake Pineapple Pie is creamy, refreshing and bursting with delicious tropical flavors. Make it ahead of time with just 5 minutes of prep for easy summer entertaining!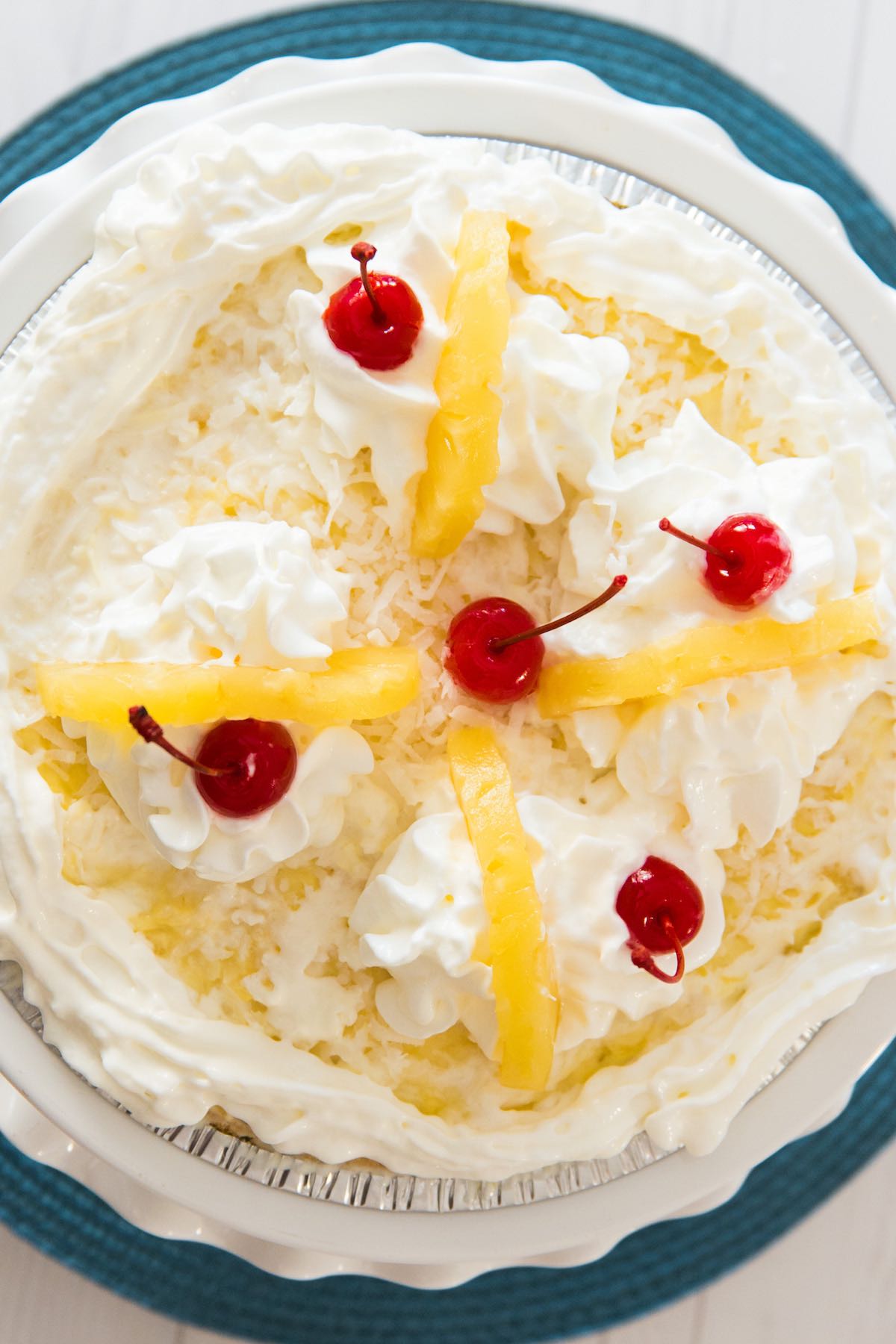 Are you looking for the perfect dessert for summer (that you can also enjoy year-round)? This pineapple pie is like no other and one bite will transport you to Hawaii or the tropics!
You can literally throw it together in 5 minutes before it goes into the fridge to chill until serving time. This homemade dessert always gets rave reviews, and nobody will know how little effort was required to make it. So let's get started!
Is a No-bake Pineapple Pie Easy to Make?
Yes, no-bake pineapple pie is pretty much a failproof dessert. This recipe uses a premade crust and Cool Whip to save time and ensure great results.
There are more elaborate variations below requiring slightly more effort, but pineapple pie is an easy dessert to make overall.
Ingredients
Here is what you'll need to make it:
Crushed pineapple: This is the canned crushed pineapple you'll find at any supermarket.
Instant Vanilla Pudding Mix: Make you buy instant pudding mix, not regular pudding mix.
Sour Cream: You can use regular or reduced fat sour cream successfully here.
Graham Cracker Crust: We use a pre-made graham cracker crust to save time. See tips below to make your own crust.
Canned Pineapple Rings: You can find canned rings in any supermarket. You can also substitute fresh pineapple rings, but make sure they're fully ripe and soft.
Shredded Coconut: We call for dried unsweetened coconut, but you can use freshly grated too.
Cool Whip: Use Cool Whip from your supermarket's freezer section and thaw completely. Alternatively, whipped cream works equally well.
Maraschino Cherries: This is an optional garnish that adds a pop of color.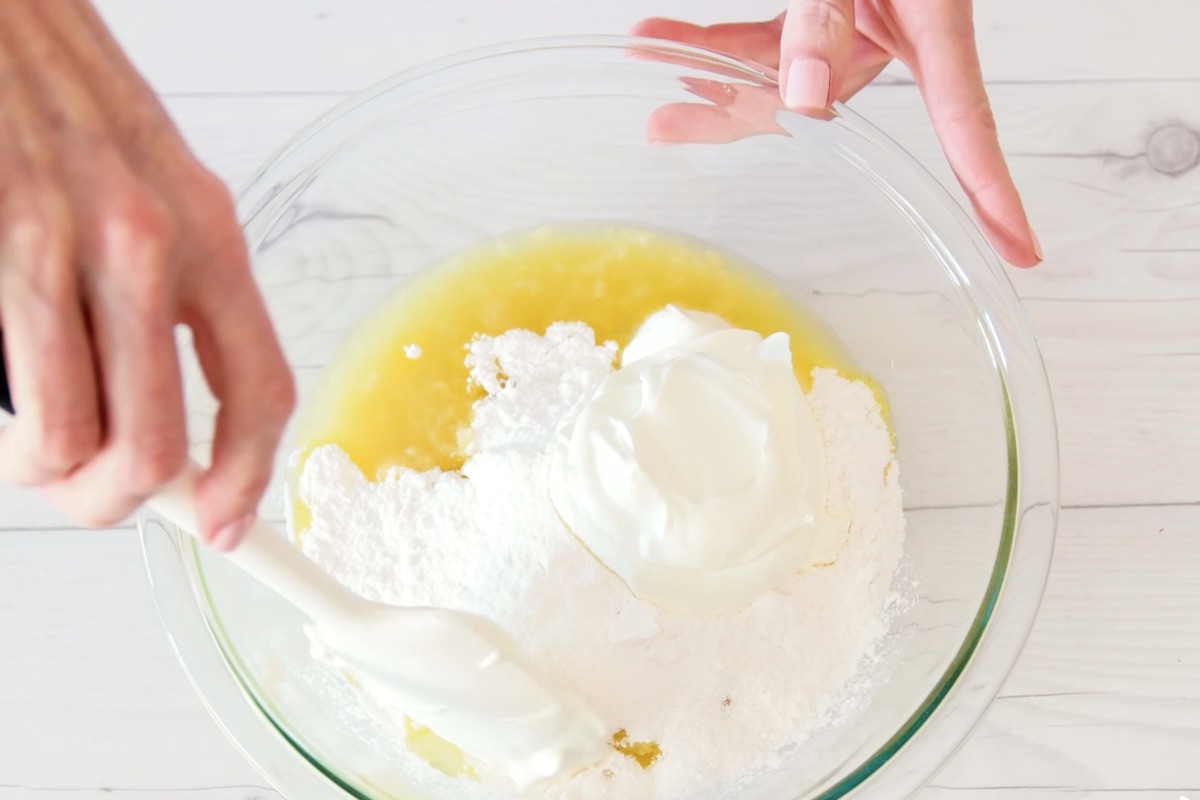 How to Make No Bake Pineapple Pie
Set aside your ingredients including the pie crust. Then get started with the filling.
In a medium mixing bowl, combine the crushed pineapple with juice from the can, the instant vanilla pudding mix and the sour cream. If you are substituting fresh chopped pineapple, be sure to include 1/4 cup of its juice.
Next, pour the filling you just made into the graham cracker crust. Spread it out evenly with a spatula.
Finally, decorate the top by sprinkling whipped cream, pineapple rings, toasted coconut and maraschino cherries. There are no hard-and-fast rules here, so feel free to get creative.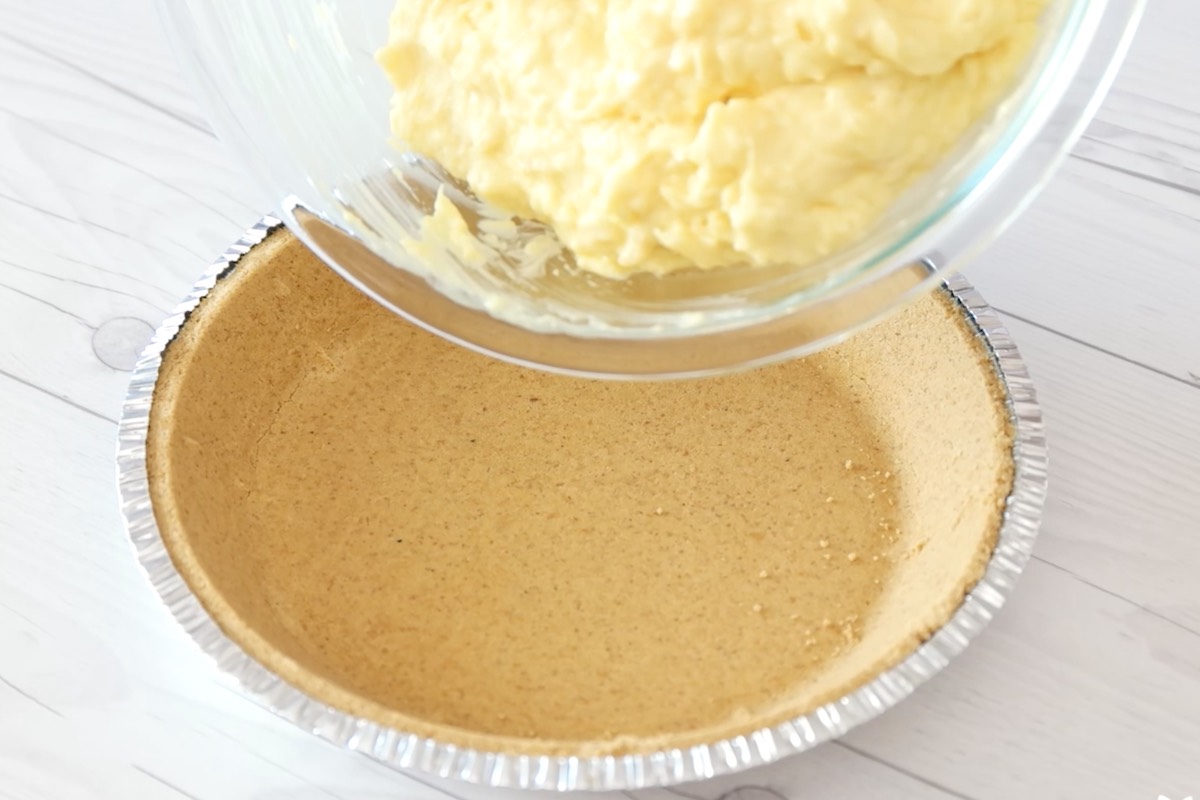 After assembling the pie, it needs up to 4 hours in the refrigerator to firm up. Then simply remove from the fridge and slice to serve!
Tips for Making No Bake Pineapple Pie
If you use fresh pineapple, make sure it's very ripe and soft. Unripe pineapple will not be sweet enough and may also be too firm.
If you prefer to make your own crust, mix 40 pulverized graham crackers with 1/2 cup melted unsalted butter. The mixture should resemble coarse sand. Press it evenly into a pie plate using the bottom of a water glass.
Make sure you keep a pie server on hand for easy serving!
Serving Suggestions for Pineapple Pie
While this no-bake pineapple pie is attractive already with maraschino cherries and toasted coconut. However, there are also other options for dressing it up:
Fresh fruits: Add some fresh berries on the side for a colorful garnish.
Mint: Add a small sprig of fresh mint as a garnish for extra color.
Lemon zest: Grate a bit of fresh lemon zest over top for citrus flavors.
Caramel: Drizzle some caramel sauce over individual servings.
Ice cream: Add a scoop of vanilla ice cream on the side.
No Bake Pineapple Pie Variations
The main variation for this recipe uses cream cheese and whipped cream to make the filling instead of sour cream and pudding mix. This variation has many names including Pineapple Cream Pie, Pineapple Cream Cheese Pie, Pineapple Dream Pie and Pineapple Cheesecake Pie.
However, note that this variation requires more effort, since you need to first soften the cream cheese and then beat with a hand mixer until fluffy.
How to Store Pineapple Pie
This pie is best served fresh. Leftovers can be stored in an airtight container in the fridge for up to 2 days or frozen for up to 2 months.
FAQ
Can I Substitute Fresh Pineapple for Canned Pineapple in a No-bake Pineapple Pie?
Yes, you can use fresh pineapple. Just make sure it's fully ripe to ensure the appropriate texture and sweetness. Also, conserve all juices from the fresh pineapple, which you'll need to also add to the filling.
How Long Does It Take for a No-bake Pineapple Pie to Set?
It generally takes 2 to 4 hours in the fridge for a no-bake pineapple pie to set.
Can I Use a Pre-made Graham Cracker Crust for a No-bake Pineapple Pie?
Yes, a pre-made graham cracker crust works well for no bake pineapple pie and also saves a lot of preparation time.
Can I Add Other Fruits to a No-bake Pineapple Pie?
Yes, you can add other fruits to no bake pineapple pie, but stick with soft, tropical fruits such as kiwifruit, mango and/or banana.
Watch Recipe Video
More No Bake Desserts You May Like:
No Bake Pineapple Pie
This easy no-bake Pineapple Pie is creamy and refreshing! It only takes a few minutes to prepare this stunning, no-bake dessert that's loaded with tropical flavors!
Ingredients
20 oz crushed pineapple, 2 1/2 cups
3.4 oz instant vanilla pudding mix, 1 small box
1 cup sour cream, 8-oz
9-inch graham cracker crust
Toppings
2 cups whipped cream, or thawed Cool Whip
4 pineapple rings
1/2 cup toasted shredded coconut, unsweetened preferred
4 maraschino cherries, optional for decor
Instructions
In a large bowl, add the crushed pineapple along with its juices, the pudding mix and sour cream. Mix with a wooden spoon until combined.

Turn the mixture into graham cracker crust. Use a spatula to spread it out evenly.

Decorate with top with whipped cream, shredded coconut, pineapple rings and optional maraschino cherries.

Place the pie in the refrigerator to chill until it has set completely, about 2 to 4 hours.

Remove from the fridge. Use a pie server to slice to serve.
Notes
Store leftover pineapple pie in an airtight container in the freezer for up to 1 month.
Nutrition Facts
No Bake Pineapple Pie
Amount per Serving
% Daily Value*
* Percent Daily Values are based on a 2000 calorie diet.
Please read our nutrition disclaimer.

© TIPBUZZ. Images and text on this website are copyright protected. Please do not post or republish without permission. If you want to republish this recipe, please link back to this post. This post may contain affiliate links. Read the disclosure policy here.