Denver Steak
Denver Steak is a newer chuck steak that ranks as the 4th most tender cut of beef. This affordable steak dinner is easy to make, whether you're grilling, pan-searing or baking in the oven!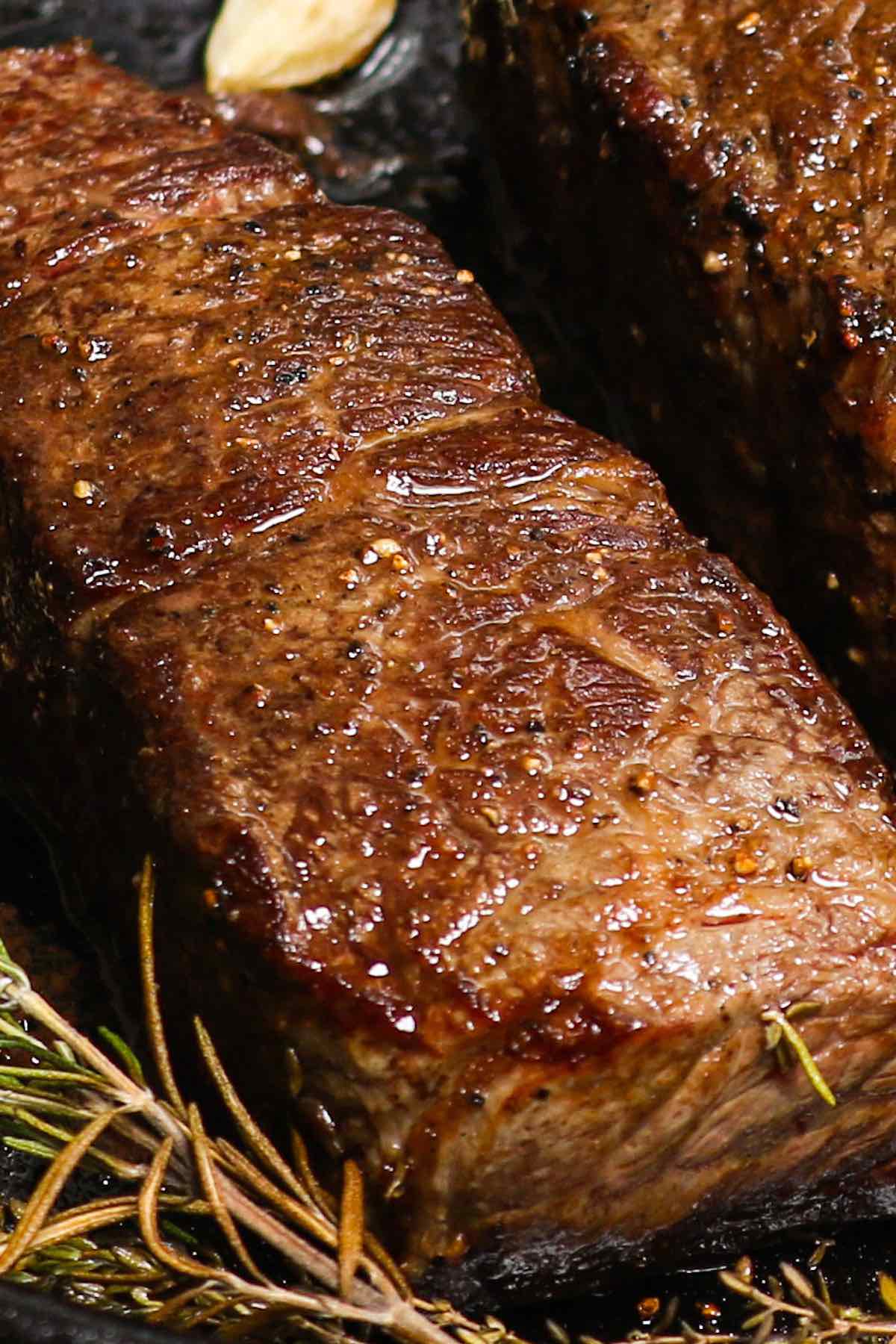 When it comes to hidden gems for steak, it's hard to beat a Denver cut steak or a flat iron steak. These tender cuts come from the chuck shoulder blade and are full of beefy flavor. Plus, they're less expensive than most other steaks.
The only tenderizing needed is some coarse salt, although you can add other seasonings to further enhance flavors.
What is a Denver Steak
Back in 2009, the Cattleman's Beef Board ran a competition to find an affordable new cut of beef. The winning entry? A rectangular, boneless cut from the center of the chuck shoulder underblade. In recognition of their home state of Colorado, they named it Denver steak.
Unlike most chuck steaks, this cut's serratis ventralis muscle has extensive marbling, making it the forth most tender cut of beef. Its other names include underblade steak or boneless chuck short ribs, while in Japan it's known as zabuton meaning "pillowy soft". While this cut is rarely available in supermarkets, any local butcher can produce it easily.
According to the USDA there are 309 calories in a 6 oz serving, which is similar to flank steak and less than many other steaks.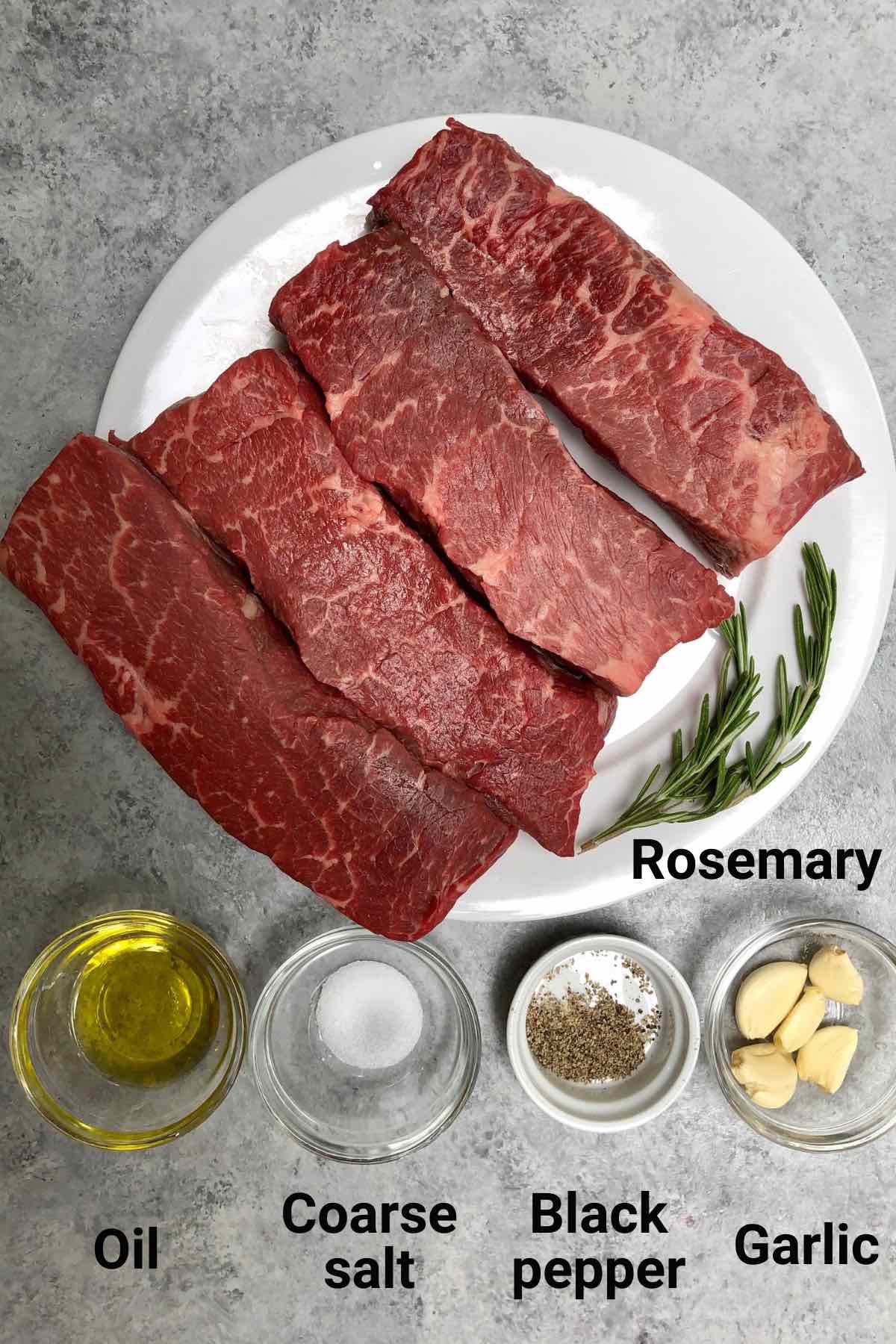 How to Cook a Denver Steak
Denver steak is well-suited to grilling, broiling and pan-frying. Simple seasonings like salt, pepper, garlic and herbs work well, although you can also marinate it for up to 4 hours to add even more flavor.
The preparation tips are similar to for most other steaks:
Look for cuts at least 1 inch thick to keep it nice and juicy.
Take it out of the fridge 30-60 minutes ahead of time for more uniform cooking.
Pat dry with paper towels to remove excess moisture.
Season generously with salt to flavor and tenderize the meat, or consider making your own steak seasoning.
Sear at high heat to create a caramelized crust.
Check doneness using an instant-read thermometer (see below).
Rest the steaks on a plate covered for 5 minutes so the juices can redistribute for maximum tenderness.
Slice crosswise against the grain to serve – this is crucial with this cut as it will be sinewy otherwise.
A cast iron skillet is ideal for searing at high temperature, but an ovenproof nonstick pan will also work.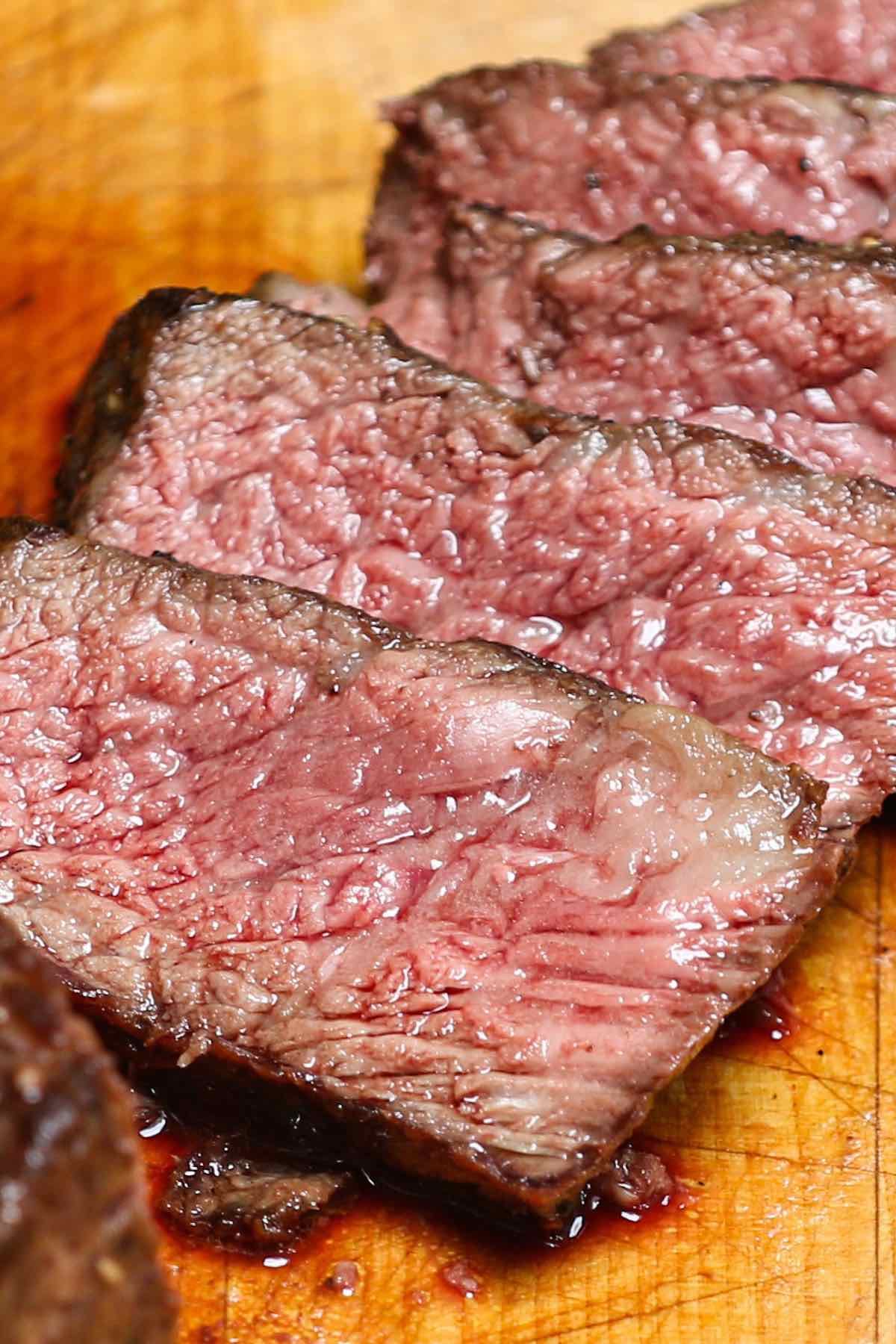 How Long to Cook a Denver Steak
A 1-inch thick Denver steak will take 12-14 minutes to reach medium-rare, and cooking time will depend on thickness and your desired doneness. So it's best to measure the internal temperature of the meat rather than rely on cooking time alone.
Simply insert the probe into the center of the steak and follow the chart below:
| | | |
| --- | --- | --- |
| Steak Doneness | Remove from heat | After resting |
| Rare | 125°F | 130°F |
| Medium rare | 130°F | 135°F |
| Medium | 140°F | 145°F |
| Medium well | 150°F | 155°F |
| Well done | 160°F | 165°F |
Due to its marbling, Denver steak can easily go to medium or medium-well without drying out like some other cuts.
Serving Ideas
Steakhouses serve Denver steak frites with French fries! Other great sides include baked potatoes, mashed potatoes, boiled potatoes, corn on the cob, sautéed mushrooms or a green salad.
In terms of condiments, horseradish and homemade steak sauce are always winners with this steak!
More chuck steak recipes:
View all steak recipes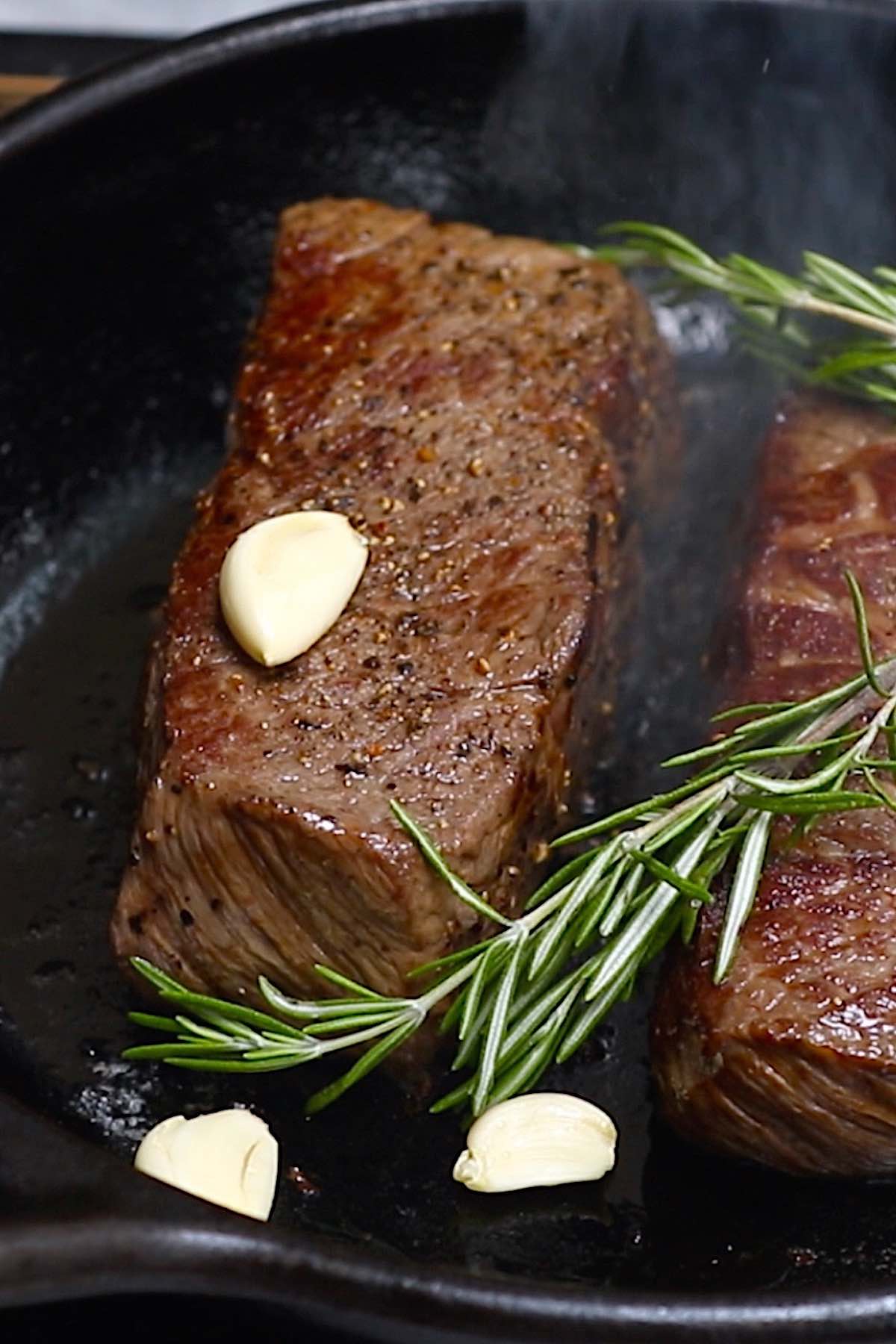 Pan Seared Denver Steak
This Denver Steak is pan-seared with an oven finish for a delicious steak dinner that's affordable and easy to make! 
Ingredients
1 1/2 pounds denver cut steak, at least 1 inch thick (see note)
2 tablespoons canola oil, see note
1 teaspoon coarse salt, or to taste
1 teaspoon black pepper, freshly ground, or to taste
4 cloves garlic
fresh rosemary, optional
Instructions
Optional: Remove the steaks from refrigerator 30-60 minutes ahead of time for more uniform cooking.

Position the oven rack in the middle and preheat oven to 425°F.

Place a large cast-iron skillet over high heat and allow to heat for 5 minutes until very hot. (You can also place in the preheated oven for 15 minutes.) Use oven mitts!

Pat dry the steaks with paper towels to remove excess moisture that could interfere with searing. Then rub on all sides with 1 tablespoon of the oil before seasoning both sides with salt and pepper.

Add the remaining 1 tablespoon oil to the hot pan and swirl to coat. Using kitchen tongs carefully place the steak in the pan, laying it away from you to avoid splatter.

Sear the first side for 2 minutes. Flip the steaks and sear the other side for 2 minutes more. Optional: sear the edges by holding the steaks vertically and pressing them against the pan until brown.

Add the garlic cloves and rosemary to the pan. Spoon juices onto the meat and transfer the pan to the oven.

Bake for 2-3 minutes before checking doneness using an instant-read thermometer: medium-rare is 130°F and medium 140°F (see recipe notes for other donenesses). If the steaks are not done yet, flip the steaks and continue cooking a few minutes longer.

Remove steaks to a plate or cutting board. Cover with aluminum foil and allow them to rest for 5 minutes so the juices can retreat back into the meat.

Slice the steaks crosswise against the grain to serve.
Notes
Meat: Denver steaks that are at least 1-inch (2.5cm) thick are juicier and less likely to be overcooked. The instructions above are for a 1-inch thick t-bone. Add 2-3 minutes of baking time for every additional ½ inch.
Oil: Any high-temperature oil such as canola oil, sunflower oil, refined olive oil will work (avoid extra virgin olive oil, which will smoke).
Doneness: Rare is 120°F/49°C, Medium-rare is 130°F/54°C, Medium is 140°F/60°C, Medium-well is 150°F/66°C and Well-done is 160°F/71°C.
Nutrition Facts
Pan Seared Denver Steak
Amount per Serving
% Daily Value*
* Percent Daily Values are based on a 2000 calorie diet.
Please read our nutrition disclaimer.
Recipe tools: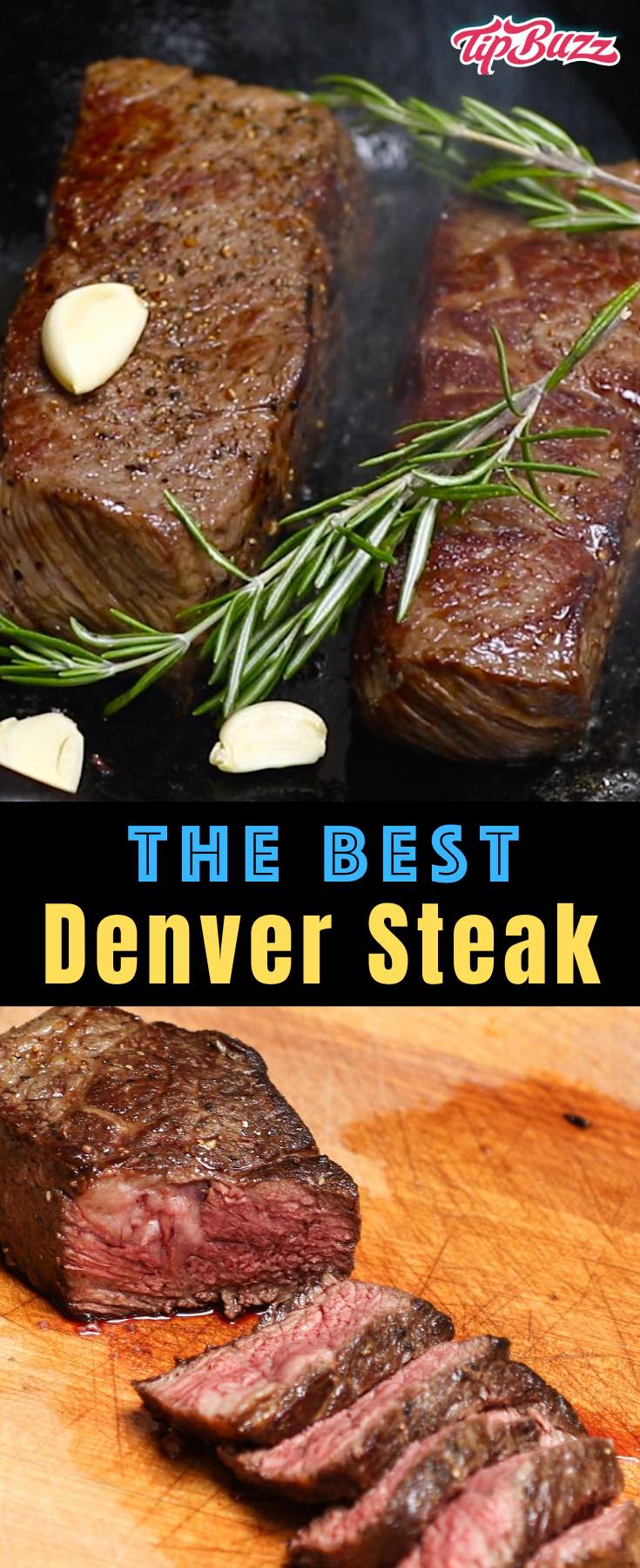 © TIPBUZZ. Images and text on this website are copyright protected. Please do not post or republish without permission. If you want to republish this recipe, please link back to this post. This post may contain affiliate links. Read the disclosure policy here.