St Louis Ribs in the Oven
These St Louis Ribs in the oven are baked to tender and juicy perfection with a mouthwatering dry rub seasoning and sticky barbecue sauce. This recipe is packed with flavor and easy to make!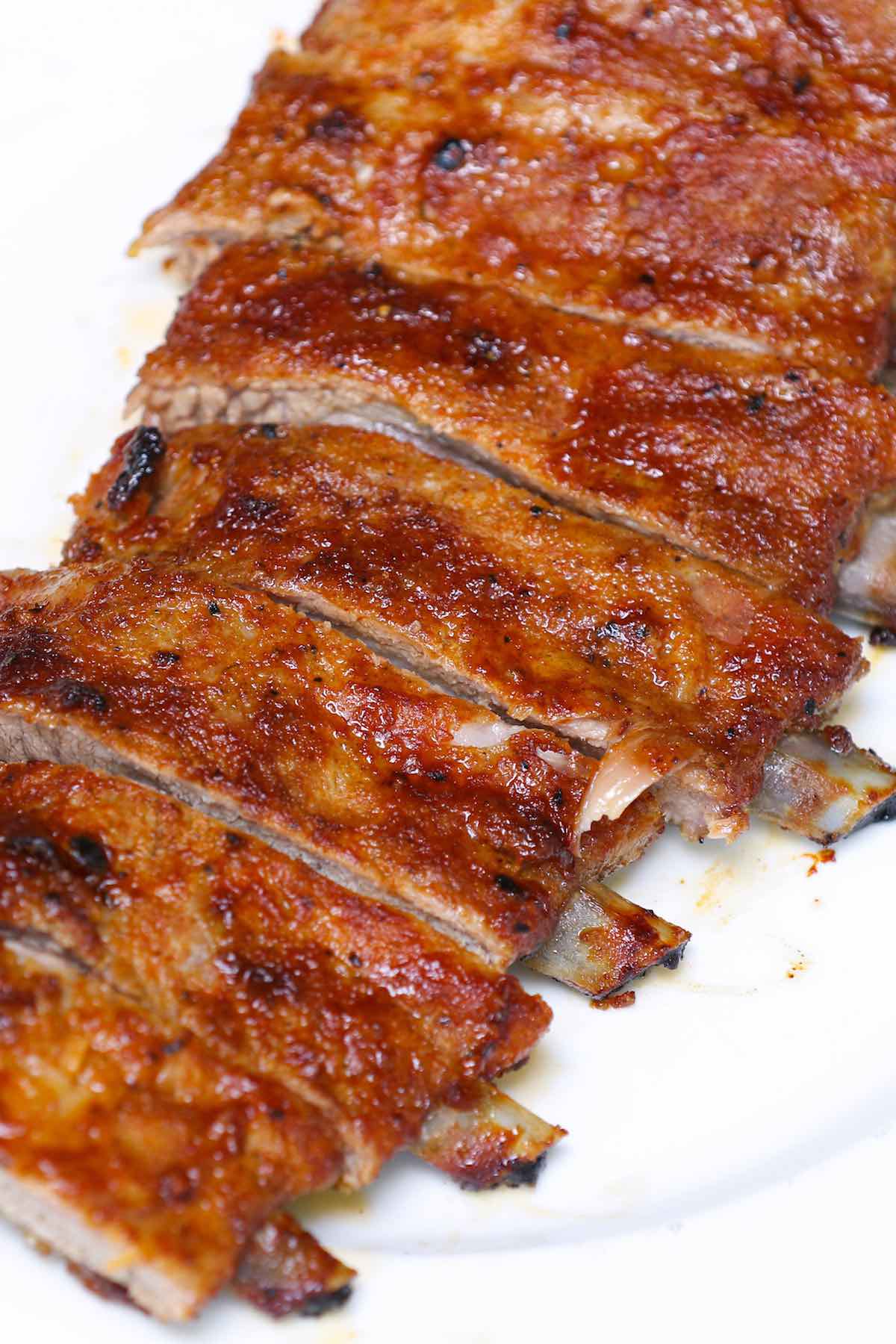 We love to make these fall-off-the-bone St Louis Style ribs for a dinner that's finger-licking good! The oven is a great alternative to the grill, especially when the weather's not cooperating. But truth be told, they're great anytime!
All you need to do is season and wrap the ribs in foil before baking at 350 degrees. They're ready in just over 2 hours without any risk of overcooking or drying out. For a complete meal, serve with mashed potatoes or potato salad, corn on the cob, cole slaw or a green salad!
What are St Louis Style Ribs?
The name originated over 100 years ago when meat-packing plants in St Louis, Missouri started trimming spare ribs in a certain way. When the St Louis Cardinals won the playoffs, a fan at the USDA penned the standard in their honor to start the trend!
To trim St Louis style ribs, the breastbone and cartilage are removed to create a rectangular-shaped rack. The meat on the underside, or skirt, is often removed and cooked separately as well. The result is a very presentable rack that also cooks faster than untrimmed spare ribs, explaining why it's a popular class for barbecue competitions even today.
St Louis vs Baby Back Ribs: This cut has larger bones with less meat than baby backs, although you get more flavor since the fat content is higher! While cooking time is similar, browning is easier to accomplish on St Louis Ribs due to their flatter shape.
How to Prepare St Louis Ribs
Place the ribs on a work surface. First, you'll want to remove the silverskin membrane from the underside, as it's tough and also prevents seasonings from penetrating into the meat. Use a knife tip to loosen a flap of membrane from the end of the rack. Then grip with a piece of paper towel to prevent slipping and rip it off!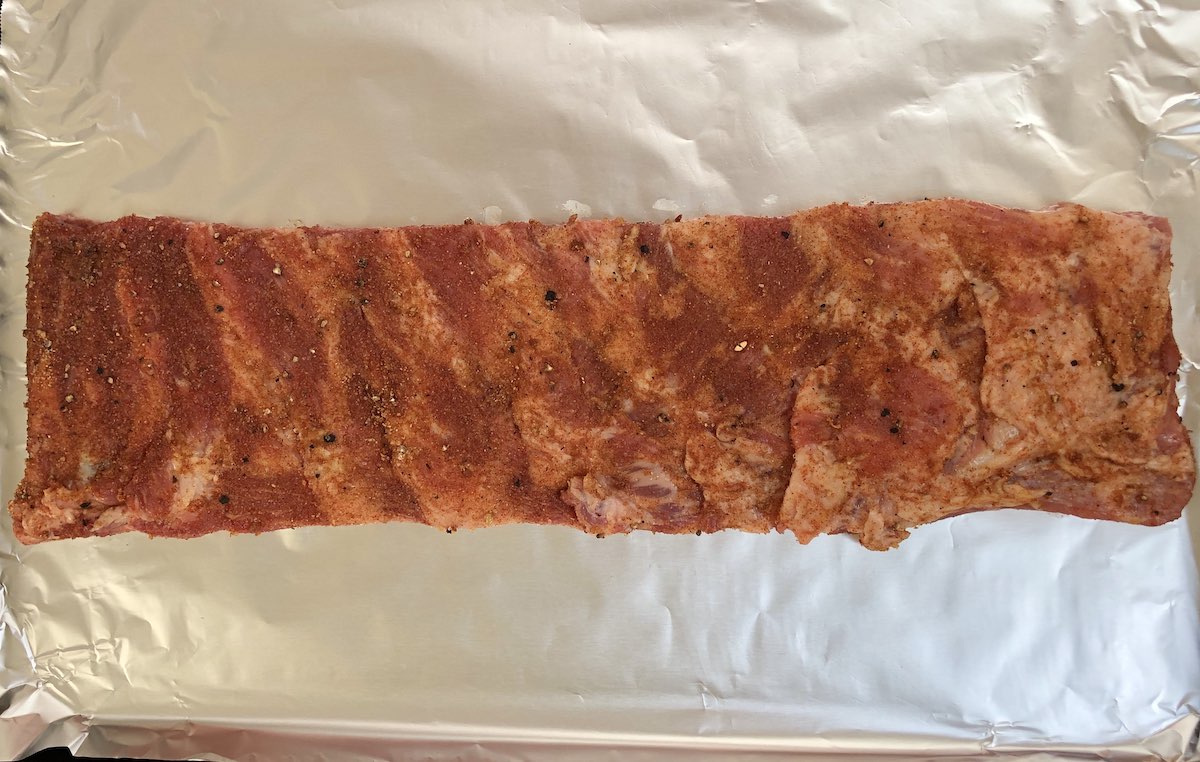 Next, apply dry rub seasonings on all sides of the ribs. You can use a storebought mix or the homemade recipe below. For the best flavor, let the ribs rest for up to 30 minutes at room temperature or overnight in the fridge before cooking. Then wrap the ribs in aluminum foil and place on a baking sheet bone-side facing up.
How to Cook St Louis Ribs in the Oven
You want to bake the ribs in the middle position of your oven at 350°F for about 2 hours, or until the internal temperature reaches 180-185°F. (At this stage, the tough connective tissue will have started melting.)
Next, unwrap the ribs and flip them so the bone side is facing down. Brush generously with BBQ sauce all over. Then return to the oven to bake for 15-20 minutes more or until the sauce has set.
Let the ribs rest for 5-10 minutes before serving, so the juices can redistribute through the meat. Cut them into pieces with a sharp knife and enjoy!
When Are They Done?
The telltale sign that the ribs are nearly done is when the bones stick out a 1/2-inch from the meat. However, that doesn't mean they're necessarily going to be fall-off-the-bone tender!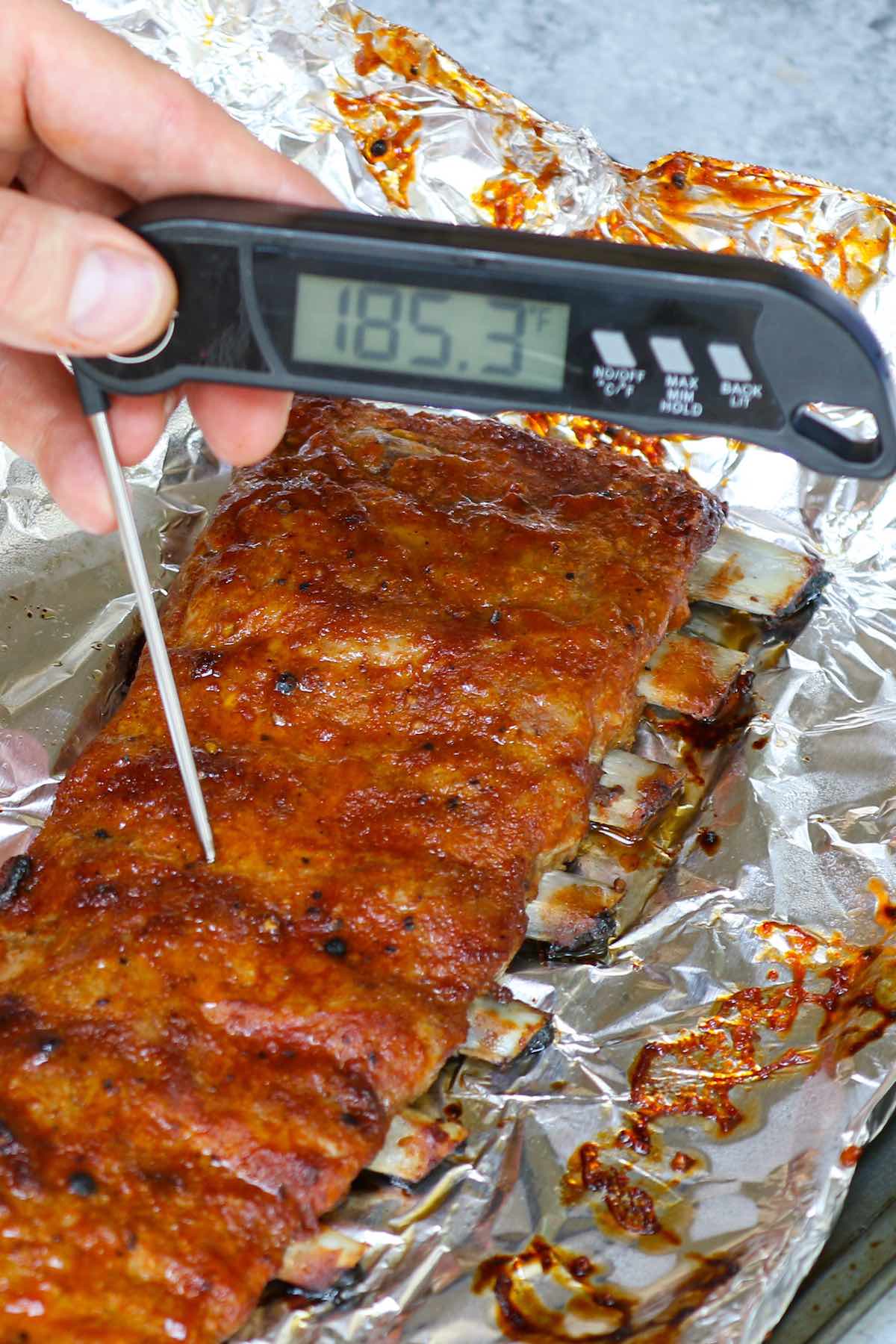 While the USDA states that ribs are safe to eat at 145°F, the collagens and connective tissue don't start to melt until 165°F. Therefore, the internal temperature should reach 185-203°F to get tender and juicy ribs.
To check, slide the probe of an instant-read thermometer in lengthwise between the two biggest ribs, ensuring it doesn't touch the bone itself. This can sometimes be tricky, and it can be helpful to have a thermometer with a needle probe. Alternatively, use a dual-probe wireless thermometer for continuous monitoring in the oven.
Best Oven Temperature for Ribs
BBQ pros will often slow cook ribs at 200 or 225°F to produce fall-off-the-bone tender meat. However, the process takes 6-8 hours, which is too long for most home cooks.
I find 350°F strikes a nice balance for getting juicy ribs in a reasonable amount of time. If you want to try other temperatures, see my post on how long to bake ribs.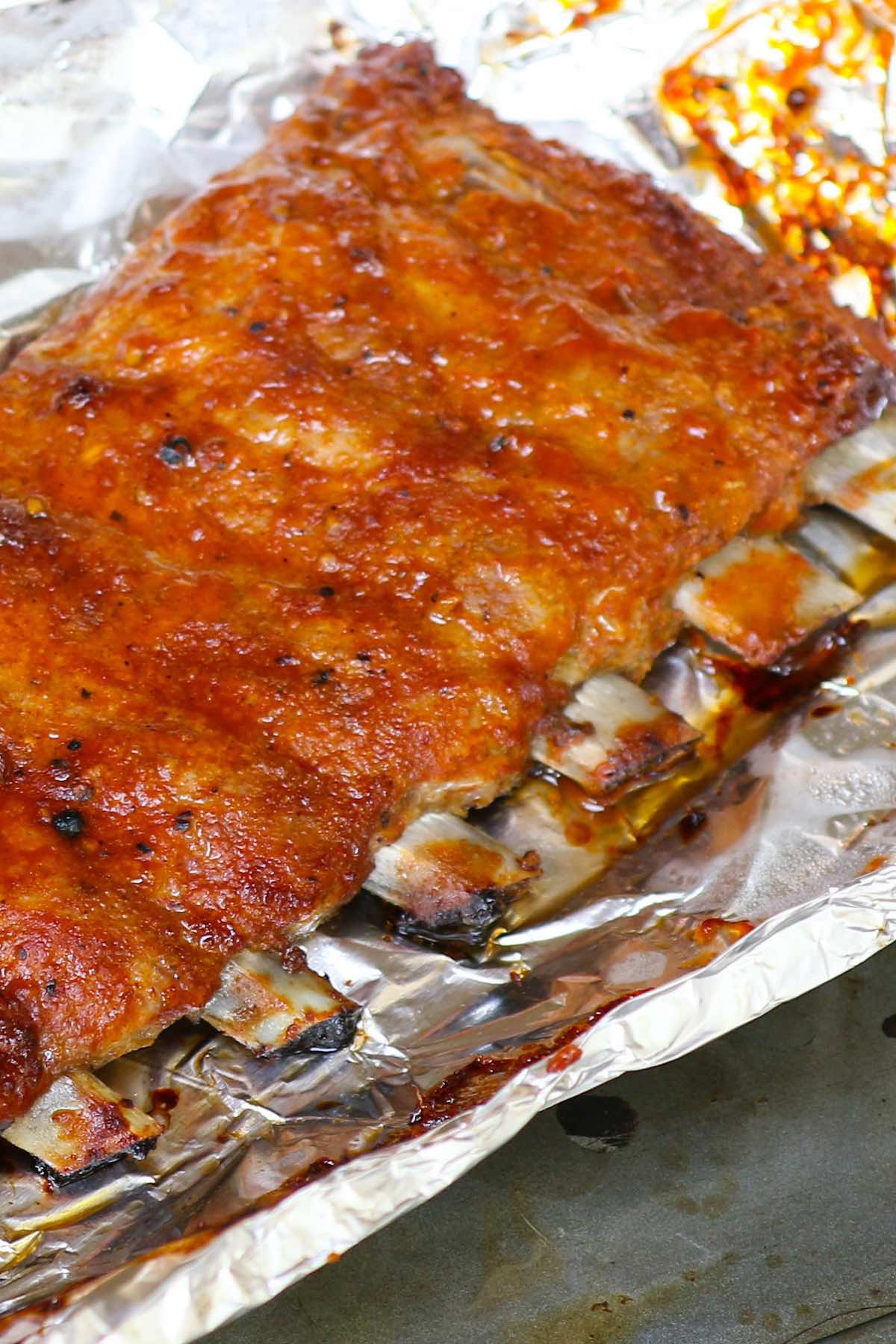 Can You Grill or Smoke St Louis Ribs?
Absolutely yes and here's how to do it:
Grilling: Simply use the recipe below by maintaining a 350°F temperature on your grill, which is easier on a gas grill than with charcoal. Make sure you have a full tank of gas.
Smoking: The best approach is to cooking low-and-slow at 225 like in our 3-2-1 Ribs recipe.
To start in the oven and finish on the grill, it's best to move the ribs over after saucing using kitchen tongs. Cooking times at 350°F are similar, although always use a thermometer to check doneness whenever possible.
Oven Baked St Louis Style Ribs
These St Louis Ribs in the oven are baked to tender and juicy perfection with a mouthwatering dry rub seasoning and sticky barbecue sauce. This recipe is packed with flavor and easy to make!
Ingredients
3 pounds St Louis ribs, one rack (see note)
1 cup barbecue sauce, I used Stubb's
Seasoning Dry Rub
2 tablespoons paprika, or smoked paprika
1 tablespoon garlic powder, or onion powder
2 tablespoons brown sugar
1 tablespoon kosher salt, or 2 teaspoons coarse salt
2 teaspoons black pepper
1 teaspoon cayenne, optional if you want some heat
Instructions
In a small bowl, mix the paprika, garlic powder, brown sugar, salt, pepper and optional cayenne. Set aside.

Pat dry the ribs with paper towel. Peel off the silverskin membrane from the underside of the ribs: slide a knife tip underneath to loosen the edge and grip with paper towel to grip as you rip it off.

Rub the ribs on all sides with the seasoning mixture. Wrap them tightly in a large piece of aluminum foil. Set aside for 30 minutes at room temperature (or up to 12 hours in the fridge).

Preheat the oven to 350°F, setting the rack in the middle position. Place the wrapped ribs on a baking sheet and bake for about 2 hours. Check the internal temperature is at least 165°F by inserting an instant-read thermometer into the meat between two bones (taking care not to touch the bone).

Remove the ribs from the foil and brush generously with barbecue sauce on all sides. Place them back in the oven on the baking sheet for 20 minutes more, or until the sauce has set and darkened slightly.

Remove the ribs from the oven and let them rest for 5 minutes to let the juices redistribute through the meat. Cut into individual ribs before serving.
Notes
Ribs: One rack of St Louis Style ribs typically weighs 2-3 pounds and is trimmed of breastbone and cartilage with the skirt on the underside removed. You can cook the skirt alongside the ribs if you wish.
Make Ahead: You can make these ribs up to 3 days ahead and reheat in the oven, microwave or in a nonstick skillet.
Grilled St Louis Style Ribs: Follow the recipe above, maintaining a grill temp of 350°F and omitting the baking sheet.
Nutrition Facts
Oven Baked St Louis Style Ribs
Amount per Serving
% Daily Value*
* Percent Daily Values are based on a 2000 calorie diet.
Please read our nutrition disclaimer.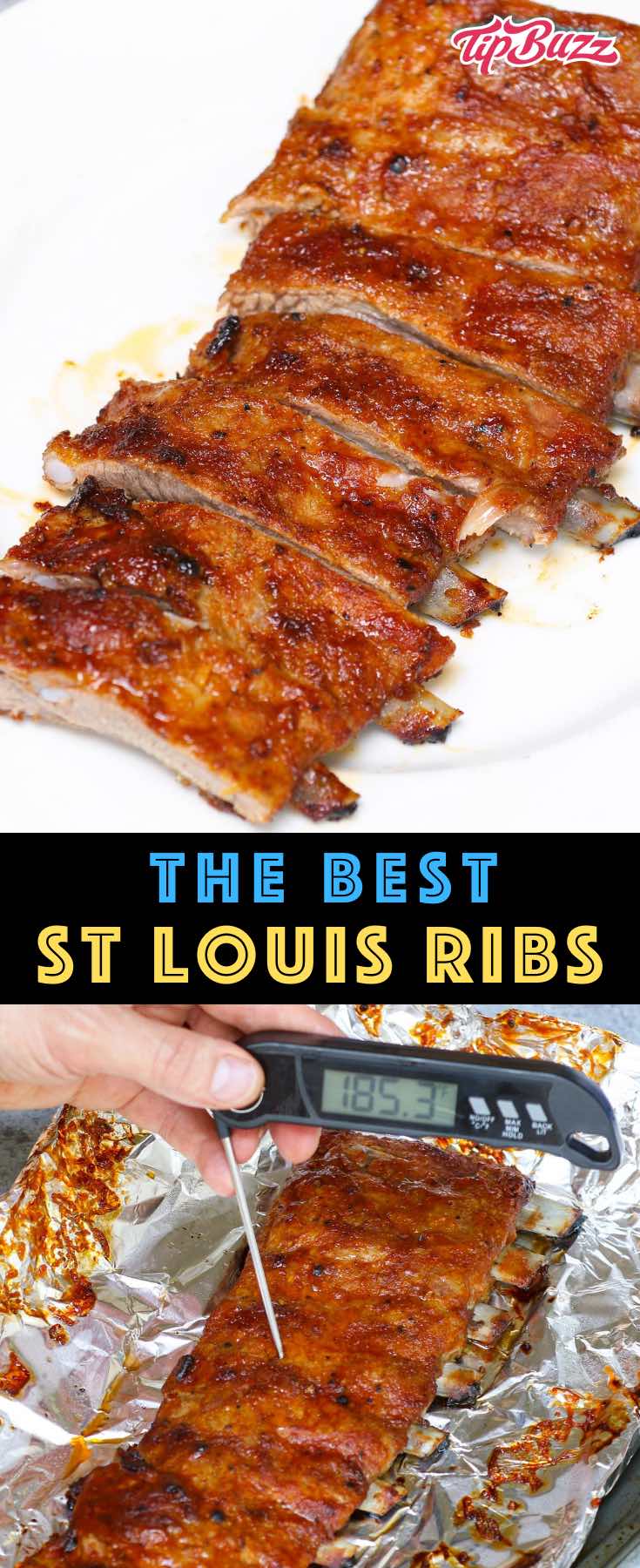 © TIPBUZZ. Images and text on this website are copyright protected. Please do not post or republish without permission. If you want to republish this recipe, please link back to this post. This post may contain affiliate links. Read the disclosure policy here.